If you're thinking about getting a tattoo you might want to consider getting a bulldog tattoo. The bulldog is a symbol of determination and strength. They are also one of the most popular dog breeds. 
We conducted  an extensive study on this subject and gathered the most popular sorts of bulldog style tattoo collections like as French, Ga Bulldog, Traditional, Usmc, Marine, and so on. 
However, we recommend that you check specifically for number 25 to 35 tattoo ideas; these are particularly popular at the moment.
This blog post will look at the types of bulldog tattoos and the meanings behind them.
Here Are The Top Bulldog Tattoos Ideas and Designs:
With a few different designs and variations, bulldog tattoos are becoming more and more popular. This blog will help you choose the perfect bulldog tattoo ideas and design to show your love for these lovable and loyal creatures.
French Bulldog Tattoo
French bulldog tattoos are a great way to show your love for your furry friend. There are many different options for French bulldog tattoos, some being more girly and some being more masculine.
Sad Bulldog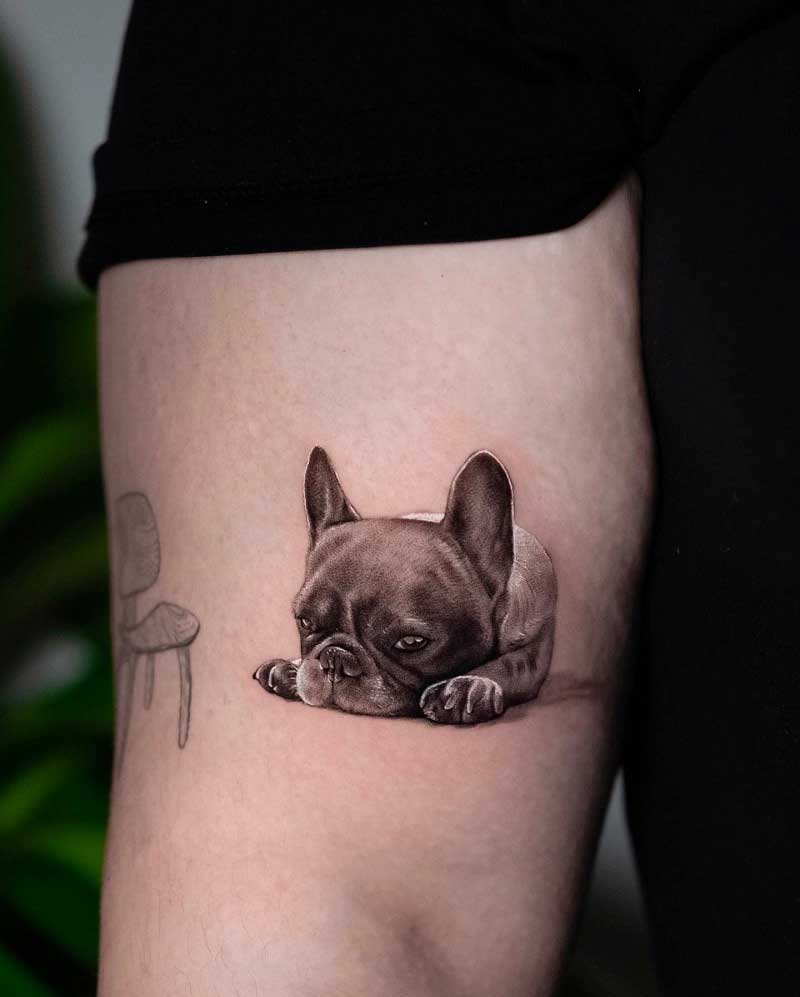 In memory of its master, a bulldog sits down with a sad face and looks towards an empty chair. For everyone who likes their bulldog, this upper hand tattoo has a tale to tell.
2. Diamond Bulldog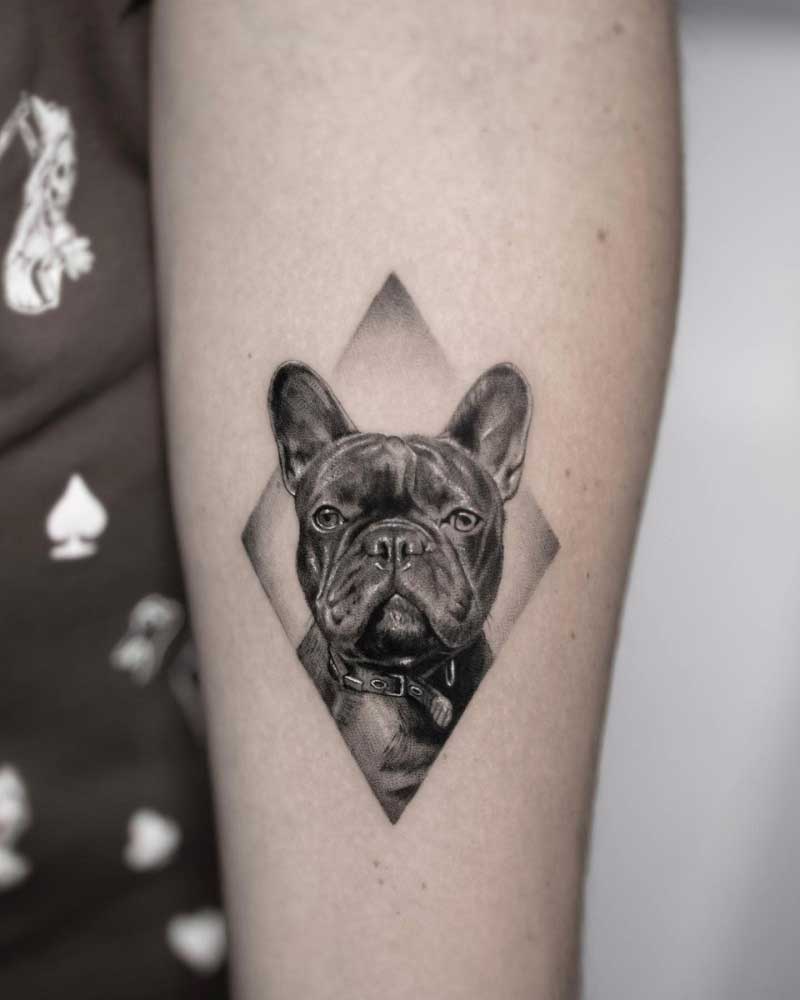 A bulldog observing you from a diamond-shaped frame looks extremely charming. The color of this tattoo and the shadow of the diamond make it incredibly appealing and stylish.
3. Alone Bulldog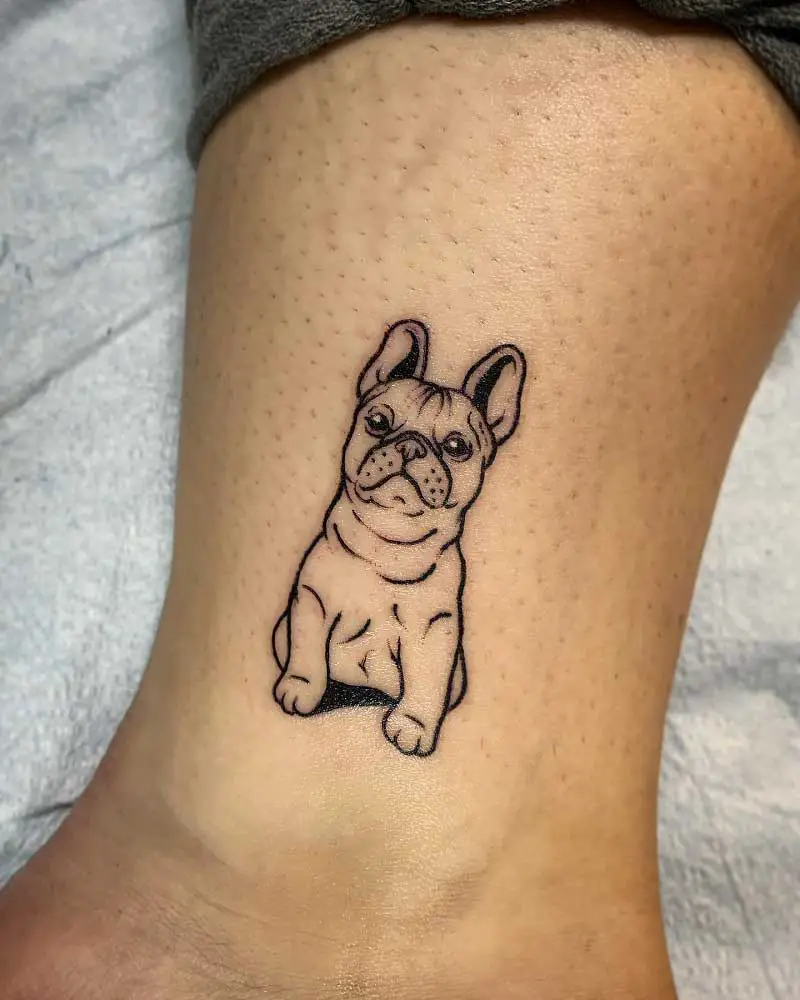 Just a small bulldog that appears to be waiting for its master appears to be quite basic and fashionable. Dog lovers of the younger generation will appreciate the color scheme of this tattoo.
4. Dodu Bulldog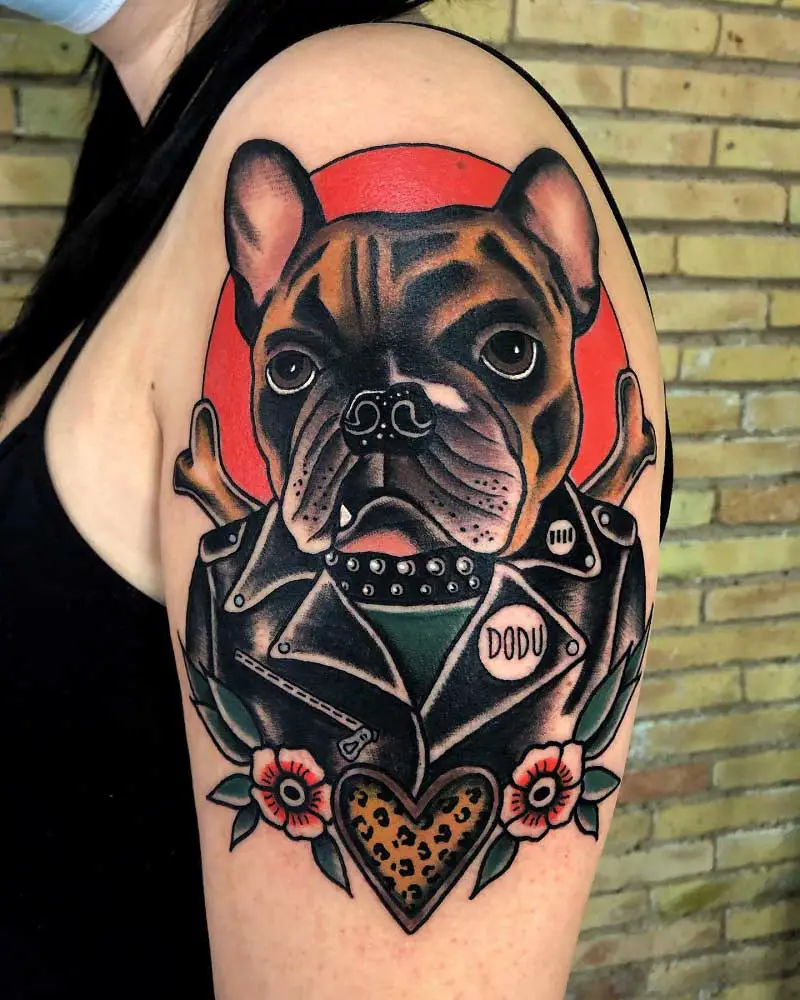 A handsome bulldog with a black jacket appears to be a member of the bulldog biker gang. This tattoo's multi-colored design and detailing make it stand out as a sleeve tattoo.
5. Bulldog Face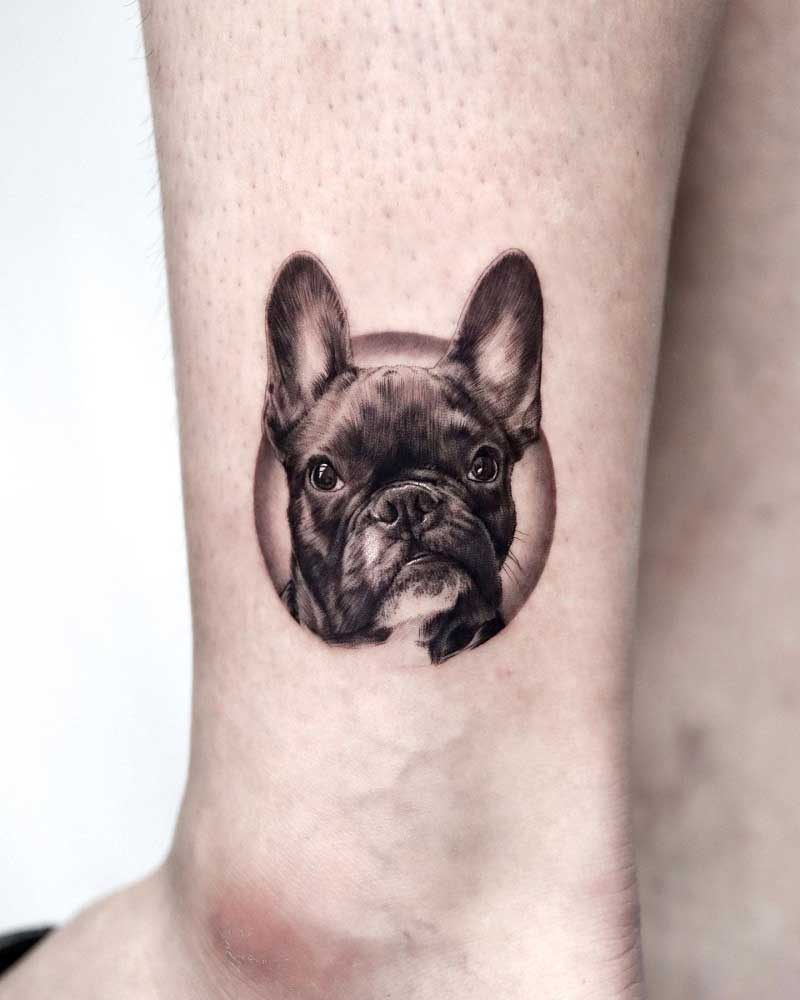 A simple bulldog face reminds its master of their beloved bulldog when they are not around. This leg tattoo has a simple, yet unique narrative behind it. And the detailing is superb.
Ga Bulldog Tattoo
The Ga Bulldog tattoo is one of the most popular bulldog style tattoos out there and is loved by many. It is a tattoo of a dog head with a bandana around its neck. 
6. Angry Face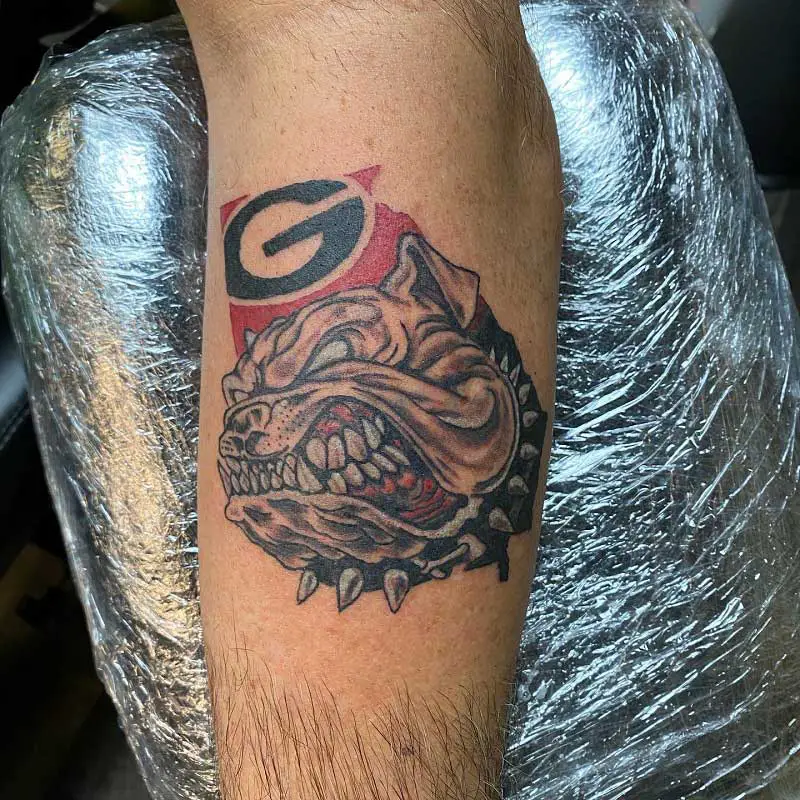 An enraged bulldog charging toward you with his ferocious teeth looks quite fascinating. The red tint of this tattoo makes it more appealing and ideal for a man's leg tattoo.
7. Dark Shade Bulldog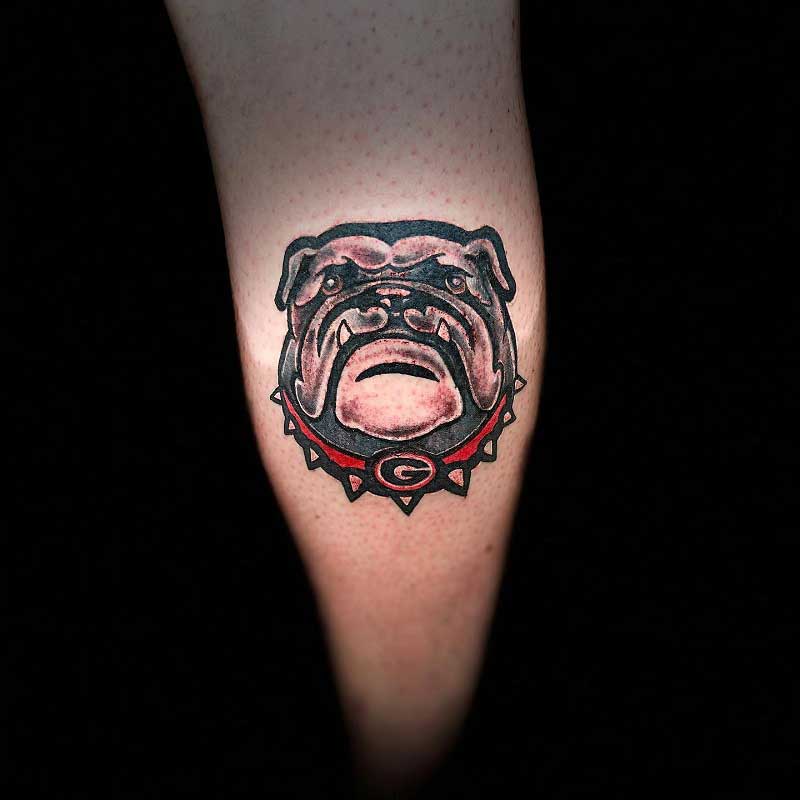 This tattoo has a really appealing black and red color combination with a shadow. This bulldog face may be worn on your calf.
8. Red Eye Bulldog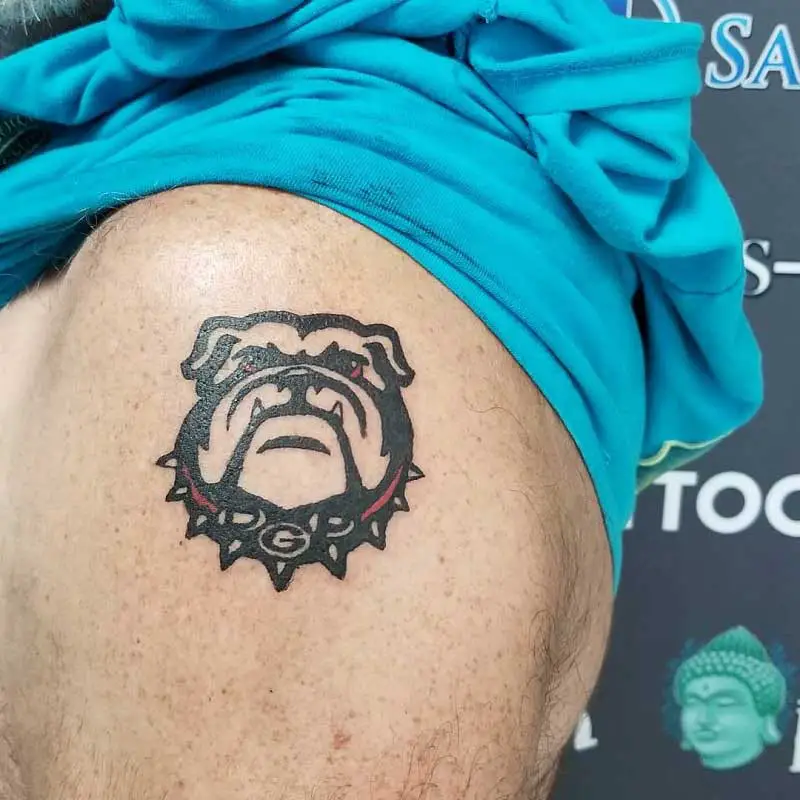 This tattoo is highly appealing since it features a black bulldog with red eyes. This tattoo's color pattern is simple to create. Bulldog fans can have this tattoo on their chest or upper arm sleeves.
Traditional Bulldog Tattoo
Traditional Bulldog Tattoo designs and ideas for bulldogs are some of the most popular types of tattoos. They are often seen as a way to show loyalty and love for the distinctive and lovable animal.
9. Yellow Eye Bulldog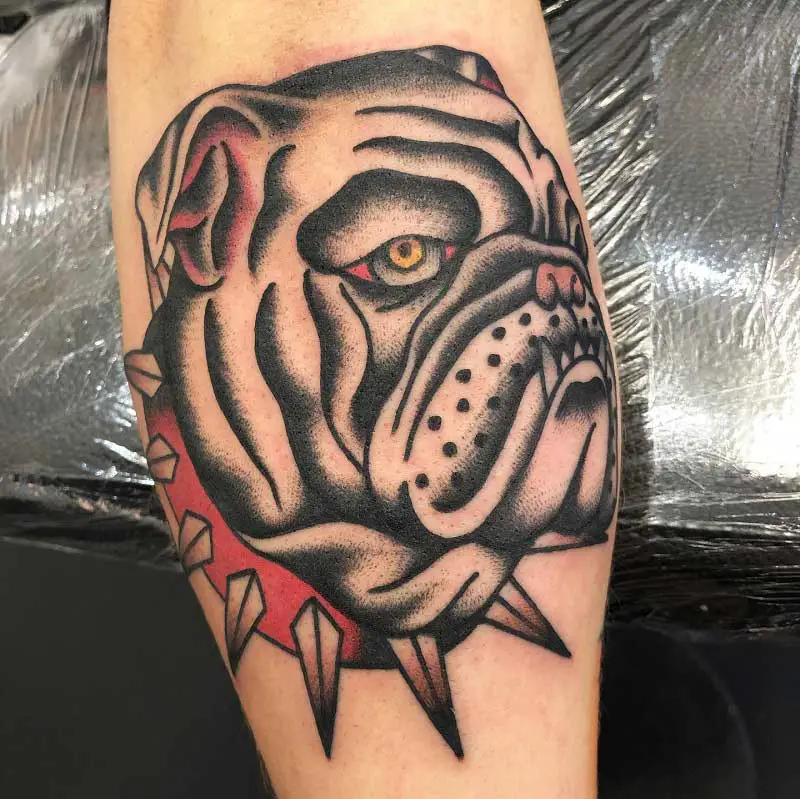 A large bulldog face with golden eyes is quite appealing. This tattoo's dark tone has a distinct shading pattern. The red color tone within this bulldog's ear makes it cool.
10. Brown Bulldog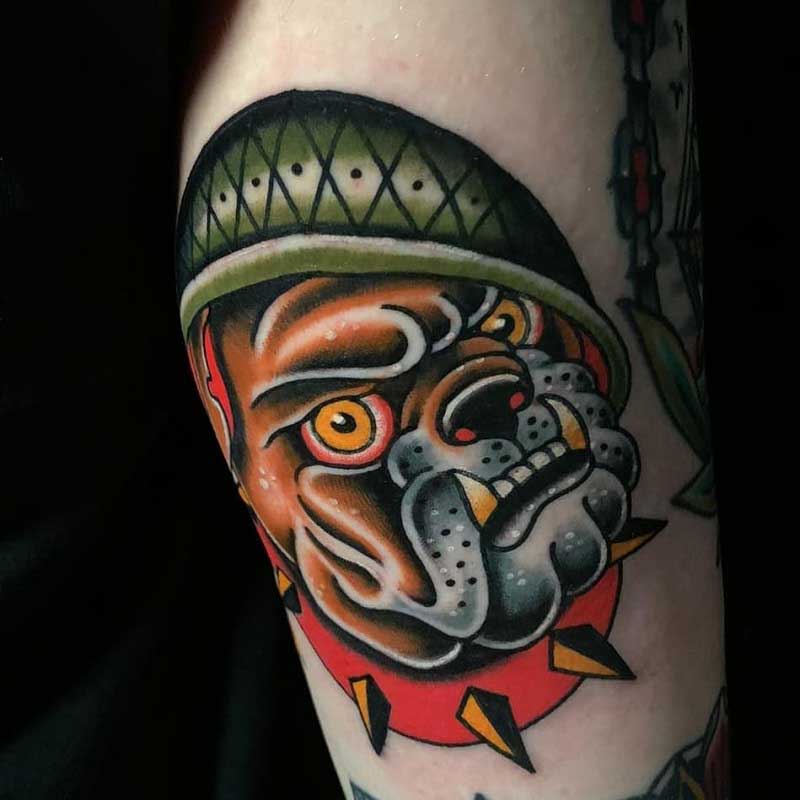 A brown bulldog wearing a green hat and a red band looks fantastic. The green hat in this tattoo adds a unique touch to it. Dog lovers may get this tattoo on their thighs to demonstrate their affection for the bulldog.
11. Barking Bulldog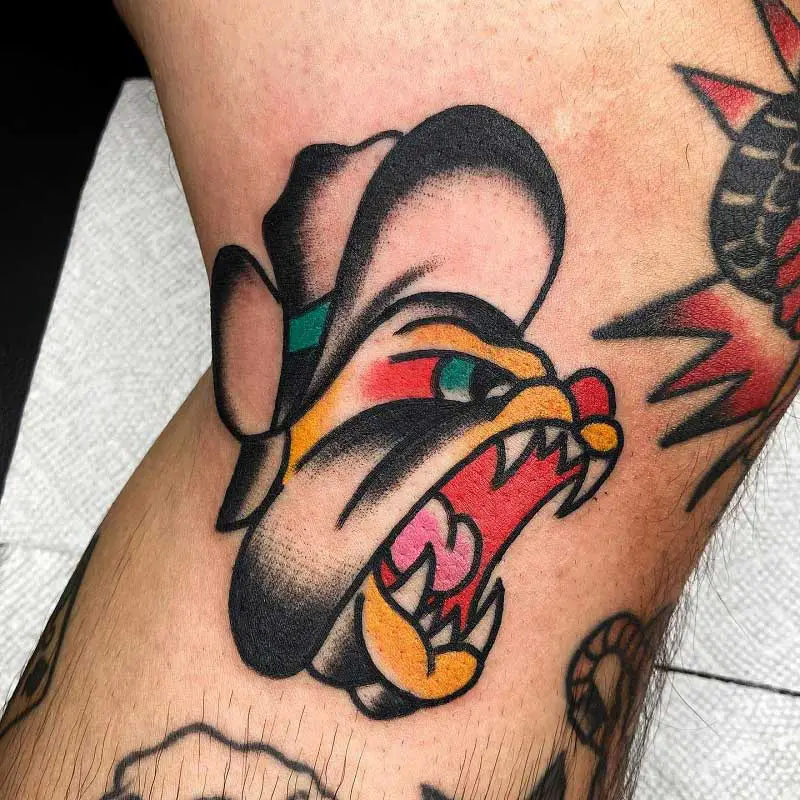 A bulldog snarling with its sharp fangs appears enraged. I believe it is upsetting because someone has entered its domain. Young folks might have this tattoo on their knee to signify that they are bulldog fans.
12. Upset Bulldog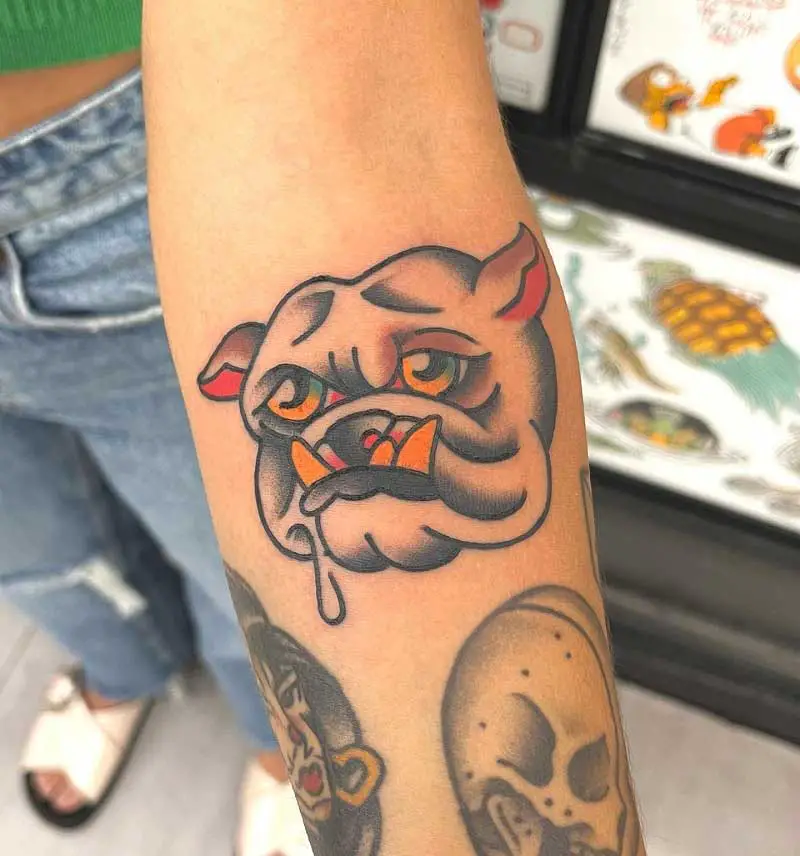 A bulldog weeps because it misses its owner. Its eye color is a mix of orange and blue. If you miss your beloved bulldog, you may have this tattoo.
13. Knuckles Bulldog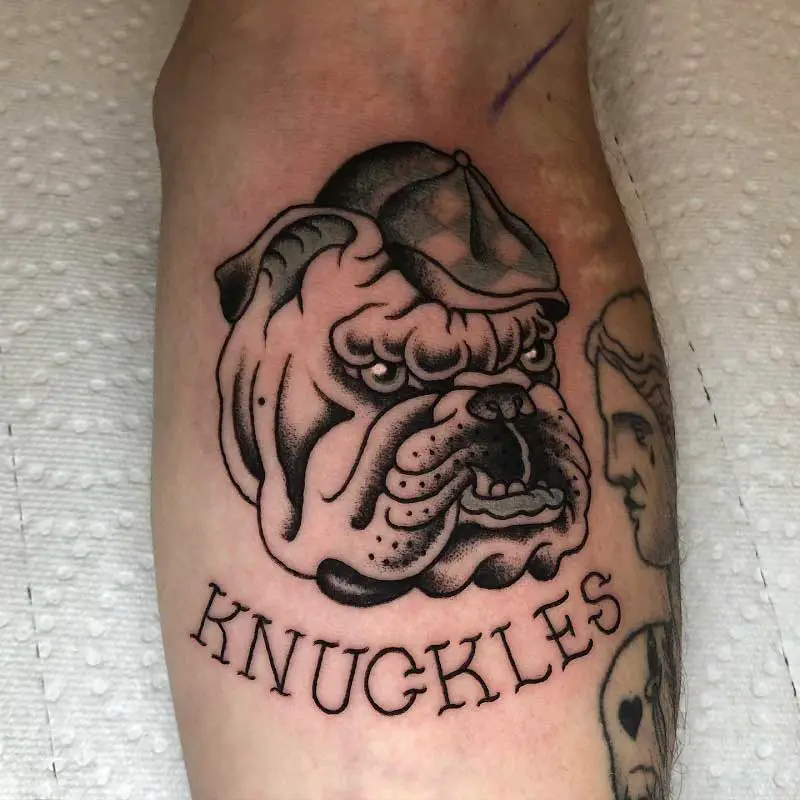 A Knuckles bulldog that appears to be hungry and is feeling a little irritated. The term Knuckles is written beneath this tattoo. Knuckles bulldog is a popular choice among the young generation.
Usmc Bulldog Tattoo
The United States Marine Corps has a long history of service and sacrifice. There are many ways to honor their service, and one of the most popular is through their tattoos. These tattoos are a symbol of the Marines' courage, strength, and commitment.
14. Smoking Bulldog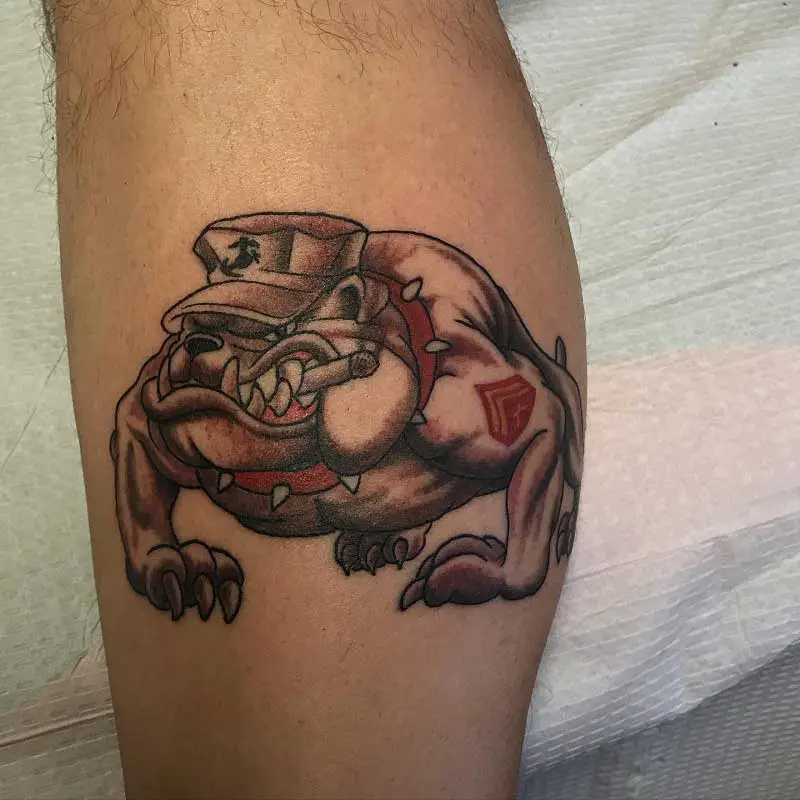 A bulldog wearing a Marine cap and chewing a cigar appears to be rather fashionable. You can perhaps get this tattoo to express your support for the US Marine Corps.
15. US Bulldog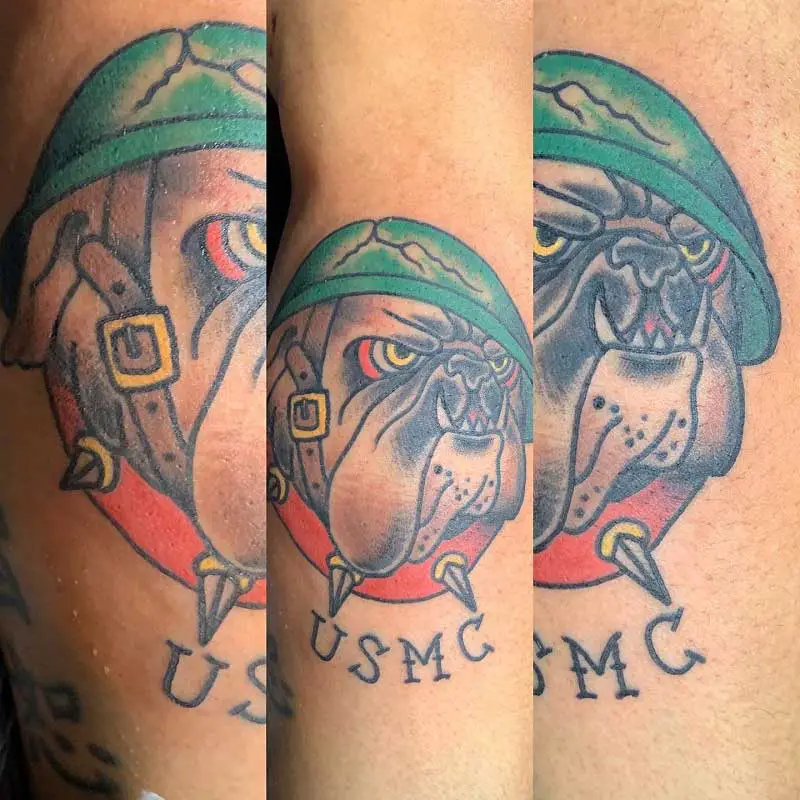 A bulldog wearing a light green hat with the words USMC written beneath its chin. The bulldog in this tattoo has orange and yellow shades in the eyes, making it highly distinctive and stylish.
16. Sharp Teeth Bulldog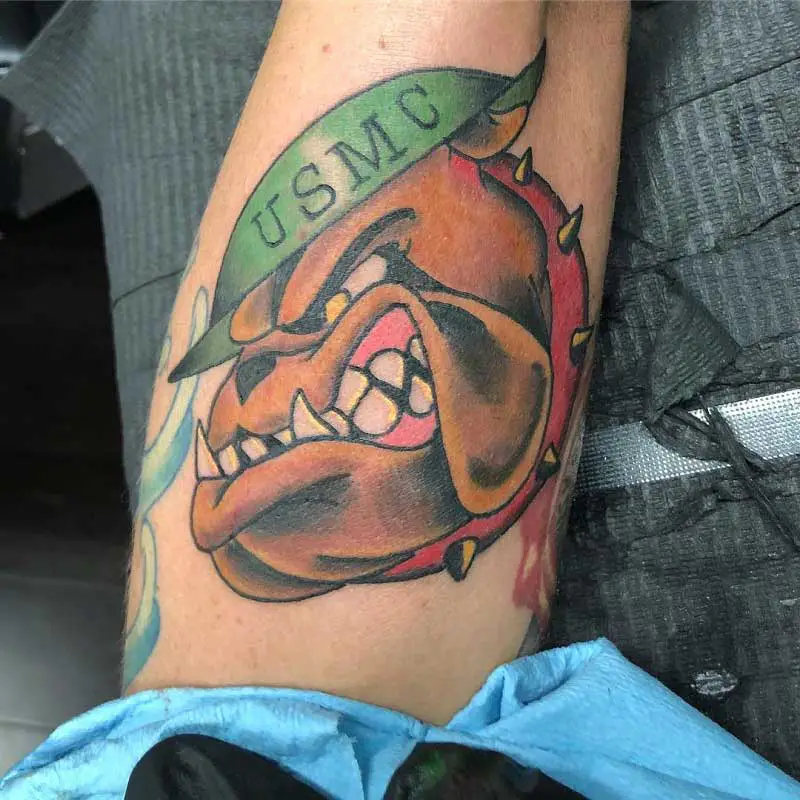 A brown bulldog with large sharp teeth is staring at you furiously. It also includes a green cap with the words USMC inscribed on it. This USMC tattoo of a bulldog is one of the nicest tattoos.
17. Orange Red Bulldog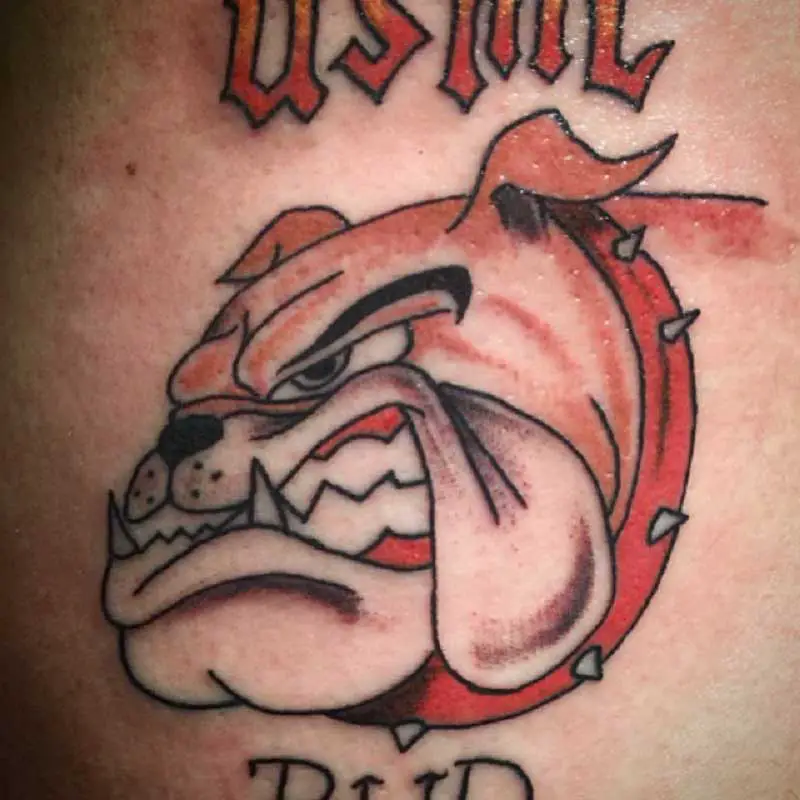 A bulldog with an orange-red color combination and a color band around its neck looks fantastic. 
18. Boxer Bulldog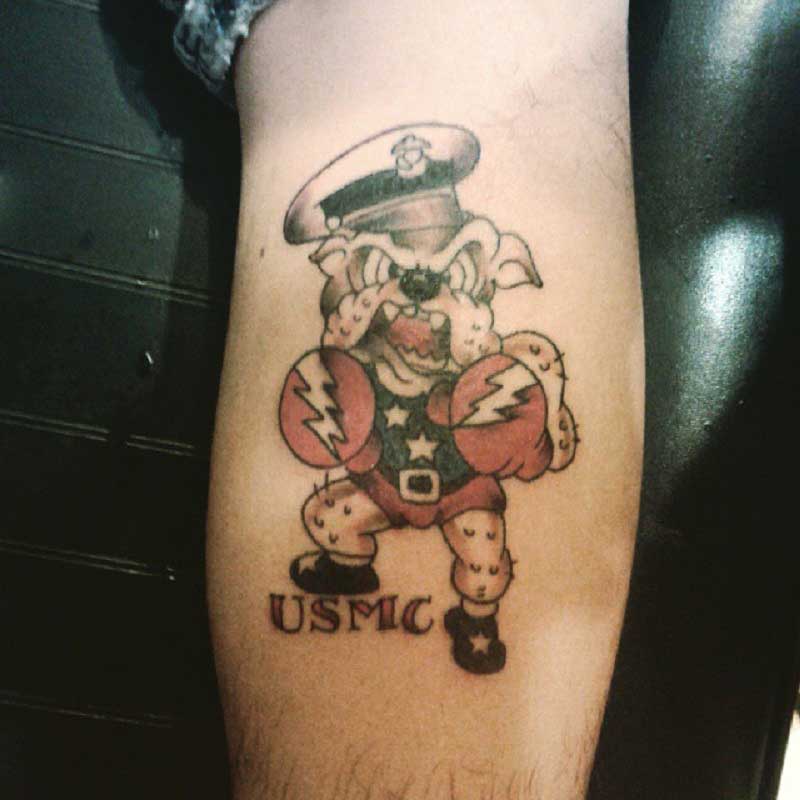 A bulldog is getting ready to box, and it's wearing cool headgear. And beneath this tattoo has a USMC label to commemorate the sacrifice of the United States Marine Corps.
Marine Bulldog Tattoo
A Marine Bulldog tattoo is a type of tattoo that is popular among U.S. servicemen and women. These tattoos incorporate the Marine Corps emblem and the bulldog.
19. Poops Bulldog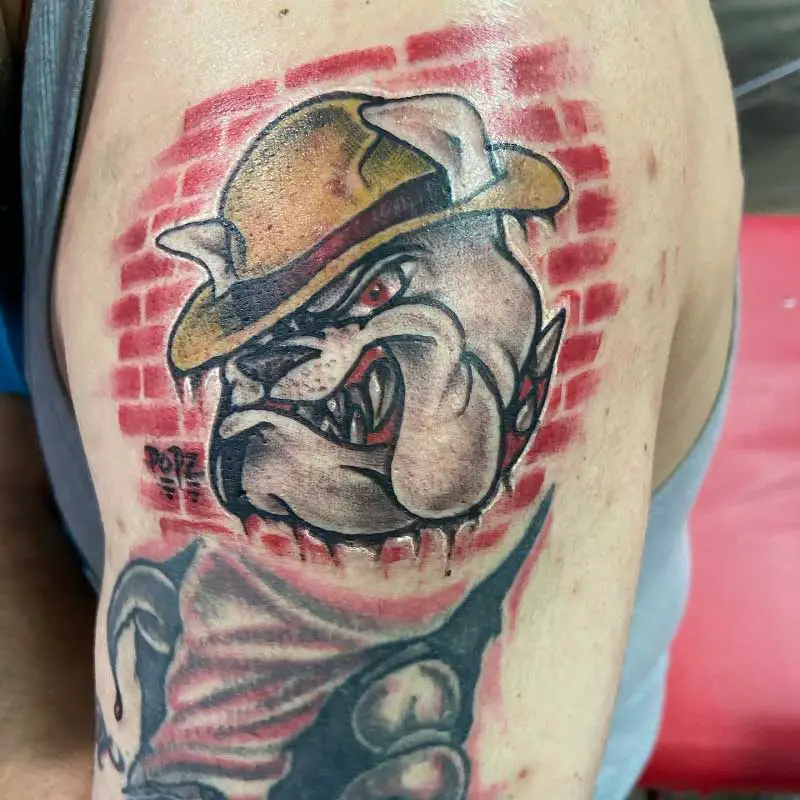 A stylish bulldog wearing a hat, but its long ear visible through the cap, looks wonderful. The fiery eyes of the bulldog convey his rage. This bulldog tattoo might be a memorable one for dog lovers.
20. Five-Star Bulldog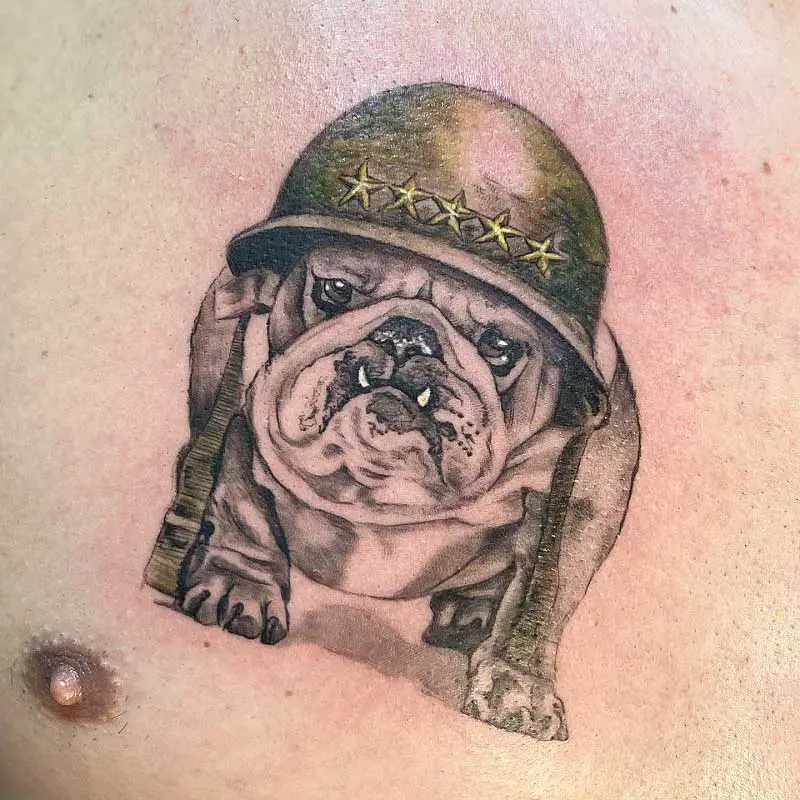 A man with this tattoo has won five battles and intends to win more. Its golden hat gives off a distinct atmosphere. A tattoo like this can be placed on the chest to show love and respect for Marines.
21. Anchor Bulldog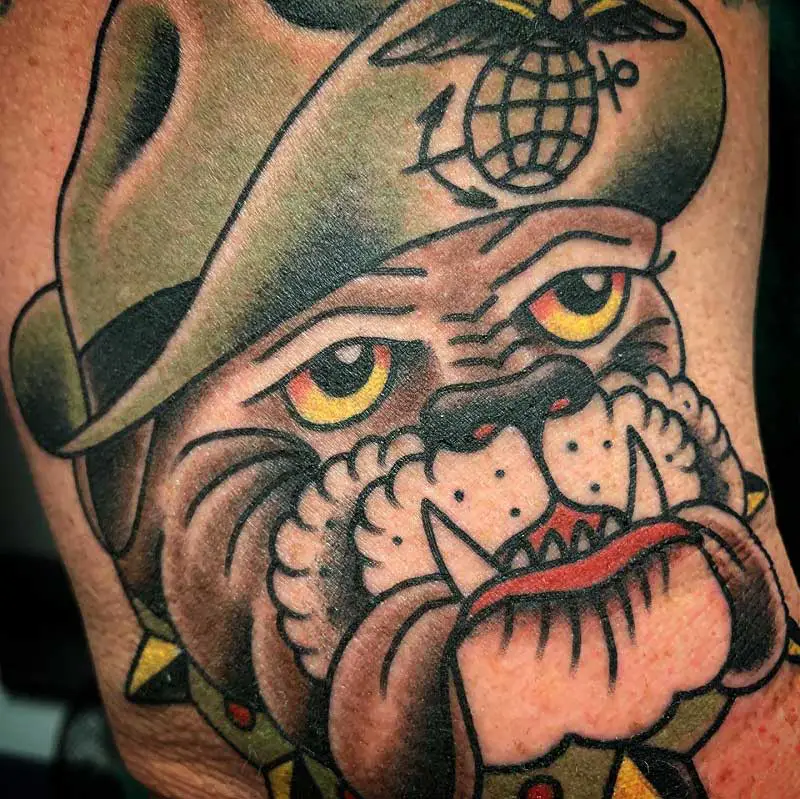 A bulldog gazes into the sky while wearing a cap with the US marine symbol on it. The tattoo is suitable for those who believe in Mariners and respect them, as well as those who care about their loved ones' wellbeing.
22. Eagle Bulldog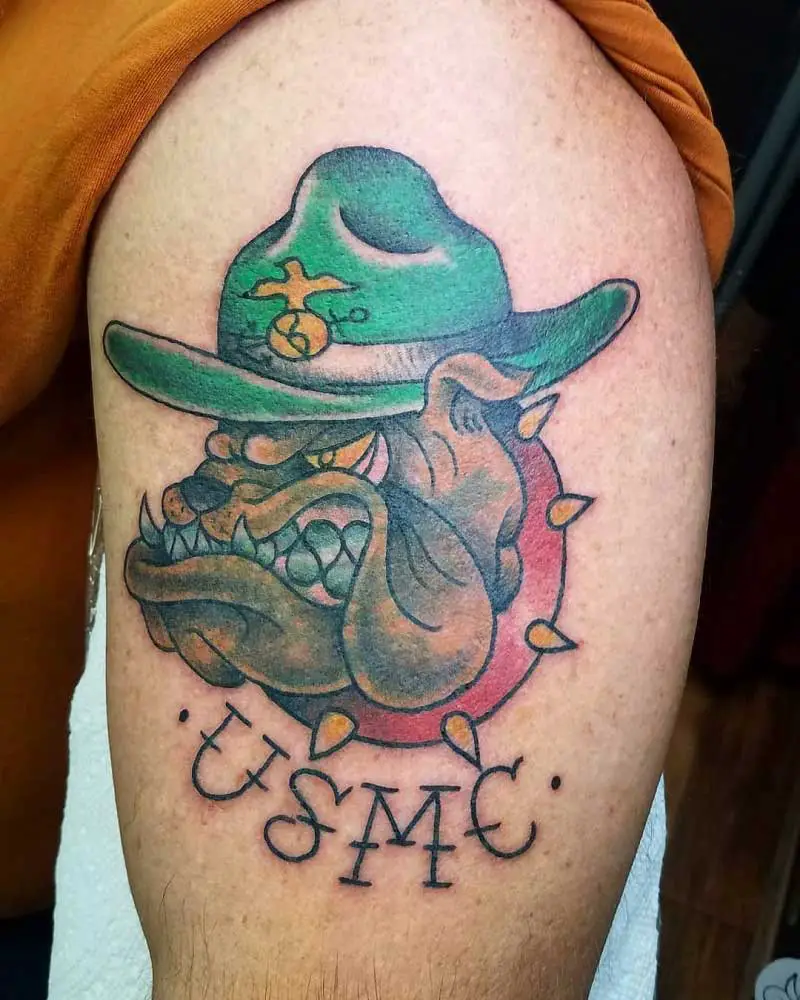 A bulldog wearing a greenish hat and holding an eagle sign looks fantastic. We also notice a USMC sign beneath it. This upper sleeve tattoo is suitable for people who have a strong affinity toward mariners.
23. MC Bulldog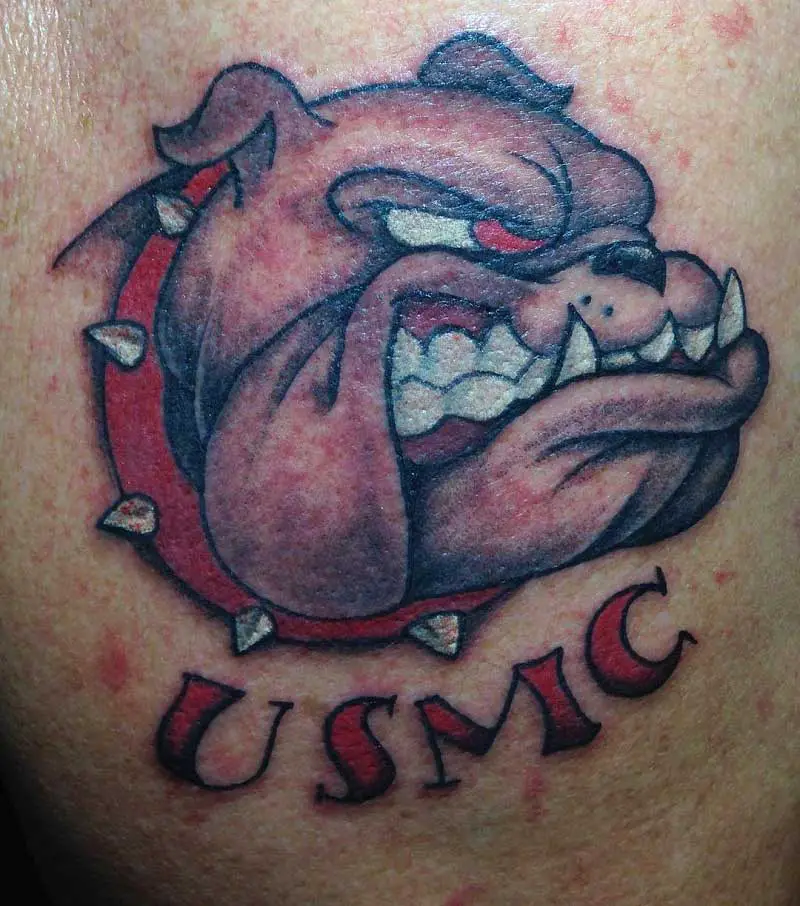 The eye of this bulldog is red, and it has shiny white big teeth that make it look very cool. It is suitable for people with special feelings for The United States Marine Corps and who are focused on life.
Minimalist Bulldog Tattoo
Minimalist Bulldog tattoo designs are a little bit different than your traditional bulldog tattoos. These tattoos are simple, but they still convey the same message. They are not busy, and they are not complicated.
24. Fairy Bulldog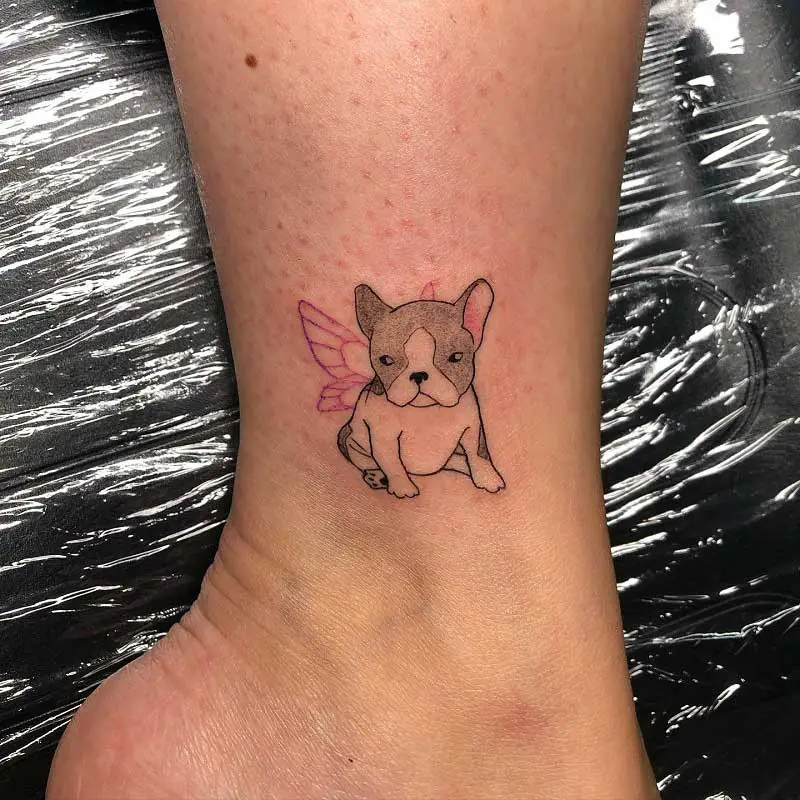 An adorable little bulldog with wings appears to be quite happy. The little tattoo may be drawn on the ankle and is ideal for your dog-loving daughters. The gray tone of the dog's face enhances the tattoo's appeal.
25. Love Bulldog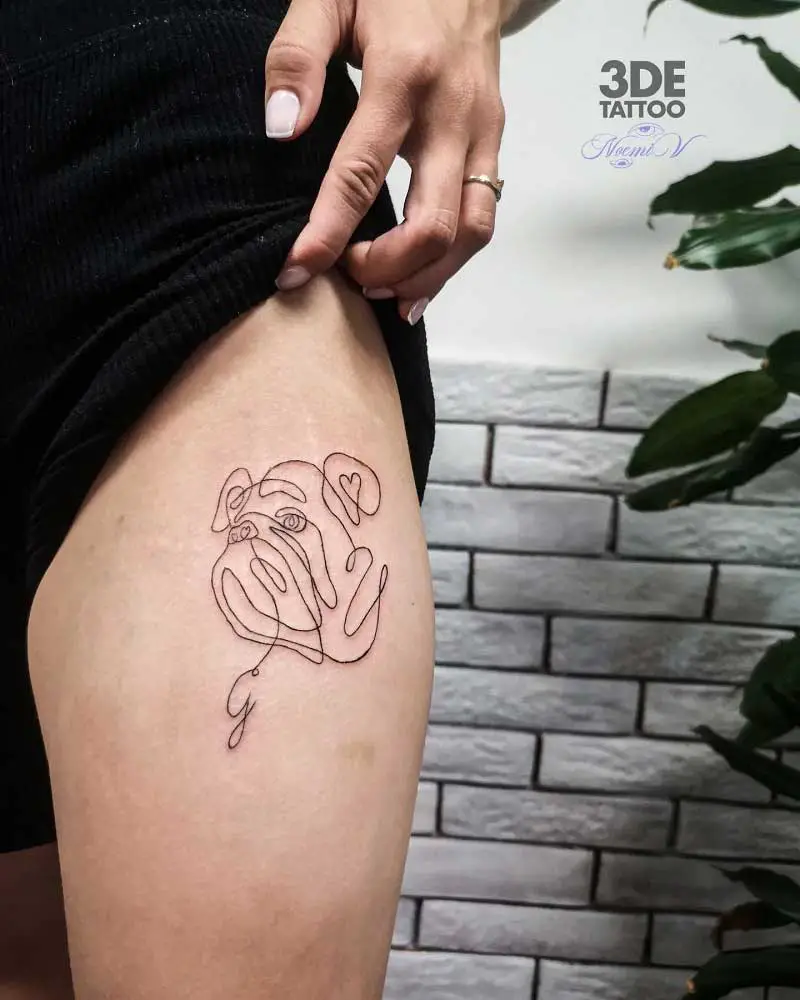 A bulldog formed of many symbols of love appears to be quite unusual and stylish. An appealing aspect of this tattoo is that it's drawn with a continuous pen line.
26.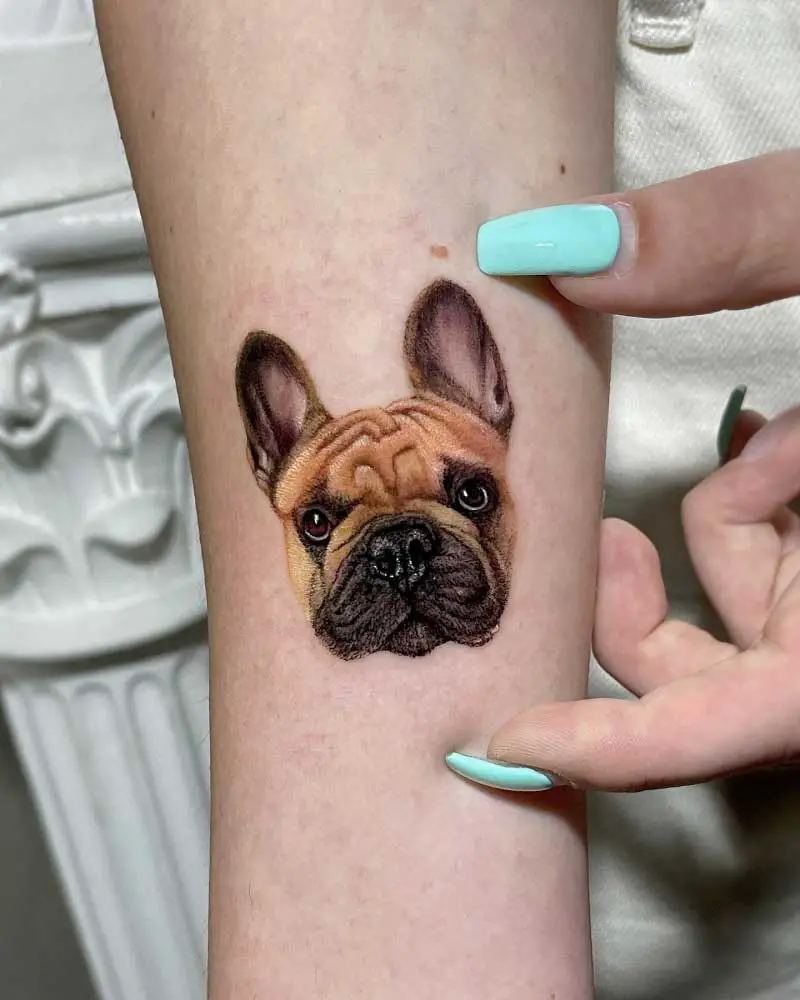 27.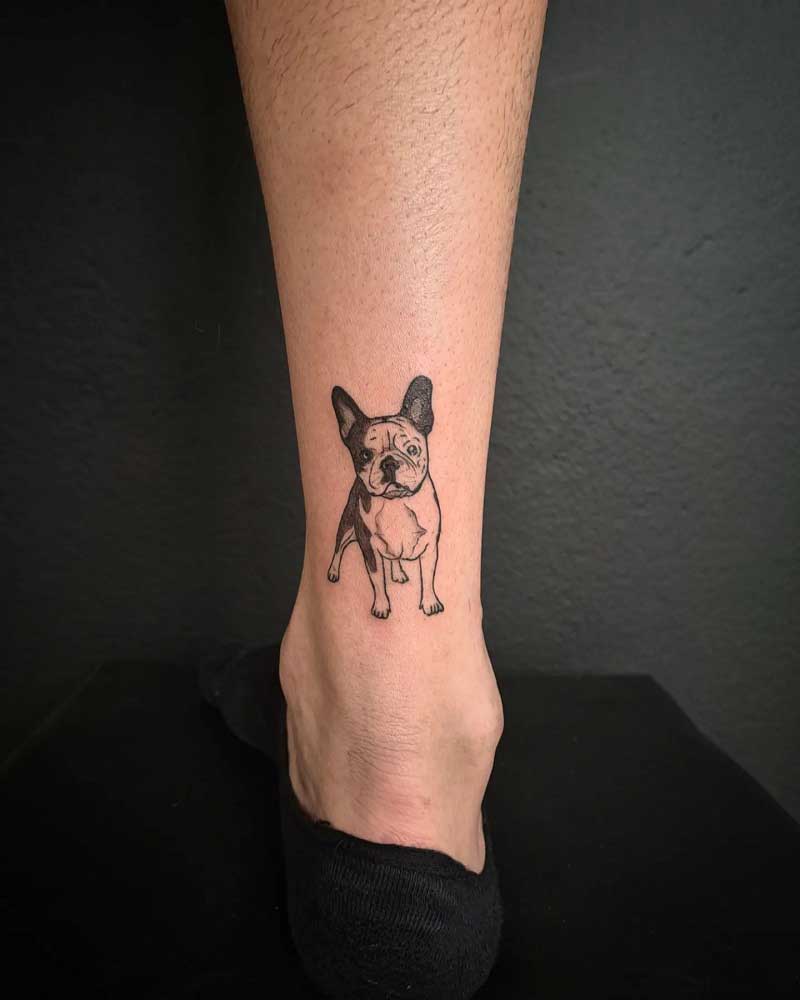 28.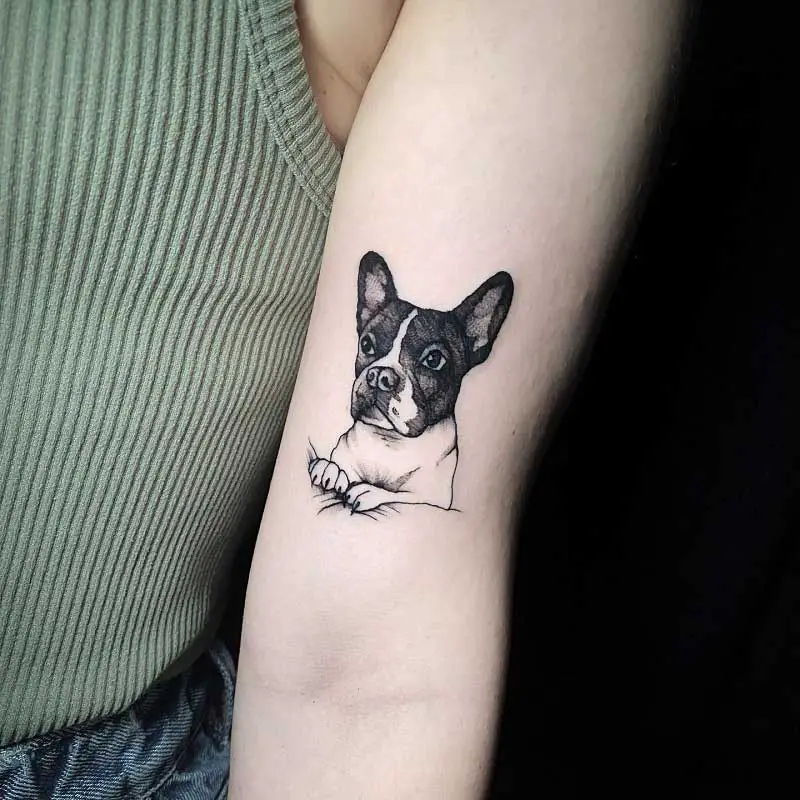 American Bulldog Tattoo
29.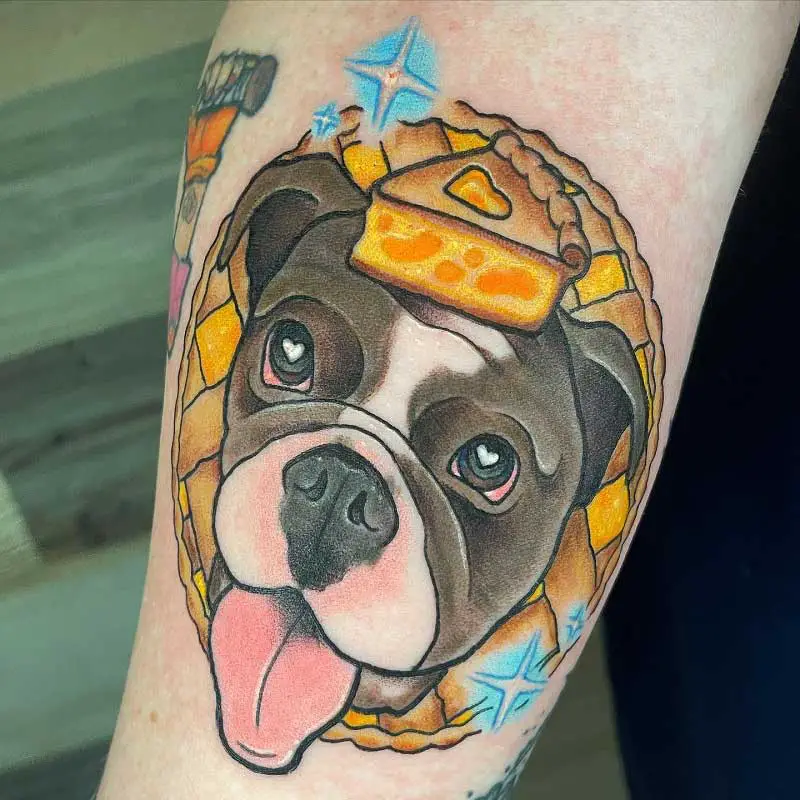 30.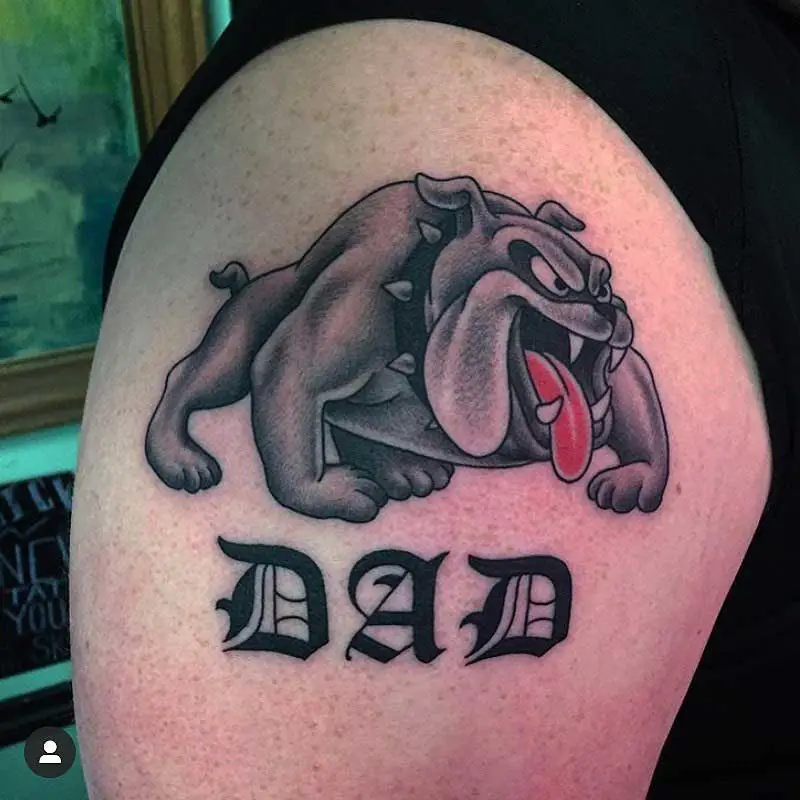 31.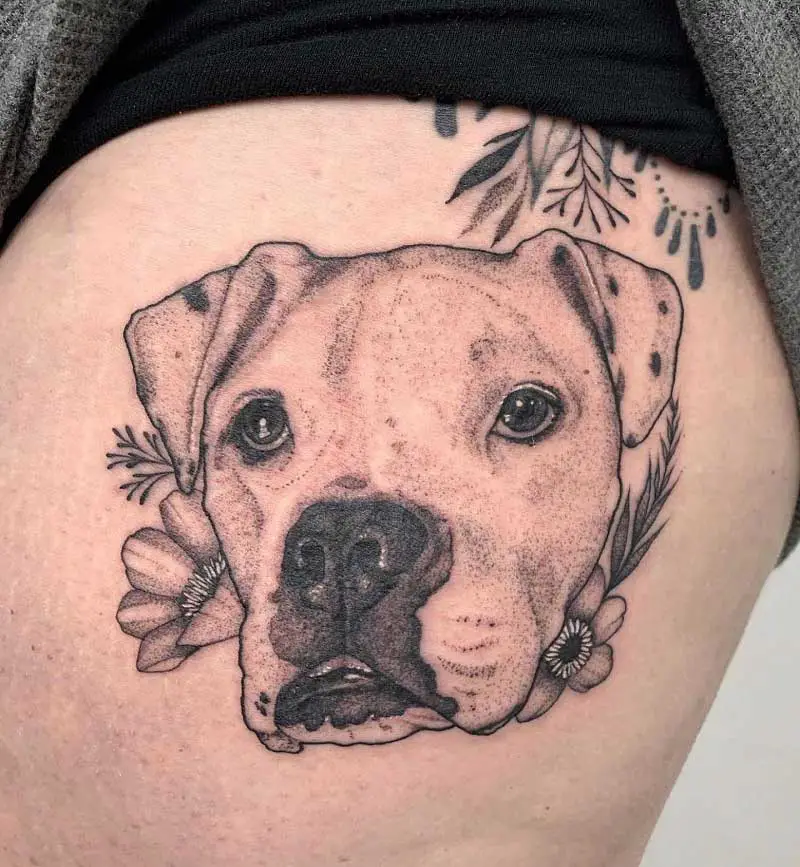 32.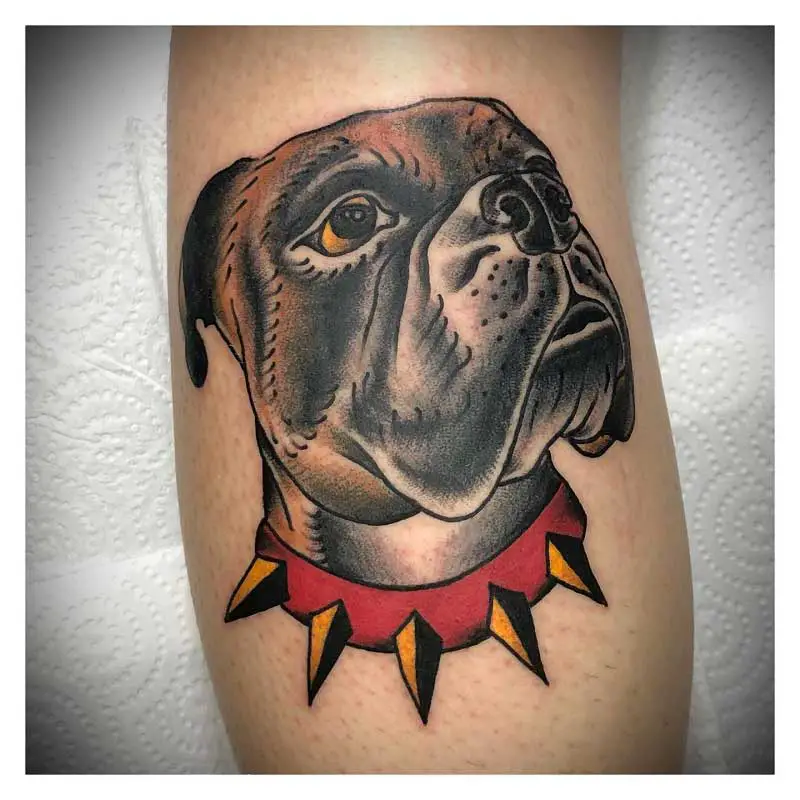 33.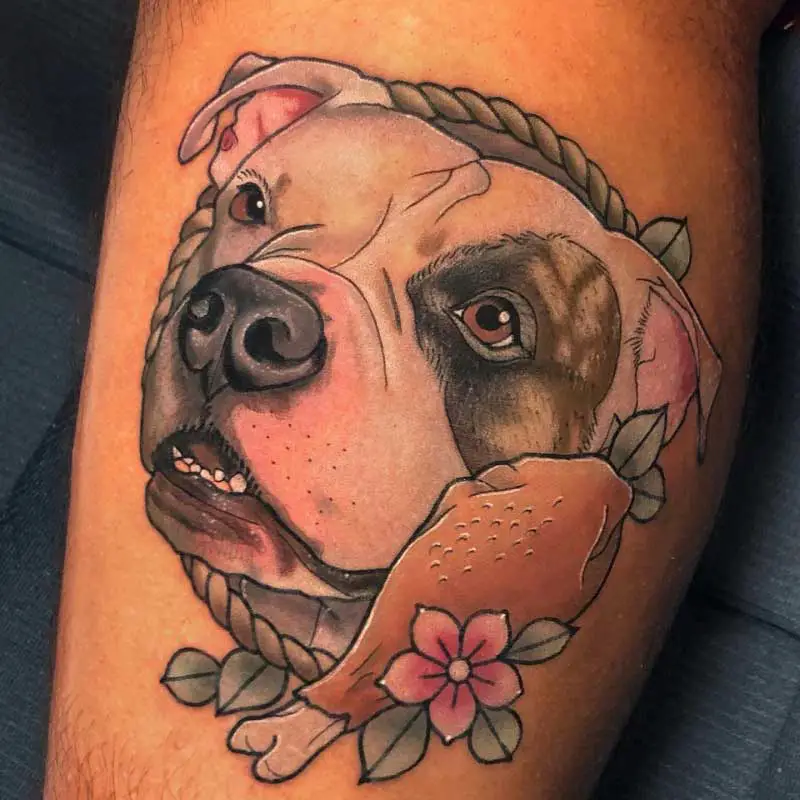 Angry Bulldog Tattoo
34.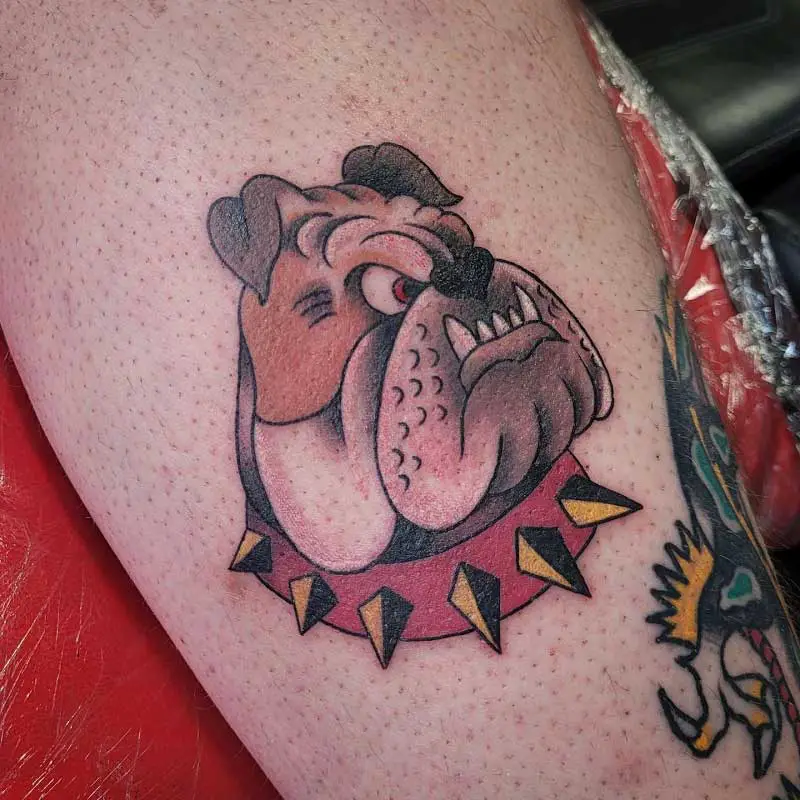 35.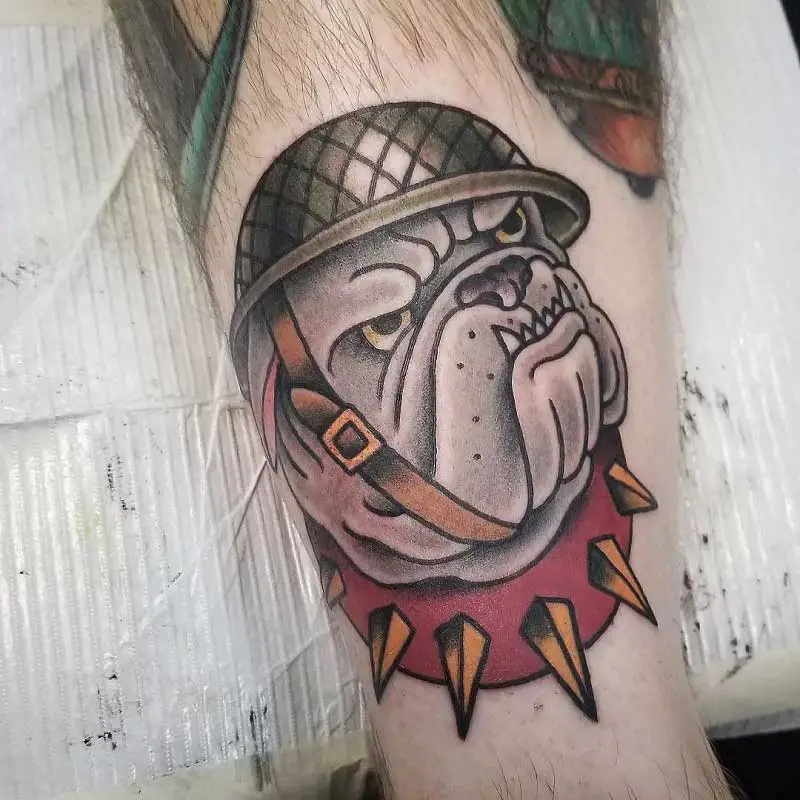 36.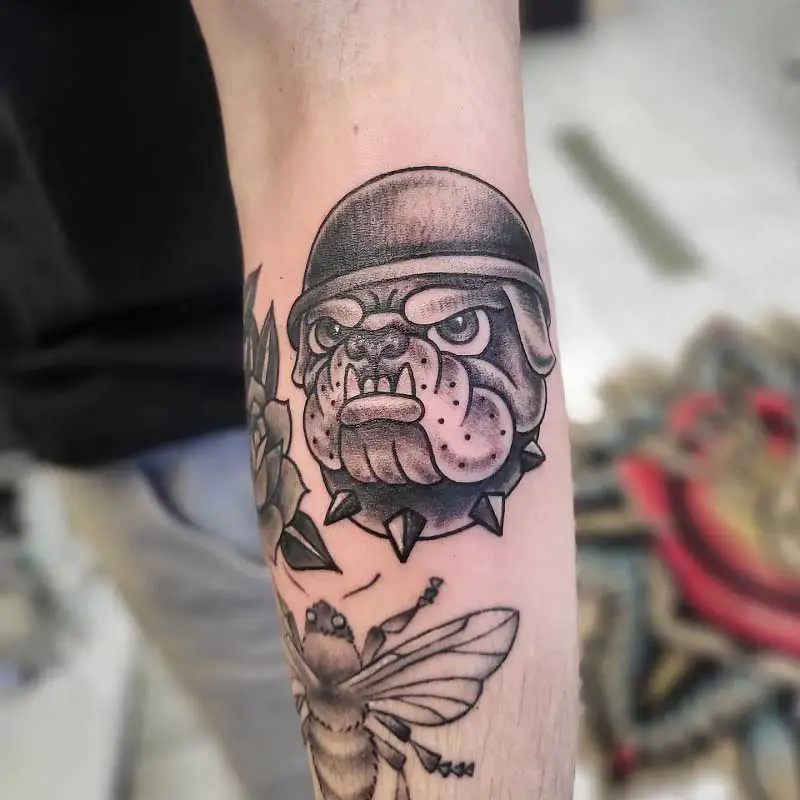 Geometric French Bulldog Tattoo
37.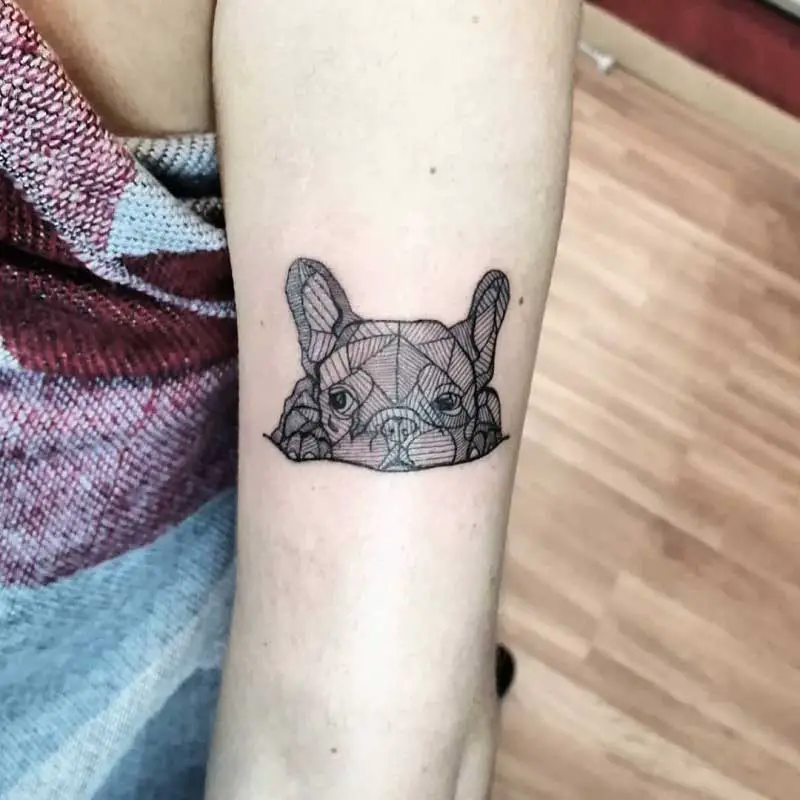 38.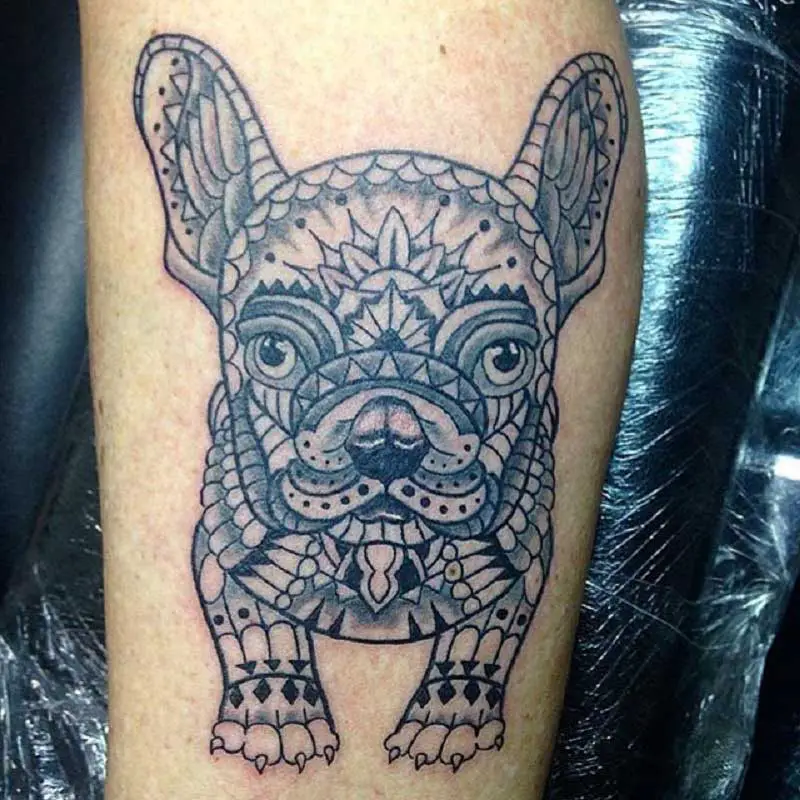 39.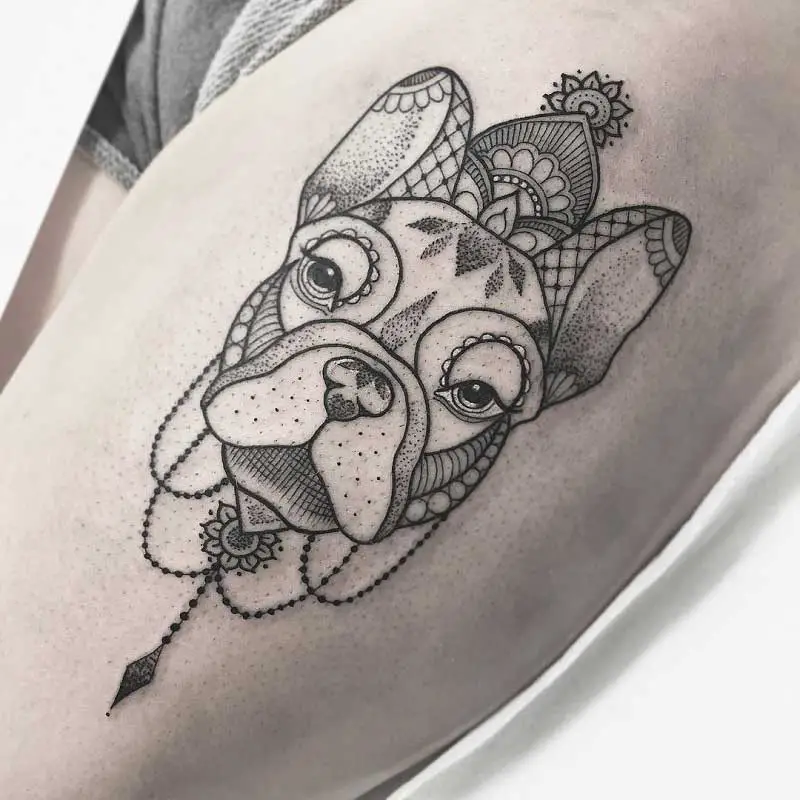 Bulldog Portrait Tattoo
40.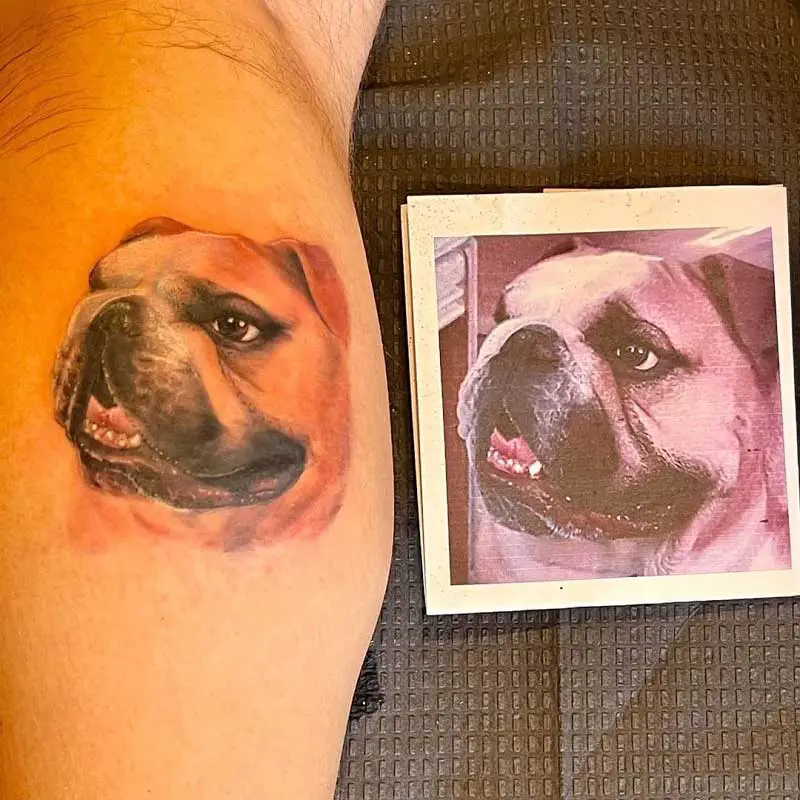 41.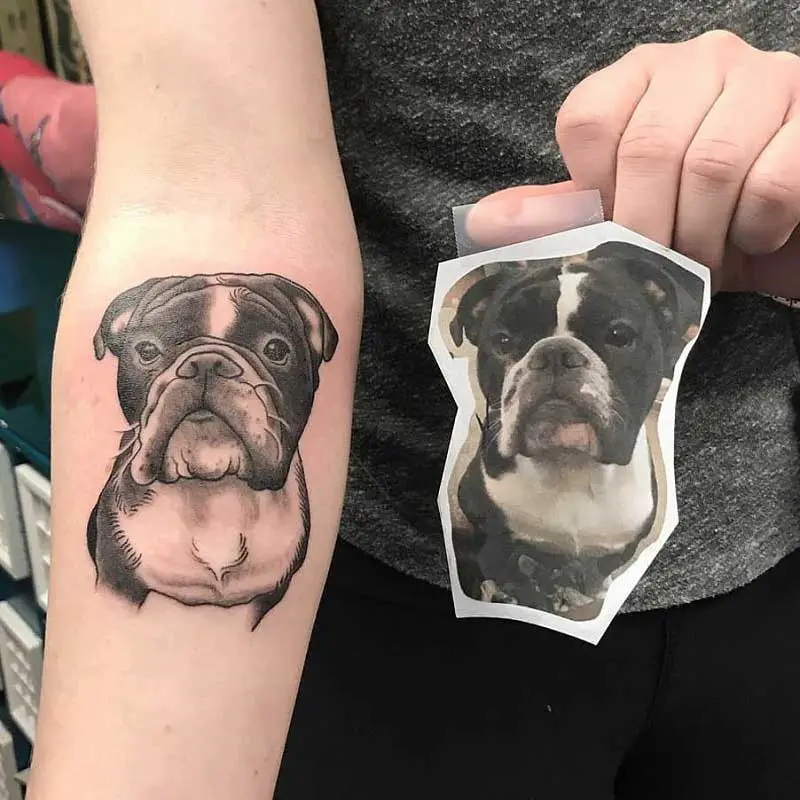 42.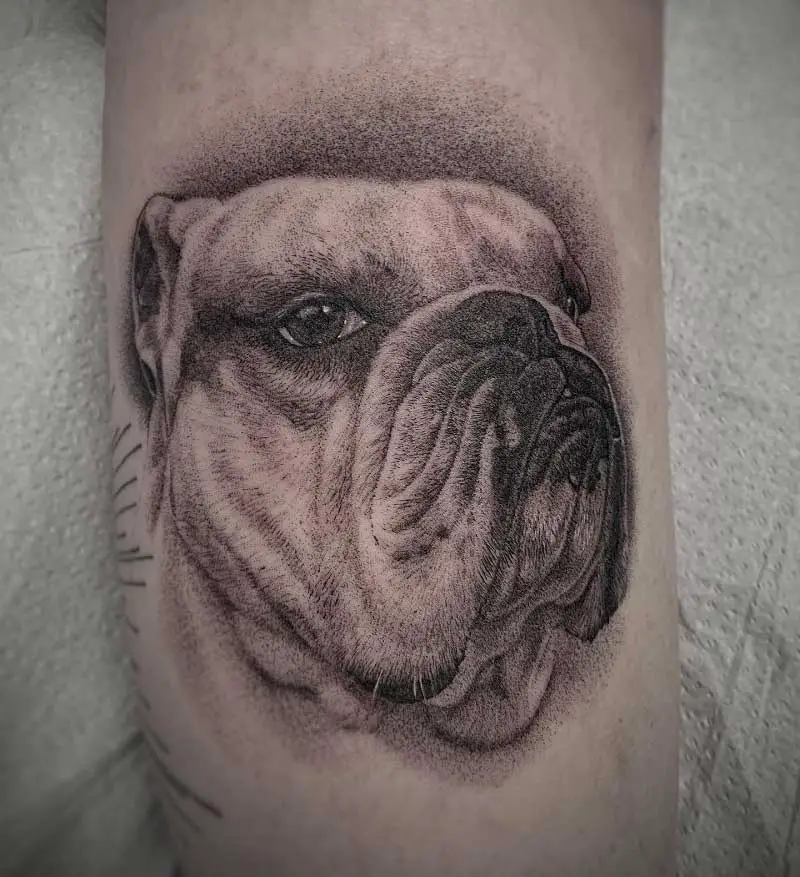 43.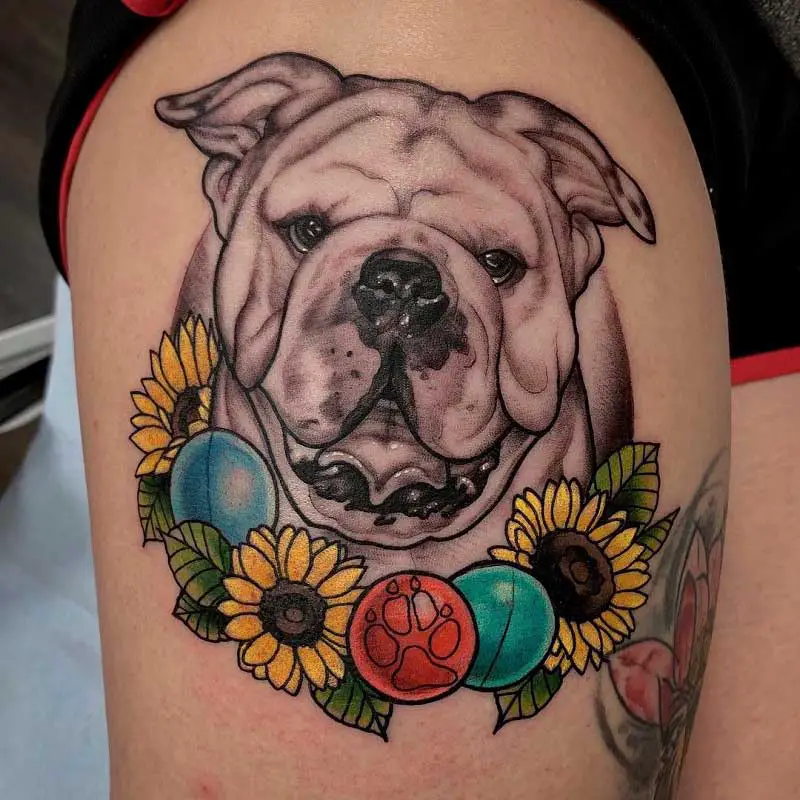 44.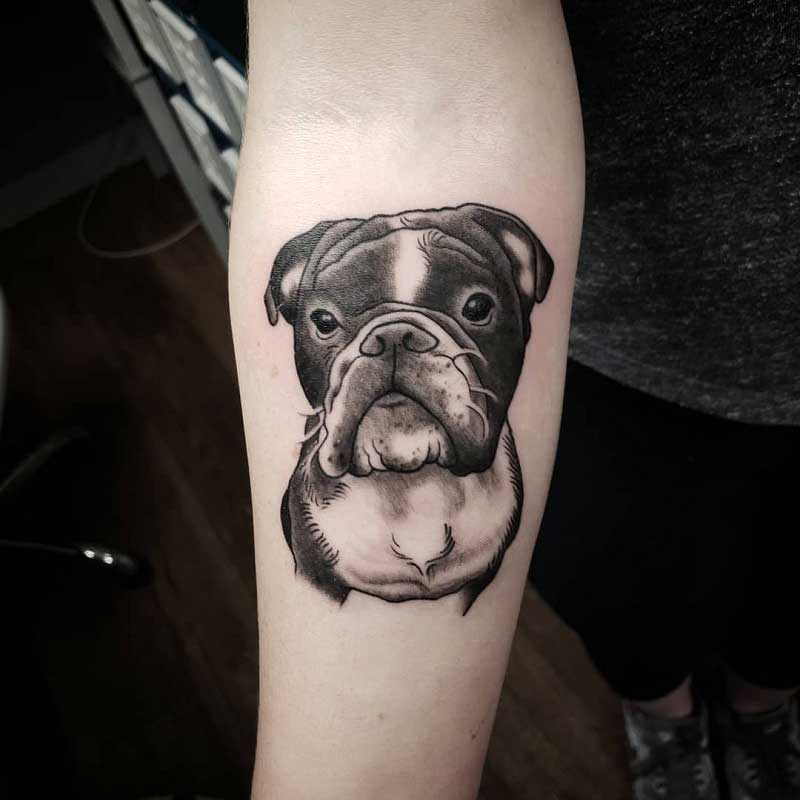 Bulldog Sugar Skull Tattoo
45.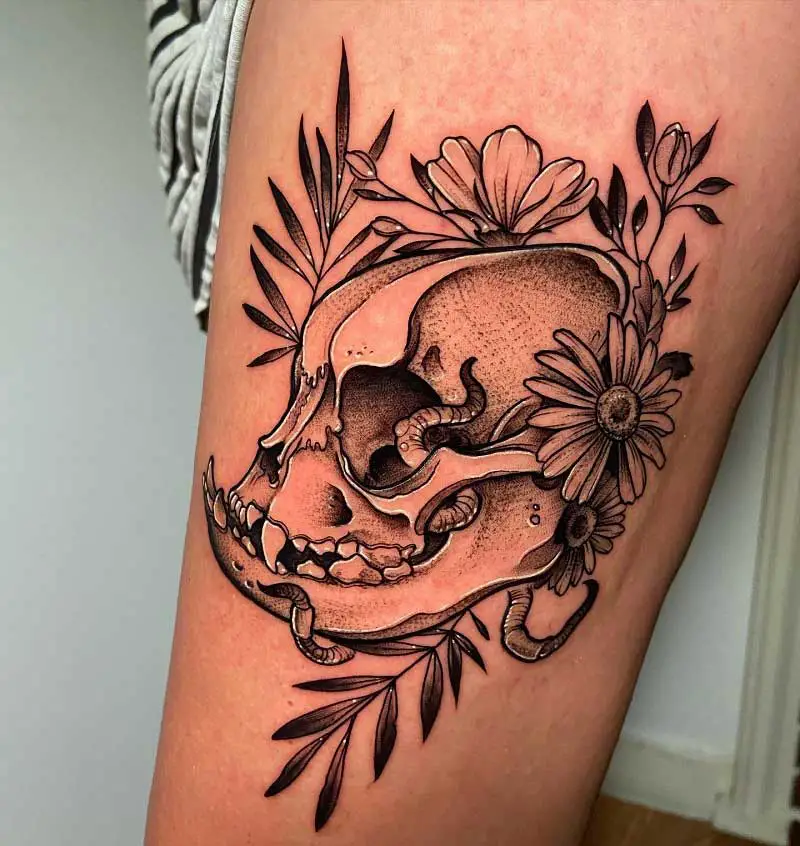 46.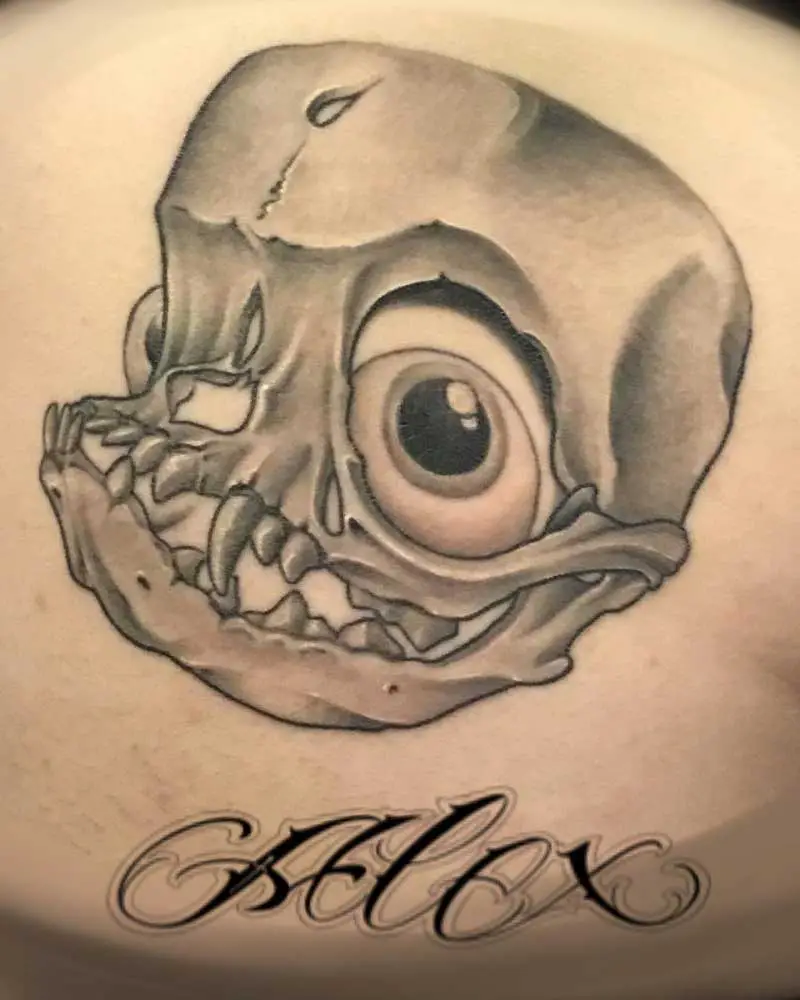 47.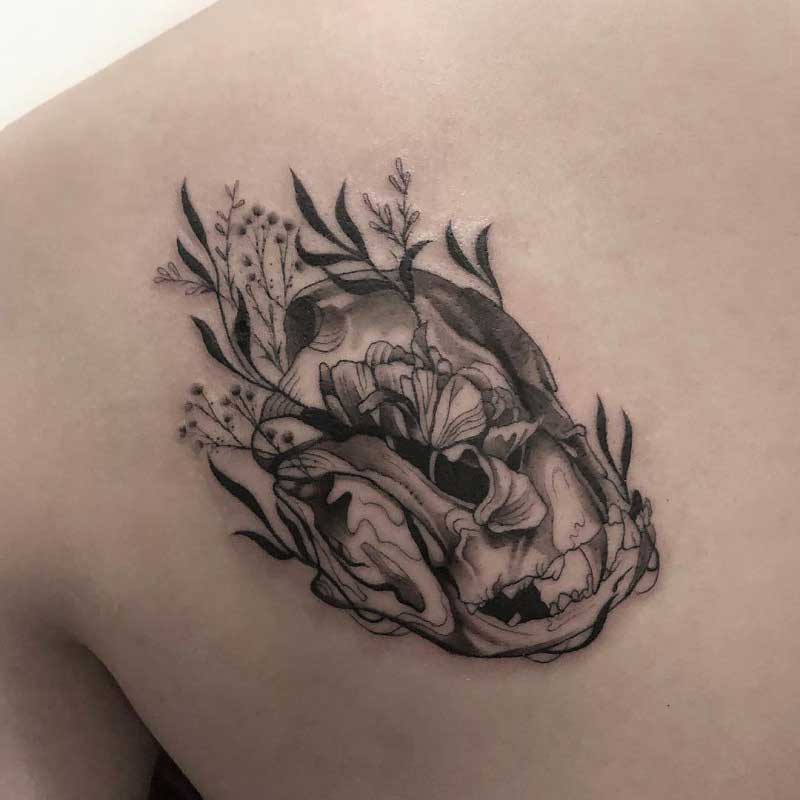 48.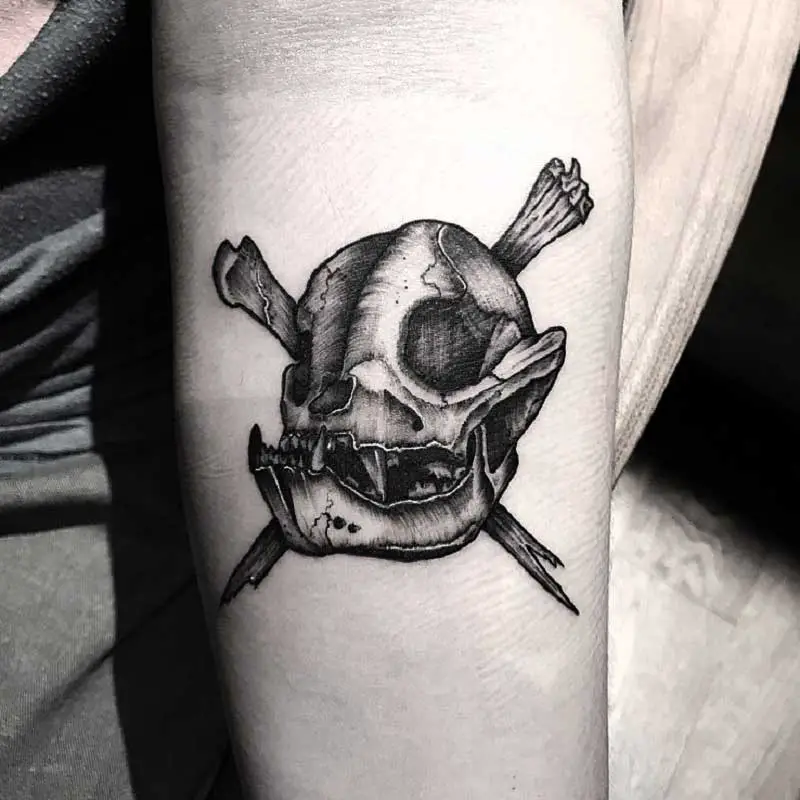 49.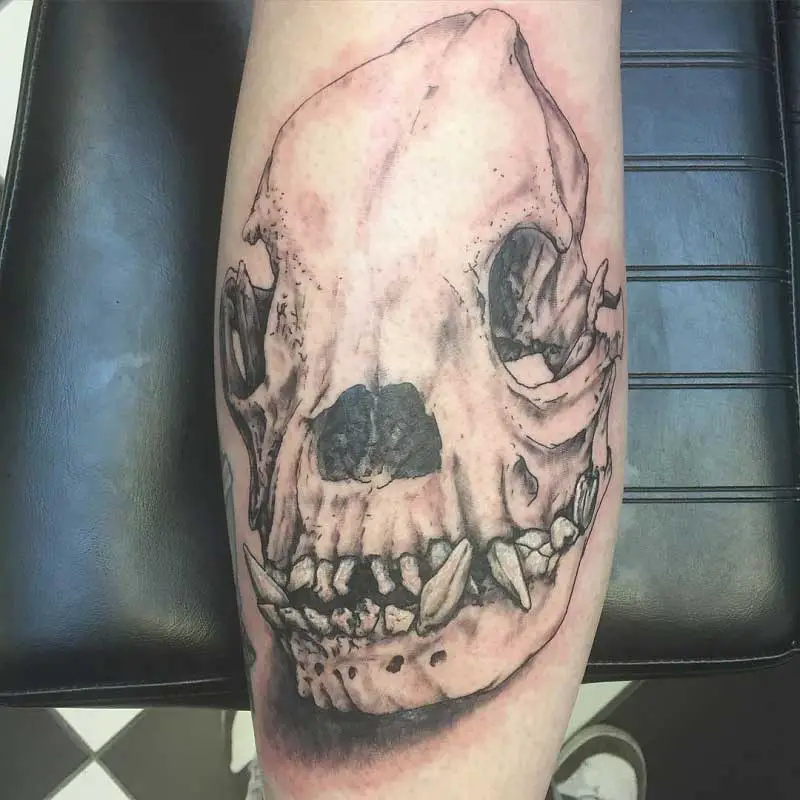 Japanese Bulldog Tattoo
50.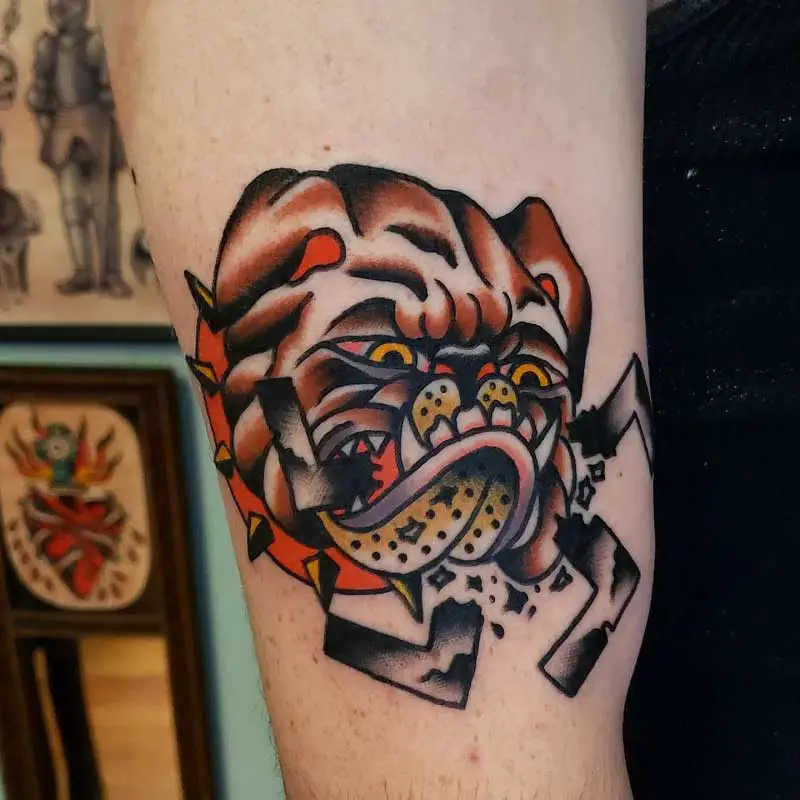 51.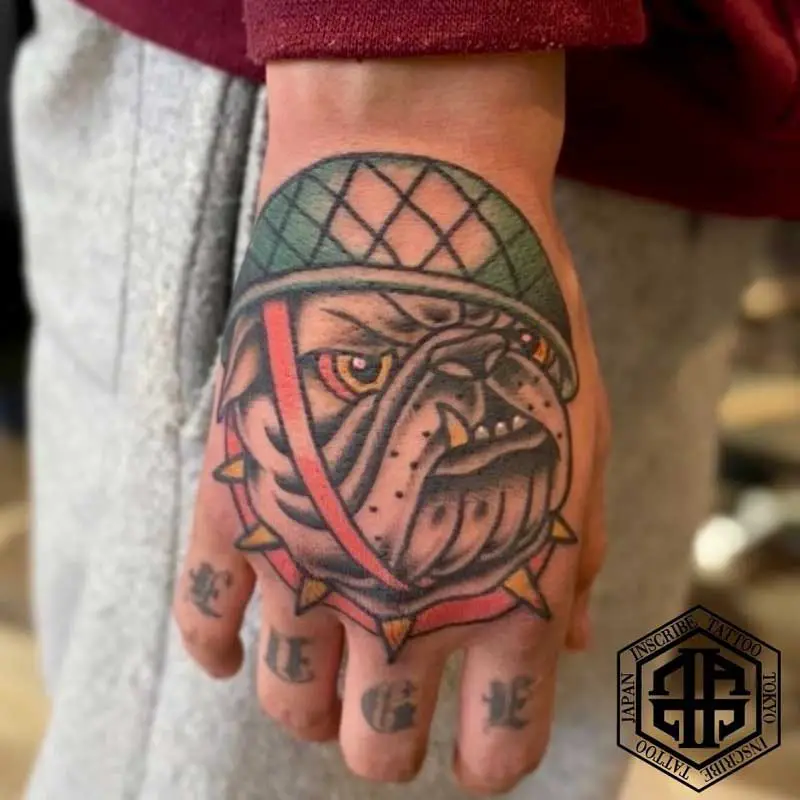 52.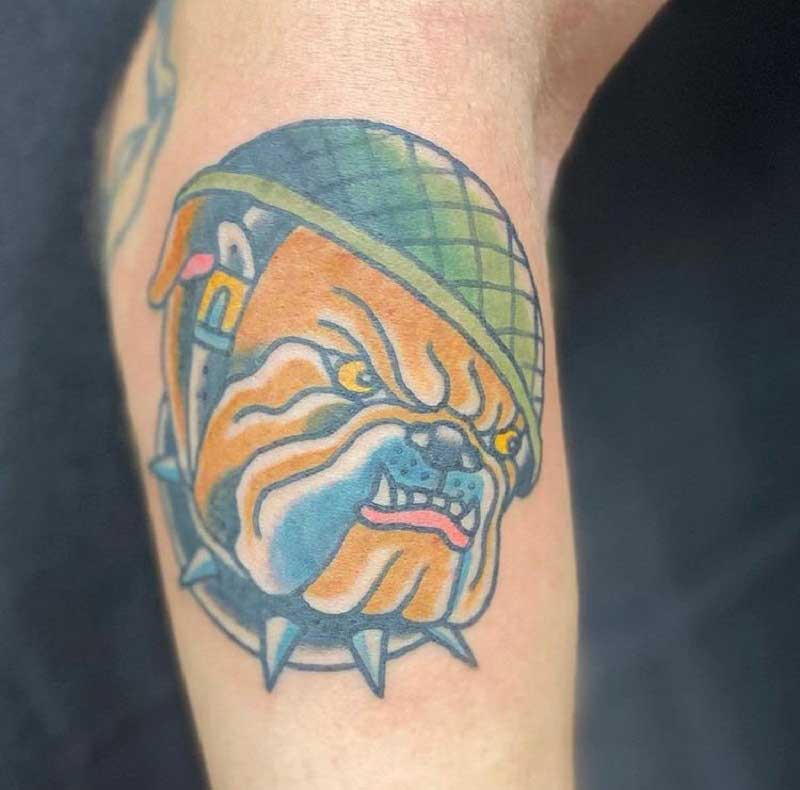 Old English Bulldog Tattoo
53.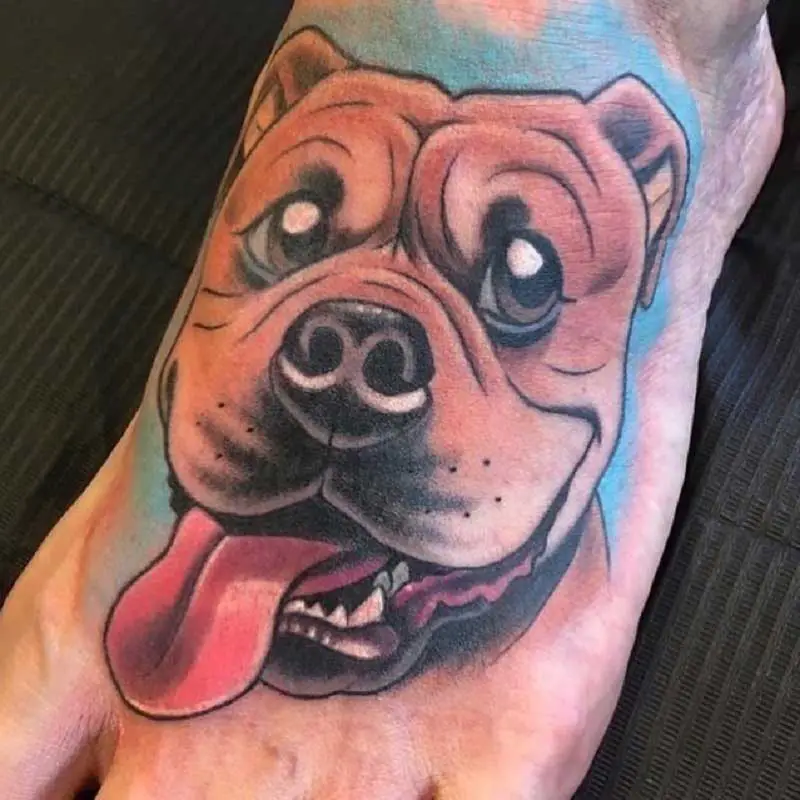 54.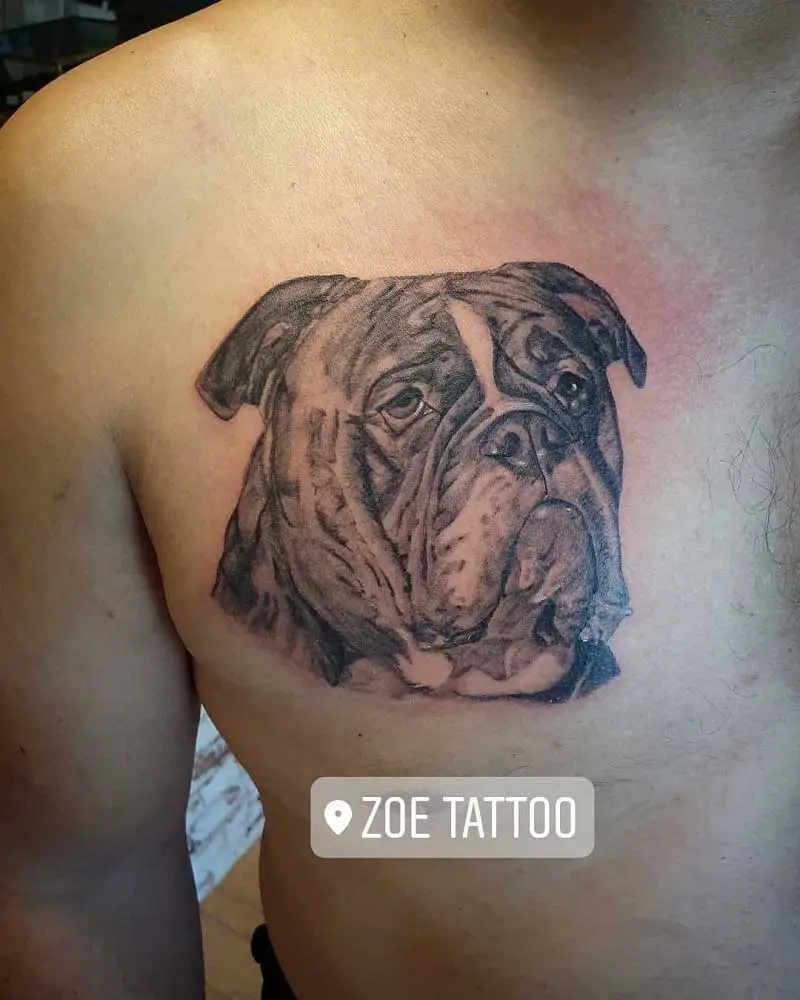 55.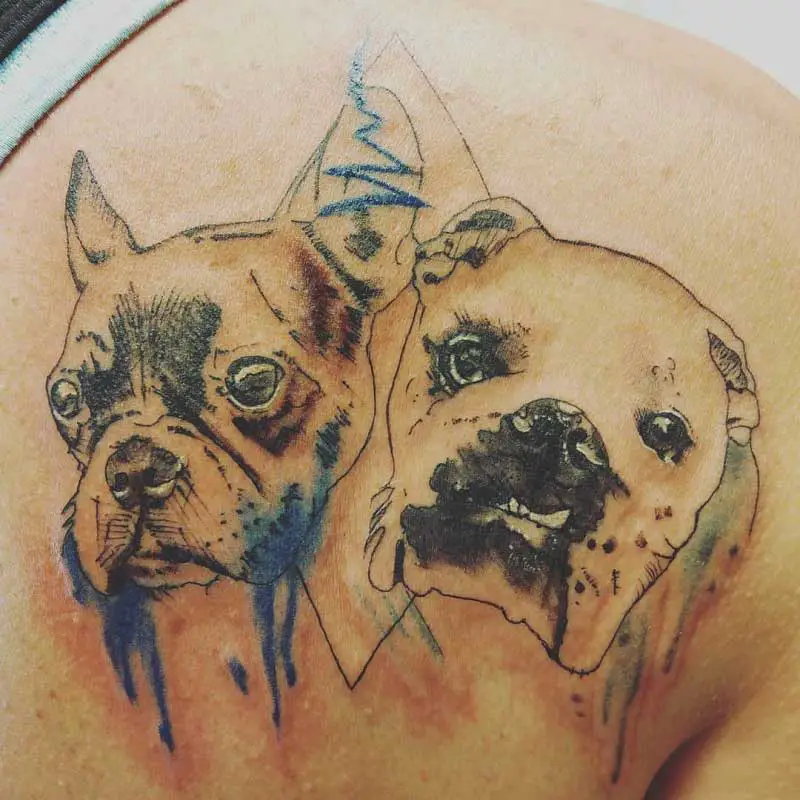 56.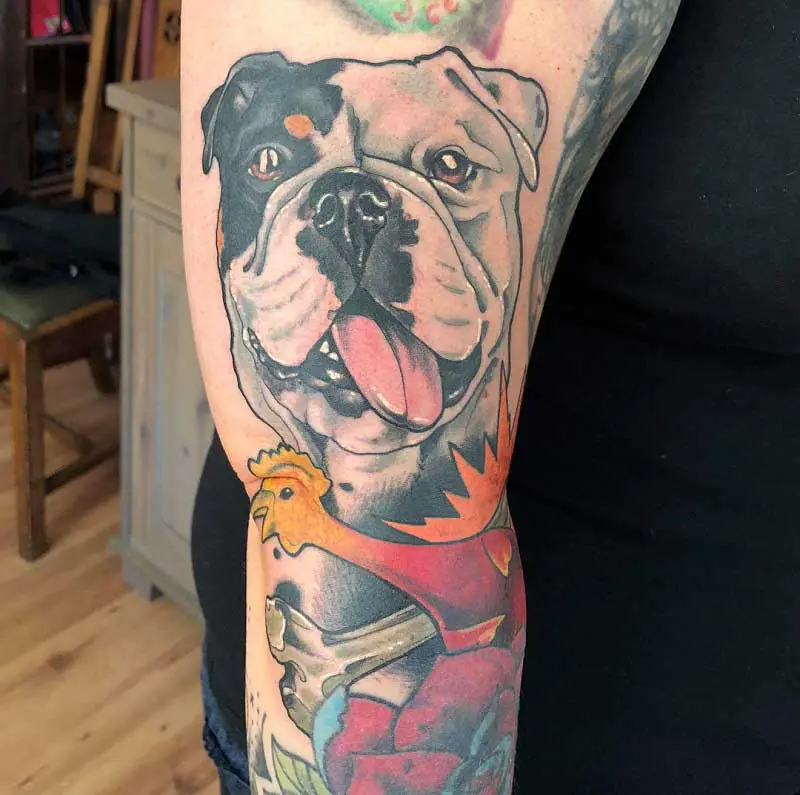 57.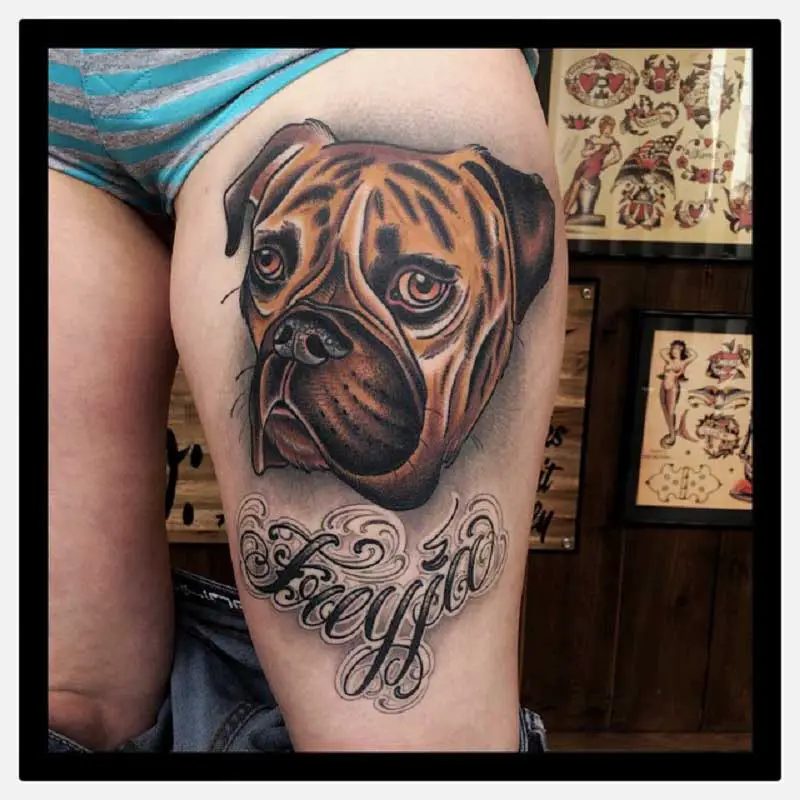 Bulldog Outline Tattoo
58.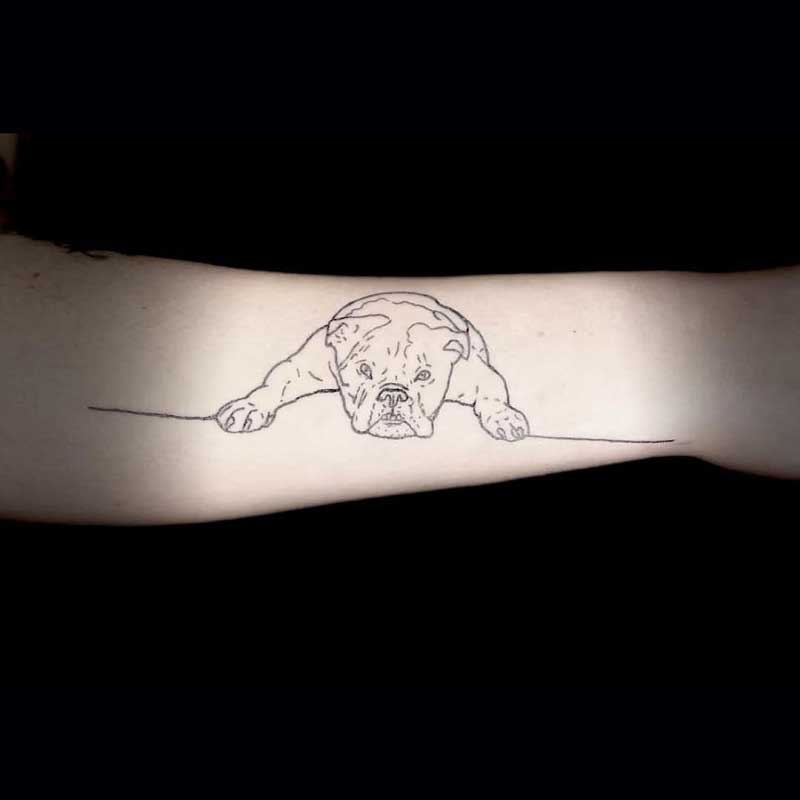 59.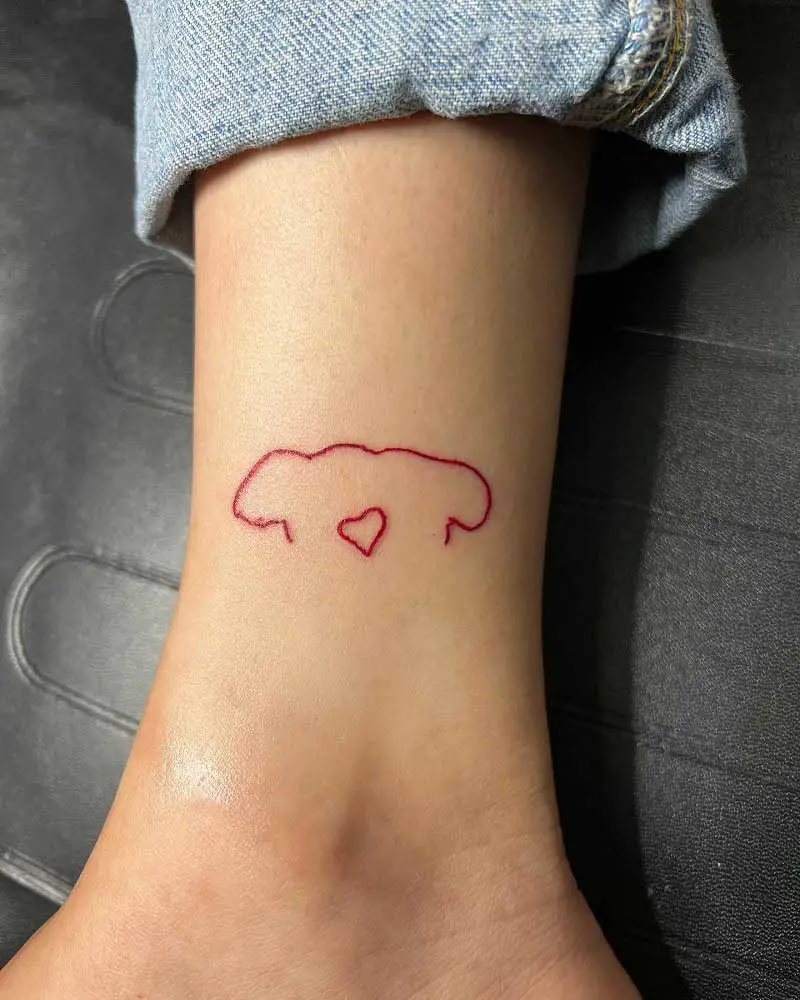 60.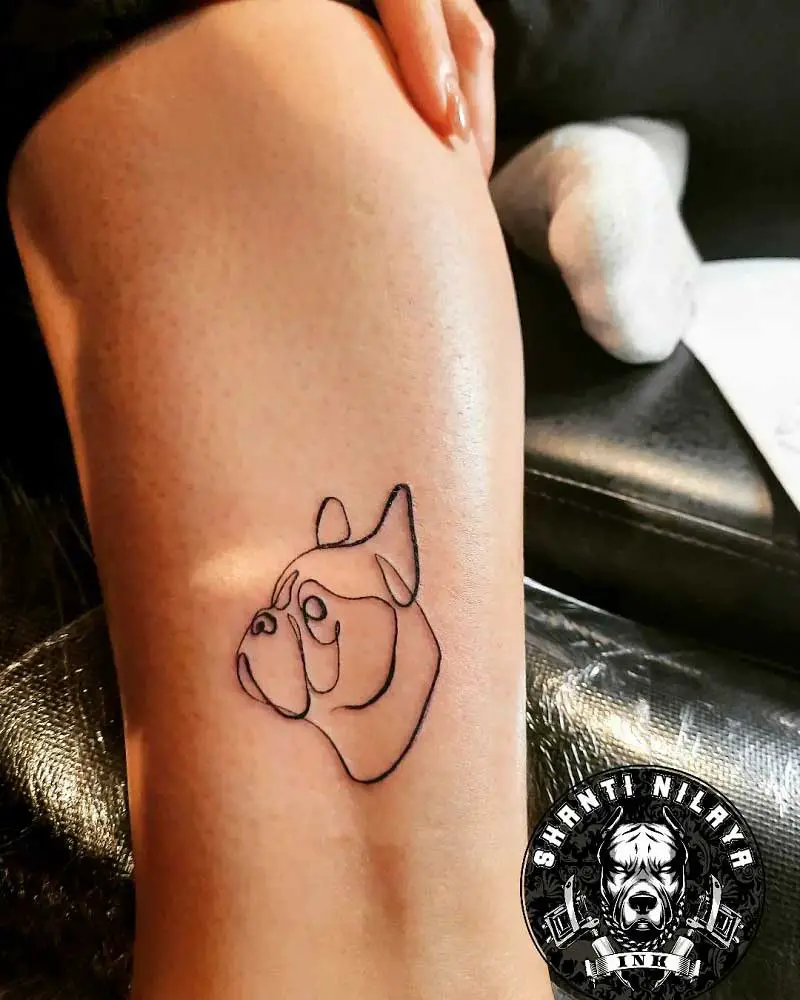 French Bulldog Silhouette Tattoo
61.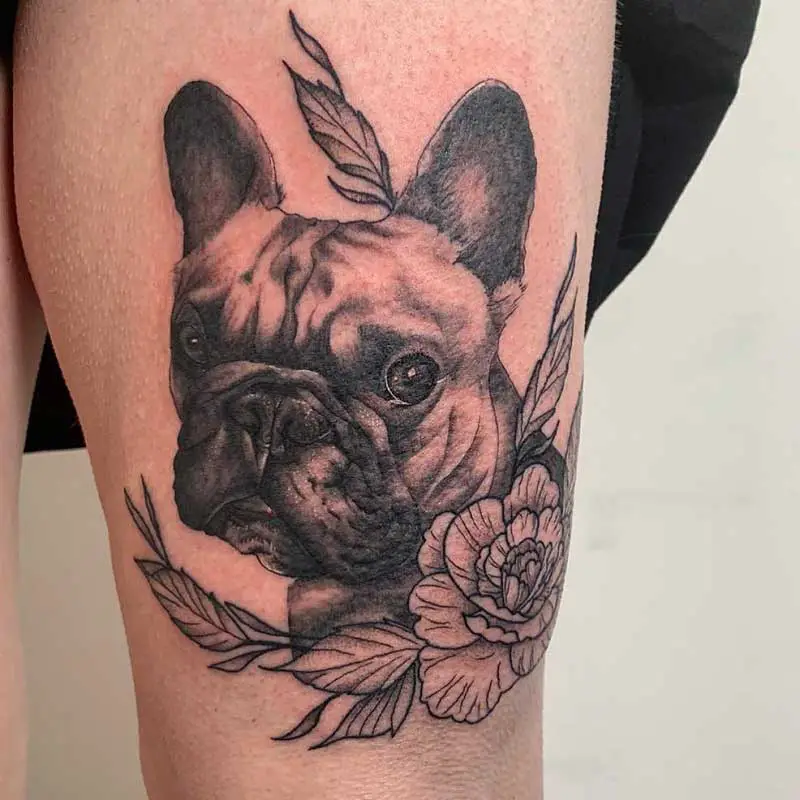 62.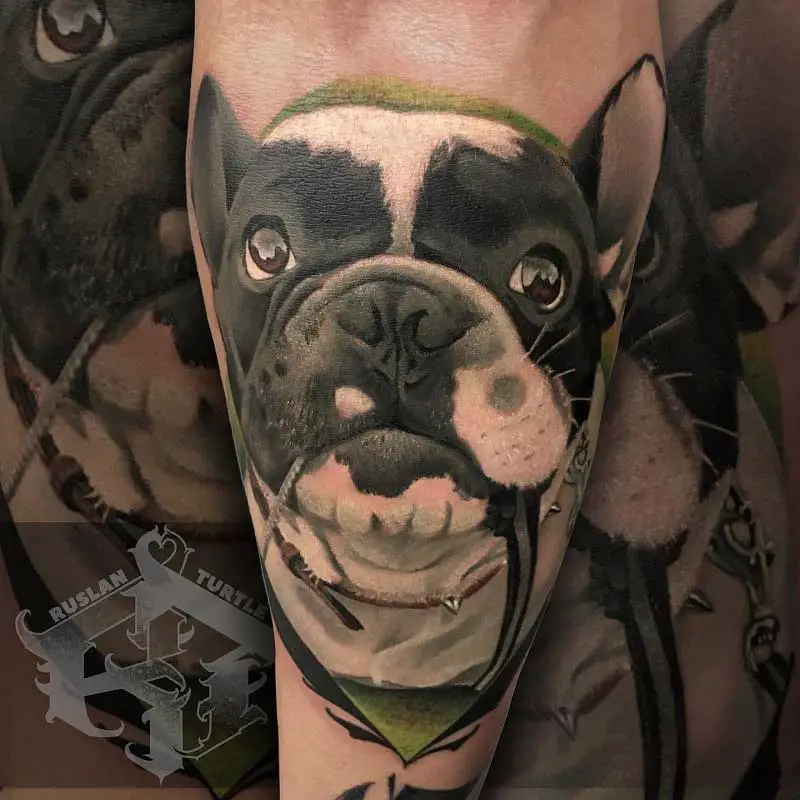 63.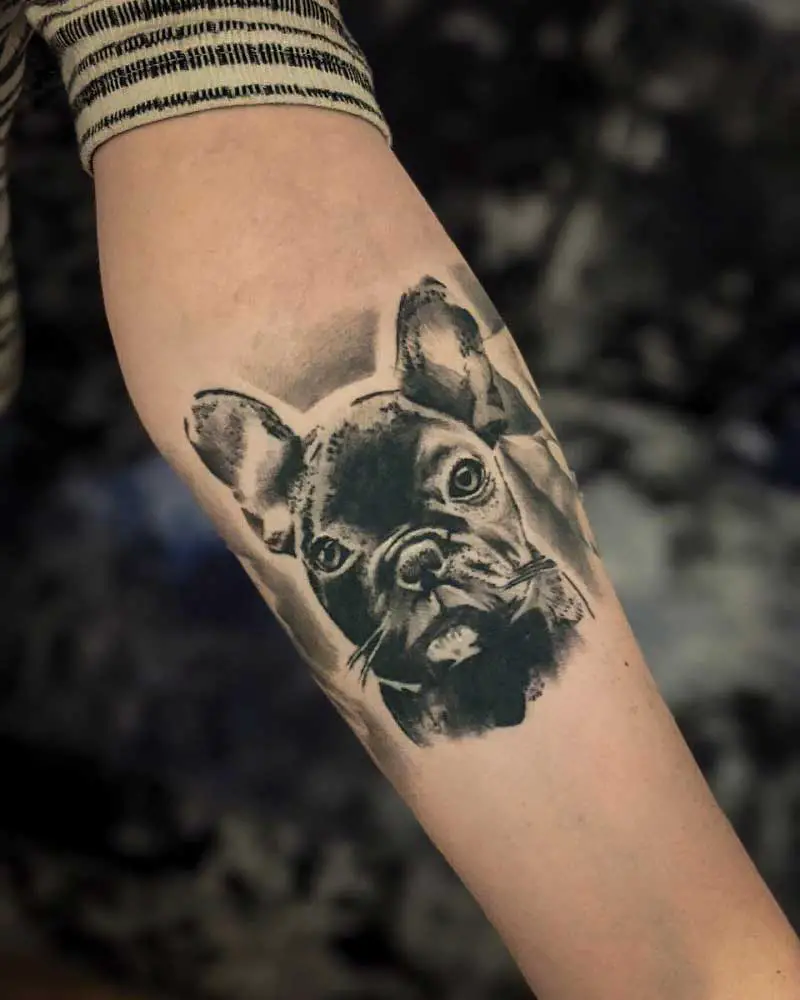 Army Bulldog Tattoo
64.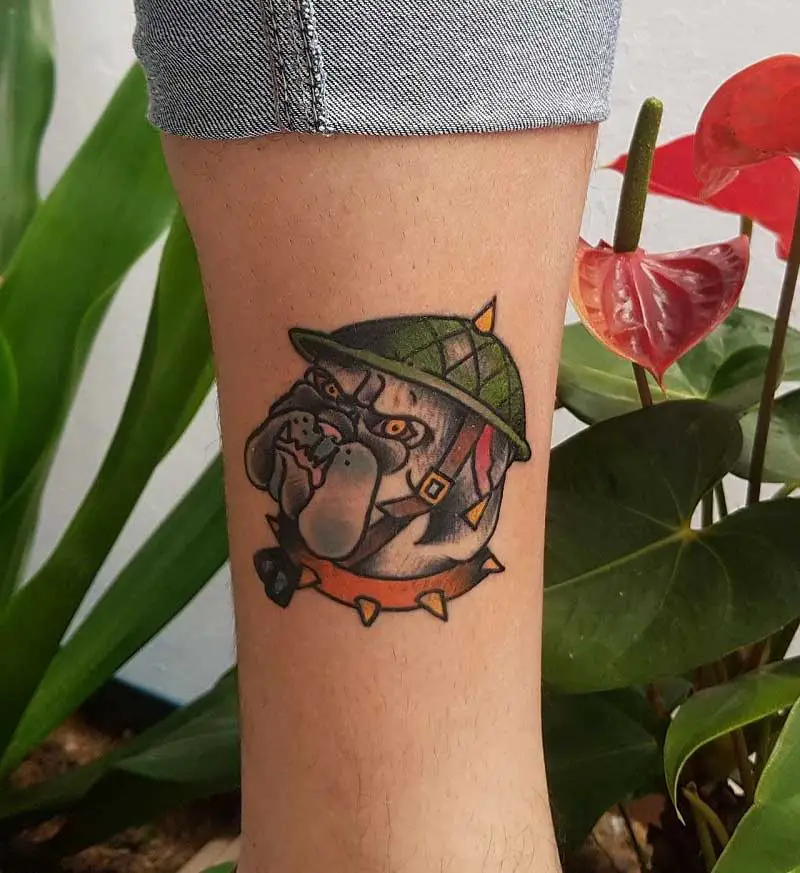 65.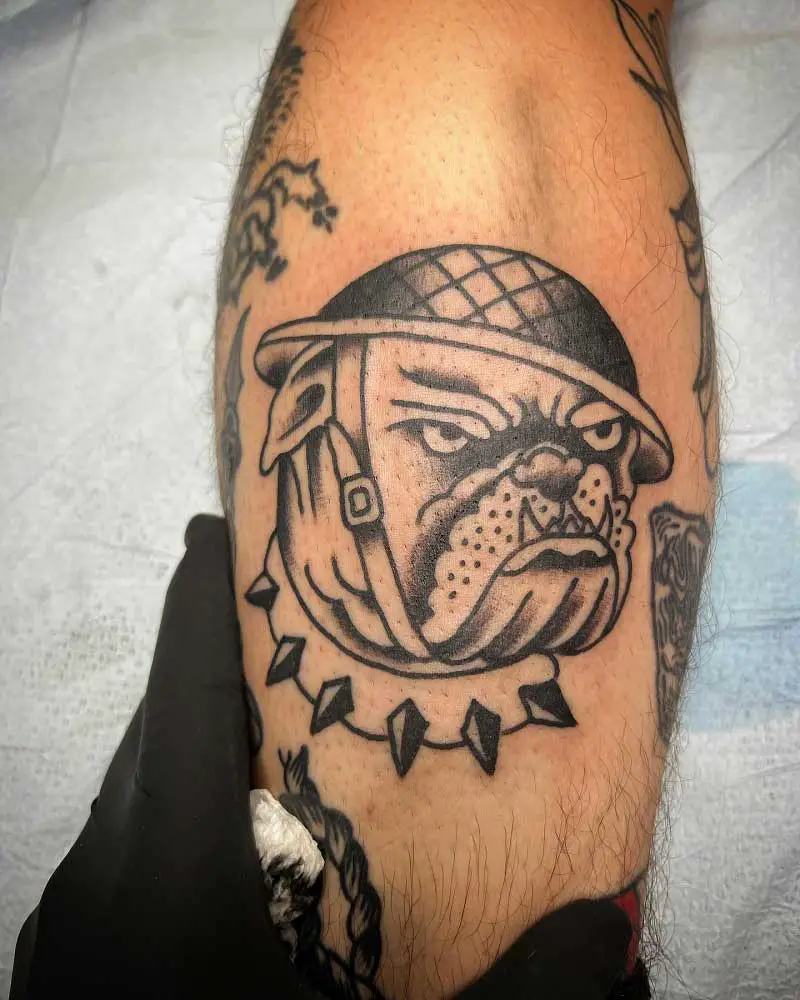 66.
Boxing Bulldog Tattoo
67.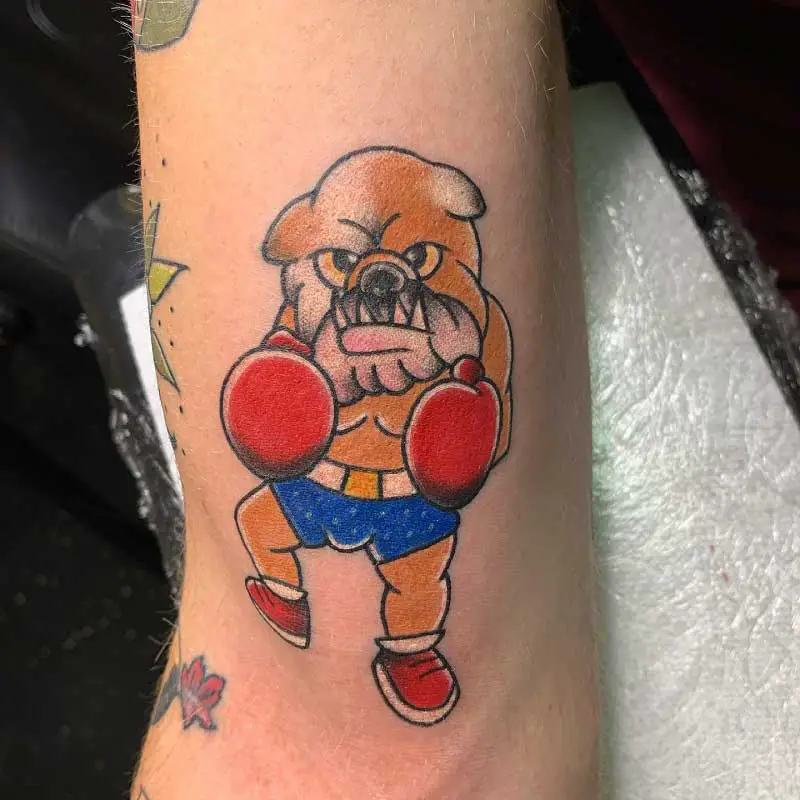 68.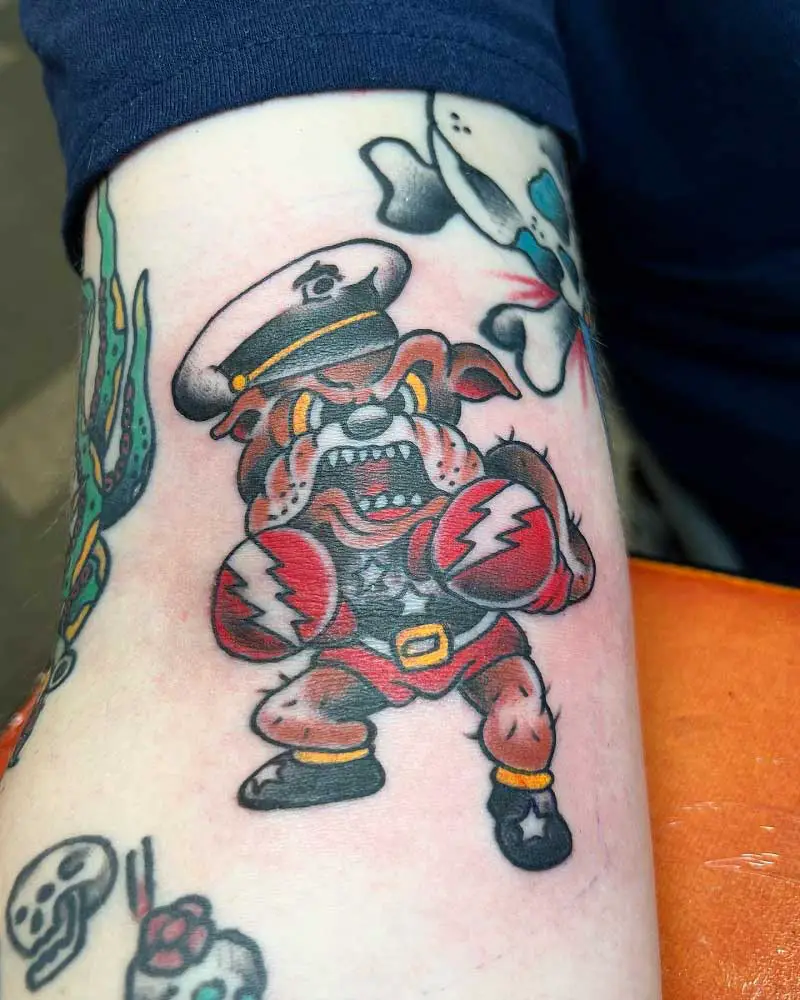 69.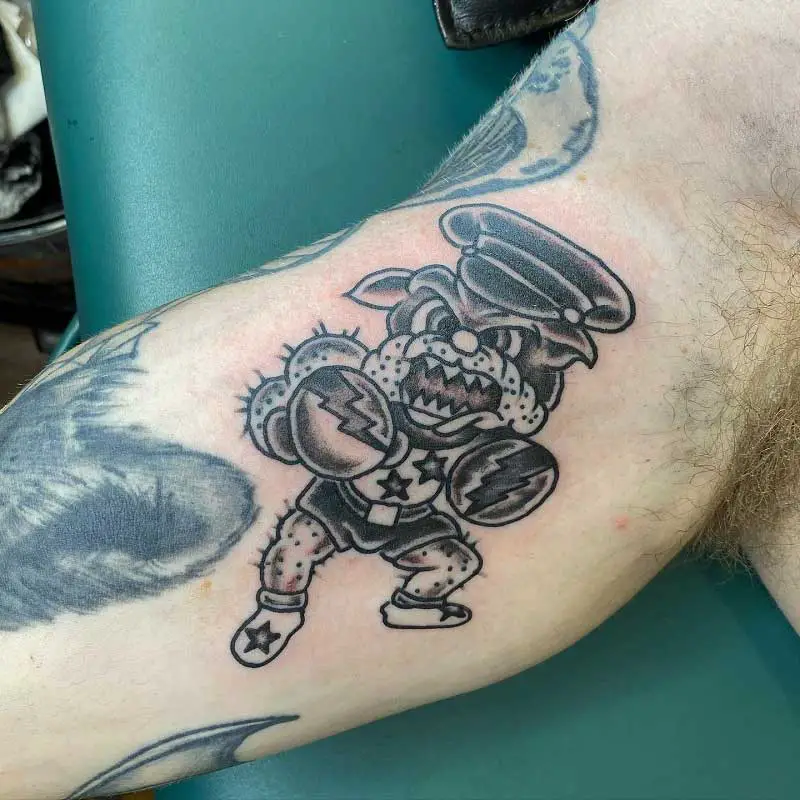 British Bulldog Tattoo
70.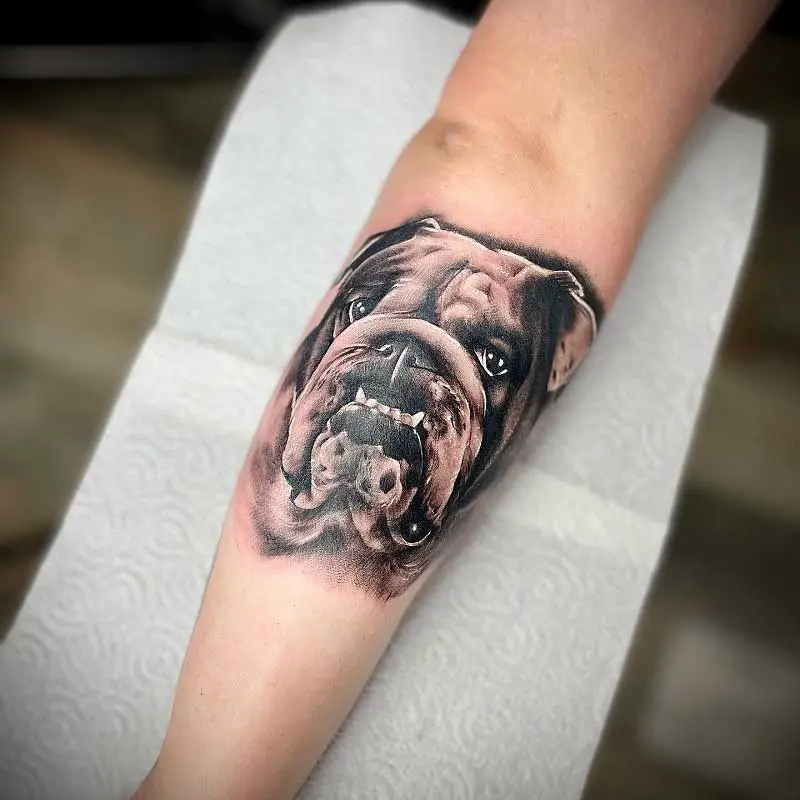 71.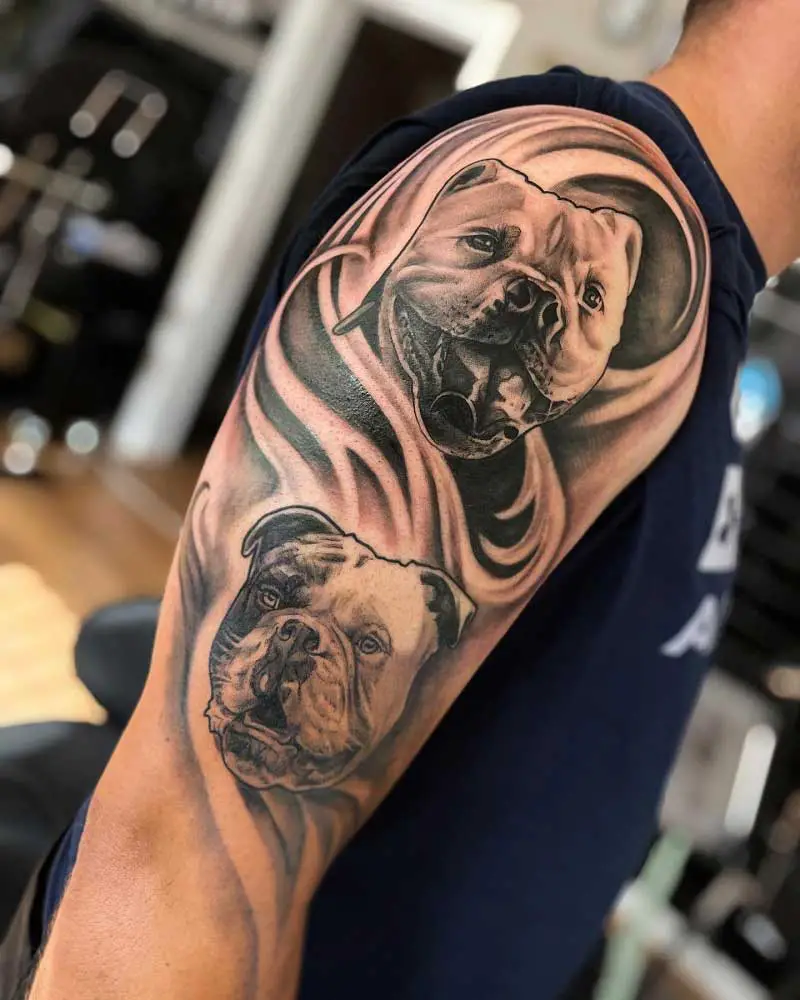 72.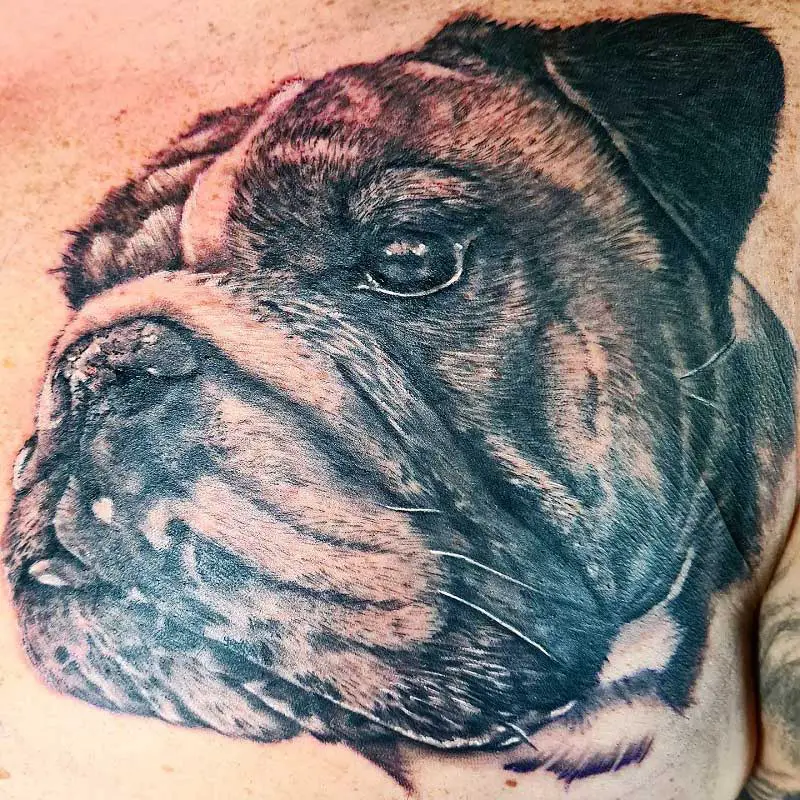 73.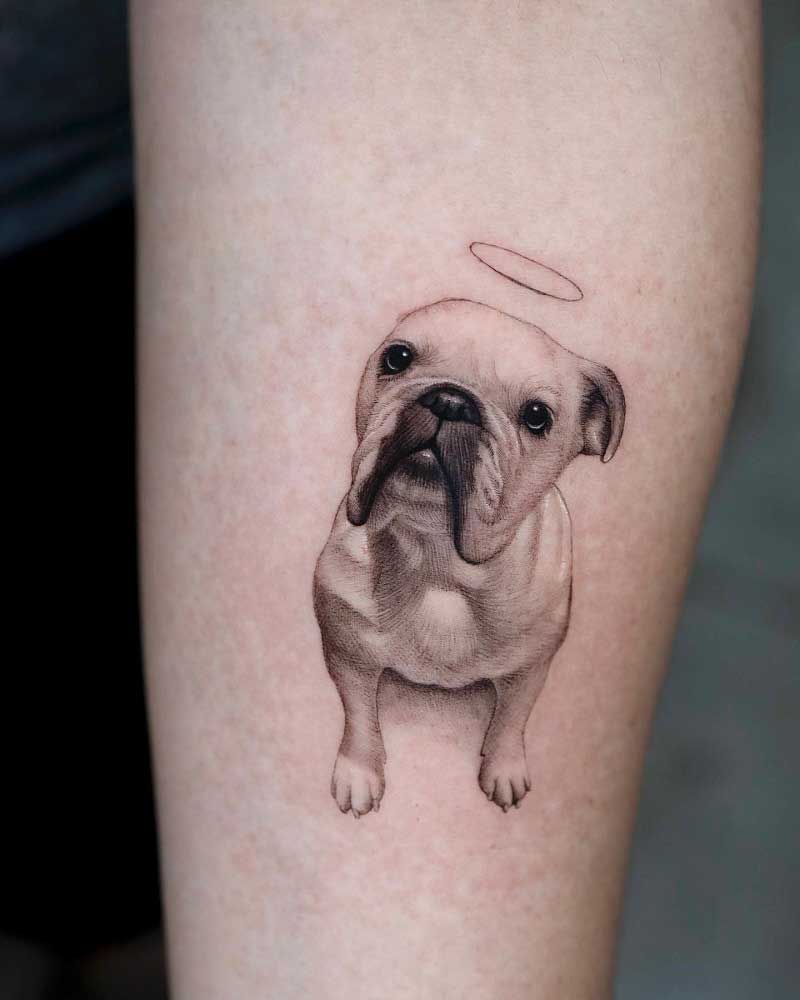 74.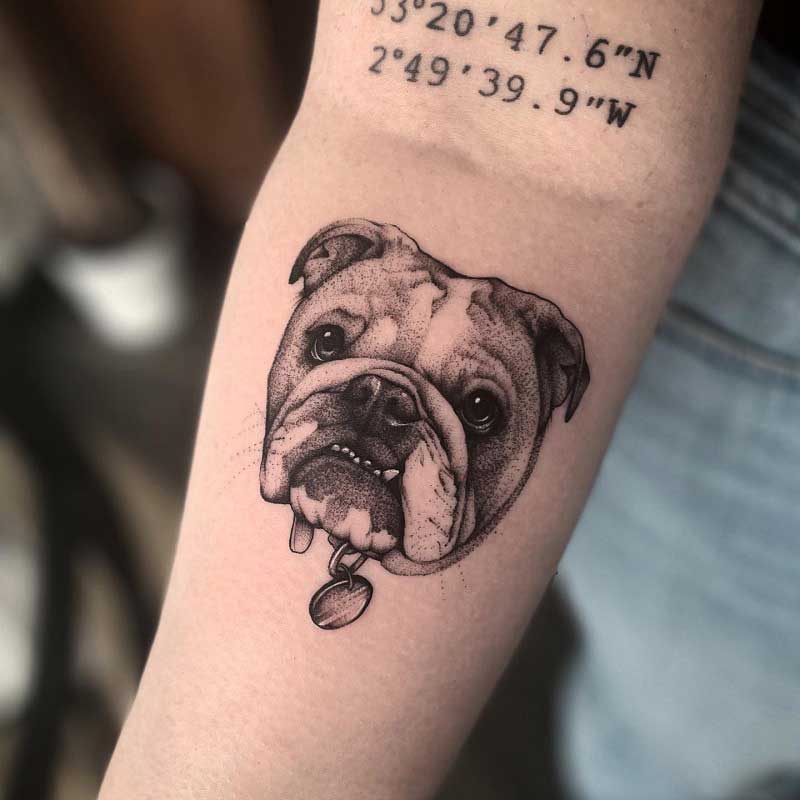 Bulldog Face Tattoo
75.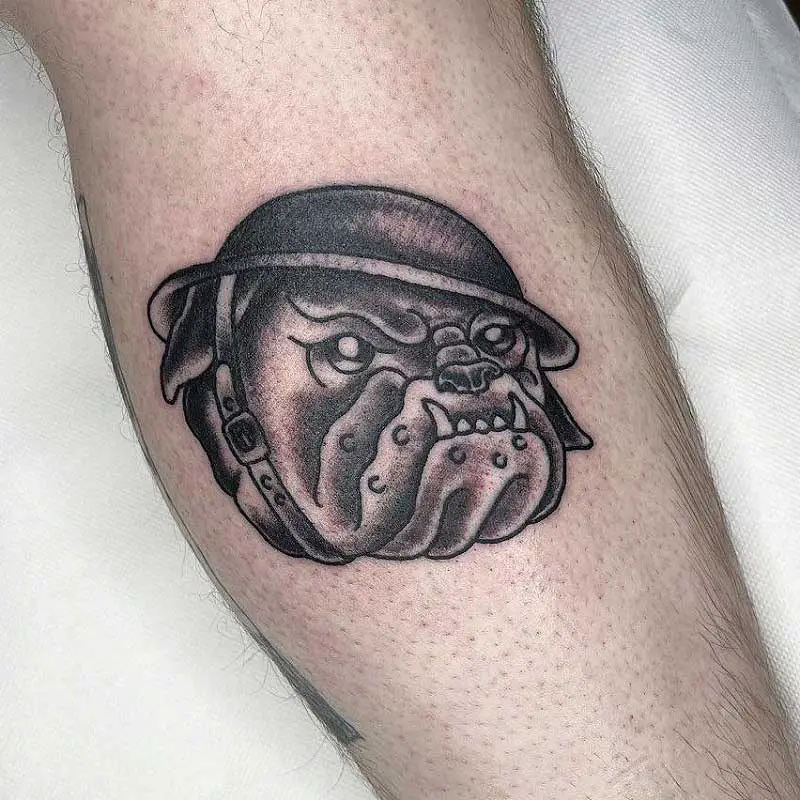 76.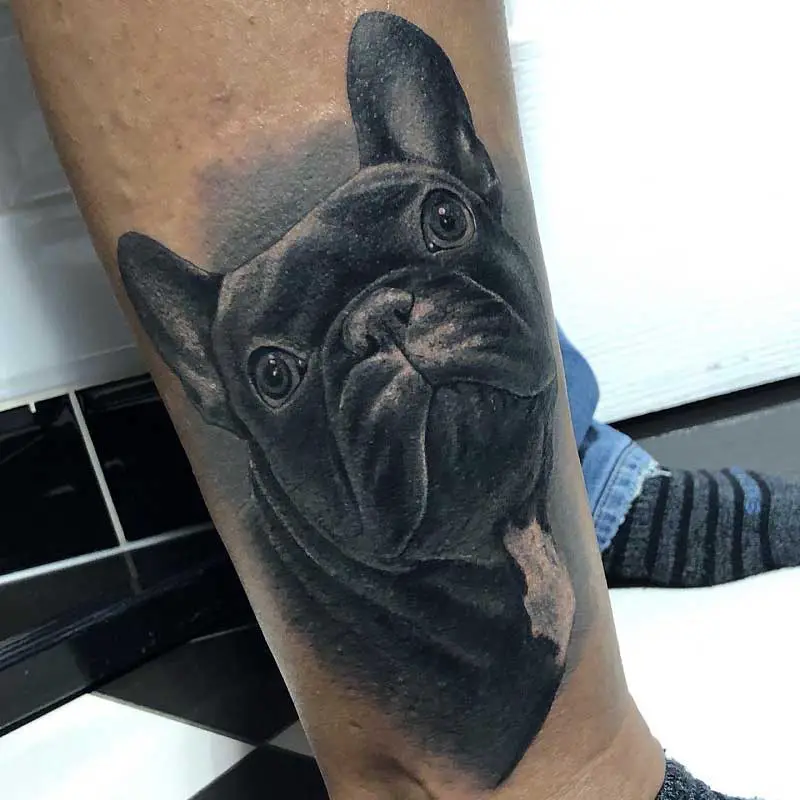 77.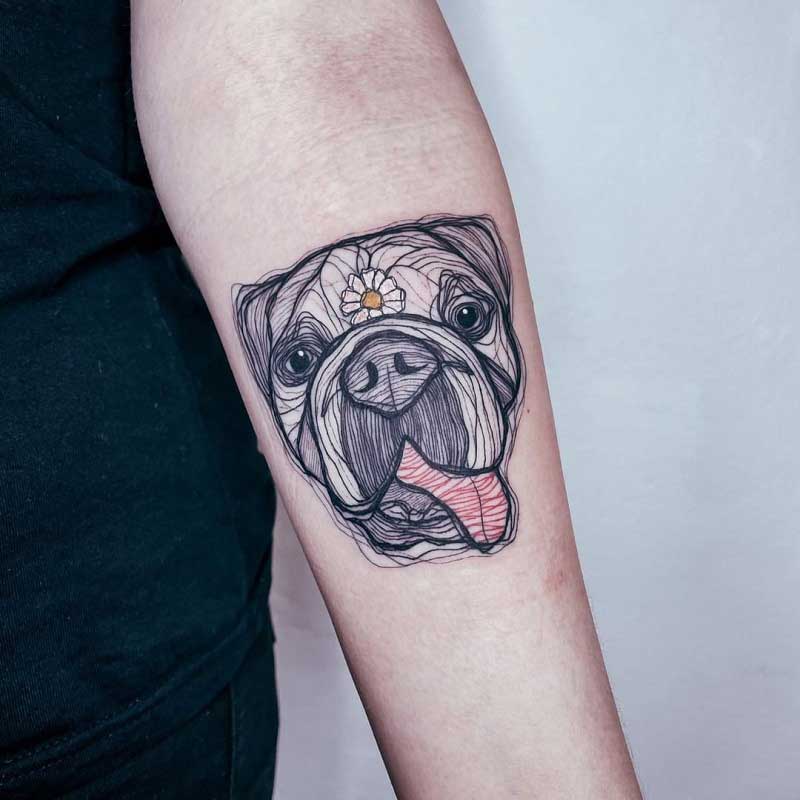 Bulldog Gang Tattoos
78.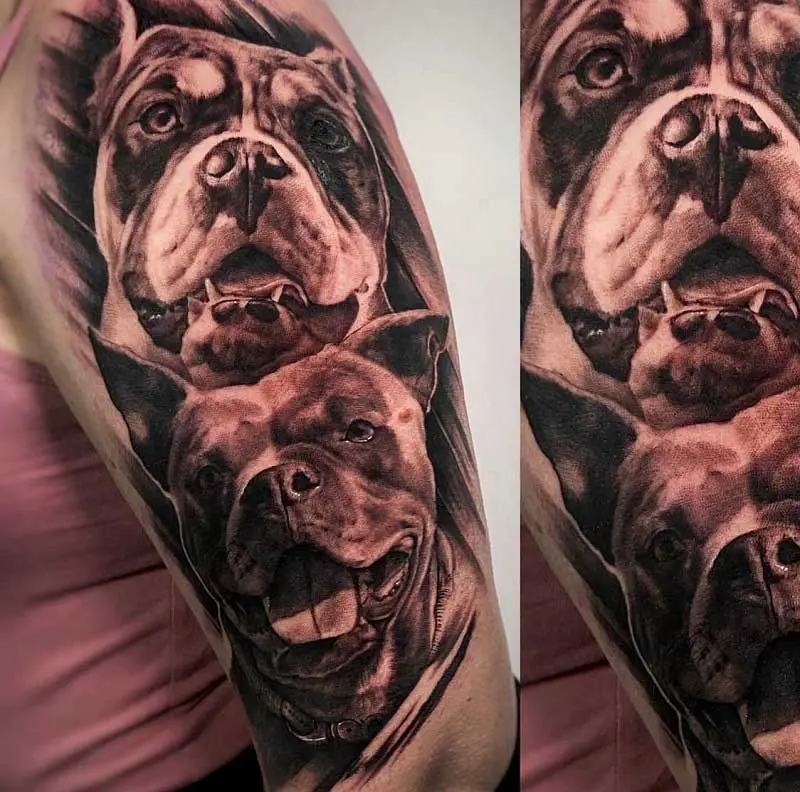 79.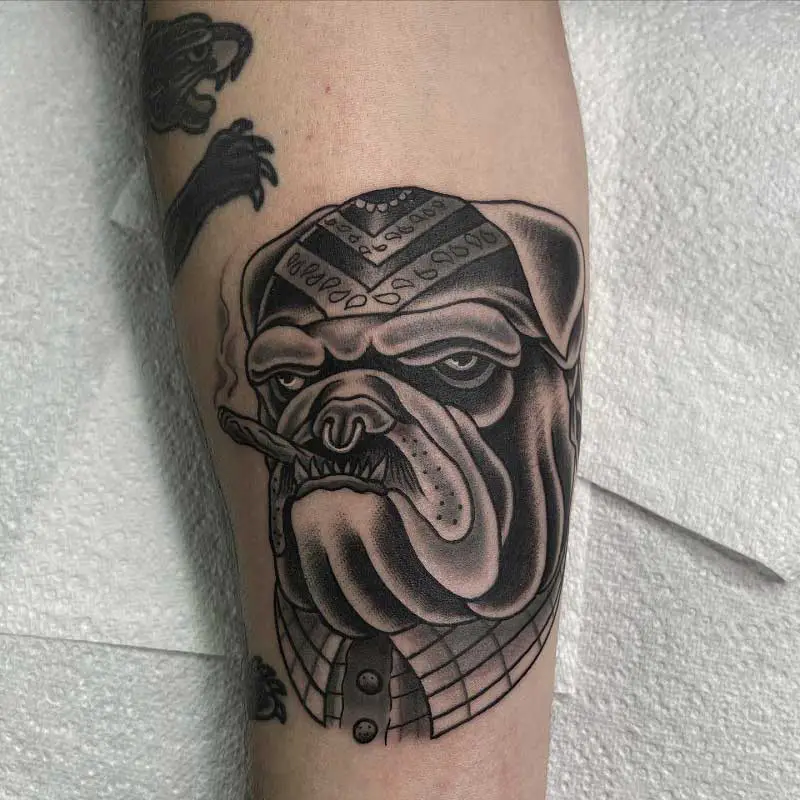 80.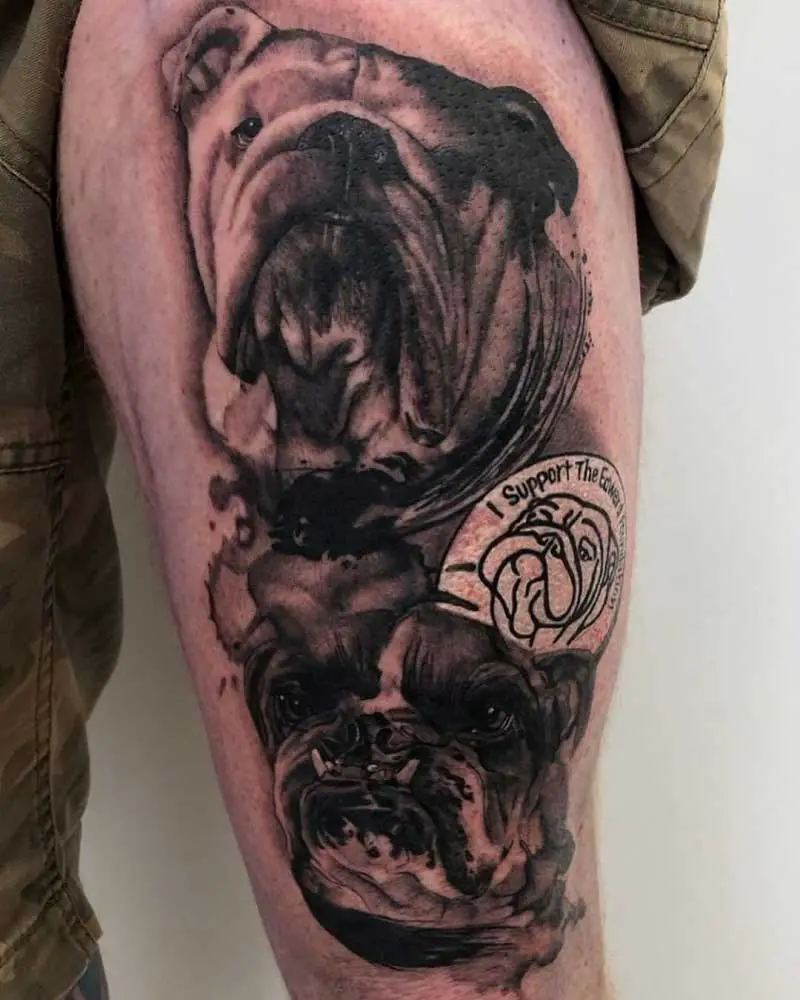 Bulldog Hand Tattoo
81.
82.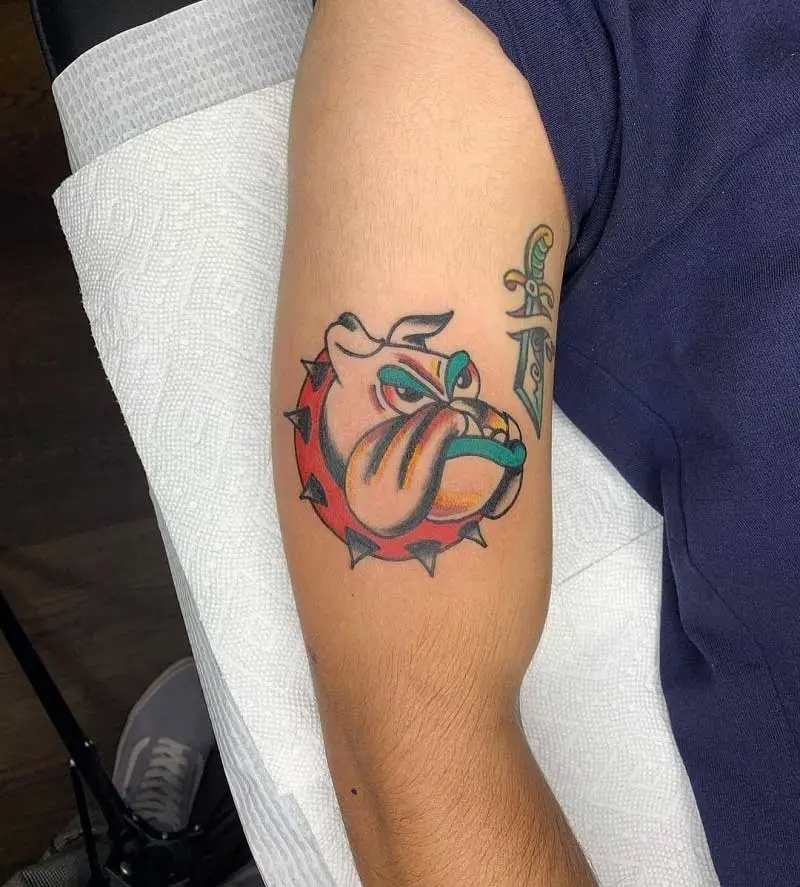 83.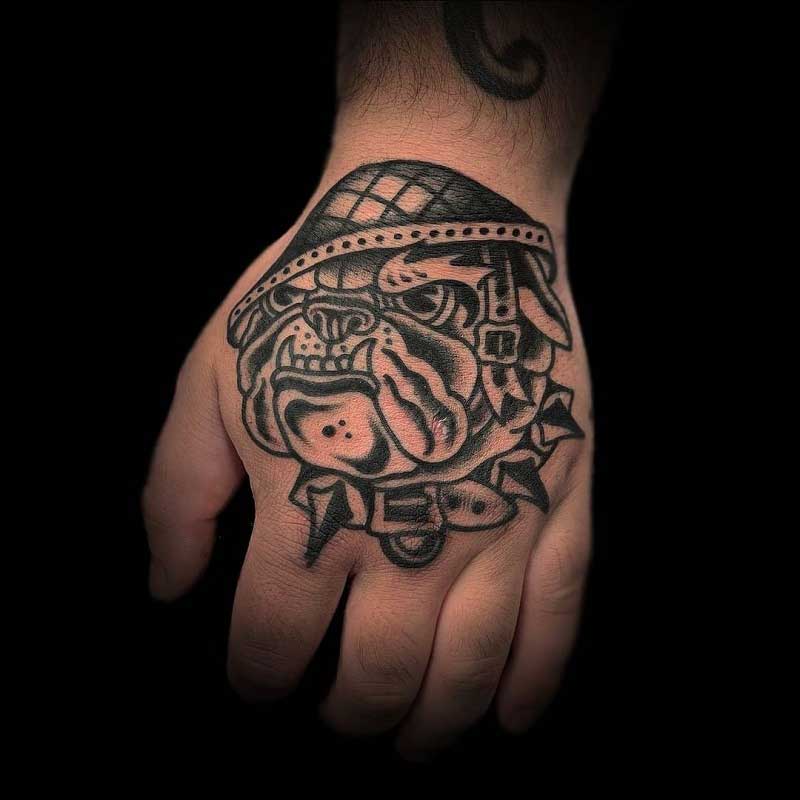 Bulldog Head Tattoo
84.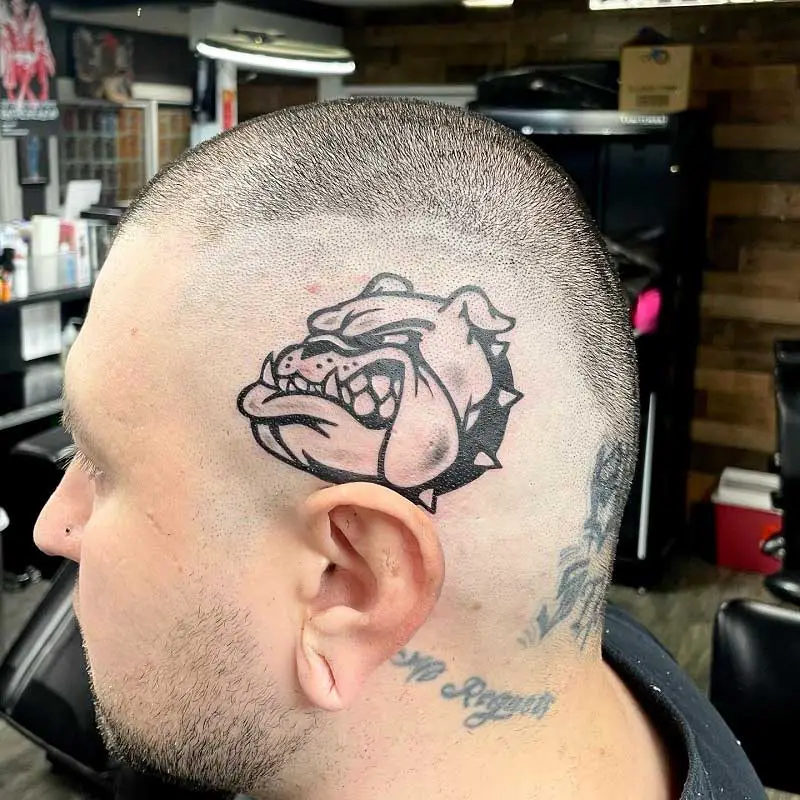 85.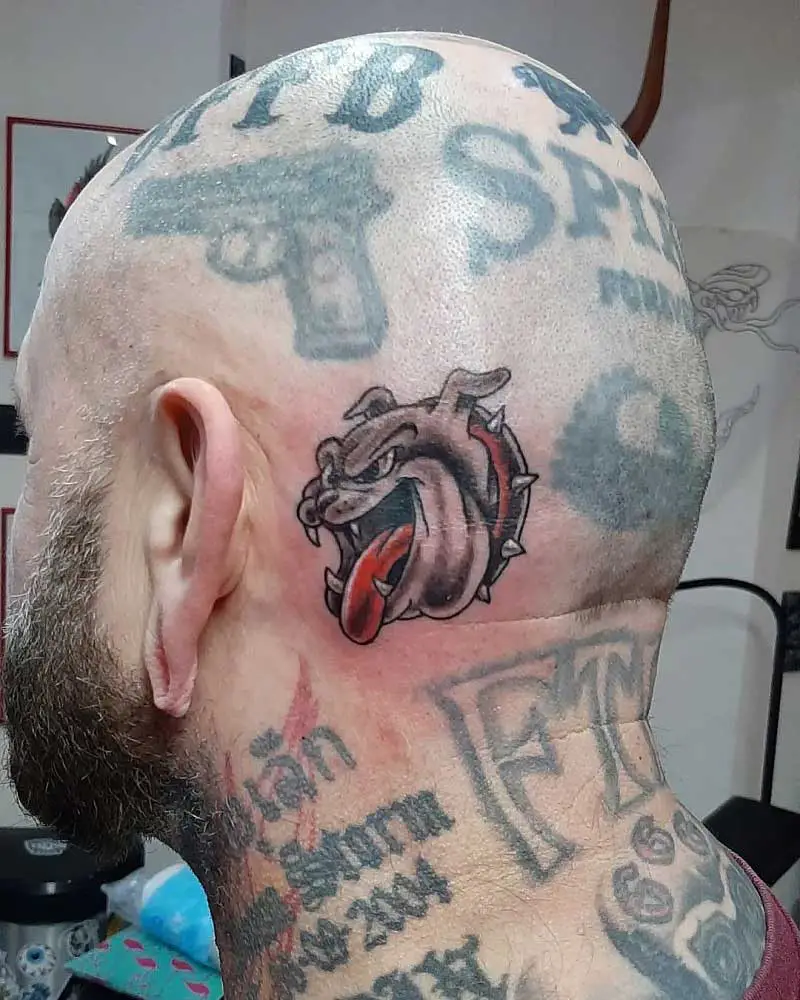 86.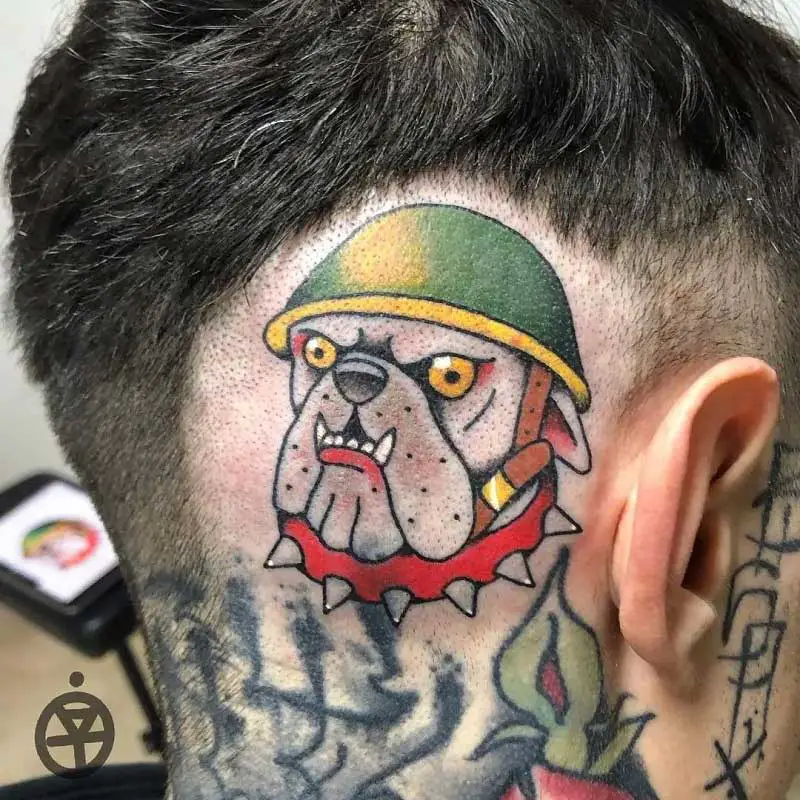 Bulldog Paw Tattoo
87.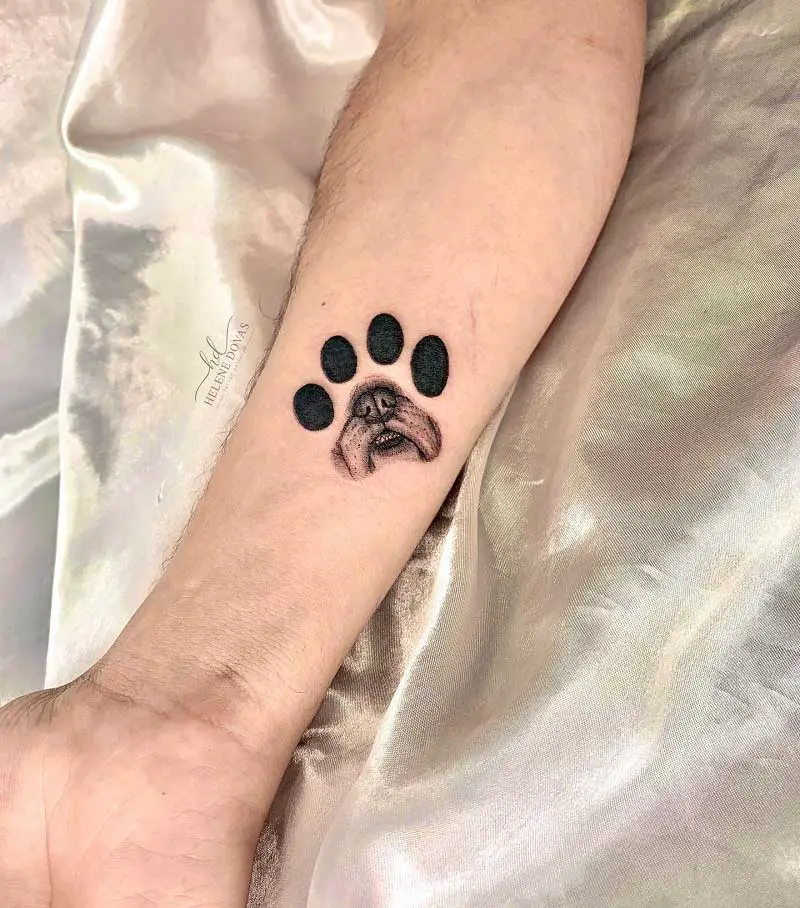 88.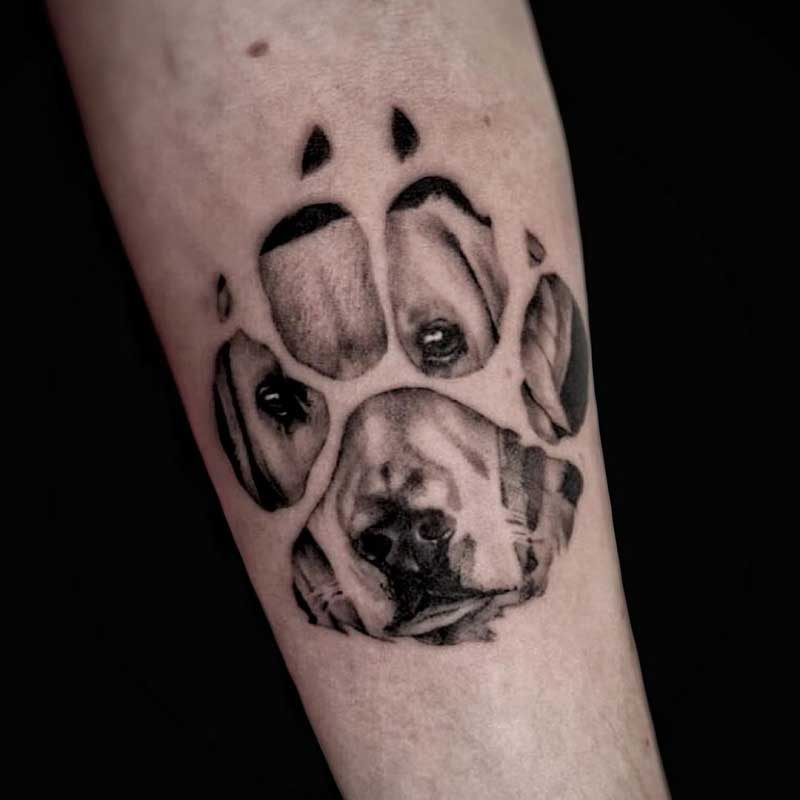 89.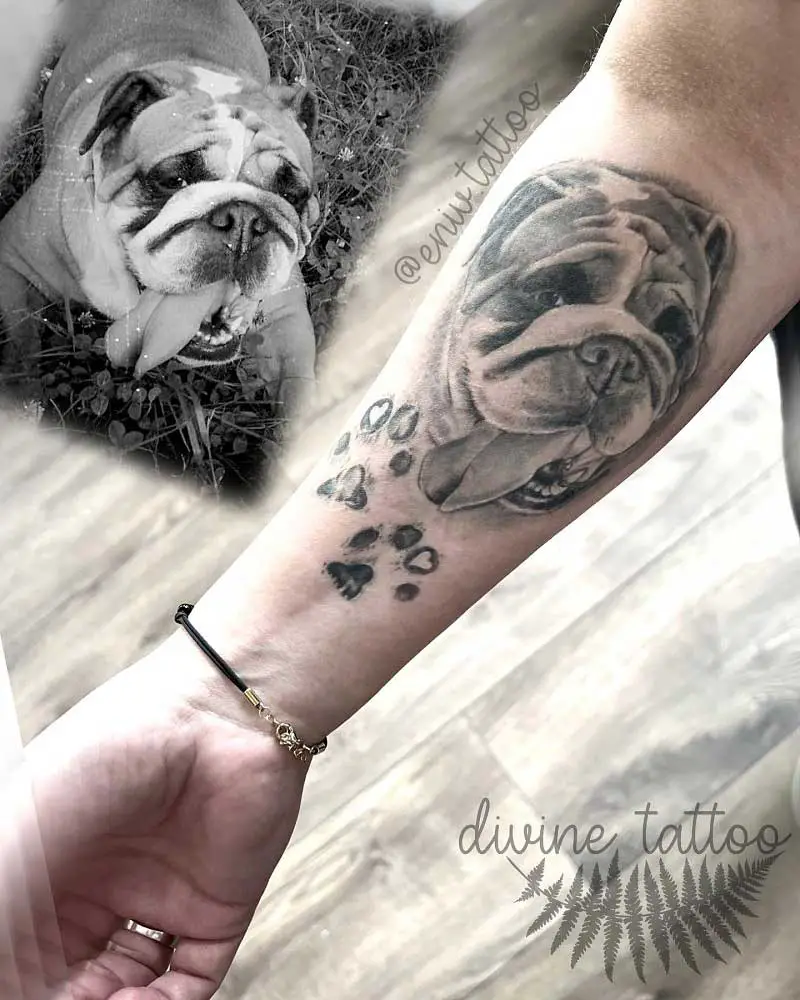 Bulldog Sleeve Tattoo
90.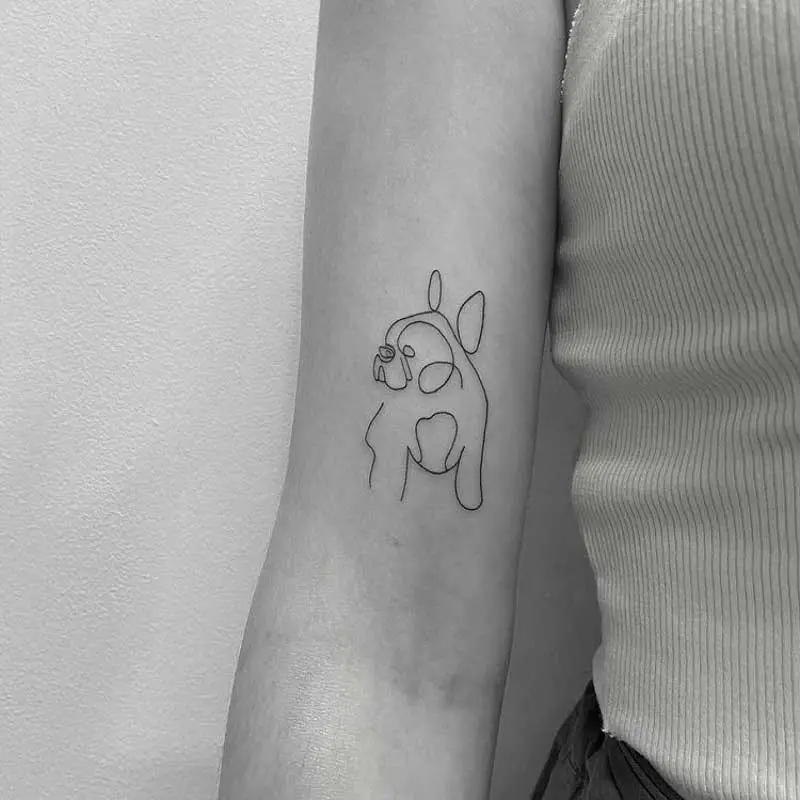 91.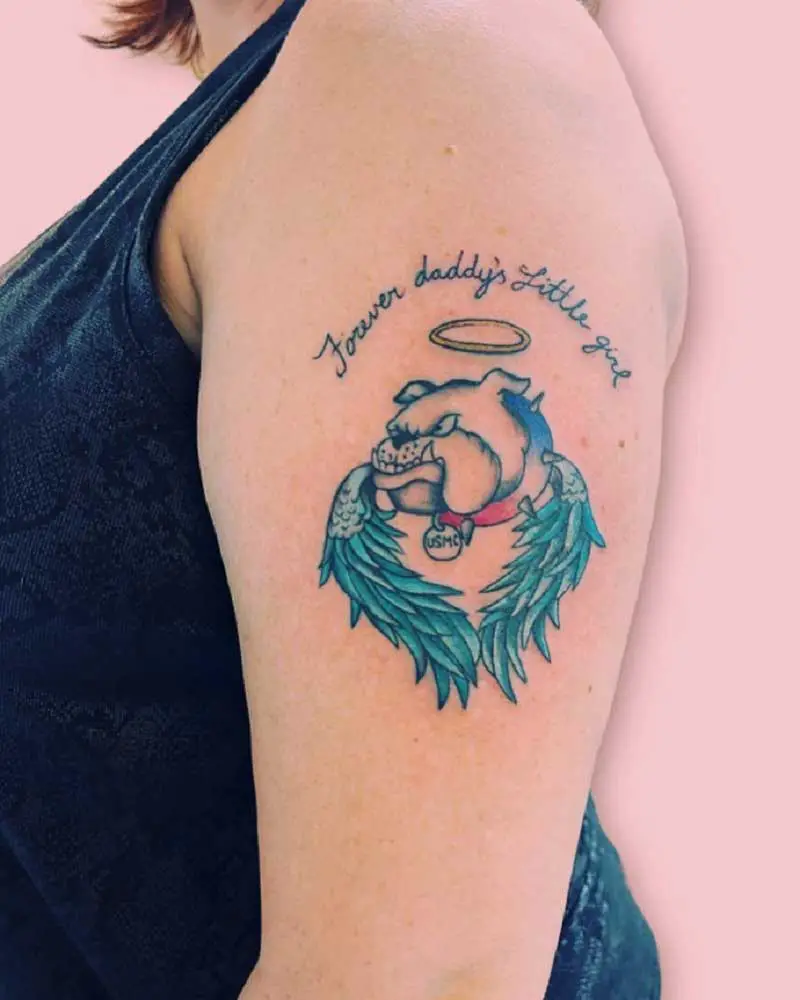 92.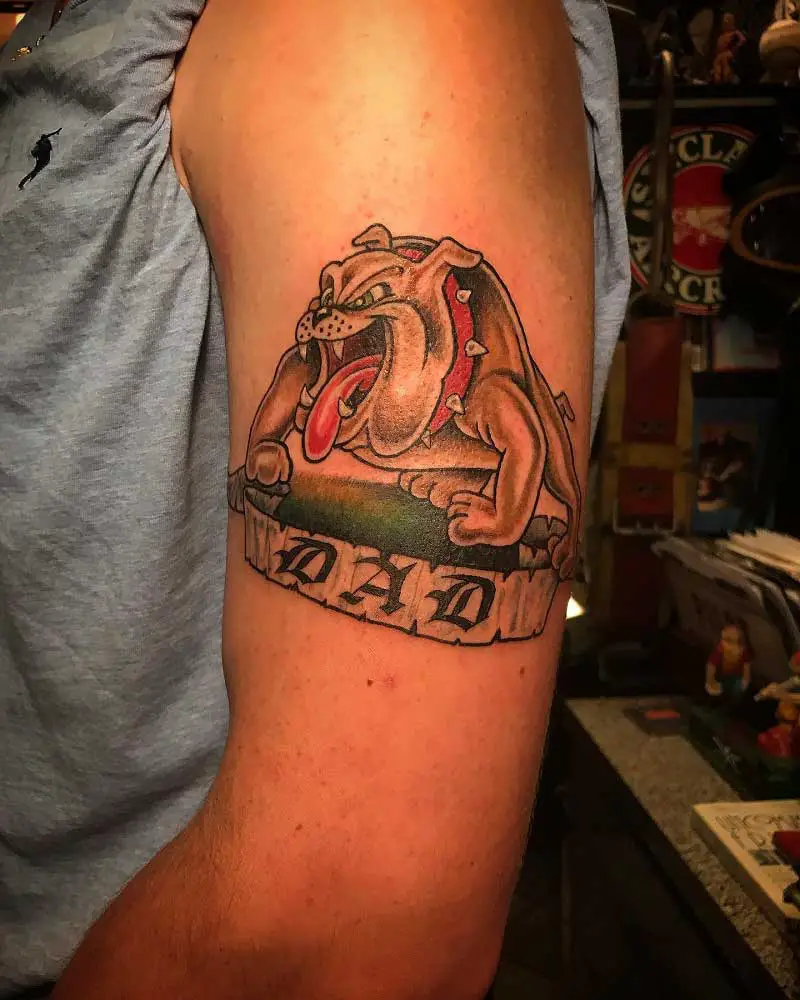 Bulldog Tribal Tattoo
93.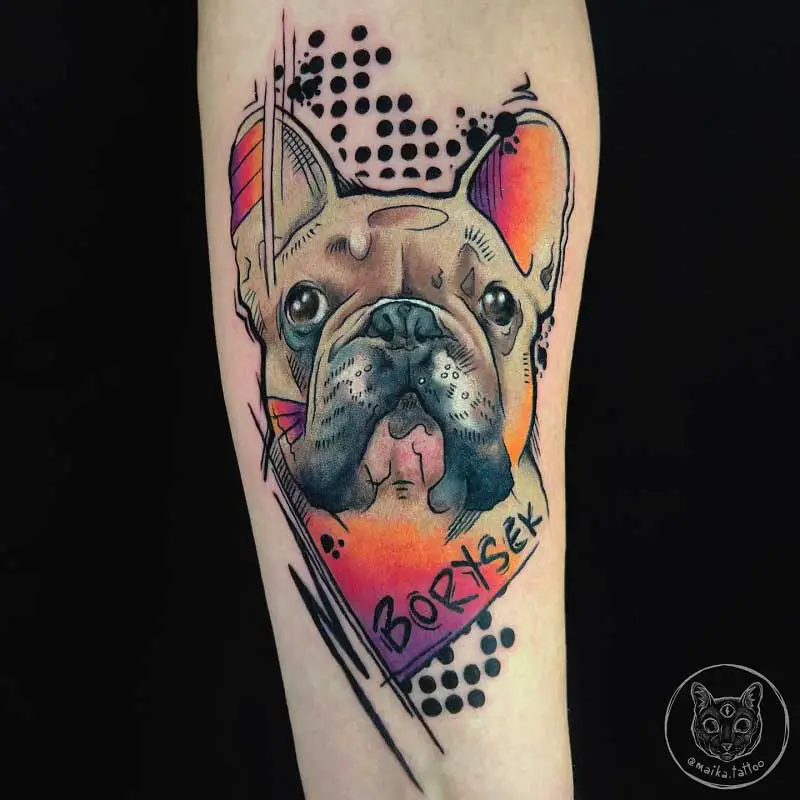 94.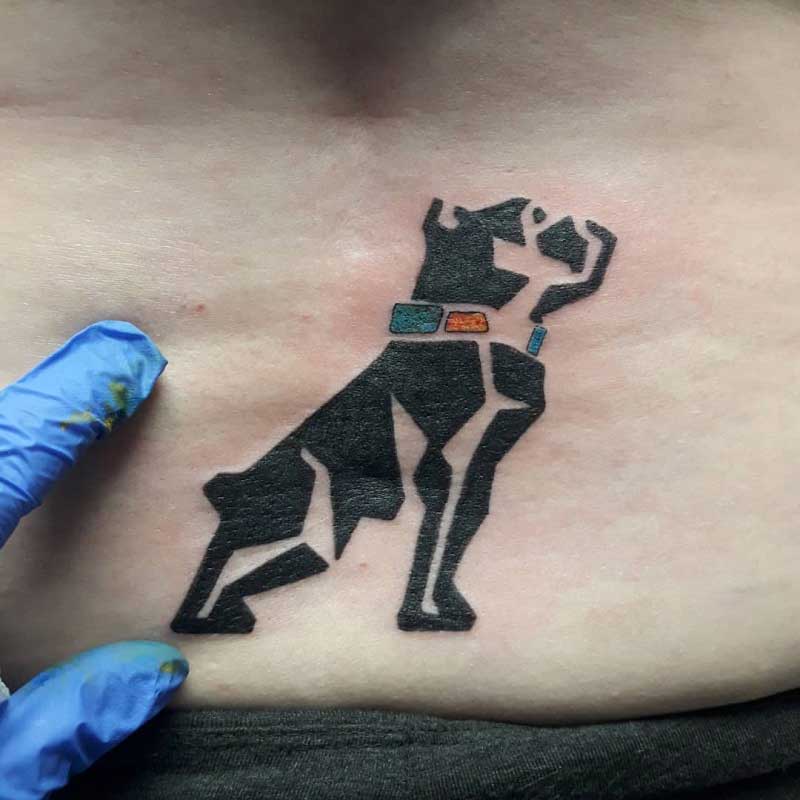 95.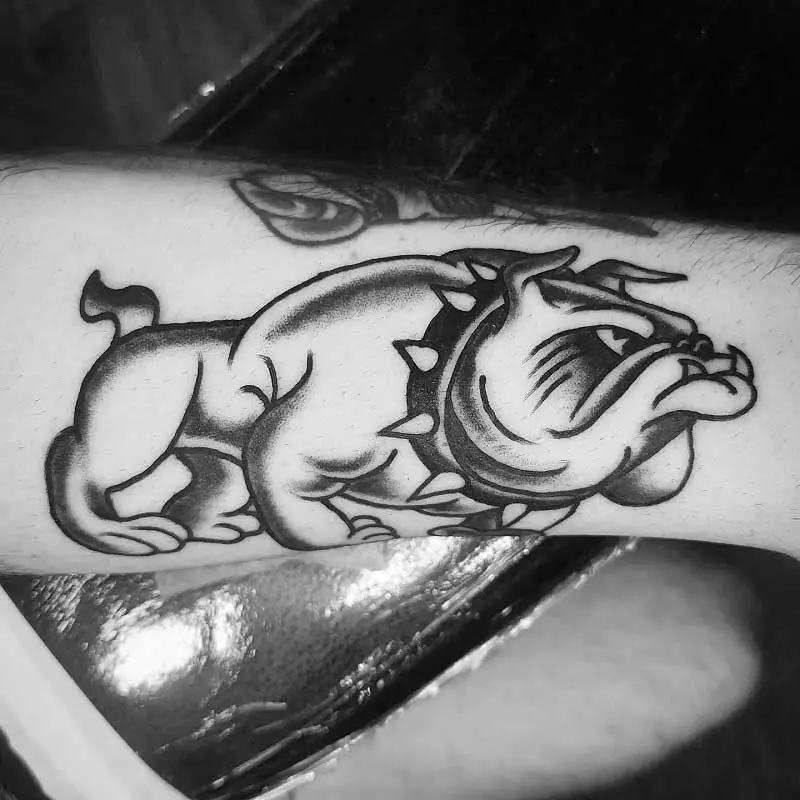 Geometric English Bulldog Tattoo
96.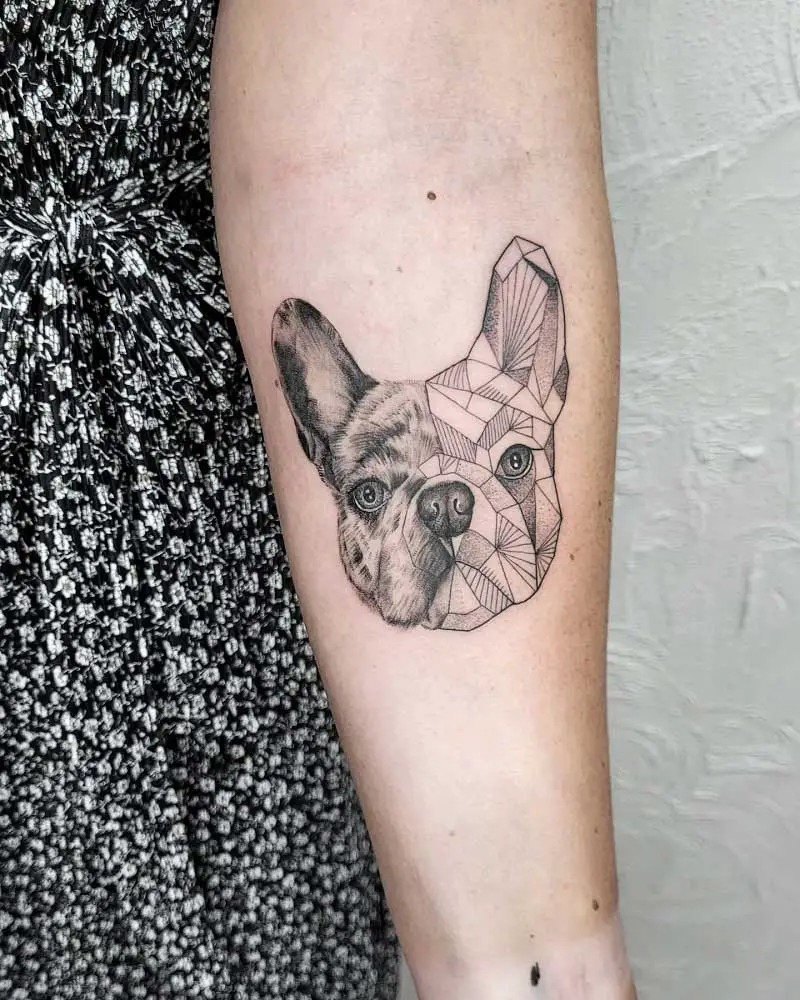 97.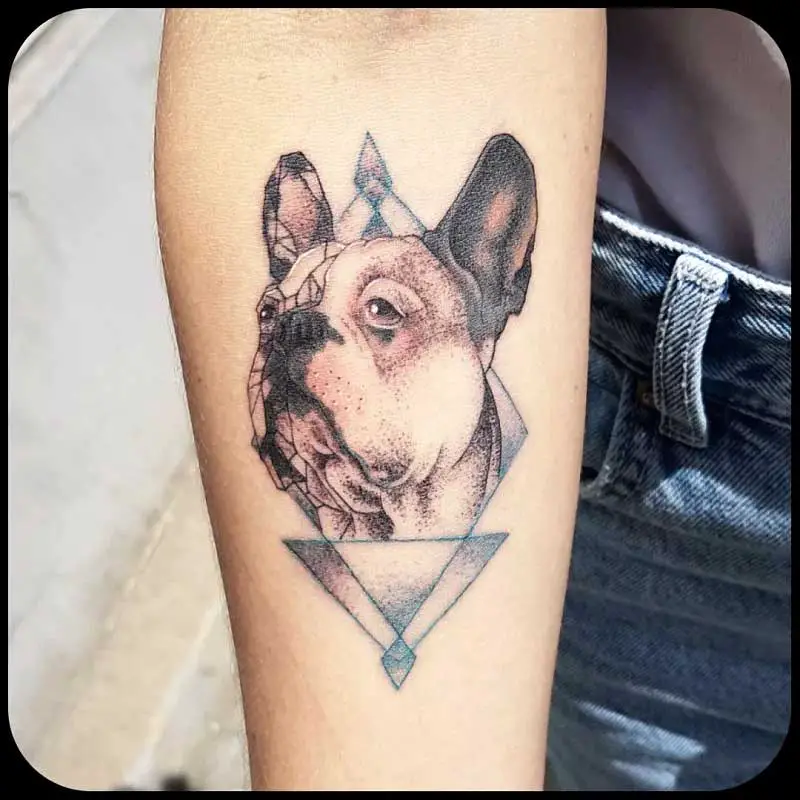 98.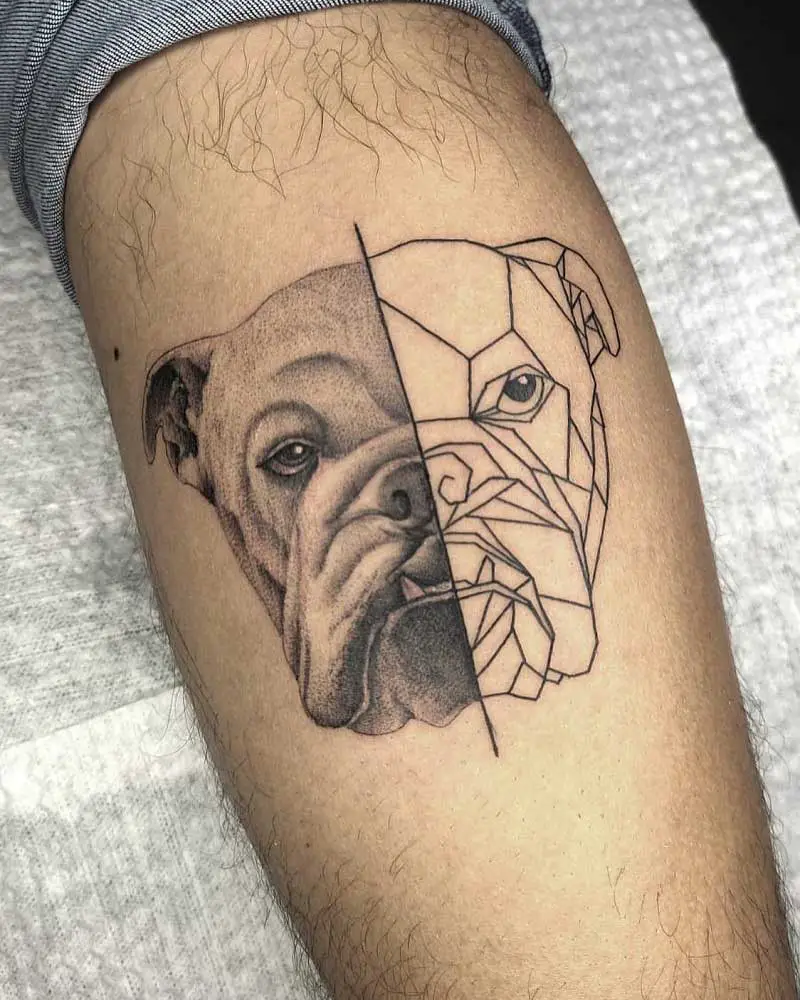 Sailor Jerry Bulldog Tattoo
99.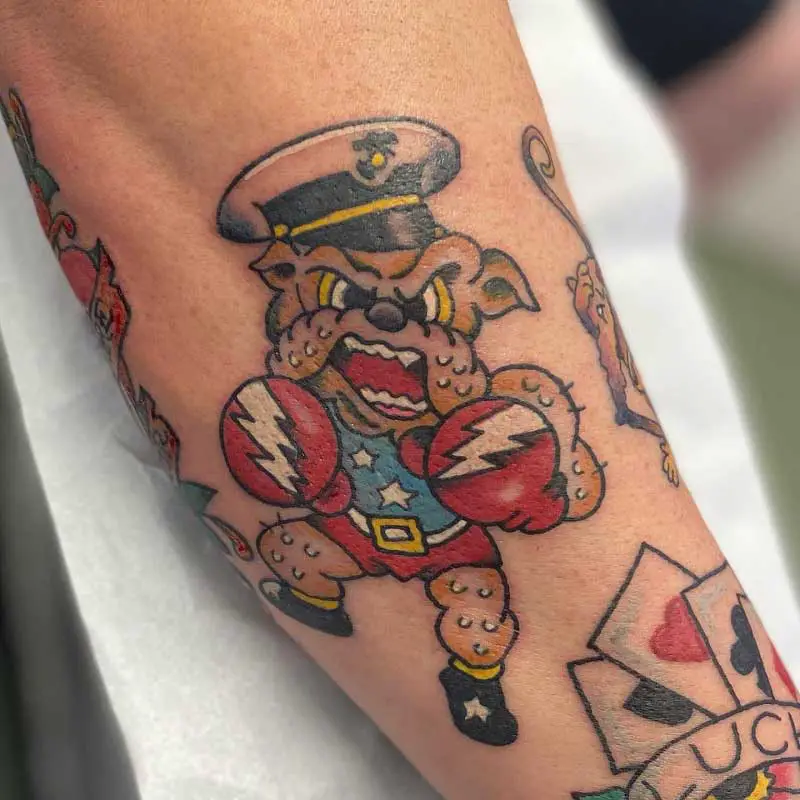 100.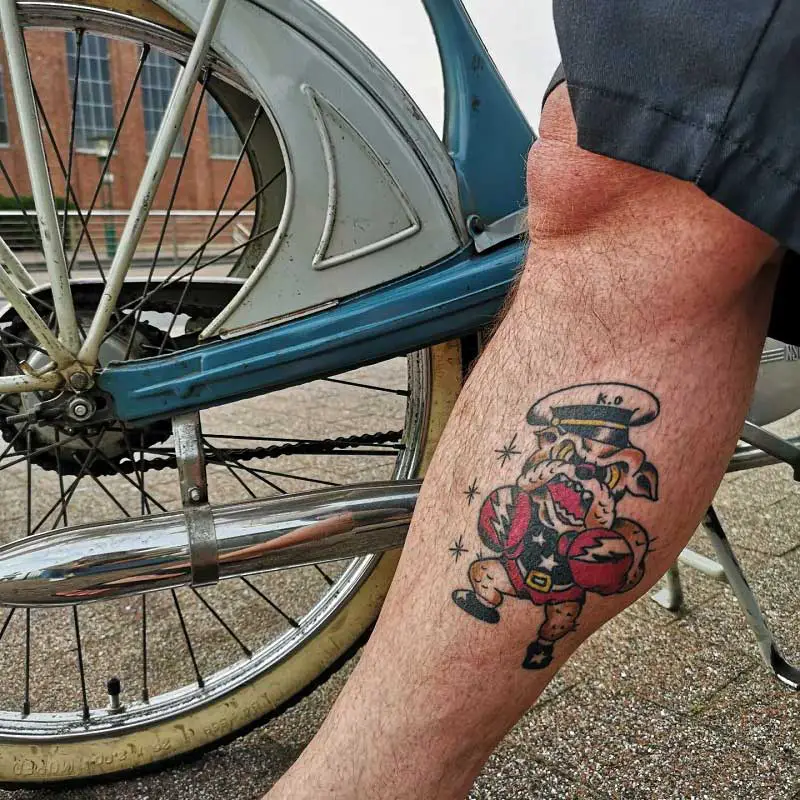 101.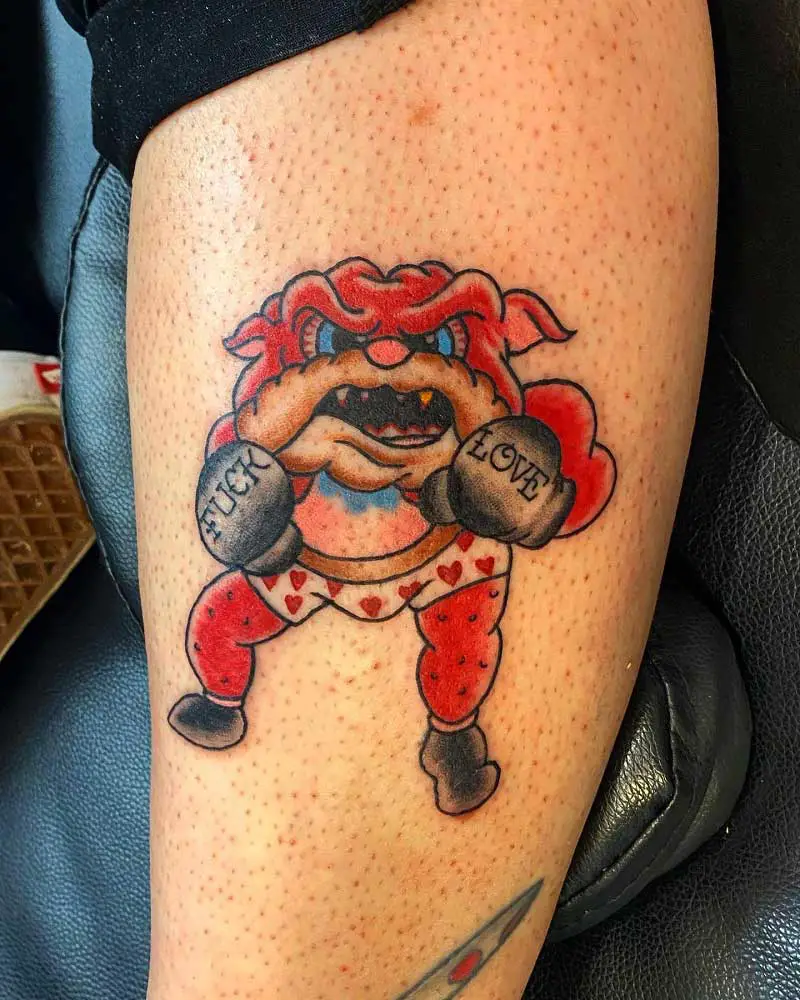 Conclusion:
We hope you enjoyed our article on Bulldog tattoos. Tattoos are a great way to show others your personal style and Bulldog tattoos are no exception. We've included a few designs that will help you get started! 
If you need help choosing a Bulldog tattoo, please don't hesitate to contact us in the comment section. Thank you for reading, we hope you found our article on Bulldog tattoos helpful!
FAQs:
What Does A Bulldog Tattoo Symbolize?
The bulldog was originally bred to be a bull-baiting dog, so the bulldog has come to represent the British resistance to Nazism, with Winston Churchill's likeness often exemplifying the bulldog's personality.
What Does Bulldog Spirit Mean?
During the 19th century, the term 'British Bulldog spirit', meaning unrelenting courage, came into existence and became a regular feature of propaganda posters during World War I.
What Does A Bulldog Tattoo Mean?
Bulldog tattoos may symbolize a variety of concepts, including patience, perseverance, rebellion, and family, in addition to England and the USMC.