Body art allows the world to see into the innermost feelings and thoughts of your mind, and a bumble bee tattoo can reveal a lot about you. The insect symbolizes loyalty, hard work, devotion, and tenacity, and is an excellent option for someone who loves these characteristics. It could be a method to remember a loved one or demonstrate your devotion to your family. Alternatively, your piece could serve as a reminder to keep focused and work toward your goals, and no objective is too great!
There are also numerous styles to pick from, ranging from bright and flamboyant approaches to minimalist ones for those who prefer a more straightforward aesthetic. Other pictures, like as your favorite flower or quotations and dates, can be added to your bee tattoo to make it more personal and unique. Continue reading to learn everything you need to know about bumble bee tattoos.
Let's begin then-
95 Bumble Bee Tattoos Designs and Ideas
There are many various tattoo ideas for bees, whether natural and carefree or harsh and spirited, and each one portrays the person who wears the art. Bees aren't always kind, nor are they always mean, and by recognizing this, we can all gain a better understanding of how these creatures and other people coexist.
The bee's temperament is gratifying and free, having a talent for living in peace with others as well as the perseverance to get things done on their own. Blackwork tattoos are a fundamental method to express your passion for this magnificent creature while also making it appear more organic and natural. Darker, heavier hues may make even the most gentle honey bee appear threatening and tough, which isn't always a negative thing. Bees must work to safeguard their colony, thus some type of intimidation is required. Bee stingers are an example of this type of defense since they serve as a warning to those who would interfere with the hive. This can include protecting relatives and friends from someone who is otherwise quiet and not prone to fighting.
Realistic Bumble Bee Tattoo
Tattoos are fantastic forms of body art. To portray one's innermost thoughts and feelings, one can use their body as a canvas. There is a wide range of options available, from memorializing a lost loved one to showing solidarity with a cause to simply showing off a personal symbol. That's why I always say, tattoos are cool, but they can be cooler with a realistic touch. A subtle realistic touch brings out the nitty witty flavor and adds up an extra appeal. It looks very lively and can be a great conversation starter. And when it is Bumble bee tattoos, imagination is the only boundary!
So, if you want some living breathing bumble bee body art, here's some recipes-
King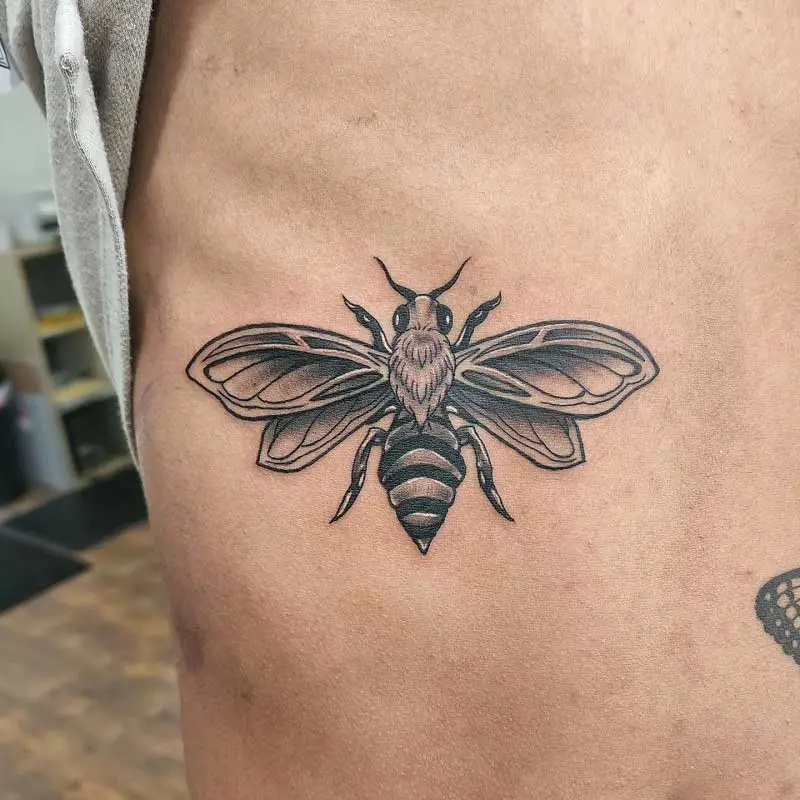 It's a monochrome beauty. This piece is realistic in both sense; visually and structurally. The piece is inked with every intricate details that you are bound to fall for it at the first glance. The spread wings and legs, the gloating eyes along with the lower chest placement made this piece look like a breathing being!
2. Tear Drop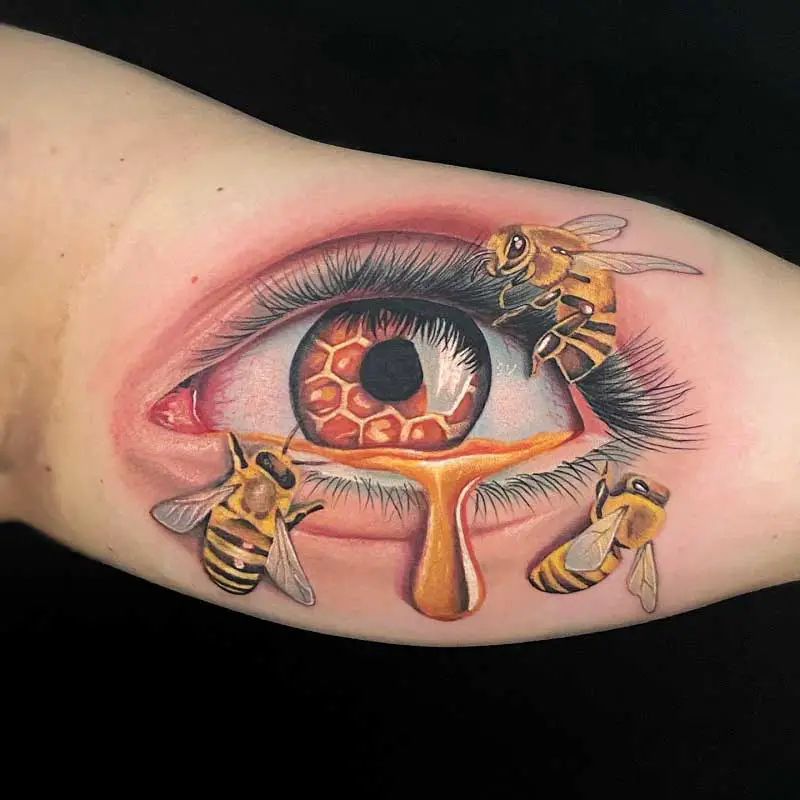 In and out, it's a surrealistic piece. The massive eye, the honeycomb-patterned eye ball, and the honey teardrop; all things summed up, give off an abstract architecture. It's a pretty big design and will look handsome on any man's bicep.
3. Crimson Aura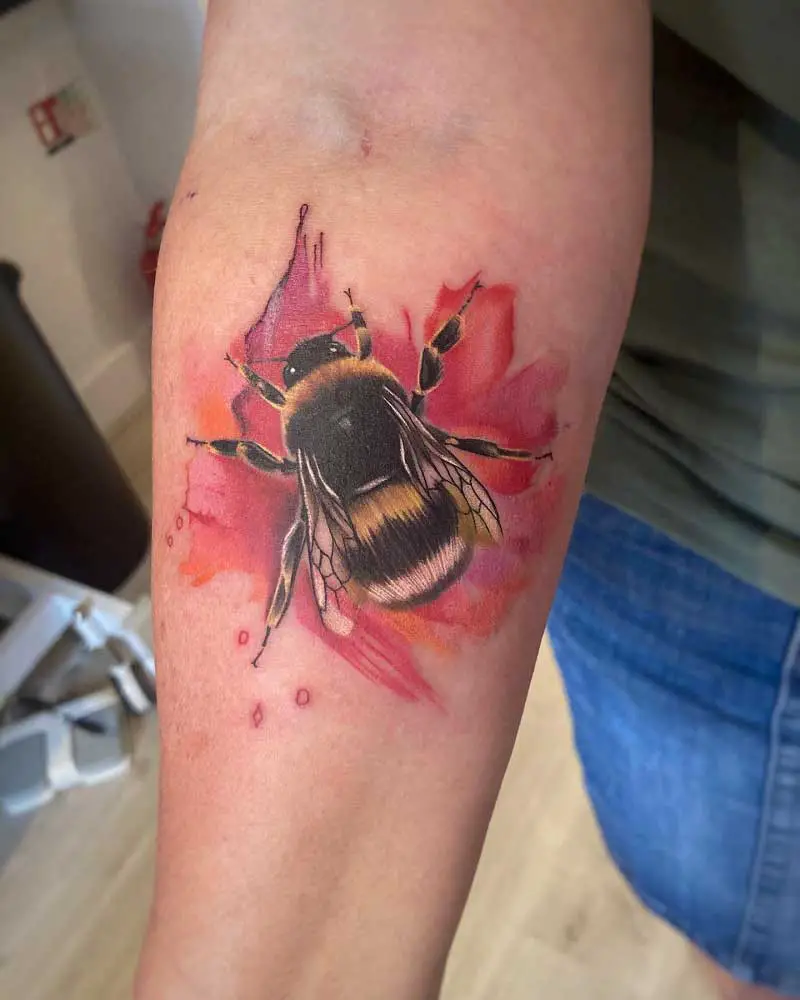 Just a bumble bee tattoo with enthusiastic creative artistry!  The design is quite simple at first glance but look closely and you'll notice the superbly detailed wings and body of the bee. It is quite intricate in detailing yet made an outstanding presence with some light strokes in the background.
Bumble Bee Tattoo Design
As a rule of thumb, a bumble bee tattoo design is a symbol of devotion. These small insects have an undying devotion to their fellow bees and the queen bee. You may want to display your loyalty to a group or an individual through your tattoo. It may also signify a sense of obligation and integrity in pursuit of a life's work or avocation. These designs can vary from intricate to simplistic and realistic to minimalistic.
Here are some splendid examples of these varieties of designs-
4. Giant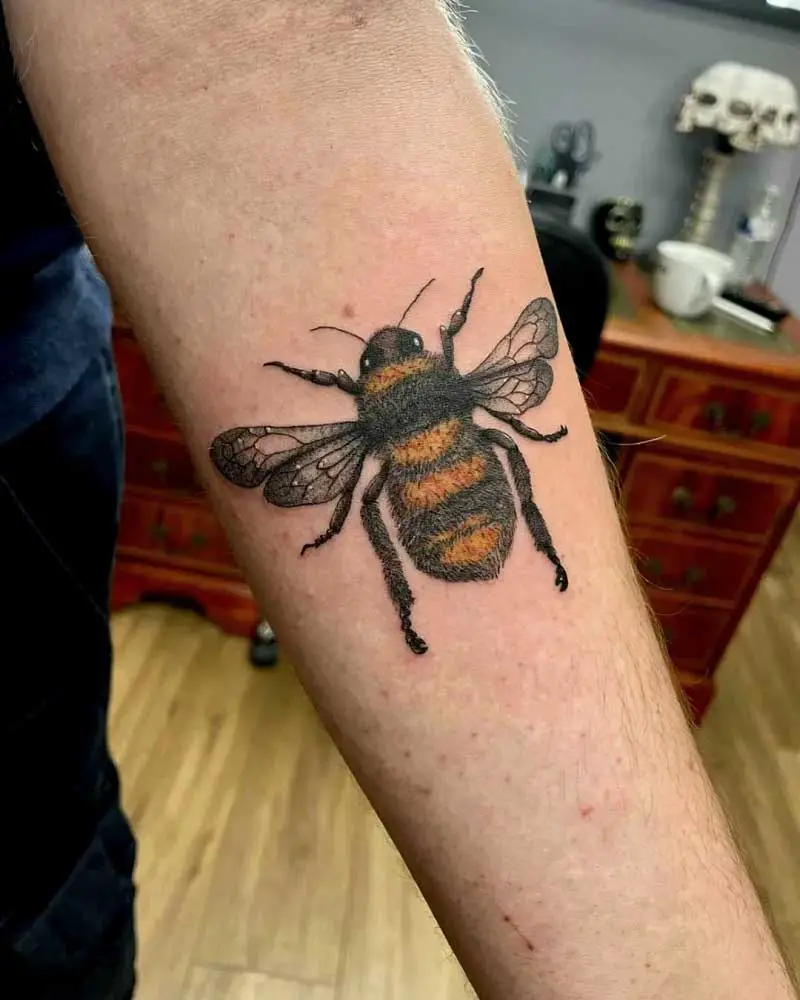 This one is just a simple piece with enthusiastic detailing. You can almost count every tiny furr on this bee's body. The wings are also inked with pretty good detailing that they look like they are gonna start flipping. Plus, the eyes are also illustrated quite beautifully. All in one, this piece is a great choice for a man's or woman's forearm design.
5. Circle of Life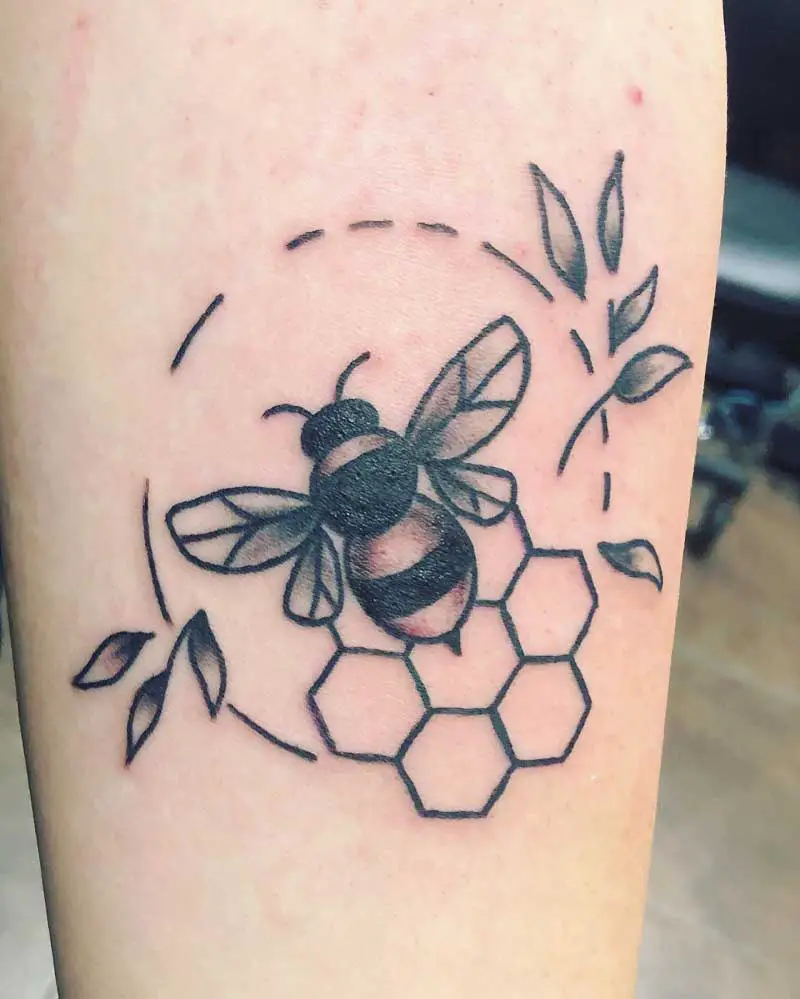 It's a good-looking piece with fluently direct symbolism. The dashed circle with leaves around the bee indicates the simple circle of life of a bee. It depicts the journey of these little creatures from flower to flower in search of honey and finally adding them up to make a hive to sustain. It's a minimalistic piece and it will suit almost everyone.
6. Sliced Face
I must say, this one's a bit unusual with a human face drawn on the bee's wings. However, the face indicates a certain person as a provider for his/her family as bees symbolize the sense of sacrificing for others. And as a design, it's quite detailed and is shining bright on this woman's forearm.
Bumble Bee Honeycomb Tattoo
Since honeybees reproduce within the honeycomb, many people believe that getting a honeycomb tattoo symbolizes fertility. You can use this interpretation to express your delight in being a woman or your delight in being able to start a family. One more reason someone would get a honeycomb tattoo is if they have a long-standing preference for using honey in their cooking. Getting a tattoo that conveys a little bit of who you are while still looking beautiful is a win-win situation.
If you're looking for designs like that, this section will have you covered-
7. Hexagon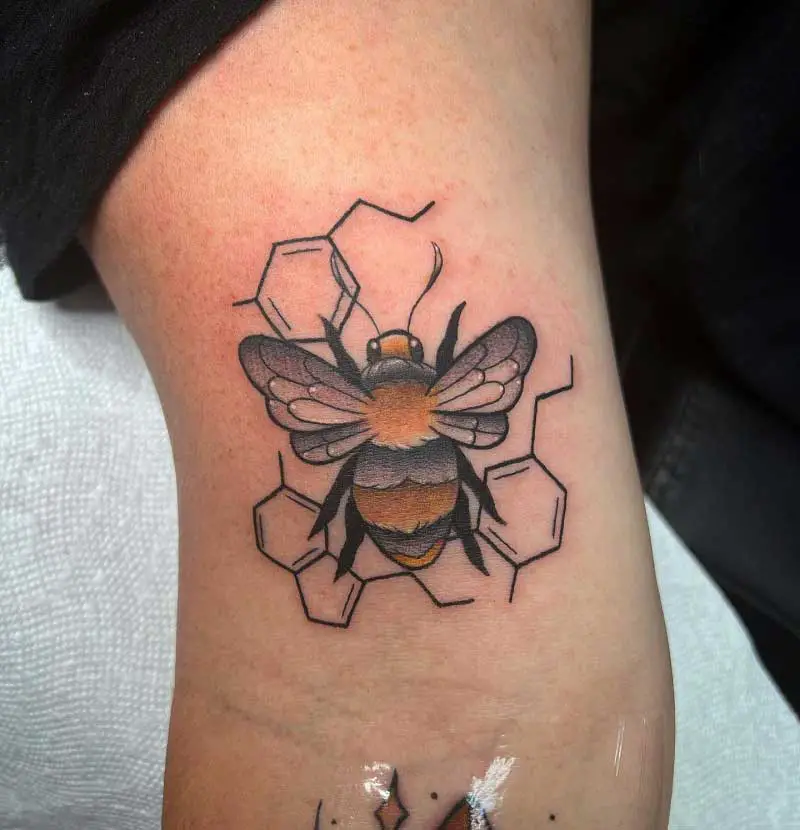 A bee's life evolves around its hive and for the sake of the hive. These tiny creatures teach us the ultimate concept of sacrifice. This philosophy, in this design, is shown with artistic creativity. Apart from symbolism, the overall apparel is also quite eye-catchy too.
8. Queen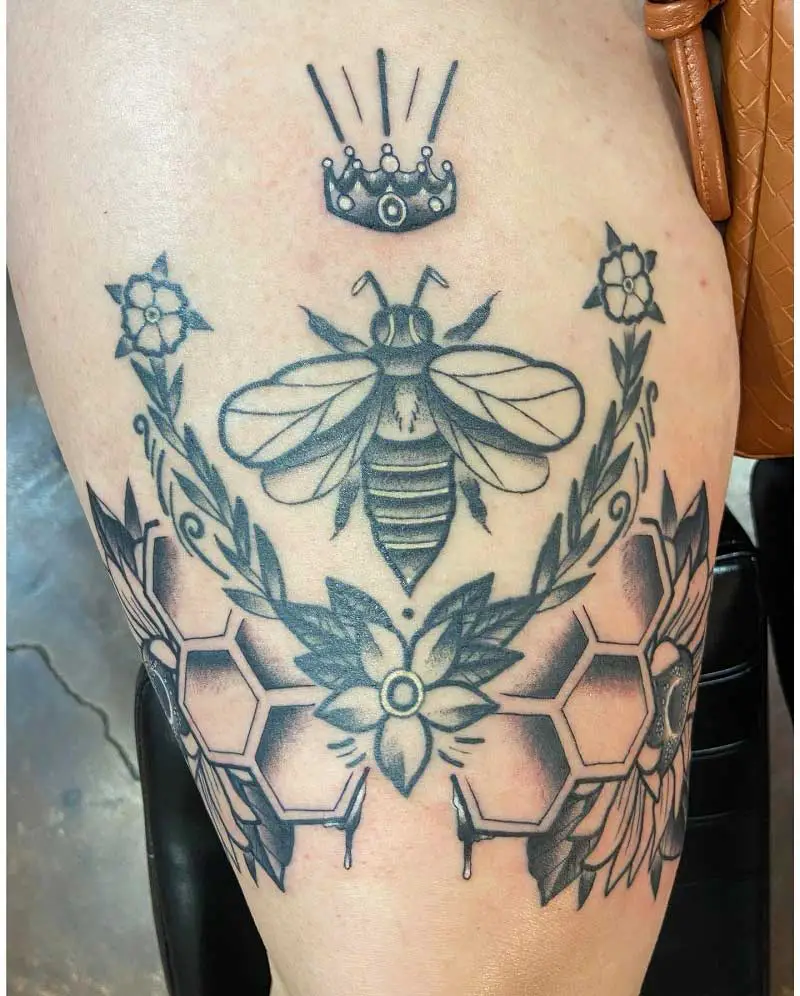 It is a piece that states supremacy, discipline, order, and piece. The leafy designs around the honeycomb show off the sense of order, discipline, and peace inside the hive. And the crown on top of the bee indicates the authority and expertise of the queen as a leader. This piece is perfect for anyone with a sharp sense of leadership.
9. Elegance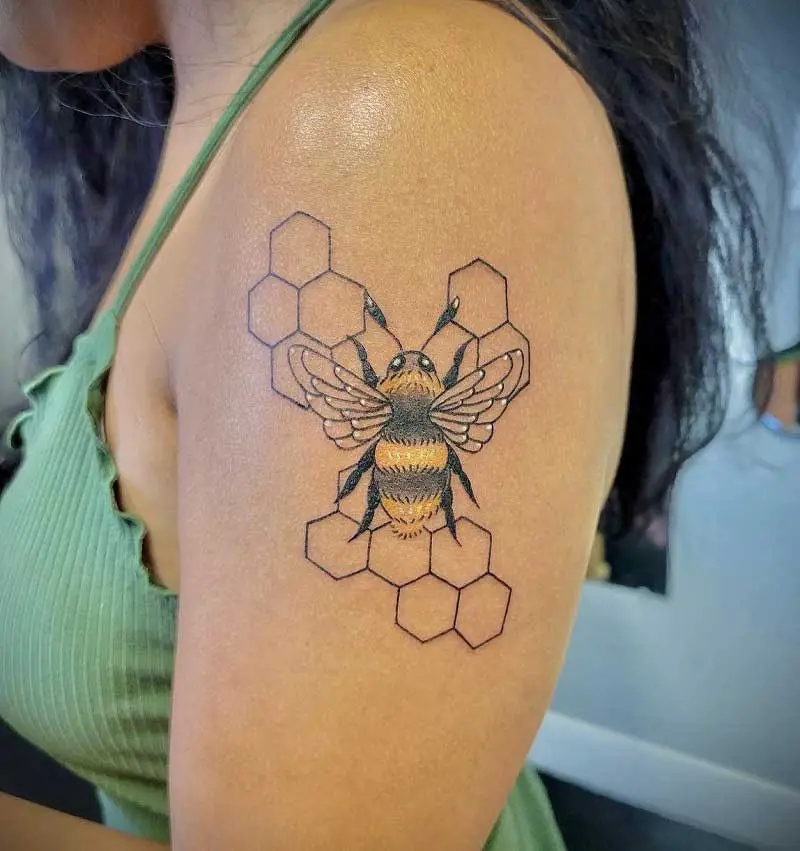 The design consists of two fundamental ingredients- Honeycomb and the Bee itself. The honeycombs symbolize the life-cycle and are inked with single-line art style that gave the elegancy. And the shiny coloring on the bee shows off the happiness in life. It's pretty, subtle, and elegant! Just the perfect piece for a woman's upper arm.
Geometric Bumble Bee Tattoo
Simple or intricate geometric shapes used in tattoo designs often provide a sense of stability and order. Their individual significances might range from the general to the deeply private. As these tiny creatures also have a sharp sense of discipline, order, and hierarchy, geometric shapes blend with these designs perfectly. Plus, the shapes add an extra appeal to these designs. With geometric shapes, these designs are both appealing and richly meaningful.
So, want your hands on one? Here we have some exotic ideas-
10. Buzz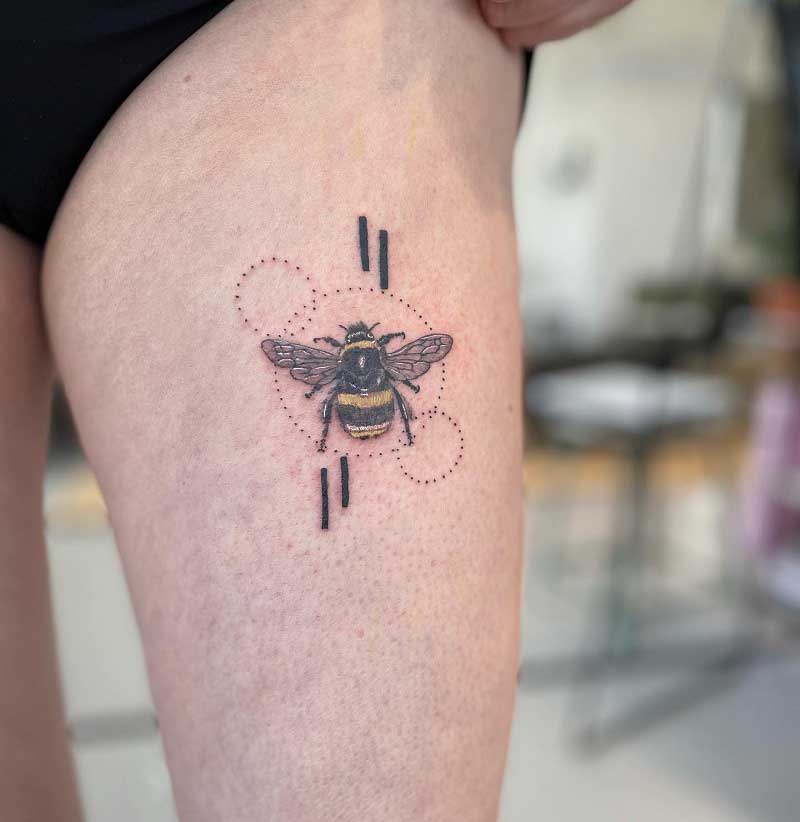 With the geometric shapes, the bee in this design has a metallic tone to it. The dotworks around the tiny creature and two transverse parallel lines in both directions gave it a buzzing vibe. The piece is very compact in size but quite shiny that it will ornate any body part seamlessly.
11. Floral Rectangle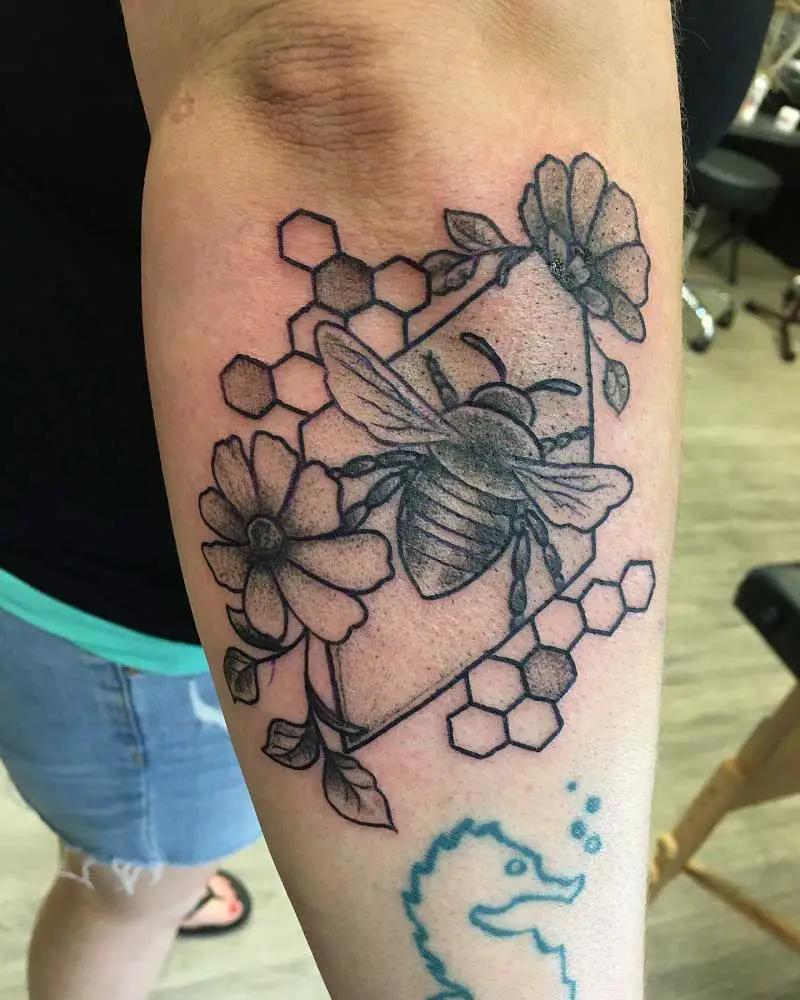 This one is an intricate design that has a certain geometric influence to it. The bee is placed in a rectangular box that blends with the hexagonal honeycomb pattern seamlessly. in addition, the floral decoration with the geometric shapes made this piece a unique one indeed.
12. White Crescent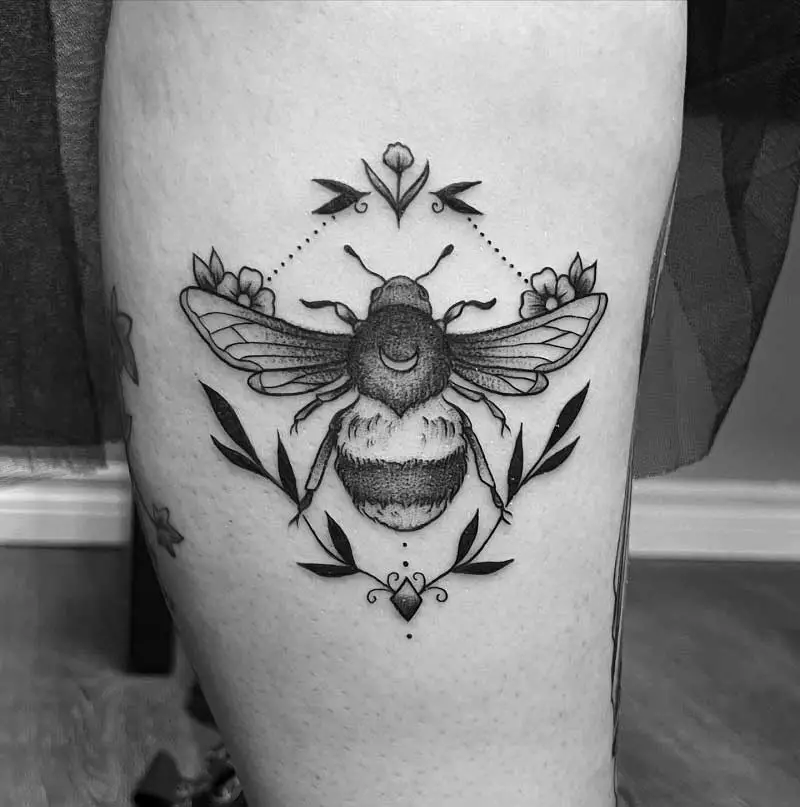 It's an unusual design that has a subtle spiritual touch to it. The crescent design and the dotworks brought out the spiritual side effortlessly. While The floral arrangements gave it an outstanding appeal. It's also inked with moderate detailing that gives off a realistic flavor. Talk about an all-in-one package!
Traditional Bumble Bee Tattoo
Traditional tattoos typically feature minimalistic artwork with strong, crisp lines and a small color palette. Traditional bumble bee tattoo designs are not any exception in that matter. These designs are strong, crisp, and very eye-catchy. But very subtle too. Getting a traditional tattoo is a way of showing respect for the art form and continuing the custom. These motifs have endured because each one has a unique meaning.
Here are some top-of-the-shelf traditional bumble bee tattoo ideas for you-
13. Alice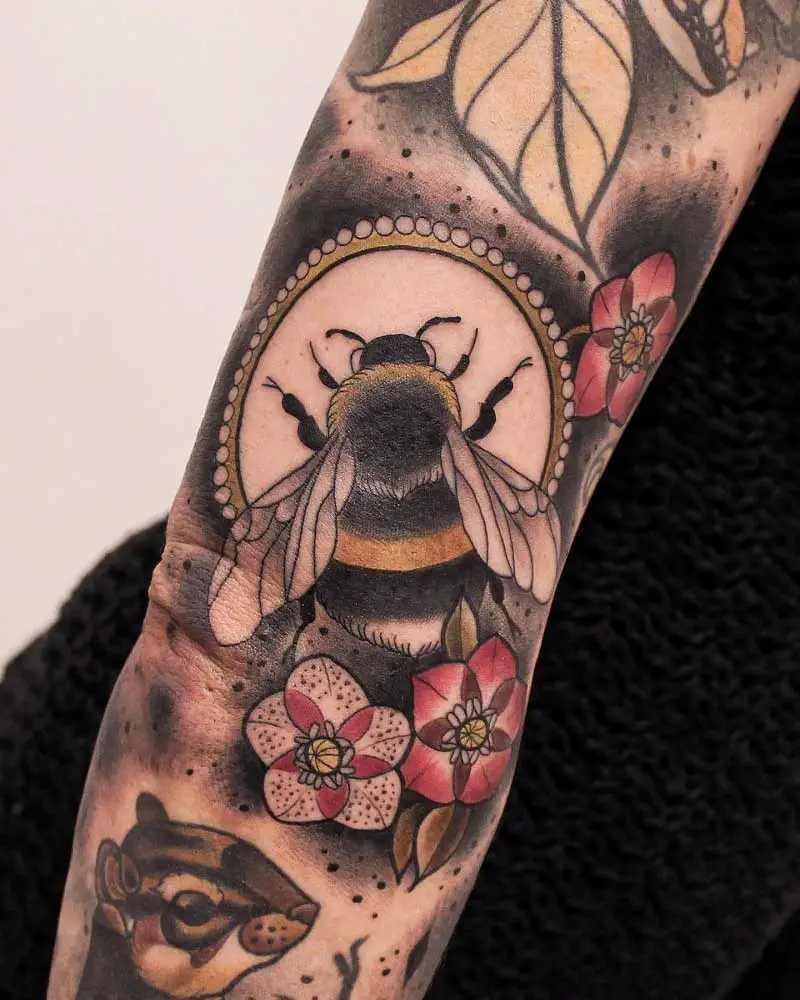 It's a bold & gorgeous piece on this man's back arm tattoo. The coloring is not too bright and not too dull; just the shade which we can call subtle and truly aesthetic. As well as the gorgeous black and red background, the bee itself is colored and inked in a very elegant way. This design just wraps the man's hand in an aesthetic and bold aura.
14. Cyborg Bee
This exceptional piece is a mixture of modern design, rich symbolism, and aestheticism. The wings have a honeycomb pattern that represents the purpose of the bee's life. And the dotwork at the bottom is inspired by Unalome design which indicates the symbolism of spirituality. It's a well-thought piece and would brighten up any man's lower leg.
15. BUMble Bee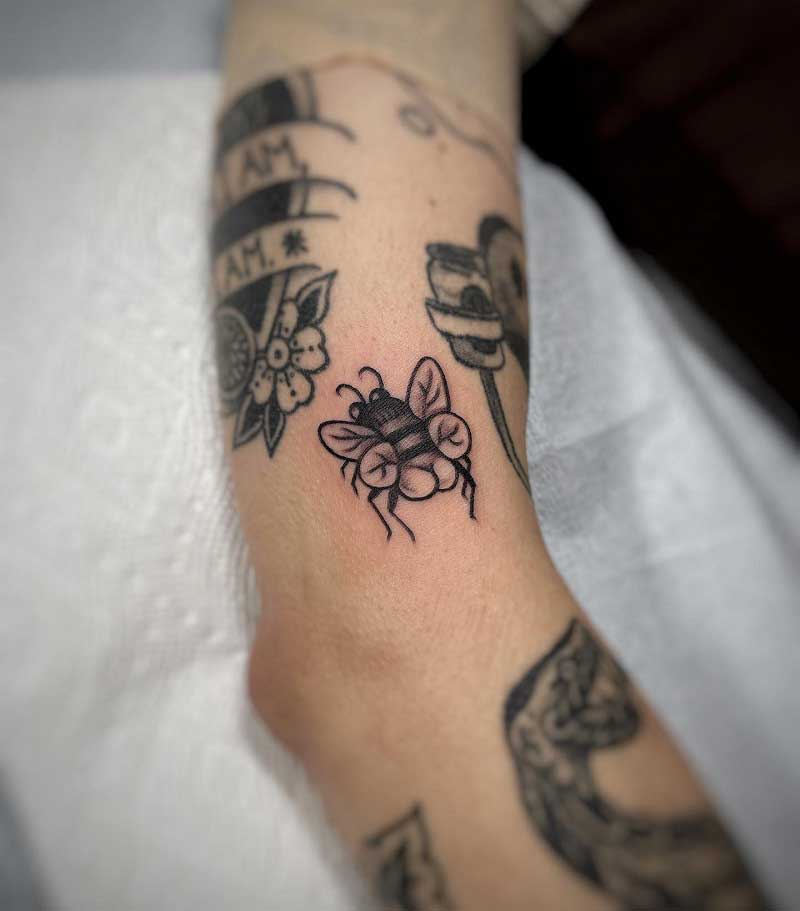 As a design, it's a bit funny! The bee in this piece is designed in a cartoonish way to show the wearer's humorous side. The wings of it are very short and the buttocks are showing in a very funny way. However, the inking method is quite gothic. Thus, as a whole, this piece shows off a bit ironic side. It may look like worthless, but in fact it's a well thought piece.
Cartoon Bumble Bee Tattoo
Cartoon character tattoos are often an expression of fond recollections from one's youth when the character or character design was first seen. The pieces bring back fond memories by reminding the owner of a favorite fictional character or group of characters from a book, movie, or television show. The character(s) can be depicted in an infinite variety of ways, but the most common method is to employ contour lines and bright, vivid colors.
Her are some design ideas just like that if you're looking for one-
16. Fatty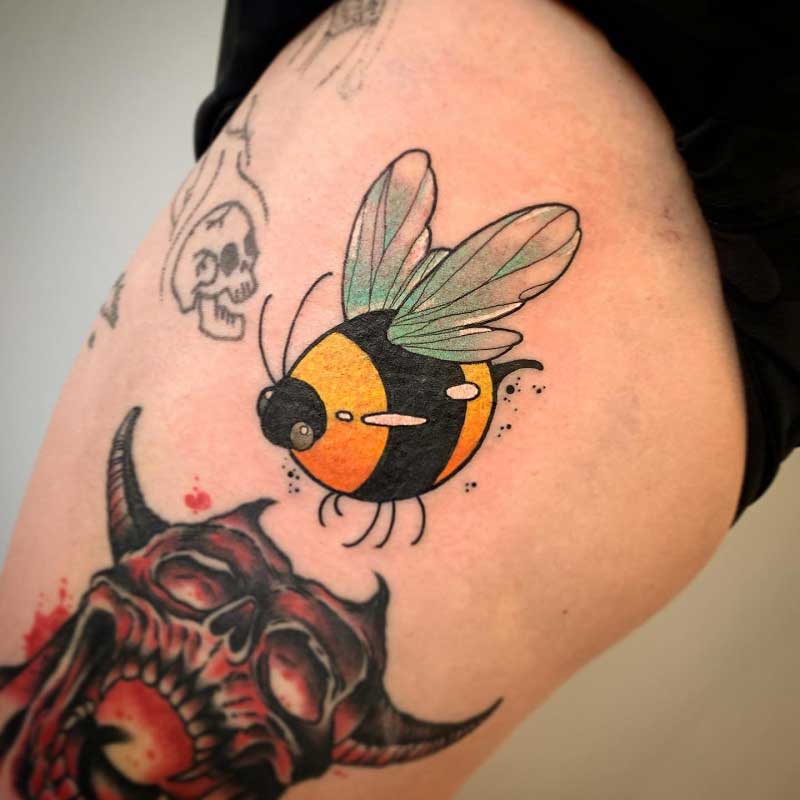 It's a random tiny and delicate piece. This fuzzy bee is quite fat and feels like floating in the air which looks cool. Plus, the illustration method is very subtle with its shining little fairy wings and body. Although, it runs short in the symbolism area, this floating and shiny little buzzer can be a great addition to your body art compilation.
17. Fairy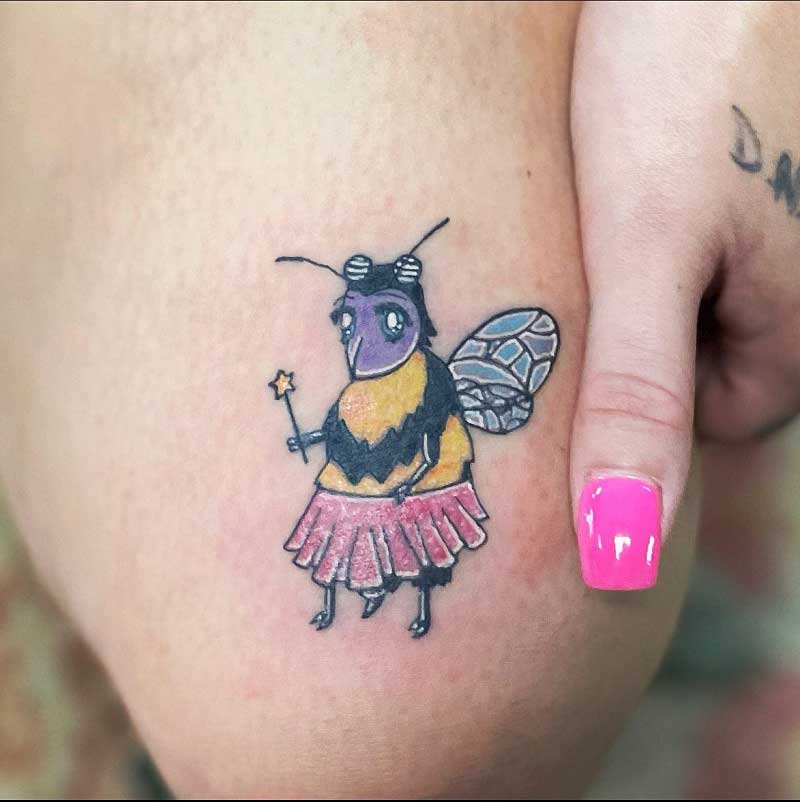 A bit weird one I must tell. Our little friend here is wearing a fairy costume with a magic wand and glittering skirt. And the eyes are gloating in joy which looks very alluring. The design may be a little extravagant, but it has its own unique appeal. This upper thigh design for women can also be a great choice for you if you enjoy some little extravaganza!
18. Joy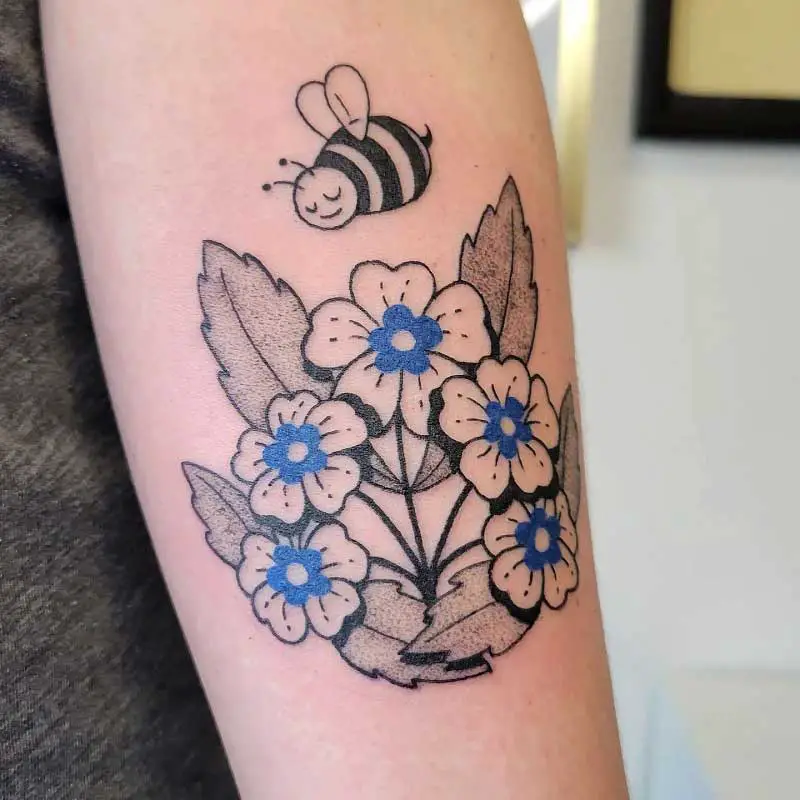 This cute little bee is enjoying its life to the fullest. Its eyes are closed in such a way that gives off a vibe of true contentment. In addition, the blue-cored flowers are splendidly illustrated that look beautiful and stunning. If you are a content person in life, this forearm tattoo design can be a perfect score!
Fuzzy Bumble Bee Tattoo
Bumble bees are quite cute creatures if you look apart from the Stinger. They won't attack you unless you do first. So, they are pretty harmless. They have tiny body covered with small furry that feels warm, comfortable, and fuzzy to the touch. On top of that, they carry some strong symbolism of discipline, order, and loyalty. So, they are very popular among the general mass. If you also want to ink that symbolism on you then there's no better way than get these fuzzy creatures inked on your body.
Here are some design ideas in that regard-
19. Sprinkles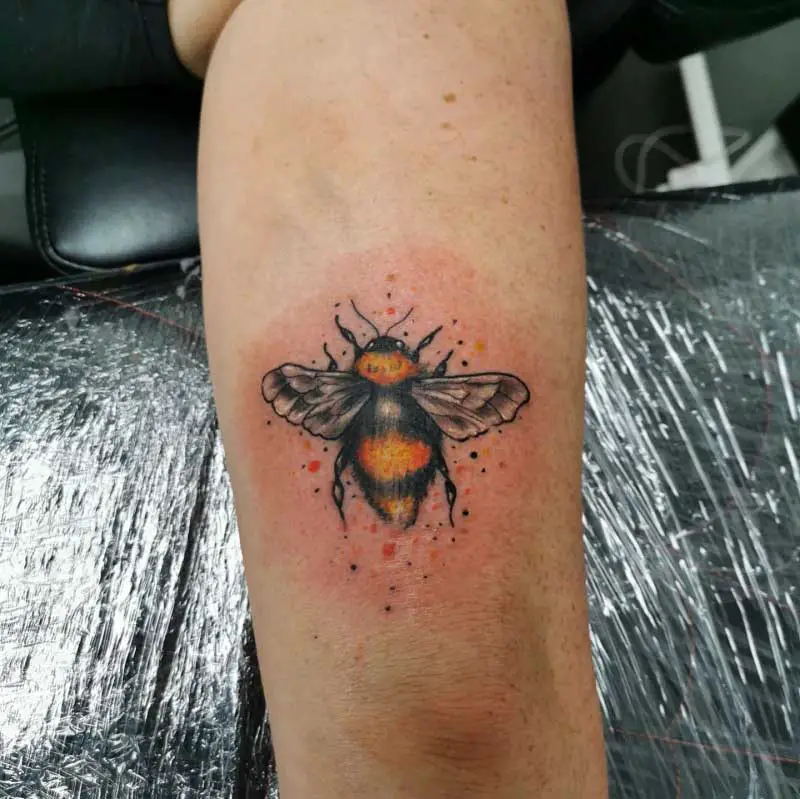 The piece is ornated with intelligent and thoughtful coloring. It's colored with a bright yellow color that depicts the playfulness of the bee and the wearer. In addition, the background is filled with bright sunny orange sprinkles of colors that look absolutely stunning.
20. The Guardian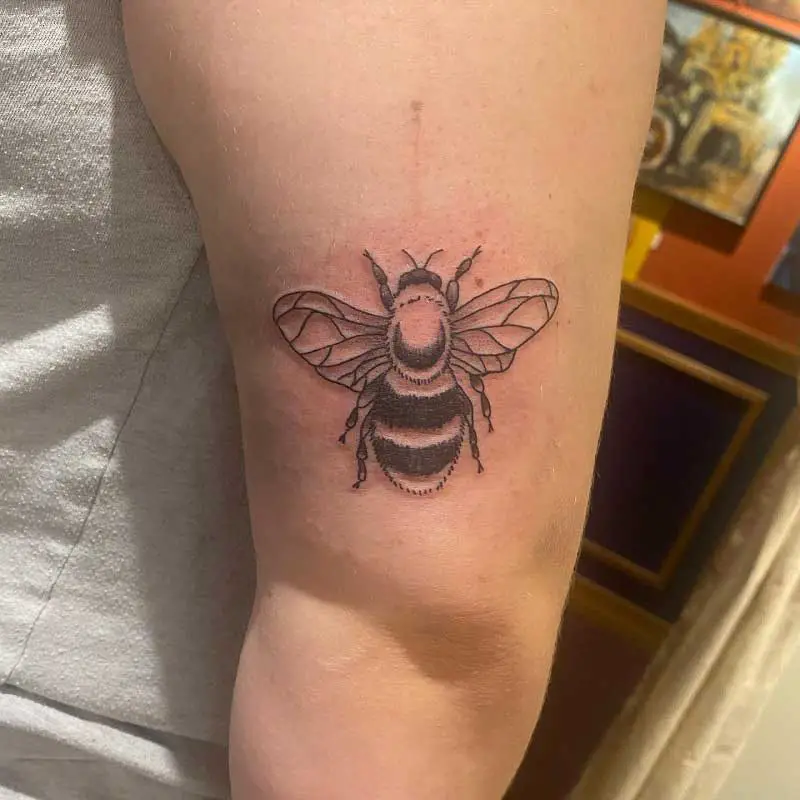 This one is rather healthy as it seems! It is inked with a minimalistic approach and the artist nailed it. The fur on the bee's body is perfectly brought up by the artisan and the whole piece looks very lively. If you want a simple tattoo, then this one's for you.
21. MCMLXVII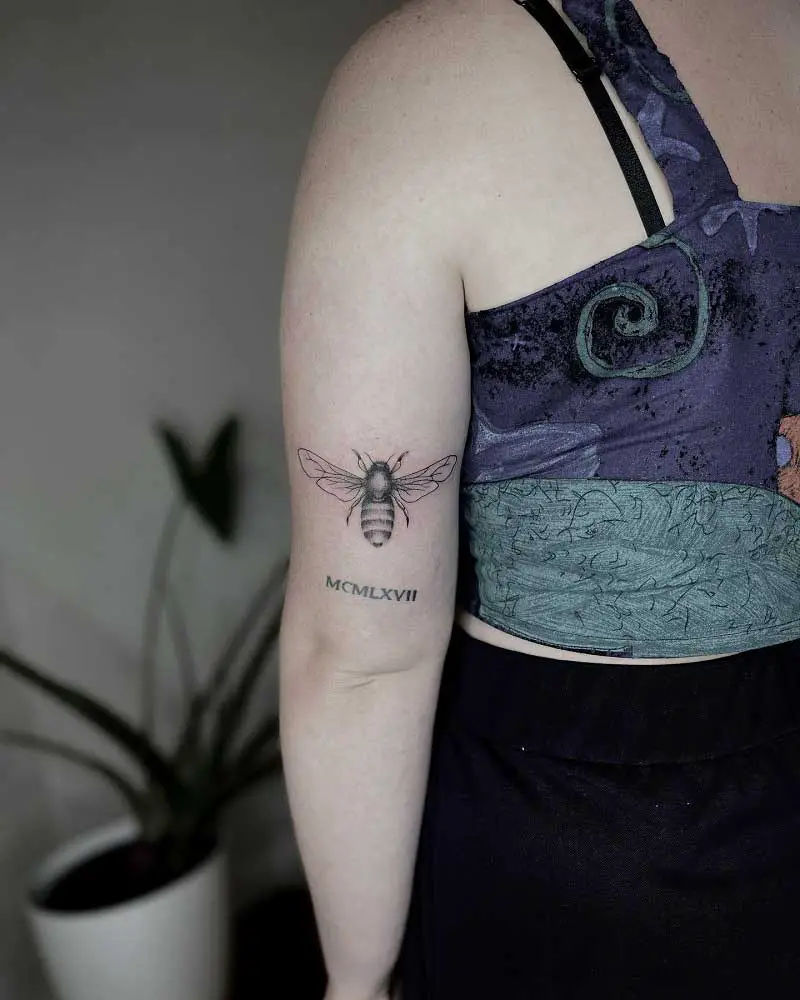 1967 is the message that is conveyed by this particular design. This piece is a sort of memorandum. With this design, anyone can mark any date important to them with a bee inked on their skin. Because, sometimes bees are used as the commemoration element.
Bumble Bee Finger Tattoo
Finger tattoos are little ink drawings that are either pierced beneath or placed on top of the skin. Tattoos come in a variety of designs and can be permanent or temporary. They are a unique and enjoyable way to express oneself. People with finger tattoos tend to be very direct and concise. Using what little room it is effective, the artist must convey the meaning of the tattoo. As the bumble bee tattoo designs can be compact in size and shape, these are great for finger placement.
Here are some inspirations-
22. Fuzzy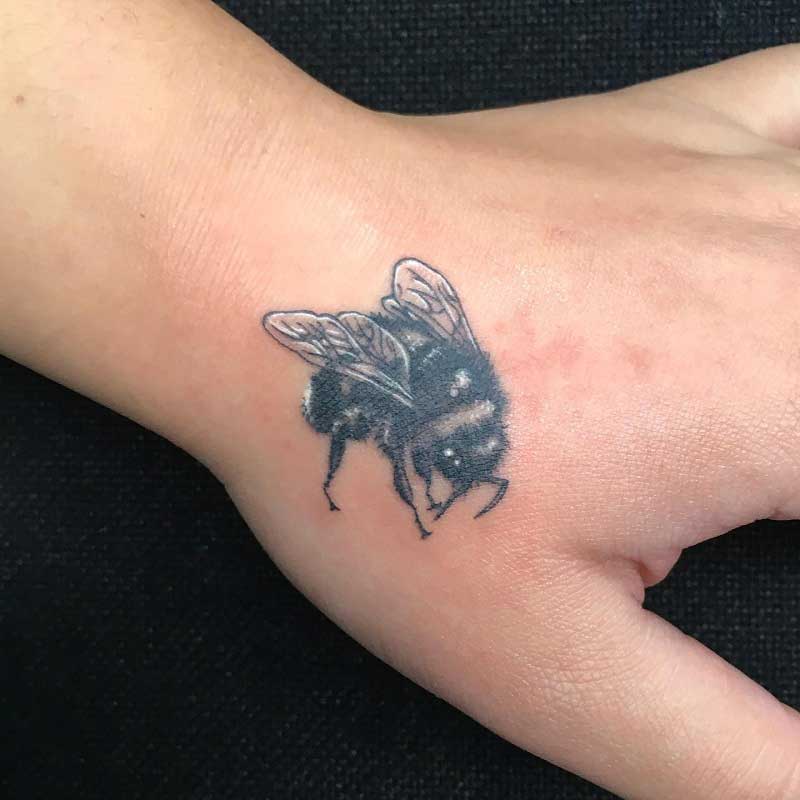 Our little fuzzy friend here looks just adorable! This fluffy little bee is inked with careful detailing with the utmost concentration. It looks adorably fluffy and so compact that it will outshine any finger tattoo out there.
23. The Twins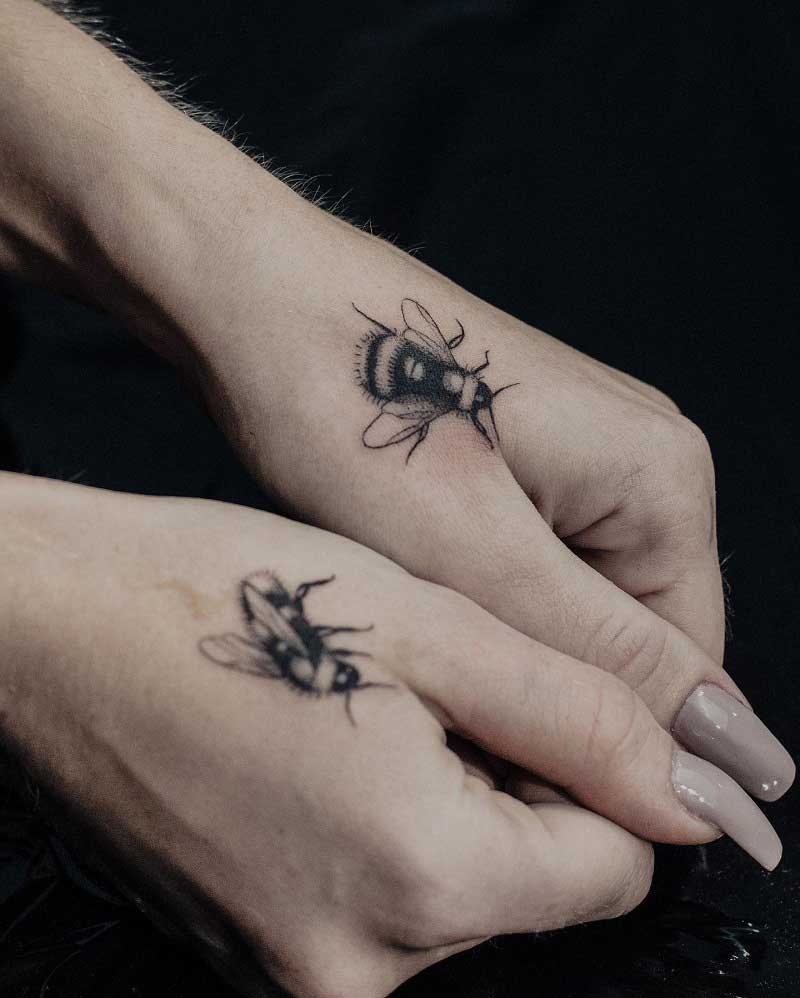 The twin bumble bee tattoos on this woman's hand made her hand look even more prettier. These designs on both hands are inked with every nitty witty detail that gave them a moderately realistic look. The tiny rapture is perfect for placing it on women's hands and they are very hard to go unnoticed.
24. Cupid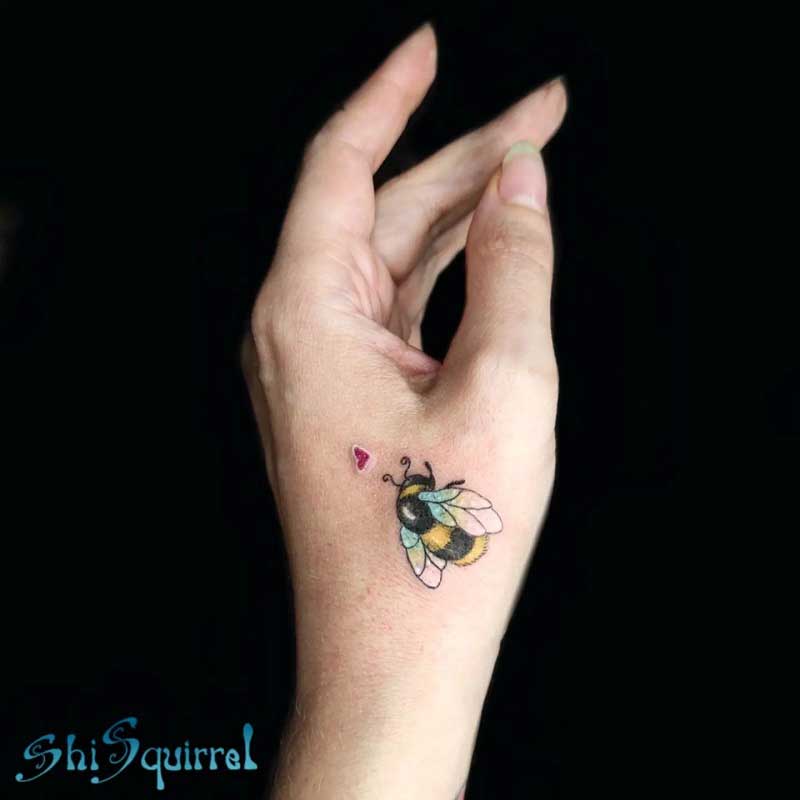 This tiny bee right here gives off a feeling of love and comfort. Other than its lovable comfy vibe, the design has its artistic values. This piece is illustrated carefully and with every bit of concentration. Its wings are glowing with sprinkles and also look translucent and you can almost feel the fur on its body. All combined, it's a piece that you'll cherish.
Bumble Bee Sternum Tattoo
Sternum tattoos are meaningless. When on the beach, they can enhance the environment and create a strong statement. You can get a tattoo that means a lot to you or represents an important part of your life. And if we think of Bumble bee sternum tattoo designs, they are just the perfect fit. Why? Well, the spread wings go exceptionally well with the sternum line below the cleavage. And apart from giving off a bold statement, these designs can also be rich in symbolism.
So, in this section, we brought you some of the coolest designs out there. Here are they-
25. Nature's Crown
With the floral crown and wing extension, this sternum design is quite a mesmerizer. The design is moderately big and fully monochrome which blended with the woman's lower chest area quite perfectly. This design is very well-inked and placed so that it will shine brighter as a sternum bee tattoo.
26.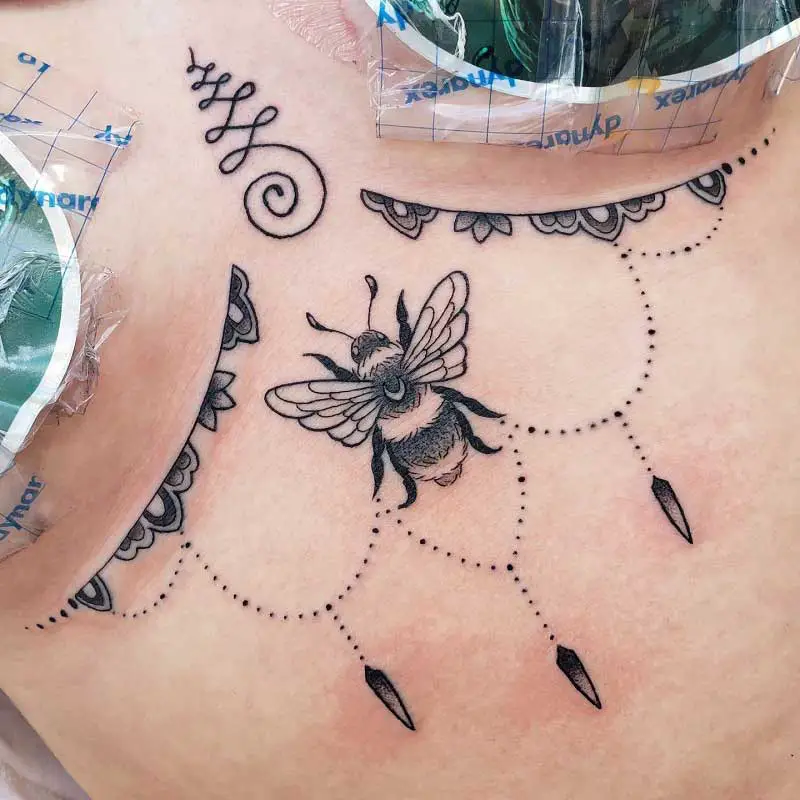 A perfect example of design diversity! This particular piece is a mixture of different designs and that's the beauty of it. The Unalome design at the top and the henna design surrounding the bee made this piece truly an elegant one.
27.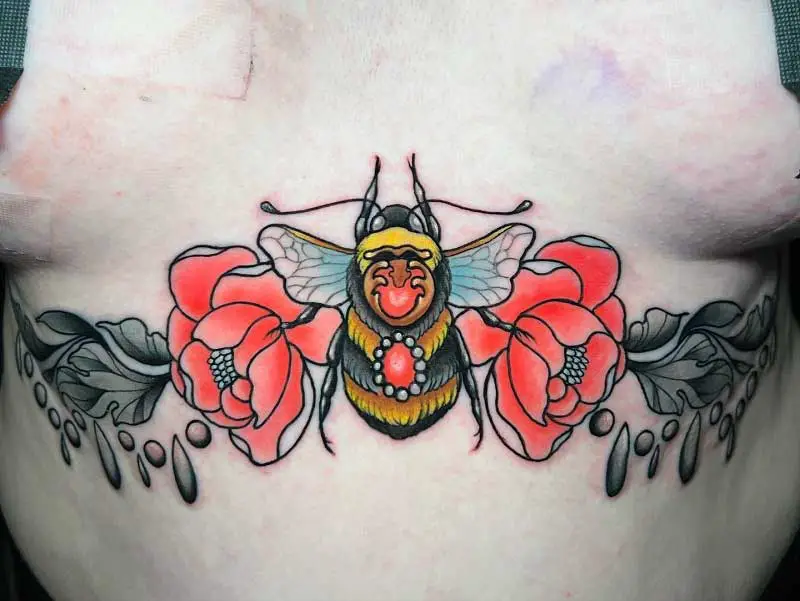 Fat Bumble Bee Tattoo
28.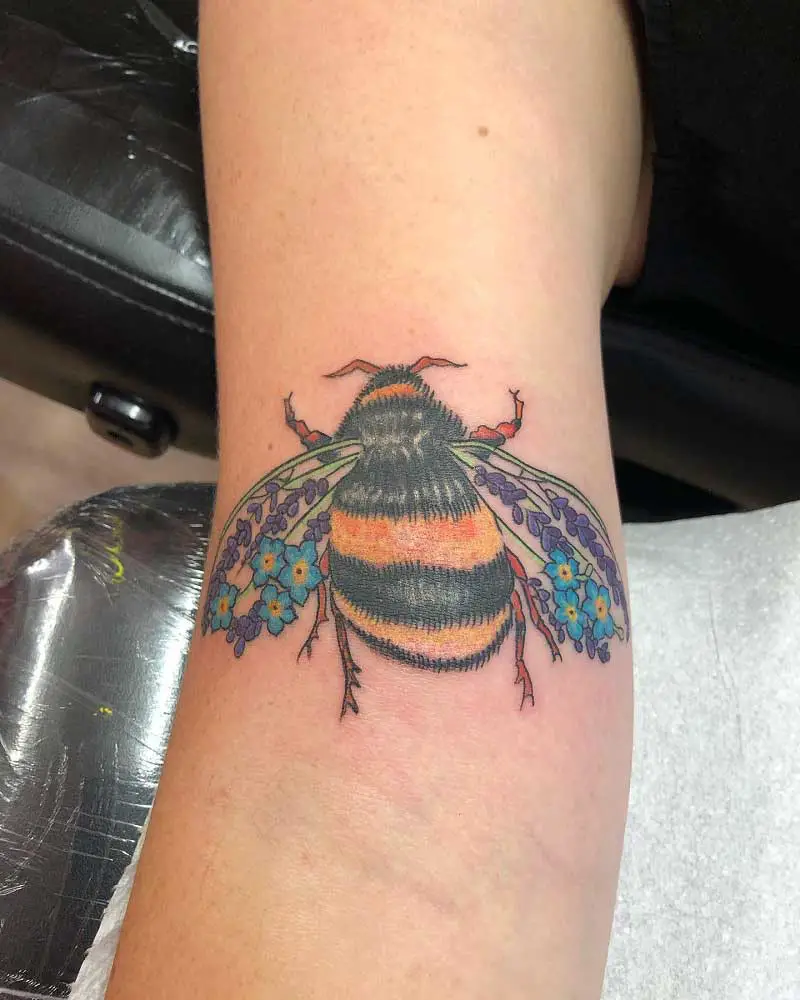 29.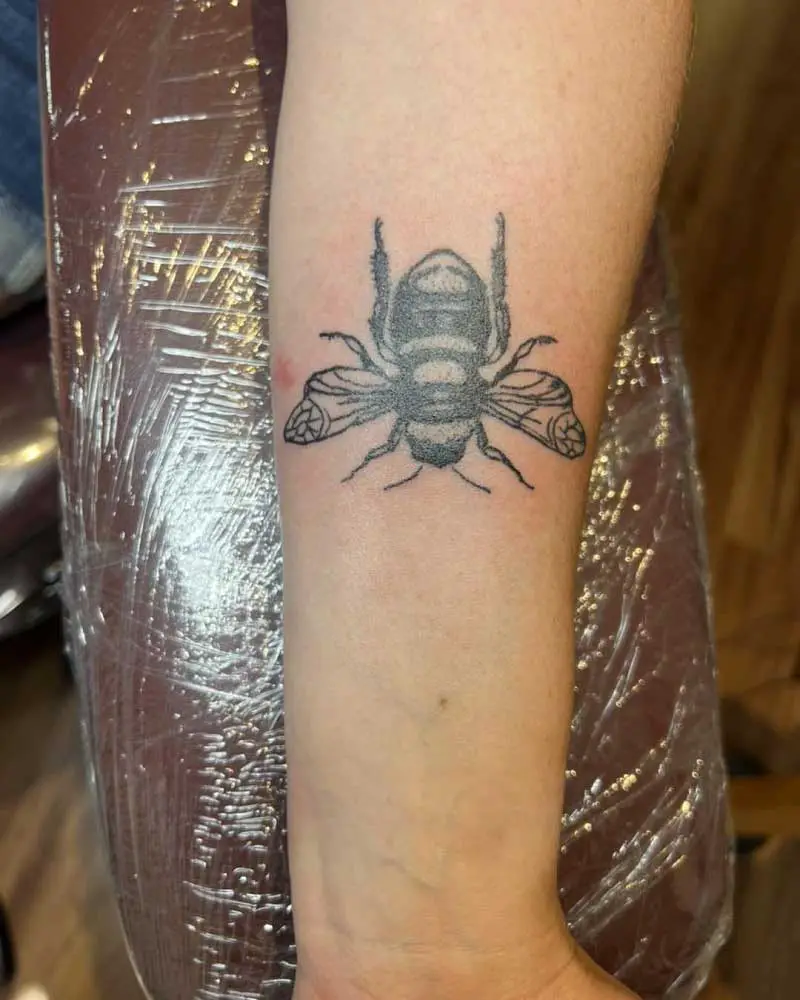 30.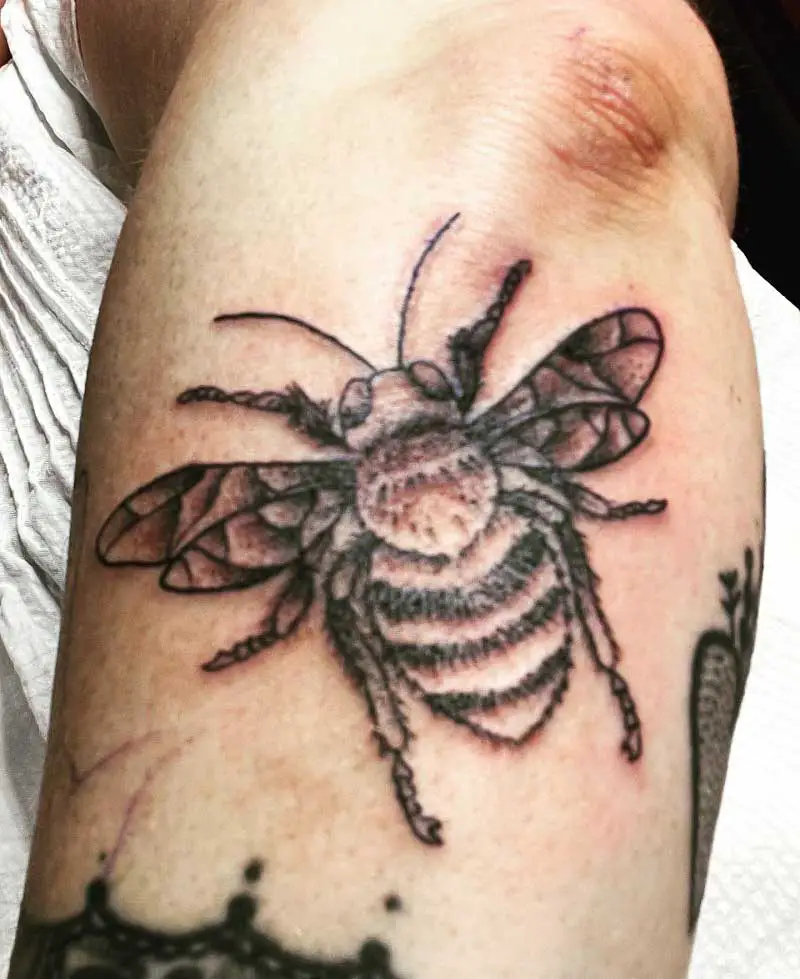 Minimalist Bumble Bee Tattoo
31.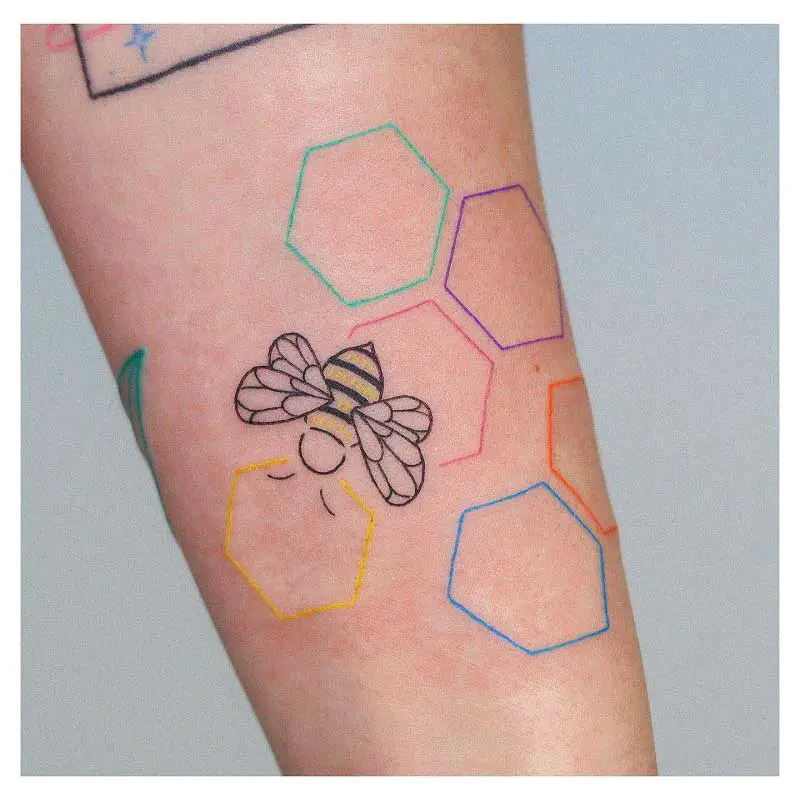 32.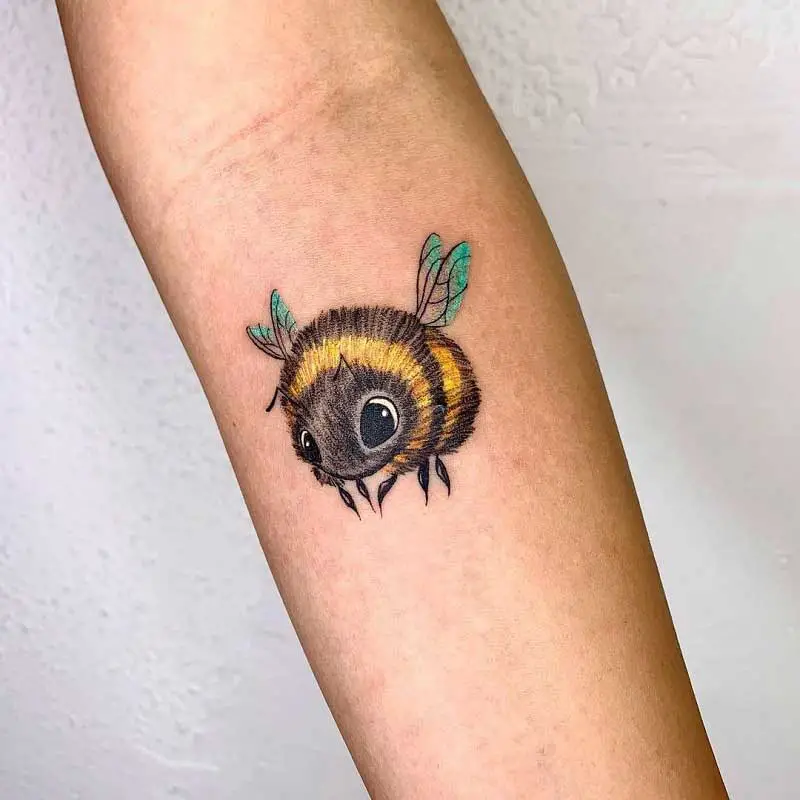 33.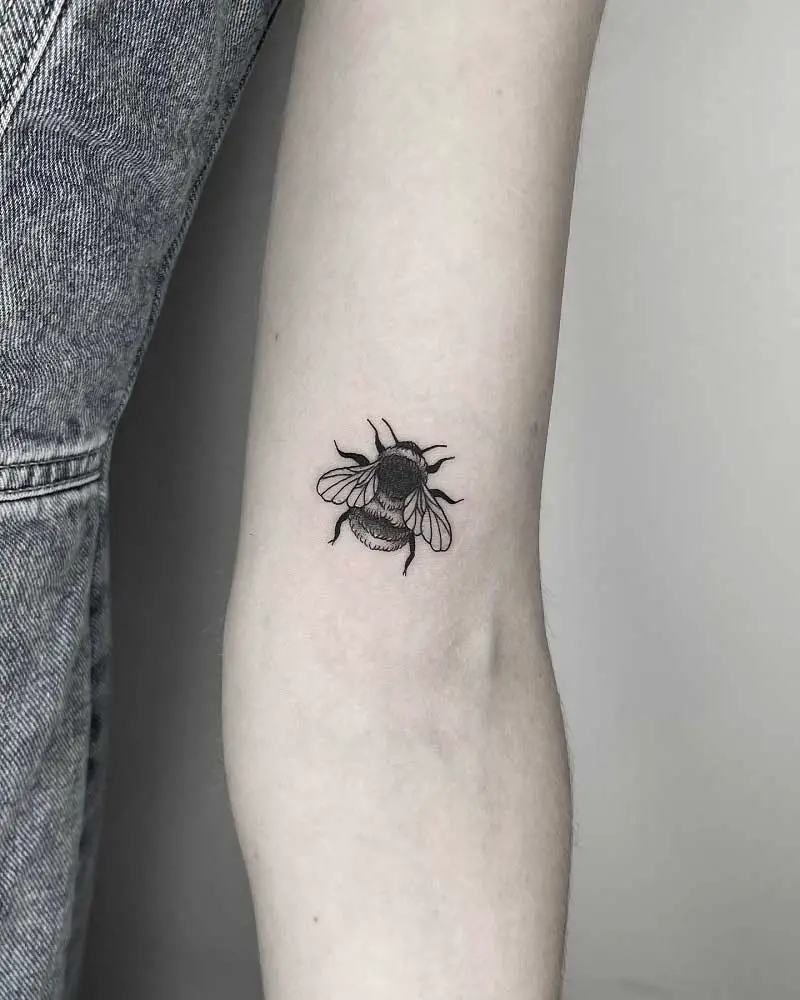 American Traditional Bumble Bee Tattoo
34.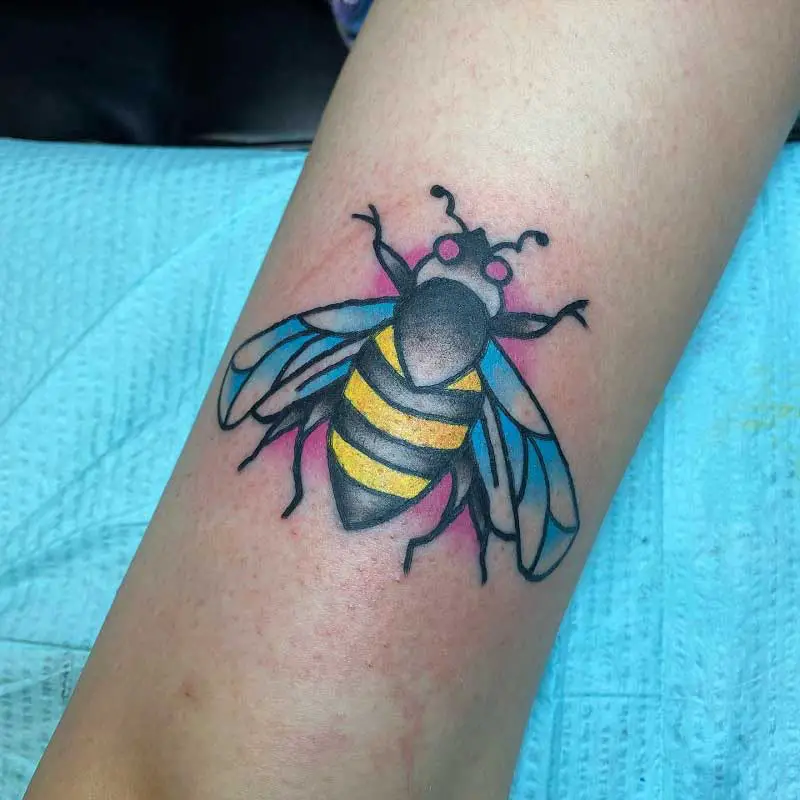 35.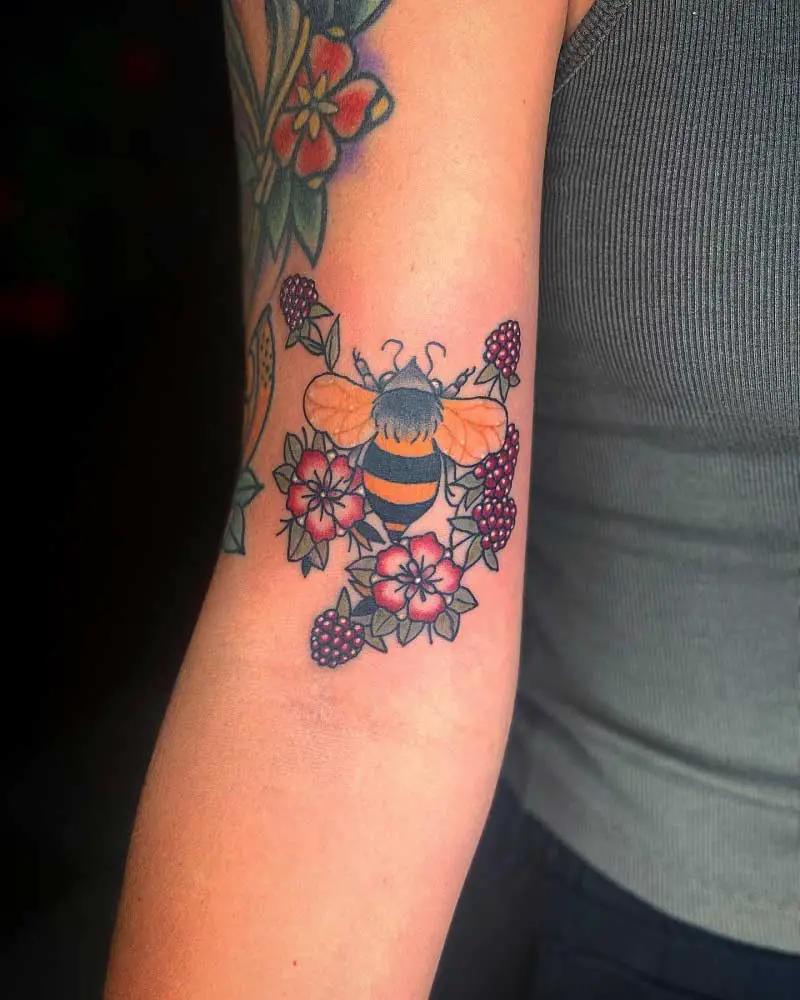 36.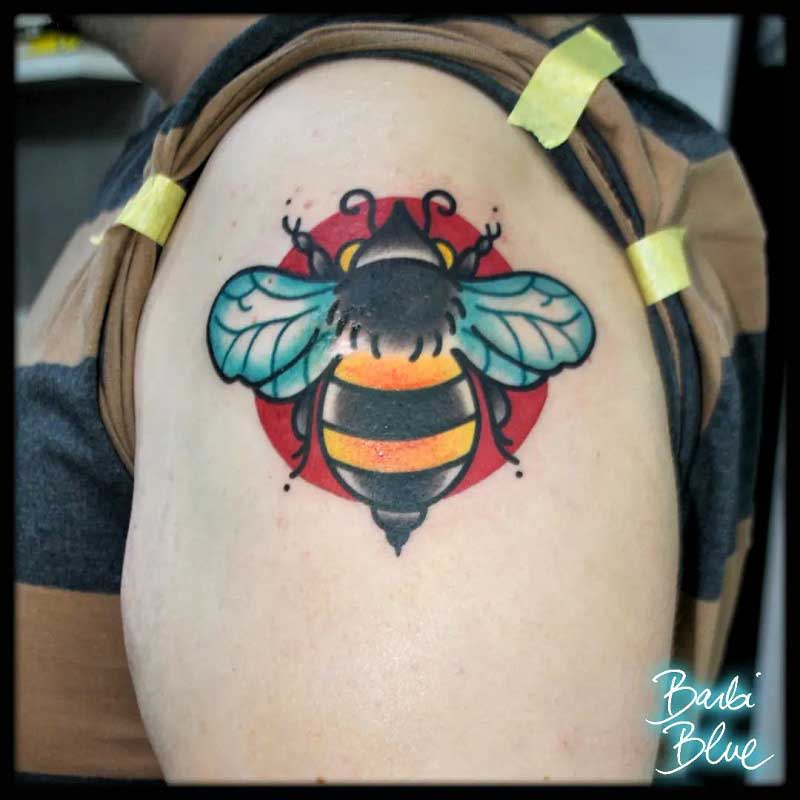 Bumble Bee Flower Tattoo
37.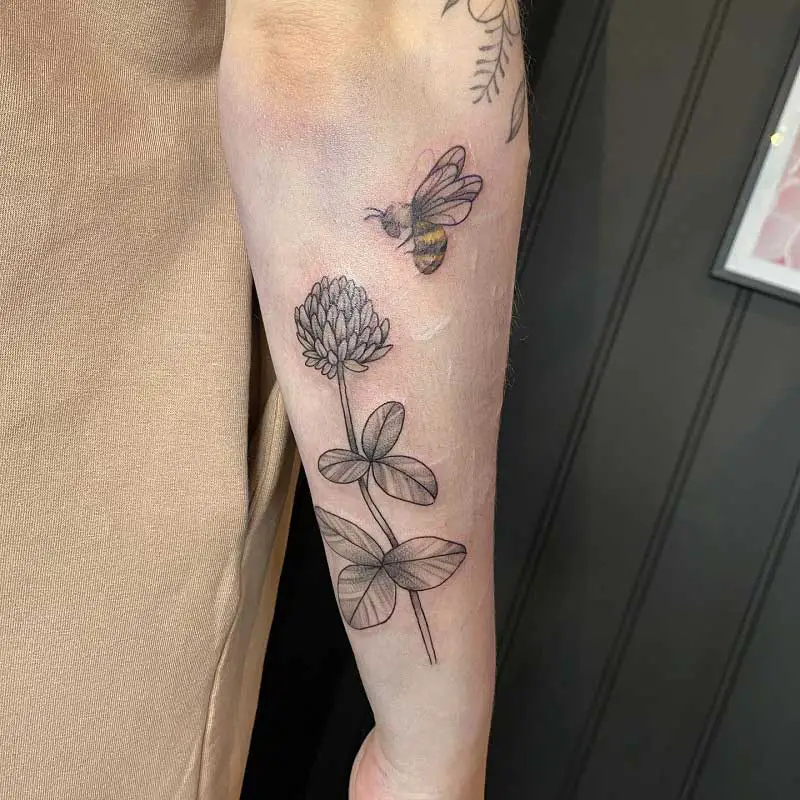 38.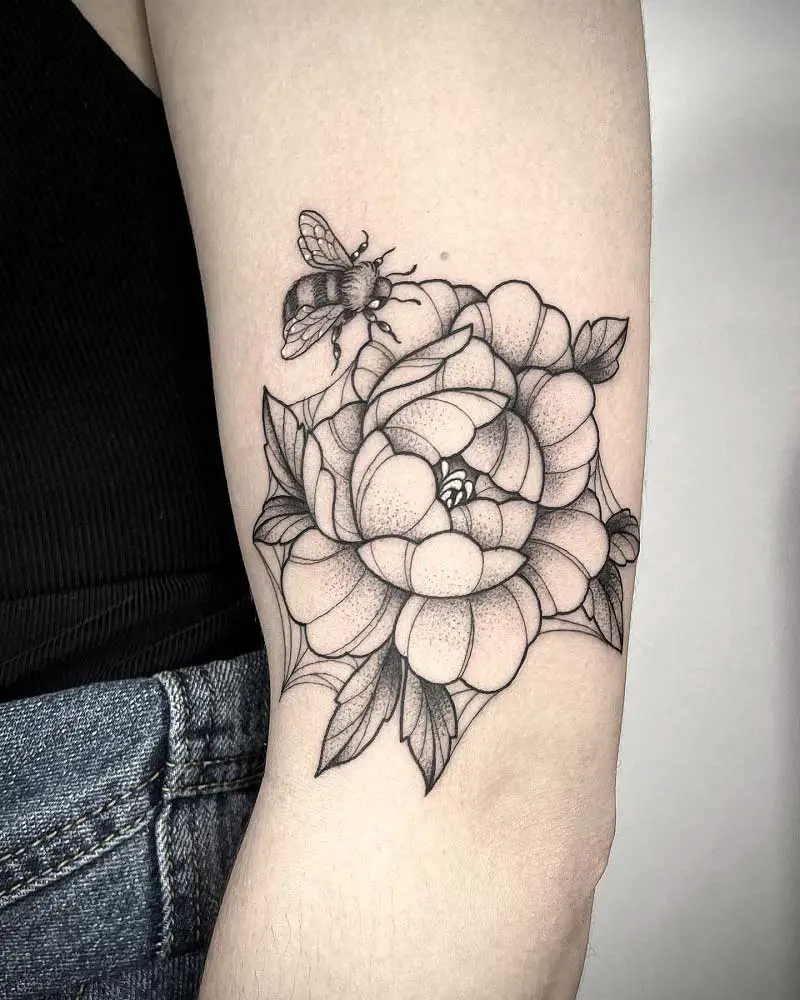 39.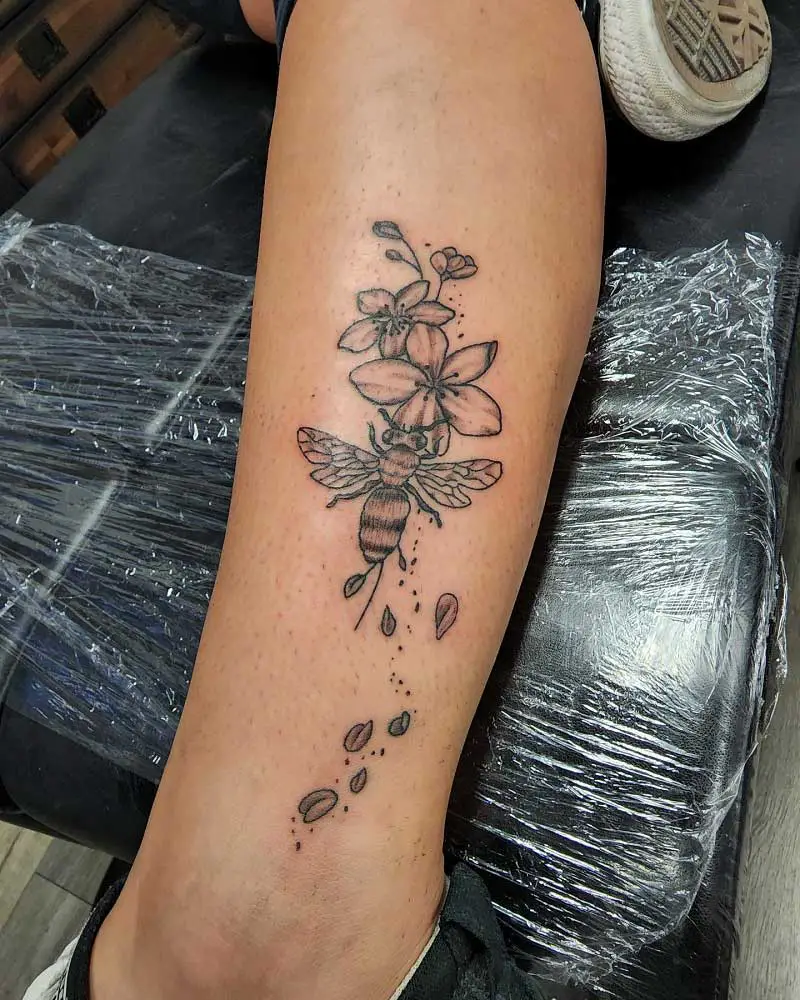 Bumble Bee Foot Tattoo
40.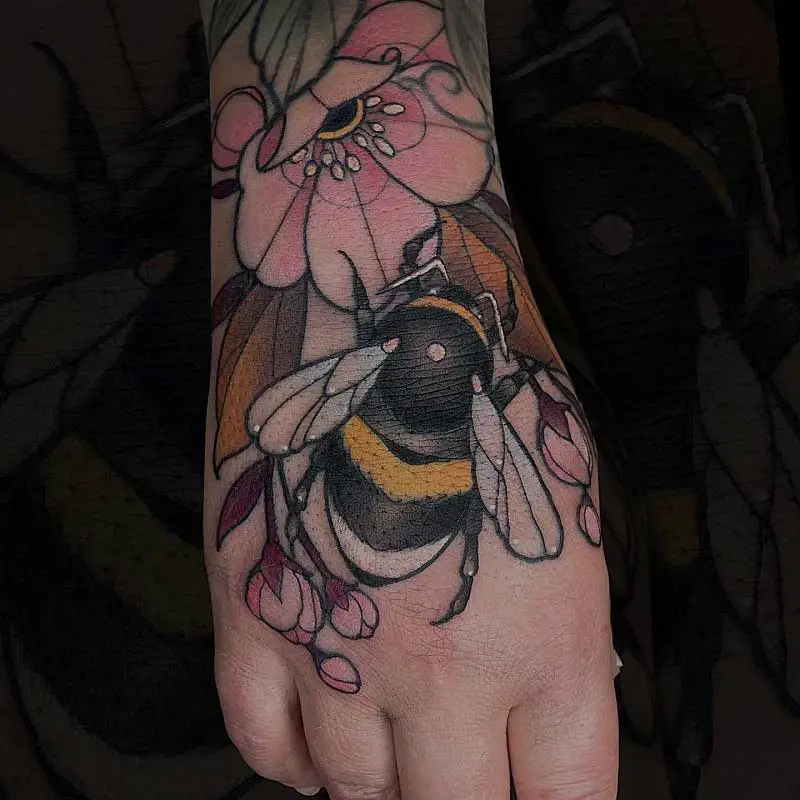 41.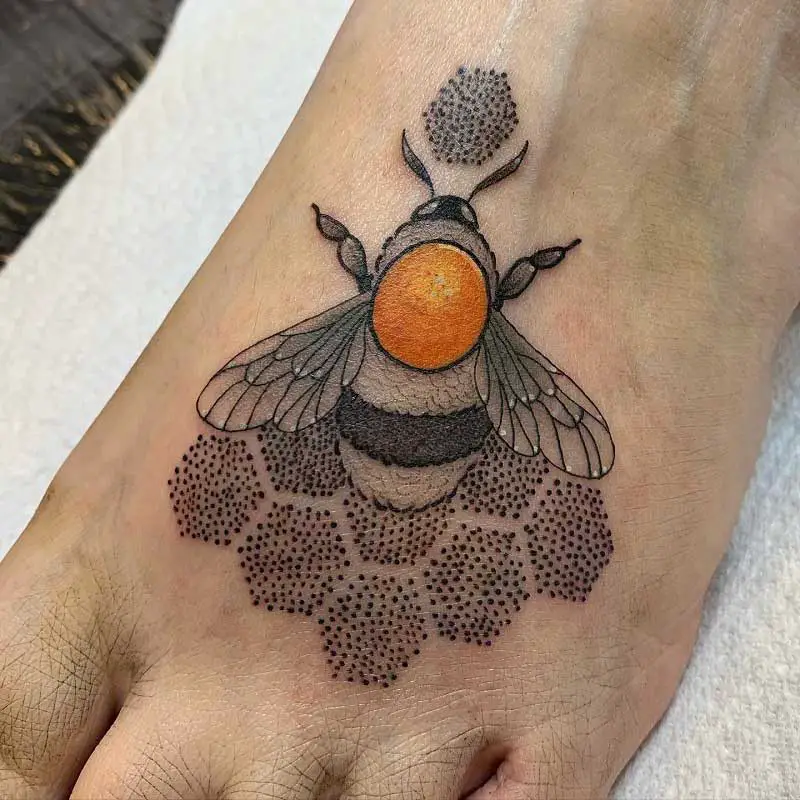 42.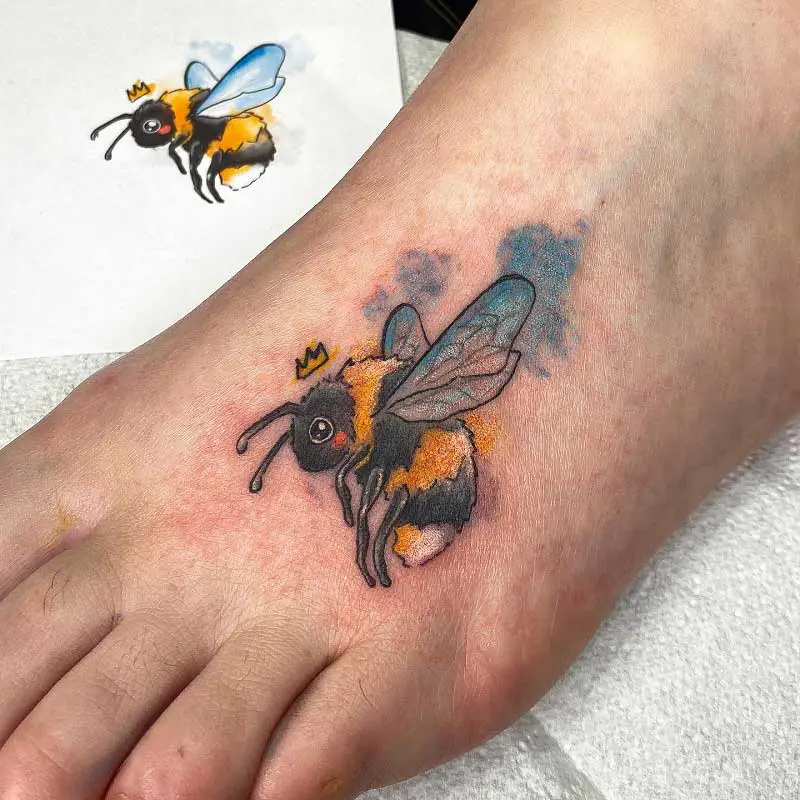 Bumble Bee Mandala Tattoo
43.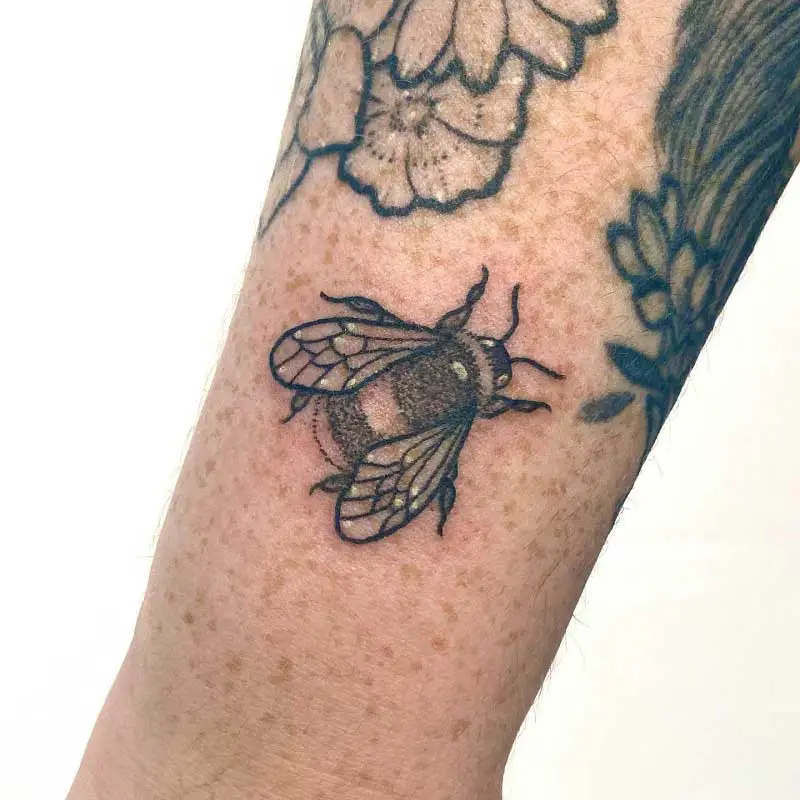 44.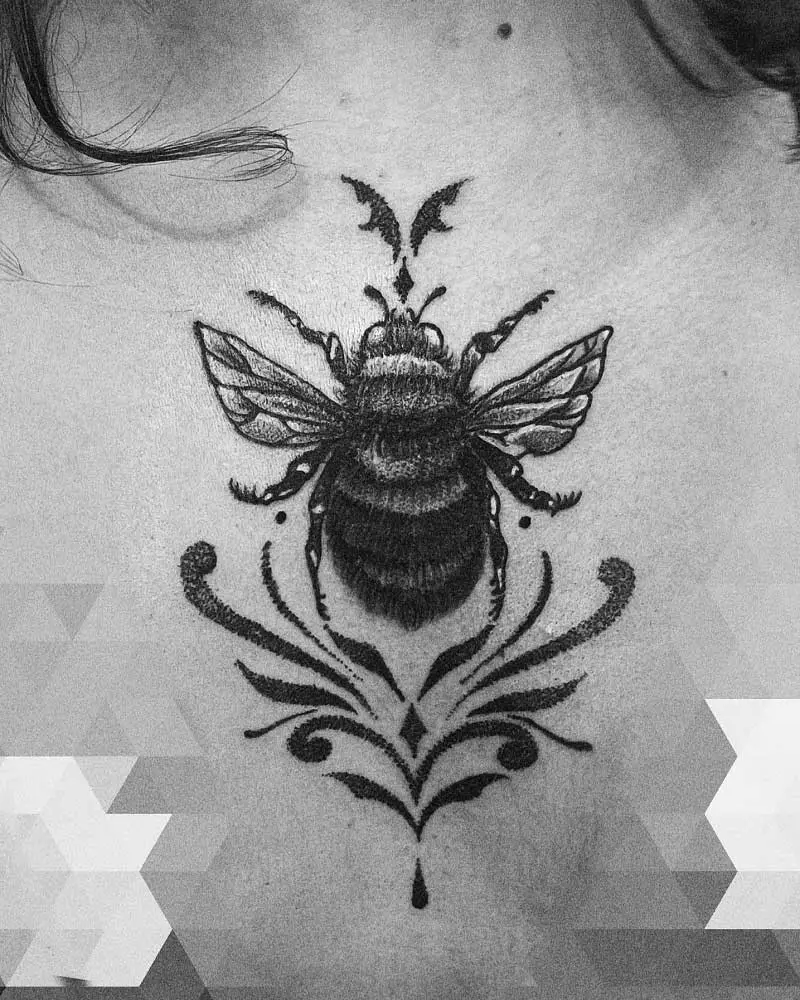 45.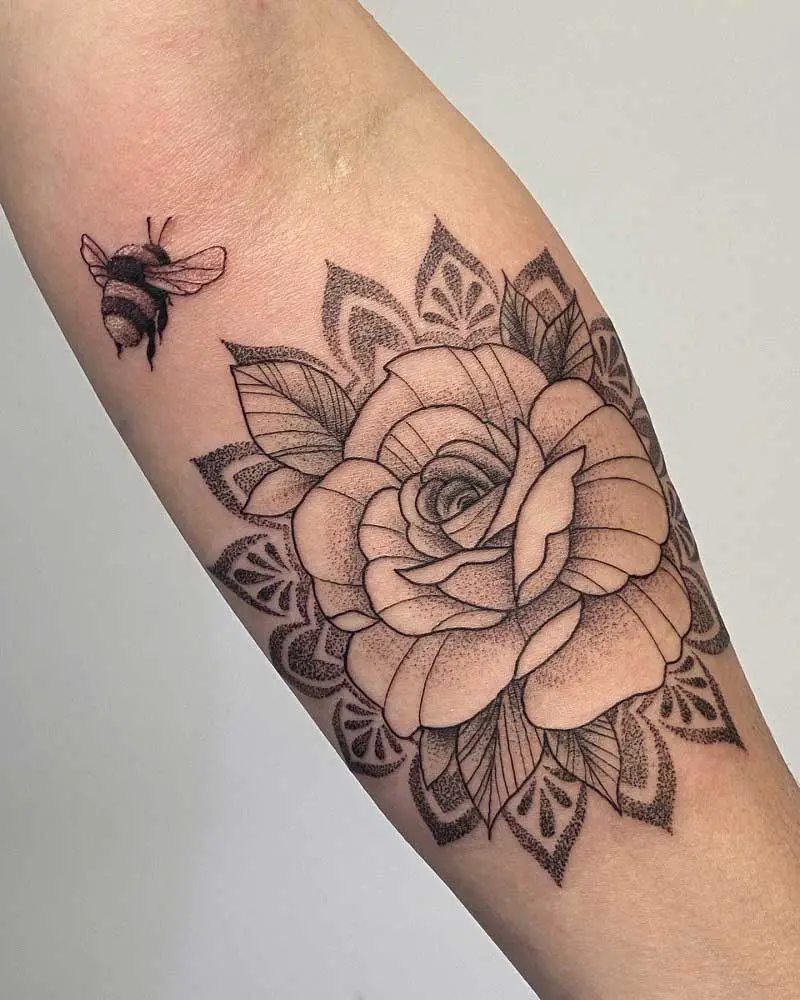 Bumble Bee Tattoo Behind Ear
46.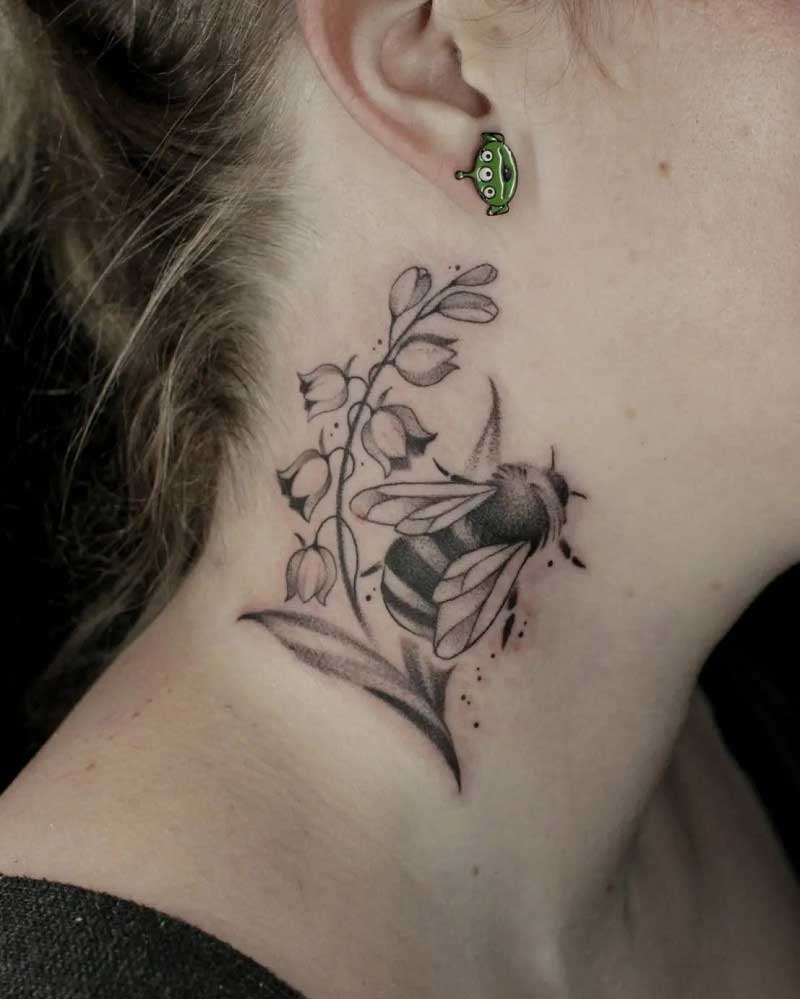 47.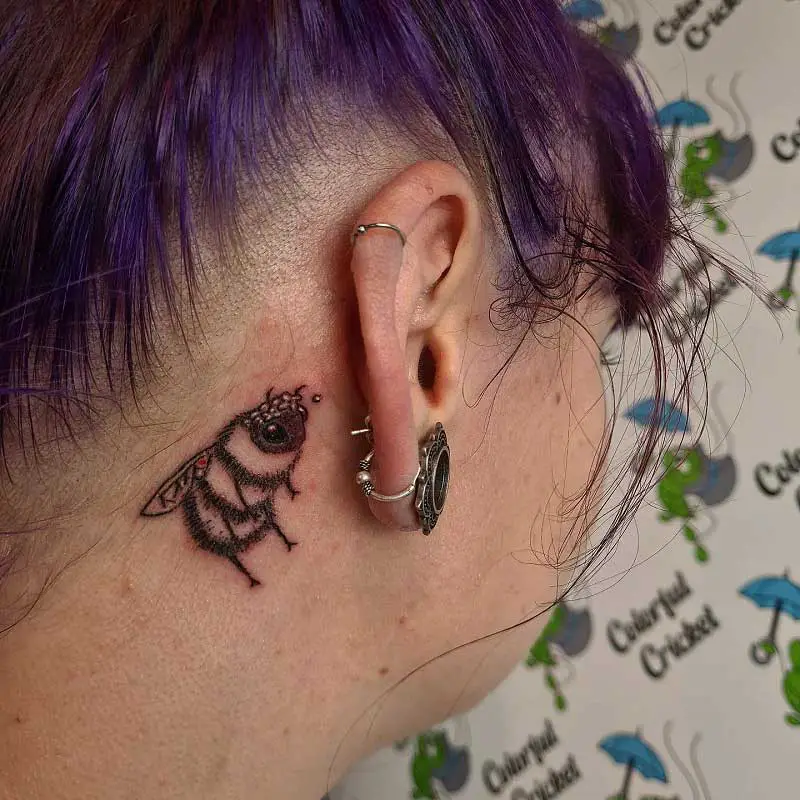 48.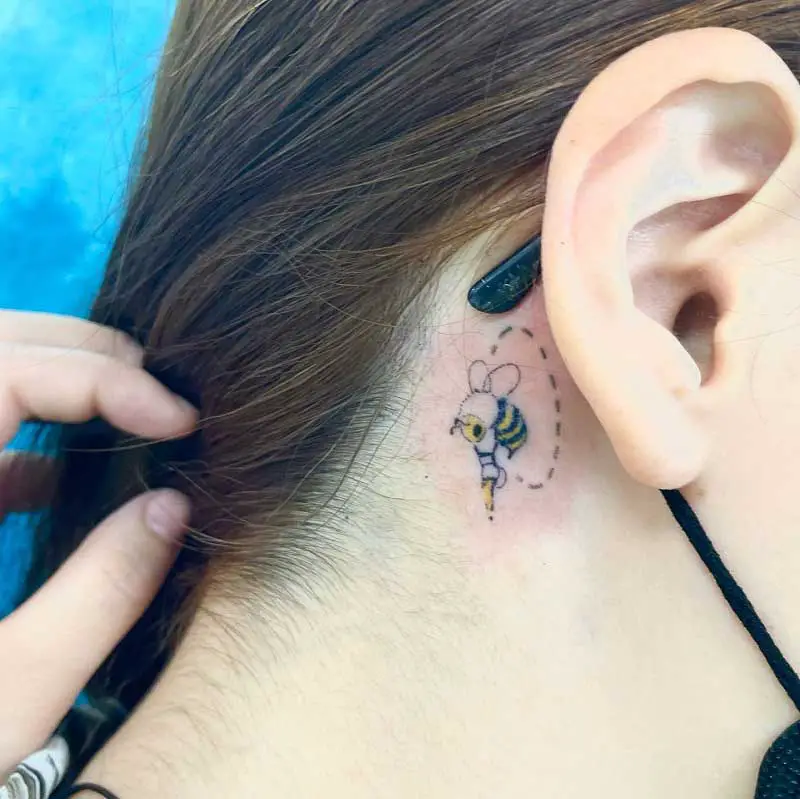 Bumble Bee Tattoo Flash
49.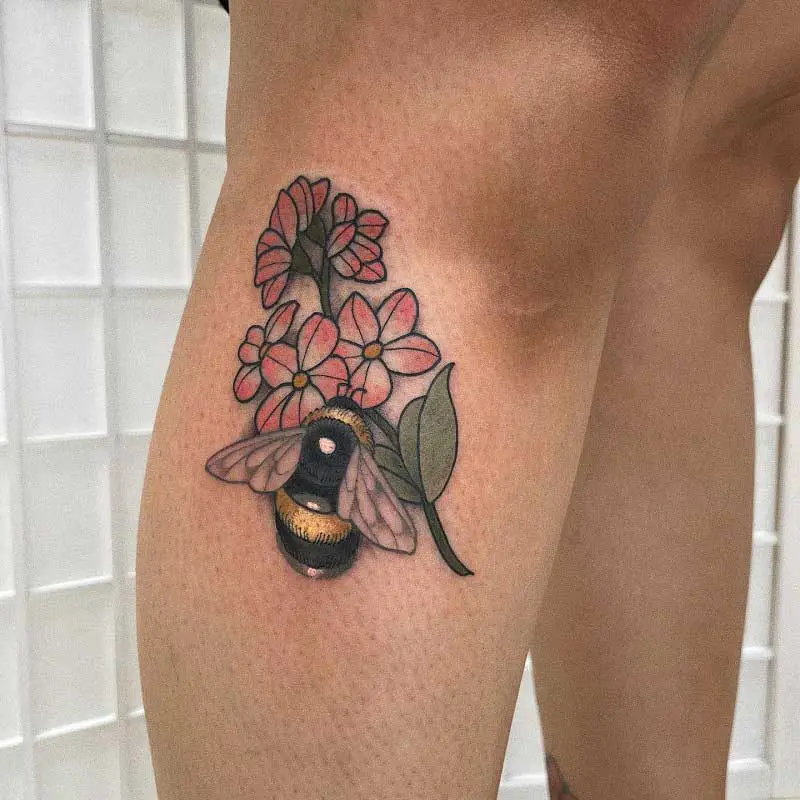 50.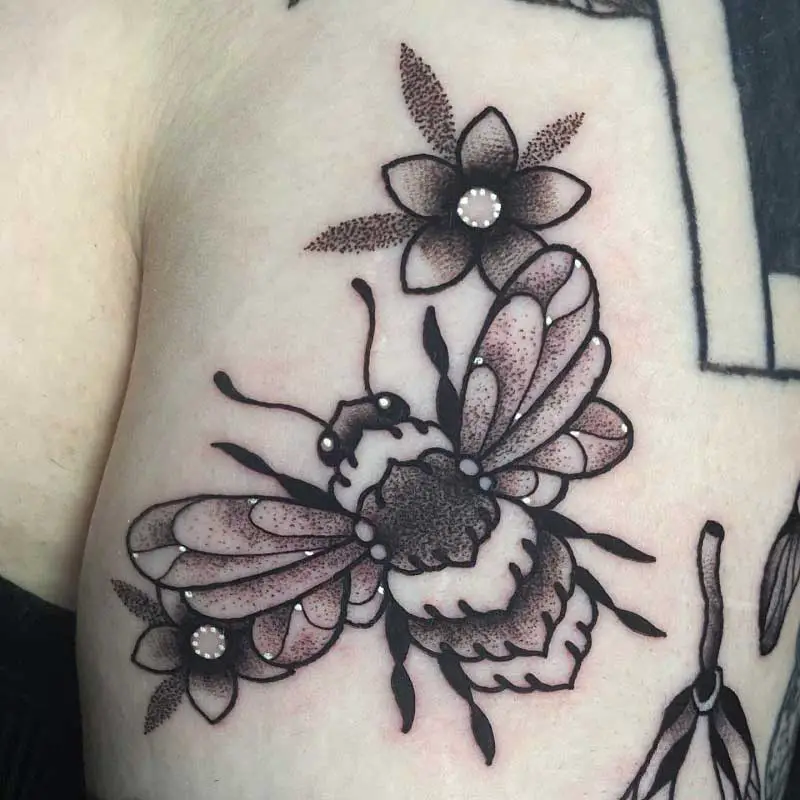 51.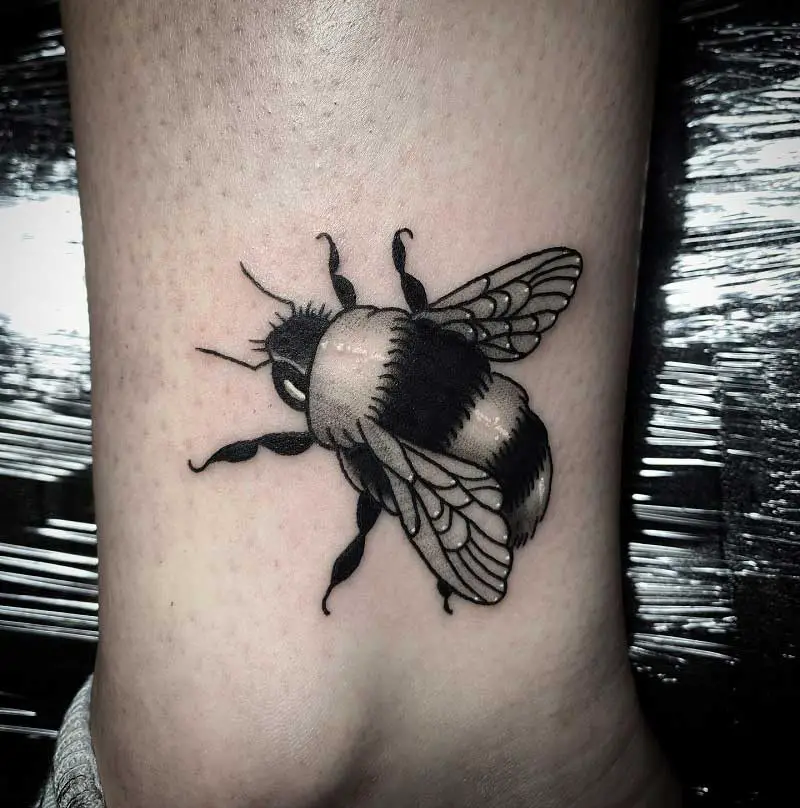 Dainty Bumble Bee Tattoo
52.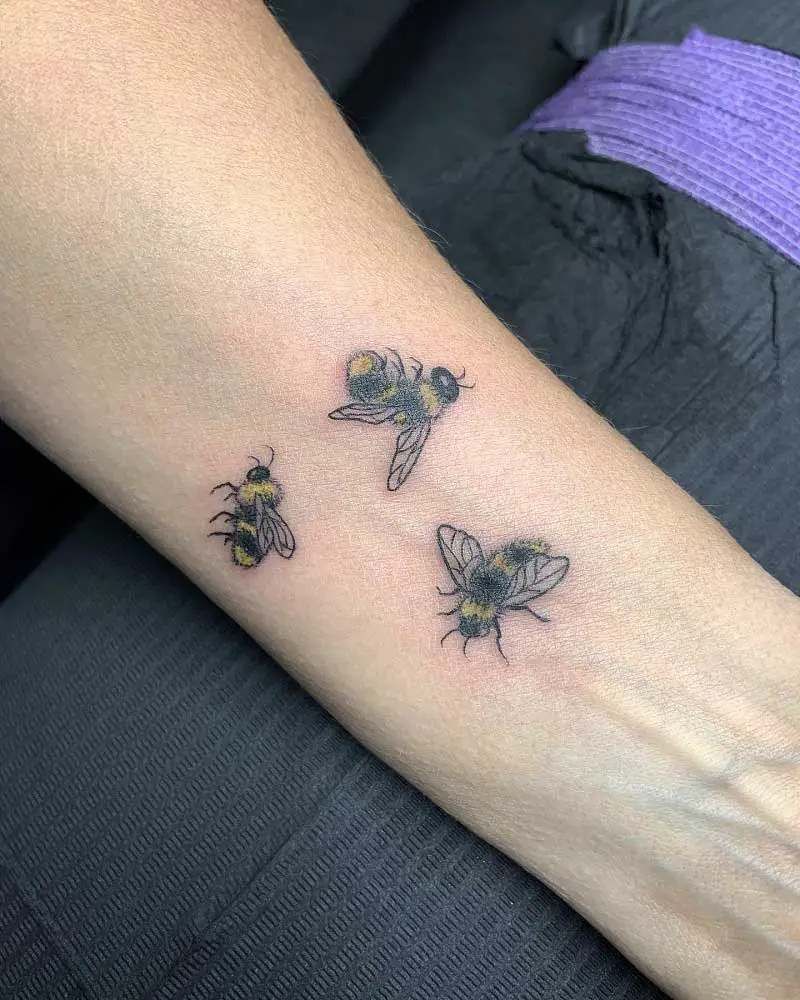 53.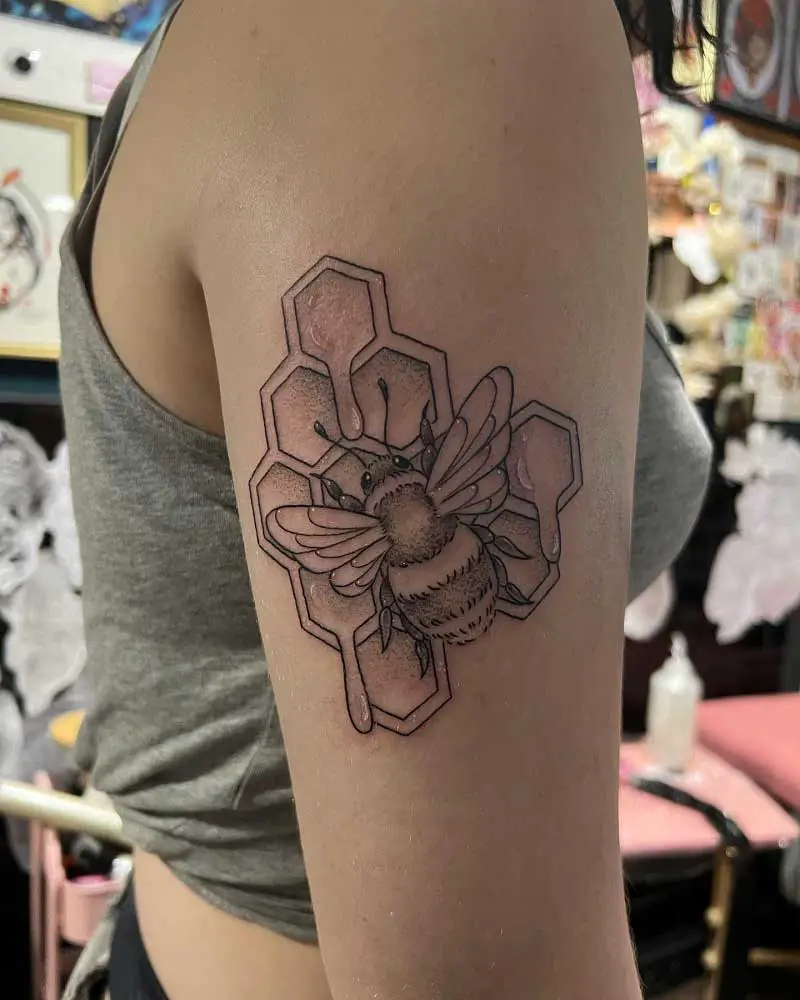 54.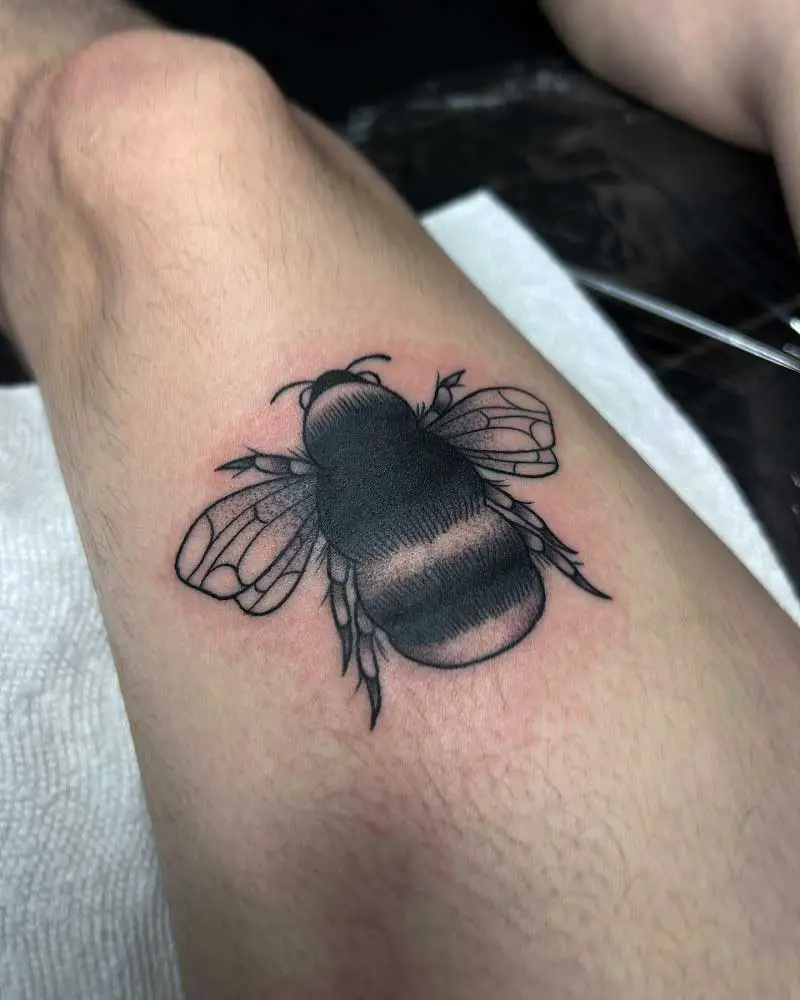 Fluffy Bumble Bee Tattoo
55.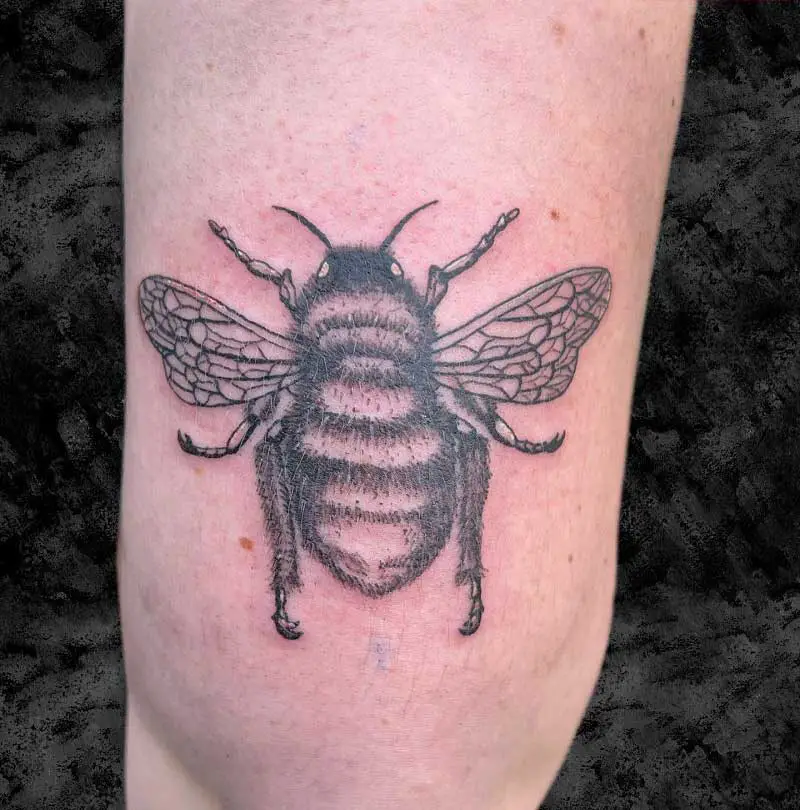 56.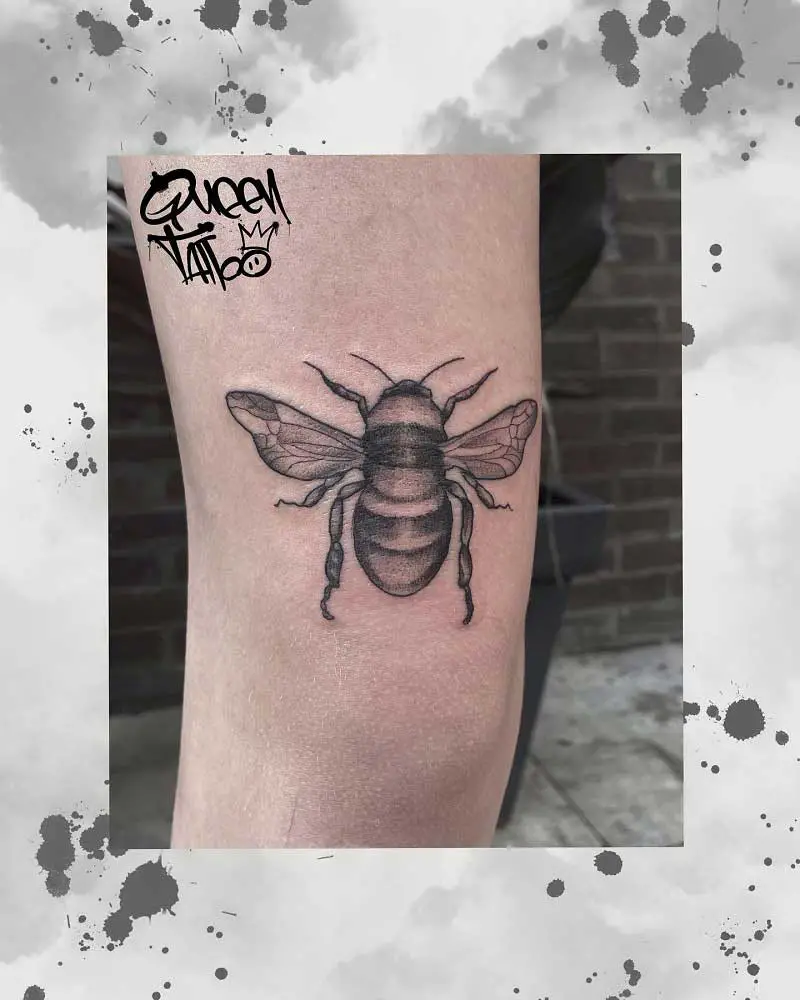 57.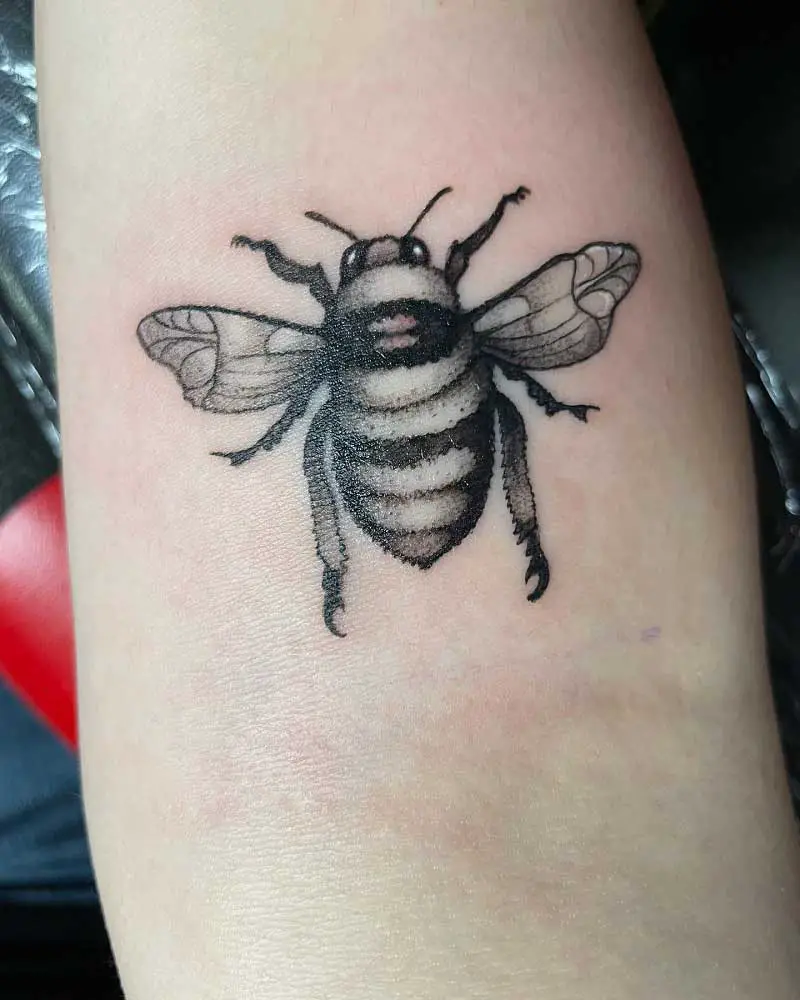 Queen Bumble Bee Tattoo
58.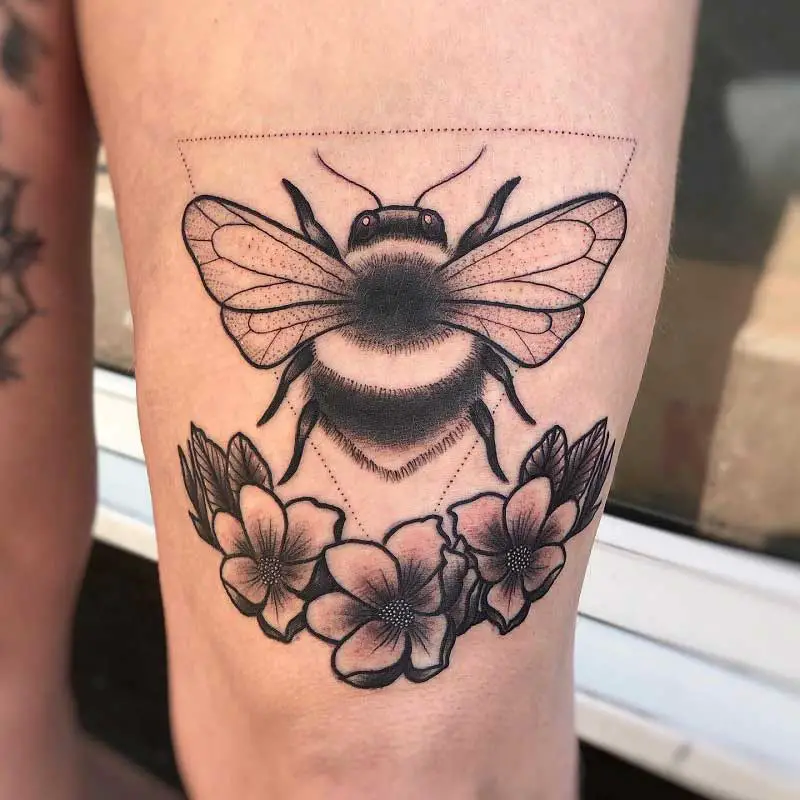 59.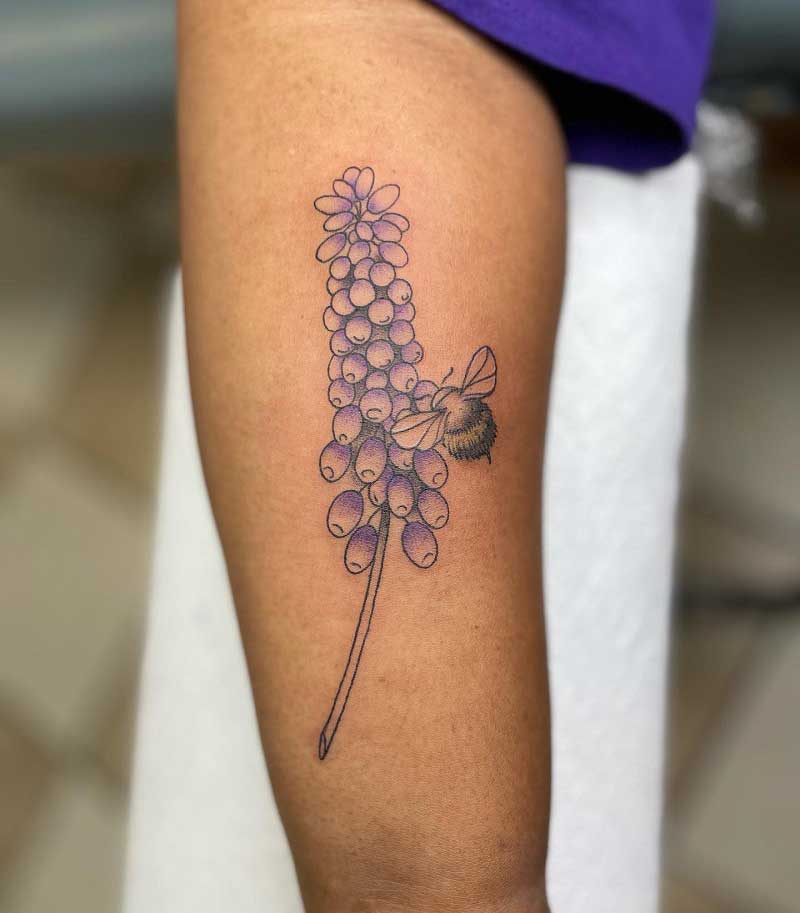 60.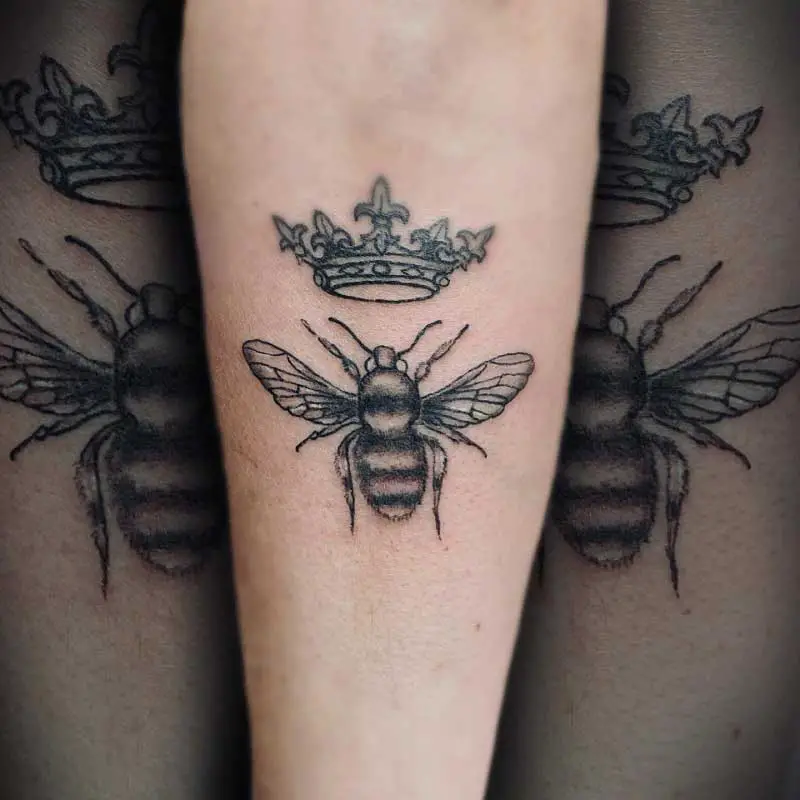 Sunflower Bumble Bee Tattoo
61.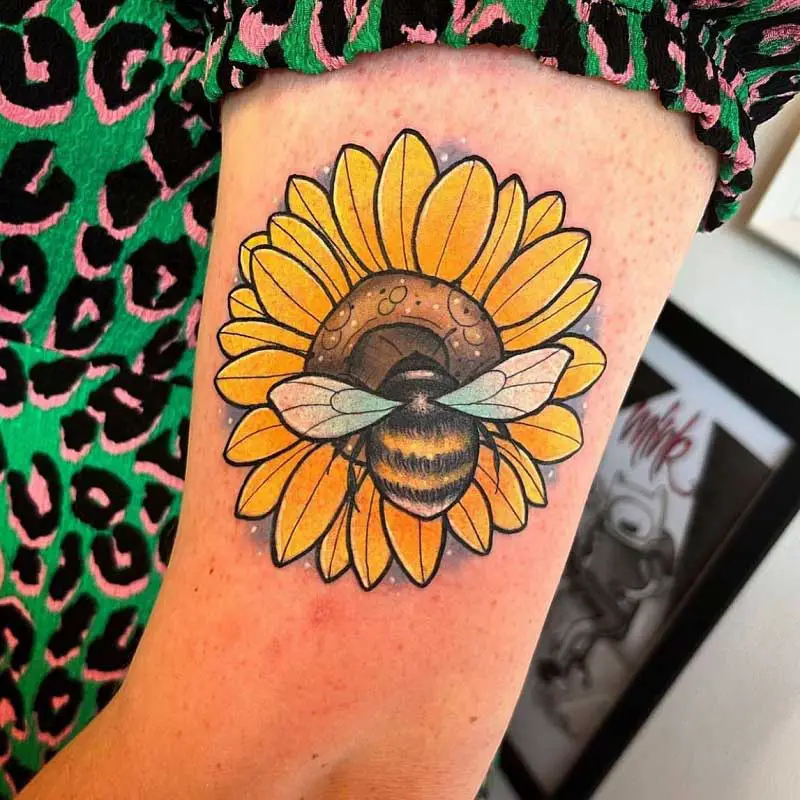 62.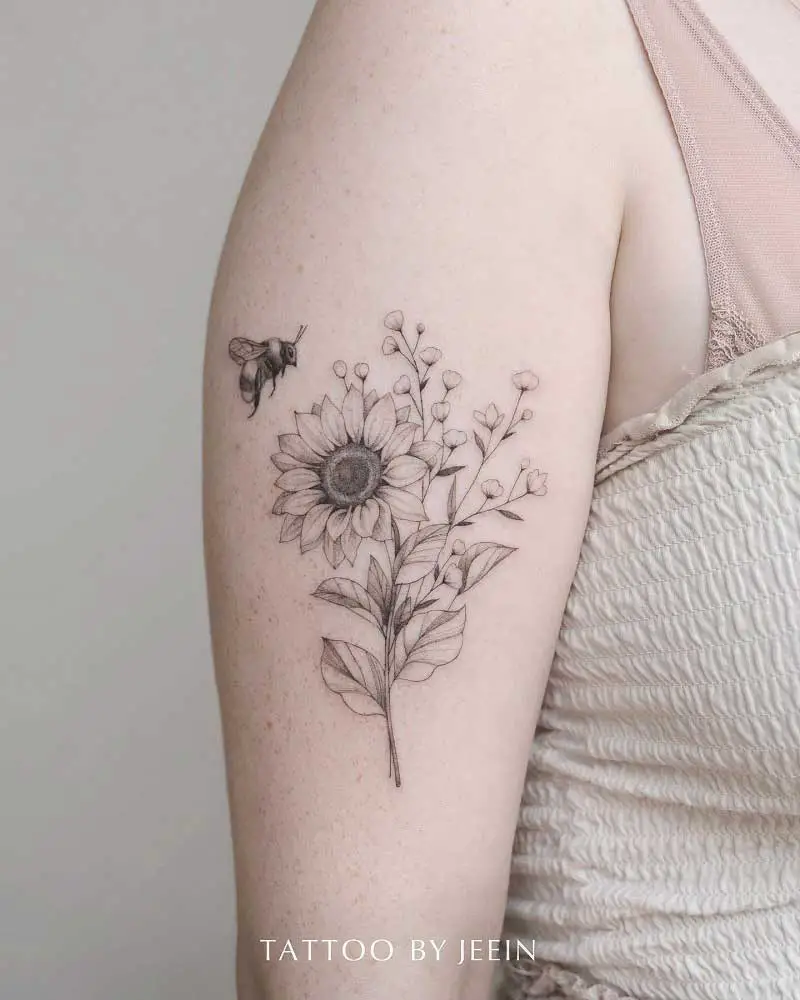 63.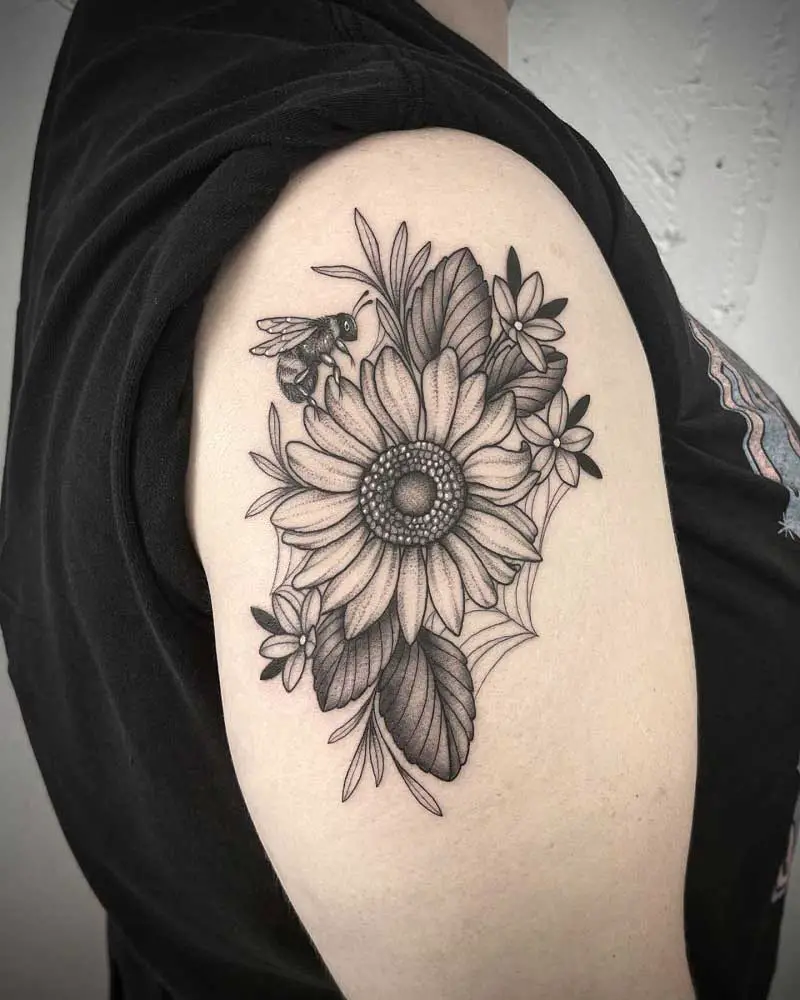 Tribal Bumble Bee Tattoo
64.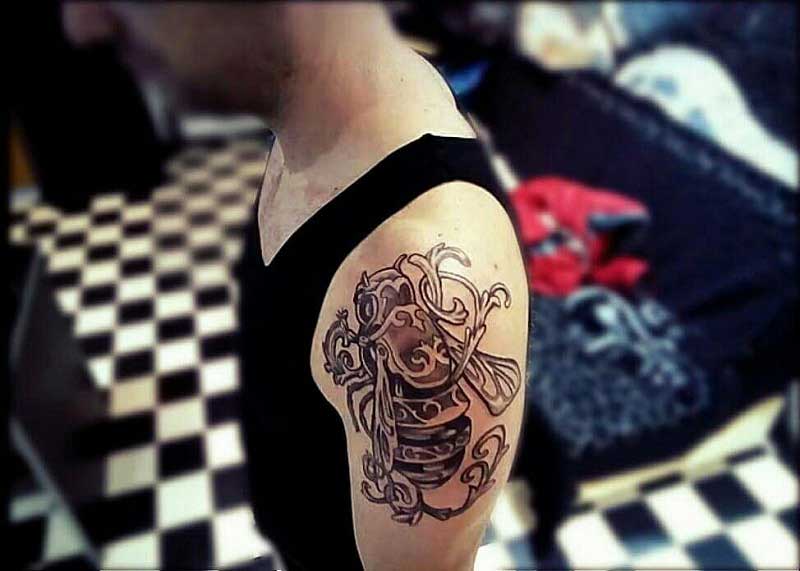 65.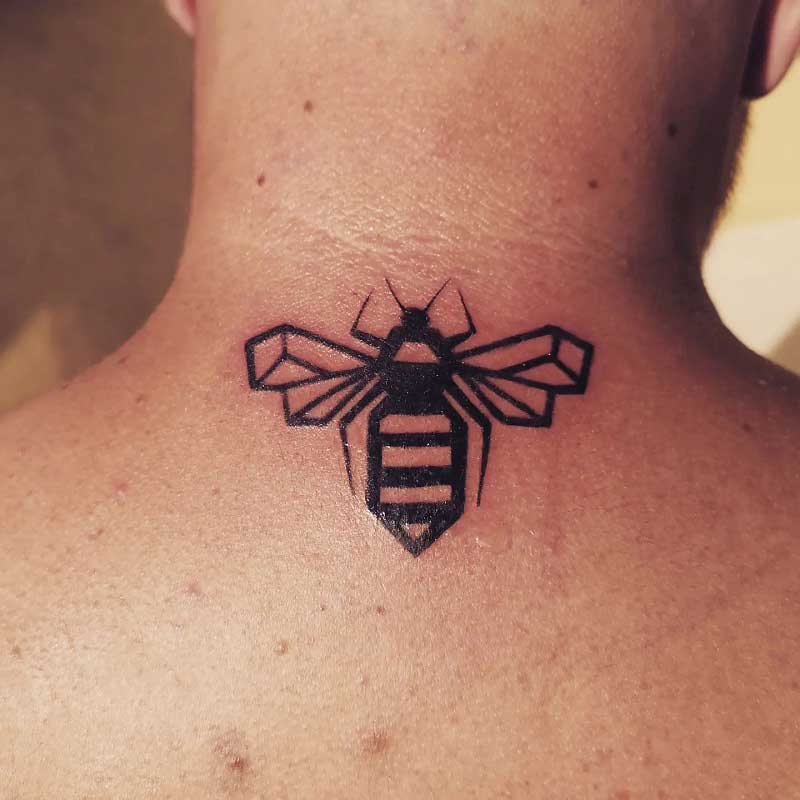 66.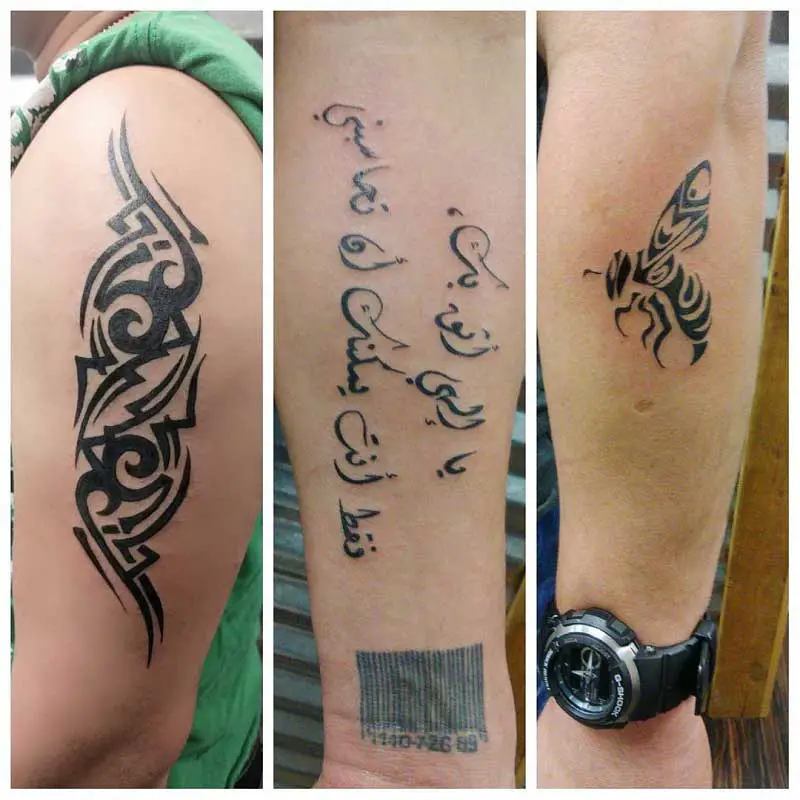 Detailed Bumble Bee Tattoo
67.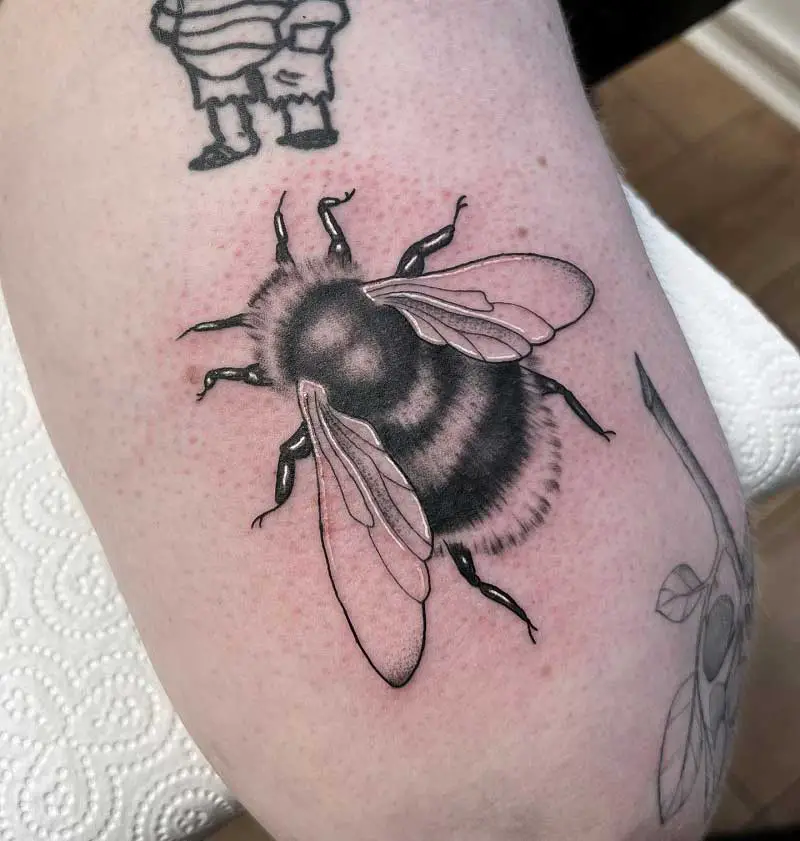 68.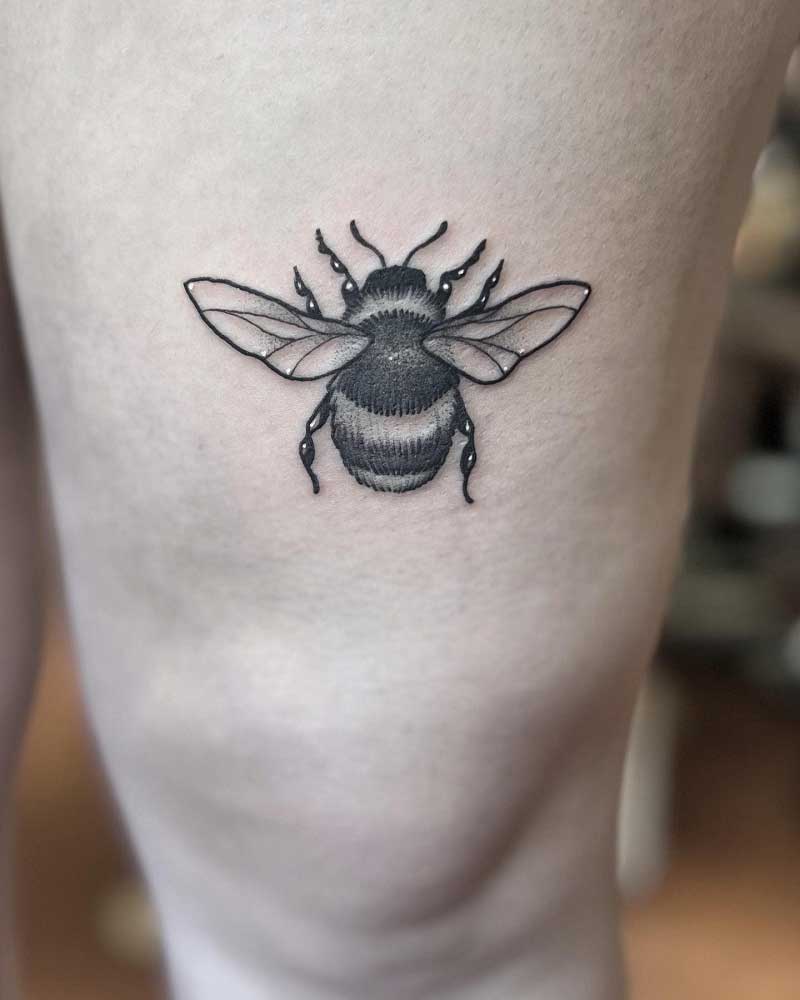 69.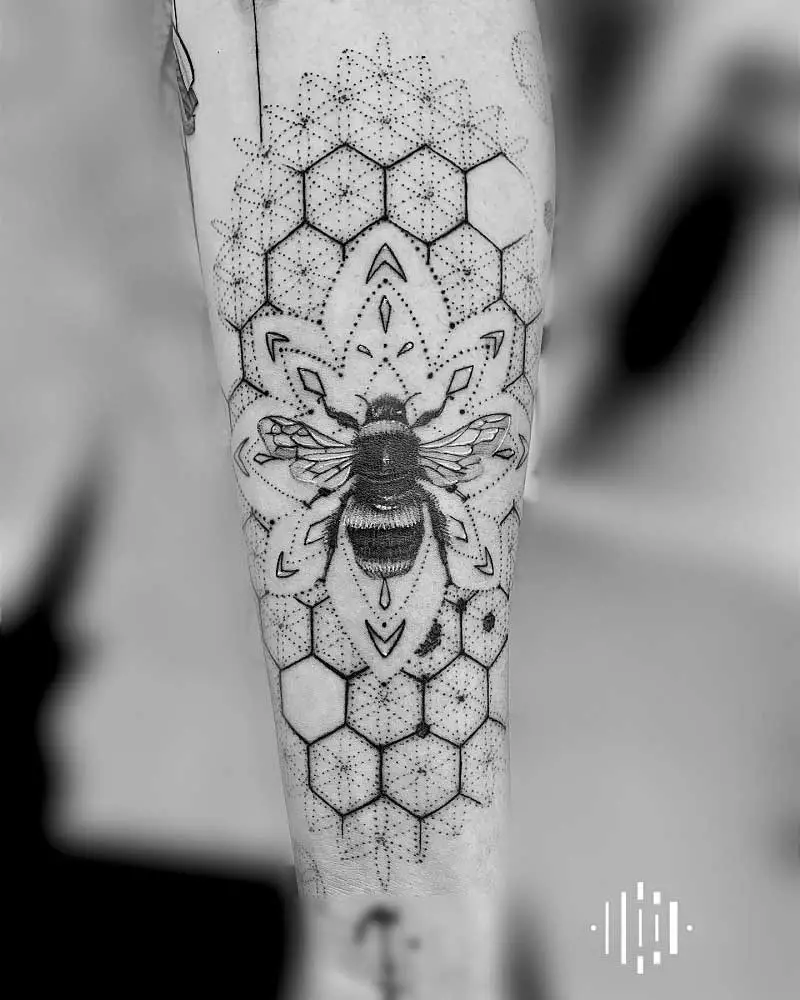 Fine Line Bumble Bee Tattoo
70.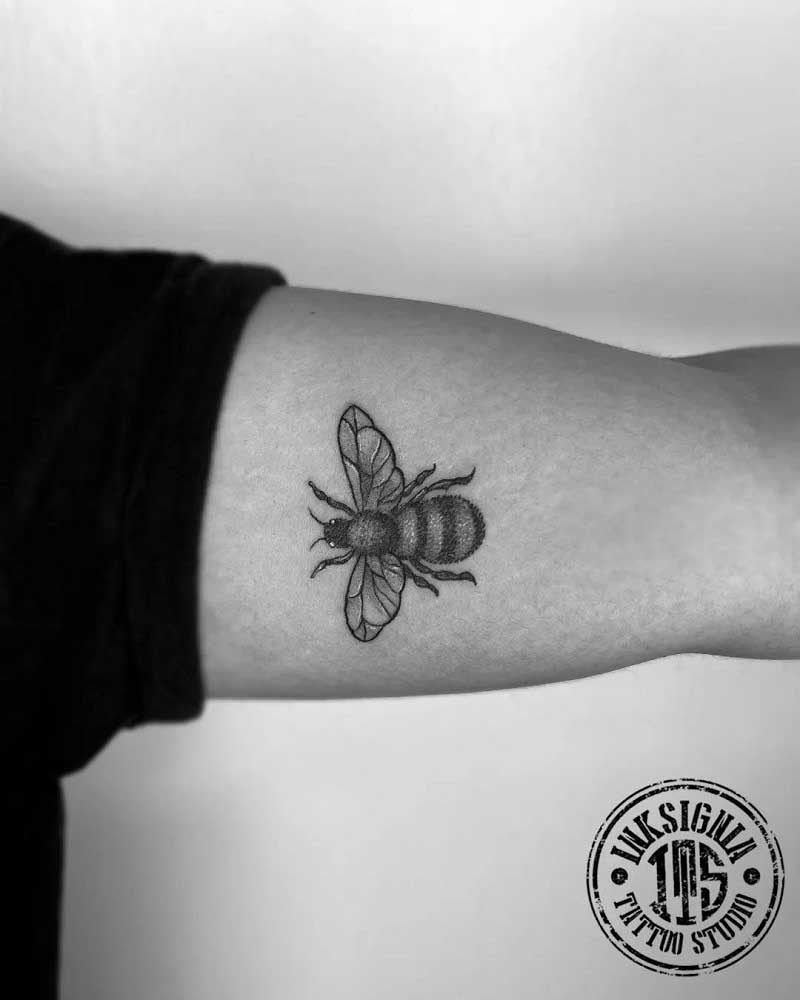 71.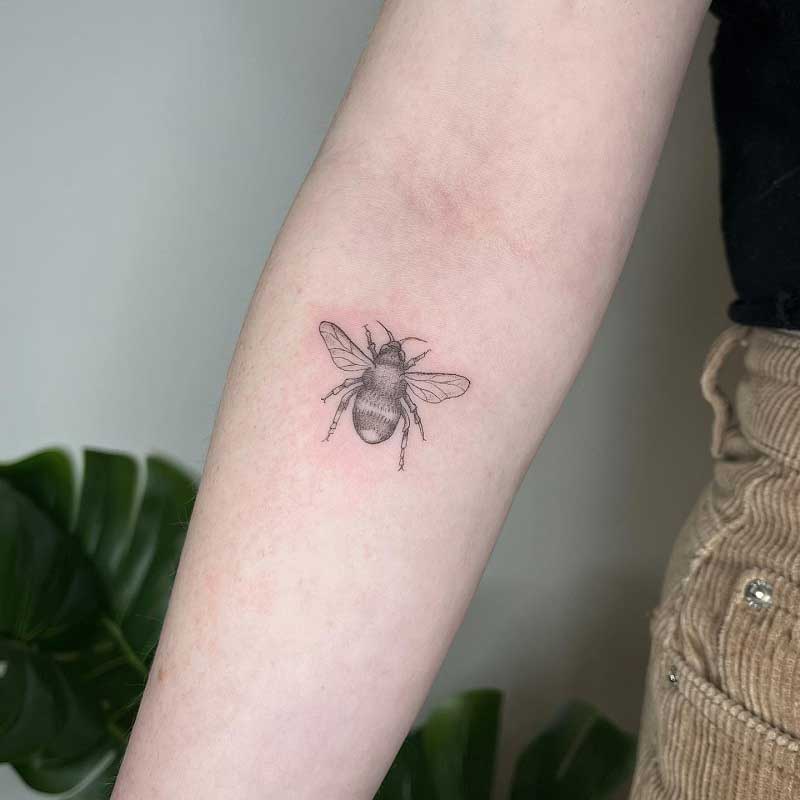 72.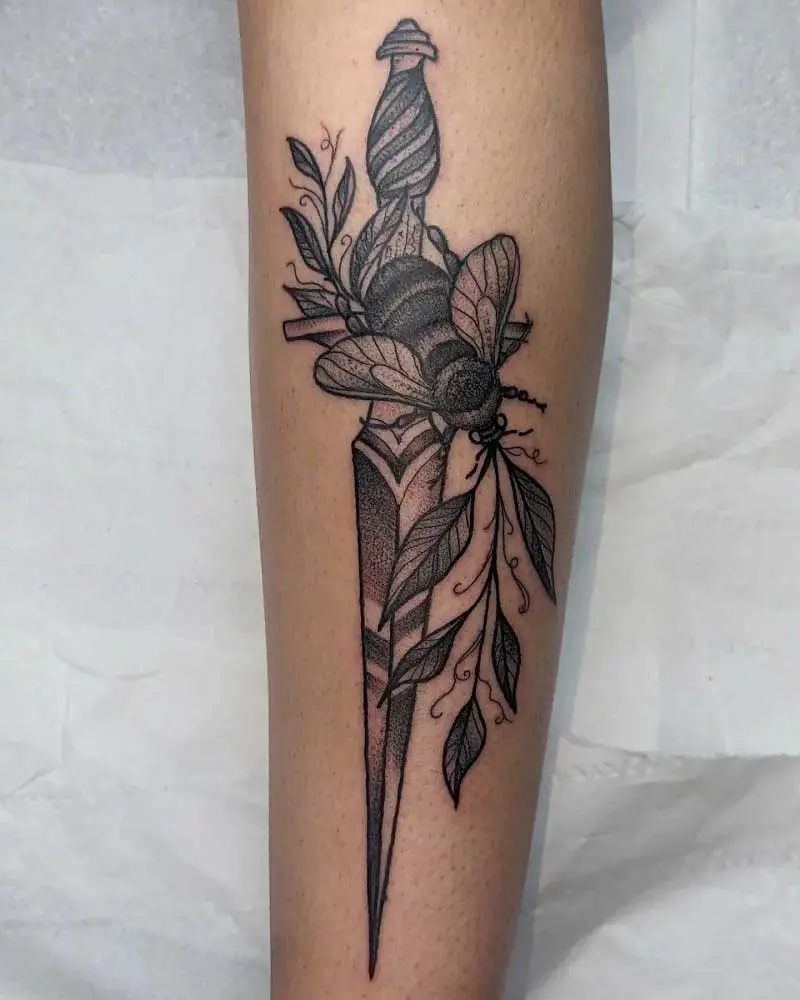 Flying Bumble Bee Tattoo
73.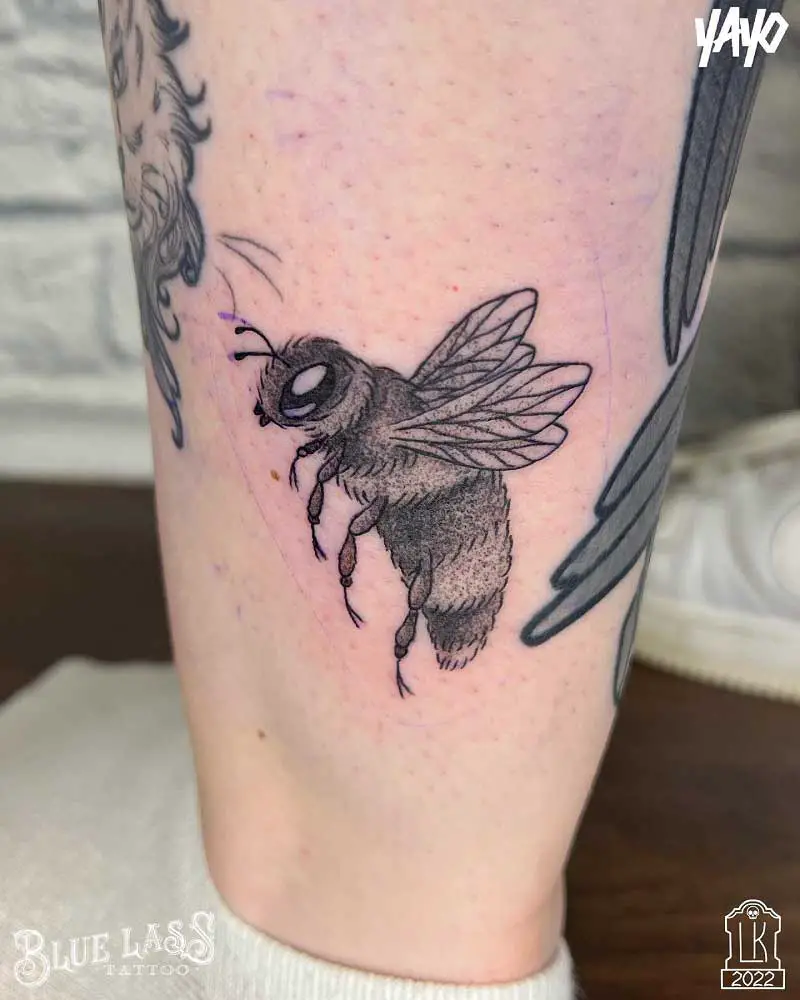 74.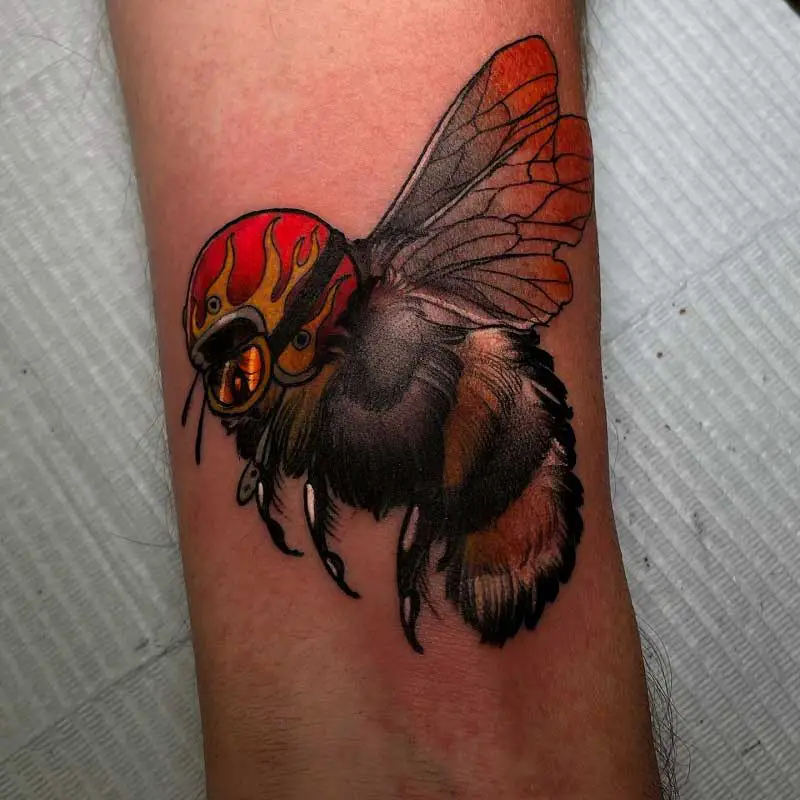 75.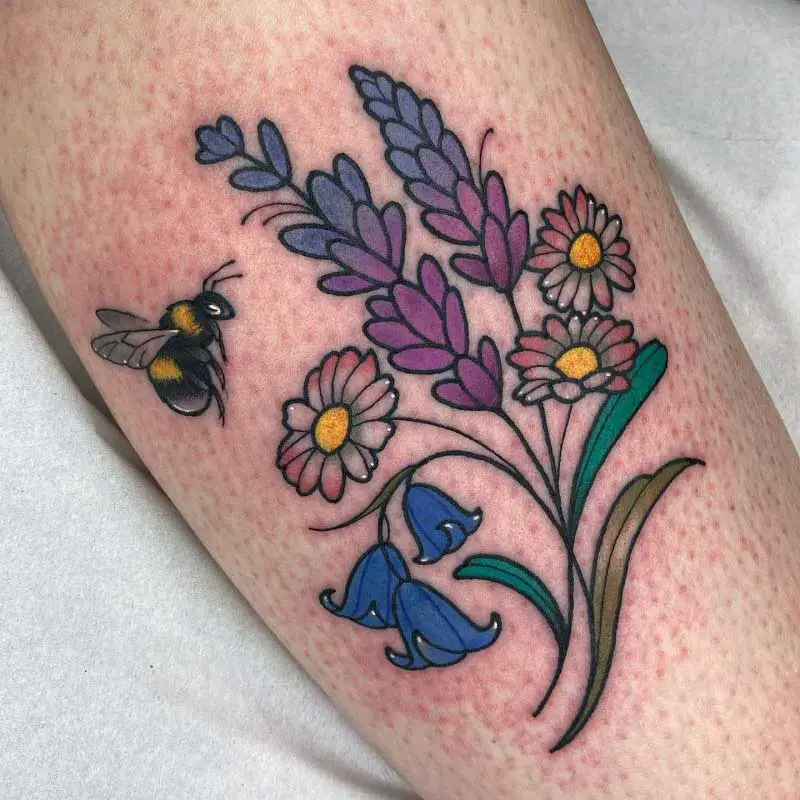 Bumble Bee Chest Tattoo
76.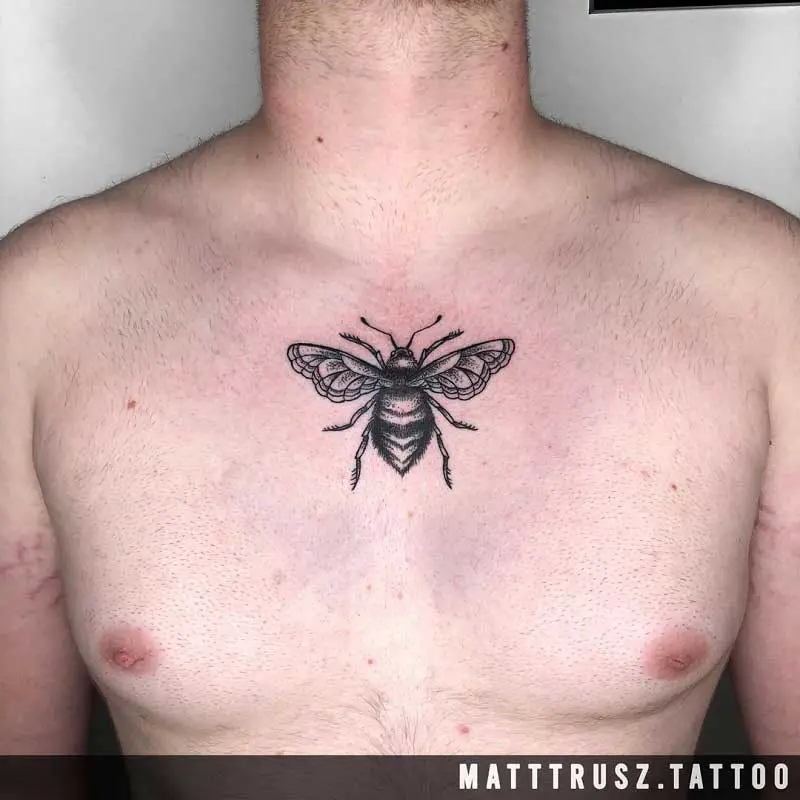 77.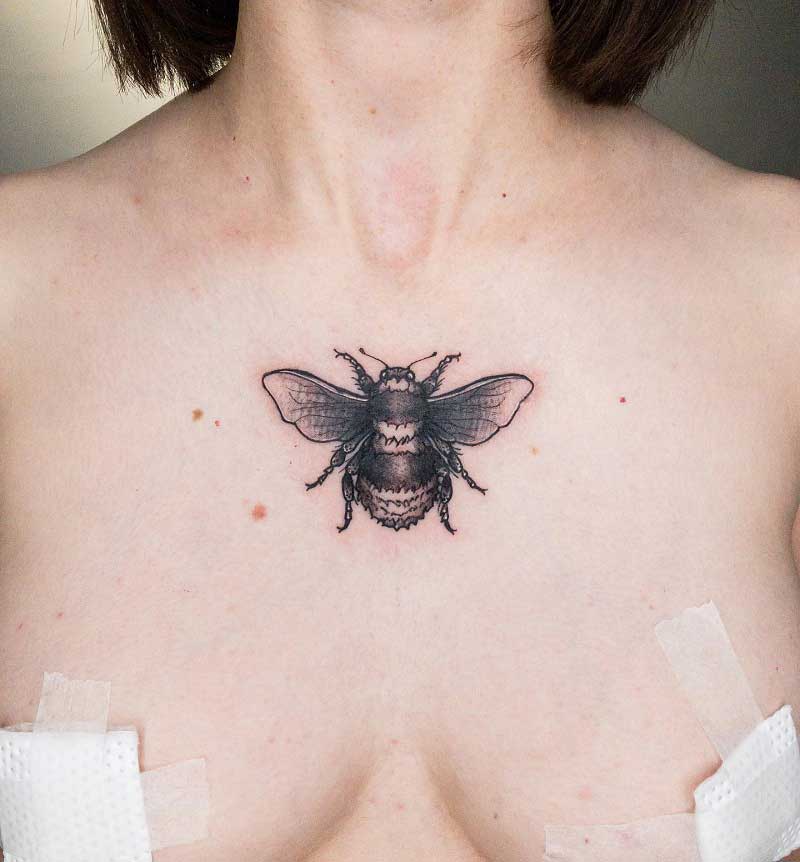 78.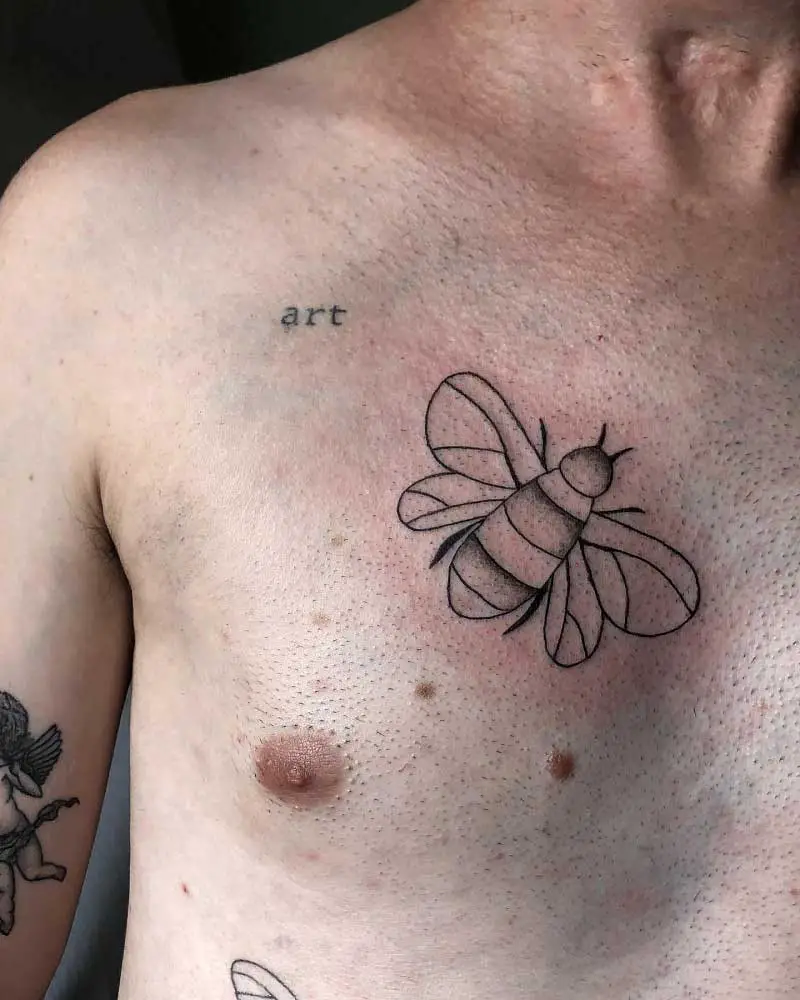 Bumble Bee Sleeve Tattoo
79.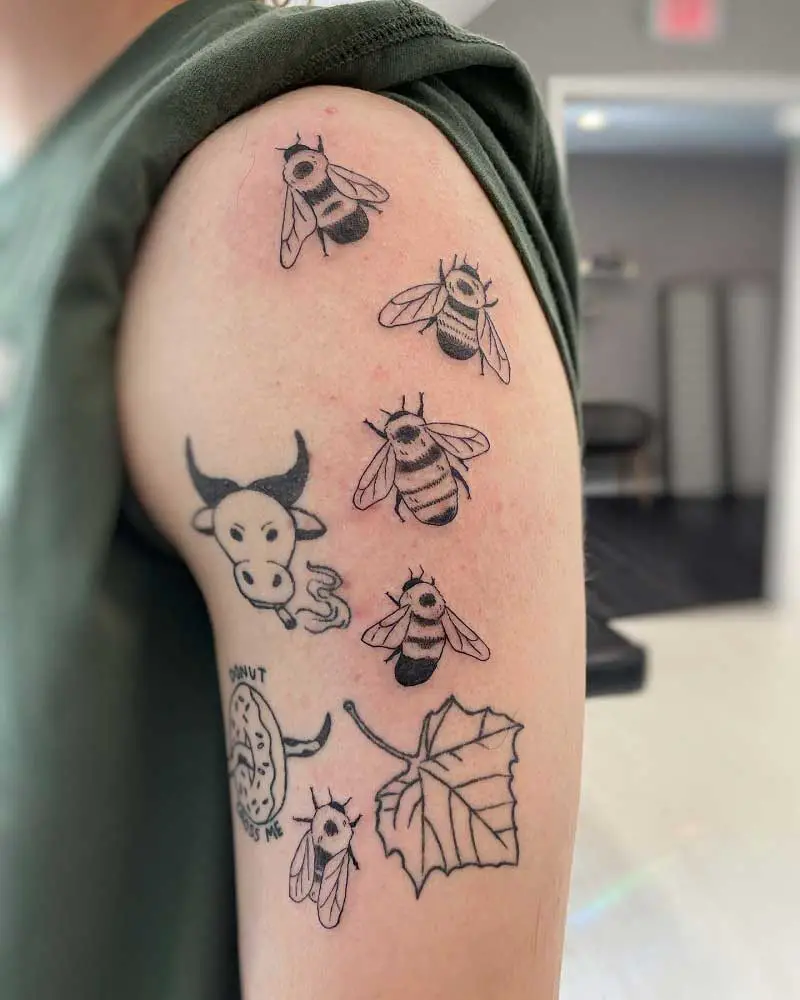 80.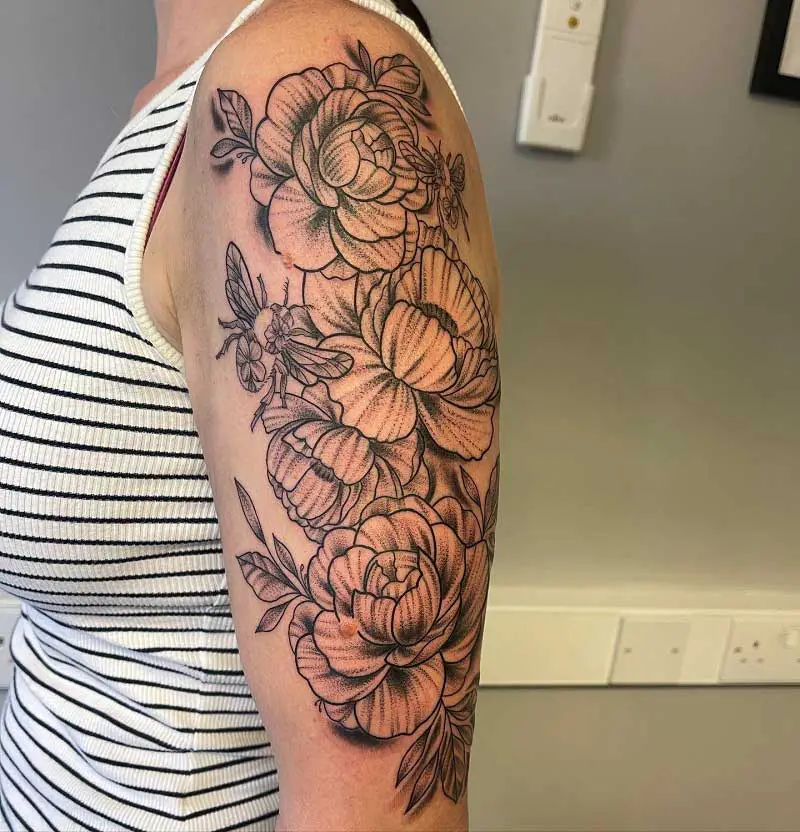 81.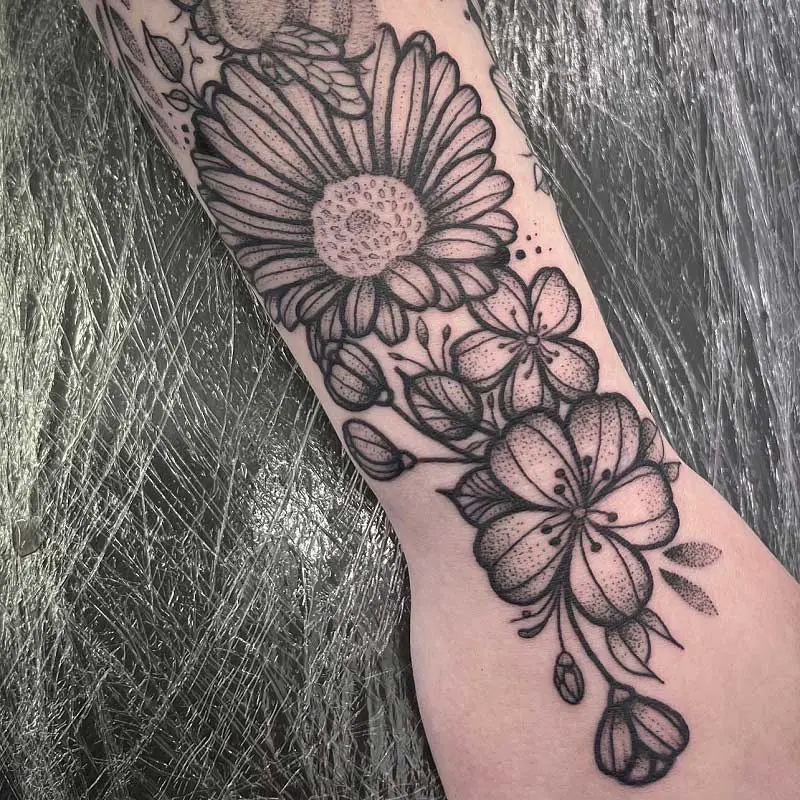 Chubby Bumble Bee Tattoo
82.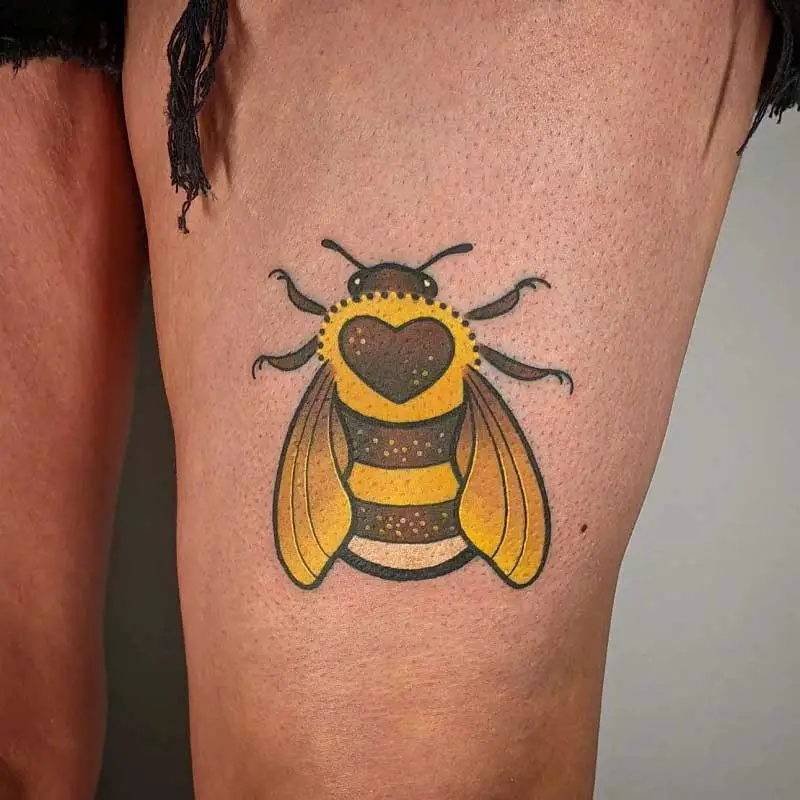 83.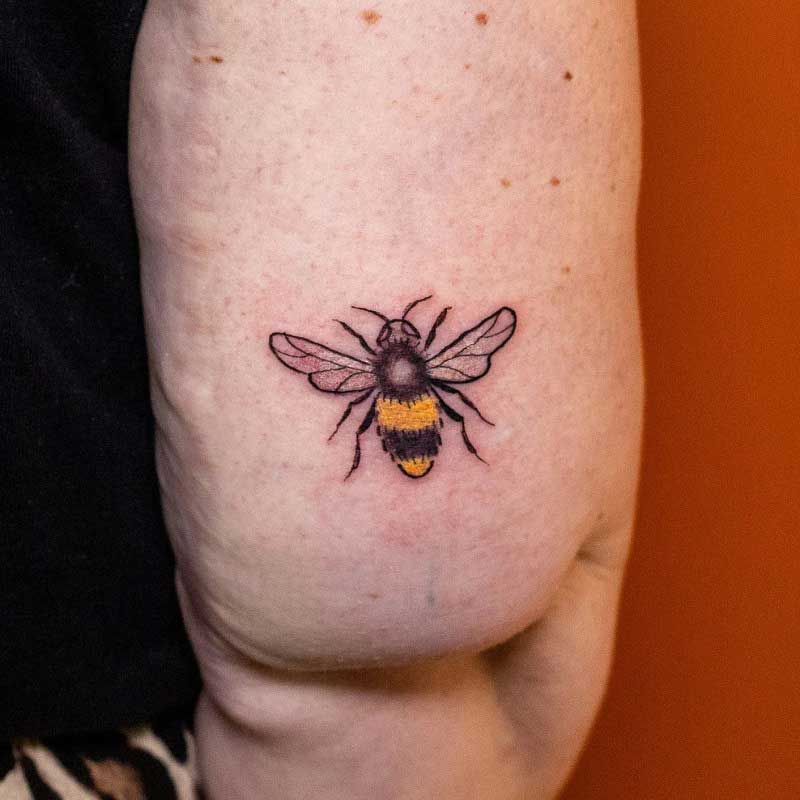 84.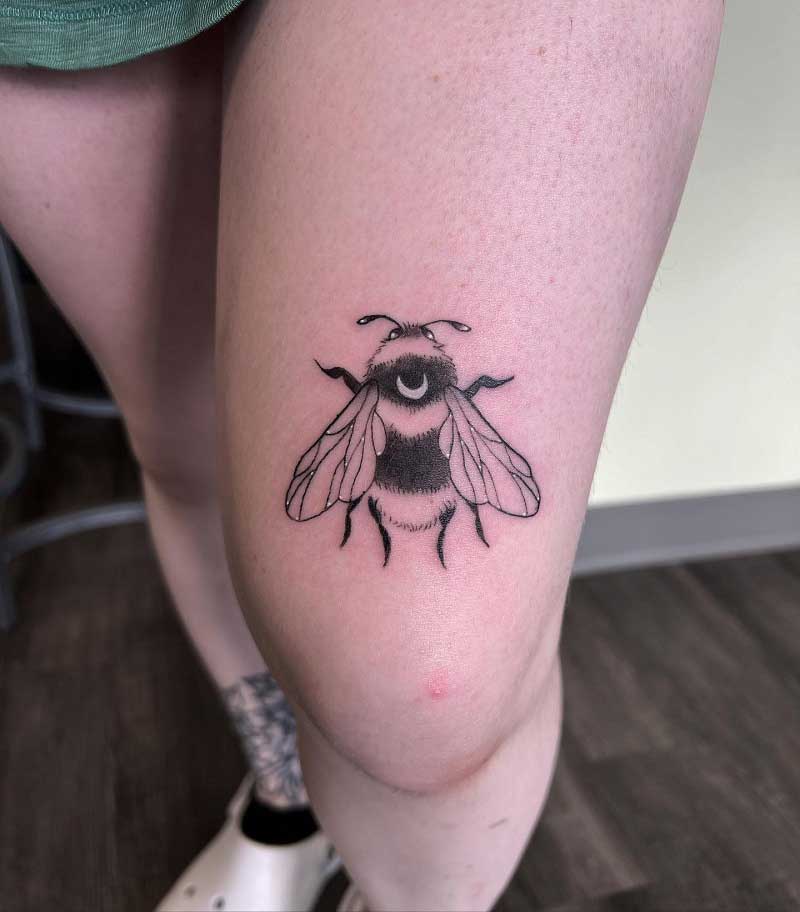 Creepy Bumble Bee Tattoo
85.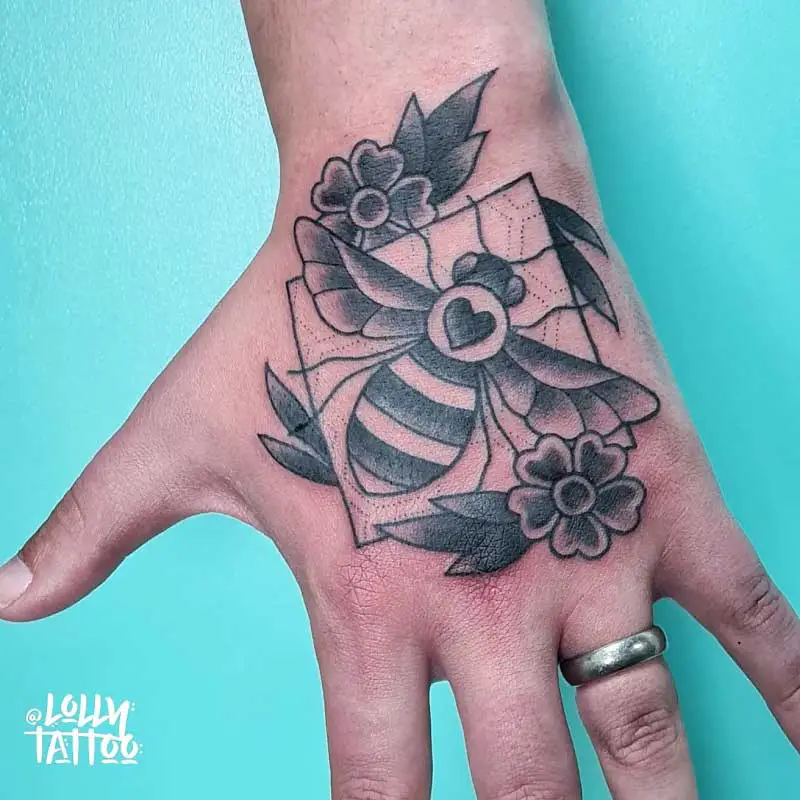 86.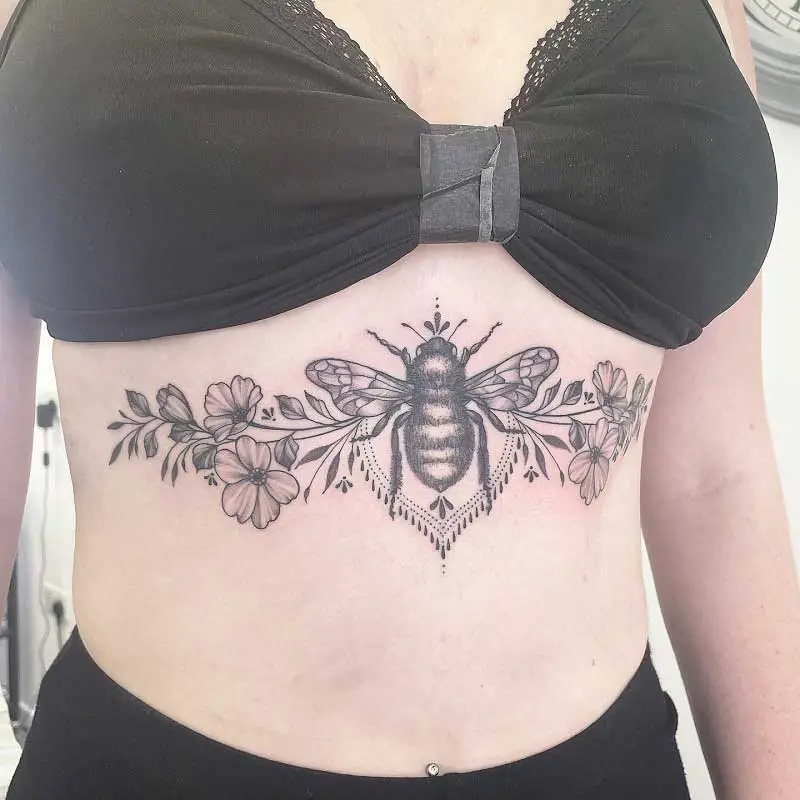 87.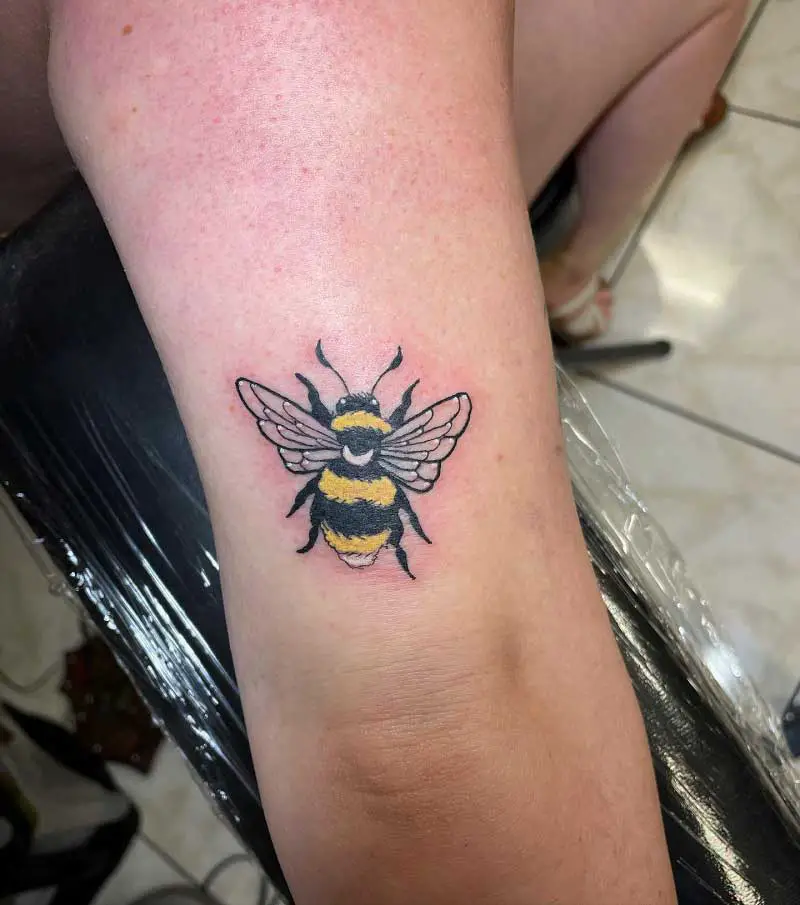 Japanese Bumble Bee Tattoo
88.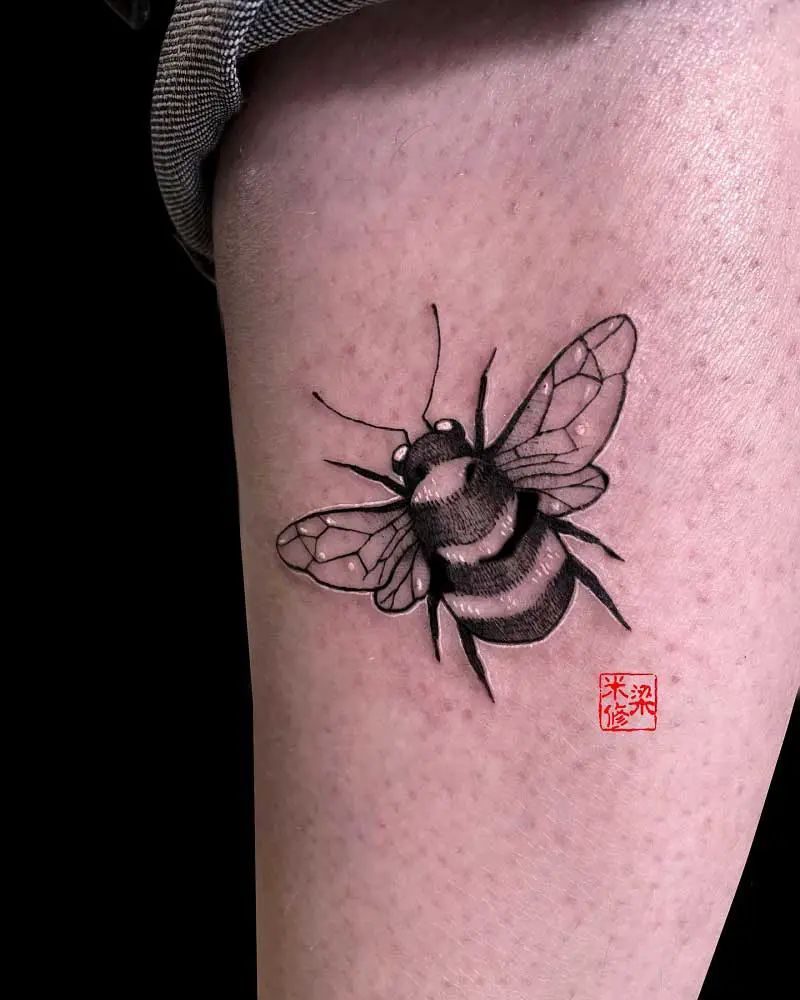 89.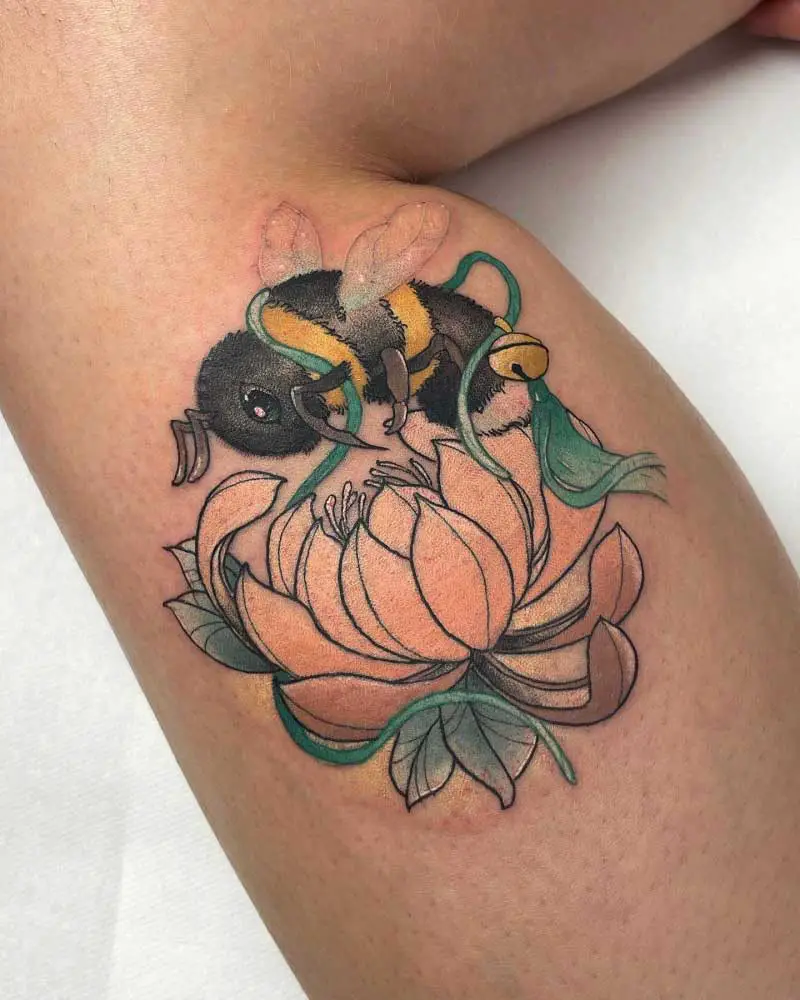 90.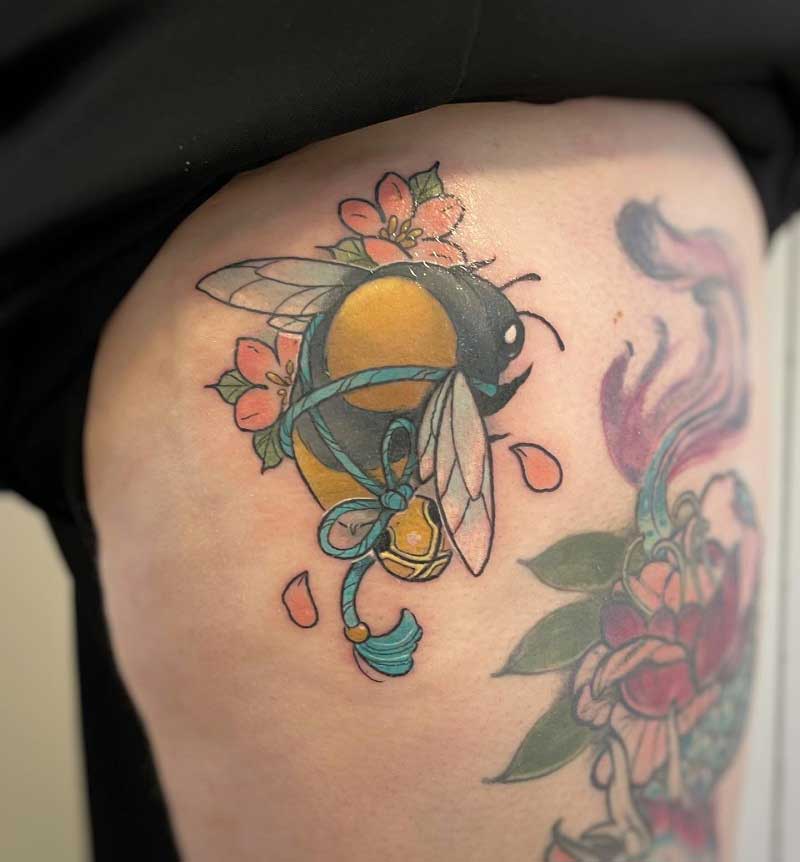 Gucci Bumble Bee Tattoo
91.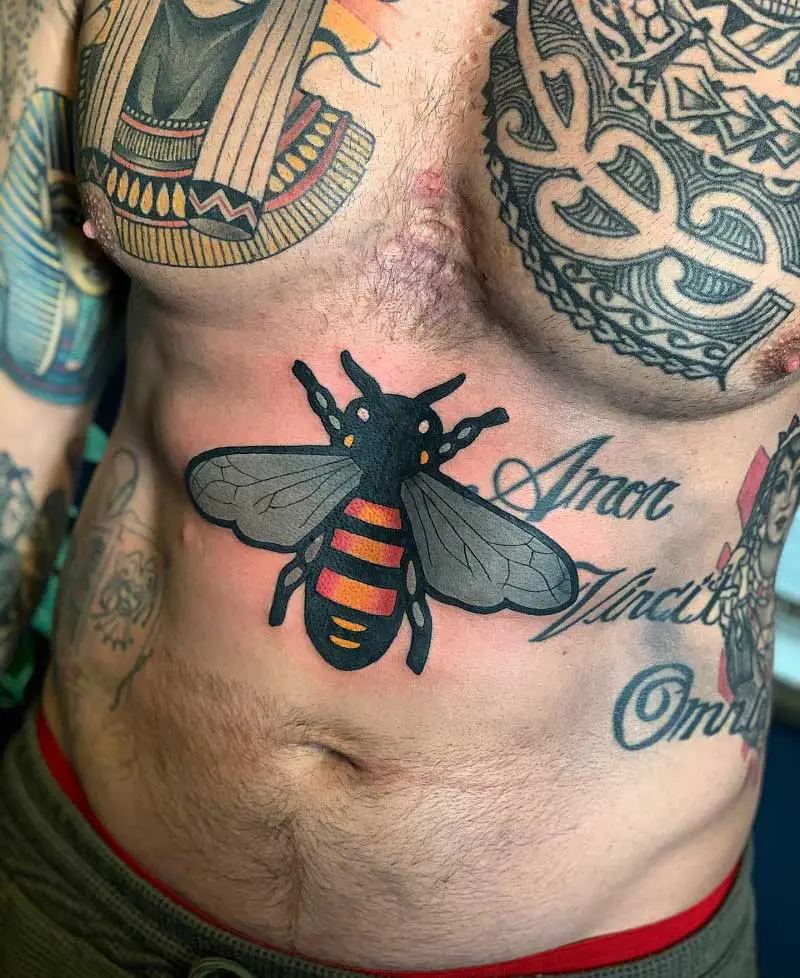 92.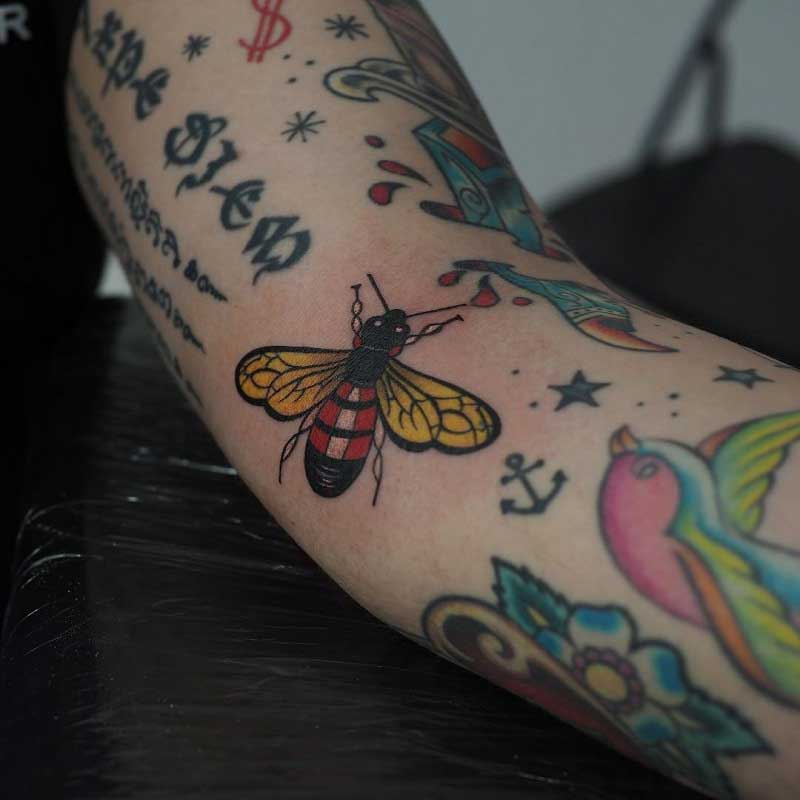 93.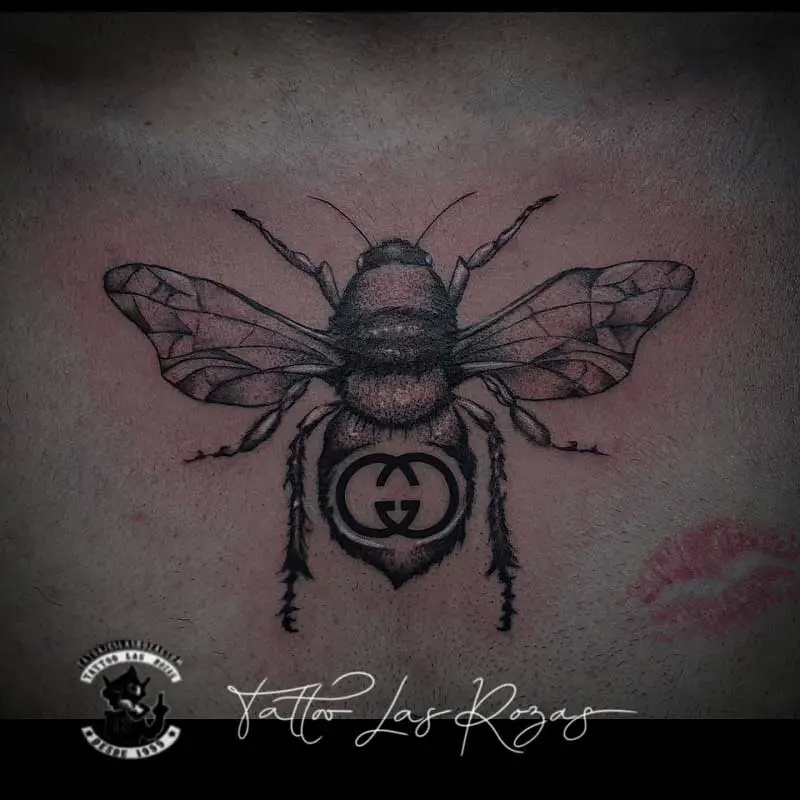 Vintage Bumble Bee Tattoo
94.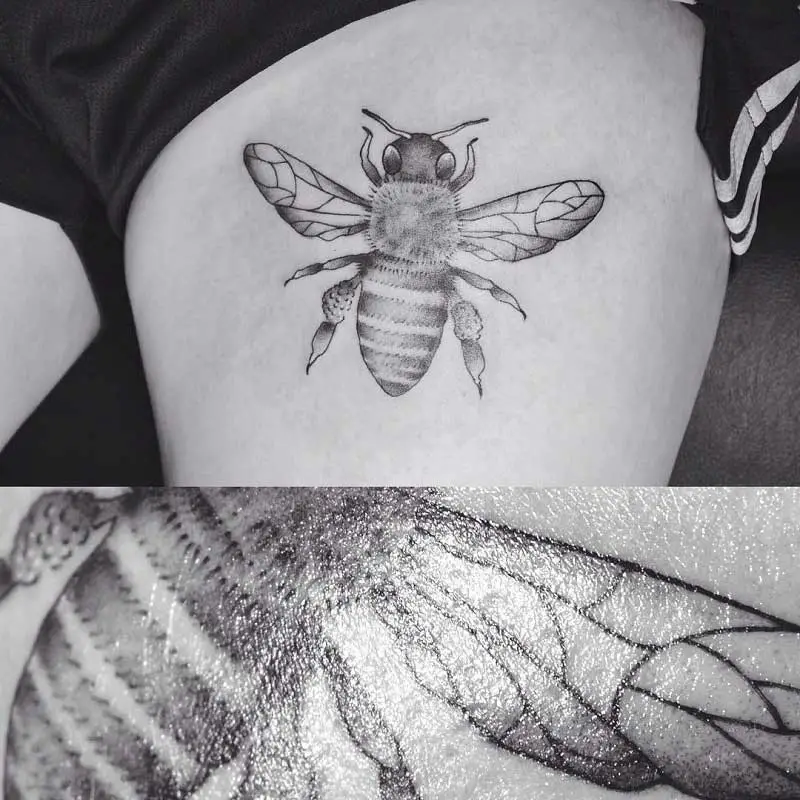 95.
Conclusion
Our collection of 95 Bumble Bee Tattoo designs ends here, and we hope you liked them. We tried to cover all the segments of the bumble bee tattoo designs and we're pretty sure we did our part well. Just pick one or as many as you like and get in inked by a professional. You'll be buzzing in no time at all!
And, do let us know which Bee tattoo you like the most. Also, if you have any Bee-related suggestions that we missed, please leave a comment and we will try to answer that.
Have a good day, and we'll see you soon!
Frequently Asked Question
1. What Do Bumblebee Tattoos Mean And Symbolize?
This sort of tattoo can represent a variety of things, but it is typically associated with loyalty and tranquility. While bumblebees may appear frightening to some, they are actually incredibly sociable. When you combine a bumblebee and a flower, you transmit a message of renewal and expansion.
2. How Much Do Bumblebee Tattoos Cost?
The cost of a tattoo is determined by a variety of criteria, including the tattoo artist's hourly rate, size, and other features. A little bee tattoo can cost roughly $50, but larger artwork can cost up to $400. You can discover more about costs during your appointment with your tattoo artist.
3. Which Celebrities Have A Bumblebee Tattoo?
Aside from Ariana Grande, other celebrities including Kelly Osbourne, Brenda Song, Madison Beer, and Emilia Clarke have bee tattoos inked on them.