The hype for animal tattoos is increasing among people and penguin tattoos are on top of the list. Many people feel a connection to their lives and the personality traits of these animals. The cuteness and loving nature of penguins are hard to beat, and the symbolization of these designs makes them an excellent choice for tattoos.
If you are thinking of getting a penguin inked on your body but do not have the right inspiration, then we are here for you. In this blog, we will show you some of the best and trending designs featuring our favorite penguins. So, stay tuned and let the cuteness win your heart.
90 Penguin Tattoo Designs and Ideas
For many of us, penguins are associated with some of the best memories of our lives. Growing up in the era of popular TV shows and games featuring penguins has made them an essential part of our nostalgic tour. The popularity of the animal among animal lovers is also a difficult bridge to cross.
When eye-catching art, attention to detail, and artistic approach match our personality traits, the penguins on our skin turn out to be attractive and impressive. Without further ado, let us guide you through the most fantastic penguin tattoo designs.
Simple Penguin Tattoo
Complementing the beauty and appeal of the simple things in life requires a precise eye. When this comeliness of simplicity is depicted in tattoos, the result is soothing to the eyes. Combining penguins with the element of simplicity makes the designs look more compelling. Discover the best simple penguin tattoos.
1. Waving Arms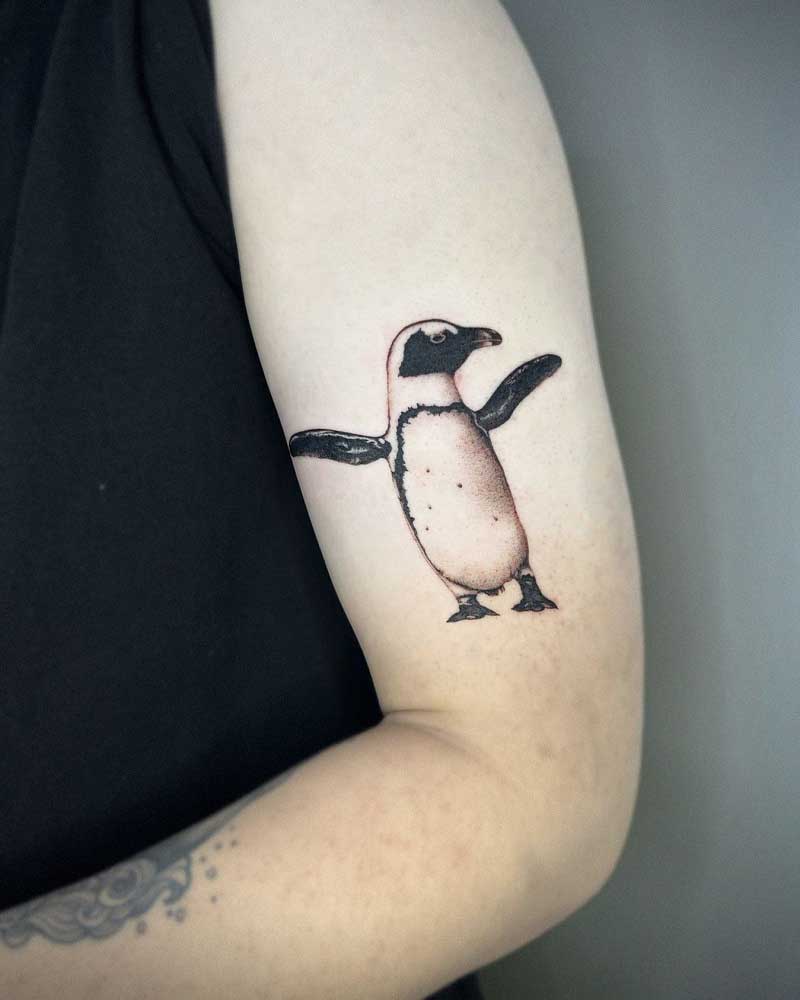 Just a friendly penguin waving arms toward the world with a smile. The body, markings, and those little feet are the details that give the design its magical touch. The artistic effects make the tattoo look realistic on the bicep.
2.  Together For Life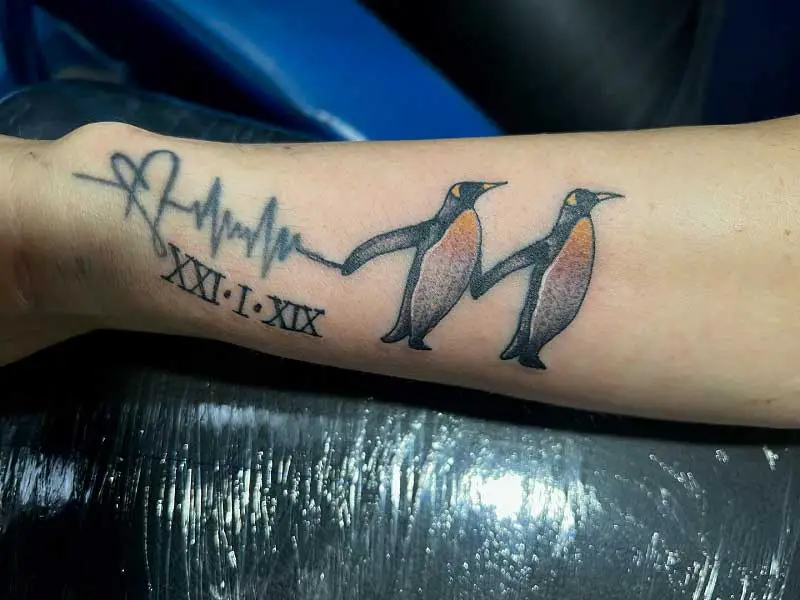 Look at this cute penguin couple in love. One penguin is holding hands with its partner while the other hand is in touch with a lifeline design. The thoughtful design shows commitment and love in the bond.
3. On The Ice Block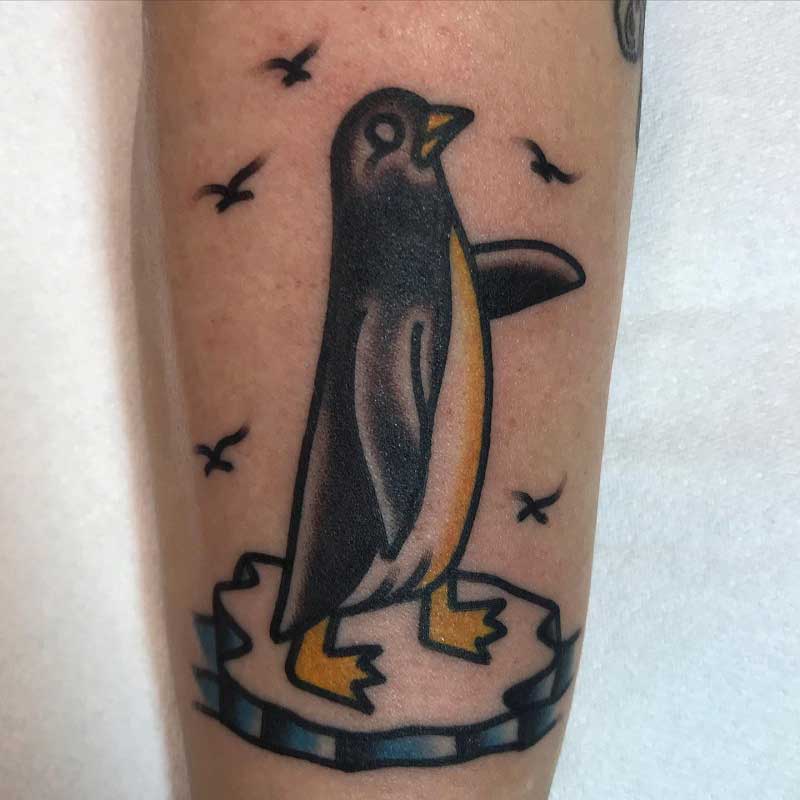 Looking at the sky with a block under the feet. It looks like the penguin in the tattoo is busy admiring the beauty of the surroundings while birds are flying around him. This design will look artistically pleasing on the arm of a woman.
Small Penguin Tattoo
Small things are always cute, no matter what. And nothing beats the adorable side of tiny penguins. So, beautify your skin with the cuteness of baby penguin designs.
4. Father And Son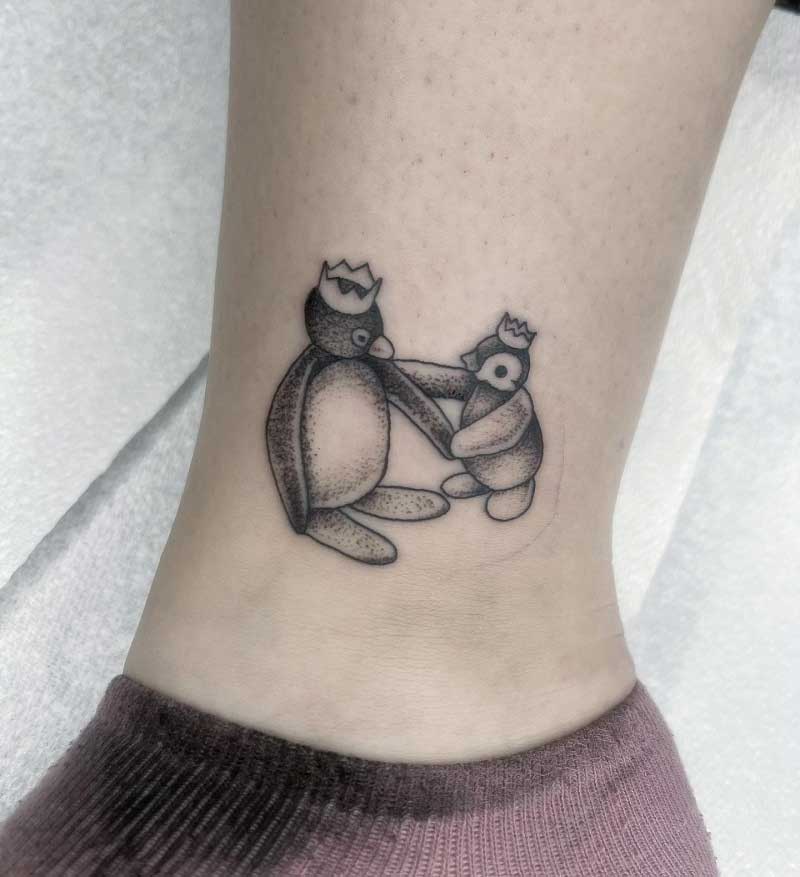 Taking eyes off this super adorable design is extremely difficult. The bonding between a father and son is beautifully portrayed in this tattoo. It is a great idea if you want to make a beautiful memory with your permanent on your skin.
5. Baby Penguin 
Penguin tattoos are mostly about balance, good luck, and prosperity in life. And this little hero here is a clear sign of good luck and love. The beautiful piece of art is an attractive and pretty work done by the artist.
6. The Winking Cuteness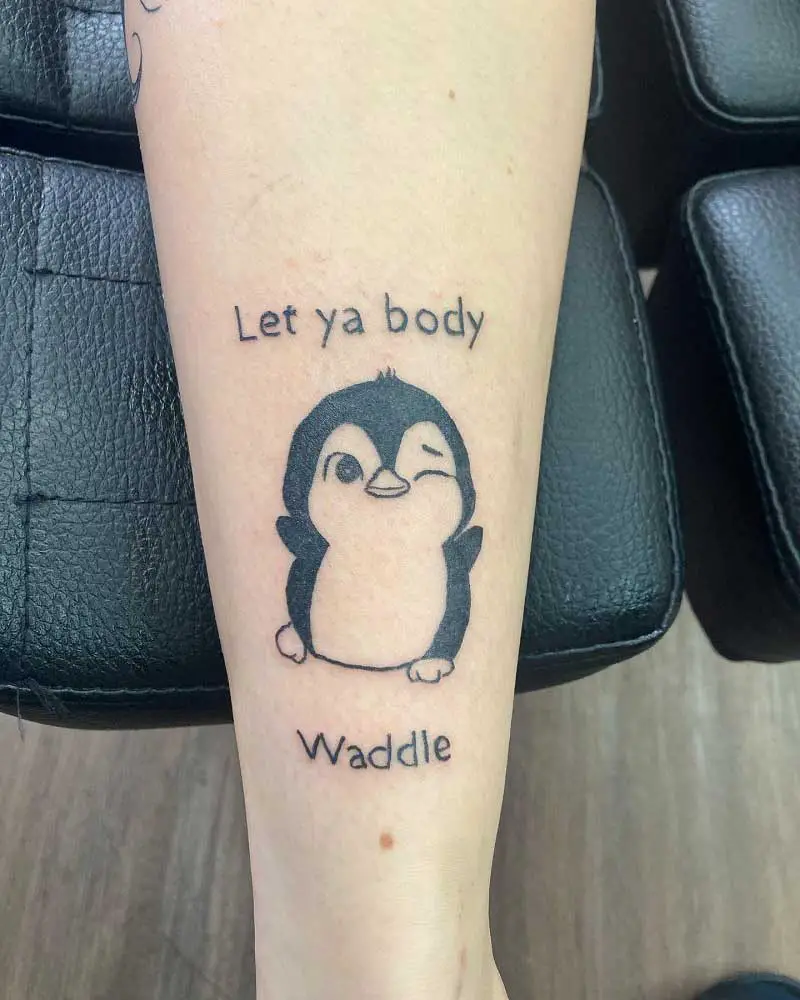 How can anyone possibly ignore the adorable look of this small penguin? The wink gives the tattoo a sweet and endearing vibe. It has a dramatic touch with a cartoonish look. There is a quote for motivation around the penguin, but you can improvise or change it as you like.
Penguin Couple Tattoo
Penguins are the epitome of sweetness, and there is no doubt about that. And the presence of penguins in couple tattoos makes the designs prettier and shows a beautiful bond. Take a look at the best penguin couple tattoo styles.
7. Love In Penguin Style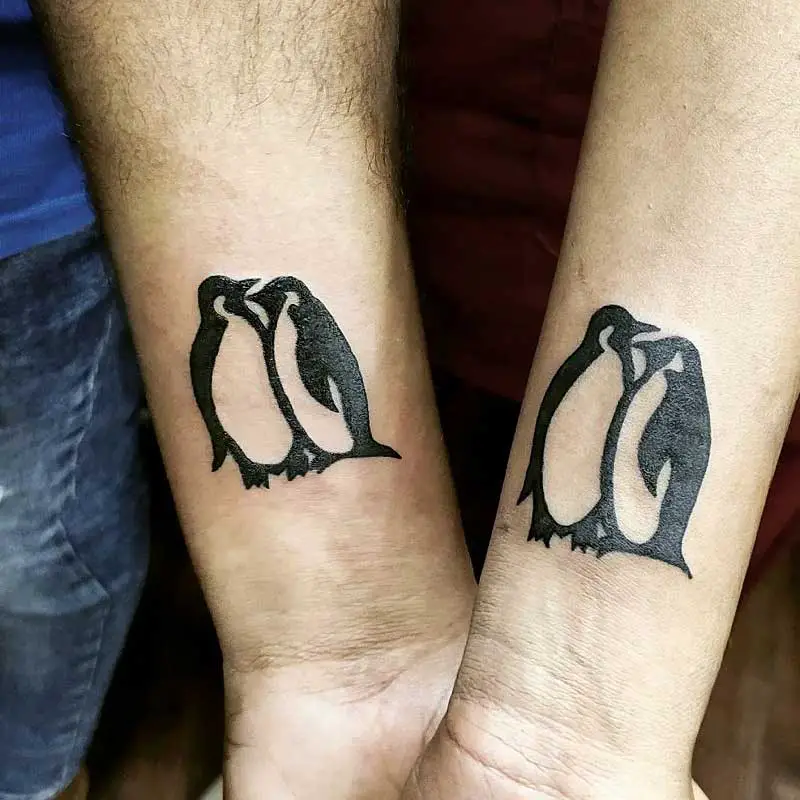 What is sweeter than the amazing bond between two partners? And this penguin couple is the representation of that bond. It perfectly symbolizes the love between couples, and the matching tattoos will surely attract eyes and make the relationship stronger.
8. The Hugging Love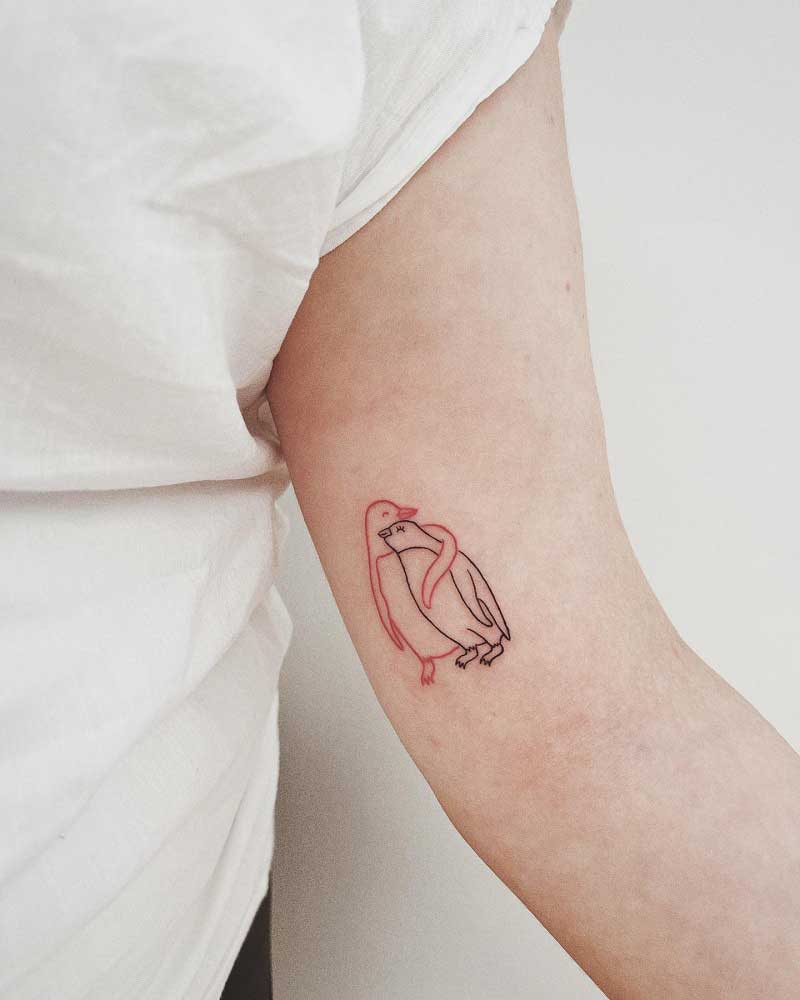 Hugging your partner after a long day takes away the pain, exhaustion, and agony of the day. But not everyone has the privilege of hugging their loved ones every day. It is the perfect design if you miss your partner and cannot wait to shower them with hugs.
9. A Magical Memory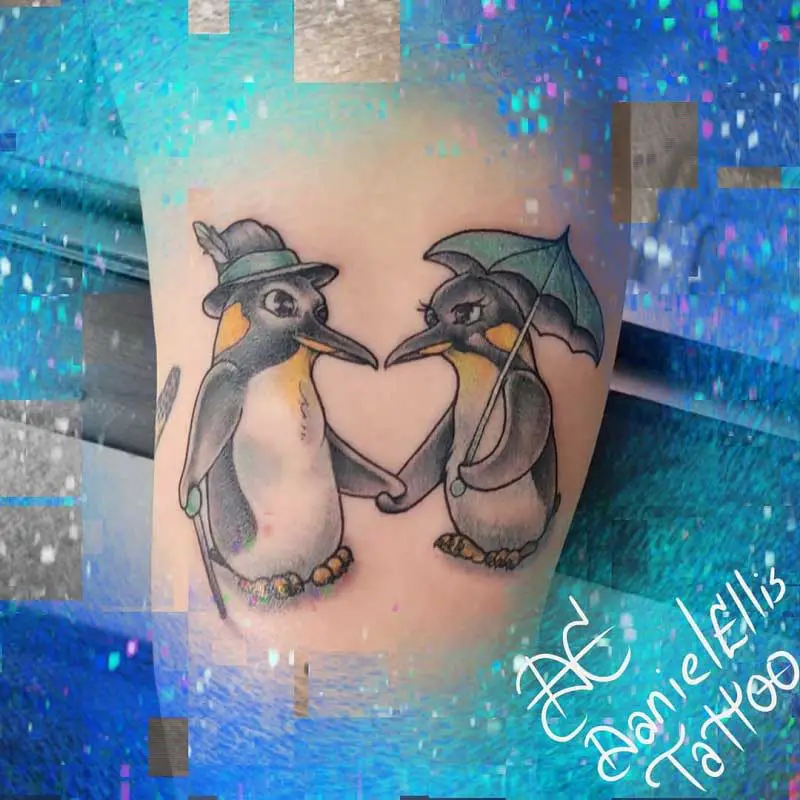 Sharing a beautiful memory with your significant other on a calm evening is a very special feeling. Relieve that memory by getting this endearing design inked on your skin. The colors, sophisticated style, and artistic skills make this design worth the attention.
Club Penguin Tattoo
Club Penguin has been a great part of our lives growing up. Thinking about this game takes us back to our fun and memorable childhood. For the fans of Club Penguin, we have put together some of the top designs in this category.
10. Nostalgic Childhood 
Dive back into the nostalgia of a wonderful childhood with this Club Penguin tattoo. The design is small and takes up little space, but the memories it brings back are priceless. It looks great and is highly adorable on the legs of a woman.
11. The Club Penguin World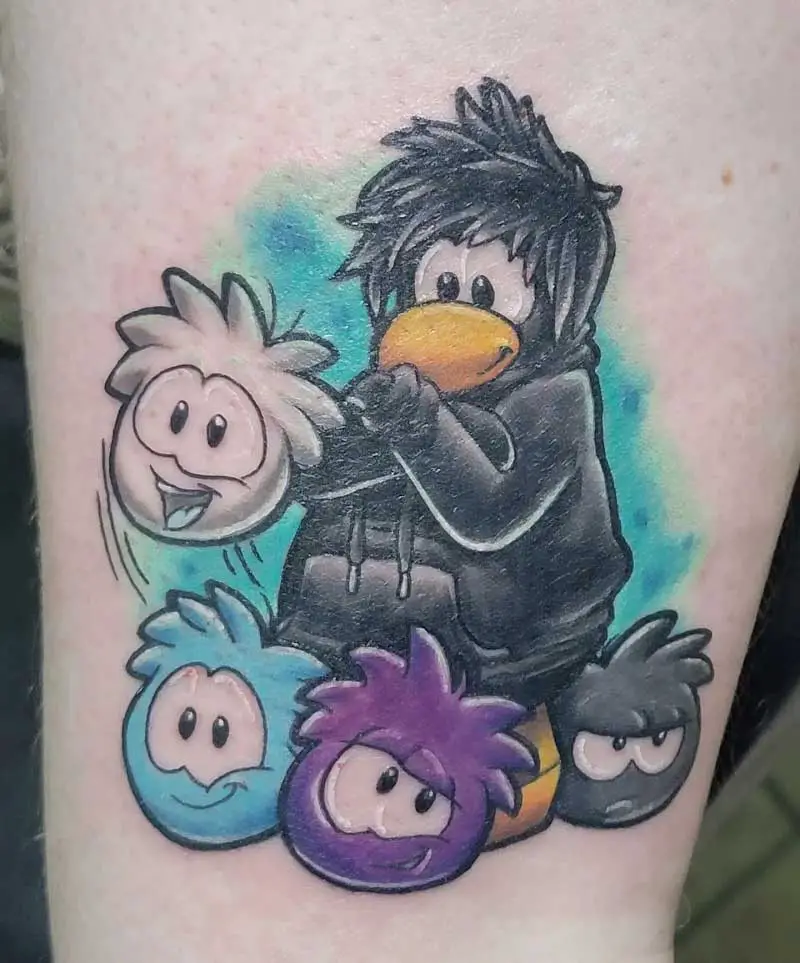 Relieve your childhood and the joys of it through this Club Penguin world tattooed on your arm. The expressions of the characters, coloring and attention to detail make it a top choice among fans.
12. Gary The Gadget Guy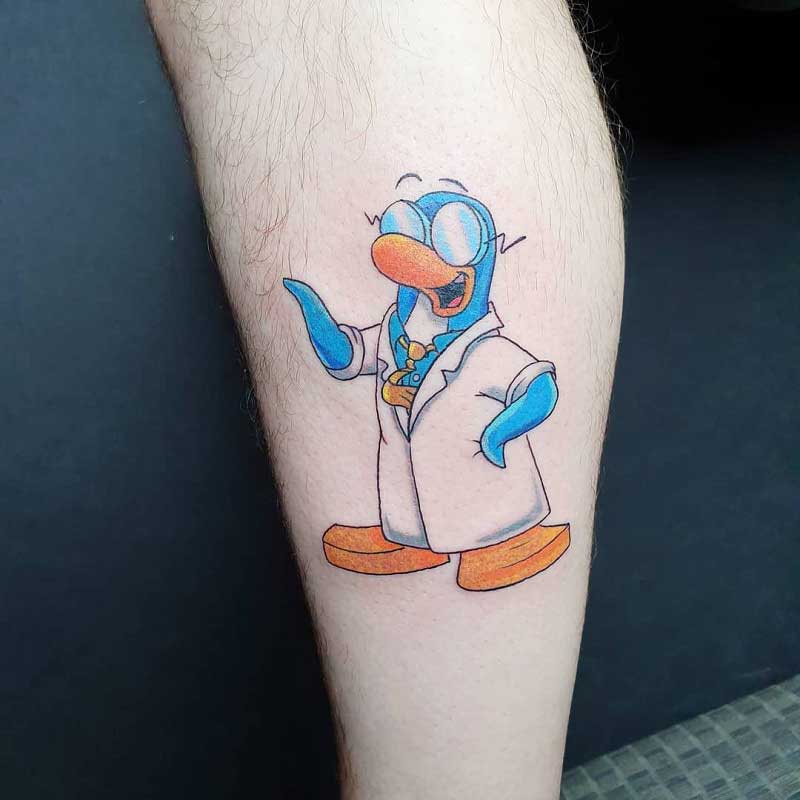 Remember the iconic Gary the Gadget Guy? Well, he can now live with you permanently on your arm and leg. This design is a portrayal of success, innovative ideas, and the well-being of others.
Tribal Penguin Tattoo
Tribal tattoos are always in style. With their cultural representation and values, the tribal arts have made their way through almost all tattoo types, including our beloved penguins. See some of the best tribal penguin designs.
13. The Patterned Penguin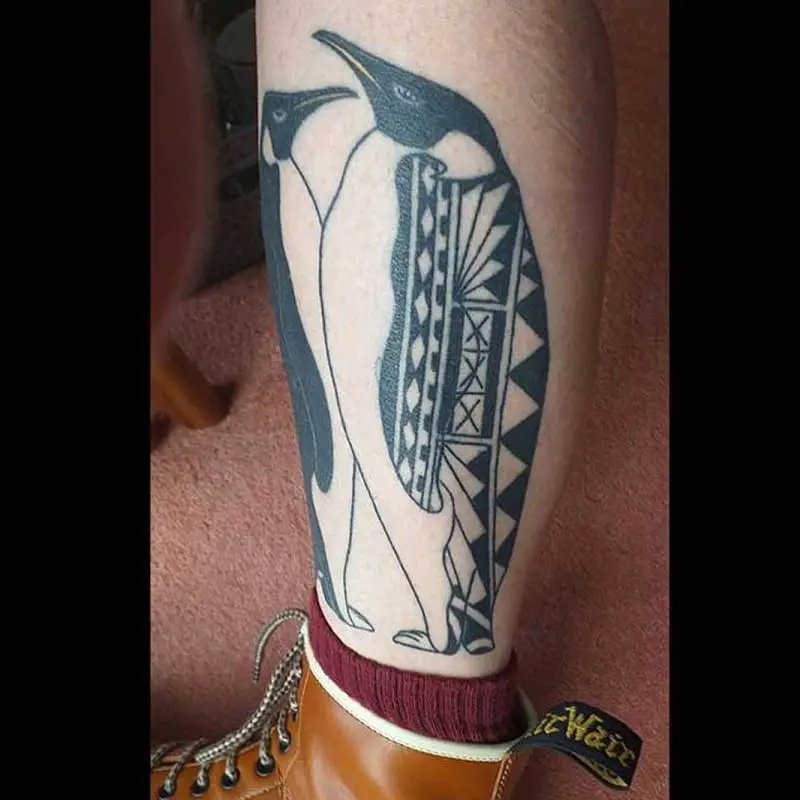 If you are looking for a penguin and tribal fusion, then this is the perfect choice for you. The two chubby penguins are facing each other, and their dark upper part is adorned with tribal patterns. It looks great just above the ankles, and you can also customize the style of the penguin as you, please.
14. Penguin In Pattern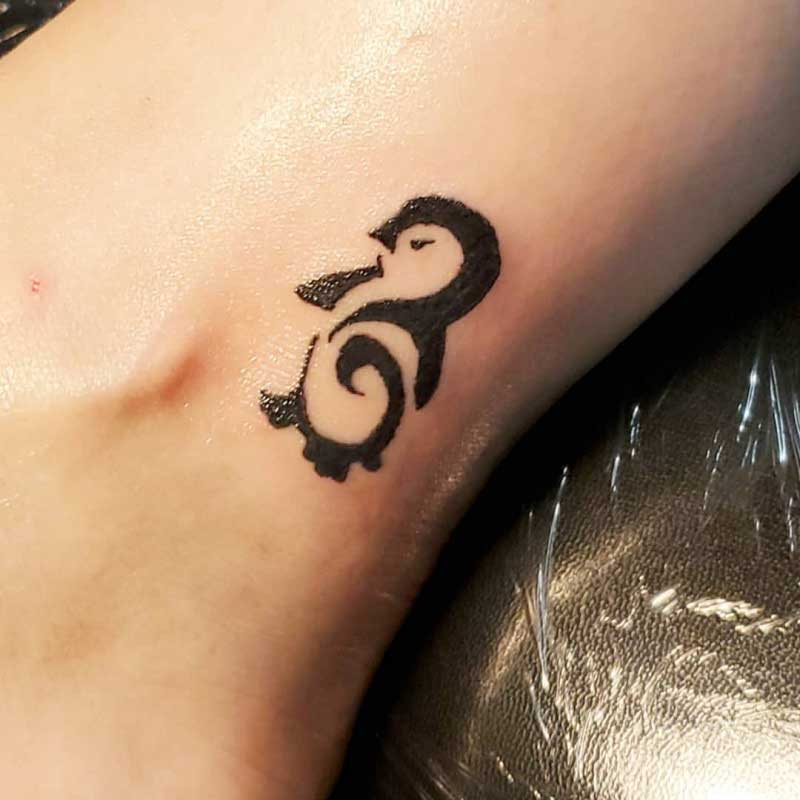 Create a swirly pattern with the beautiful tribal art, and it turns out to be a cute baby penguin. This design is so pretty that it looks terrific on the wrist or arm. The creativity of the artist is seen here, and it is a fun fusion of art and mind.
15. Baby Tribal Penguin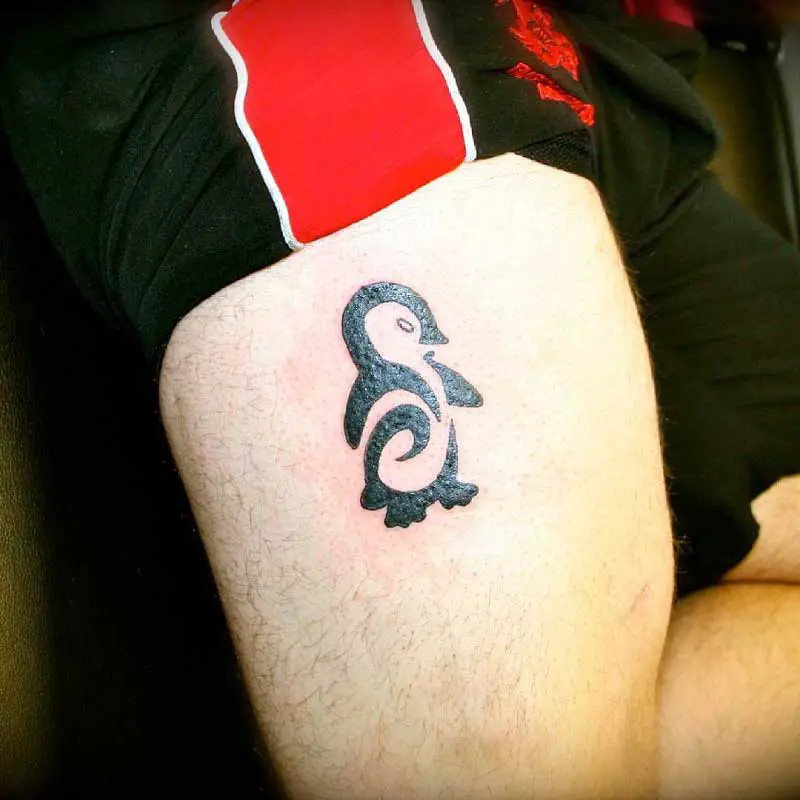 Shape your tribal tattoo as a penguin, and now you have both. This is a two-in-one design, and the cuteness of the piece is heartwarming, to say the least. It will give your features a boost, and the pretty art makes it a stunning view to the eyes.
Emperor Penguin Tattoo
Emperor penguins are the heaviest and tallest in the world of penguins. They are super friendly in nature and can dive deeper into the water than any other penguin or bird. So, let us see a few examples of emperor penguins and their beauty.
16. Seeking Shelter 
Look how cute this emperor and baby penguin look together! The baby penguin is cuddling the bigger one, and the emperor penguin is looking down at it with so much love and admiration. The detailing portrays the beauty of the bond and loves the penguins share for each other.
17. The Loving Bond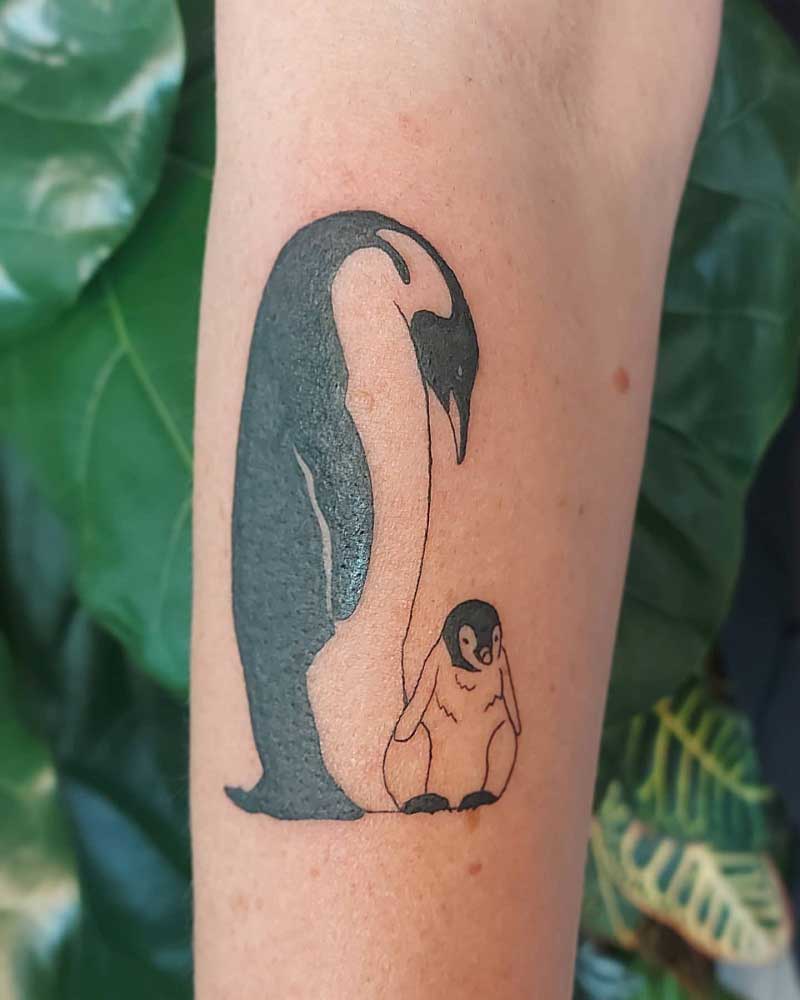 Keep an eye on the young ones! The bond shared with a parent is always special and loving, and this design is the perfect proof of that. A beautiful bond shared between the two penguins is clearly depicted in this art piece. This is a great tattoo if you are looking for a design to portray your beautiful bond with your parent.
18. Watching Emperor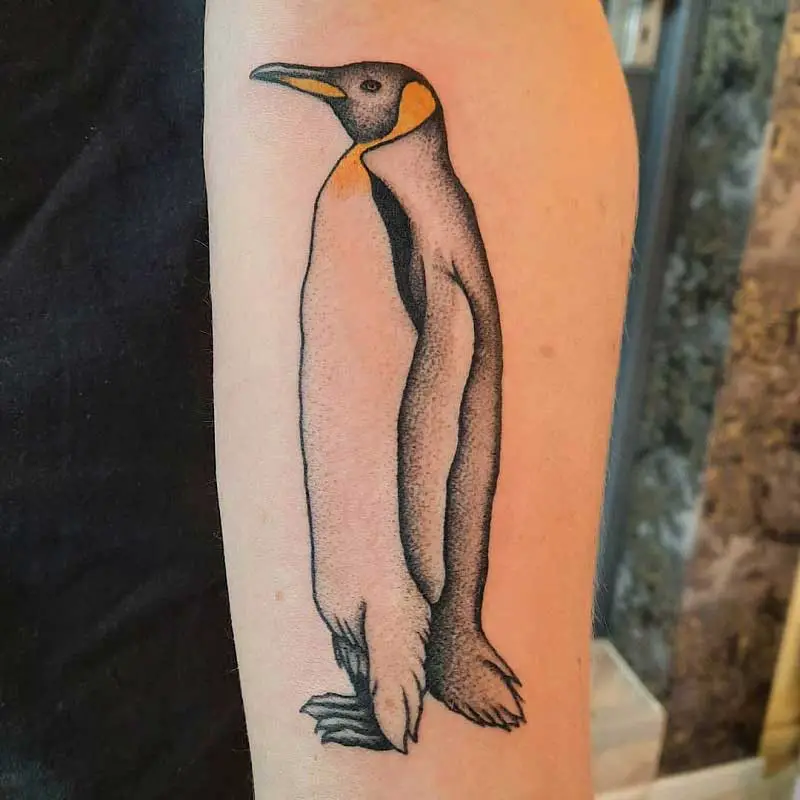 Penguins bring a sense of balance, love, stability, and good luck to your life. And the emperor penguin is definitely a sign of all the positive senses in life. The amazing appearance and personality traits of the penguin make it a perfect design for optimistic people.
Matching Penguin Tattoos
Matching tattoos are the epitome of friendship, trust, and love. It shows the trust of two people in each other, along with the love they share. Not only are these designs eye-catching, but they also show a beautiful bond. Take a look at the best-matching designs.
19. Dancing Penguins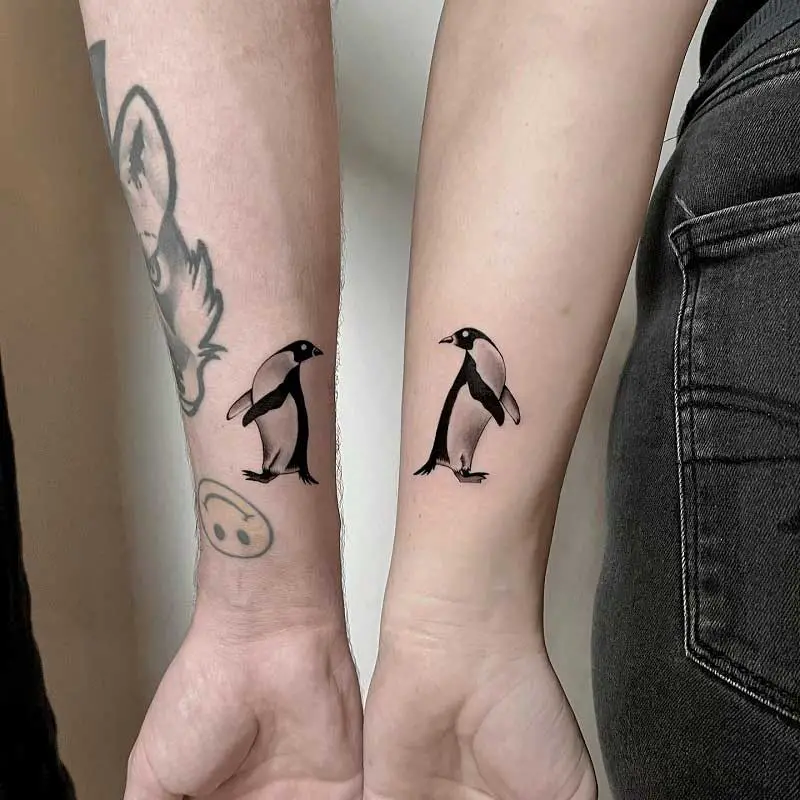 If you cannot show off your silly side with your loved ones, then what is the point? Portray your sense of humor and get a dancing penguin tattoo with your best friend. It shows the fun side of your personality and the undeniable bond between two people.
20. Holding Hands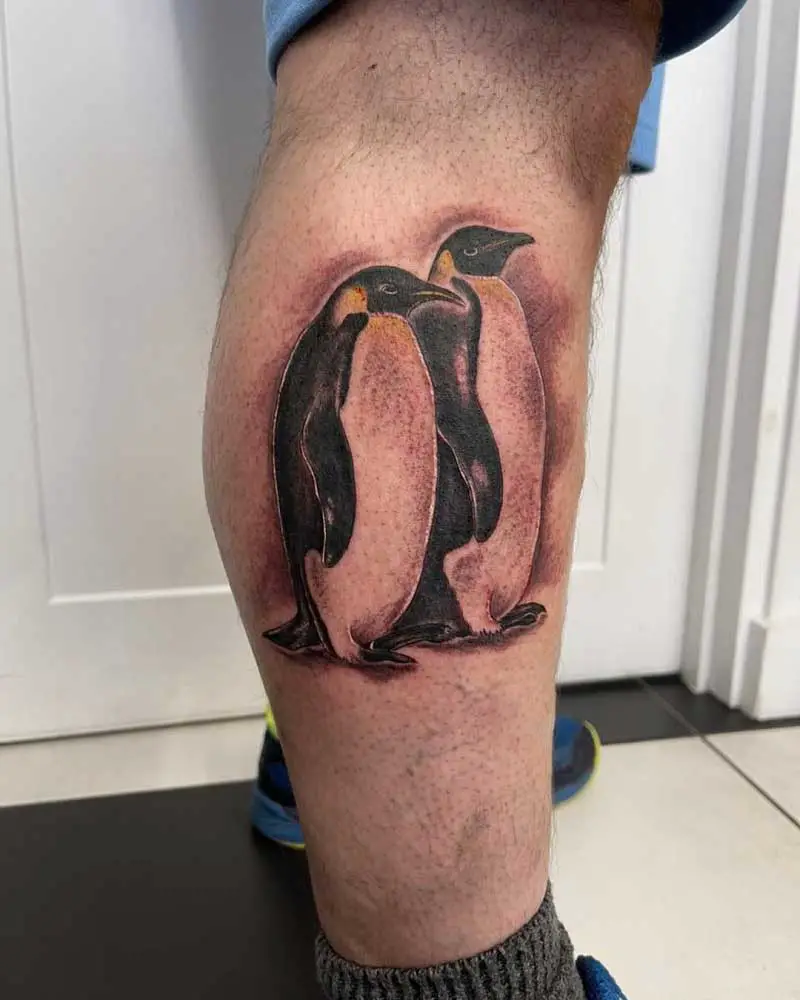 The intimacy and feeling of holding hands are so pure and cute. And the cuteness multiplies by a hundred times when there are penguins involved. Give everyone an awestruck view with the tattoo of a penguin couple holding hands. It is a great addition to your tattoo collection and looks amazing on the legs of a man.
21. Heart In The Middle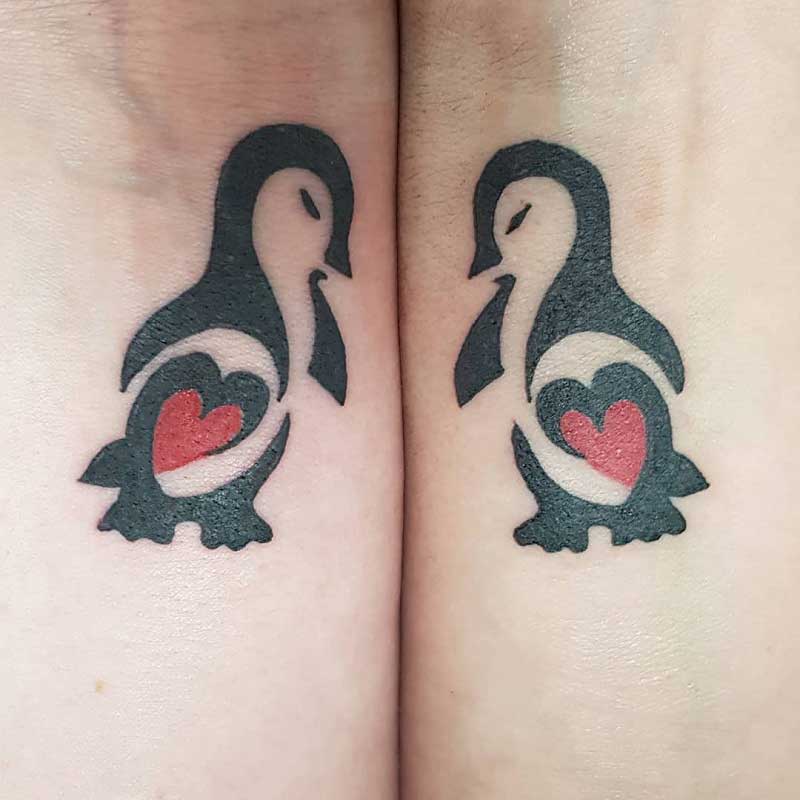 Portray love in the most adorable way possible with penguins. These designs are adorned with beautiful red hearts in the middle, which show love and care for the other person. Get this matching tattoo with your partner and strengthen the beauty of your relationship even more.
Penguin Outline Tattoo
While intrications and details win our hearts, outlines do not fail to do the same in any way. Penguins are equally adorable in outline tattoos. Without further ado, let us get into the top penguin outline tattoos.
22. Shadowed Penguin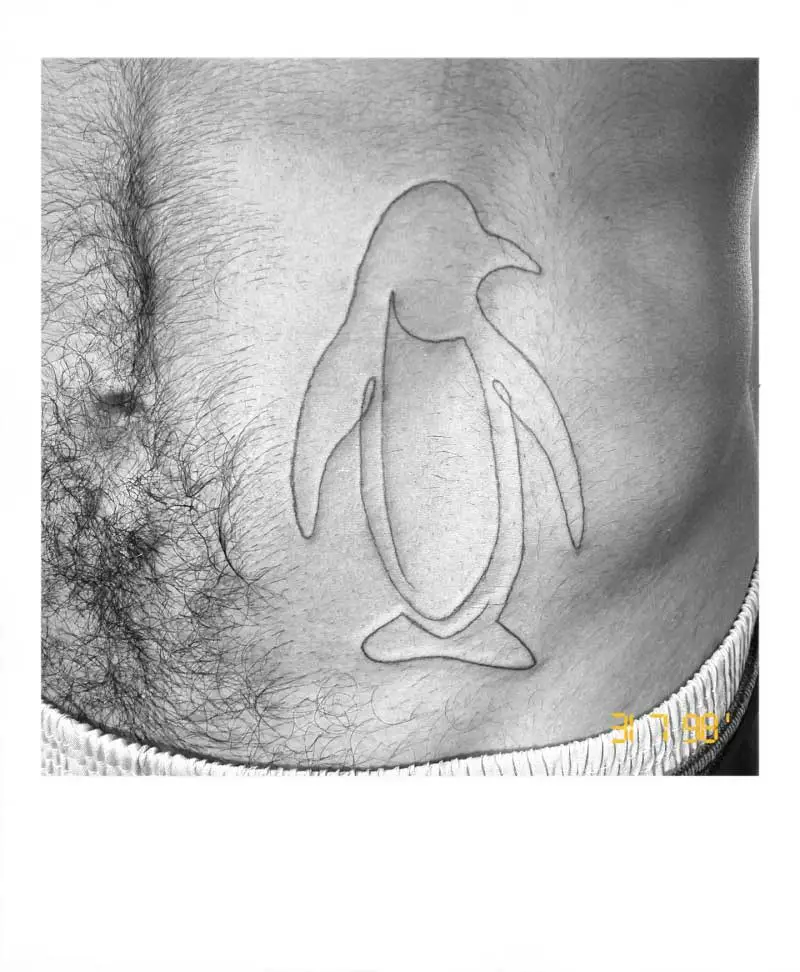 Simple tattoo for the win! This penguin outline is an innovative idea and works great for people who want a tattoo with less pain. Get this design inked on your skin and show off your summer body to the world.
23. Undeniably Cute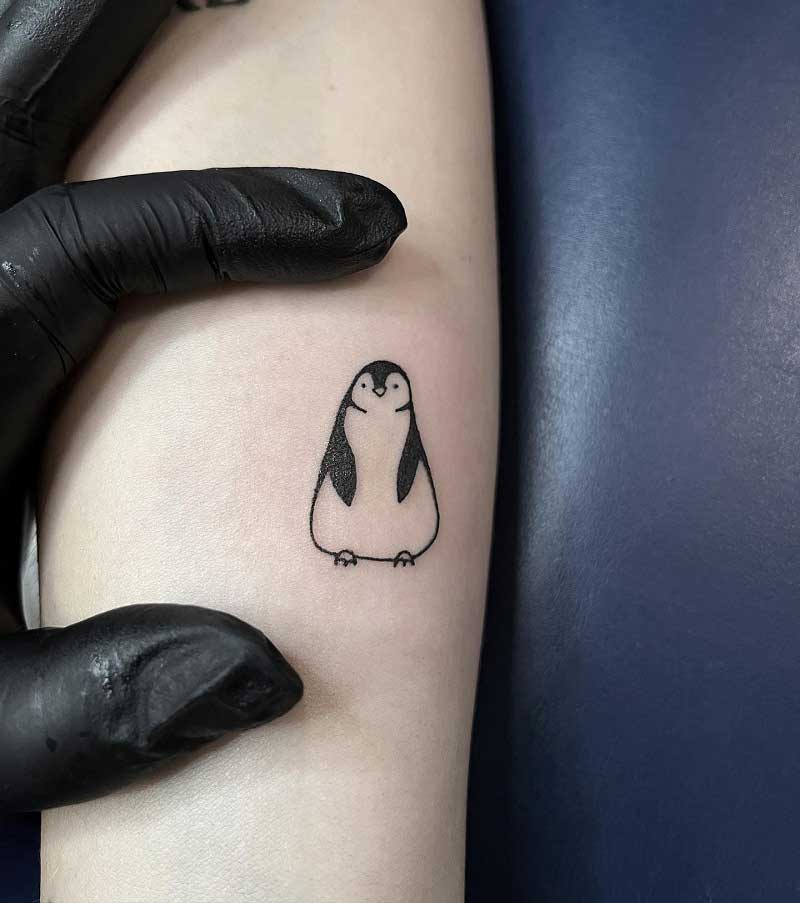 What can possibly stray you away from this cute-looking penguin? The small size makes it even cuter and a perfect addition to a woman's arm. It is a clear sign of adorable and loving vibes and also showers the imagination with a sense of balance and good luck.
24. Like A True Gentleman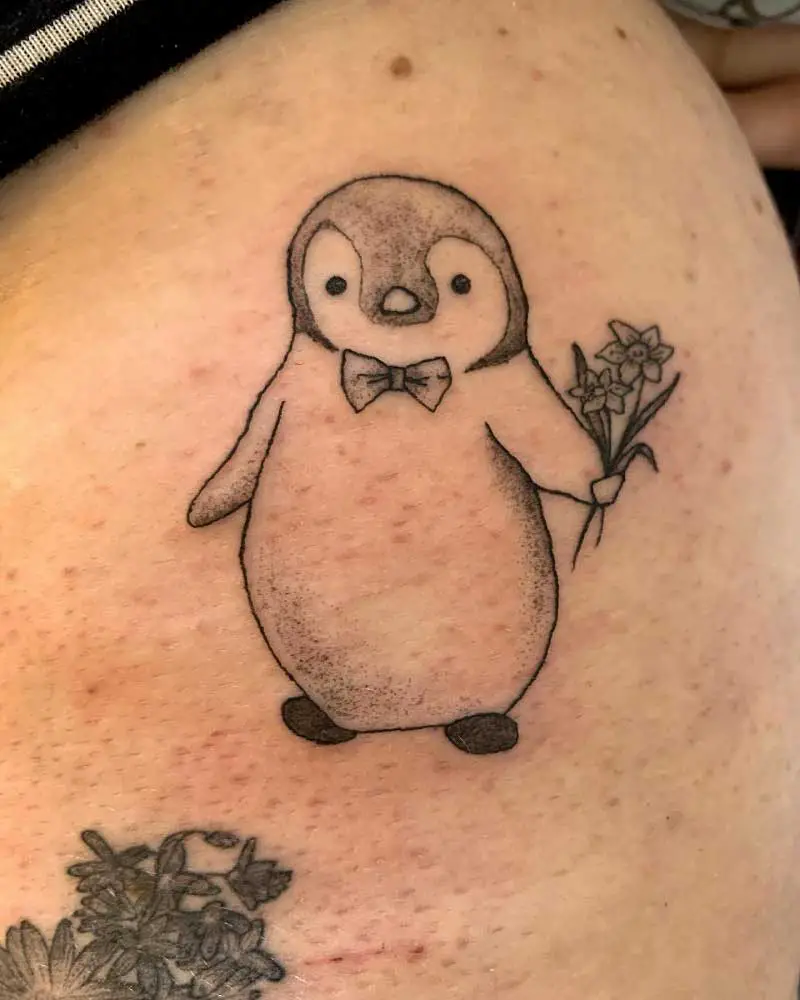 Show off your well-behaved and modest personality with this penguin dressed as a gentleman. And the flowers in his hand are the telltale sign of good manners and cuteness. It looks amazing on a man's arm or chest, and the bowtie makes the penguin look gorgeous.
Cartoon Penguin Tattoo
We grew up watching penguin cartoons like Pingu and playing games such as Club Penguin. Cartoon penguin characters take us back to the wonderful and memorable childhood we had. See the top penguin cartoon tattoos.
25. Chasing The Star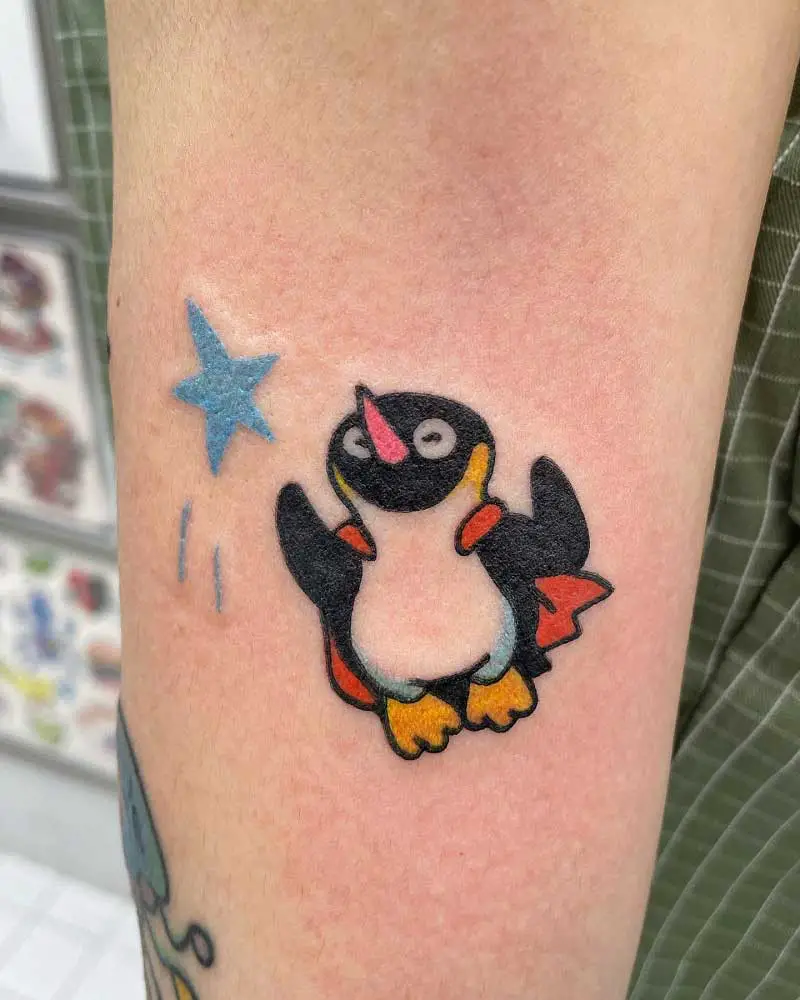 Chase the stars and shine bright with their light. This pretty cartoon penguin tattoo will take you on a nostalgic journey through the beauty of childhood. It is a symbol of success and achievements in life despite struggles and battles.
26.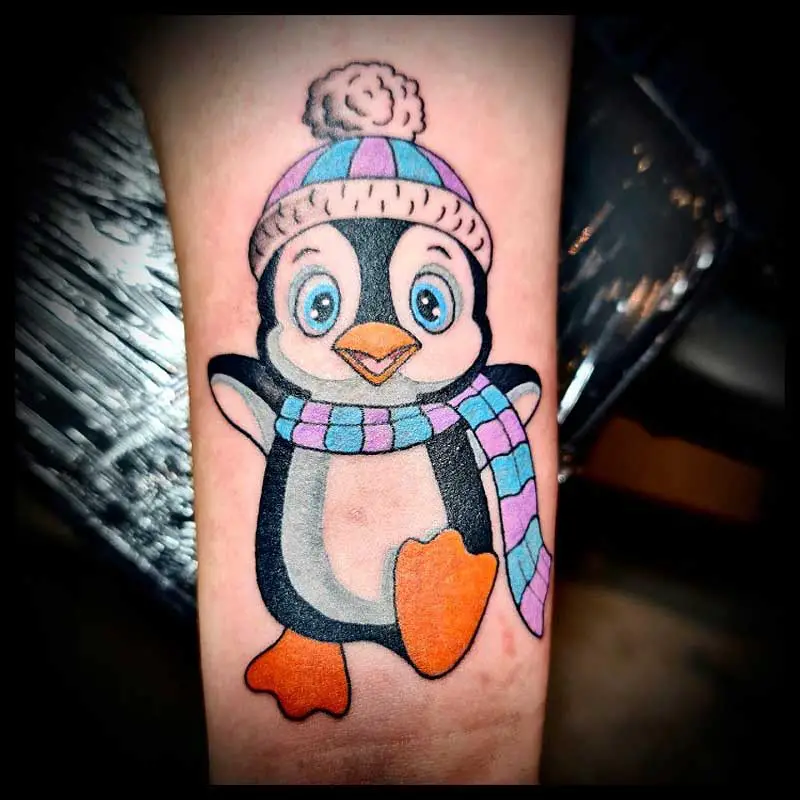 27.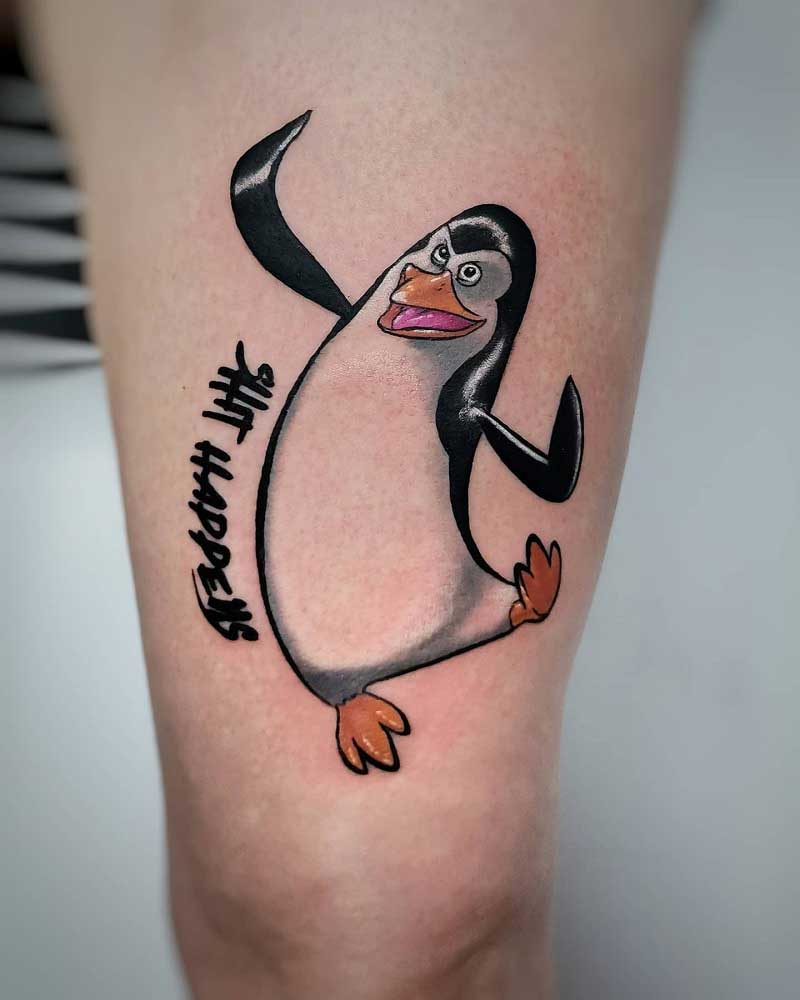 Penguin Family Tattoo
28.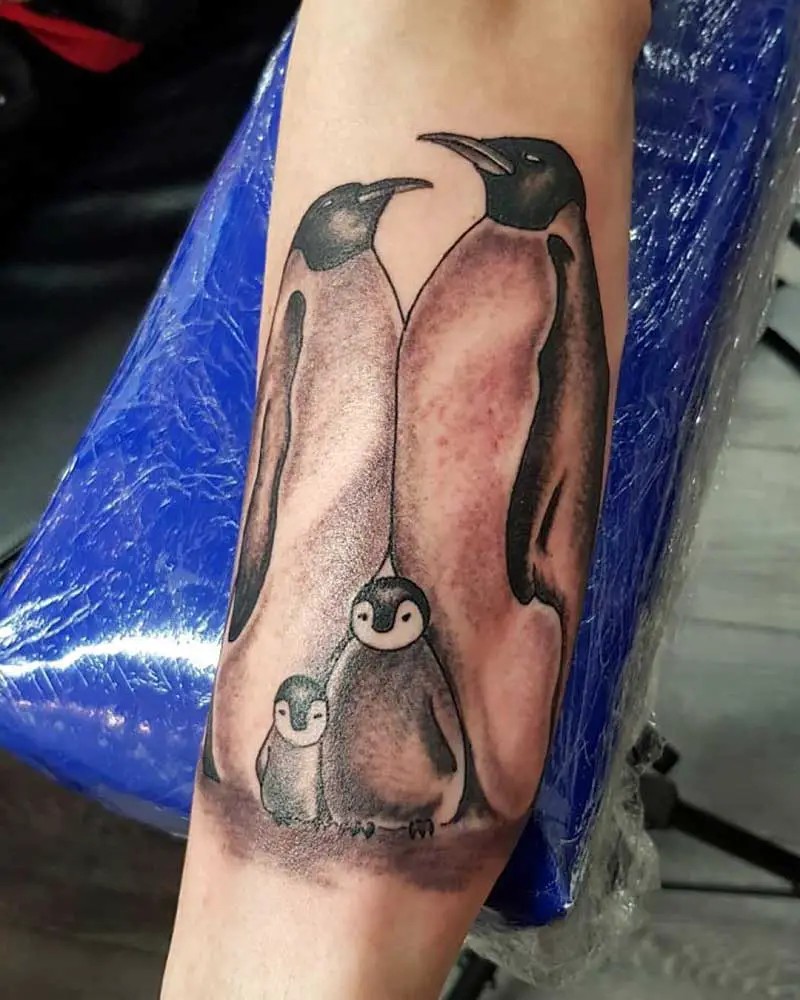 29.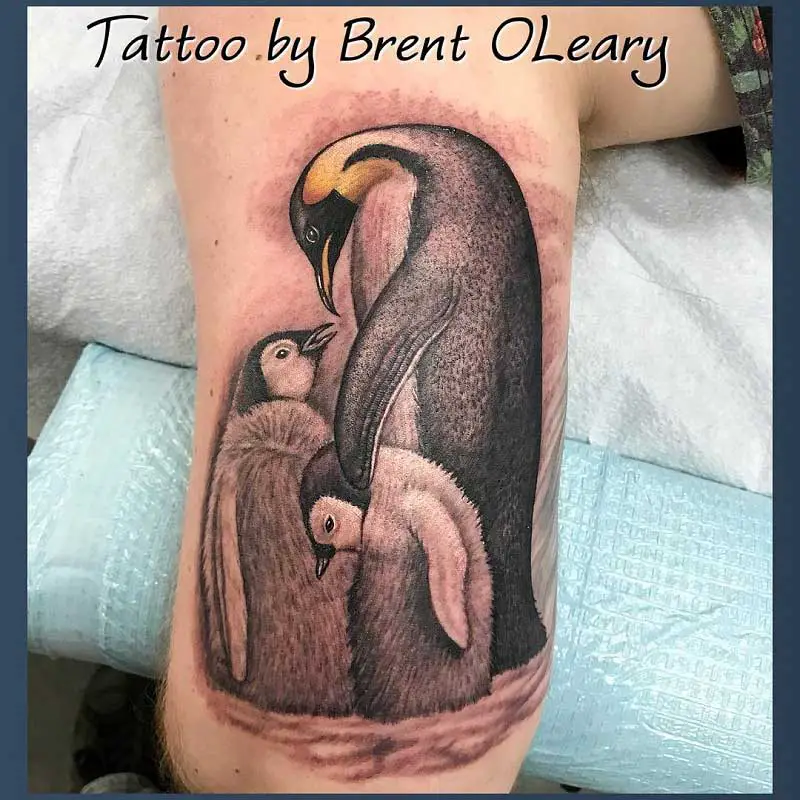 30.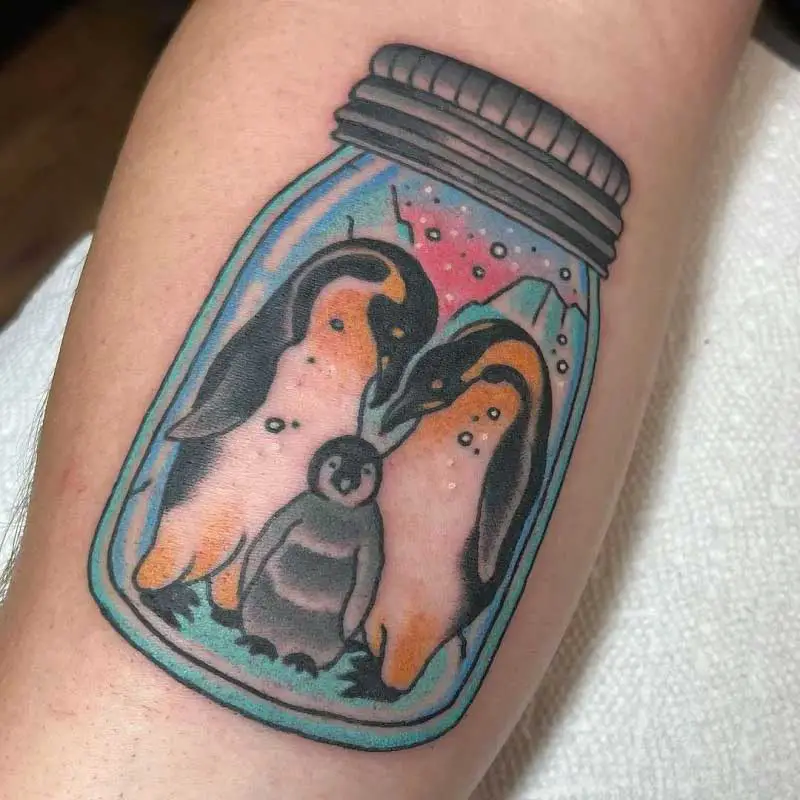 Traditional Penguin Tattoo
31.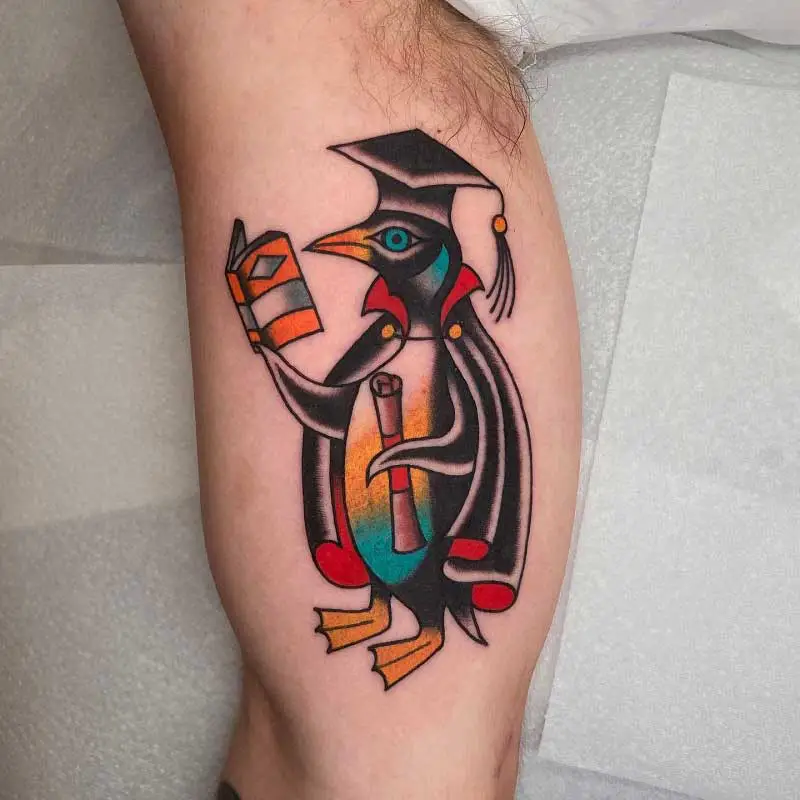 32.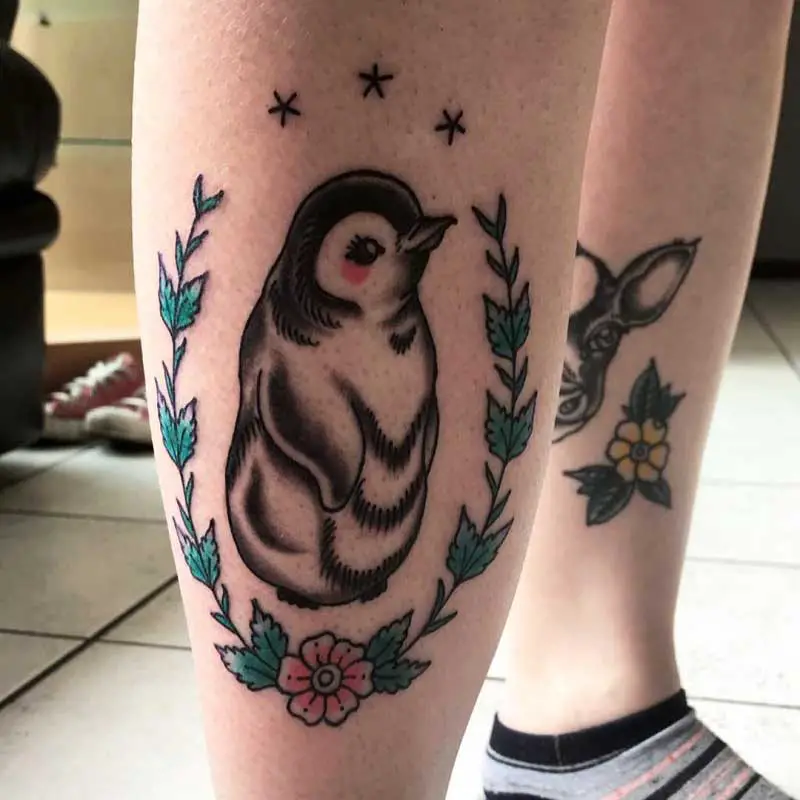 33.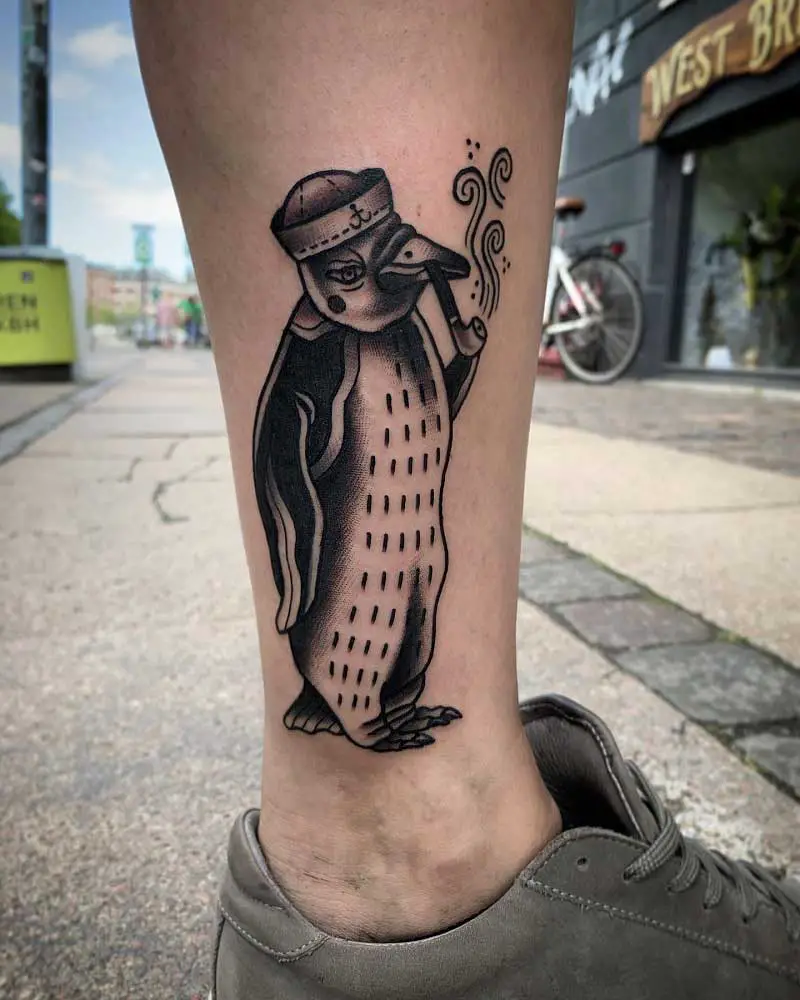 Geometric Penguin Tattoo
34.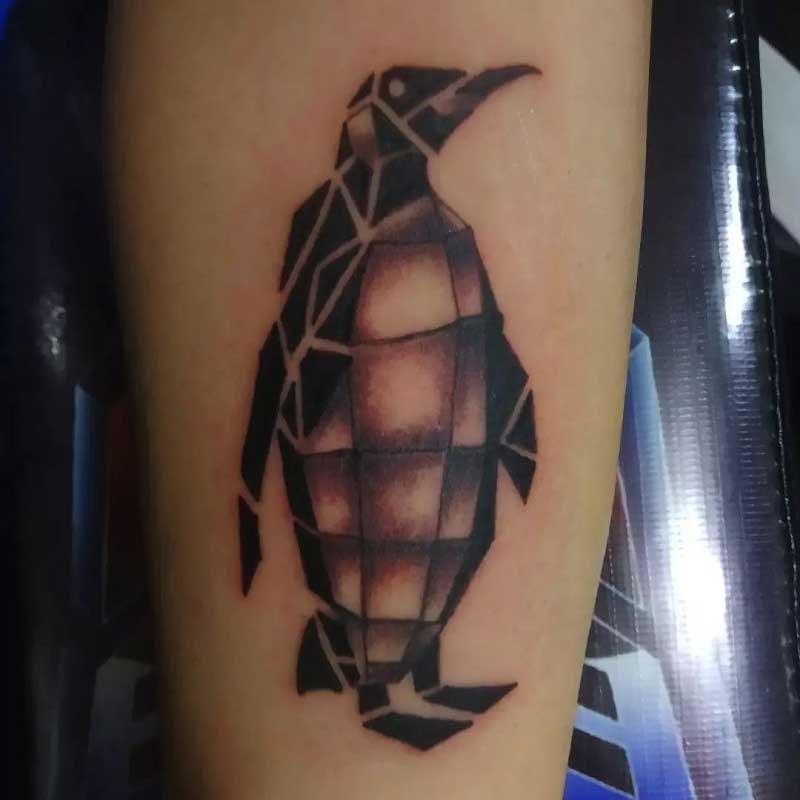 35.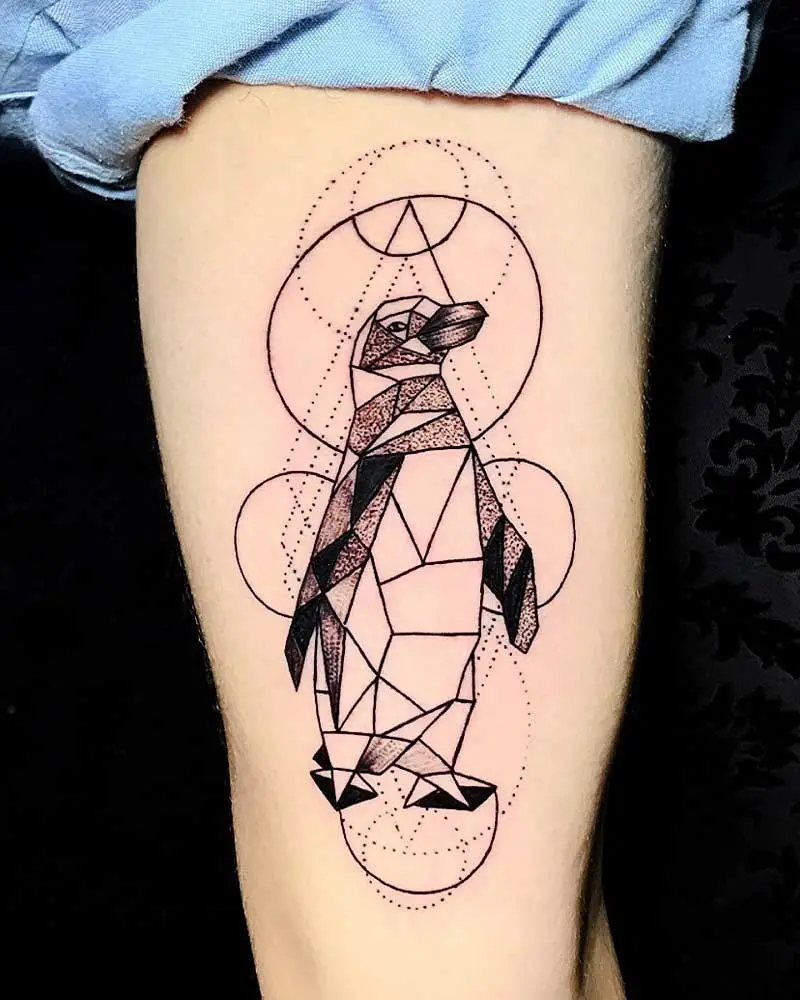 36.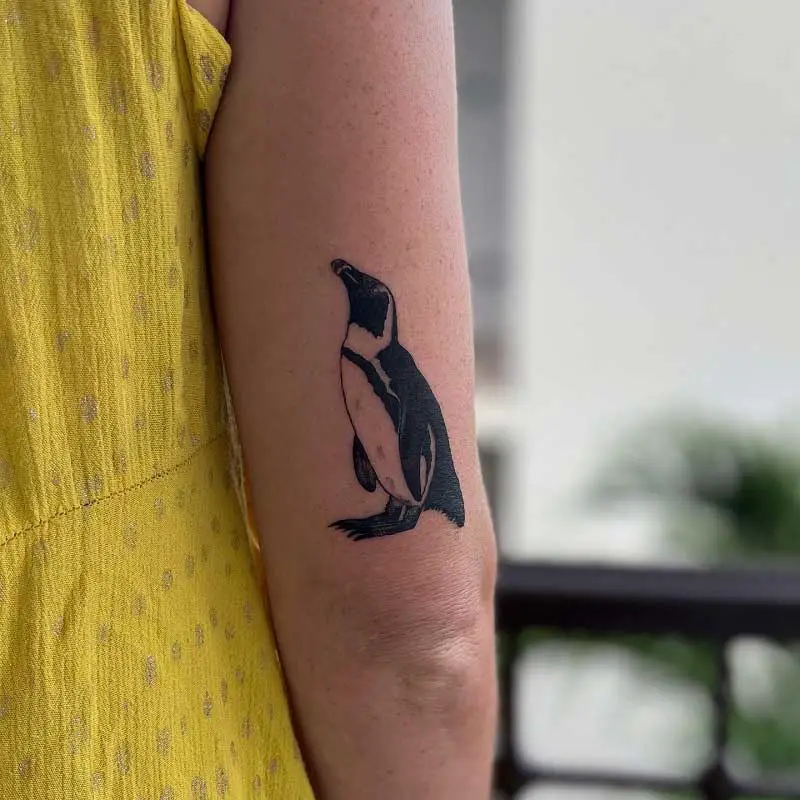 Minimalist Penguin Tattoo
37.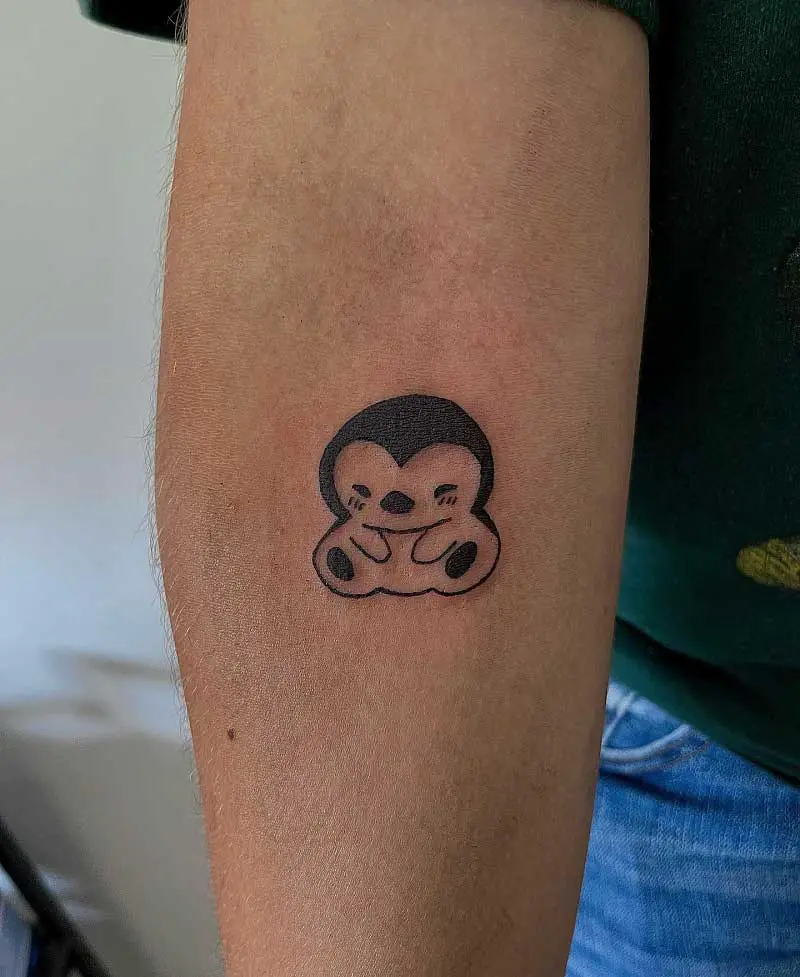 38.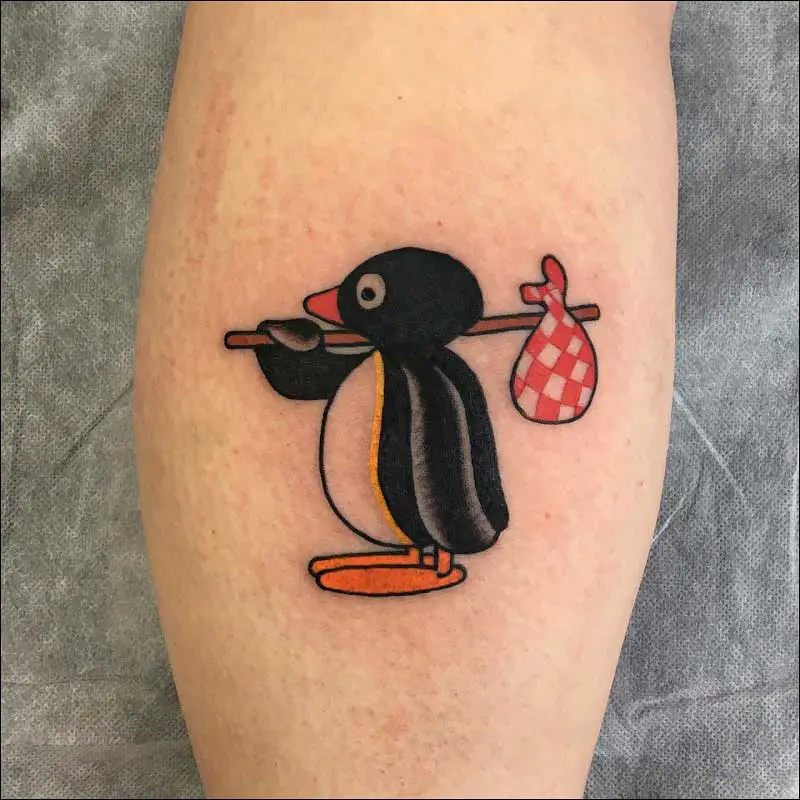 39.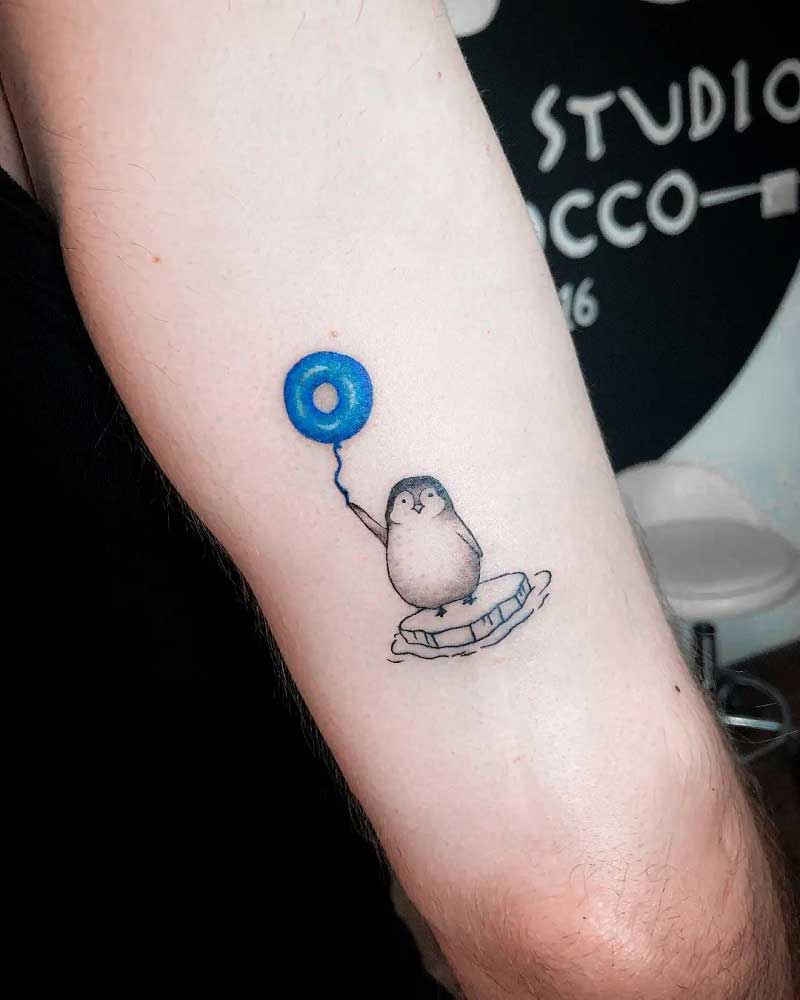 Penguin Heart Tattoo
40.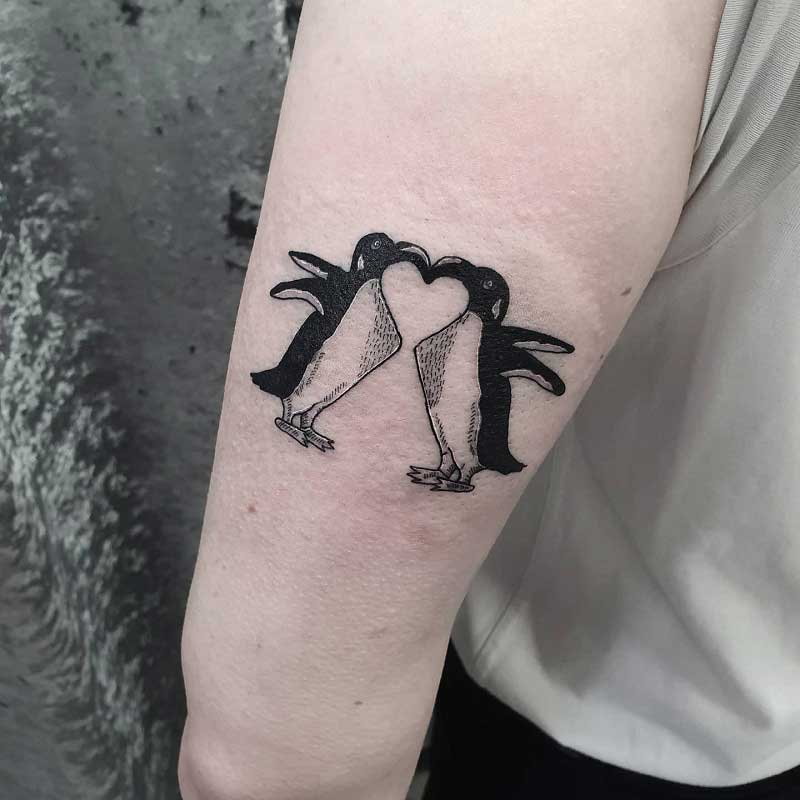 41.
42.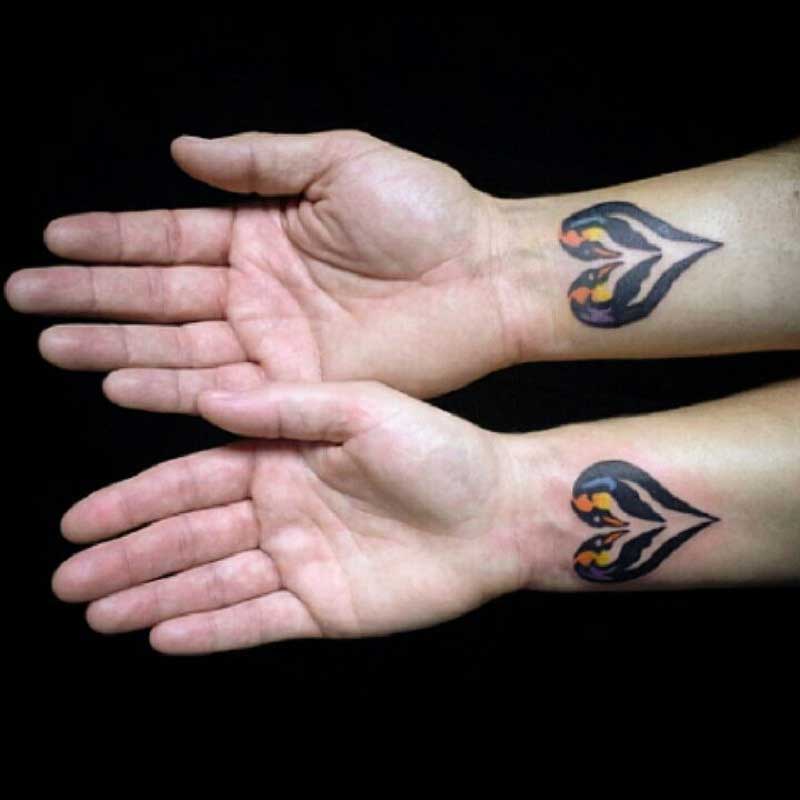 Evil Penguin Tattoo
43.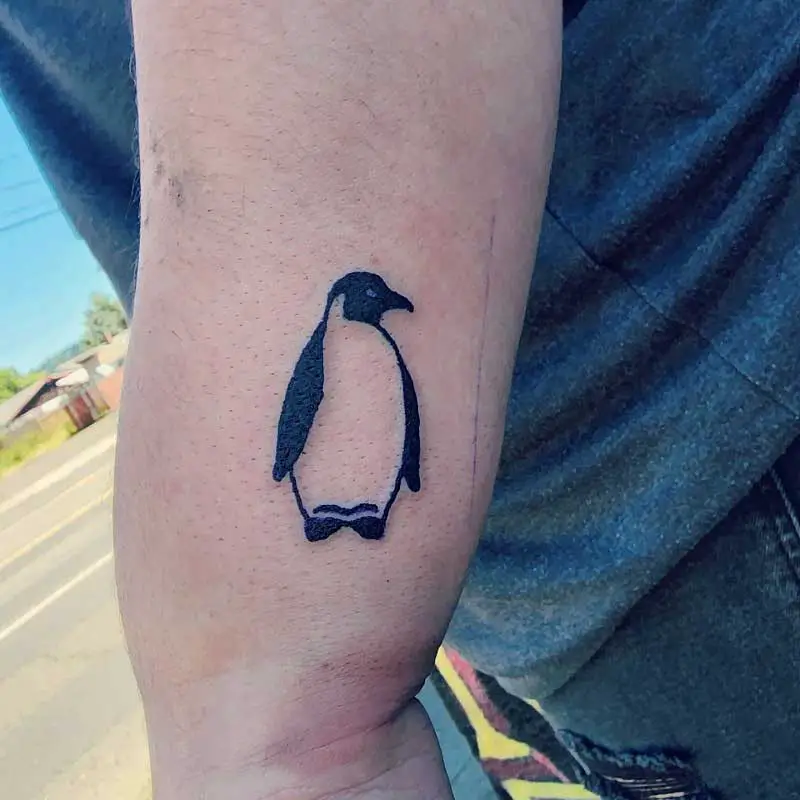 44.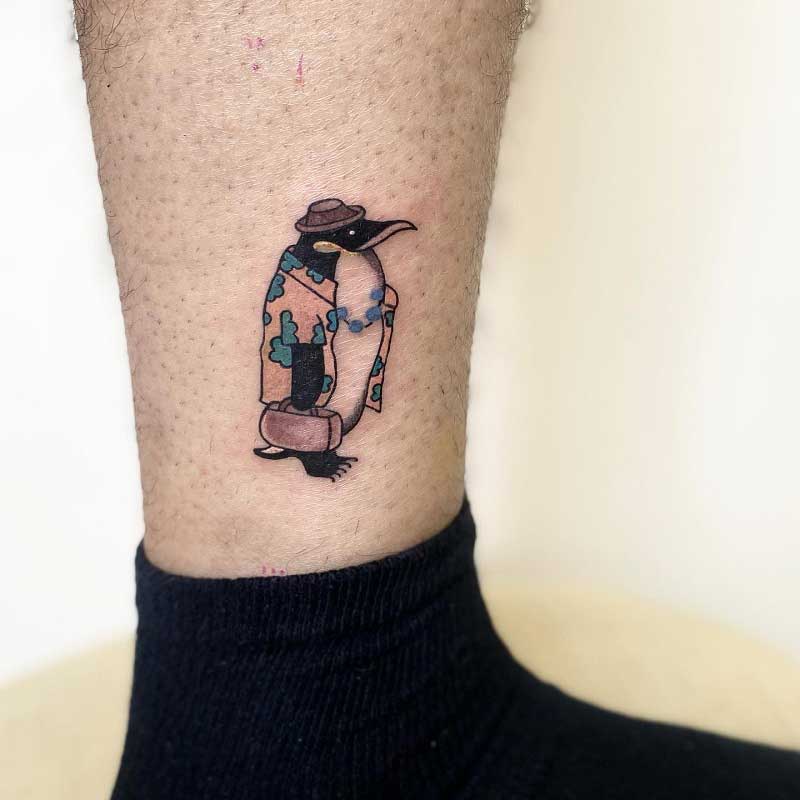 45.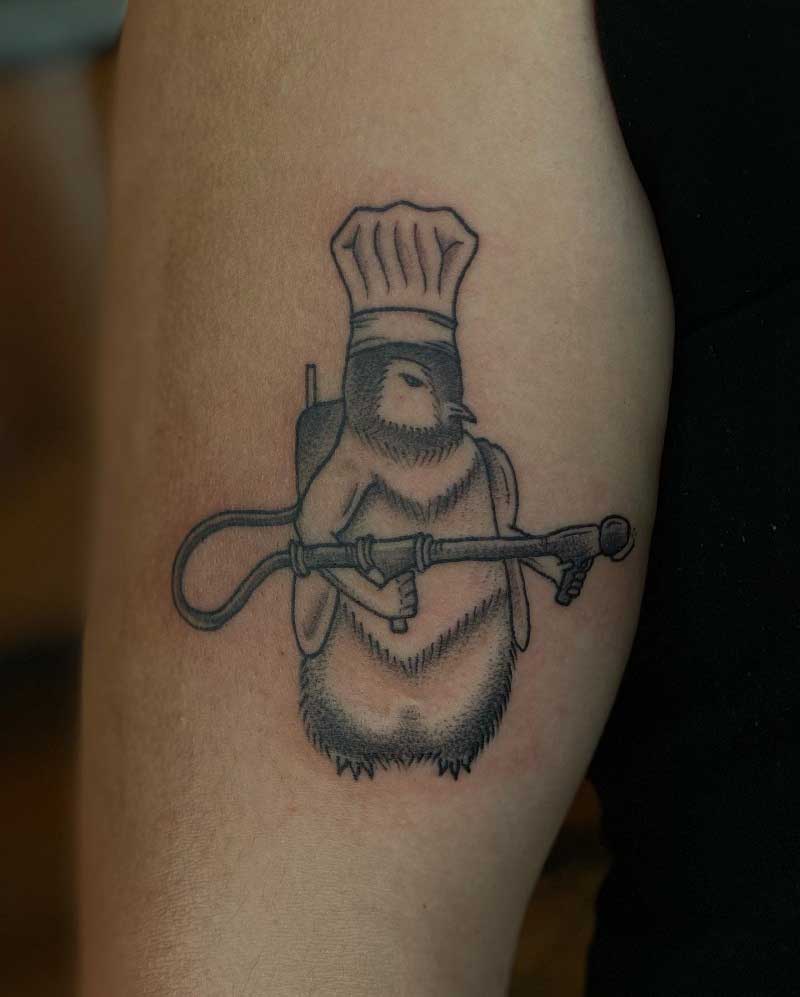 Abstract Penguin Tattoo
46.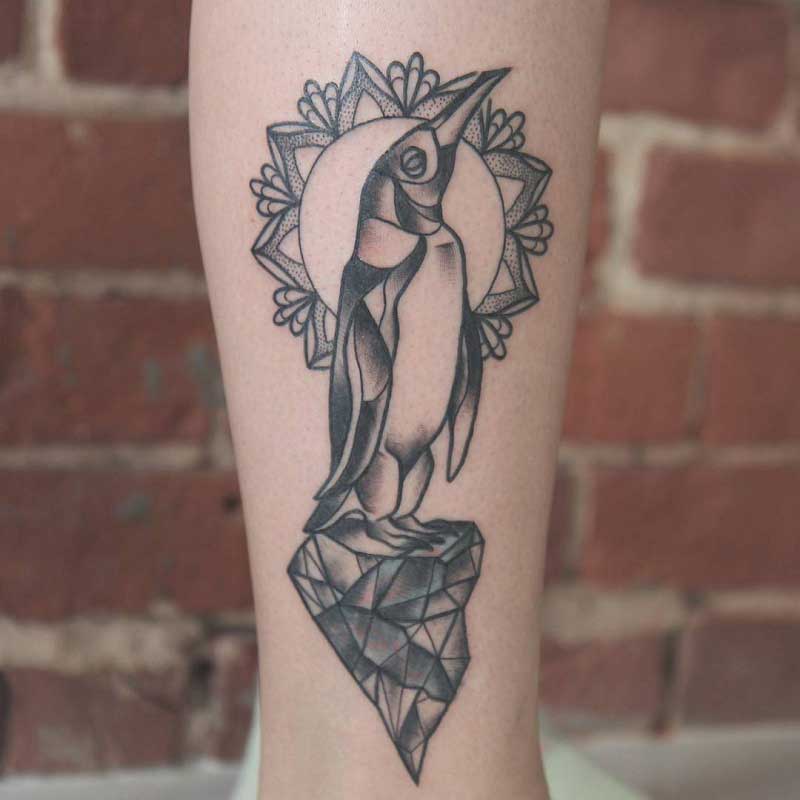 47.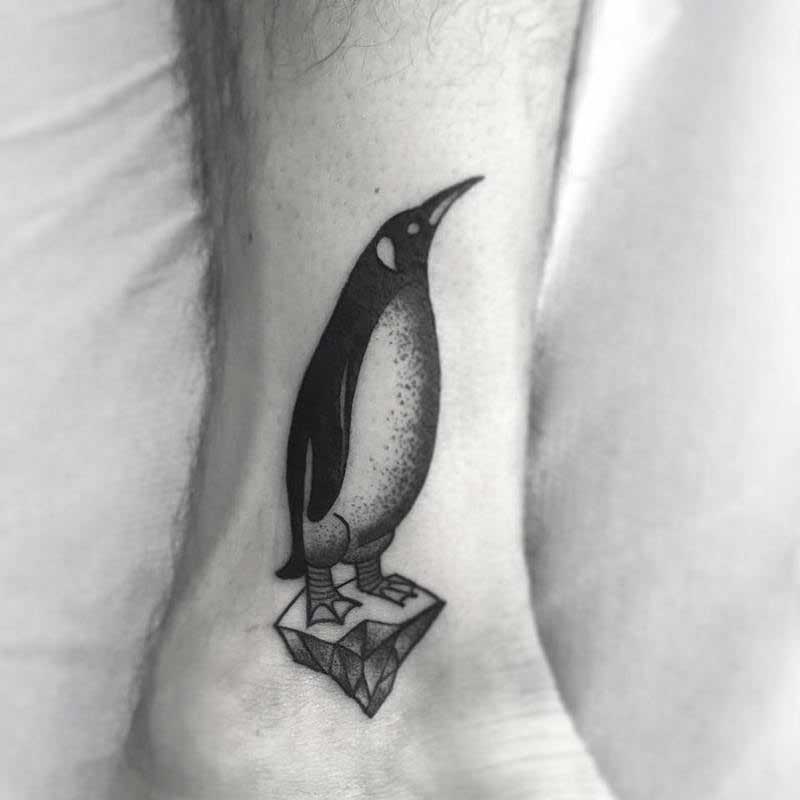 48.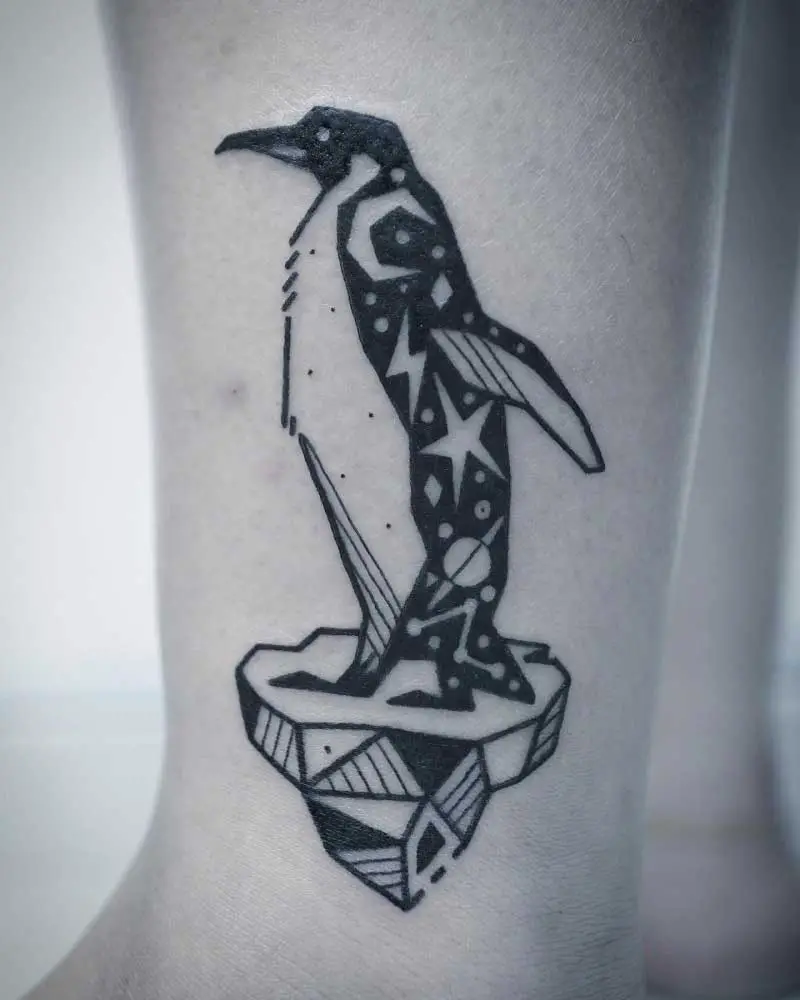 Fleetwood Mac Penguin Tattoo
49.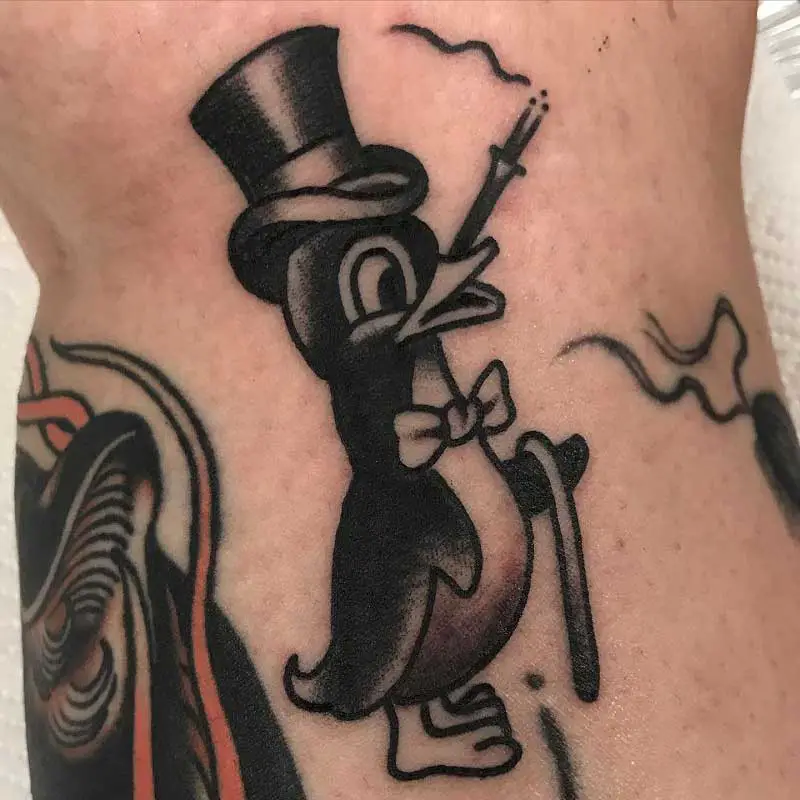 50.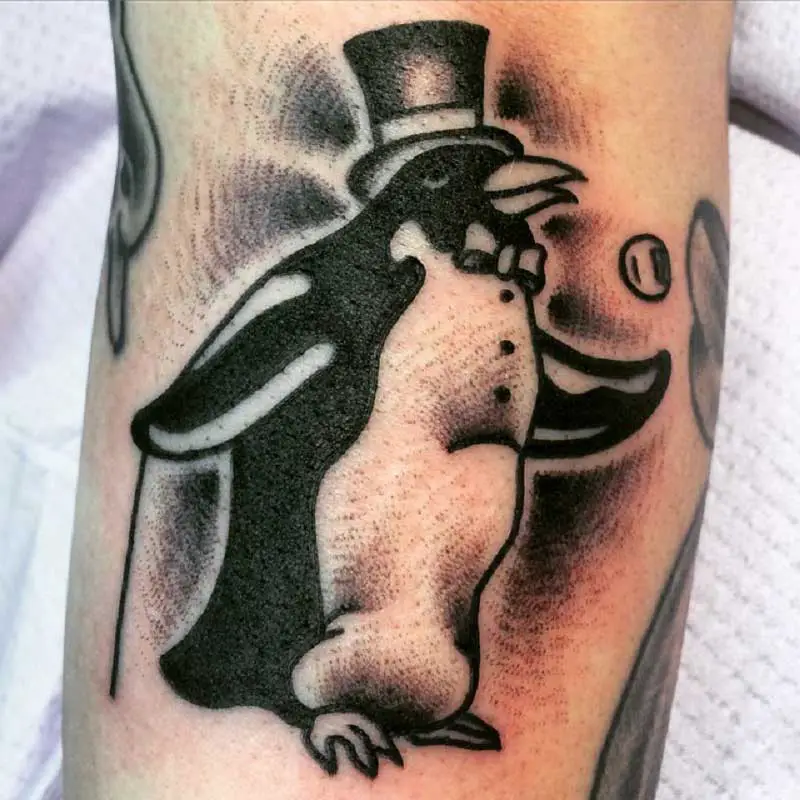 51.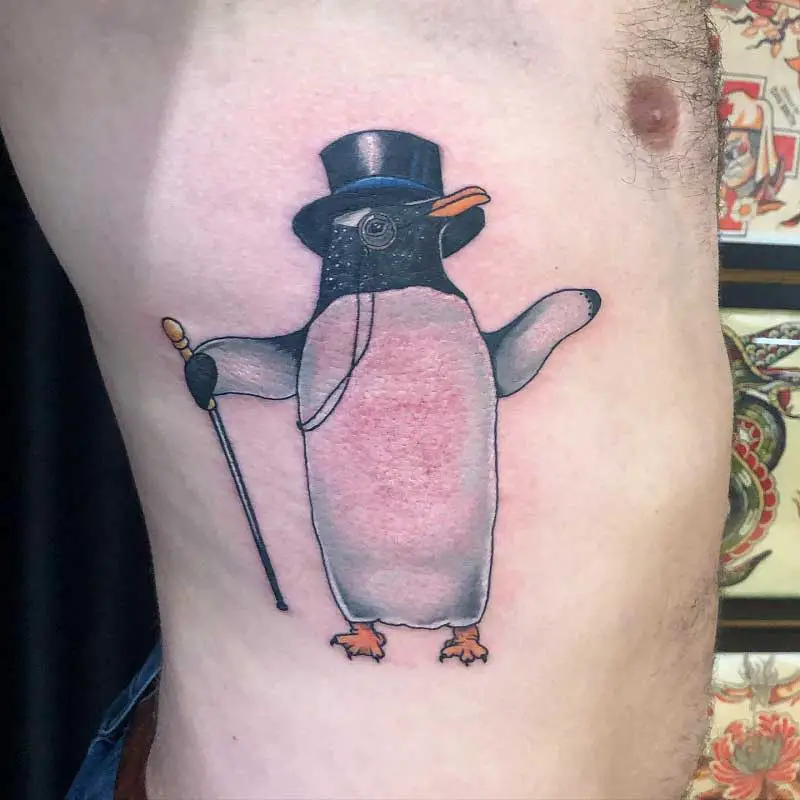 Happy Feet Penguin Tattoo
52.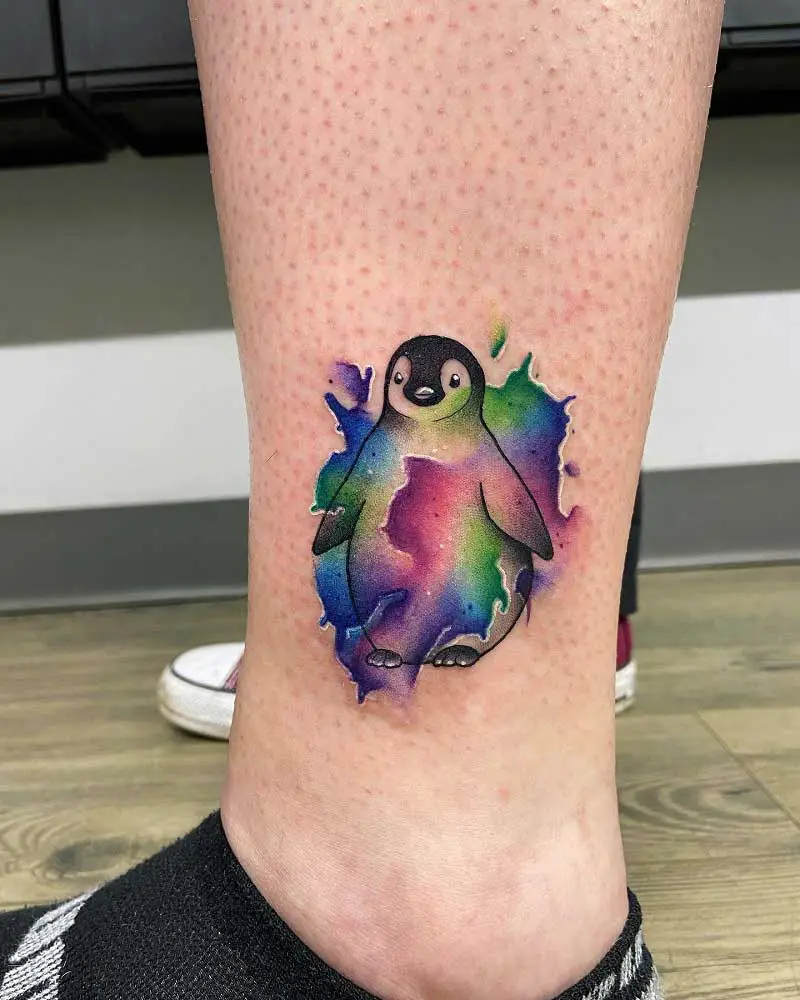 53.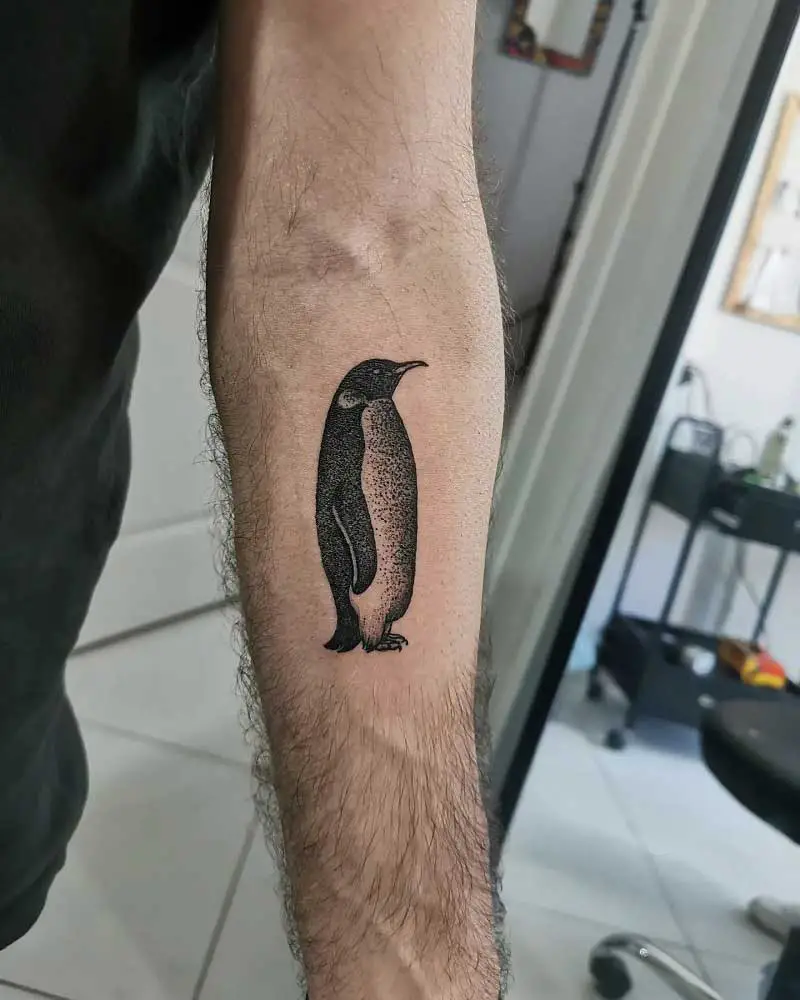 54.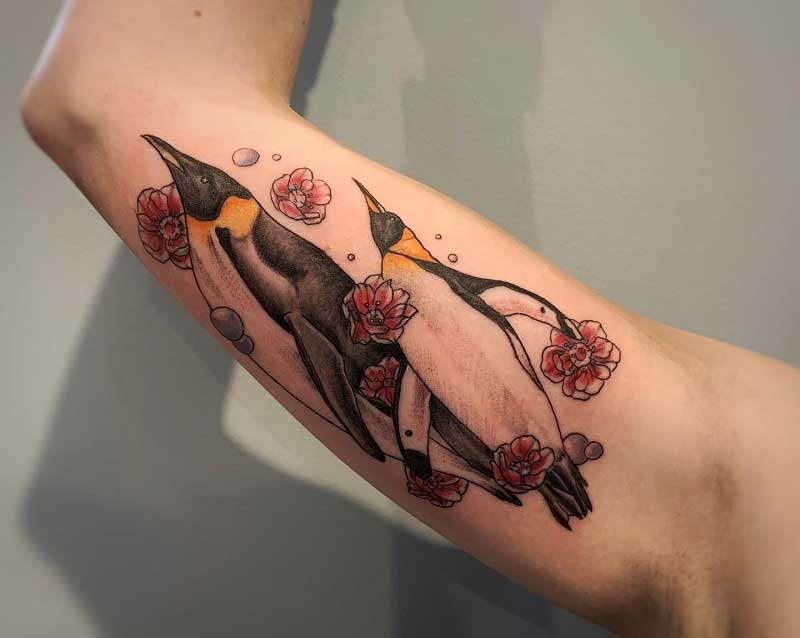 Love Penguin Tattoo
55.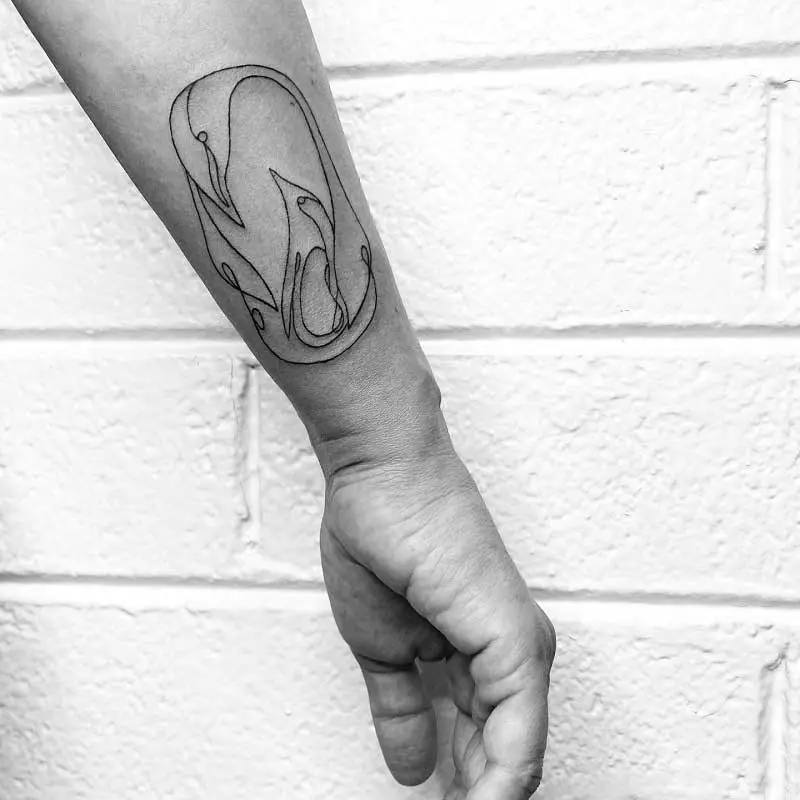 56.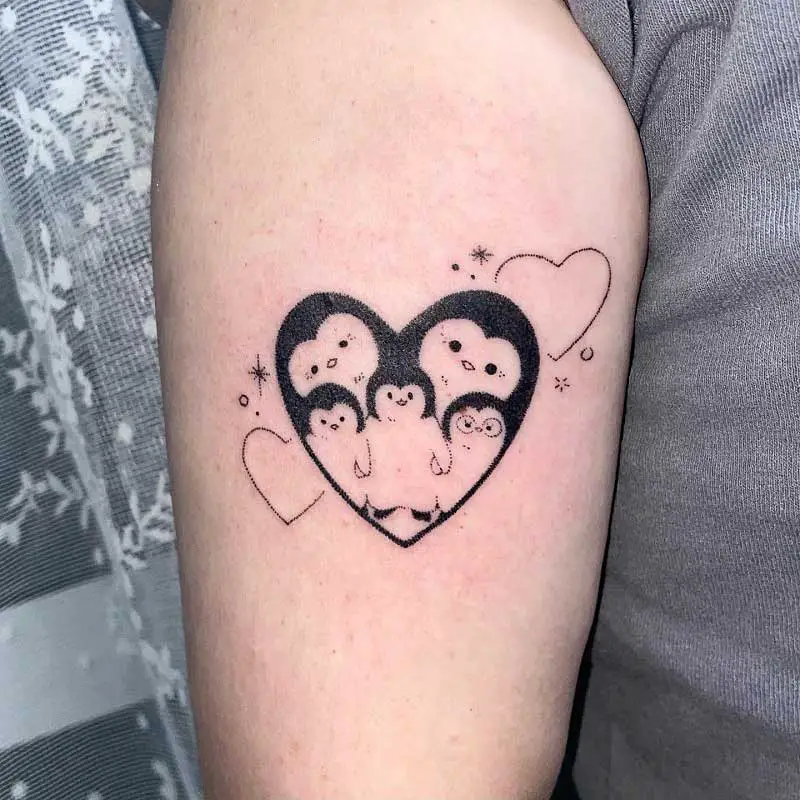 57.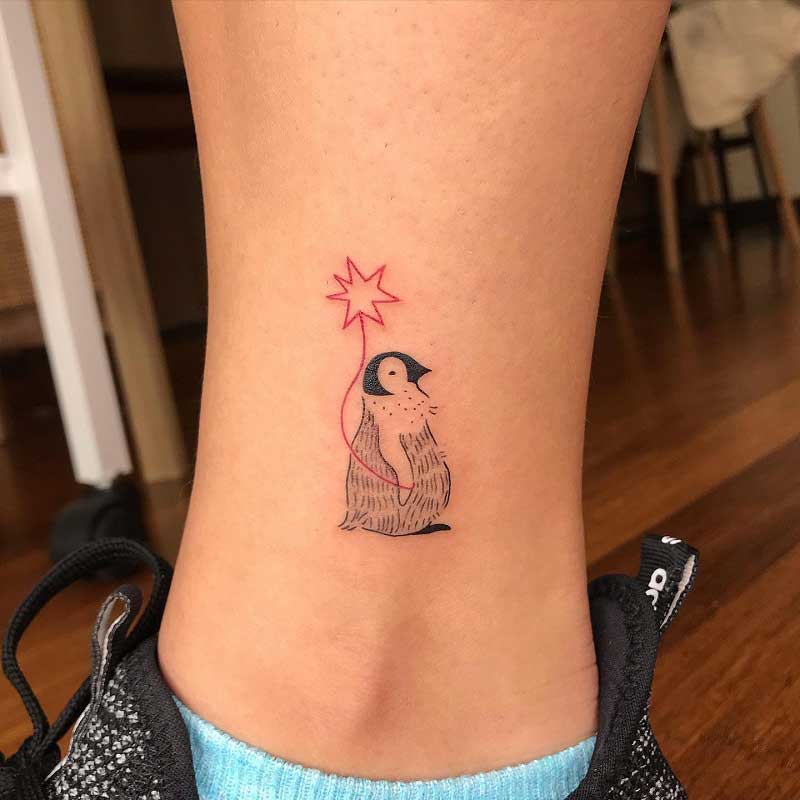 Mother Daughter Penguin Tattoo
58.
59.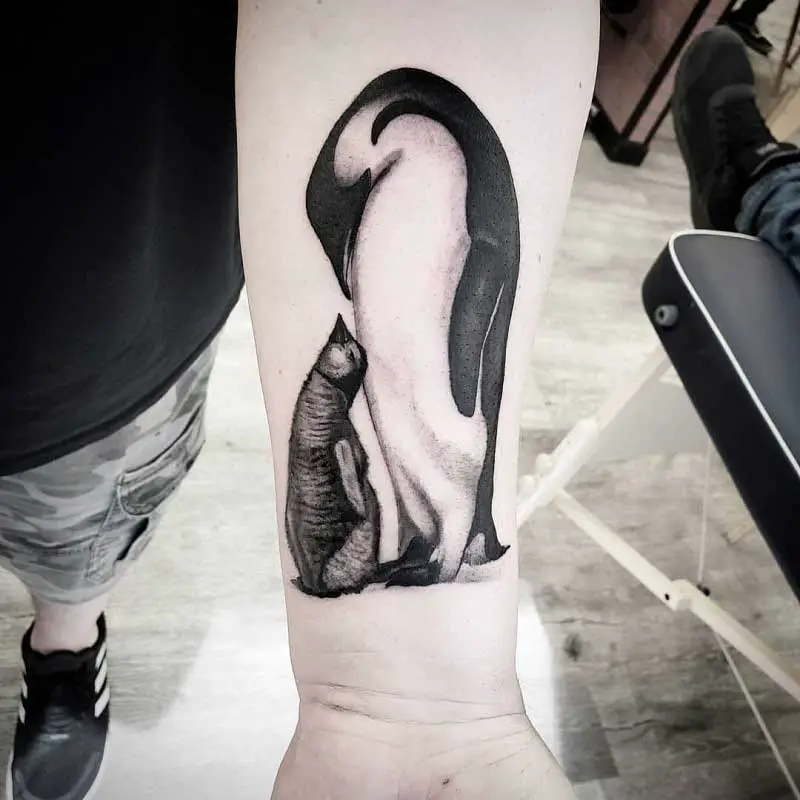 60.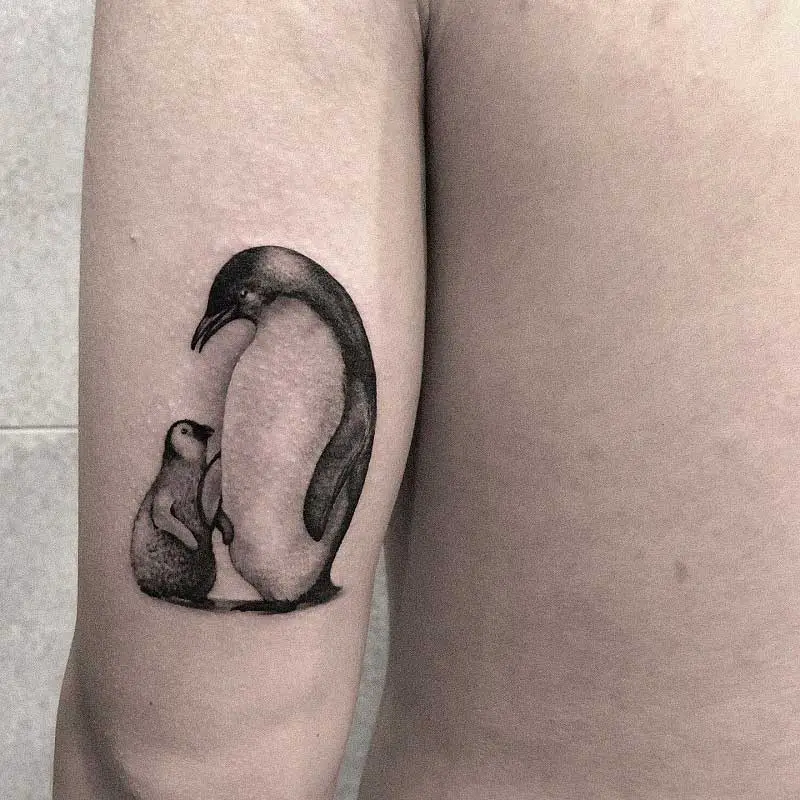 Penguin Wrist Tattoo
61.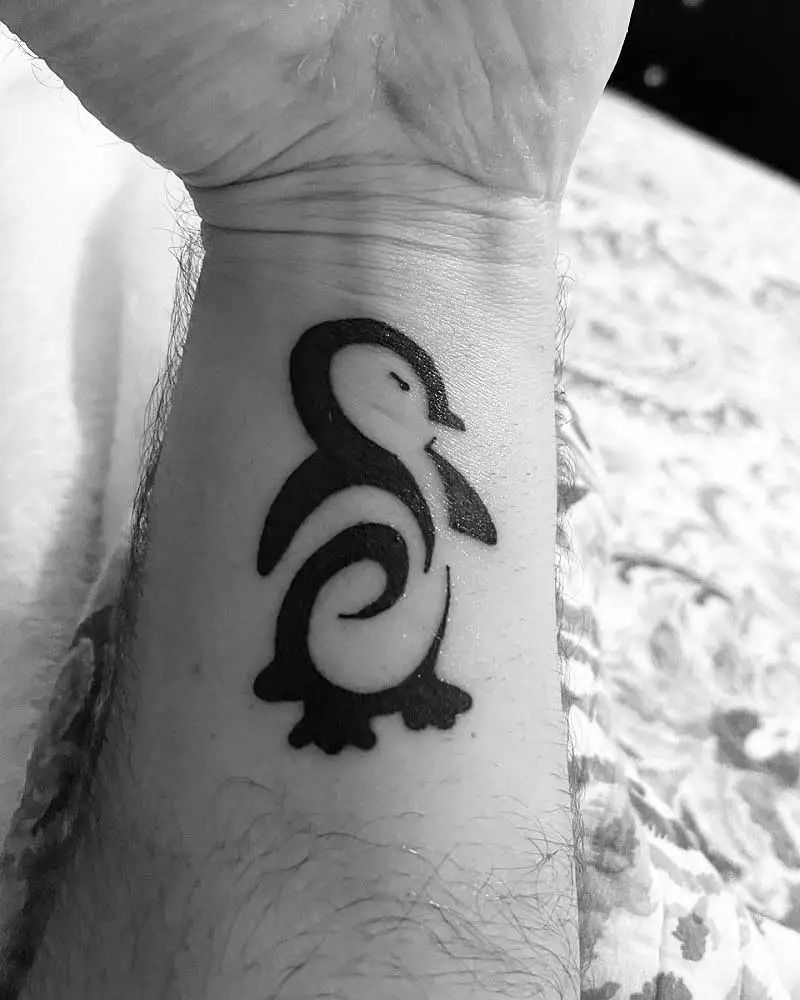 62.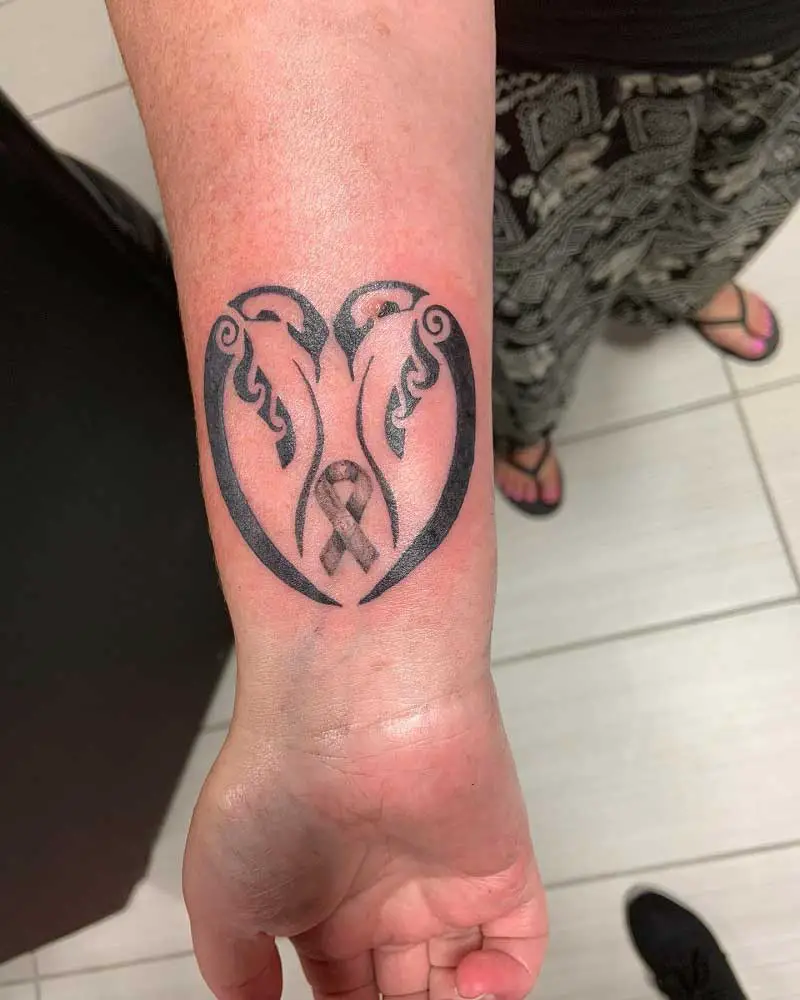 63.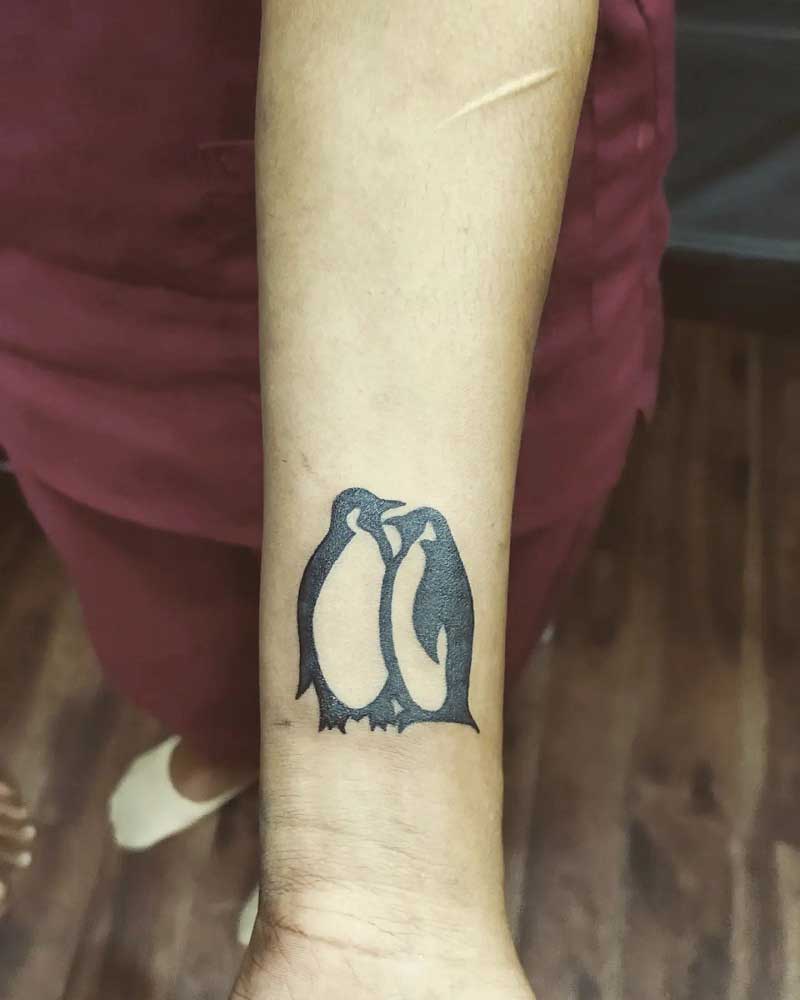 Rockhopper Penguin Tattoo
64.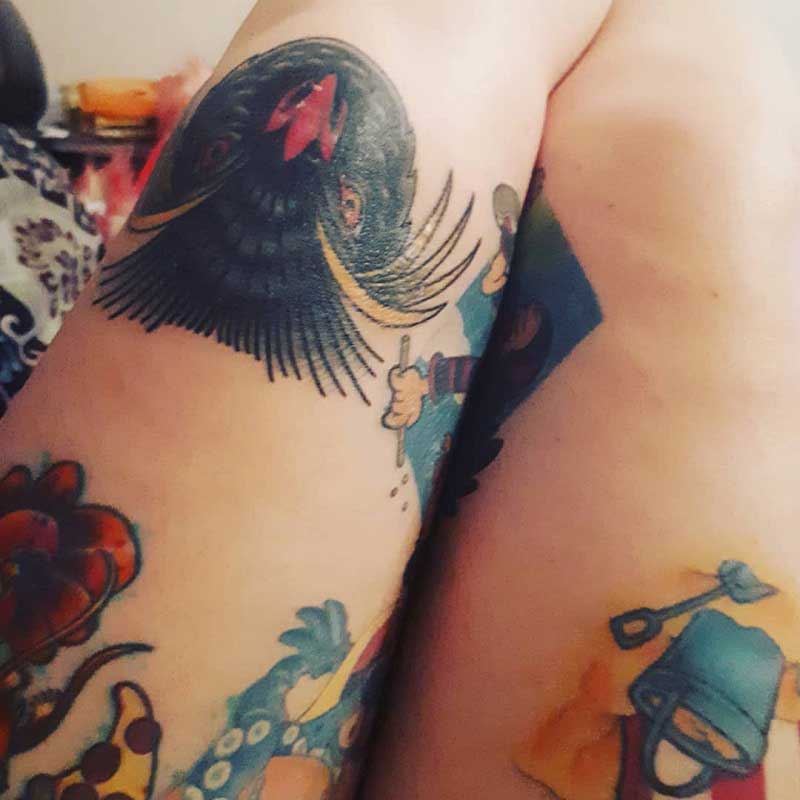 65.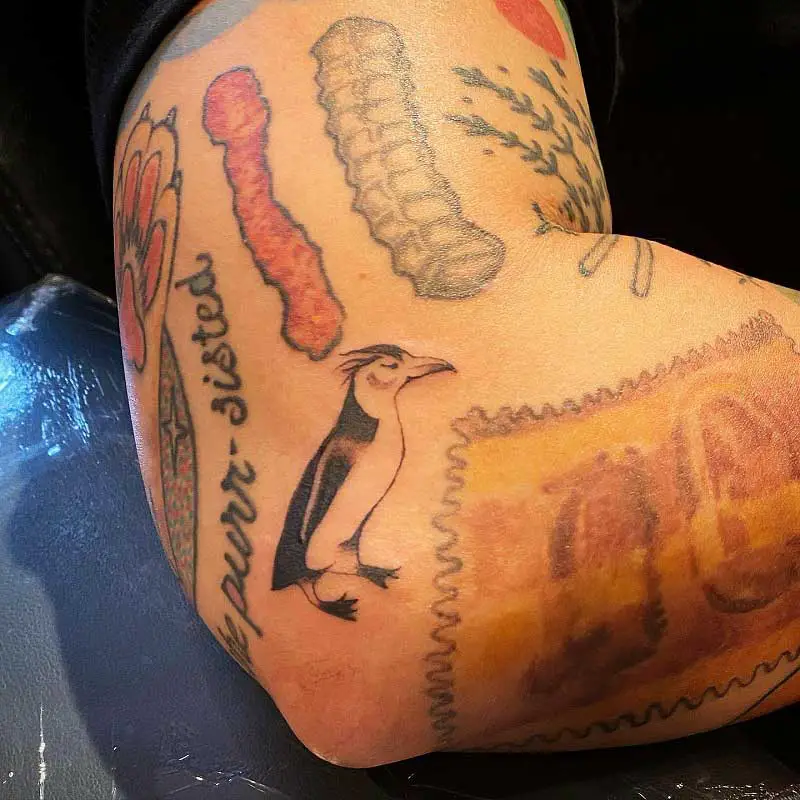 66.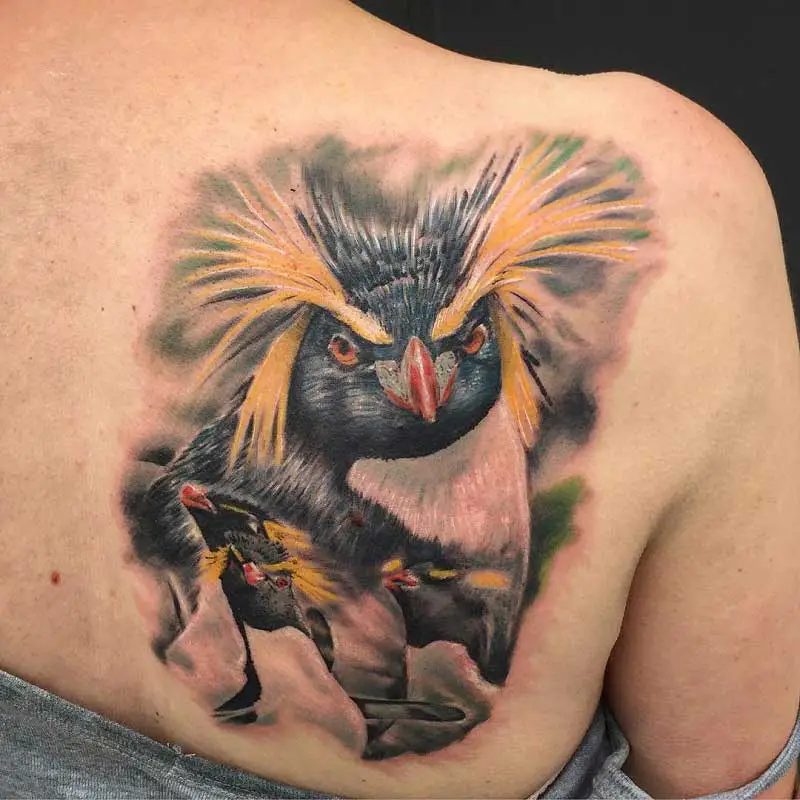 Swimming Penguin Tattoo
67.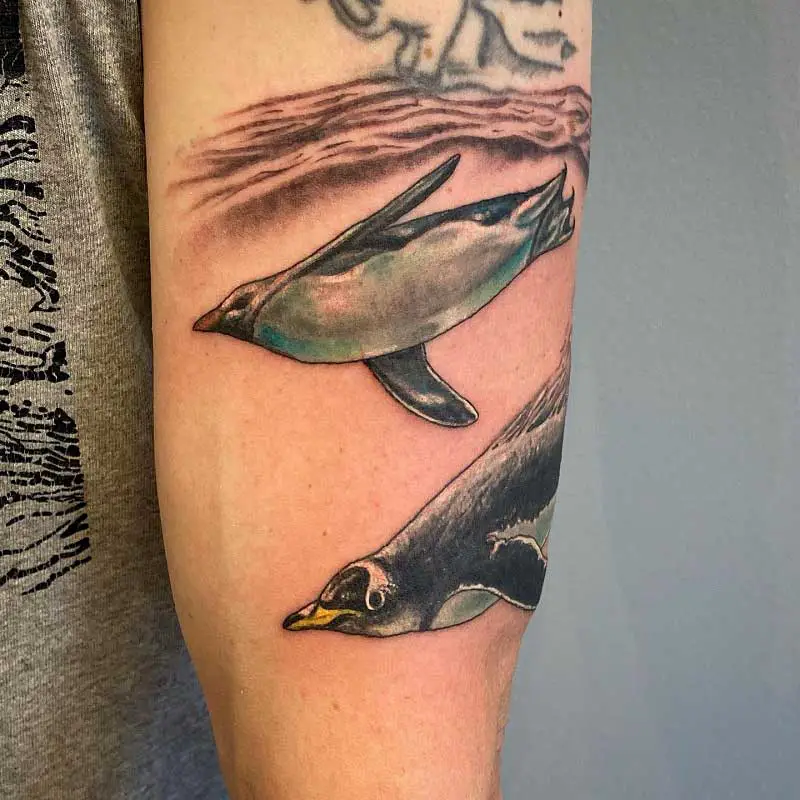 68.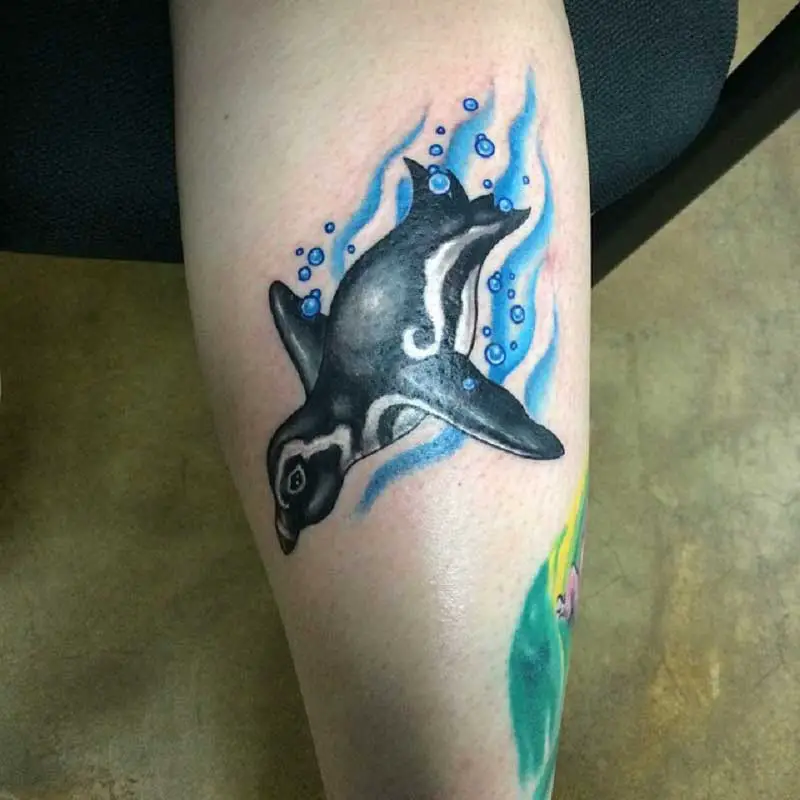 69.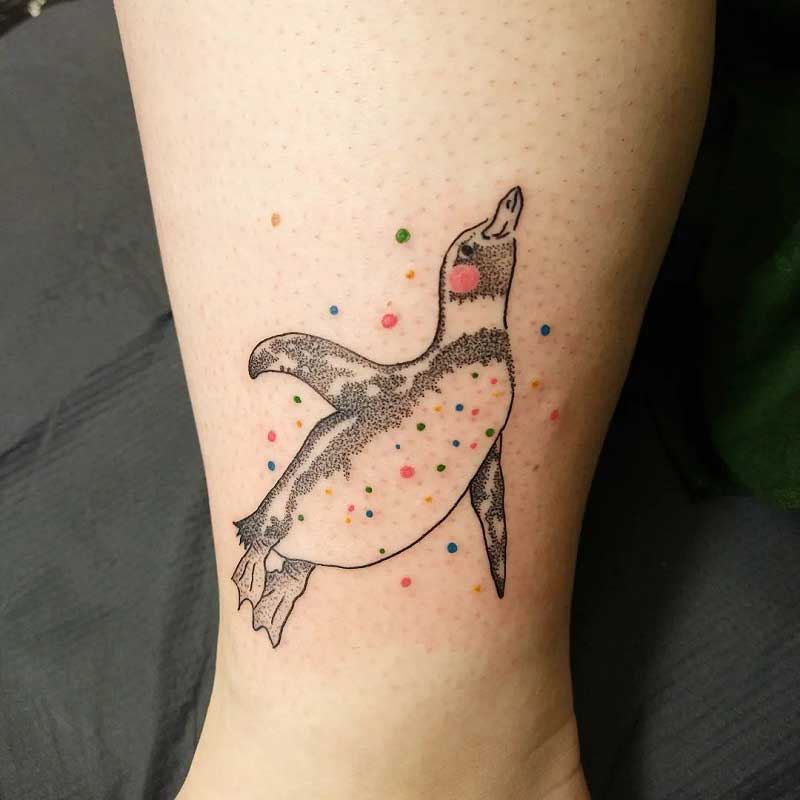 Baby Penguin Tattoo
70.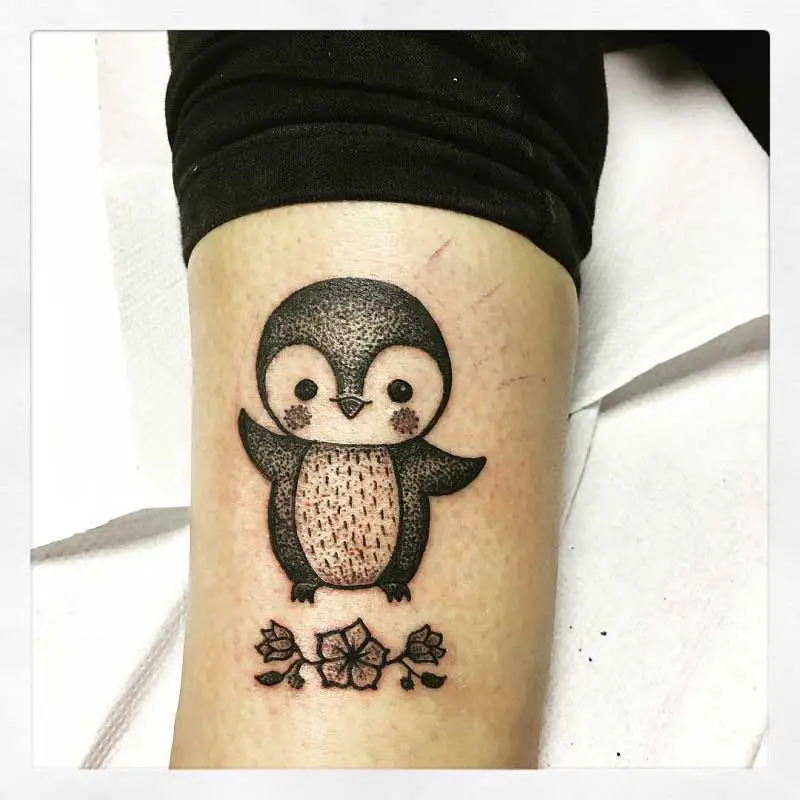 71.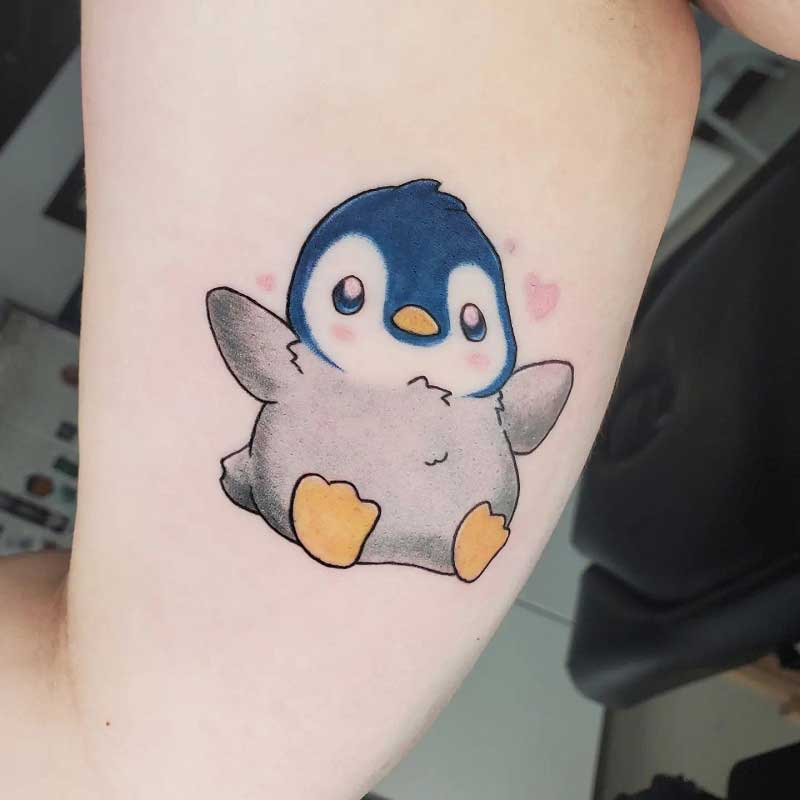 72.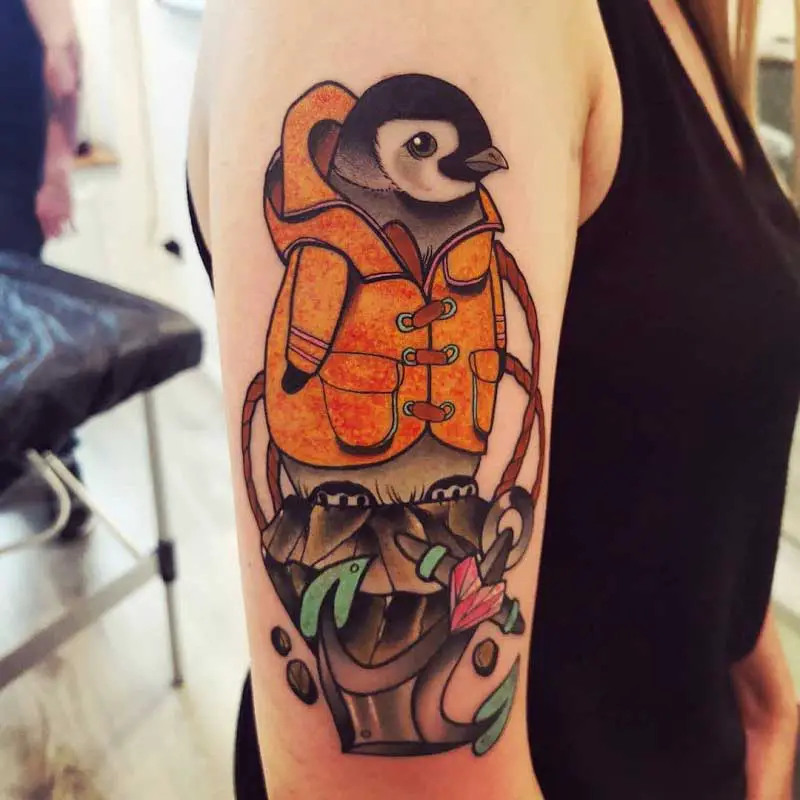 Two Penguins Tattoo
73.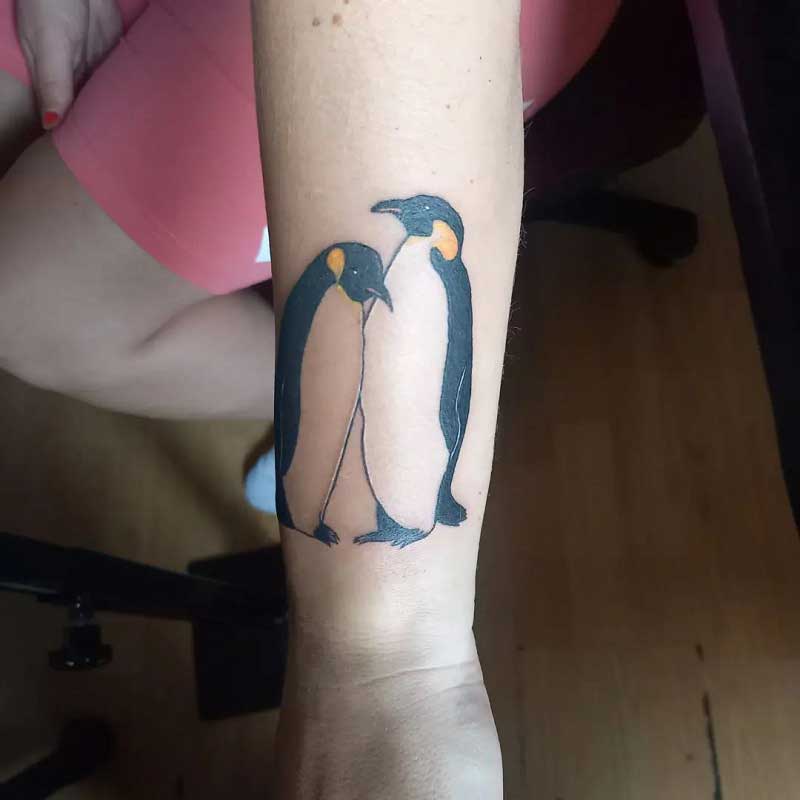 74.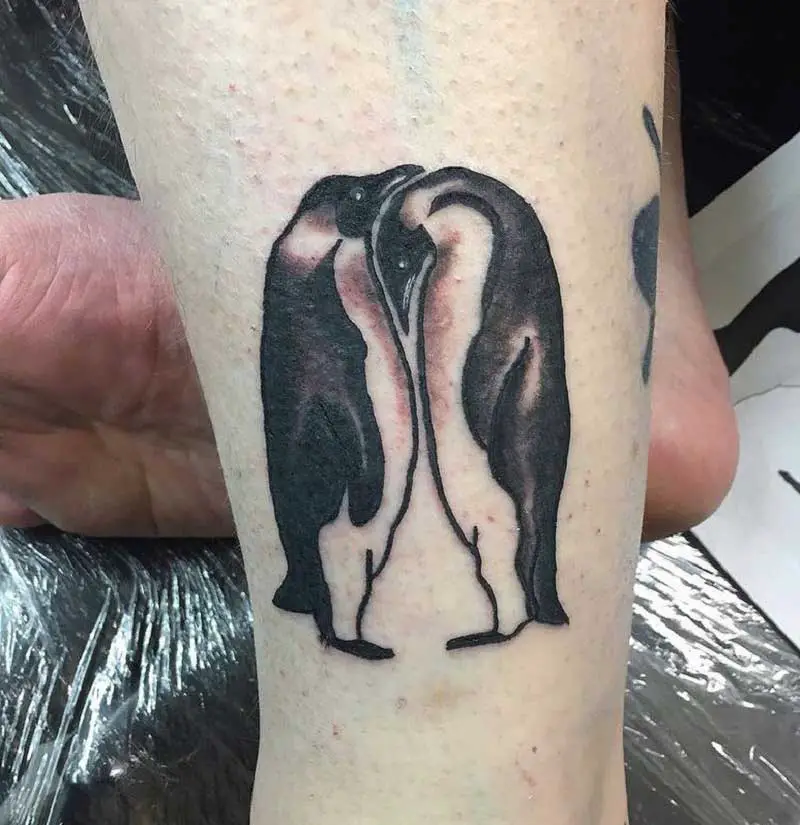 75.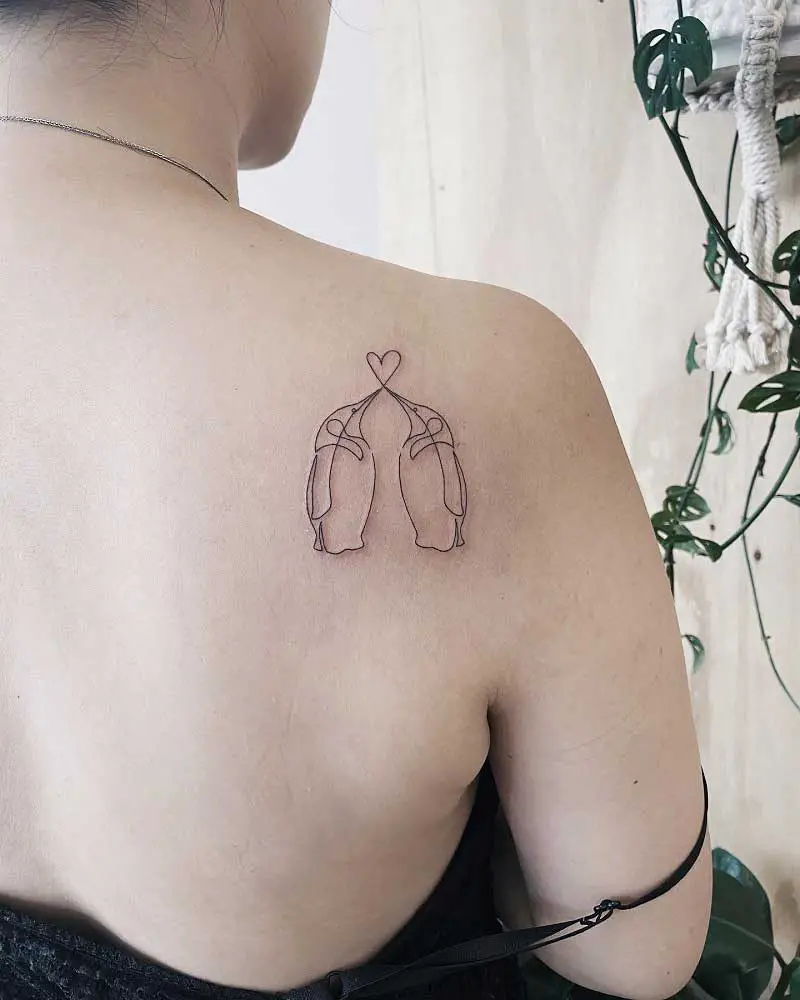 Adelie Penguin Tattoo
76.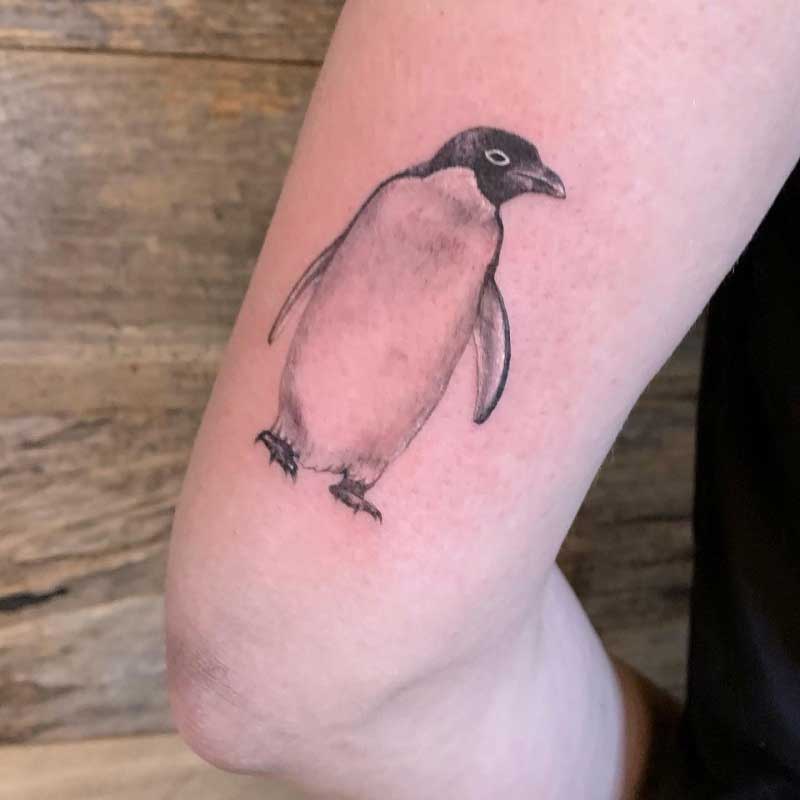 77.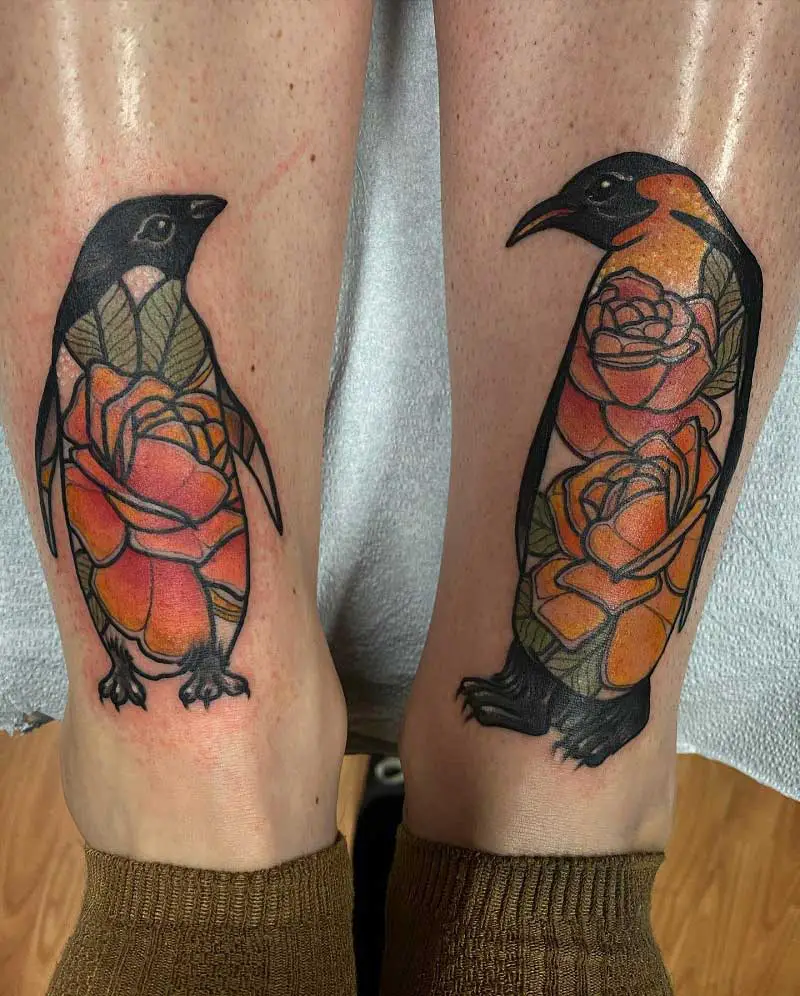 78.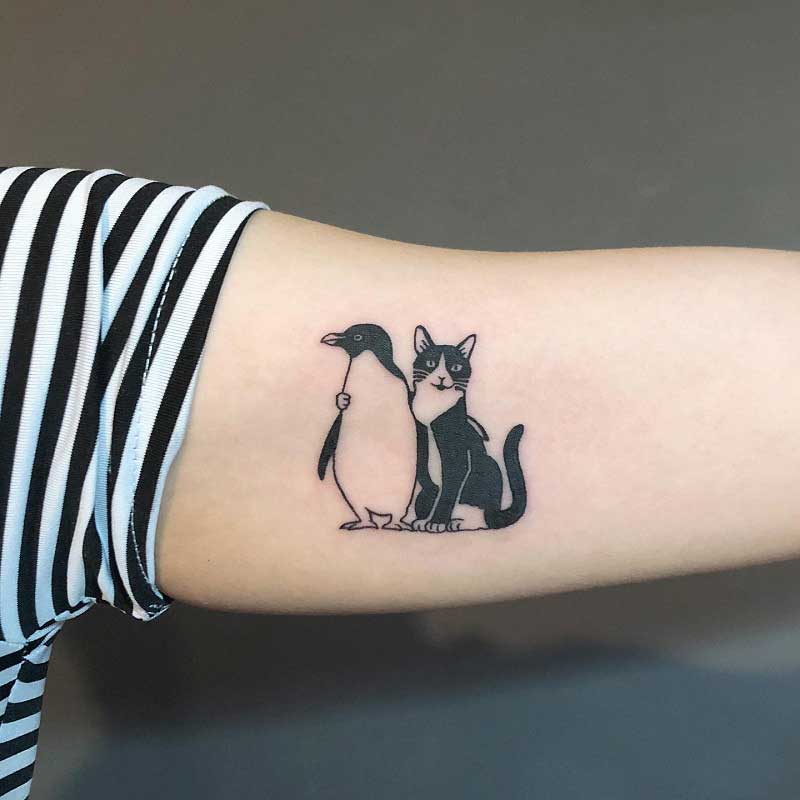 African Penguin Tattoo
79.
80.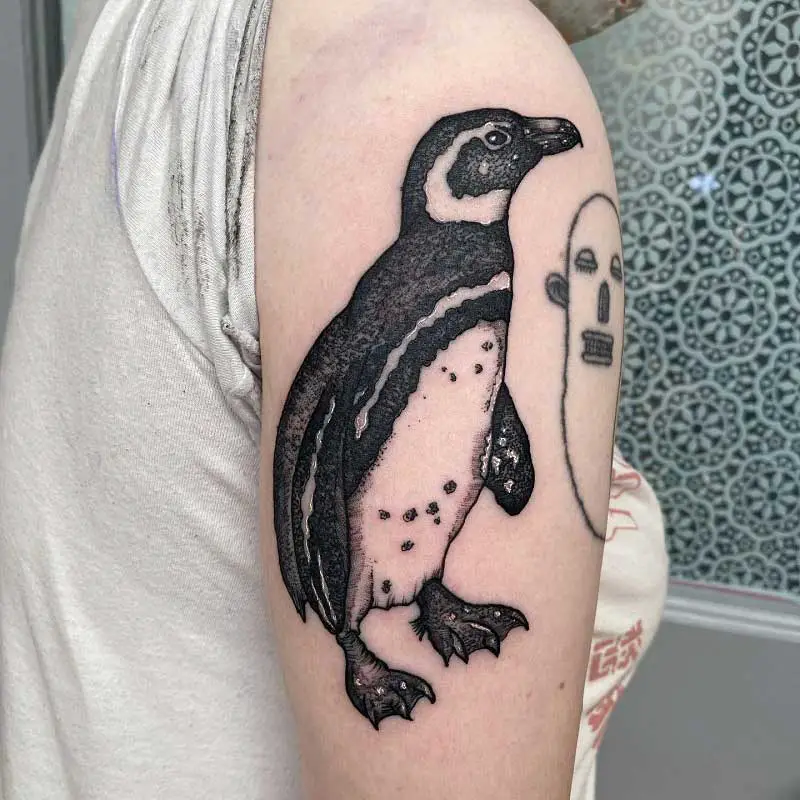 81.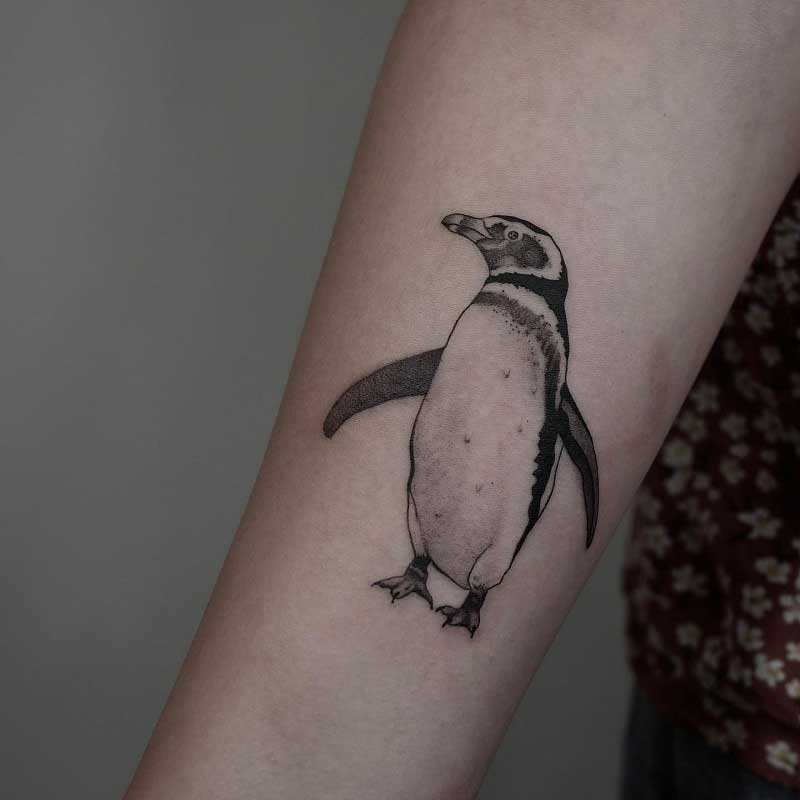 Animal Tattoo Penguin
82.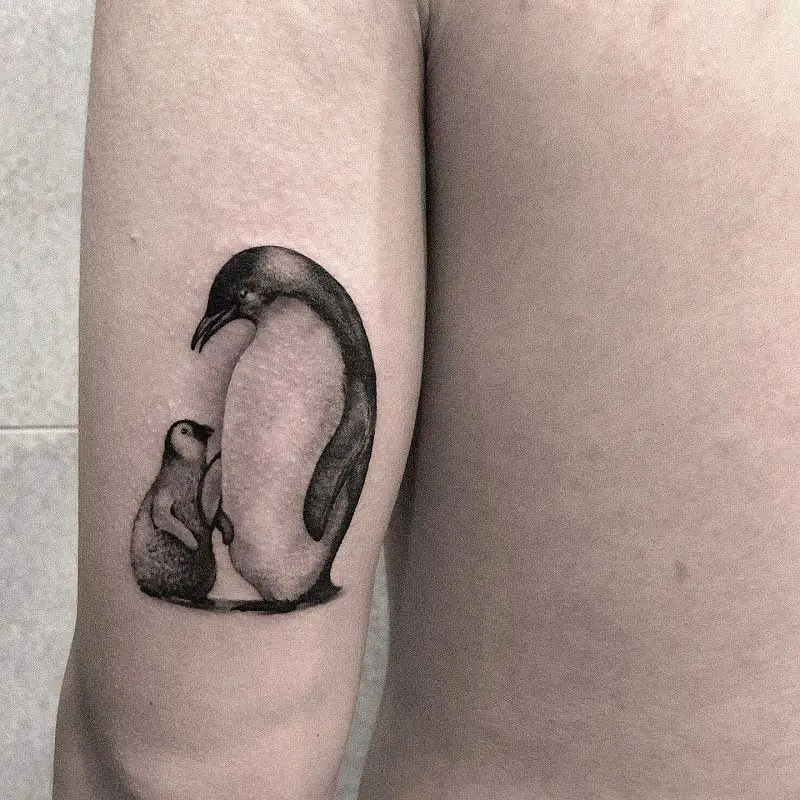 83.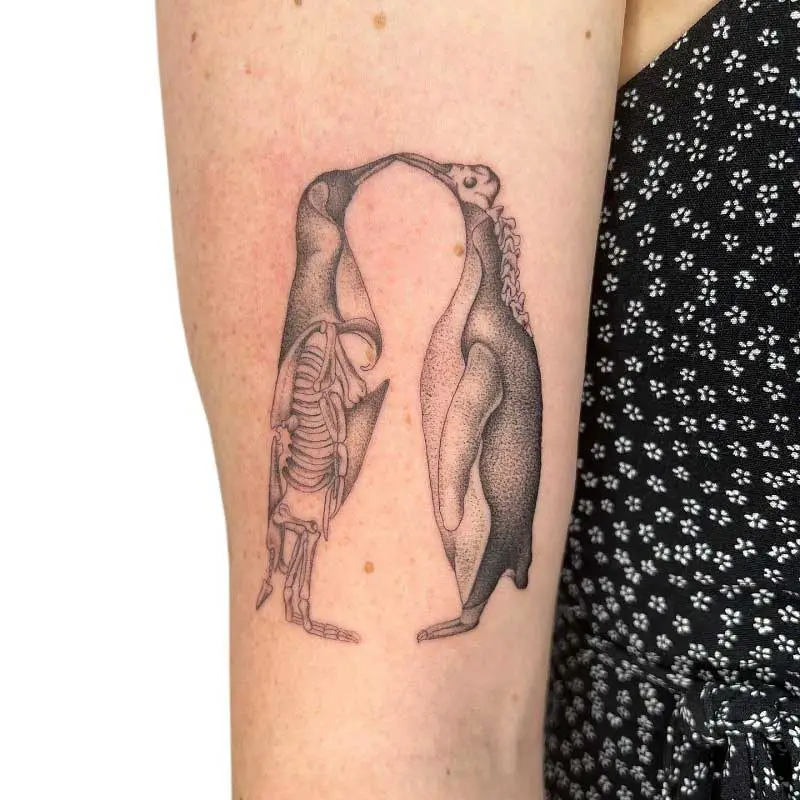 84.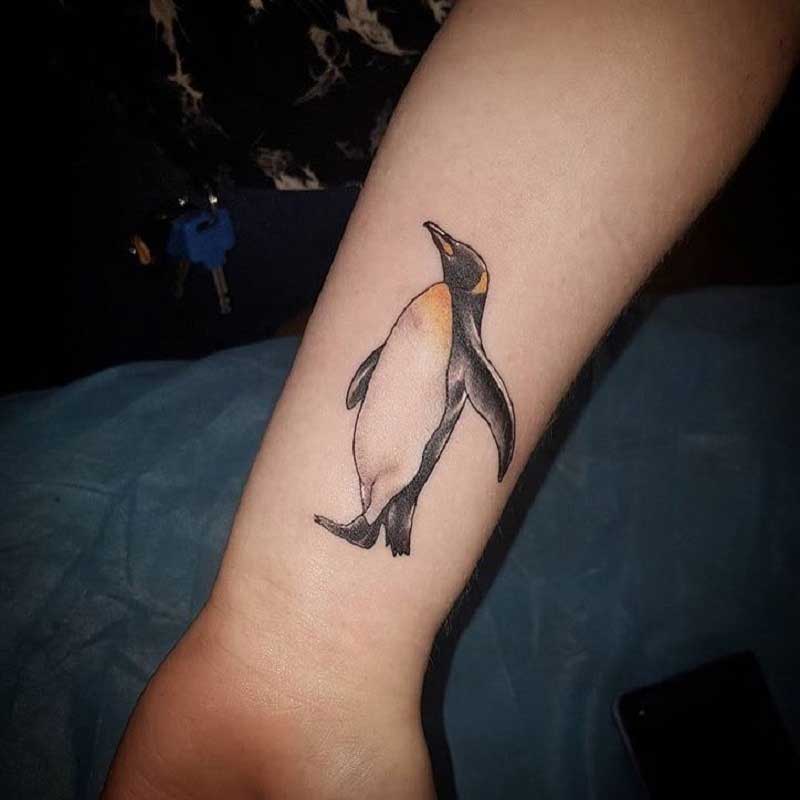 Penguin Batman Tattoo
85.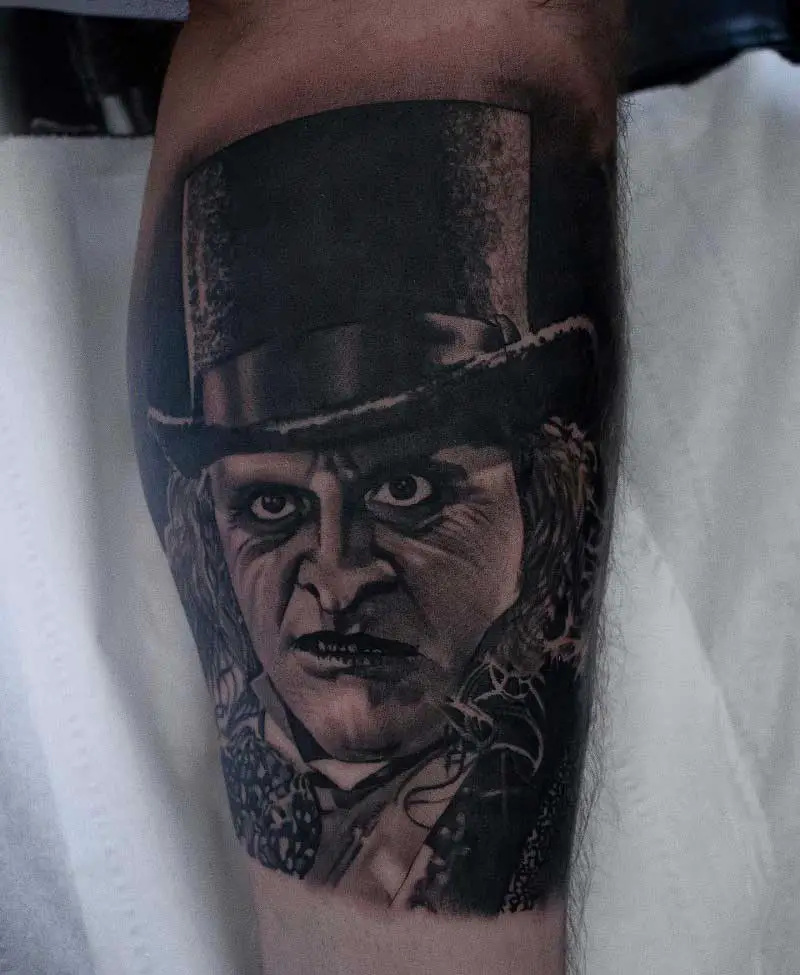 86.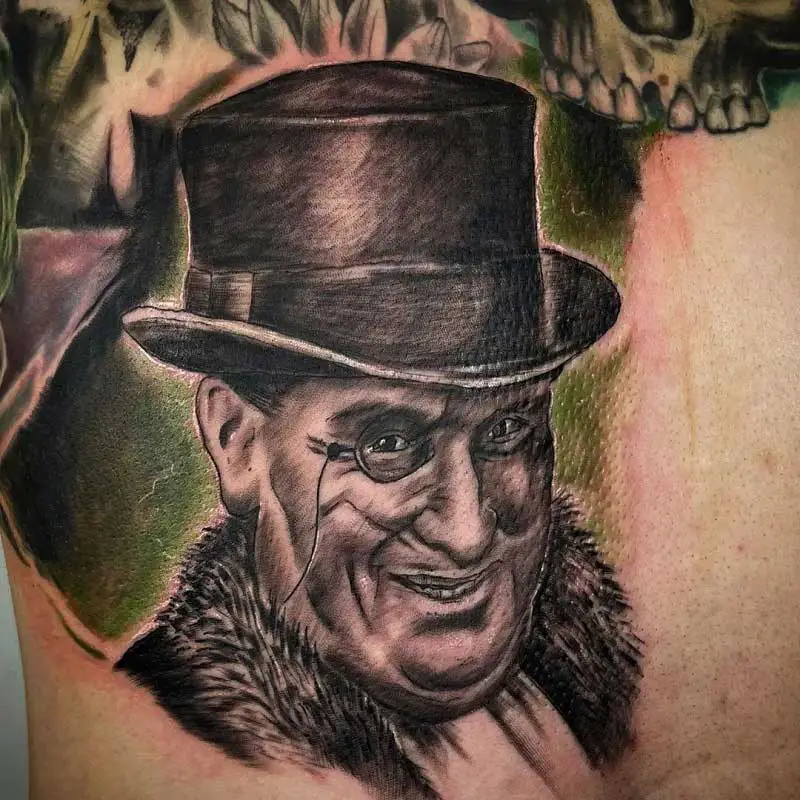 87.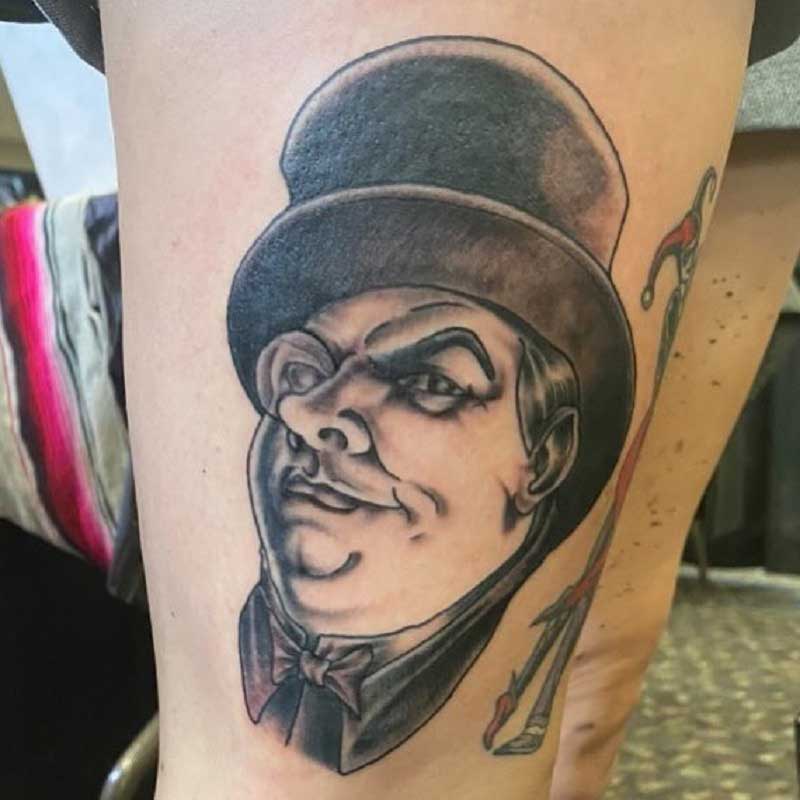 Penguin Books Tattoo
88.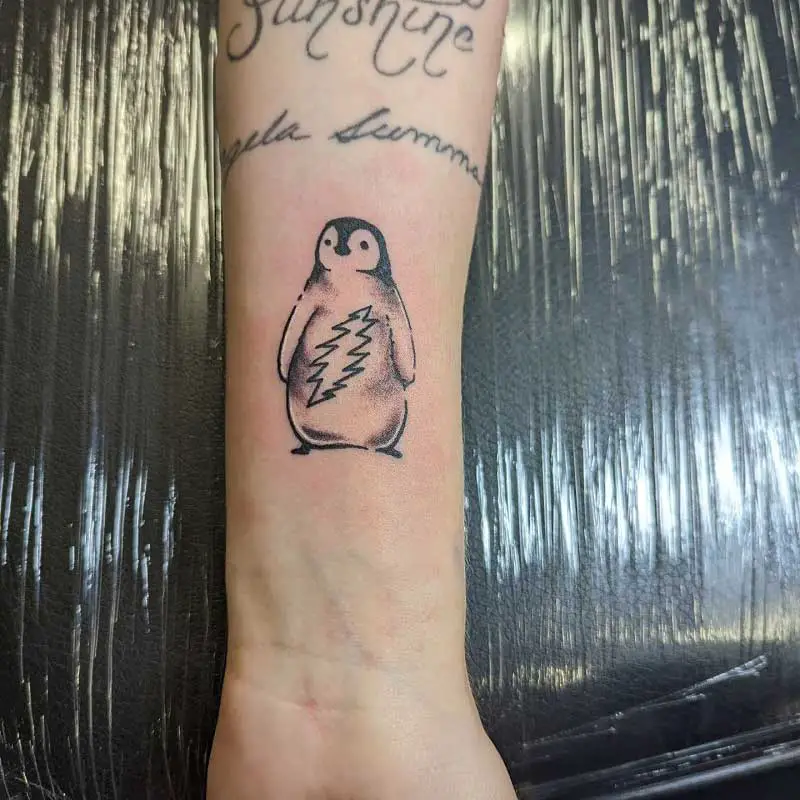 89.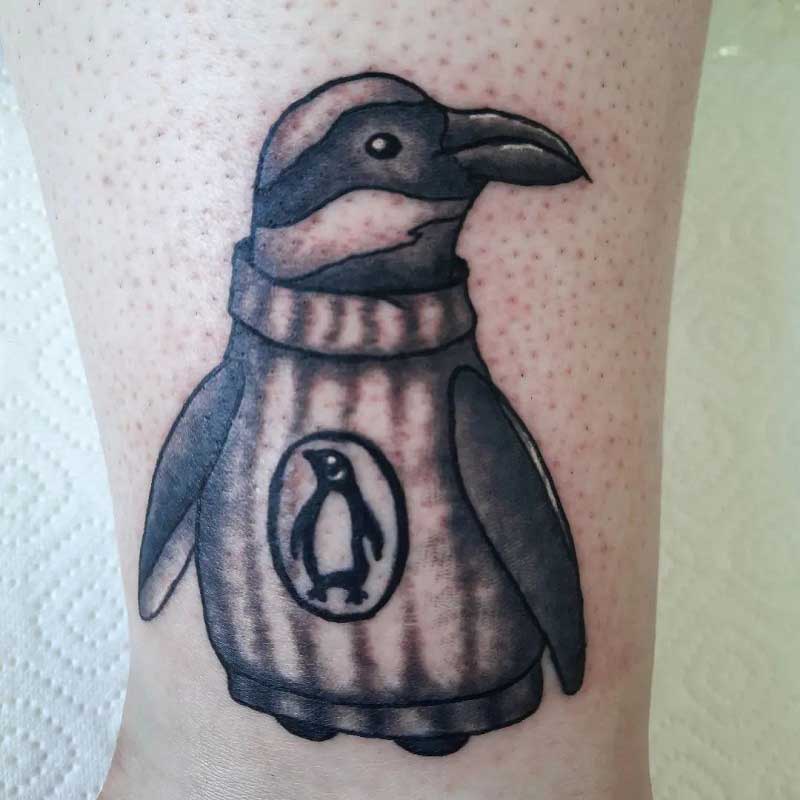 90.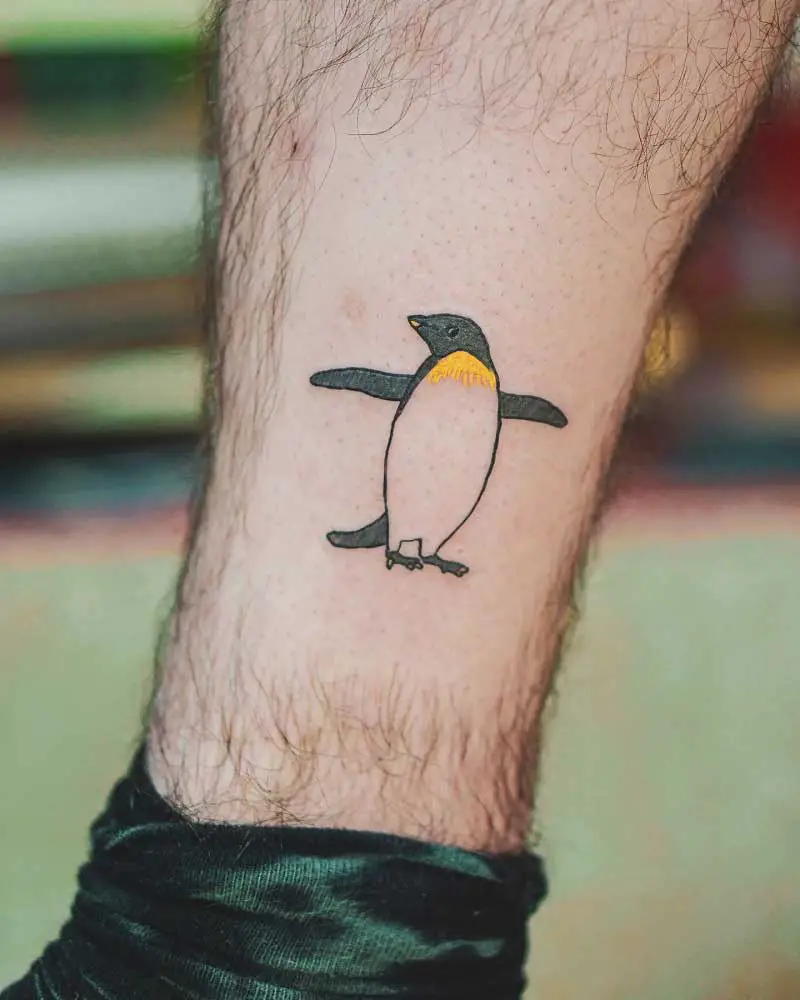 Conclusion 
Penguin tattoos have our hearts, and there is no doubt about that. The intricate designs, artistic approach, cute presentation, and meaningful insight is worth the pain. There is no wrong or right when it comes to getting penguins inked on the skin. Now at the end of the guide, we hope that you have obtained the inspiration you have been searching for all along.
The meaning behind each and every design is special, and a lot of them take us back to memories and the hurdles we overcame over the years. Express your feelings with a penguin tattoo and let loose of the inner child in yourself.
Frequently Asked Questions
What Do Penguin Tattoos Mean And Symbolize?
Penguin tattoos are a representation of good luck, love, care, balance, and stability in life. It is also a sign of prosperity, affection, dreams, and memories.
Where To Get A Penguin Tattoo?
You can get a penguin inked anywhere on your skin. Typically, the wrist, ankle, or leg are the most popular choice for getting a penguin design tattoo.
How Much Do Penguin Tattoos Cost?
The cost of your tattoo is dependent on the size and design. A small penguin design typically costs about $50, and the price can go way up to $500, based on the art and artist.
Which Celebrities Have A Penguin Tattoo?
Celebrities like Ed Sheeran and Bethany Cosentino have penguins tattooed on their body. Popular YouTuber Nikkie de Jager from Nikkie Tutorials also sports a cute penguin on her arm.