Patriotic tattoos were first designed to inspire fellow men to join them in combat to defend their country. Nowadays they are used to show devotion and love for the brave spirits that fought for the country.
These tattoos are a way of showing love and willingness to sacrifice for their nations. They are some of the most respected and noble tattoo pieces available.
Some of the common places to get these tattoos to include arms, chest, forearm, and sometimes even legs. But mostly the upper part of the body is used to get these designs.
They can be based on recent events or historical events. Colorful options are more suitable for clear visibility. Also, symbols, signs, animals, and objects are also used to signify these tattoo's meanings.
In this article, we'll explore some of the best designs that'll give you new inspiration. So, buckle up & let's get started.
Awesome Patriotic Tattoos Ideas and Designs
There are new designs coming up every day. Here are some of the best patriotic tattoo designs from the most popular and trendy styles. There are options for everyone regardless of their gender, skin tone, or religious beliefs.
Patriotic Sleeve Tattoo
Patriotic tattoos that are drawn all over the arms as sleeves symbolize devotion, dedication & one's will to fight and protect one's homeland. They are a sign of true love for one's country and pride.
1. Dead Statue Of Liberty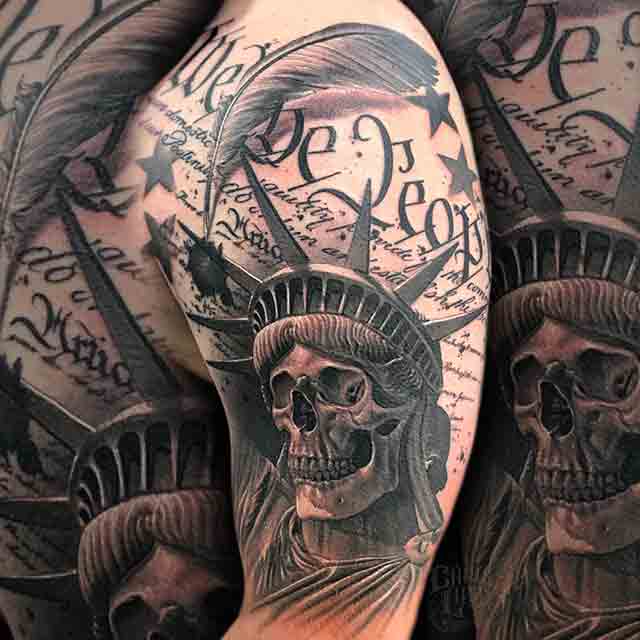 The statue of liberty is a symbol of freedom and enlightenment. However, this one is drawn with a skull on the side of his arms. It highlights the suffering and hardships of the captives.
2. Angel Eagle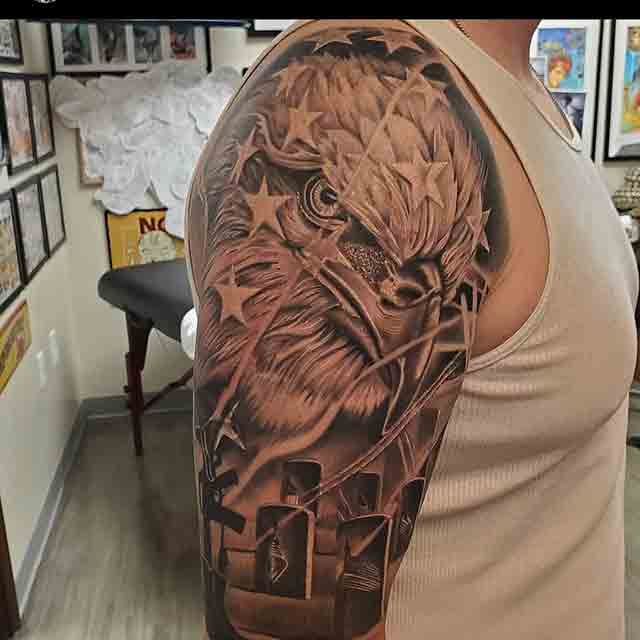 Some graves are shielded by an eagle with lots of stars. The graves are of brave soldiers who died while fighting for their country. There's nothing more patriotic and heroic than devoting life to a great cause. An amazing man's sleeve tattoo.
3. Fellow Travelers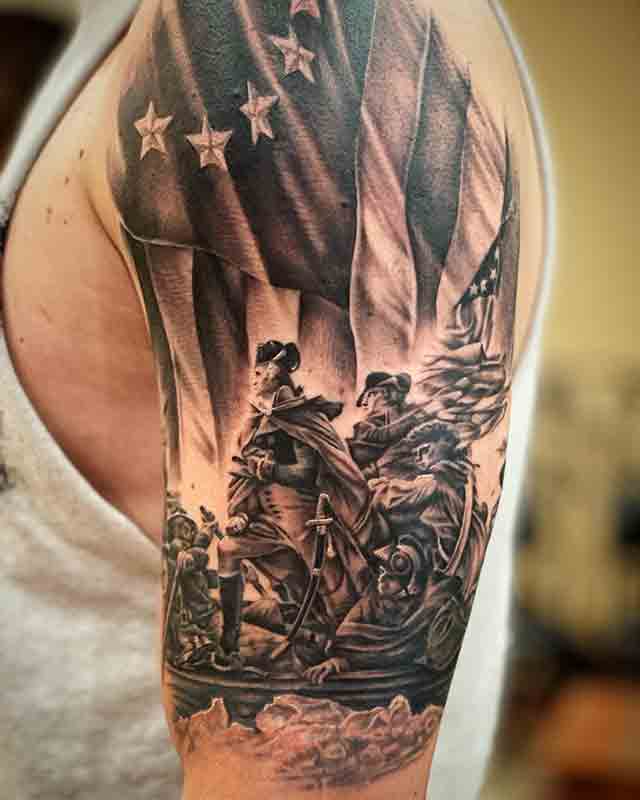 Some brave and courageous soldiers are sailing through the mad sea in search of land. It represents the discovery of the great country we now call the USA. This patriotic sleeve tattoo will be suited for men with wider arms.
Patriotic Forearm Tattoos
Forearms are another most popular place to get patriotic tattoos. They are easily visible and make your forearms more attractive. Typically they cover the entire width of the forearm.
4. Ukrainian Balance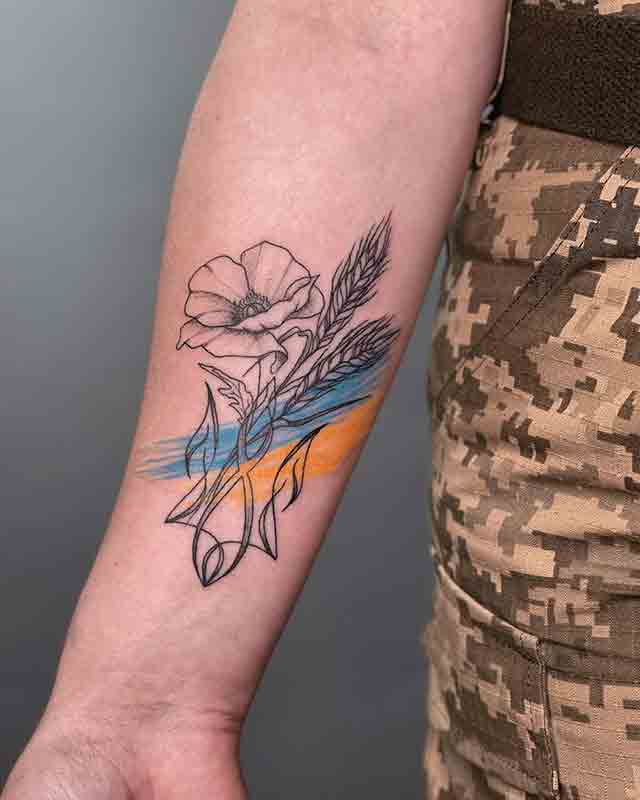 The blue and yellow stripe on the background of this tattoo symbolizes the flag of Ukraine. There is also a burning scale that transitions to a flower. The flames are the bravery of the Ukrainian's & the flower is the soft nature of their heart.
5. Eagle Forearm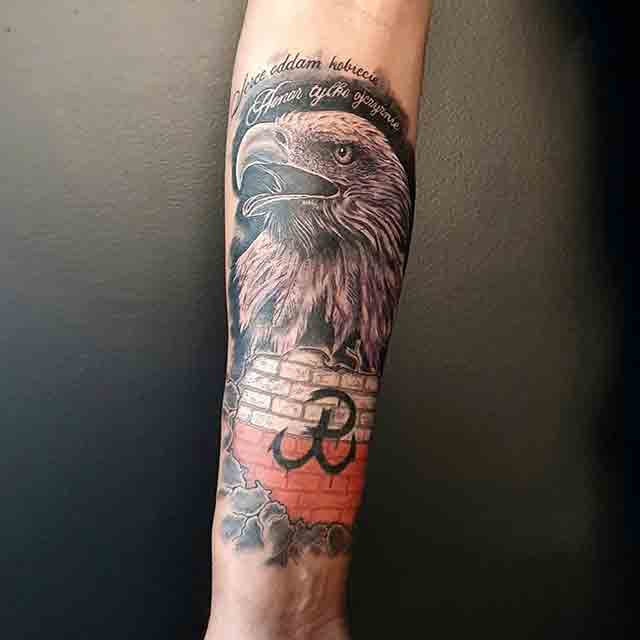 An eagle is at the center of this piece. There is a brick wall in the heart of this mighty bird. It indicates how it'll stand strong against injustice and defend its boundaries. A true patriotic gentleman's forearm tattoo.
6. Future Shadow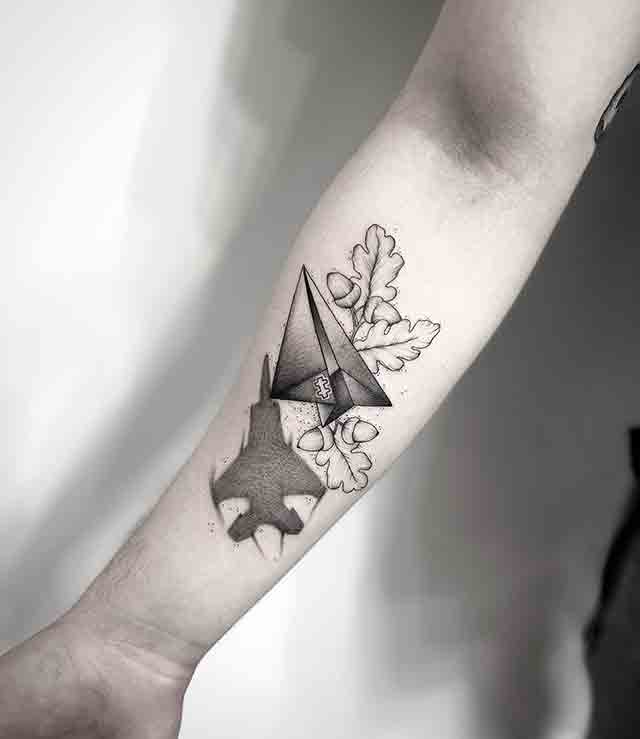 Although there is a paper plane on his forearm the shadow it is portraying is of a fighter jet. This indicates the hidden potential of an ordinary man who can be extraordinary and courageous to fight for justice.
American Patriotic Tattoos
American patriotic tattoos revolve around the USA & their heroic displays of power and justice. These tattoos typically contain some resemblance to the American flag or its symbols.
7. Dogtags On Flag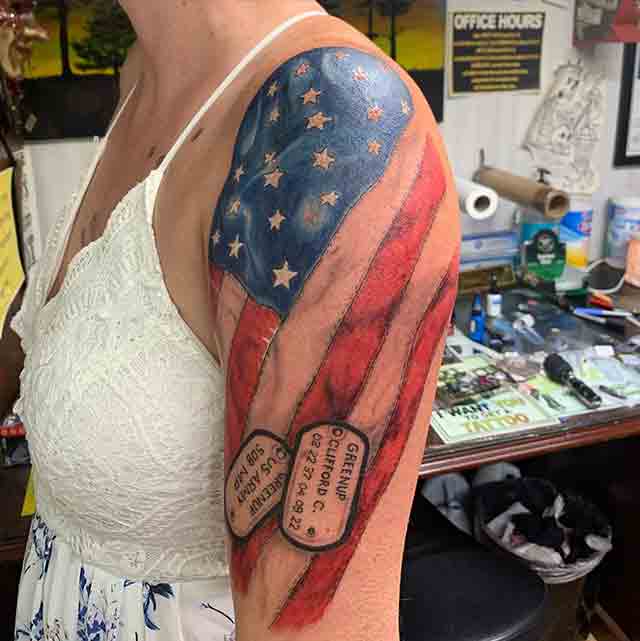 There are two dog tags scattered on the great American flag. Most likely they belonged to soldiers who died in the war. This woman has their tags tattooed on her left arm to show respect and love for their souls.
8. Eagle Attack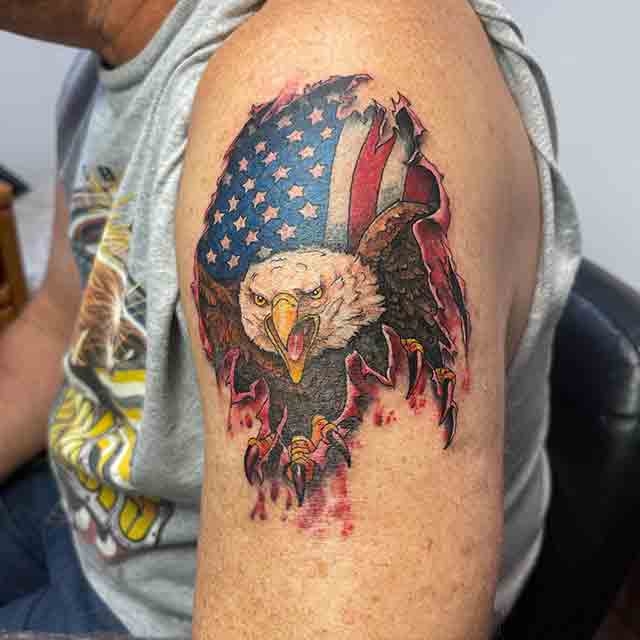 Sometimes the only way to defend liberty and freedom is to attack with all forces. This Eagle represents that exact philosophy. An amazing patriotic tattoo that screams aggression.
9. Waving Flag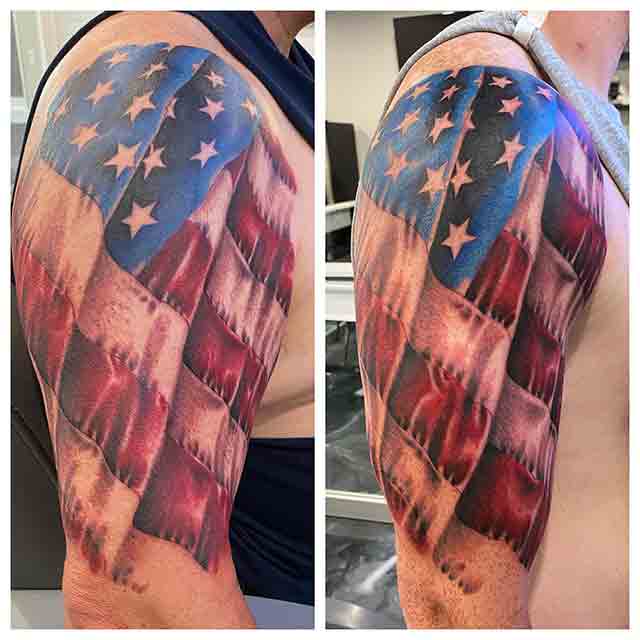 The light breeze is making the flag of one of the greatest nations slowly move in a rhythm. The shine on the flag is making it glaze with its glory. This covers the entire upper arm of this patriotic man.
Small Patriotic Tattoos
If you have a thin arm or want to get a tattoo that looks gorgeous & also highlights patriotism then these tattoos are best suited for you. They don't take a lot of time & are relatively less painful to get.
10. Diving Bird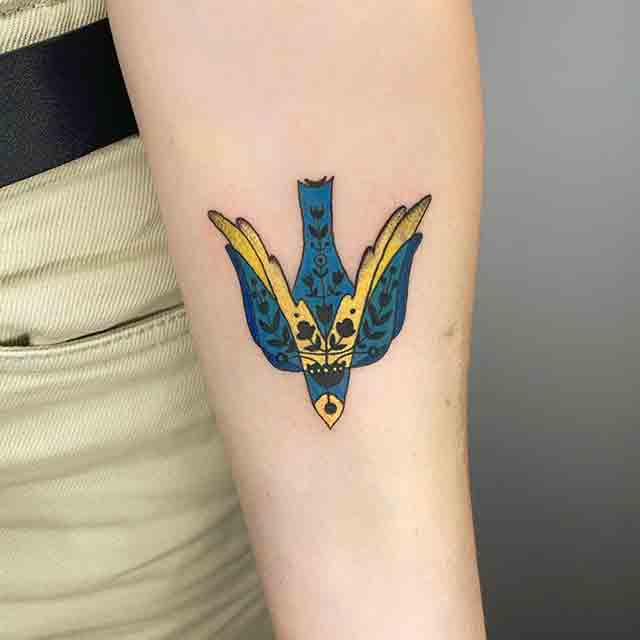 Birds are some of the best symbols of a fighting spirit. This bird drawn in blue and yellow color represents the fighting spirits of the people of Ukraine. How they are not afraid to dive down when necessary is also visible in this small patriotic tattoo on her forearm.
11. Ukrain Heart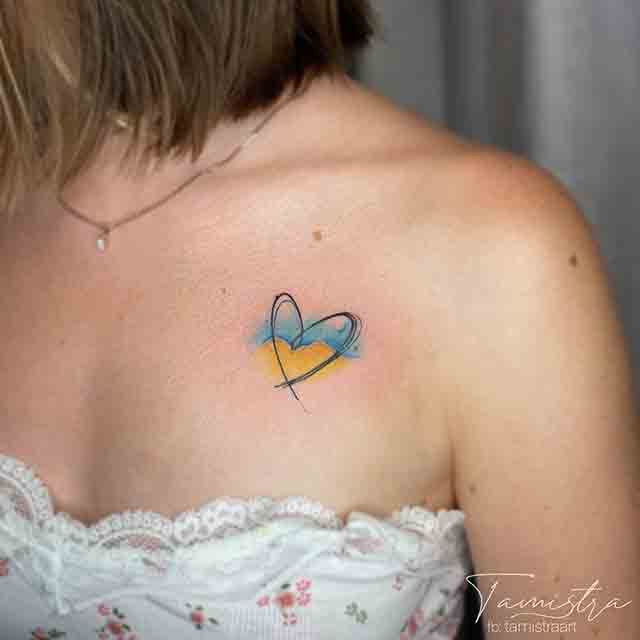 A gorgeous young lady has a tattoo right over her heart that looks like a flag of Ukraine. It tells us that the love for her country is in her soul. One of the best patriotic tattoos for young ladies.
12. Sparrow On Wrist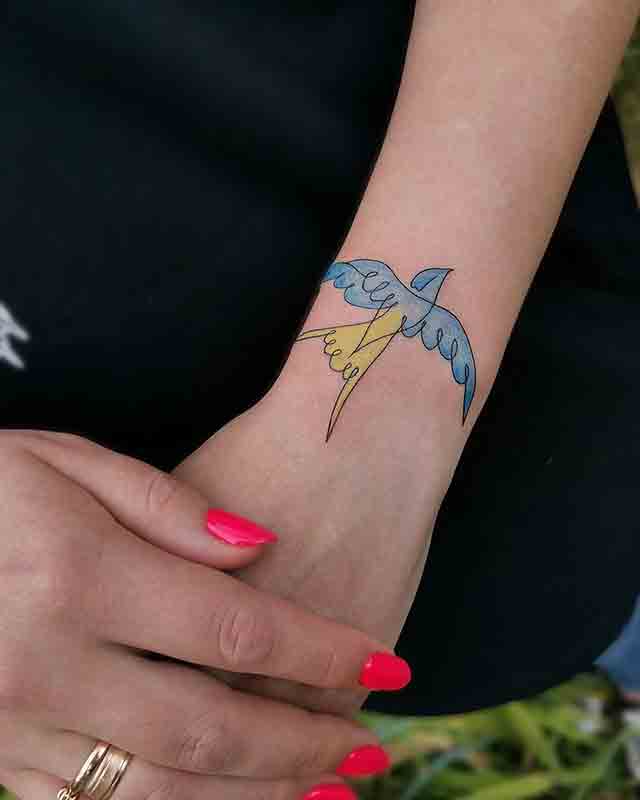 The wrist of this girl is inked with a sparrow. The sparrow is half blue and half yellow. It is another variation of a patriotic Ukrainian tattoo for a more feminine look.
Patriotic Eagle Tattoo
The eagle has a long history in American patriotism. It symbolizes the freedom & strength of the nation & its people. They are often drawn with other elements such as flags, weapons, & other objects. It enhances the tattoo's meaning.
13. Arrow & Grass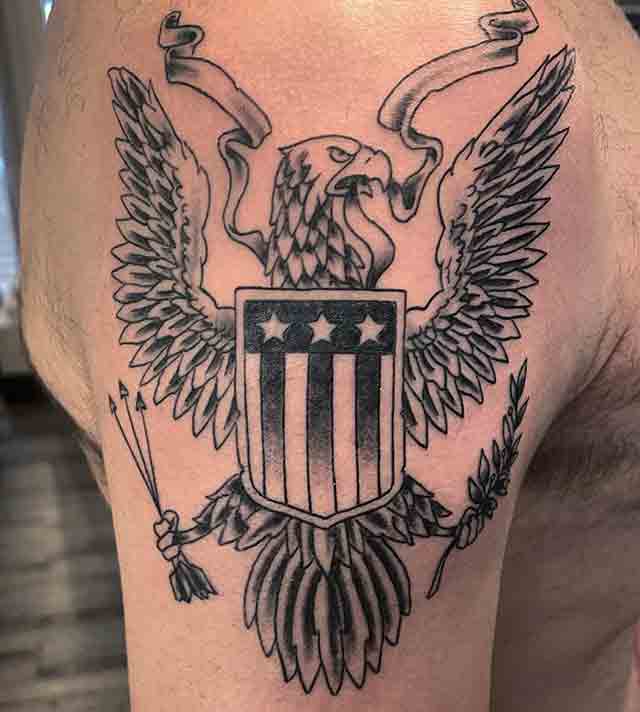 A large ribbon is held by the eagle with its beak and one leg has three arrows & another hand has grass. The center of this eagle is guarded by a shield that symbolizes the flag. It has its hands full but still has an aggressive look.
14. Inspiring Quote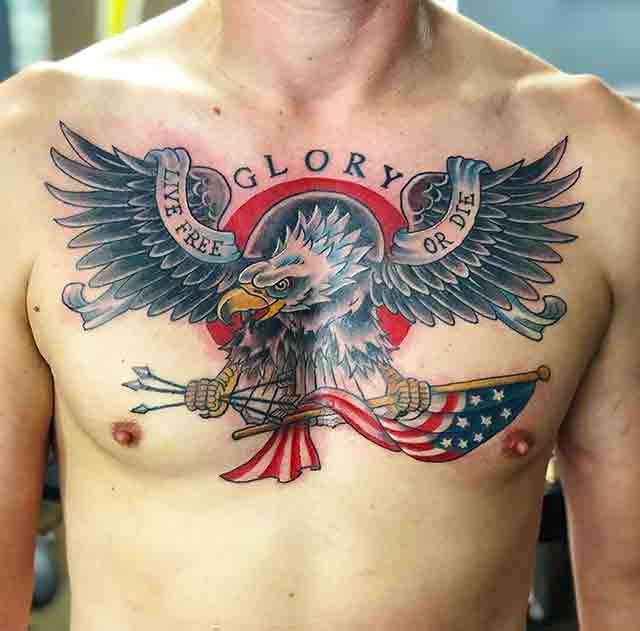 The wings of this angry eagle have the quote "LIVE FREE OR DIE". It encourages you to thrive for glory and freedom which is the main point of being a patriot. An inspiring patriotic tattoo for men's chest.
15. Fight Direction
There is a compass on the bottom of this tattoo. It is used to find the direction of a fight. The eagle is ready to snatch its glory with its swords. The details on this tattoo are simply eye-catching.
Patriotic Heart Tattoos
Patriotism always comes from the shallow depth of the heart. So naturally, tattoo artists combine heart symbols or love symbols in patriotic tattoo designs. They are suitable for arms, chest, and forearms.
16. Heart Signature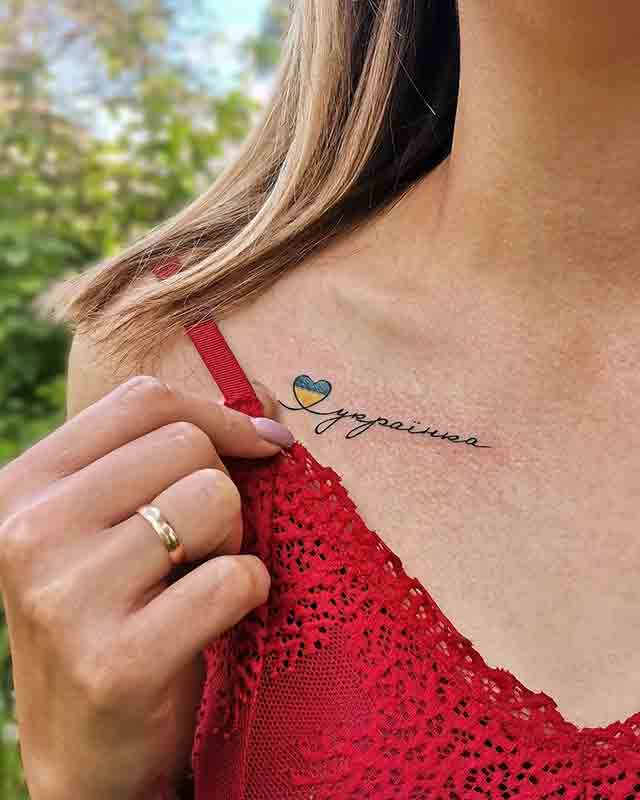 This beautiful lady had a signature on the right side of her chest. It is followed by a love symbol that is filled with blue and yellow colors. A combination of text, love, and patriot tattoo.
17. Heart Touching
Two hands are trying to reach the heart-shaped Ukrainian flag-inspired symbol in the middle. It says that their suffering and bravery touched everyone's heart.
.
18. Minimalist Heart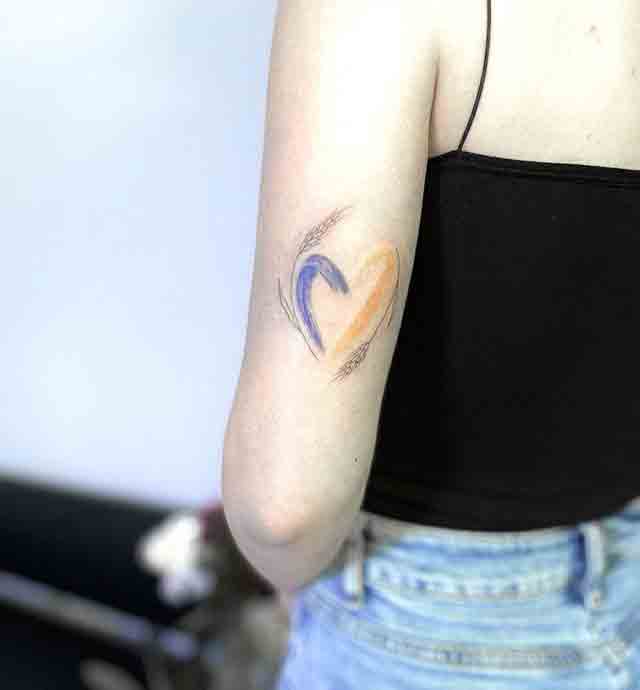 The back of this young woman's arm is tattooed with a minimal design. The heart is accompanied by two wheat plants which is a staple food source. It indicates their bond with their nature and soil. A true display of patriotism.
Patriotic Skull Tattoo
Although skulls are known to represent death and sadness they can be used in fun ways also. These patriotic skull tattoos are a display of mixing two different styles in a totally new way.
19. Hipster Skull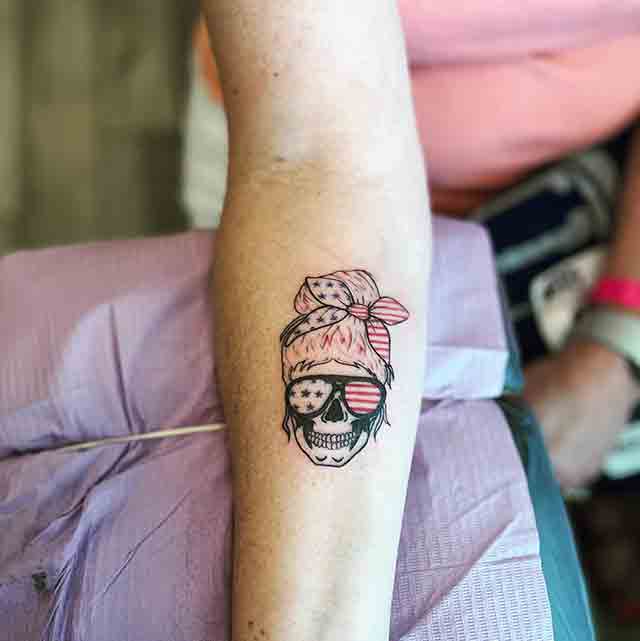 A feminine skull is drawn with a trendy look. It has all the latest fashions but still has a feeling of patriotism in it.
20. Chiseled Skull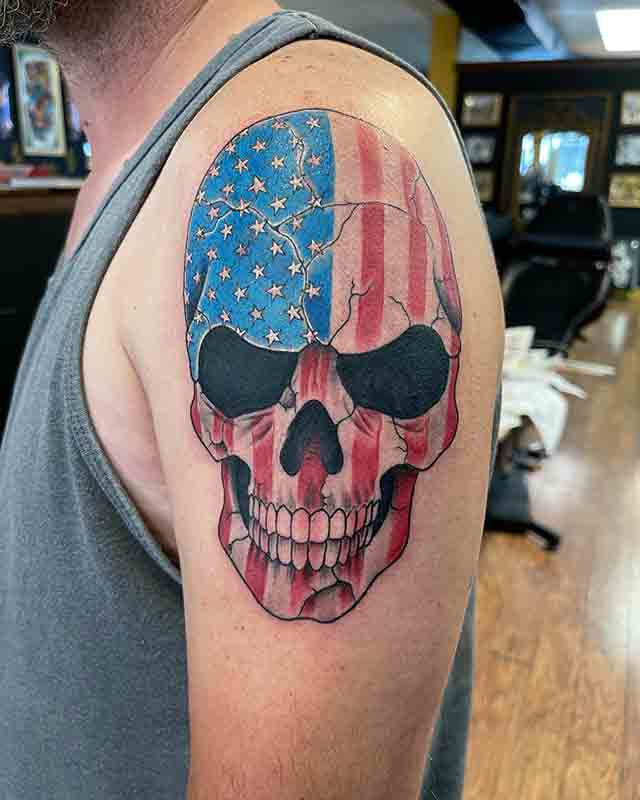 A highly defined and detailed skull is covered with the national flag of the USA. The cracks on the skull indicate the damage and fighting spirit of the American people.
21. Patriotic Cross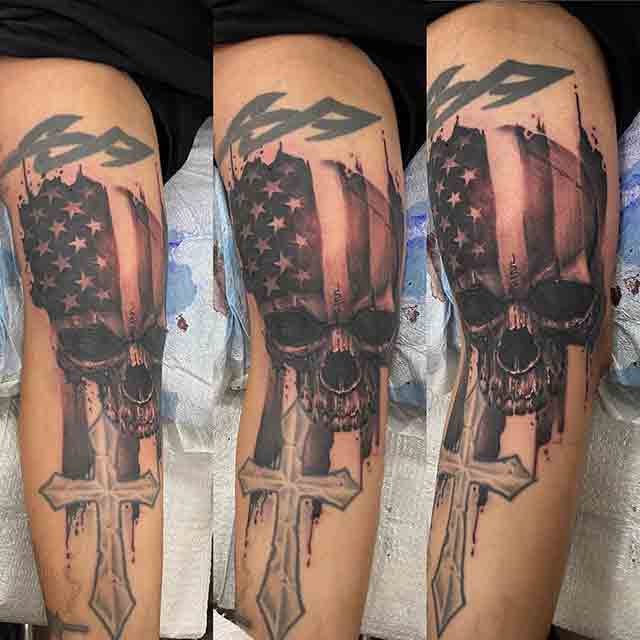 A cross is a symbol of sacrifice and suffering. It adds a religious twist to this patriotic tattoo design.
Patriotic Chest Tattoo
Patriotic chest tattoos on the chest typically cover one side of the sheet but it's also very common to see the entire chest covered. These tattoos also stay on top of their heart symbolizing their beliefs and trust.
22. We The People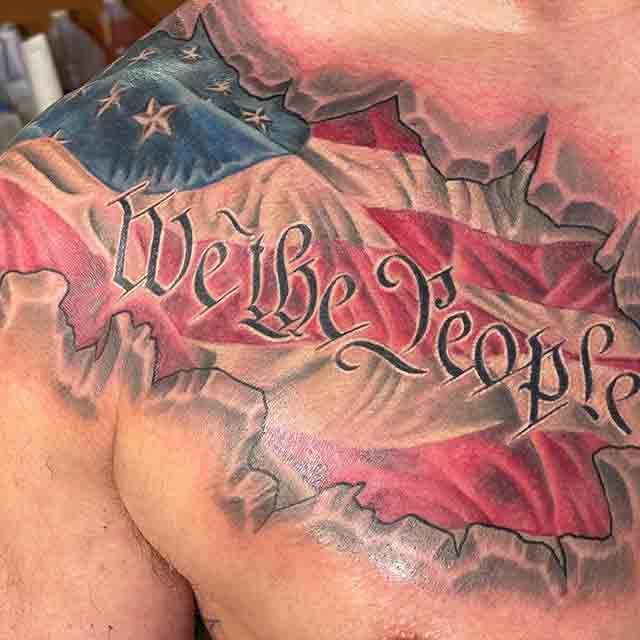 There is a quote "We the people" which represents all the people living in the united states and they are governed by the constitution. A tattoo that shows belief in the constitution.
23. Red Sun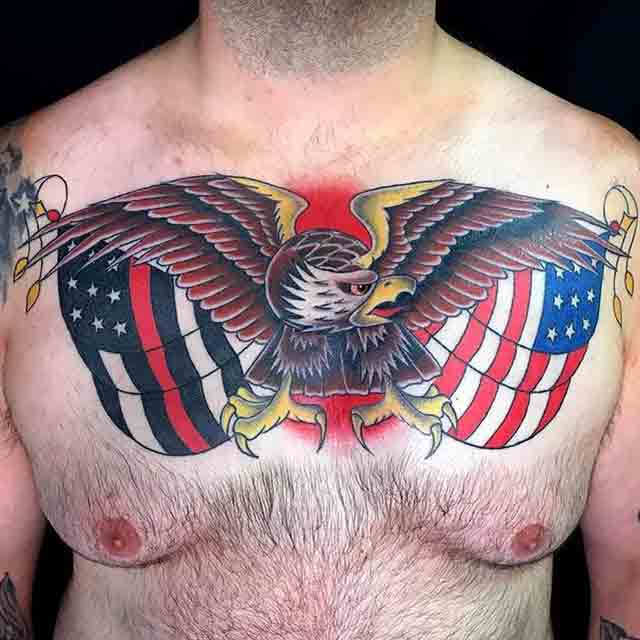 A colorful and vibrant tattoo. A mighty eagle is flying up on the horizon. There is a shining red sun on the back of this eagle. It is also wearing a cape made out of flags. A bunch of patriotic signs are used in this piece.
24. Flag Snatcher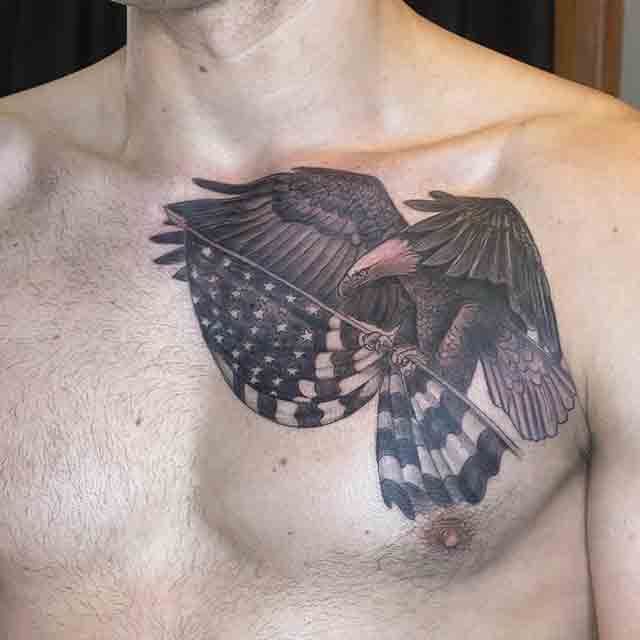 There's an eagle inked that is holding on to an American flag. Its giant wings cover the entire flag which symbolizes its effort to protect the nation from any harm.
Patriotic tattoos on legs are not that common but there are still some designs available. Usually, the back of the leg is used for these tattoos because they have a clear wide area.
25. Lightning Gladiator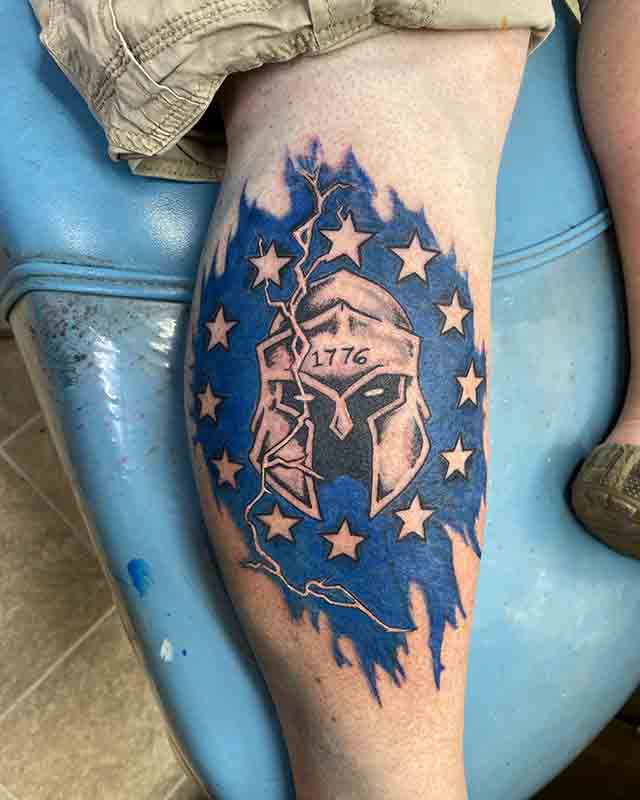 A gladiator's helmet is drawn with the year 1776 on it. It symbolizes the birth of a fighting and brave country. The stars around the helmet represent the great American flag.
26. Wounds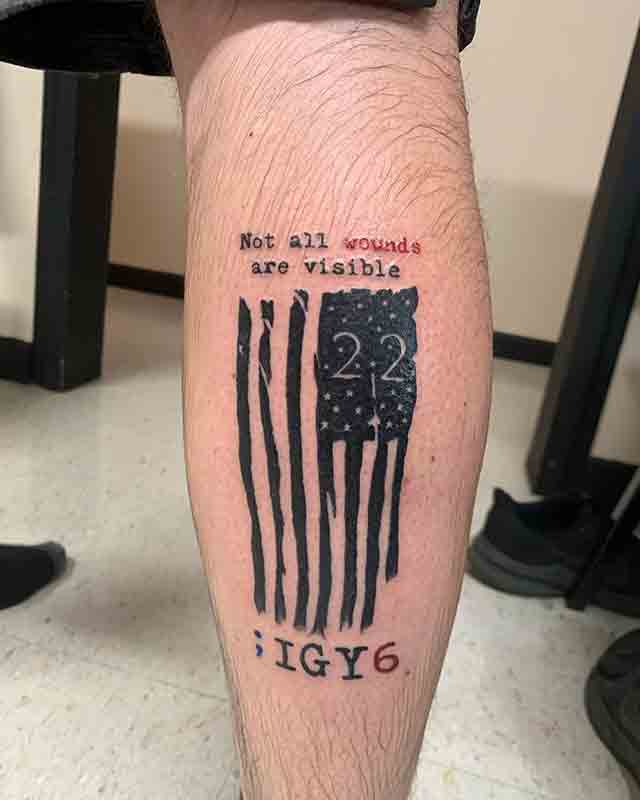 27. Black Skull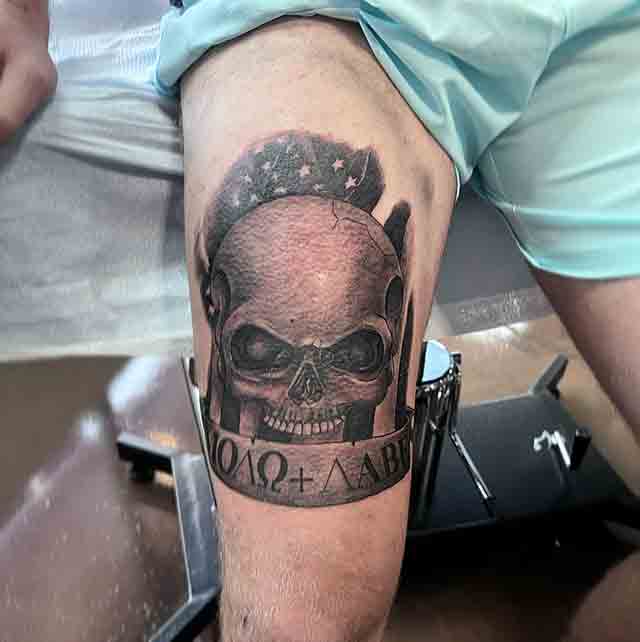 Patriotic Wrist Tattoos
28. Home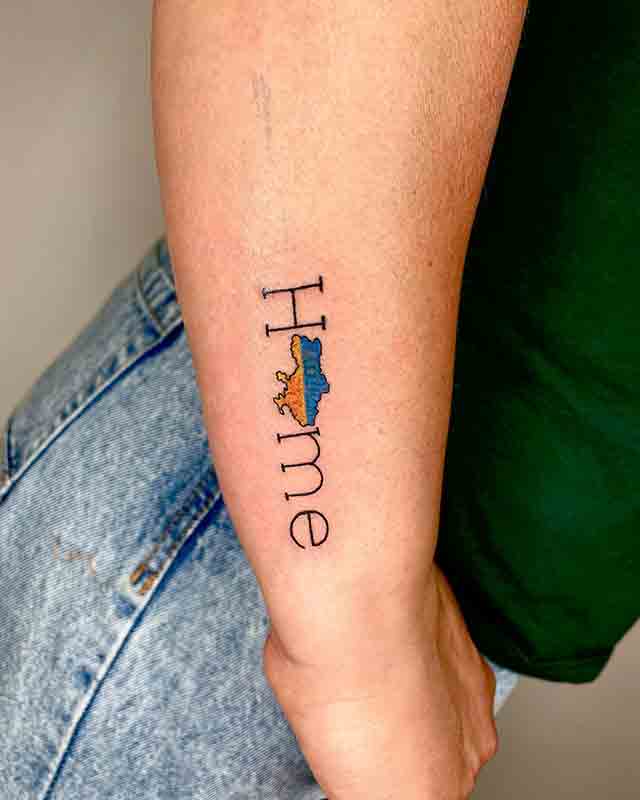 29. Golden Lands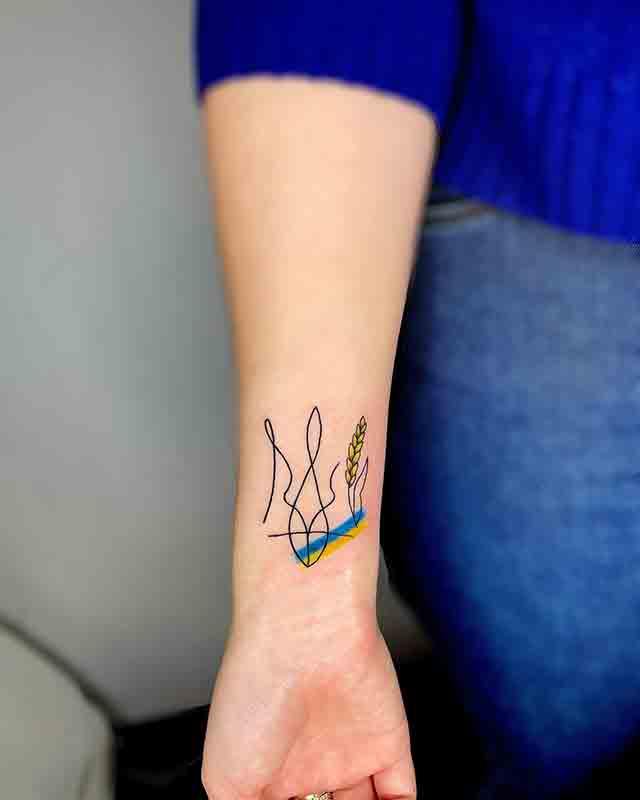 30. Brushed Flag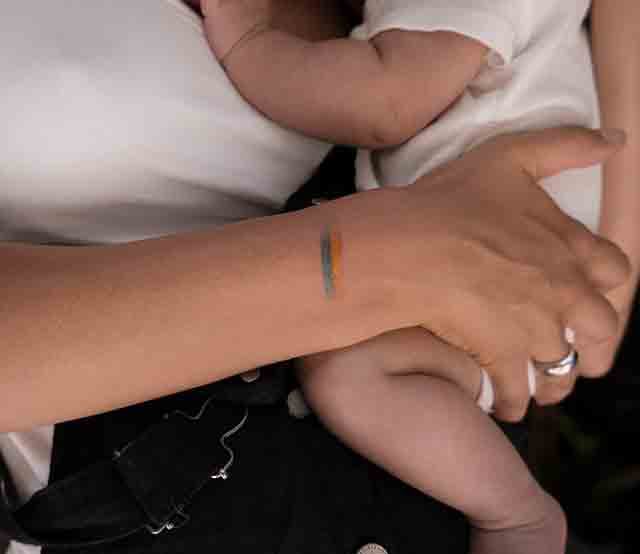 31. American Rose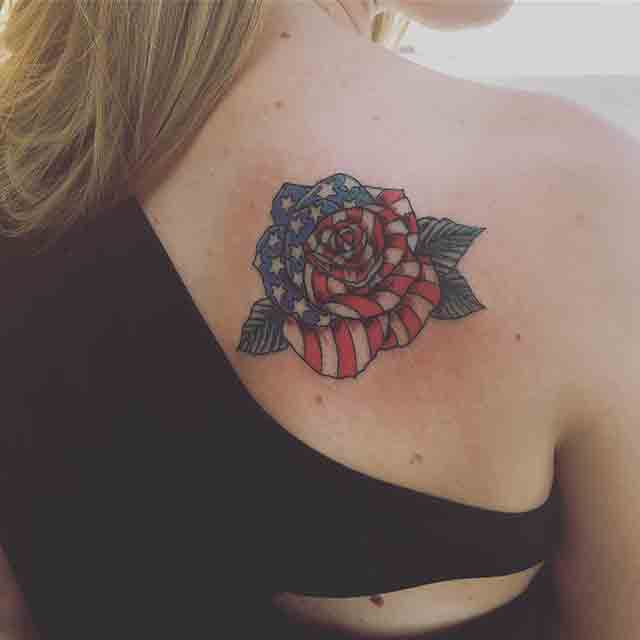 32. Contrasting Rose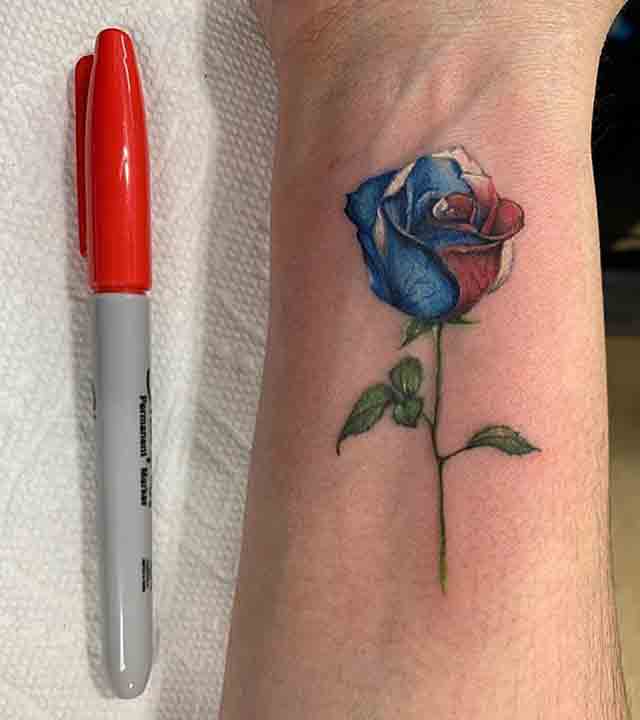 33. Bloomed Flower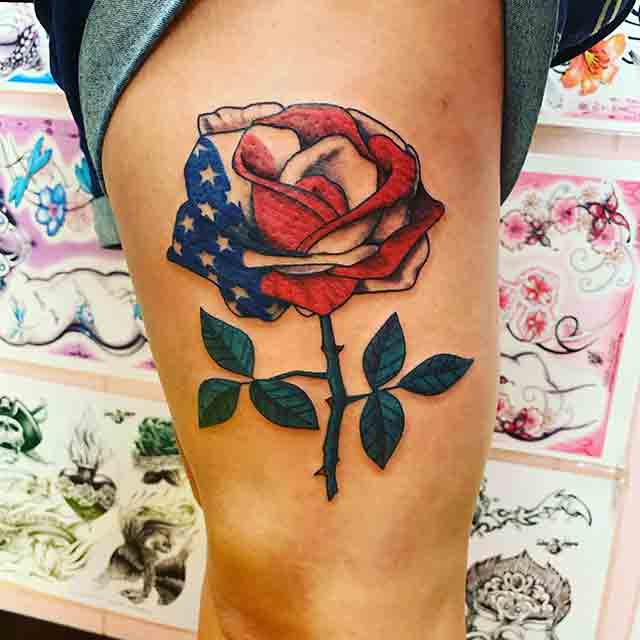 Polish Patriotic Tattoos
34. Dark Symbol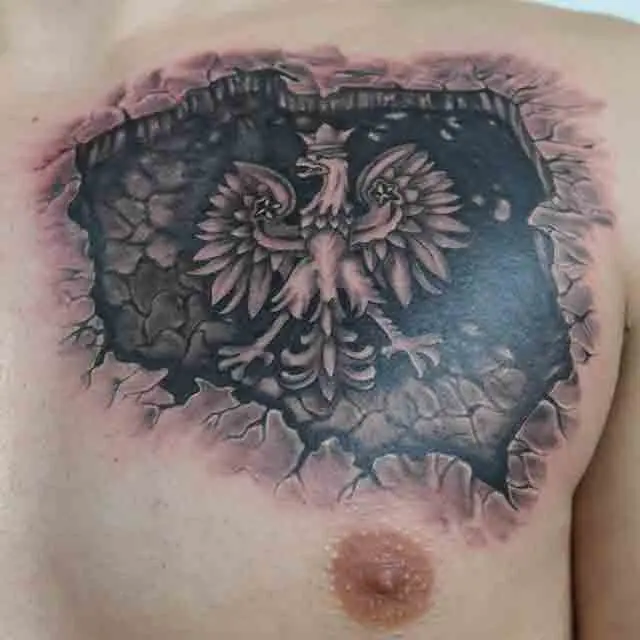 35. Polish Side Arm Tattoo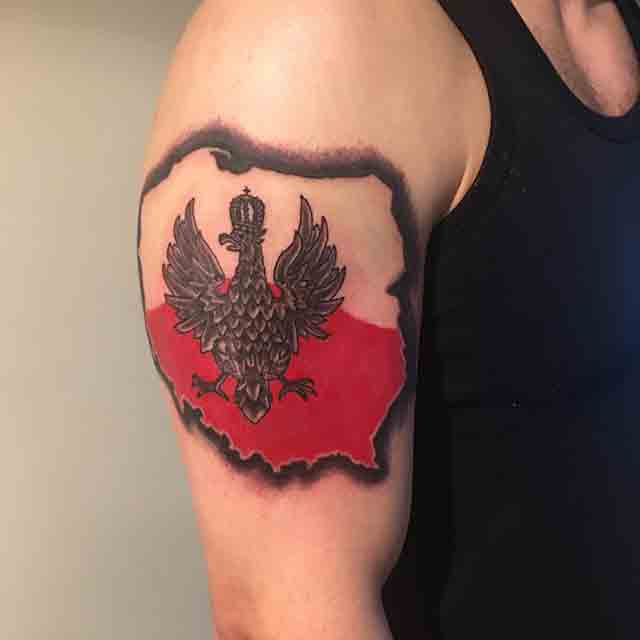 36. Anchored Polish Tattoo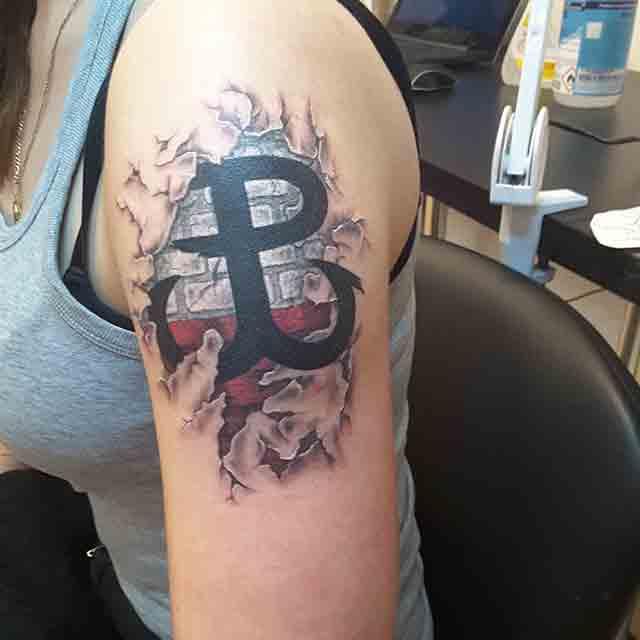 Patriotic Canadian Tattoos
37. Wild Canada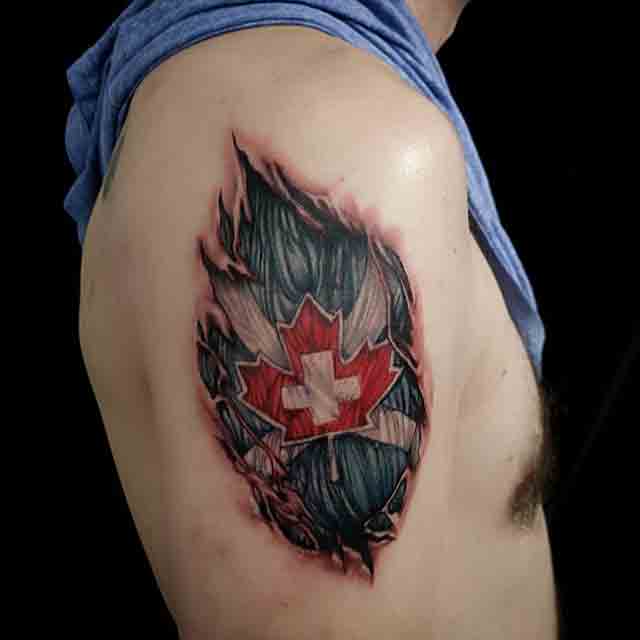 38. Scarred Flag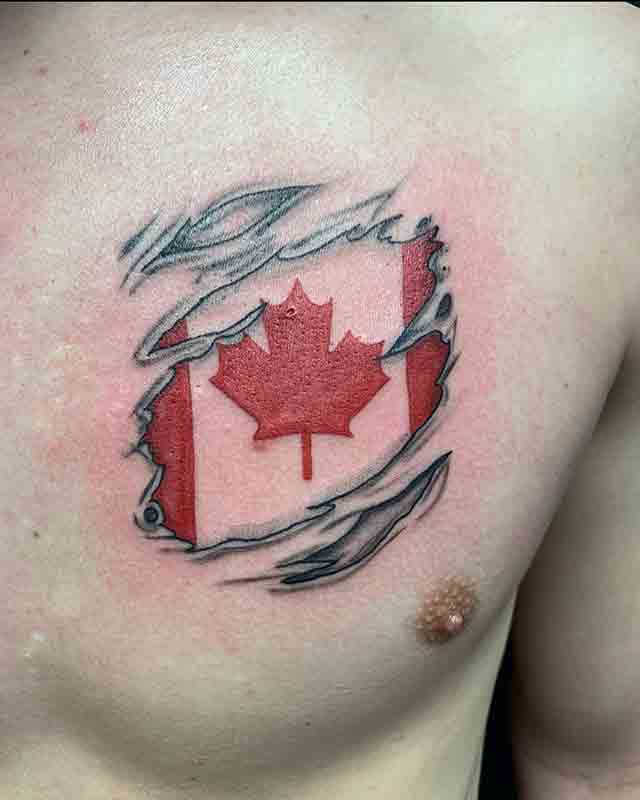 39. Deep Cut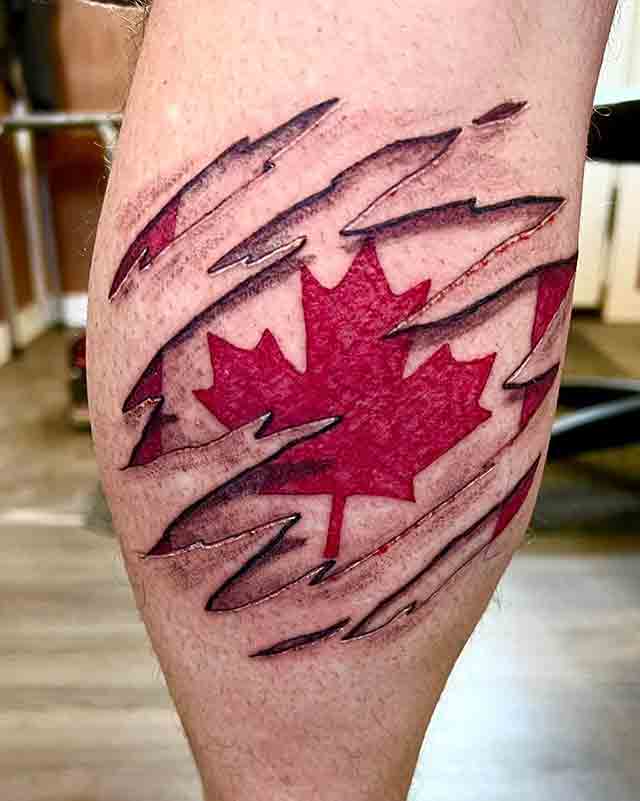 New England Patriotic Tattoo
40. Floral Eagle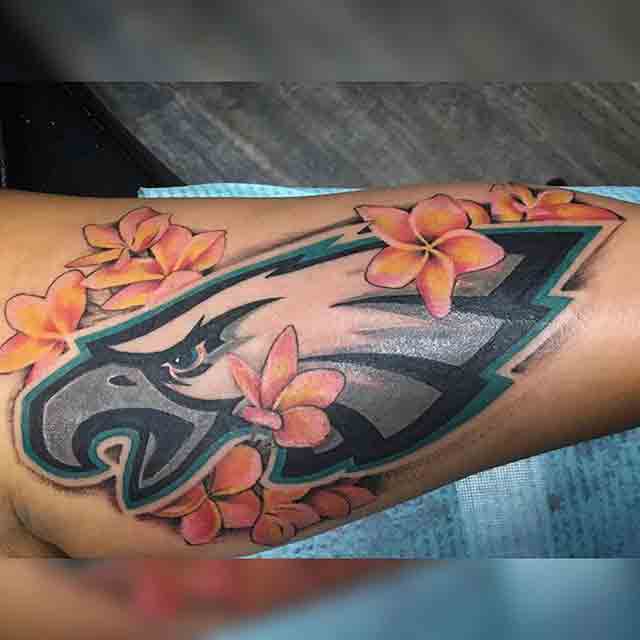 41. One Winged Flag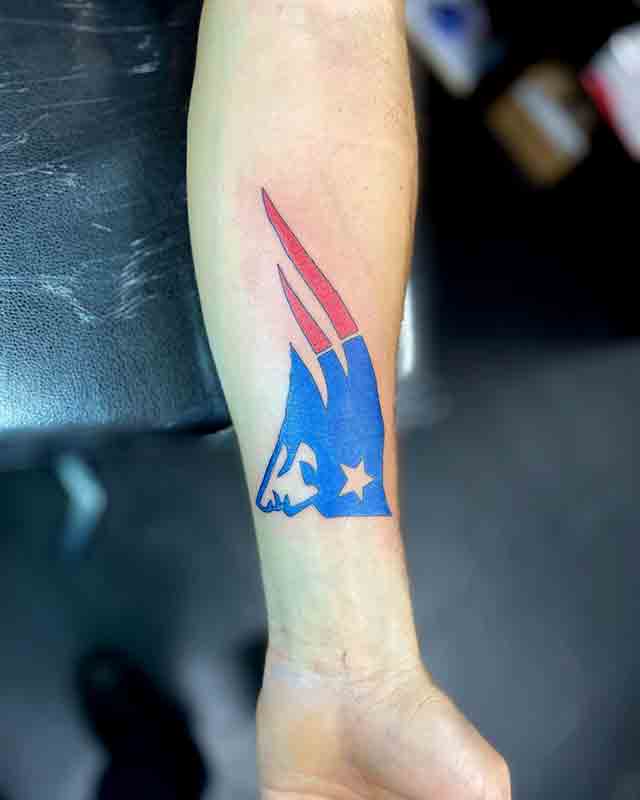 42. American Flesh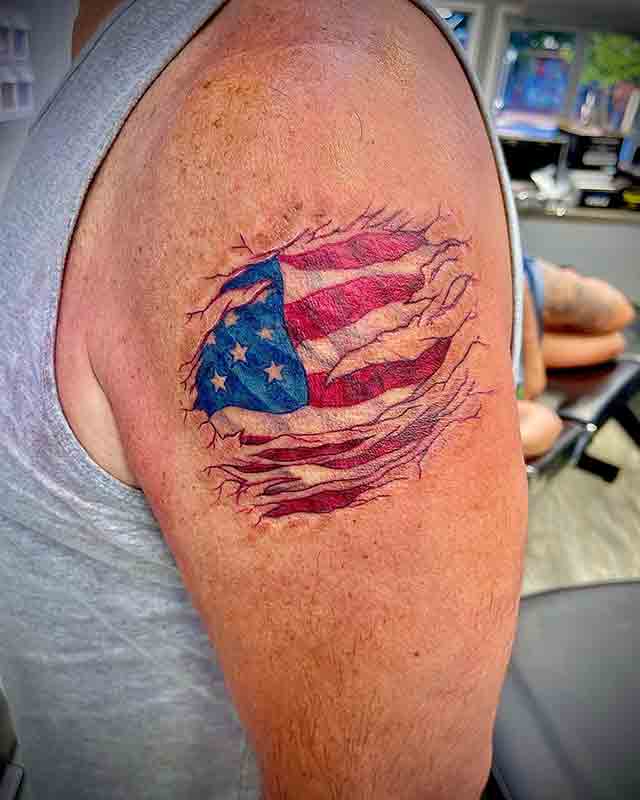 Traditional Patriotic Tattoo
43. Eagle Badge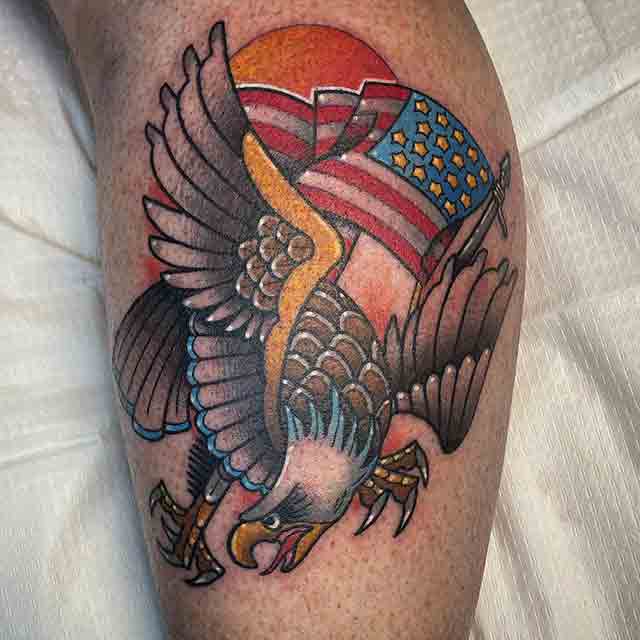 44. Grapes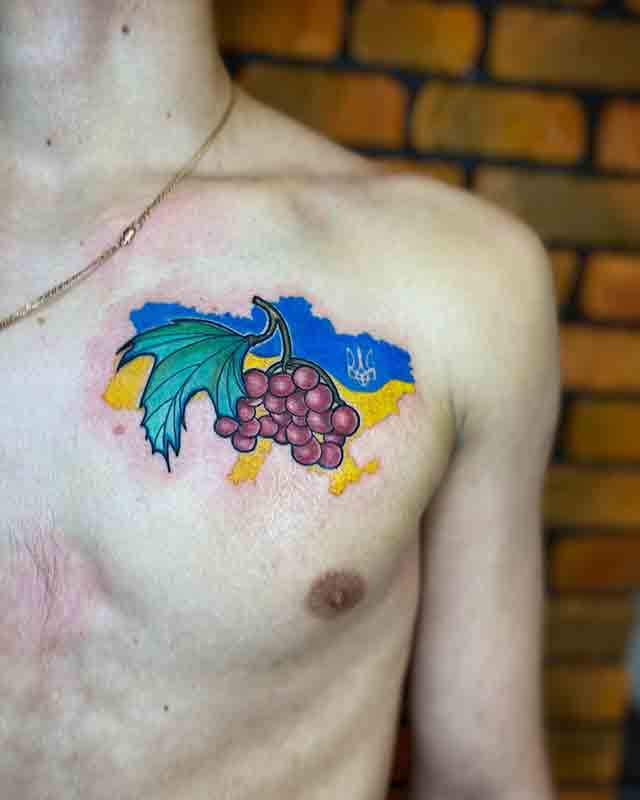 45. Crisp Eagle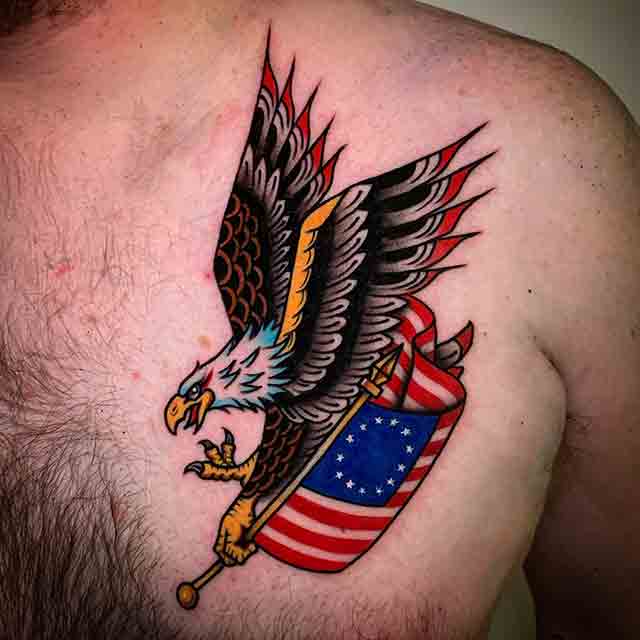 46. Historical Sleeve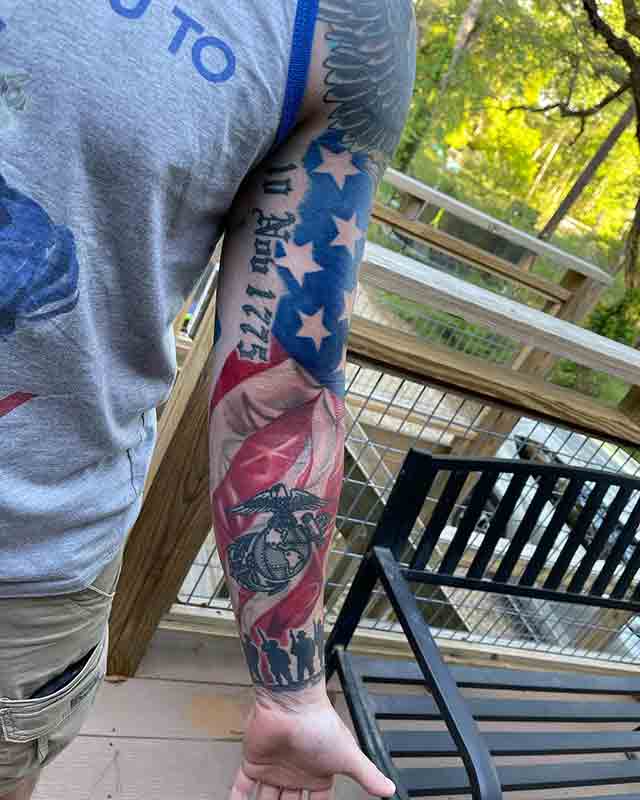 47. Globe & Scroll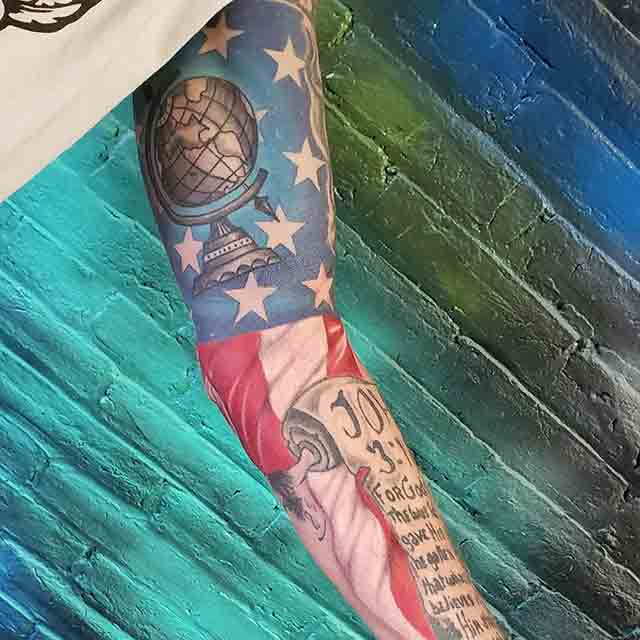 48. Bicep Text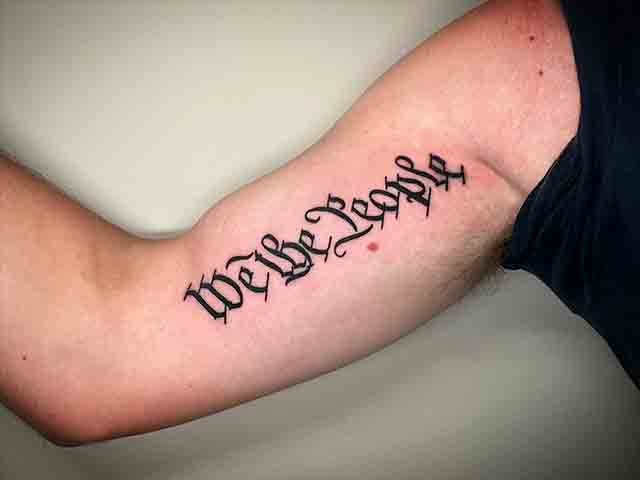 Forearm Patriotic We The People Tattoo
49. Bold Writing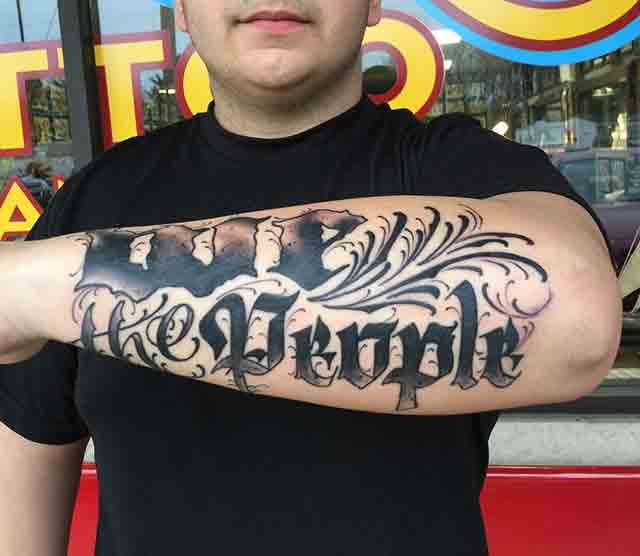 50. Old Scroll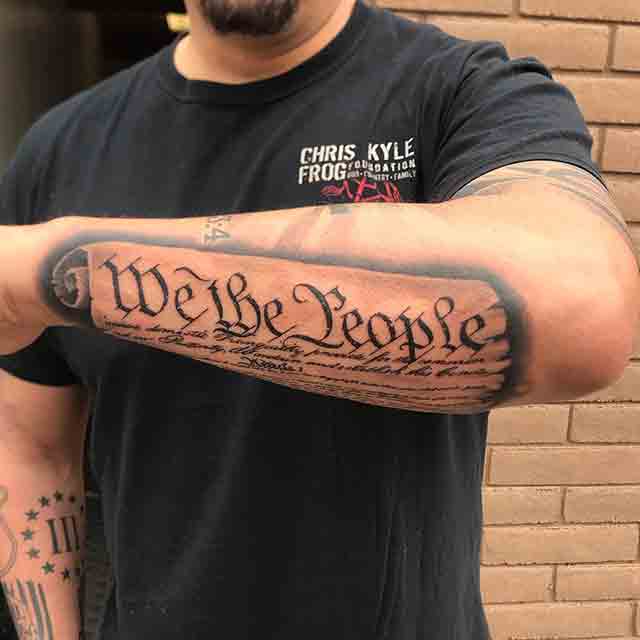 51. Side Forearm Quote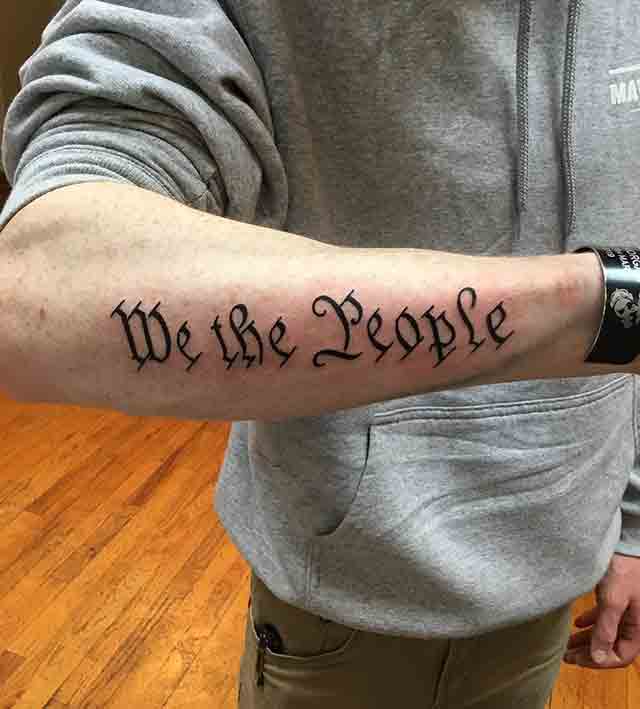 52. Star Flag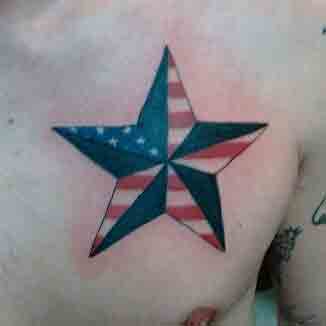 53. Glazing Blue Star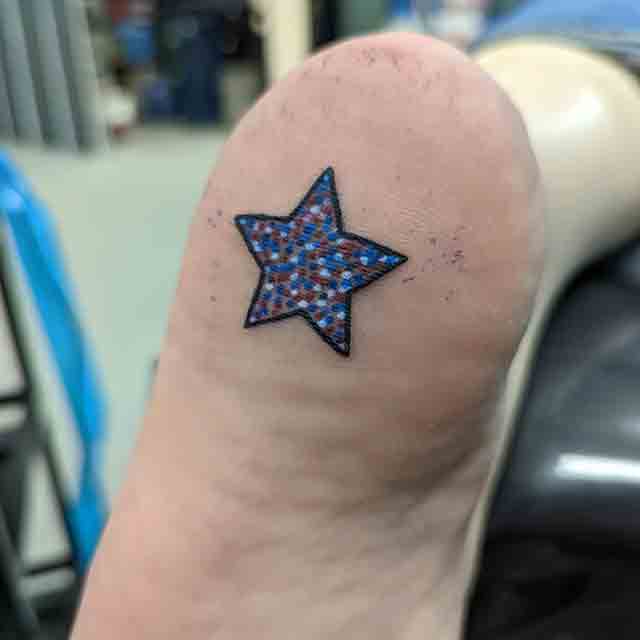 54. Triple Stars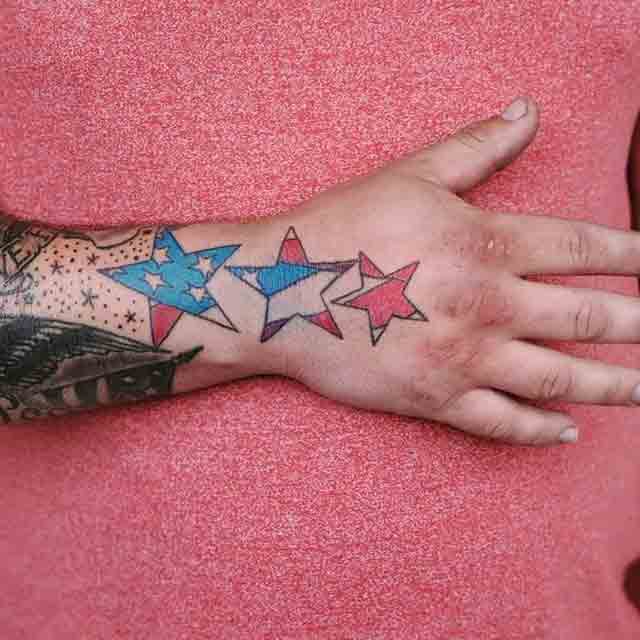 Patriotic Cross Tattoos
55. Silver Cross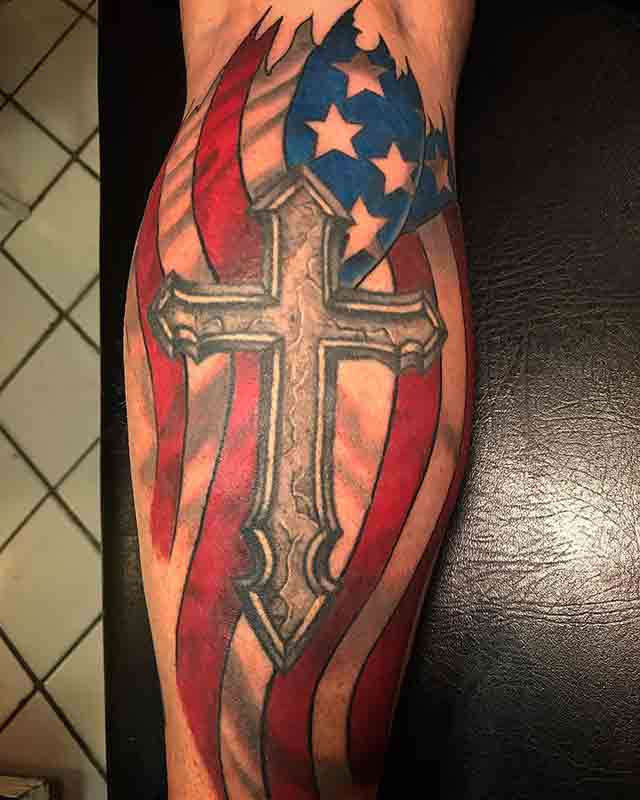 56. Metal Crossed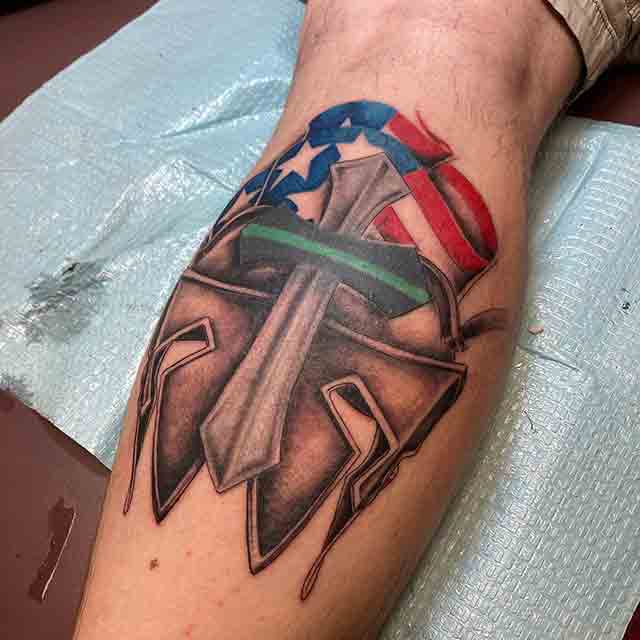 57. Nails & Flag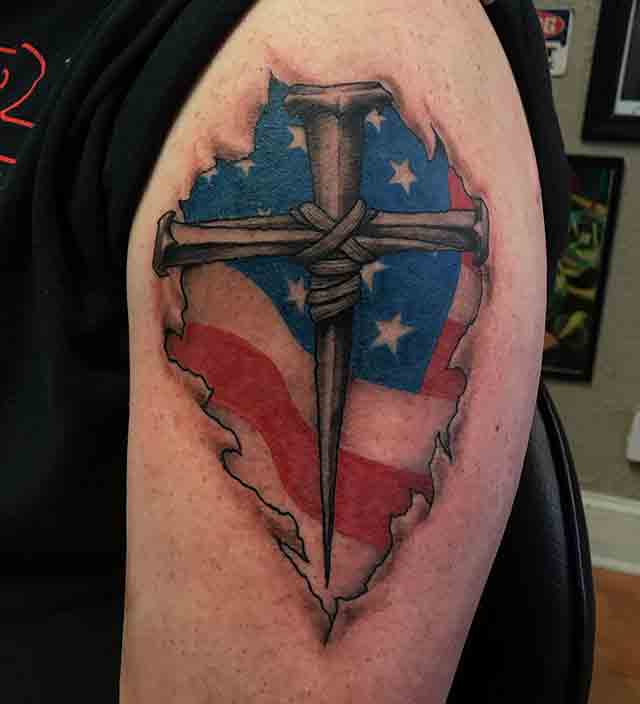 58. Eagle Watch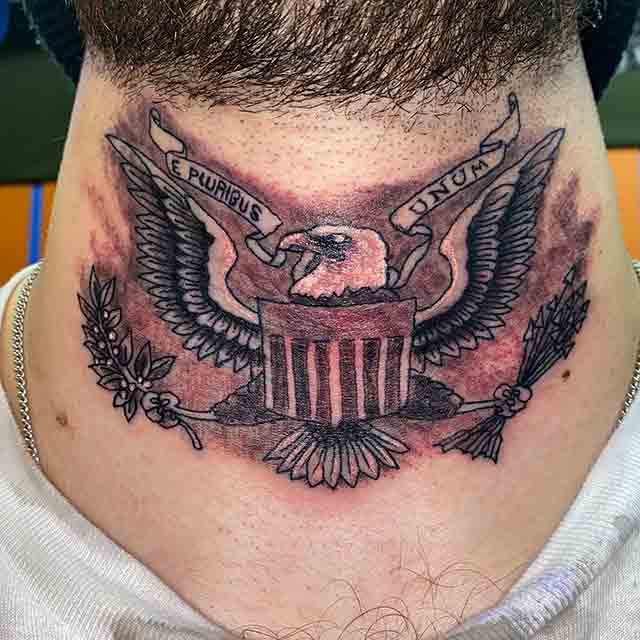 59. Mythical Unicorn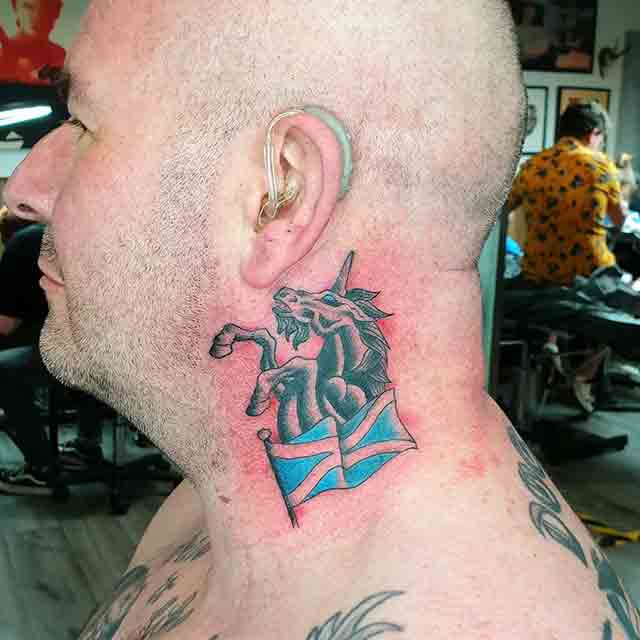 60. Neck Scar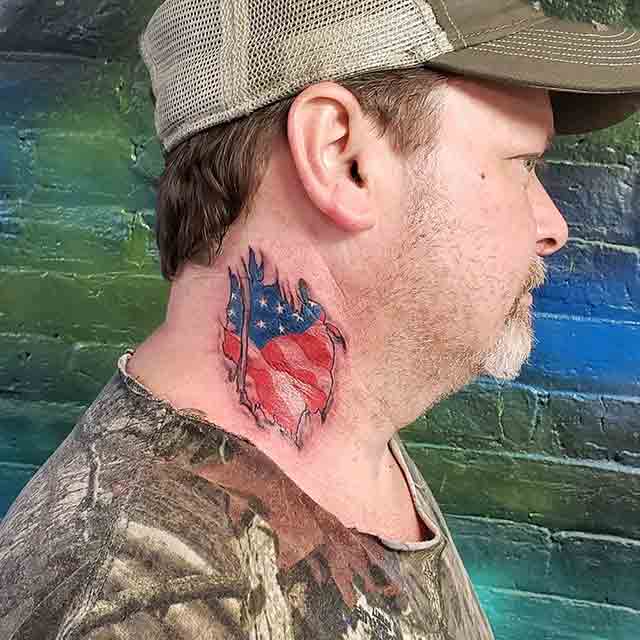 Conclusion
Hopefully, these designs were able to spark some interest in your patriotic heart. If you want to get a piece that shows off your love for freedom and love for your country there is nothing more suitable than these patriotic tattoos. If you are going with a design with a tricky concept it's advised to get it done by someone with vast experience. That being said, don't be afraid to add your own twists to your pieces. After all, they are a representation of your own perspective and beliefs.
Frequently Asked Questions
Aside from the flag, what are the other patriotic symbols I can use as tattoo imagery?
Some other patriotic symbols that you can use to show patriotism are the eagle, dog tags, statues and monuments of liberty, etc.
Any suggestions for a small patriotic tattoo?
You can go with a design with a dog tag, bird, or heart.
Why Should You Choose Patriotic Tattoos?
You should choose patriotic tattoos because they display your patriotism and love for your country.
How Much Do American Tattoos Cost?
They can cost anywhere between $50 to $250 depending on the design and size.
What is the Best Time to Get a Patriotic Tattoo?
There's no best time to get a patriotic tattoo. But you can get them a few weeks earlier from national events, it'll allow the tattoo to heal properly.