Tattoos can be seen as an exciting, as well as a fun way, to add some uniqueness or positivity to your life. With millions of different tattoos around the world, paw print tattoos have been quite common. Usually, people get it to display their unconditional love towards their pets.
We all know that a pet is one of the greatest companions to have in our life. In fact, studies have shown that owning a pet can easily get rid of loneliness and even cure mental illnesses such as depression. Therefore, we love them for an eternity and honor them by getting meaningful paw tattoos.
Paw tattoos also represent love and respect for particular wild animals such as wolves, lions, bears, etc. In this article, we are going to walk you through some of the most adorable and unique paw tattoos you could get in honor of your pets.
Dog Paw Print Tattoo
A dog paw tattoo signifies the need for protection and guidance. These tattoos can also represent loyalty. Below are some cool dog paw tattoo designs for you to pick from:
1. Manifest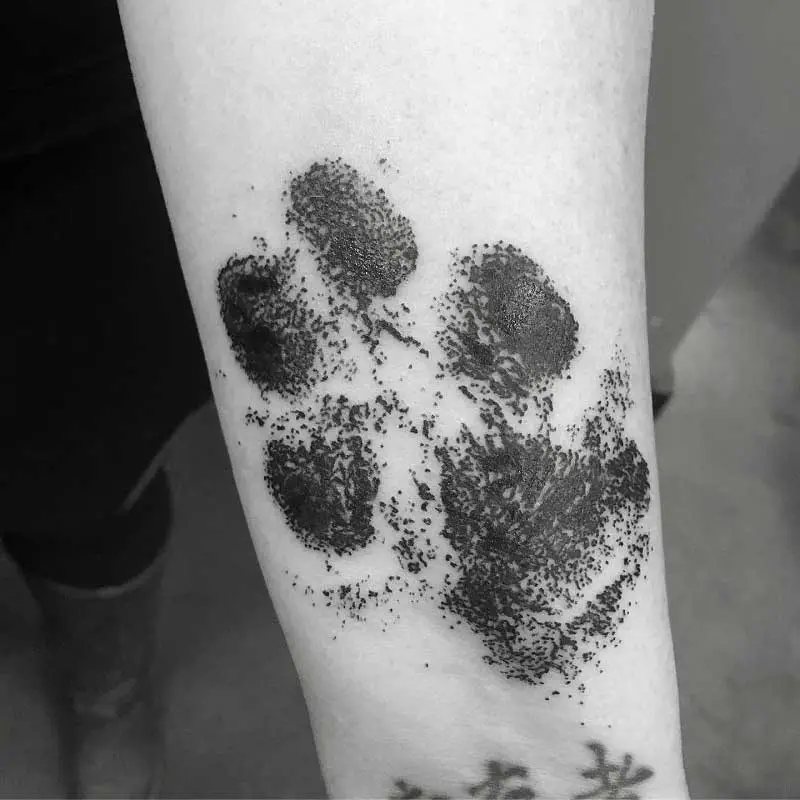 A dog owner can get this type of tattoo in order to manifest or display the eternal love for a pet, that will continue to last even after the dog passes away.
2. Loyalty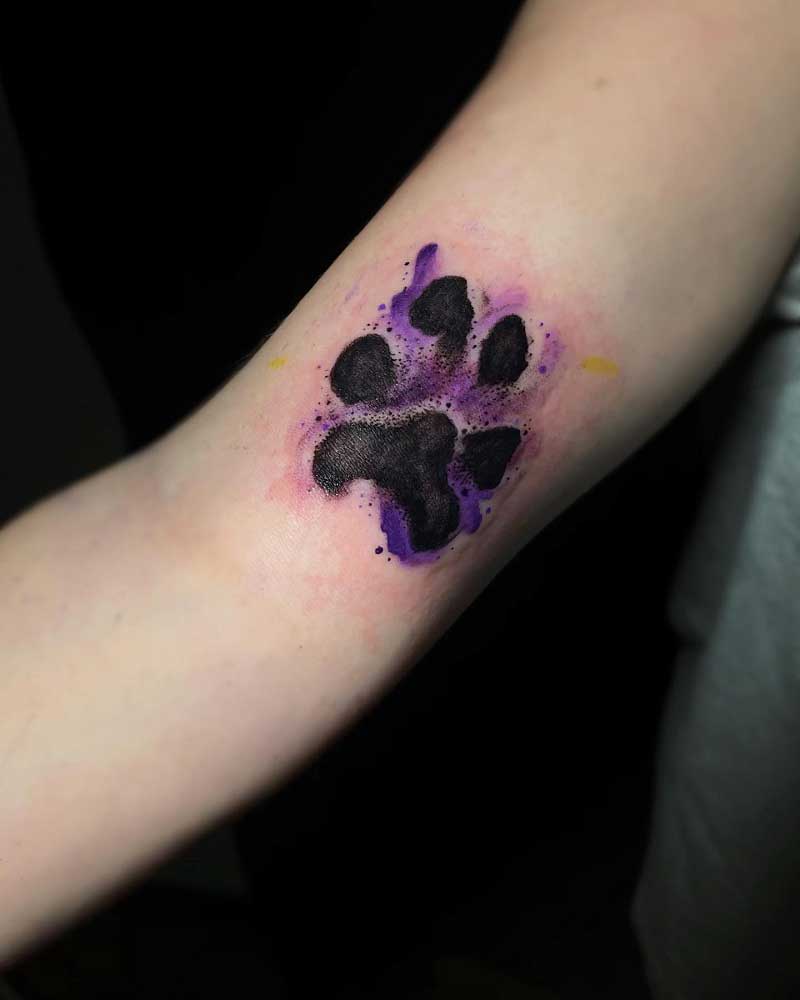 There's no denying the fact that a dog is the most faithful and loyal animal in the world. Someone can also get this tattoo to express their own loyalty or reliability as a person.
3. Protection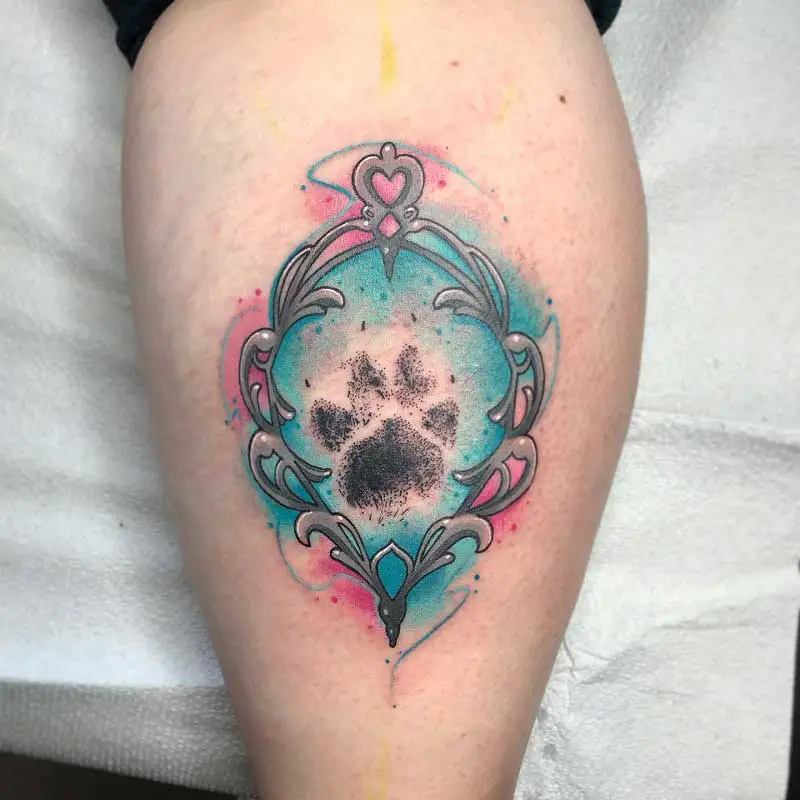 Apart from being loyal, dogs also protect their owners from all sorts of danger. That said, a dog paw print tattoo can also signify the need for protection and guidance.
Cat Paw Print Tattoo
Cat paw tattoos portray aspects of self-confidence and independence. These tattoos can also stand for fearlessness, boldness, and purpose. Here are some cat paw tattoo ideas below:
4. Autonomy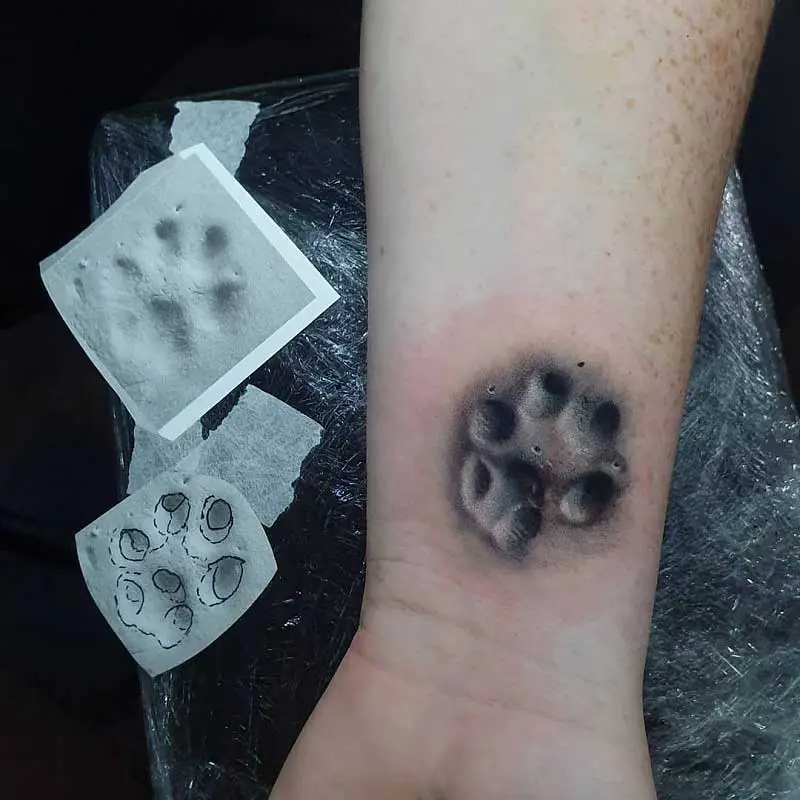 As discussed before, cat paw tattoos stand for independence. This tattoo is a perfect fit for a person who is fully independent and does not rely on anyone.
5. Resilience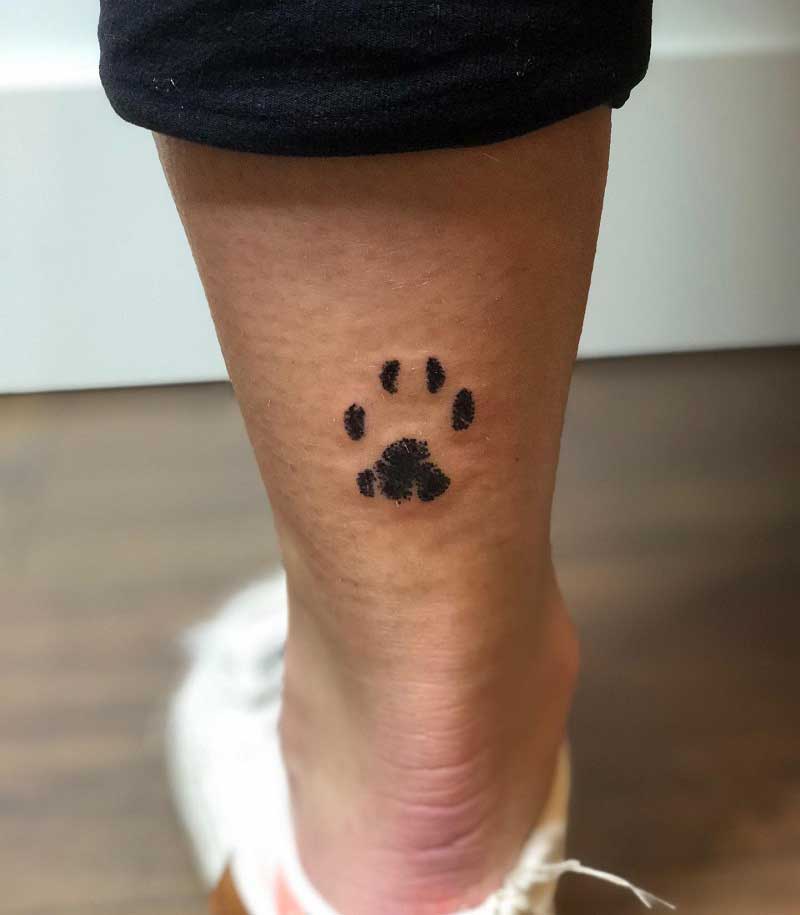 Since cats are known to have nine lives, they represent resilience. The paw print tattoo above is an ideal choice for a person who has the ability to withstand difficult conditions in life.
6. Declare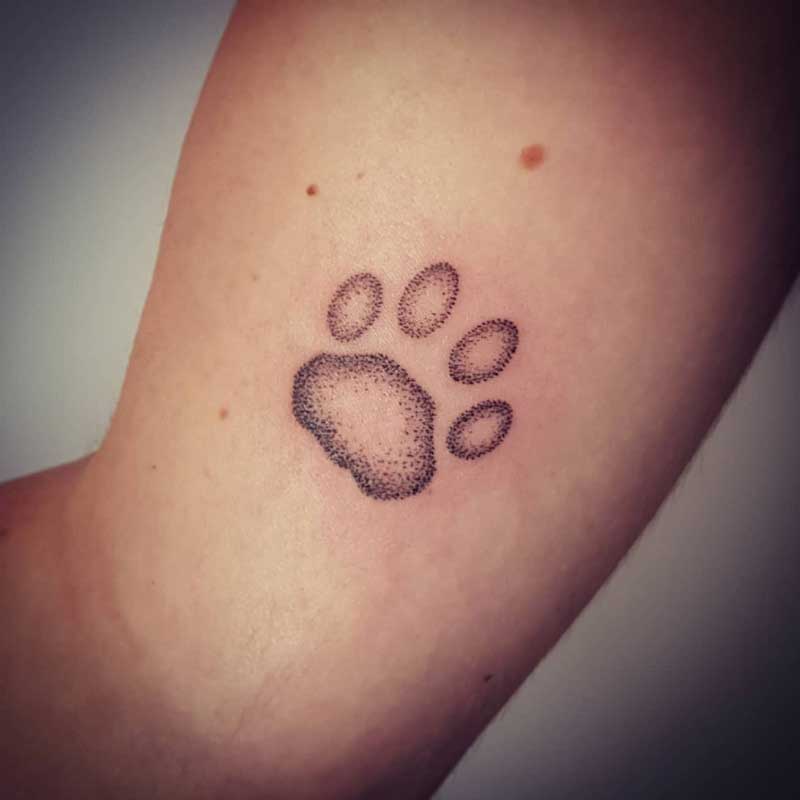 Cat owners can also get this tattoo just to express or declare their timeless love for their pet cats. The dotwork style also makes the tattoo above look very realistic.
Memorial Paw Print Tattoo
Memorial paw tattoos also commemorate pet cats or pet dogs that have just passed away. They portray the profound love between the owners and their pets. Here are some ideas below:
7. Everlasting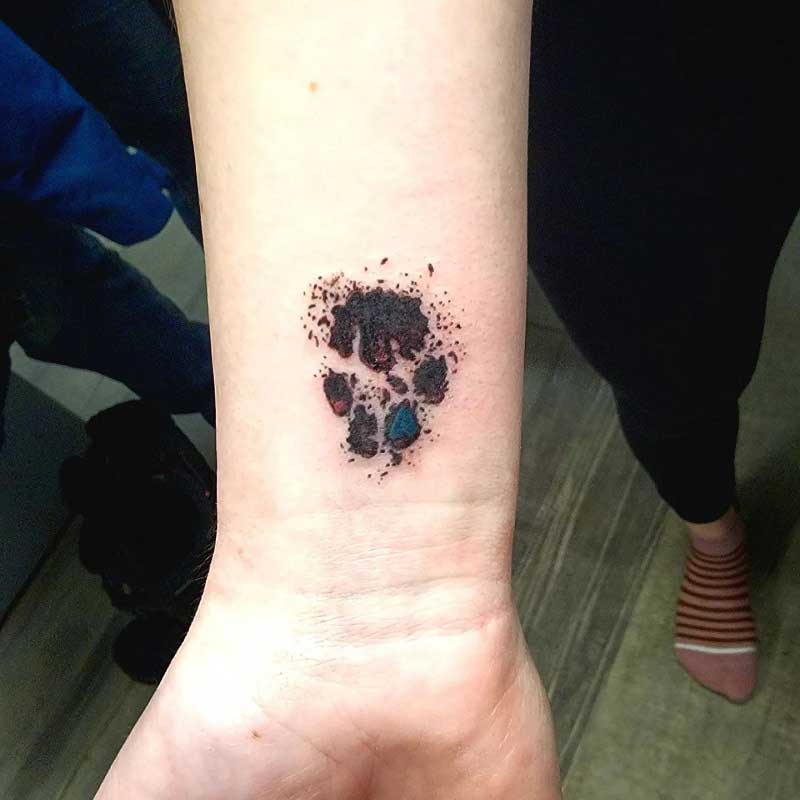 This unfading paw tattoo is a wonderful way to honor the passing of your pet. It shows the inexpressible love you had and always will have towards it.
8. Unforgettable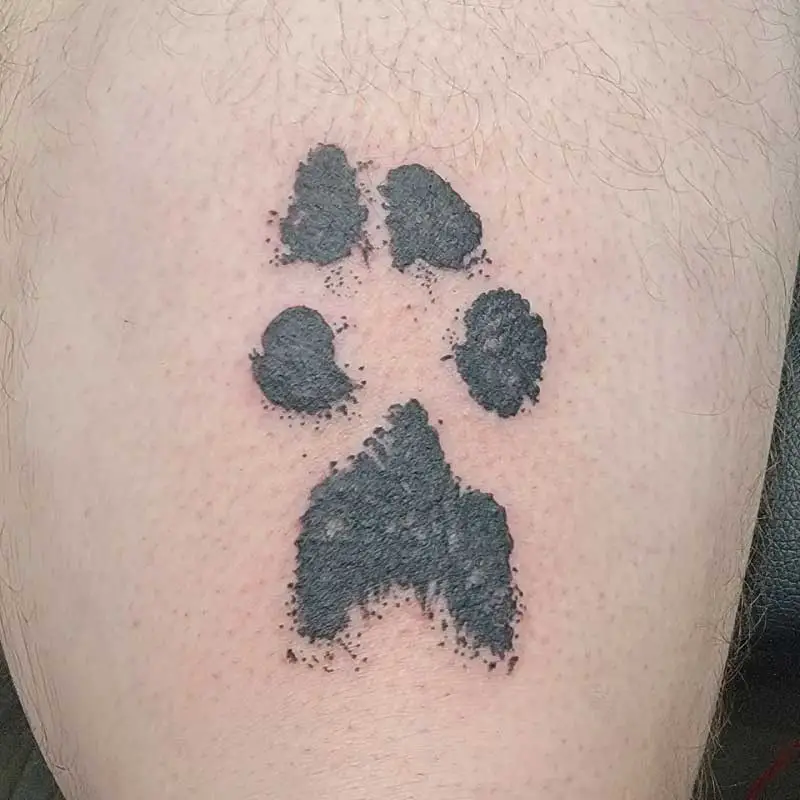 The paw print tattoo above shows that an owner's love towards their pet cats or dogs is the most beautiful and powerful thing ever. In terms of visuals, it's not much but the meaning is quite deep.
9. Imperishable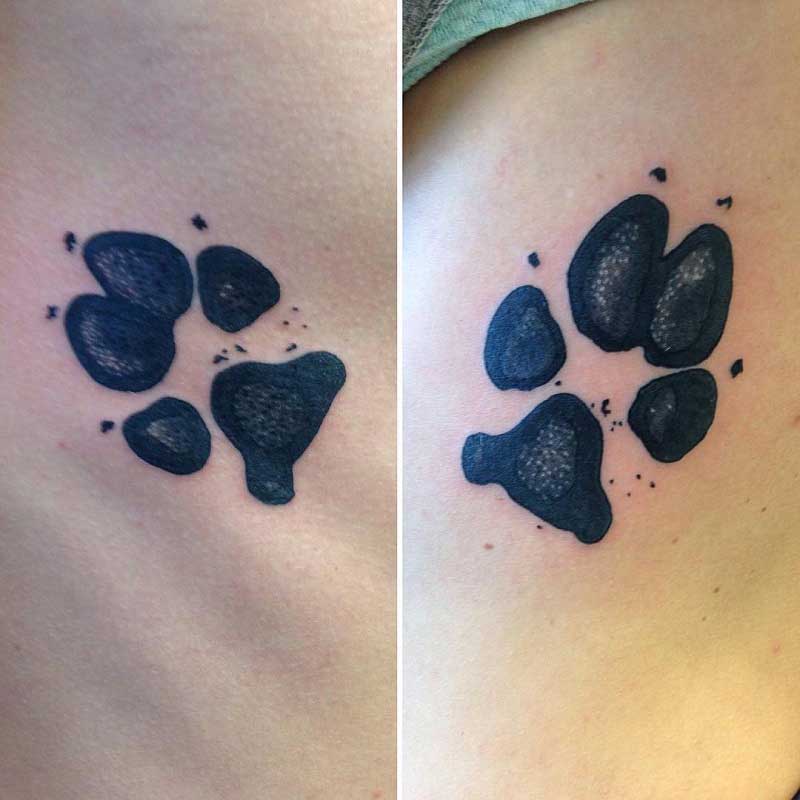 The meaning behind this tattoo is still the same as it was with the previous two tattoos. It signifies that the memories of your beloved pet will forever live on in your heart.
Simple Small Paw Print Tattoo
Paw print tattoos can also sometimes be quite small in size. This makes the tattoo look quite simple and doesn't attract a lot of attention. Below are some cool tattoo designs:
10. Mini Paw Tattoo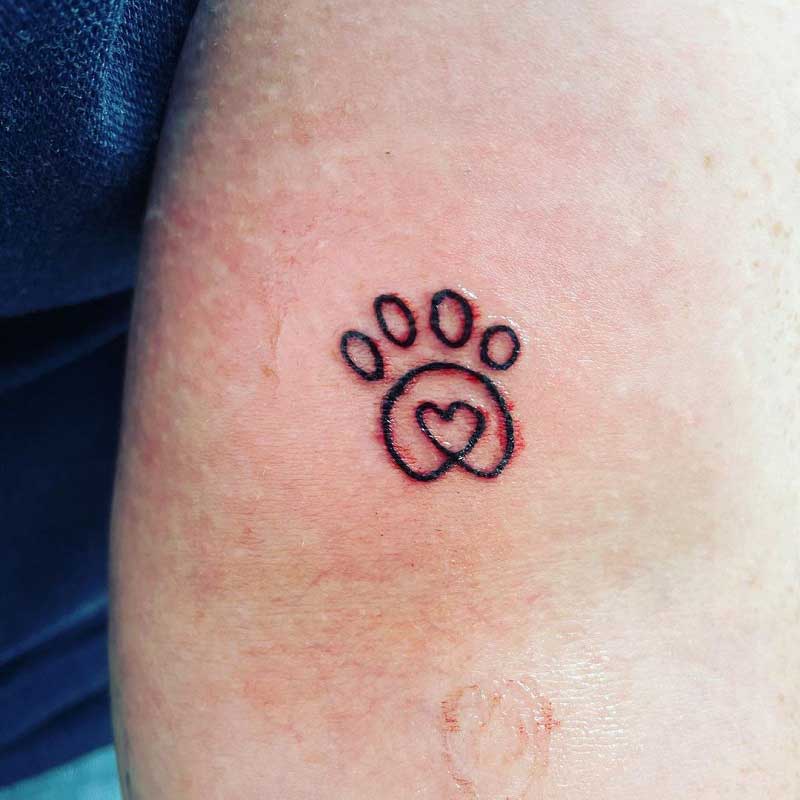 At first glance, it may look like an ordinary paw tattoo. However, if looked at closely, the simple combination of the paw and the heart represents a work of genius!
11. Minimalistic
This tattoo is for someone who really does not ask for much from his/her tattoo artist. They just want to express pure endearment towards their pet.
12. The More The Merrier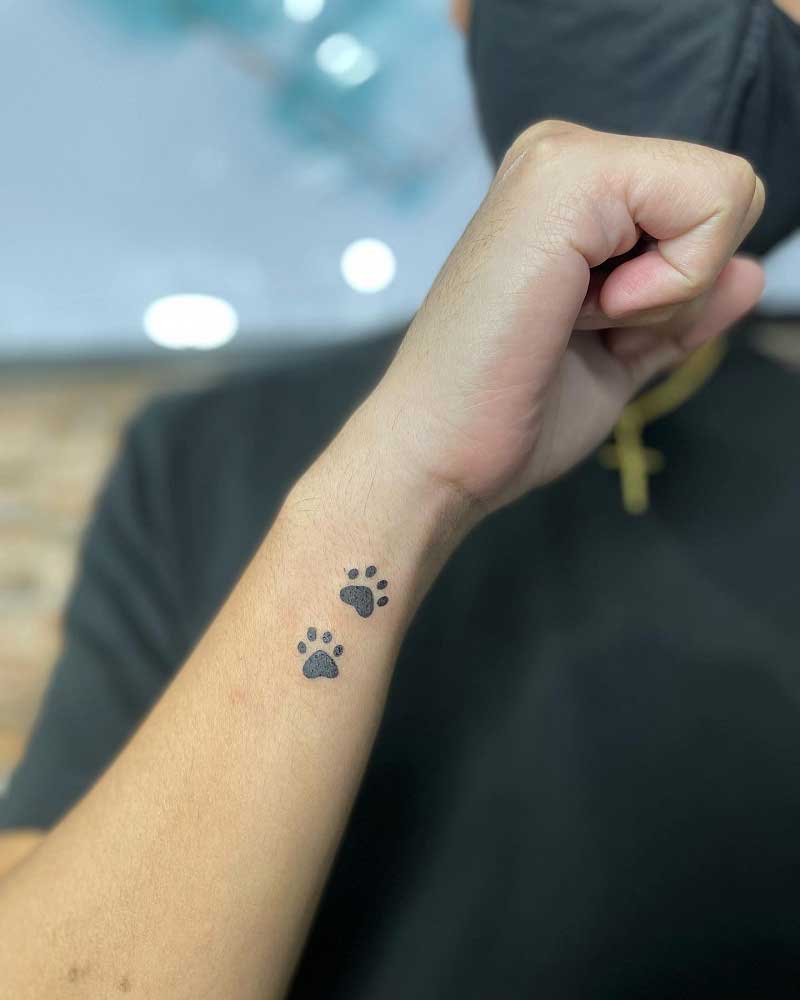 The two paws shown in the photo above do not really change the meaning. Visually, however, the tattoo looks wonderful and it clearly expresses the pure affection for the pet.
Animals have the extraordinary ability to comfort us without uttering any words. A paw tattoo, combined with a heart or heart, signifies a pet owner's profound love for their pet.
13. Permanent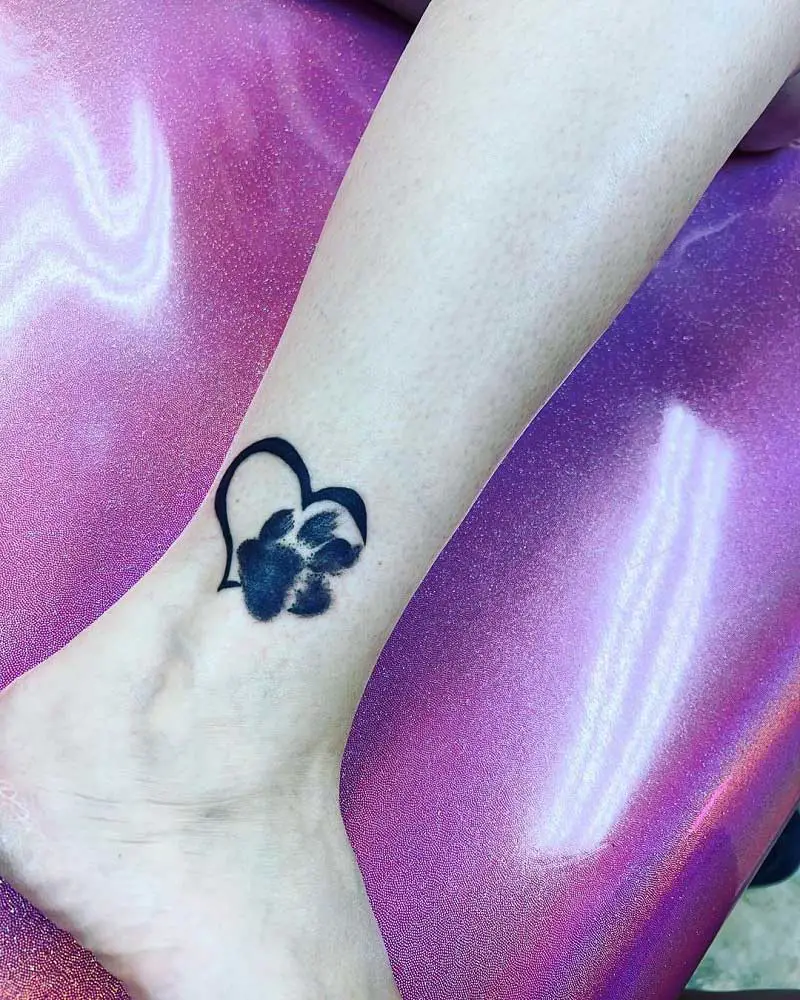 It is always safe to say that the love towards our pets is timeless and permanent. One can use bold outlines to make the tattoo more noticeable.
14. Beauty In Simplicity
Do not let the simplicity of this tattoo fool you. The meaning behind the tattoo is more powerful than ever and the addition of flowers gives the paw tattoo a nice touch.
15. The Other Half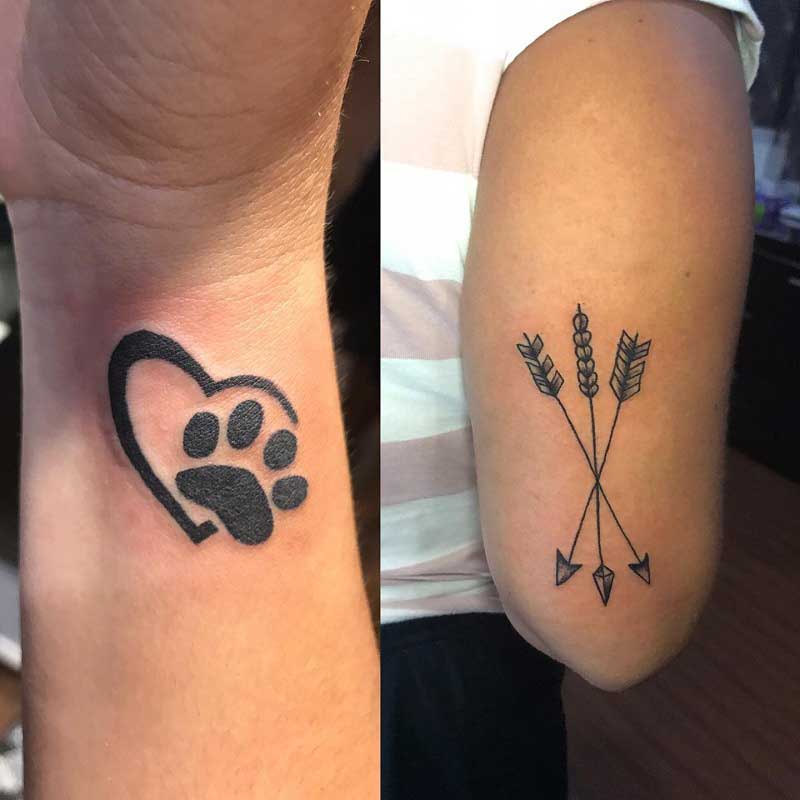 The phrase "other half" does not always refer to one's partner. A pet cat or a pet dog can make their owner feel absolutely complete and this paw print tattoo depicts that quite clearly.
Animals touch the innermost parts of people's hearts: their need to nurture as well as their need to love. They can get paw tattoos etched on their wrists to express these feelings.
16. Jolly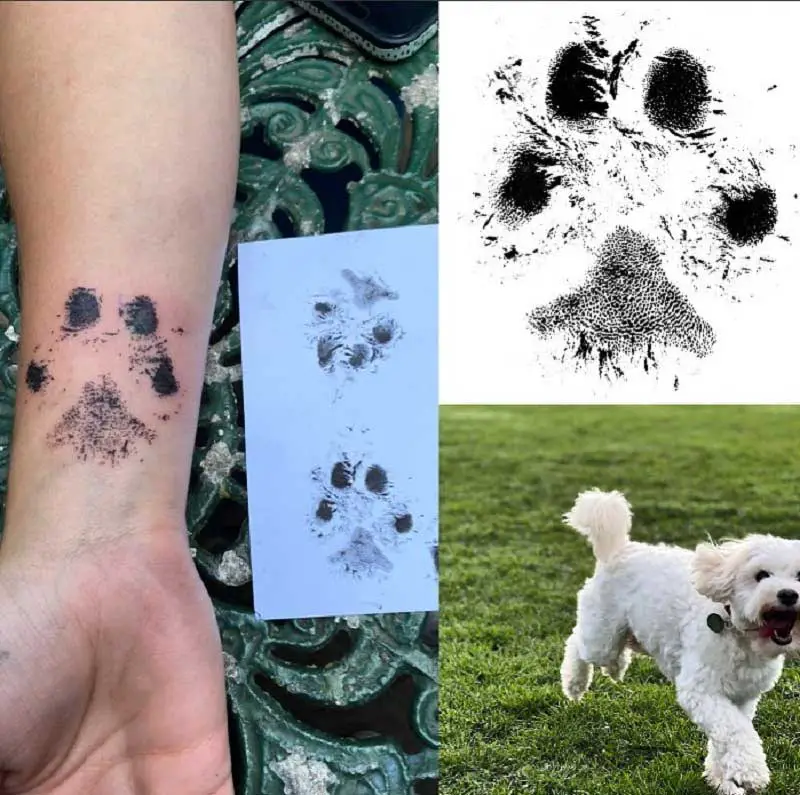 The jolliness of the dog shown in the photo above can bring a smile to anyone's face. The paw tattoo can remind the dog owner of the pleasantness and delightfulness it would spread around.
17. Perpetual Love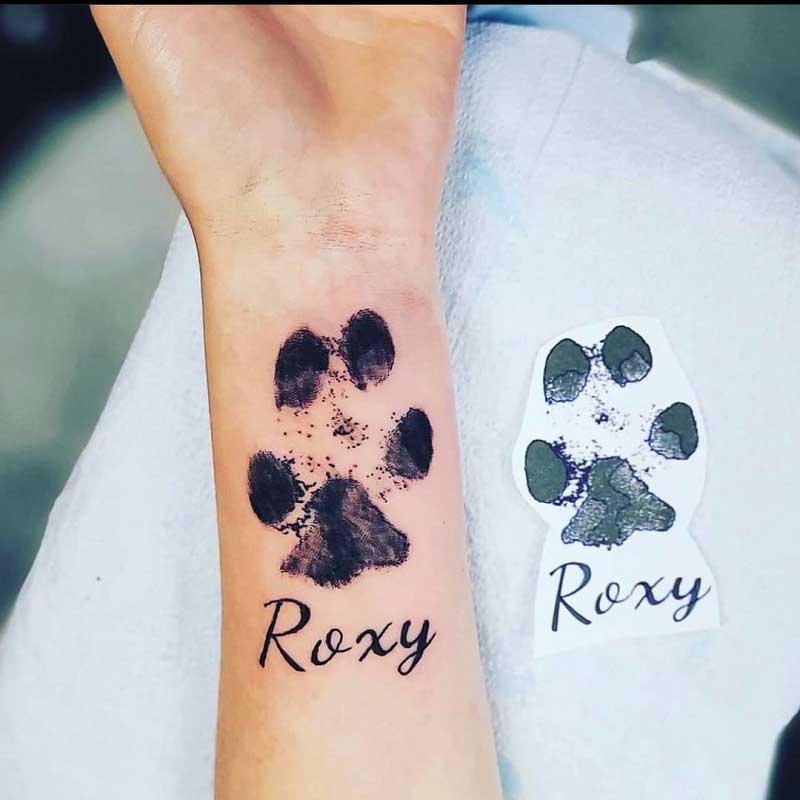 Some people's love for animals is incredibly powerful and it is something that can never be replaced. This love continues to last till the end of time.
18. Apple Of My Eye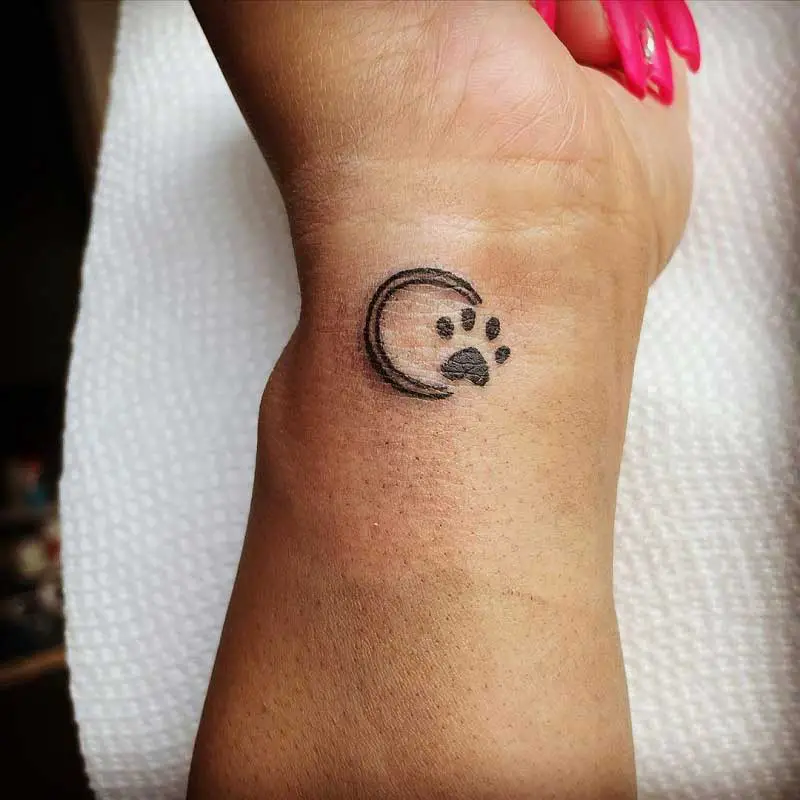 The phrase "apple of my eye" refers to a person or animal of whom one is extremely fond and it is definitely applicable in this context. It depicts pure affection towards the pets.
Wolf Paw Print Tattoo
Wolves are powerful symbols. Paw tattoos of this particular animal represent Native American tradition. A wolf's paw symbolizes the act of being guided along the correct path. Here are some cool designs below:
19. Guidance
As mentioned before, wolf paw tattoos symbolize the need for guidance on the right path. Such tattoo designs are also pretty unique and can look really cool if the tattooing is on point.
20. Strength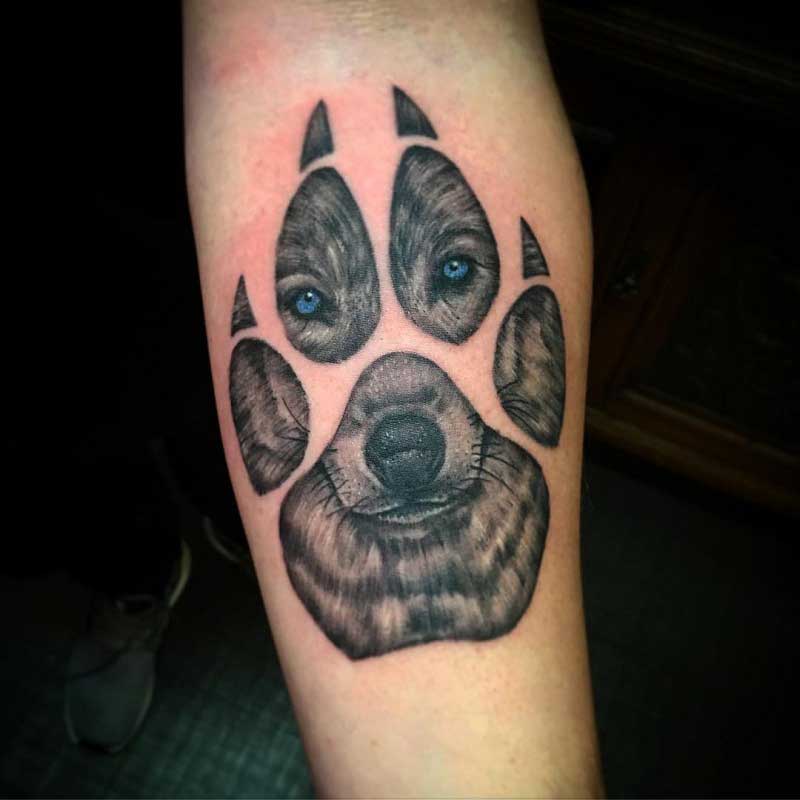 These paw print tattoos also represent strength and courage. Wolves are wild animals and they are known for their viciousness. A perfect choice for a person with this particular character trait.
21. Freedom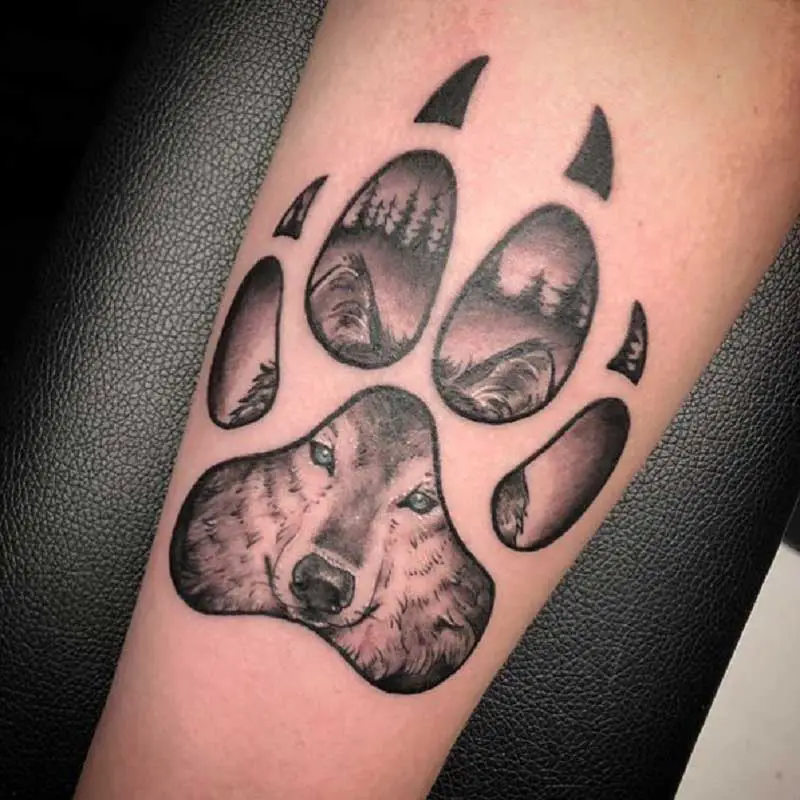 Wolves are also known to have a huge appetite for freedom. This tattoo is absolutely ideal for a person who will do anything to free themselves from all sorts of constraints in life.
Bear Paw Print Tattoo
Bear paw tattoos represent strength, tenacity, and courage. They are also a symbol of gentle spiritedness and maternity. Below you'll find some amazing bear paw tattoo designs:
22. Warrior Spirit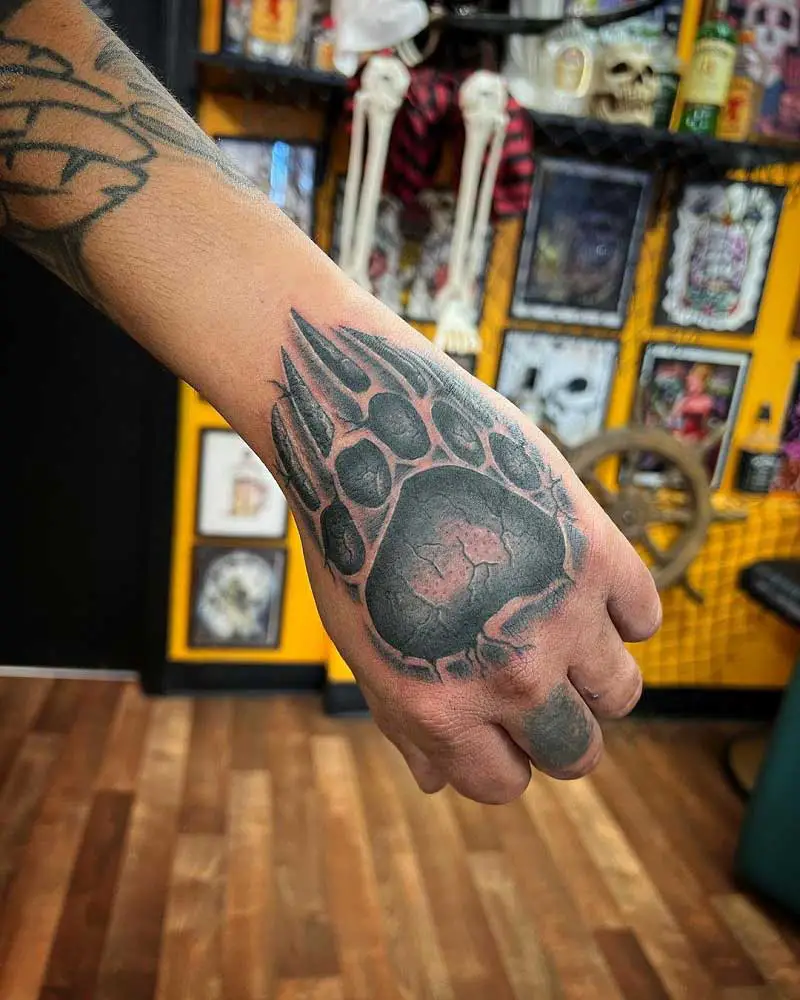 Black bears are known for their immense skill in battles. Their paw tattoos show a person's capability to overcome all kinds of obstacles and come out victorious.
23. Luck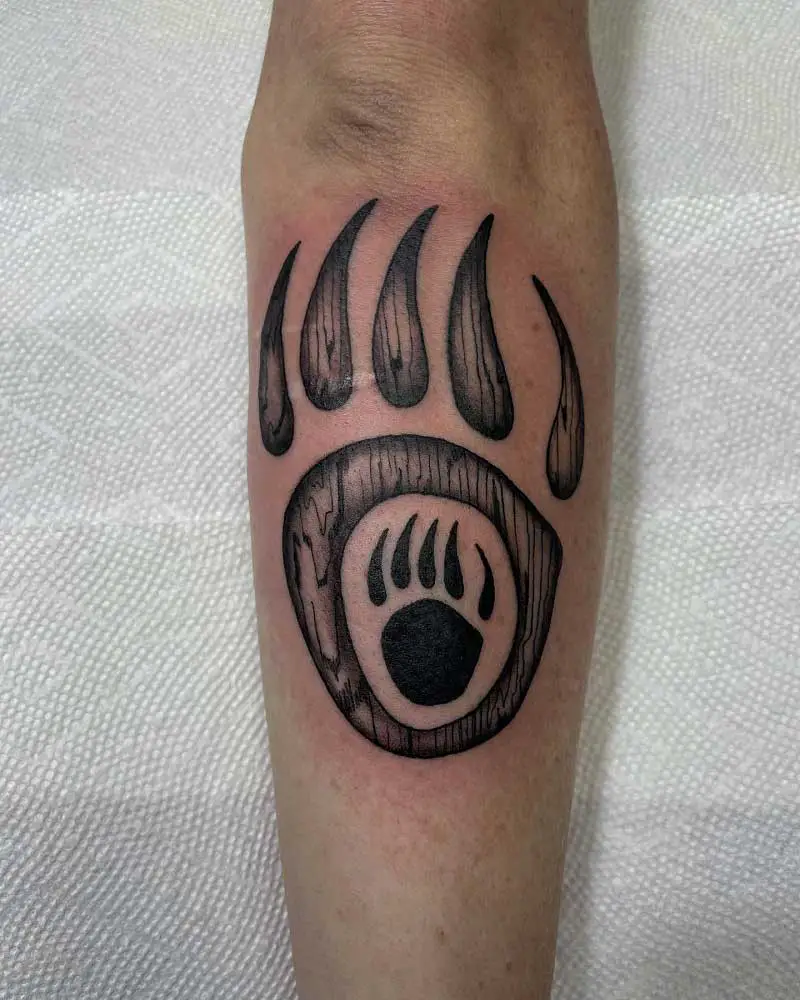 Although bear claw tattoos usually signify power and ferociousness, they also represent good luck. The bear claw is also a spiritual icon in Native American totem poles.
24. Self-discovery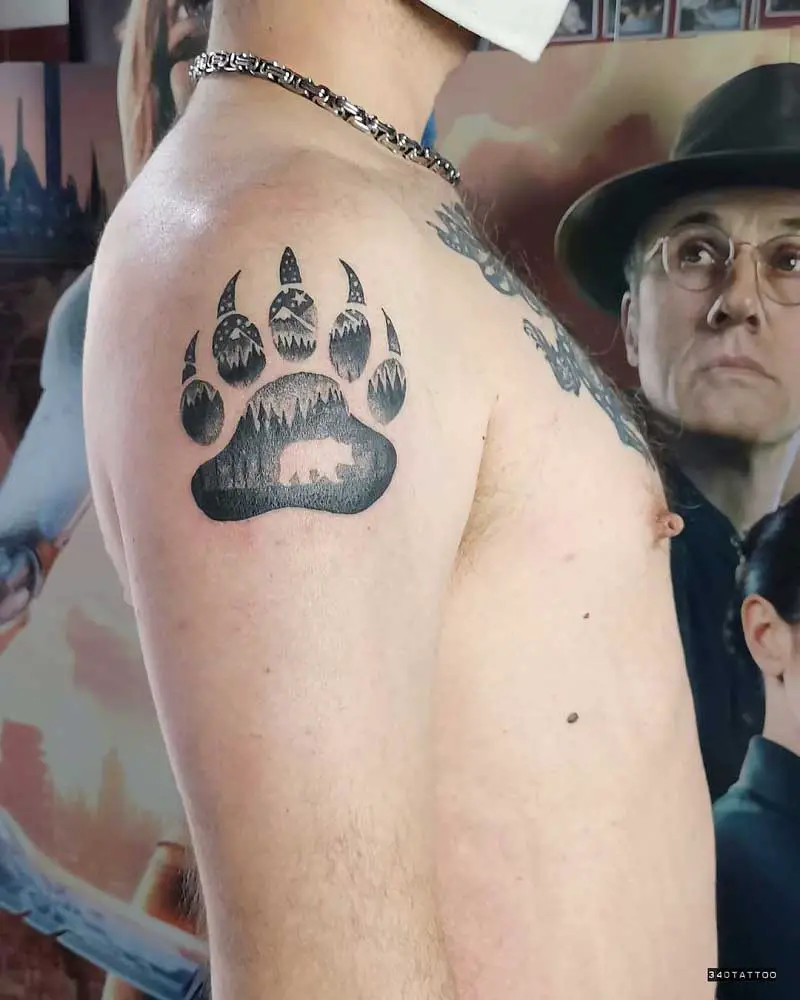 In addition to all the meanings of bear paw tattoos we just went through, they are also a symbol of self-discovery. It means to have an understanding of one's own abilities and feelings.
Minimalist Tiny Paw Print Tattoo
Paw print tattoos can also be minimalistic in nature. People do not get such tattoos to grab people's attention or flaunt their personalities in any way. These tattoos portray the pure affection towards the pets:
25. Precious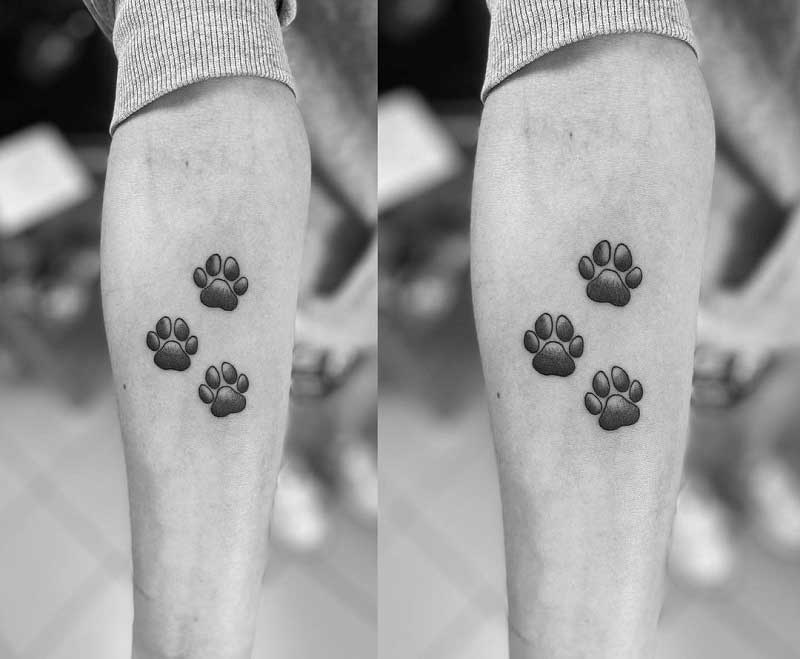 Pets are very precious to the people who own them. The love towards their pets is never-ending and rest assured, it lasts for an eternity.
26. Beauty in Minimalism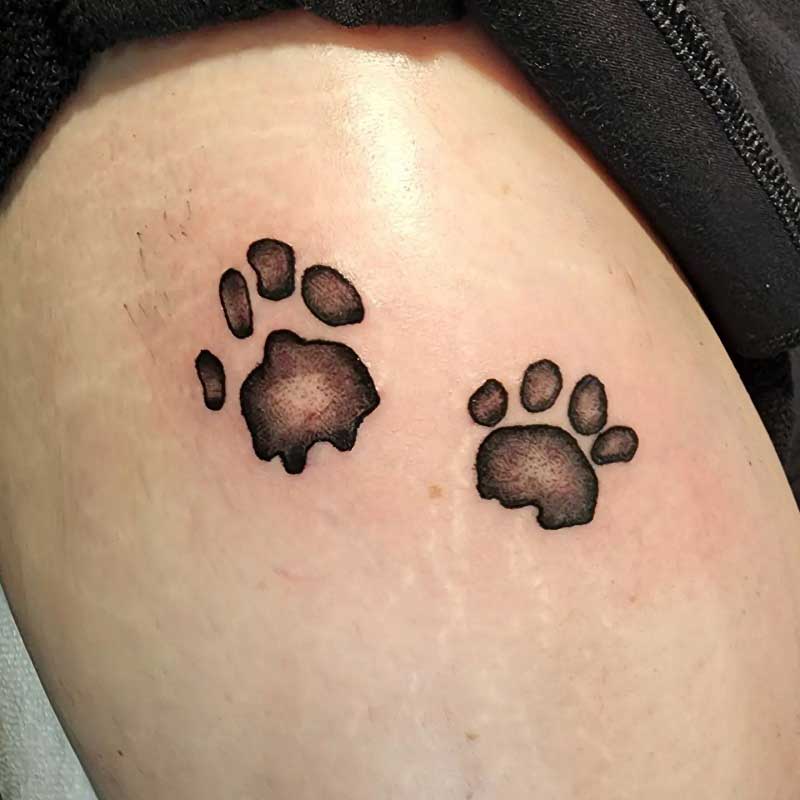 This paw print tattoo is for those people who wish to keep things simple. They just want to manifest their deep love and affection towards their pets and nothing else.
27. Realistic Paw Tattoo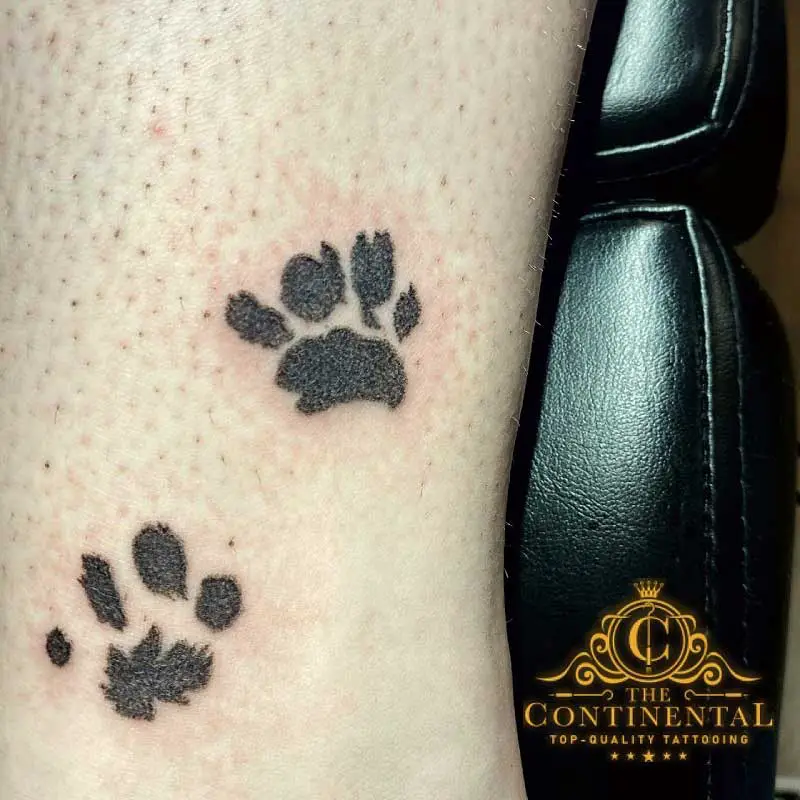 Of all the tattoos we've looked at so far, you could say this looks the most realistic. Nevertheless, the meaning behind the tattoo is still the same as it shows the powerful bond between a pet and its owner.
Lion Paw Print Tattoo
Like many other paw print tattoos, lion paw tattoos symbolize progress and accomplishment. They also represent a fearless individual and their ability to overcome a challenge with the help of courage.
28. Menacing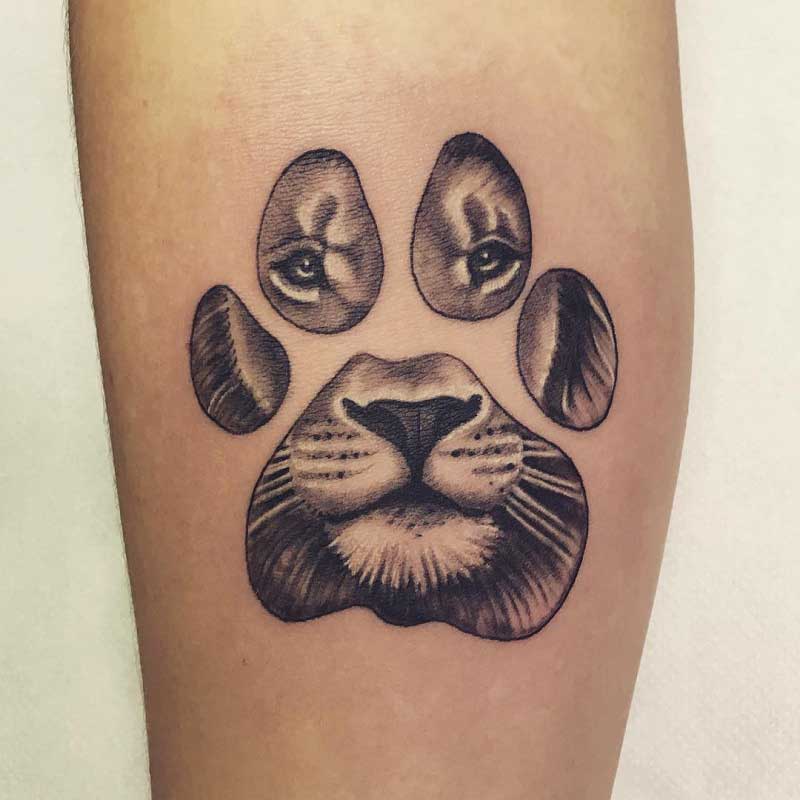 Lions are wild animals and they are fearsome in nature. This paw tattoo is perfect for someone with a fierce and aggressive mentality. It also looks pretty cool in terms of visuals.
29. Bravery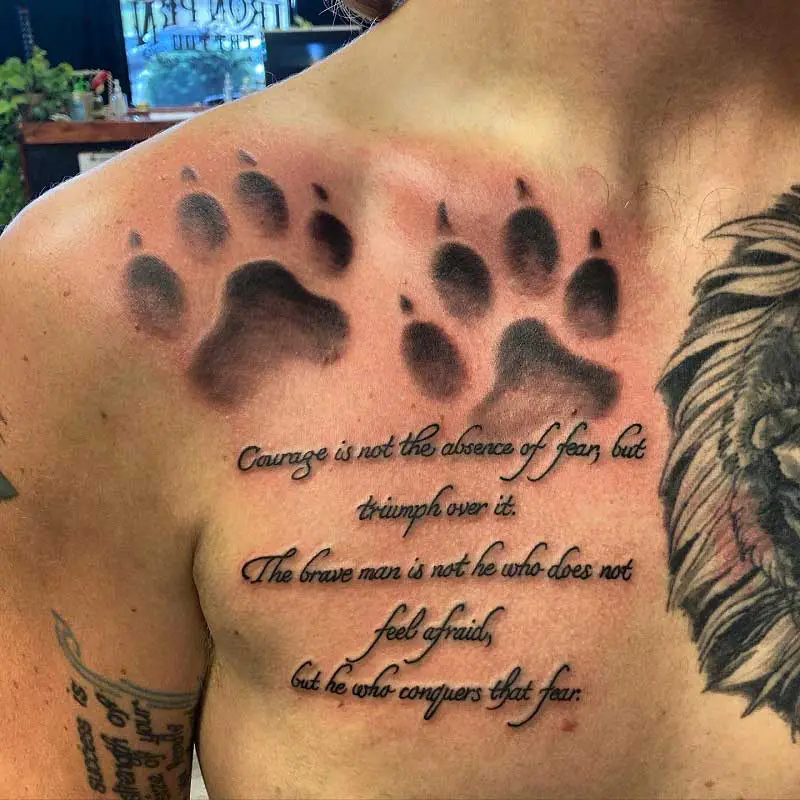 One of the most common and obvious meanings of a lion paw tattoo is to signify the courage and bravery of the tattoo bearer. A short message can also be added to make the tattoo more meaningful.
30. Accomplishment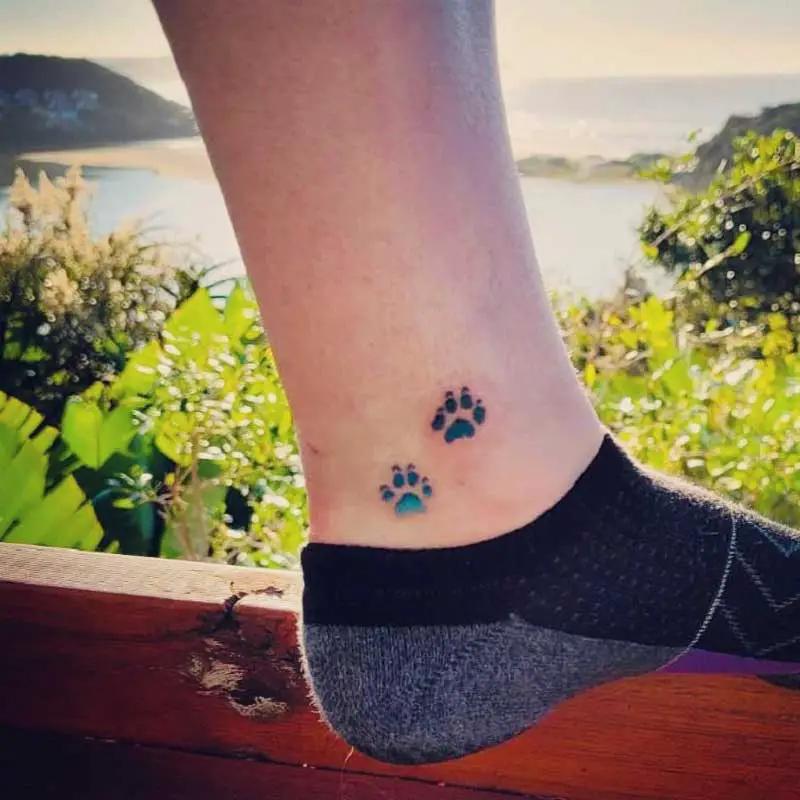 The lion paw tattoo is also a symbol of accomplishment and progress. This striking tattoo is ideal for an individual who has accomplished a lot in their life.
Rainbow Paw Print Tattoo
31.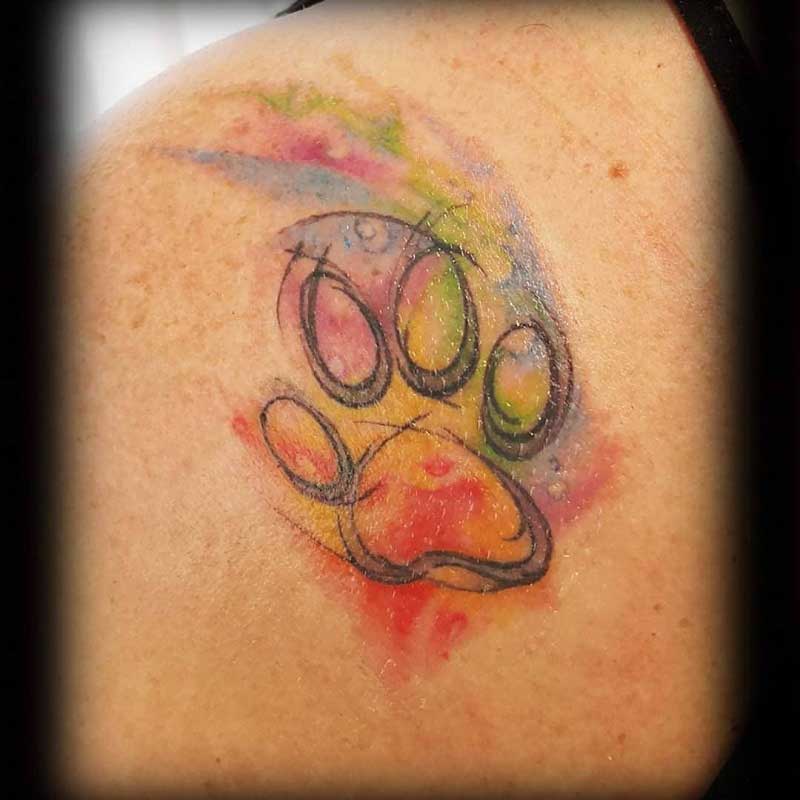 32.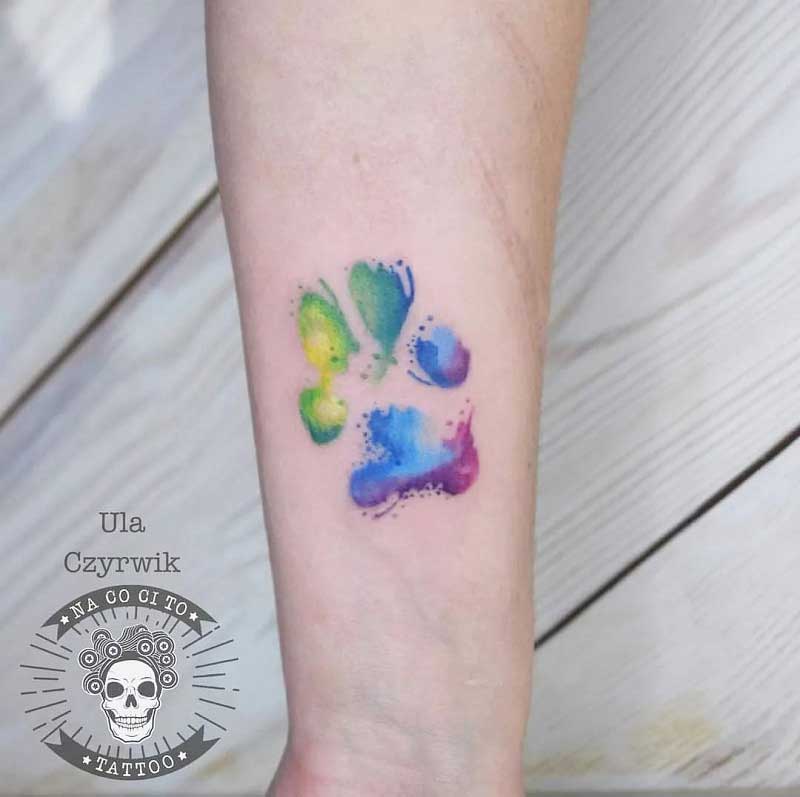 33.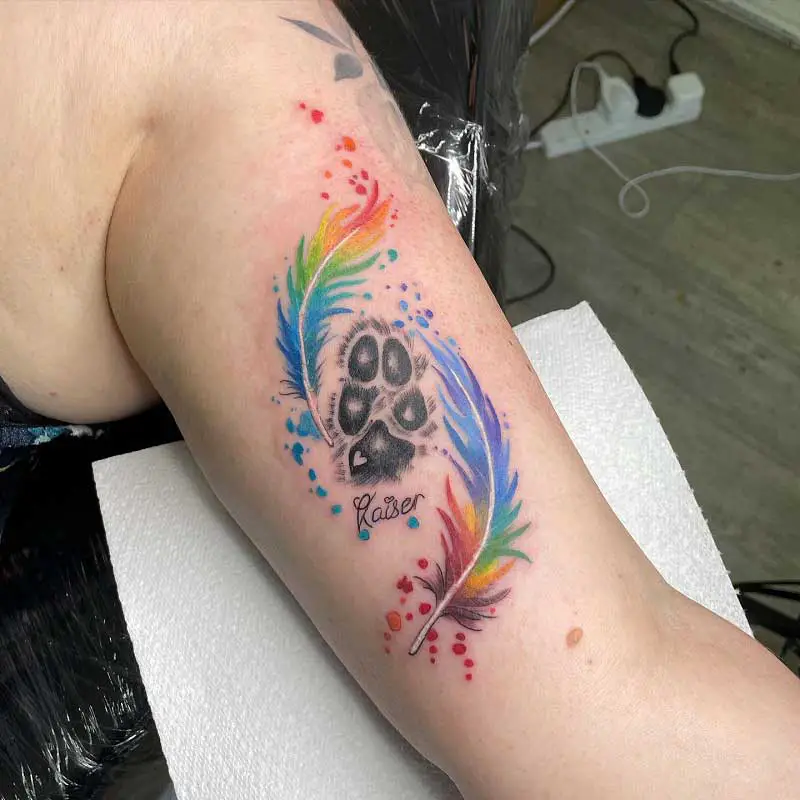 Realistic Paw Print Tattoo
34.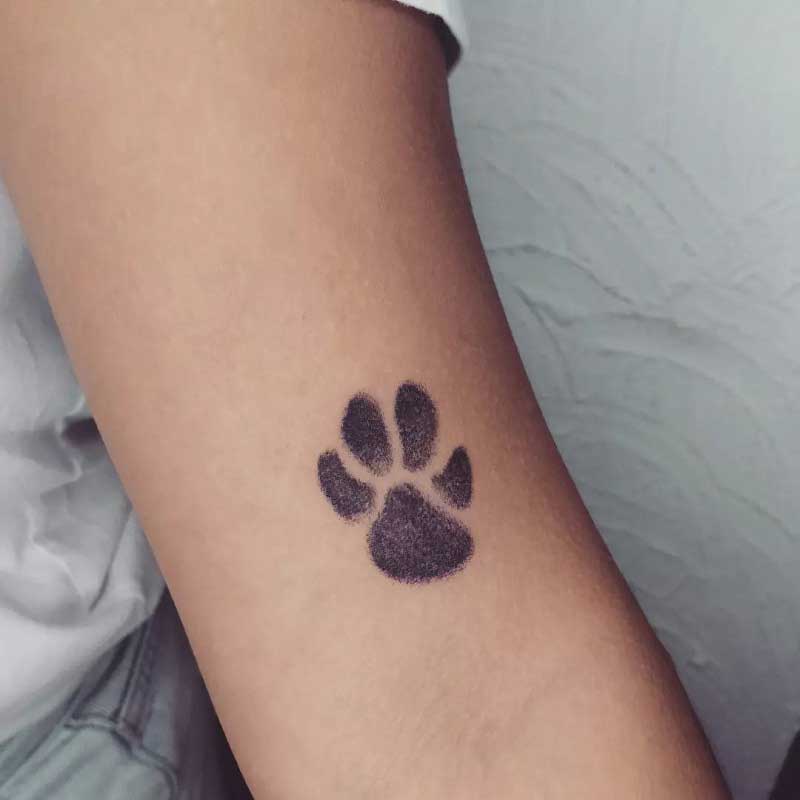 35.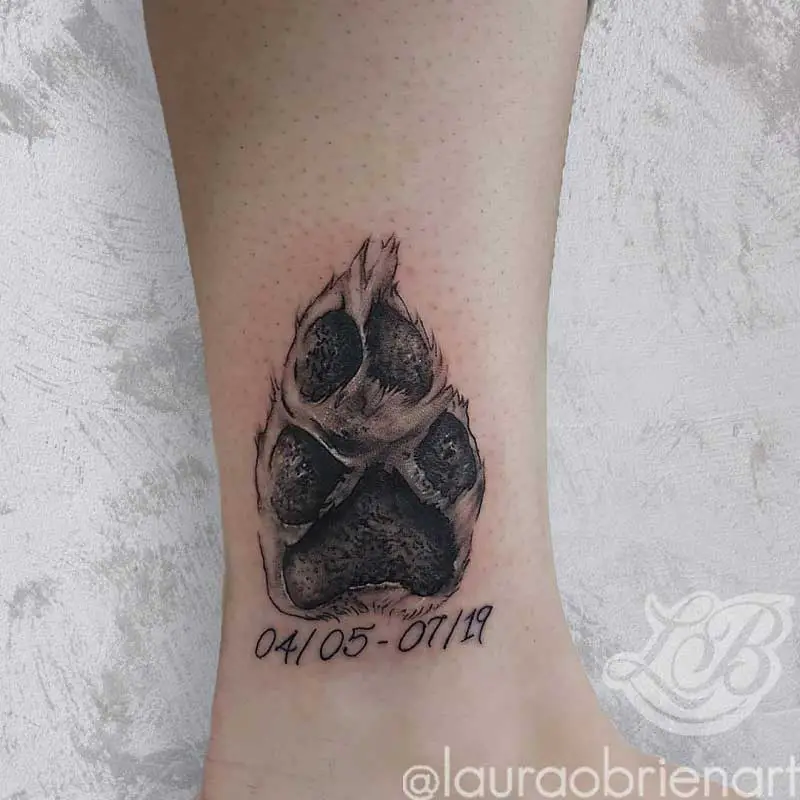 36.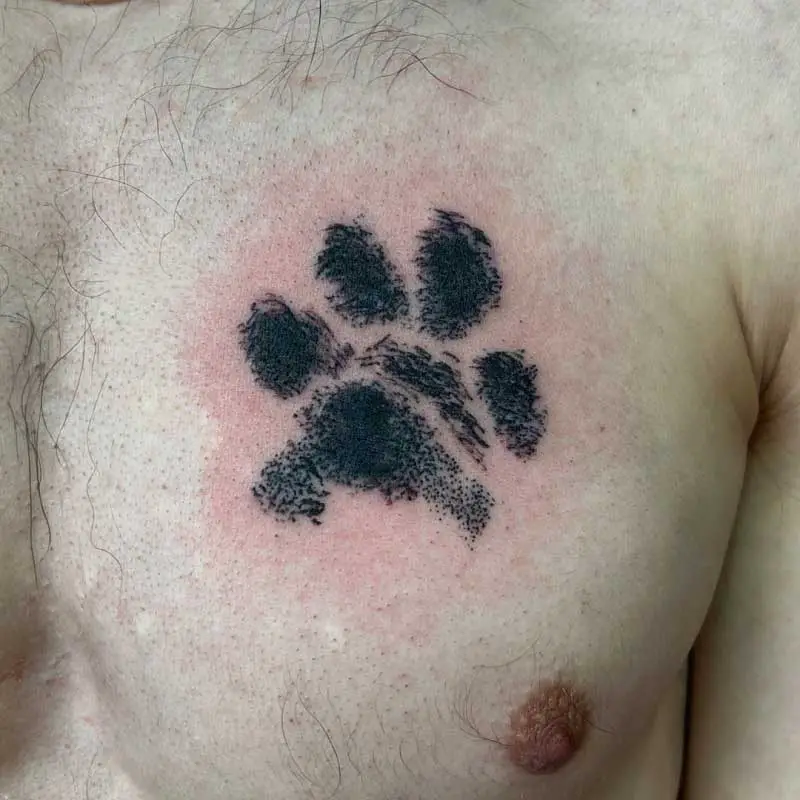 Sunflower Paw Print Tattoo
37.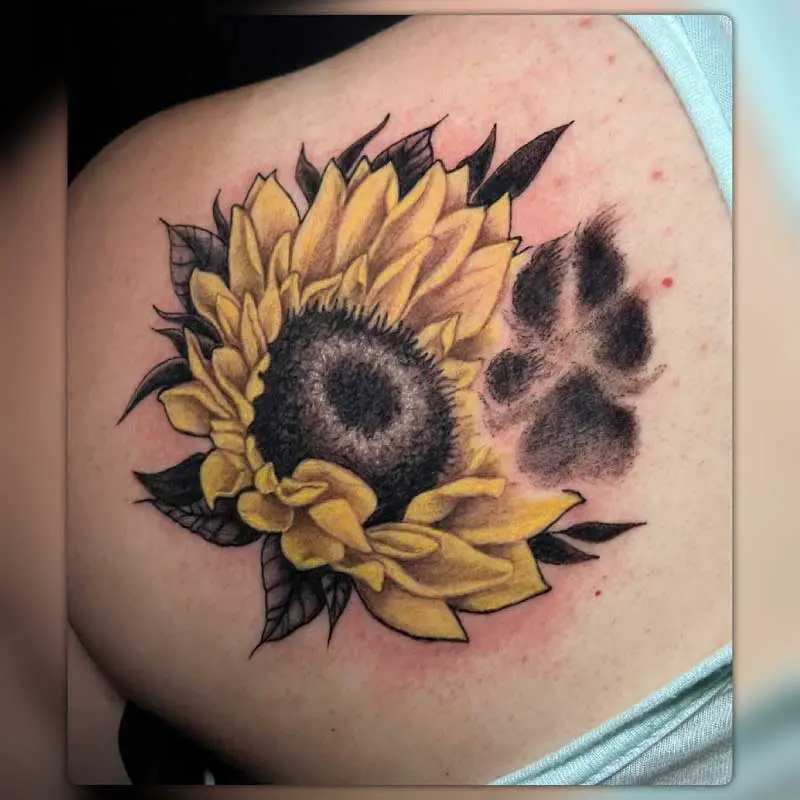 38.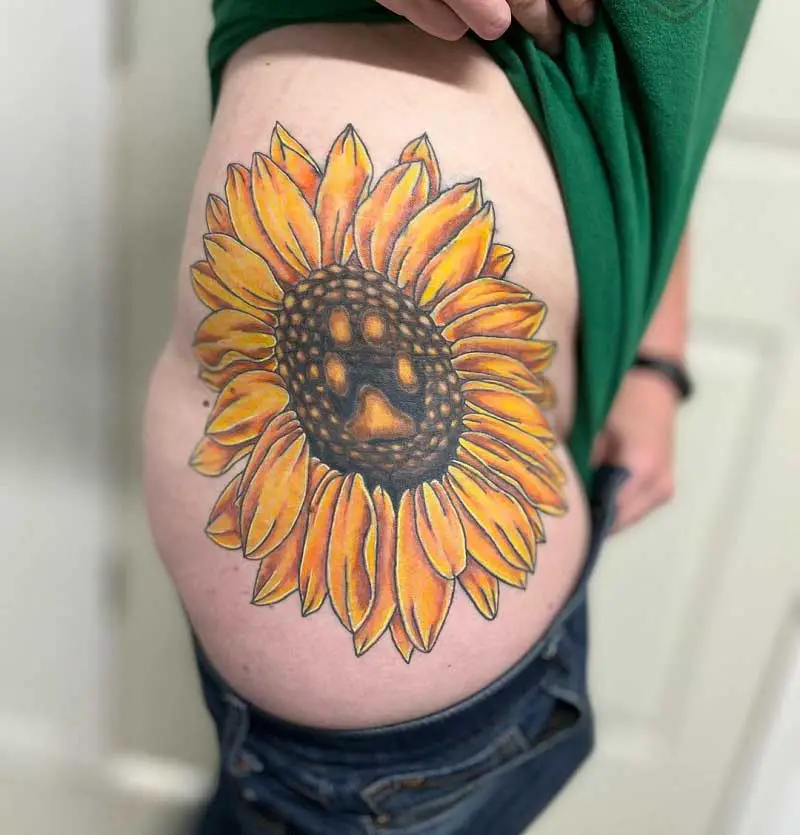 39.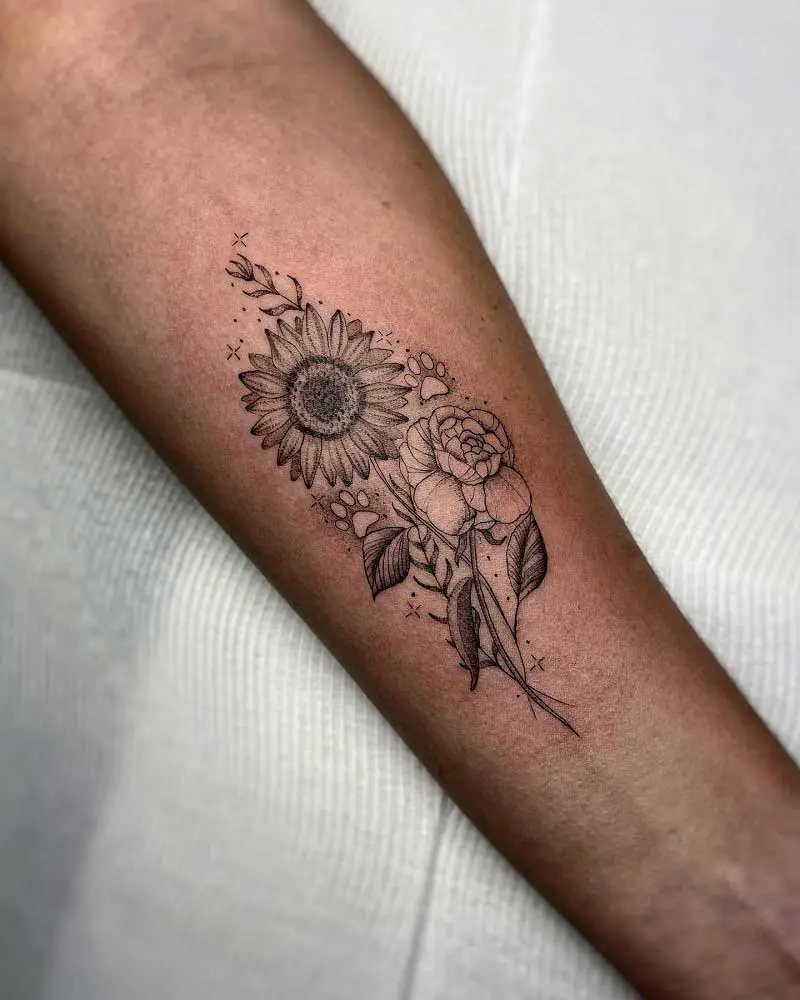 Paw Print With Wings Tattoo
40.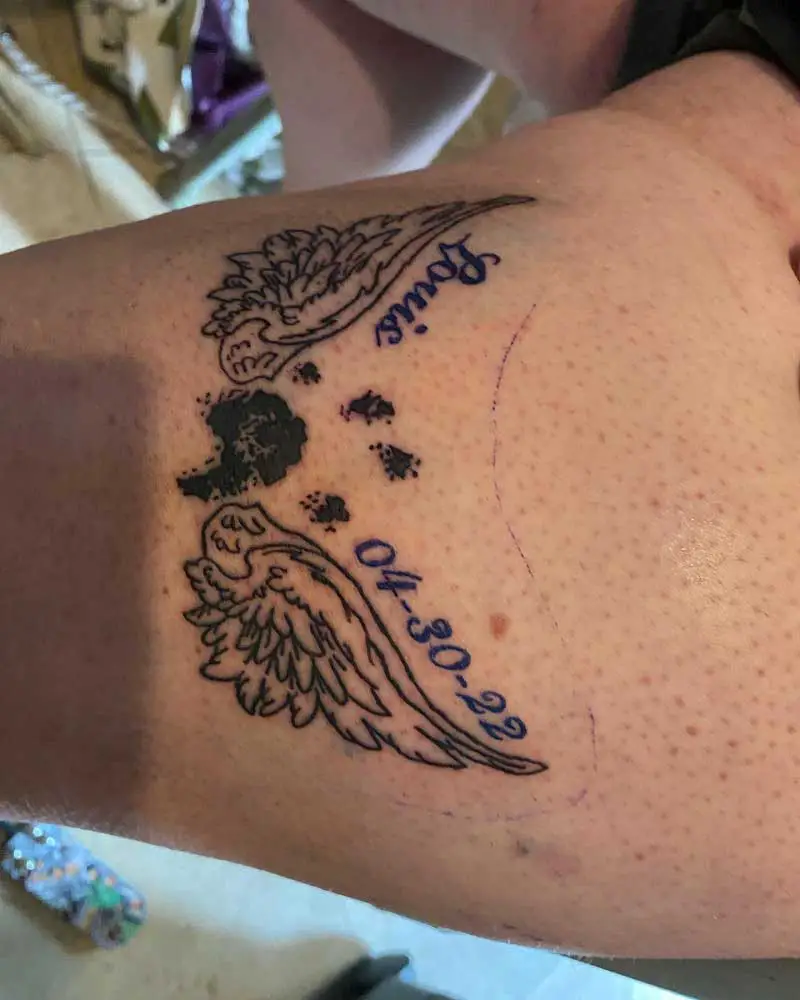 41.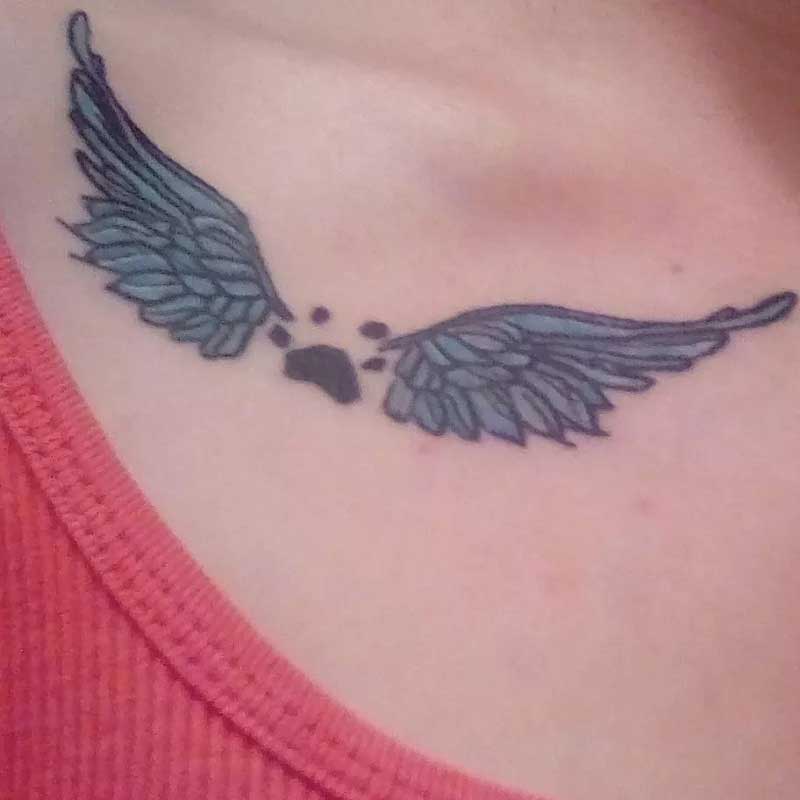 42.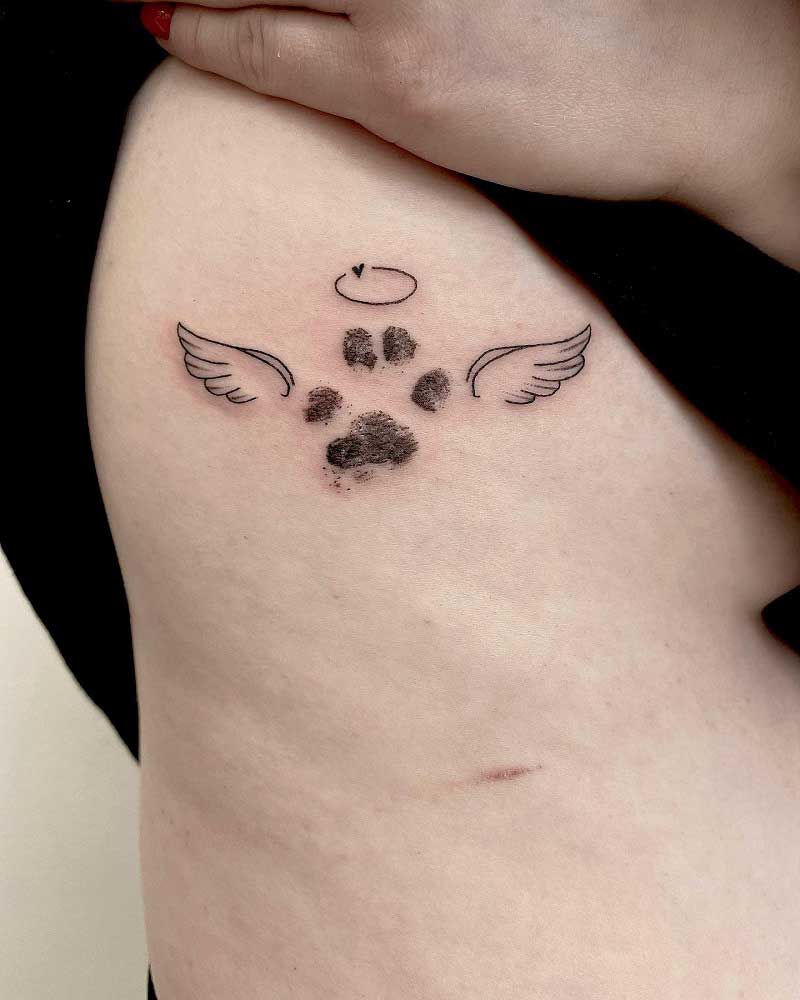 Pitbull Paw Print Tattoo
43.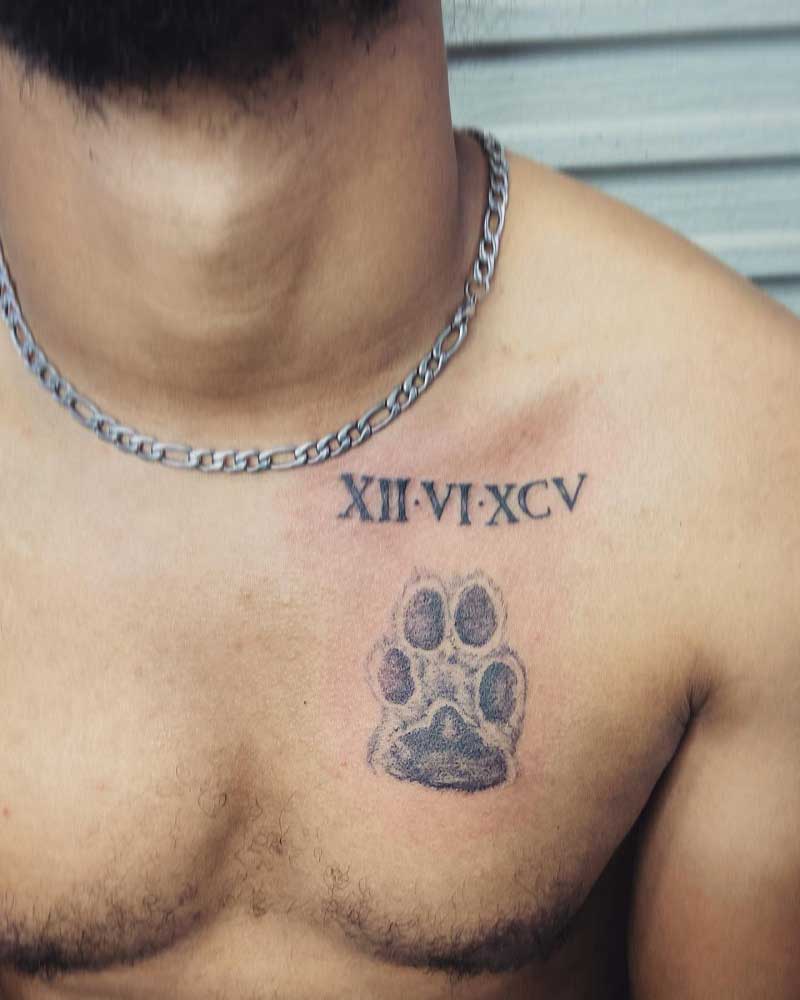 44.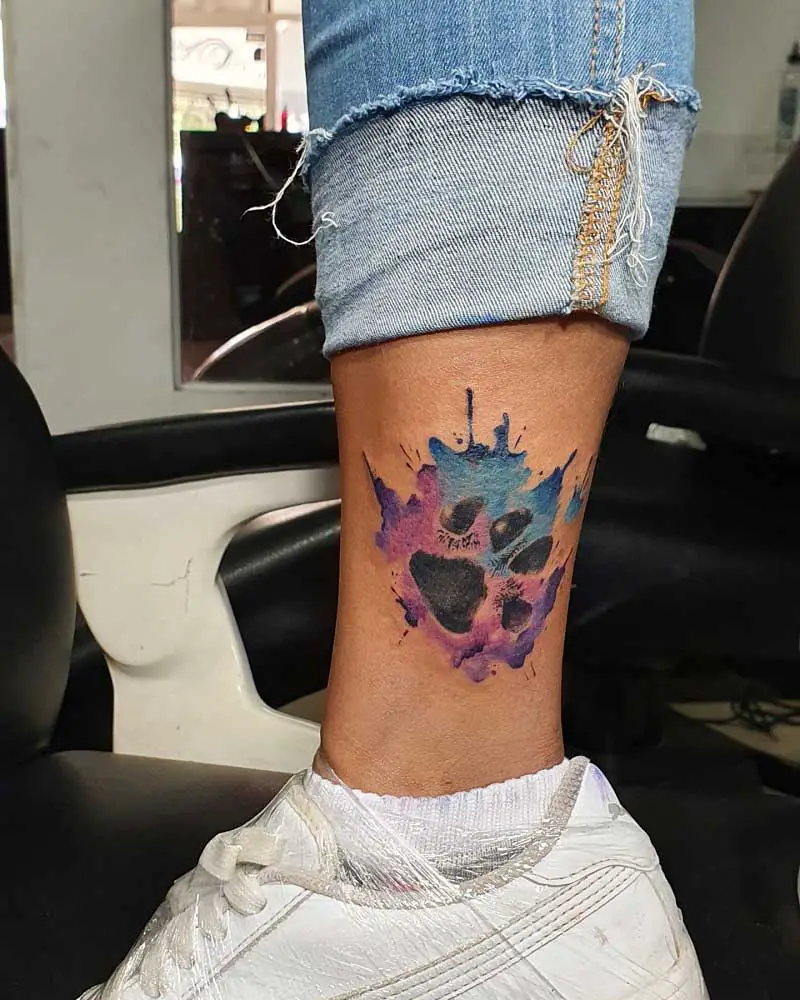 45.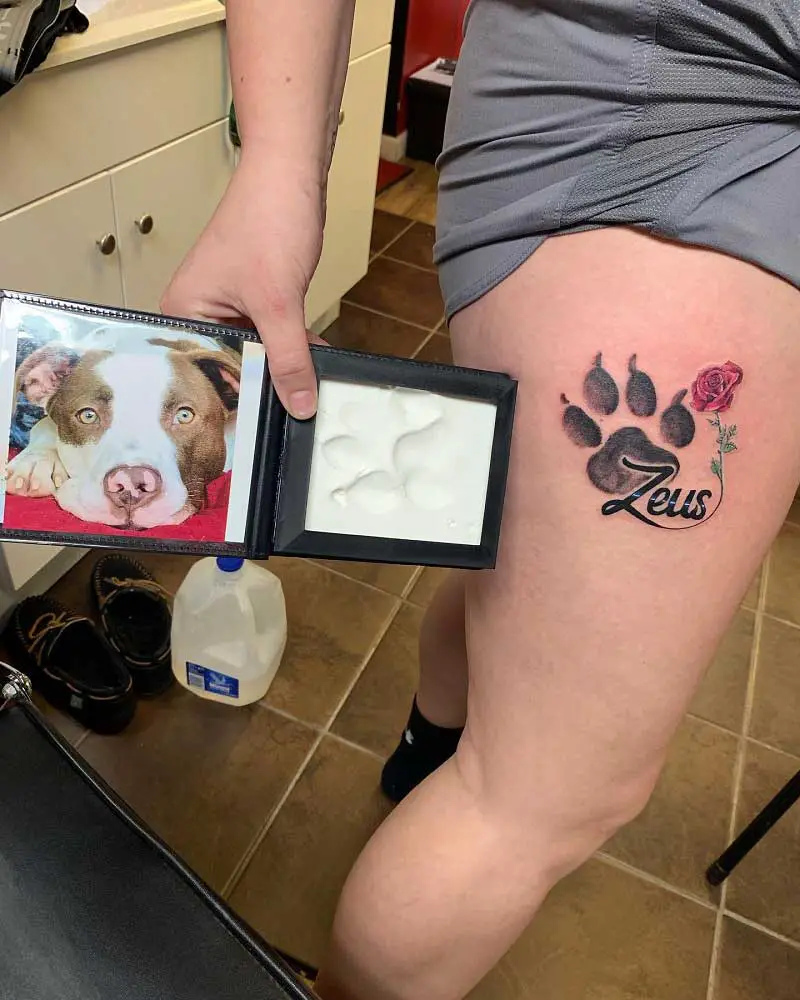 Unique Paw Print Tattoo
46.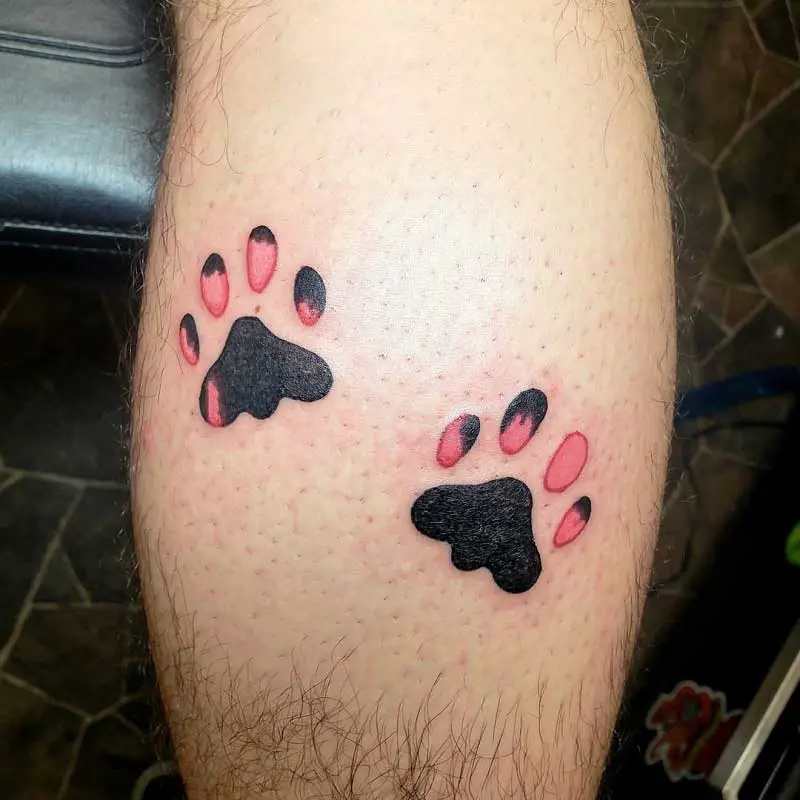 47.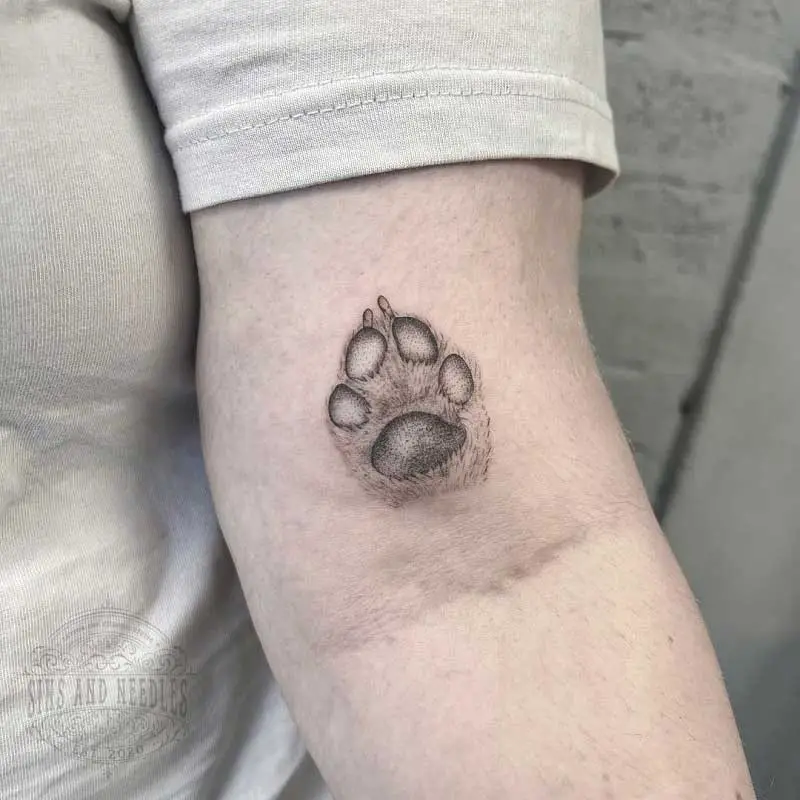 48.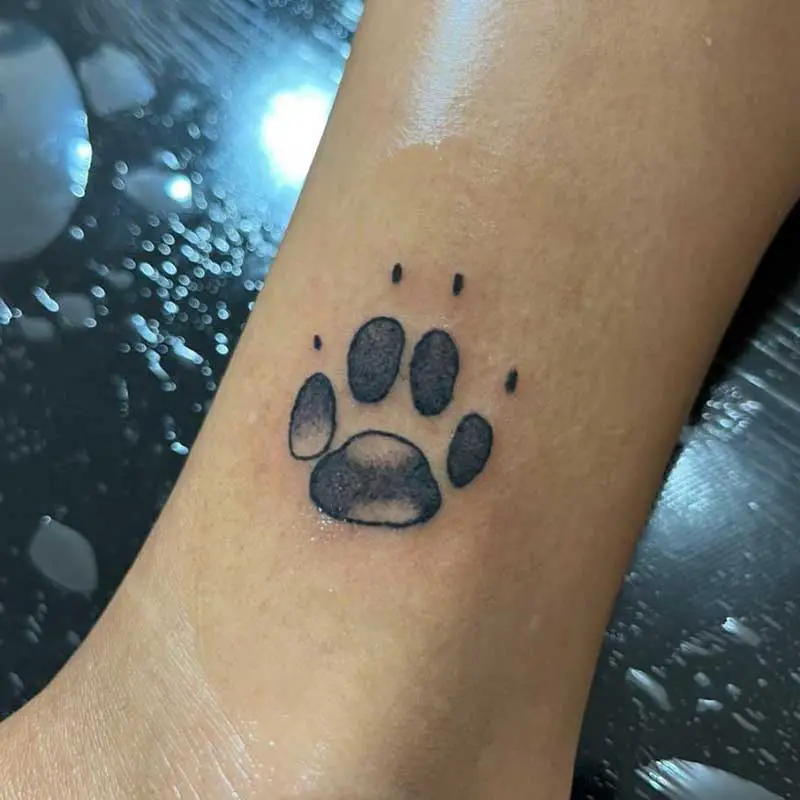 Chihuahua Paw Print Tattoo
49.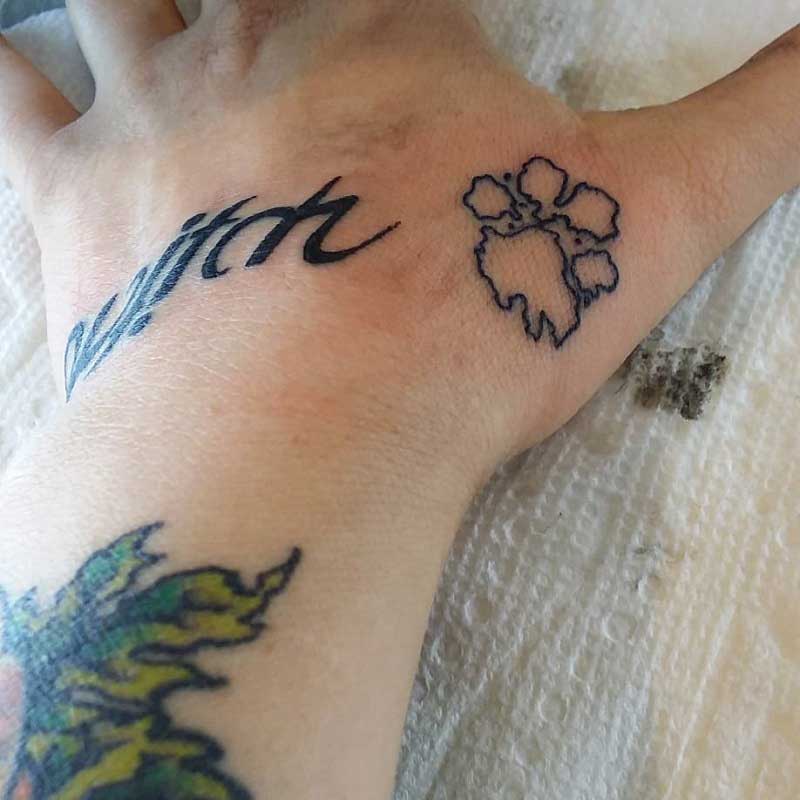 50.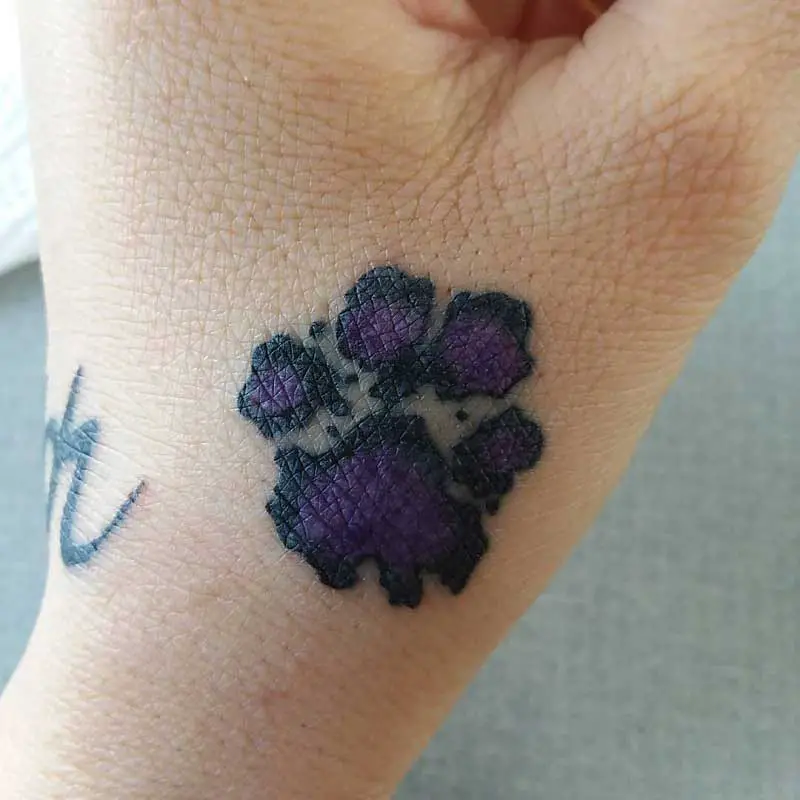 51.
Heartbeat Paw Print Tattoo
52.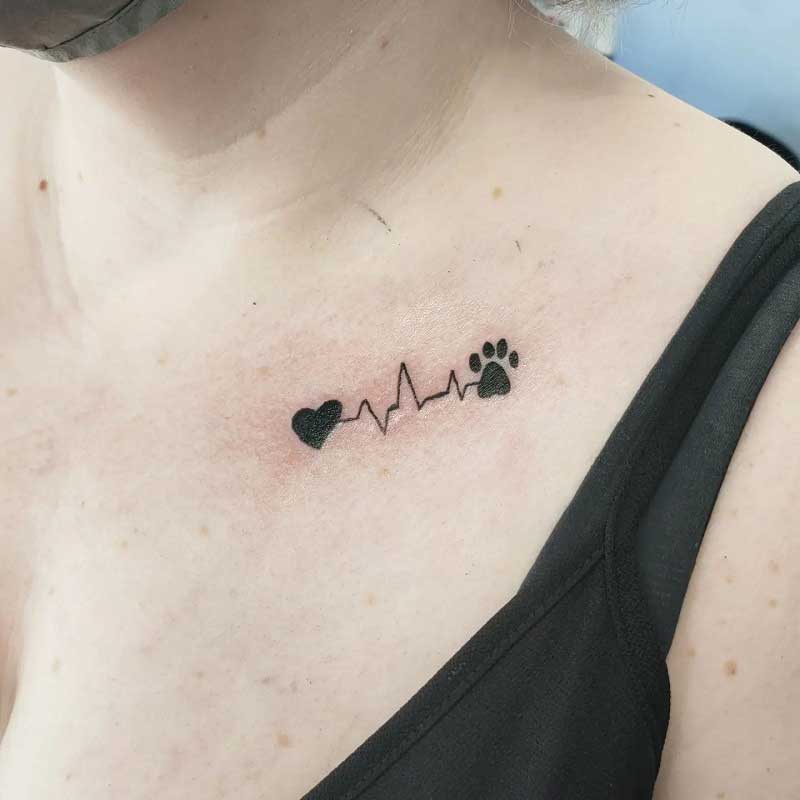 53.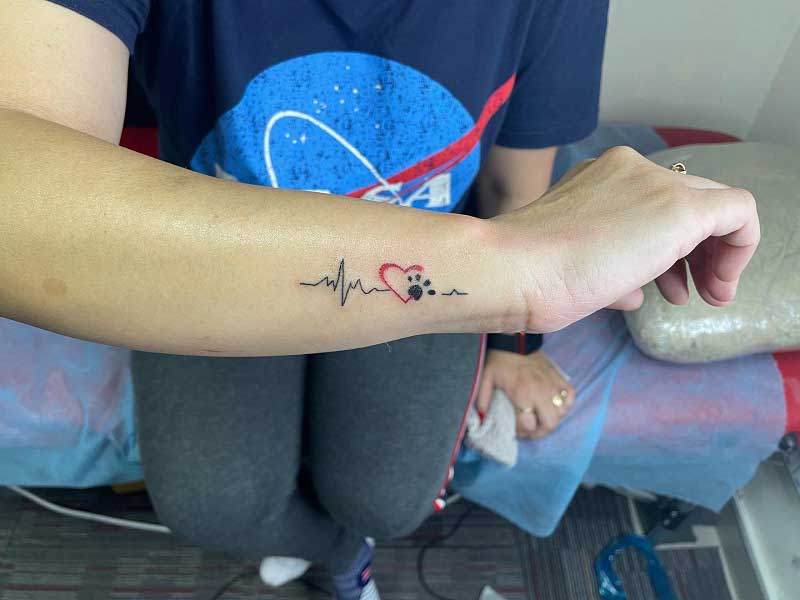 54.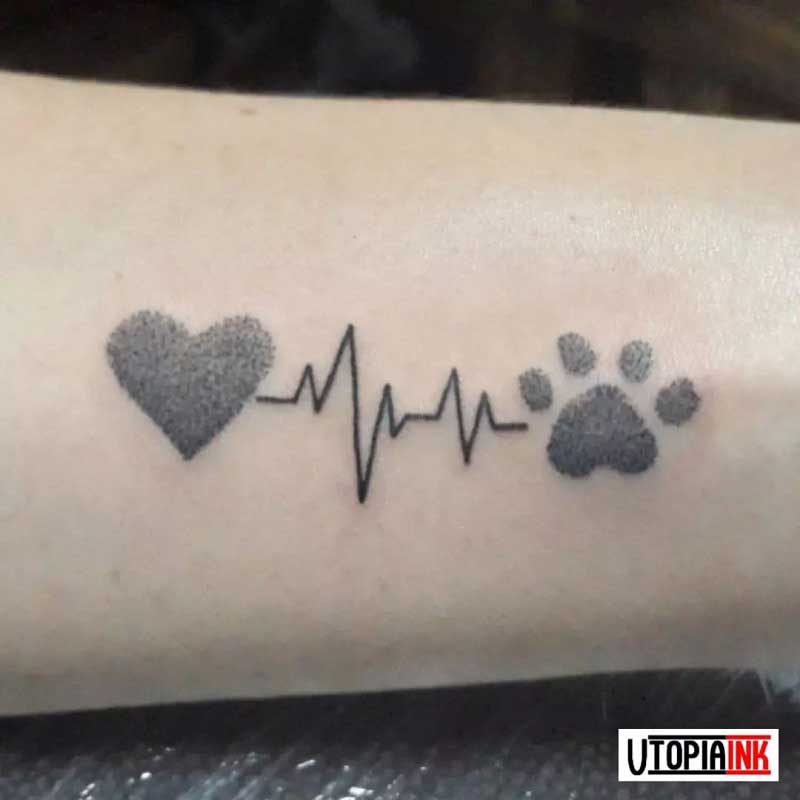 Floral Paw Print Tattoo
55.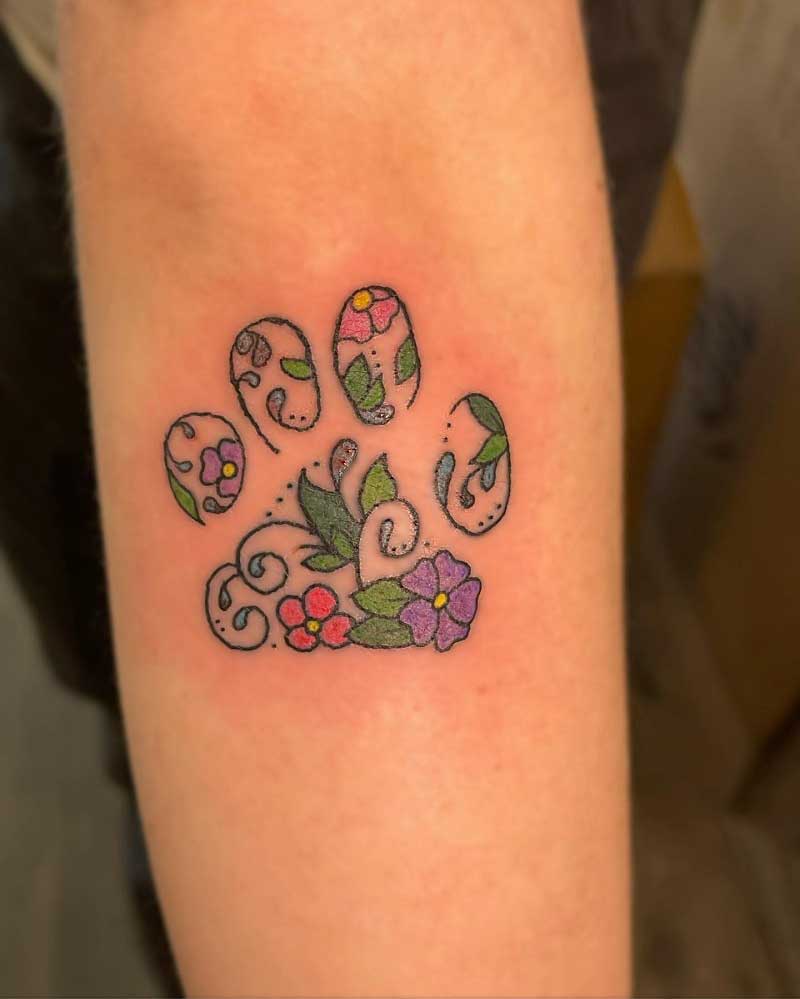 56.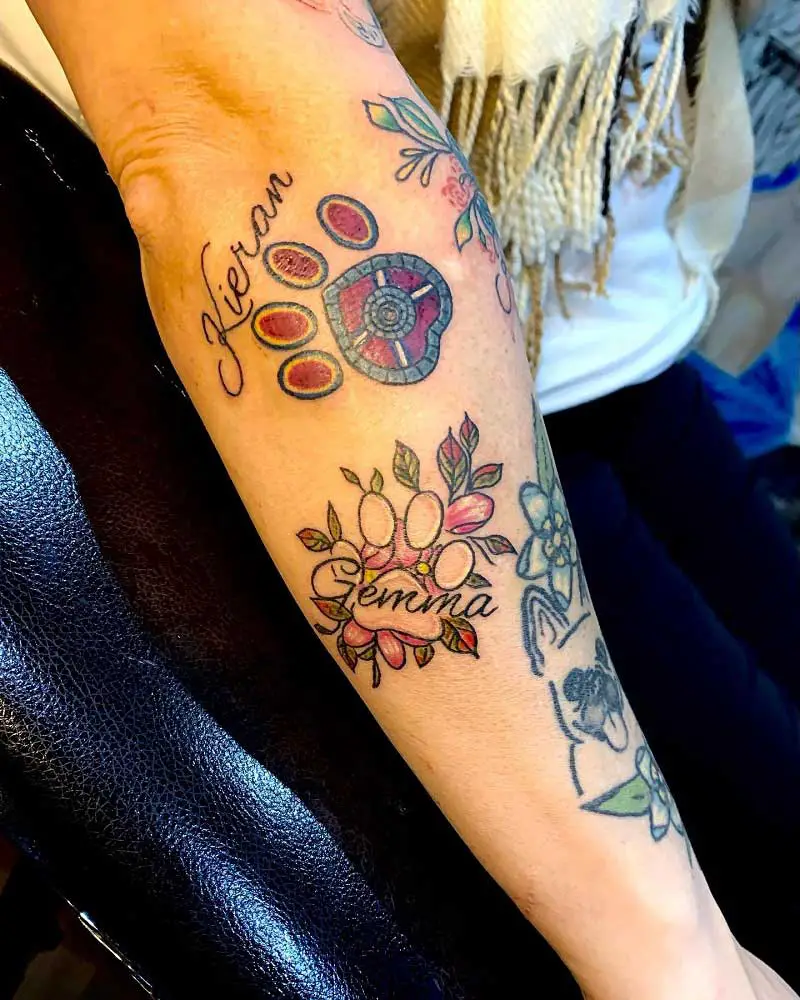 57.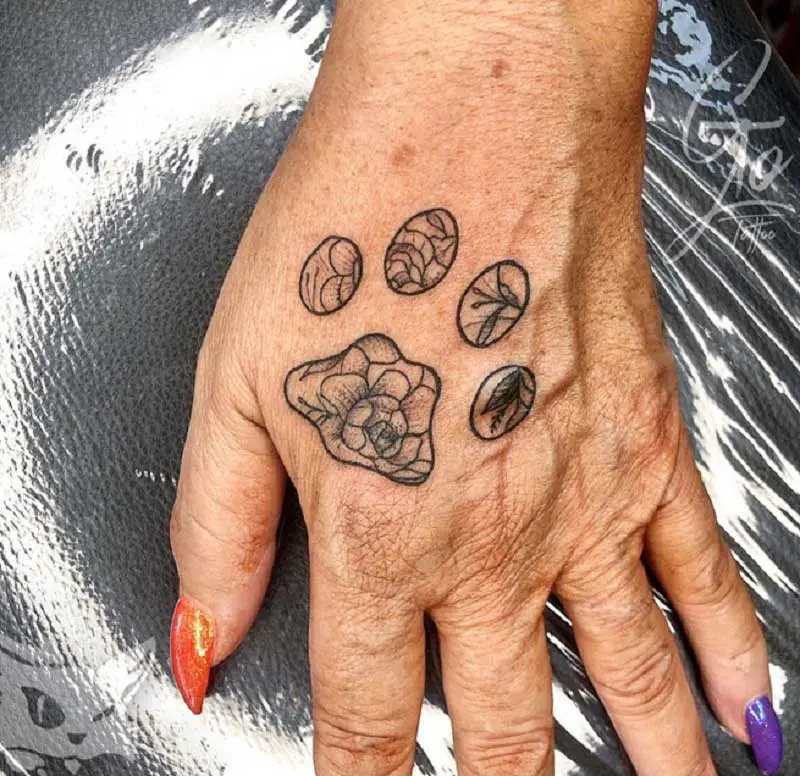 Paw Print Tattoo On Bottom Of Toe
58.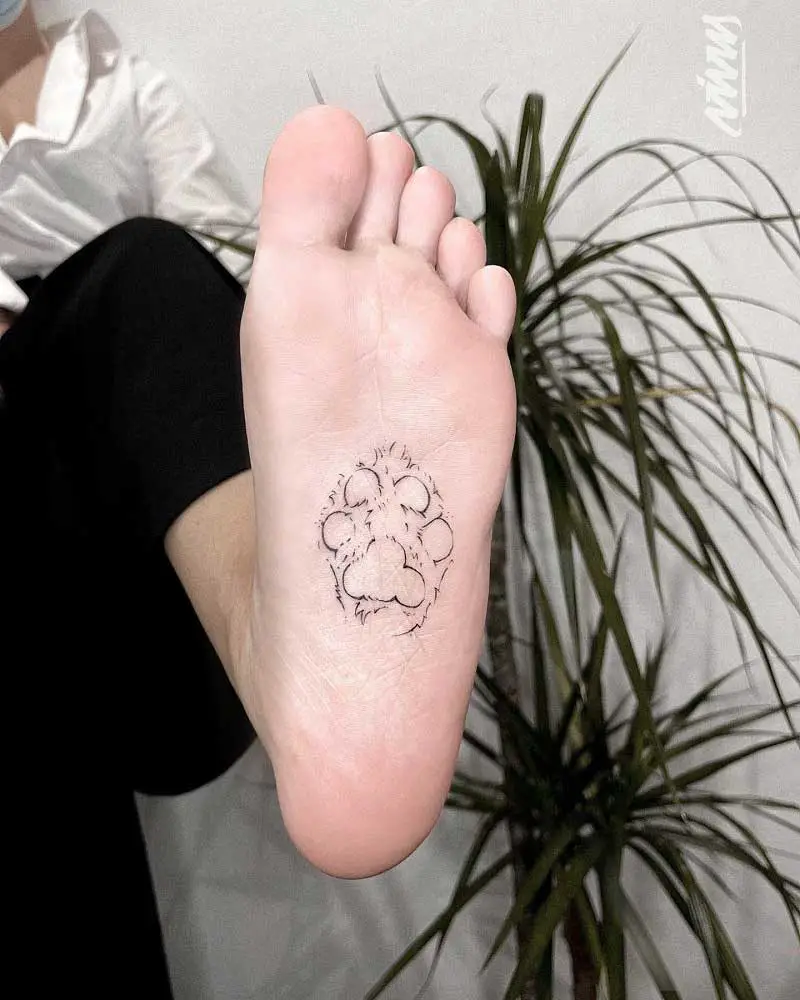 59.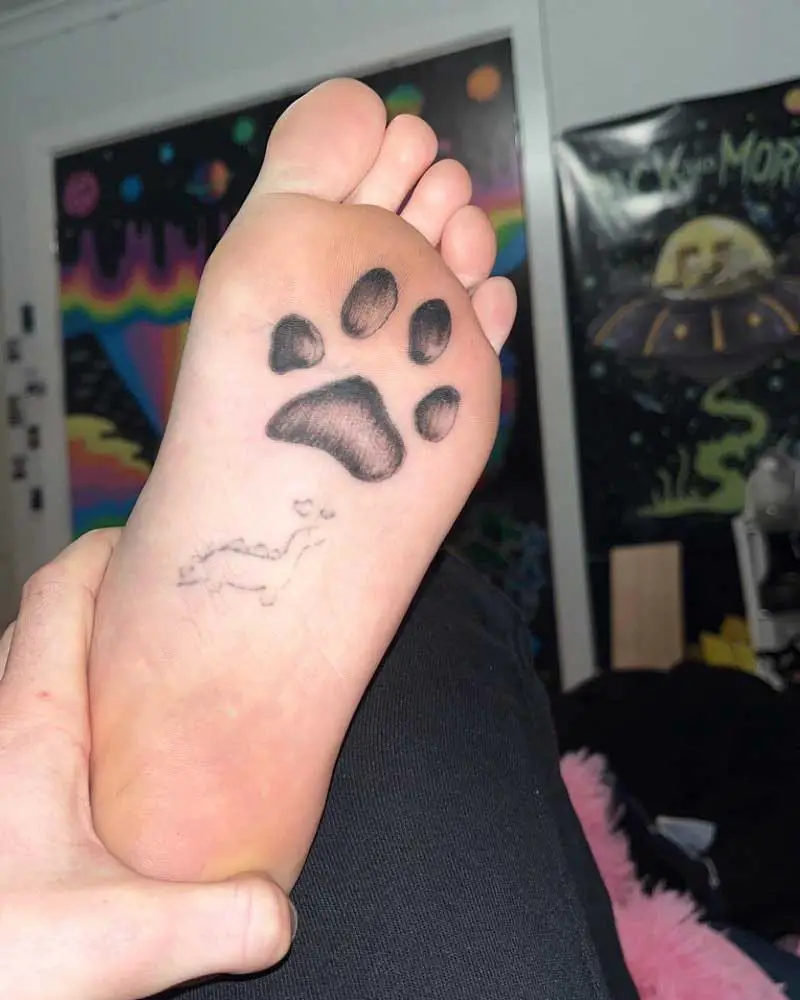 60.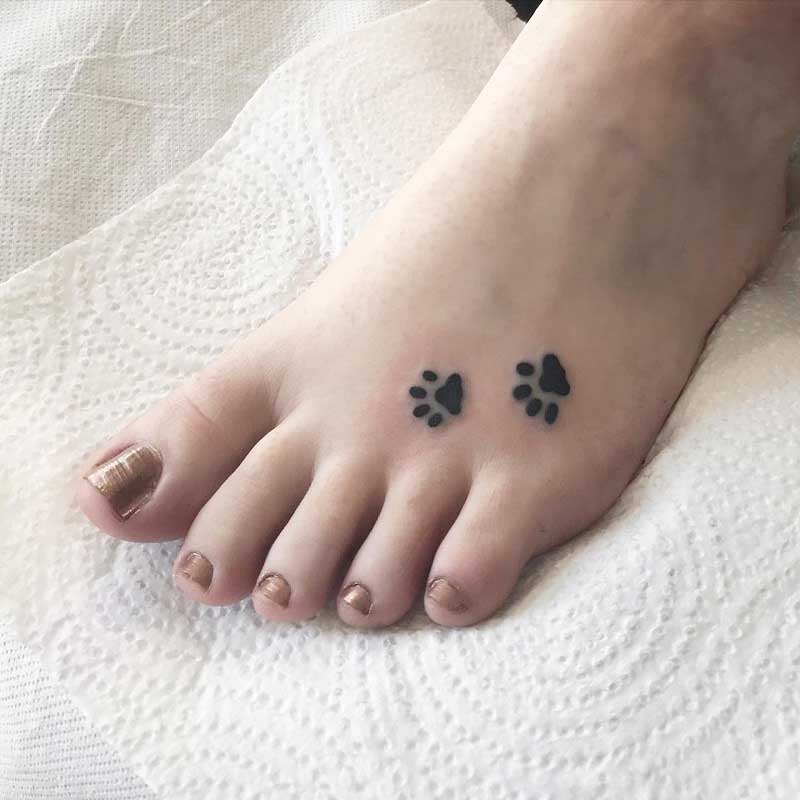 Paw Print Tattoo On Hip
61.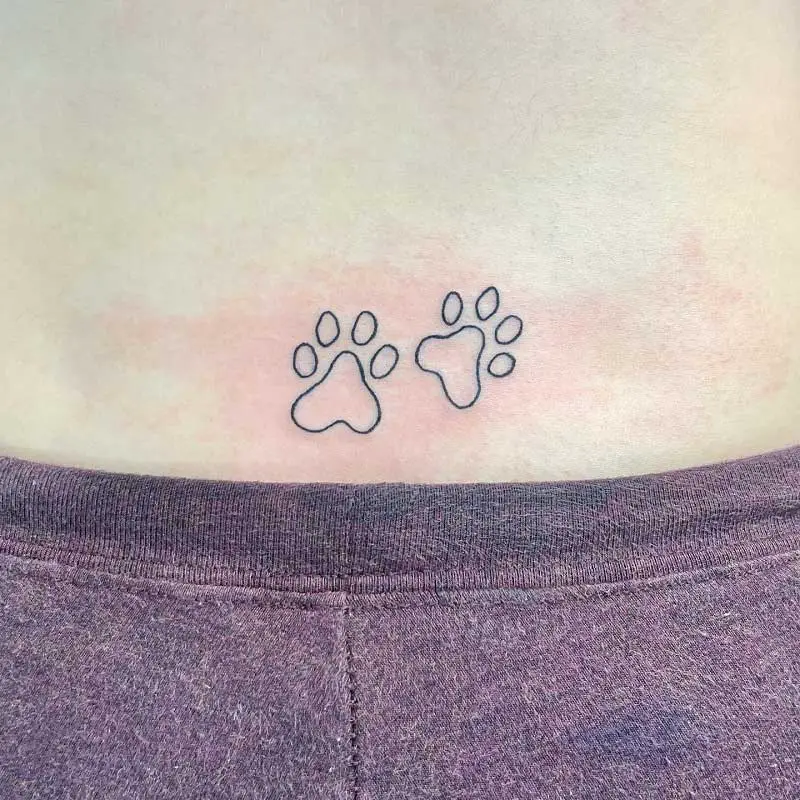 62.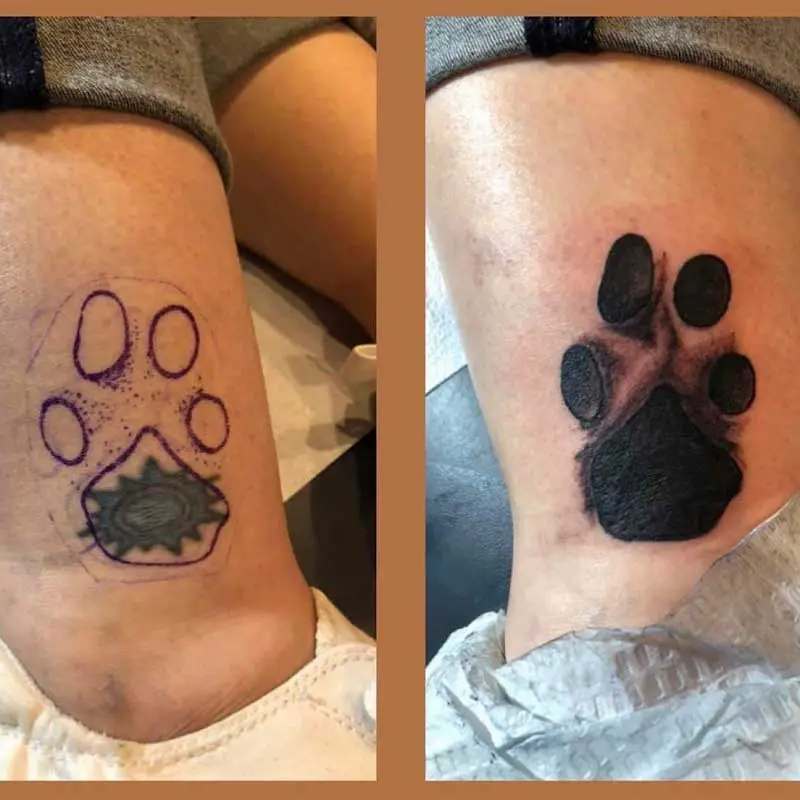 63.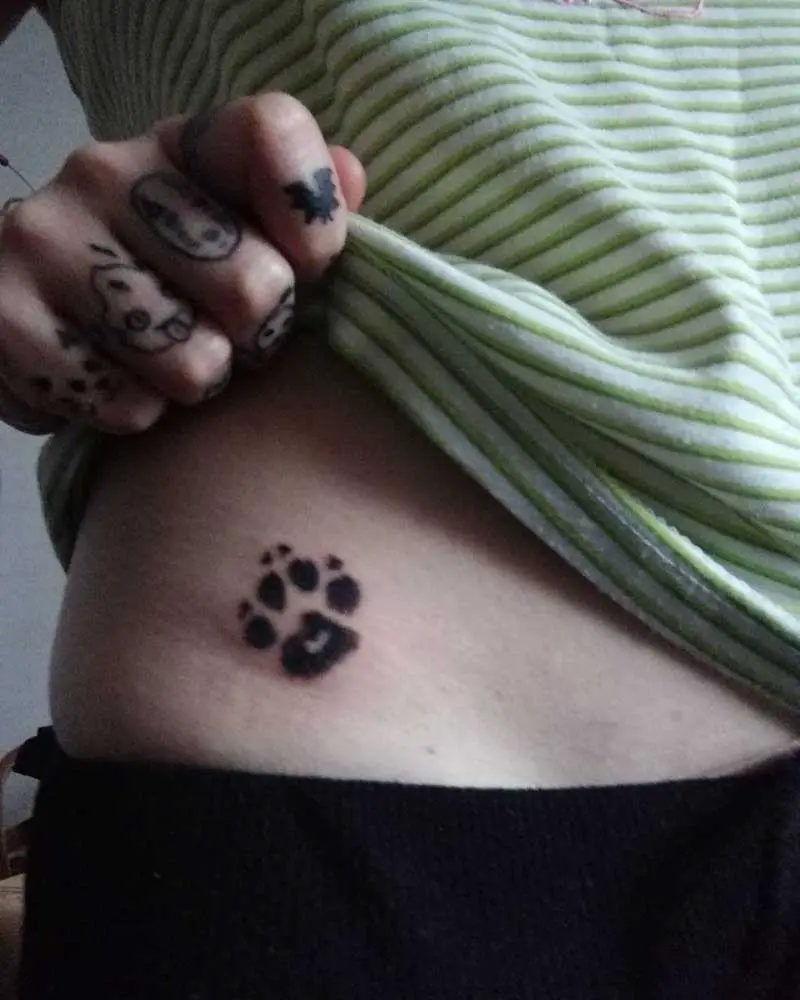 Paw Print Tattoo On Stomach
64.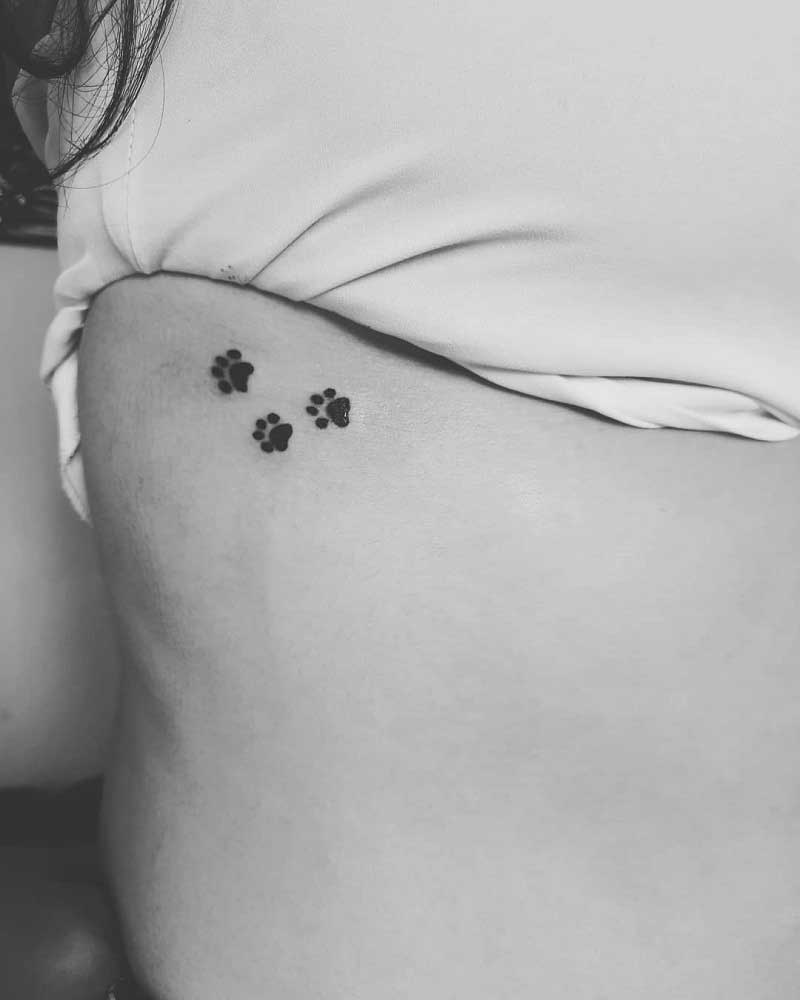 65.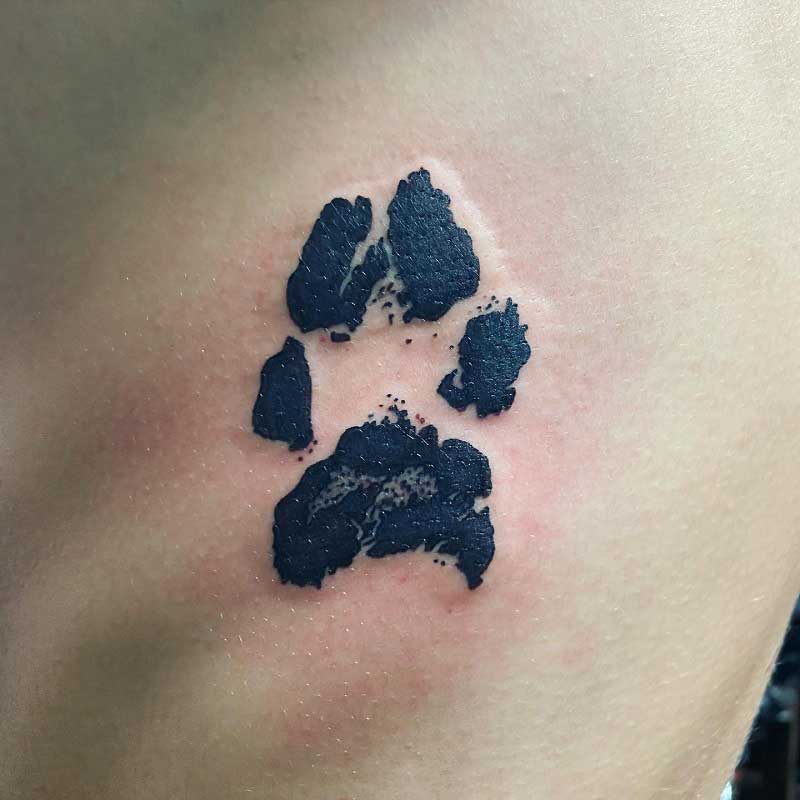 66.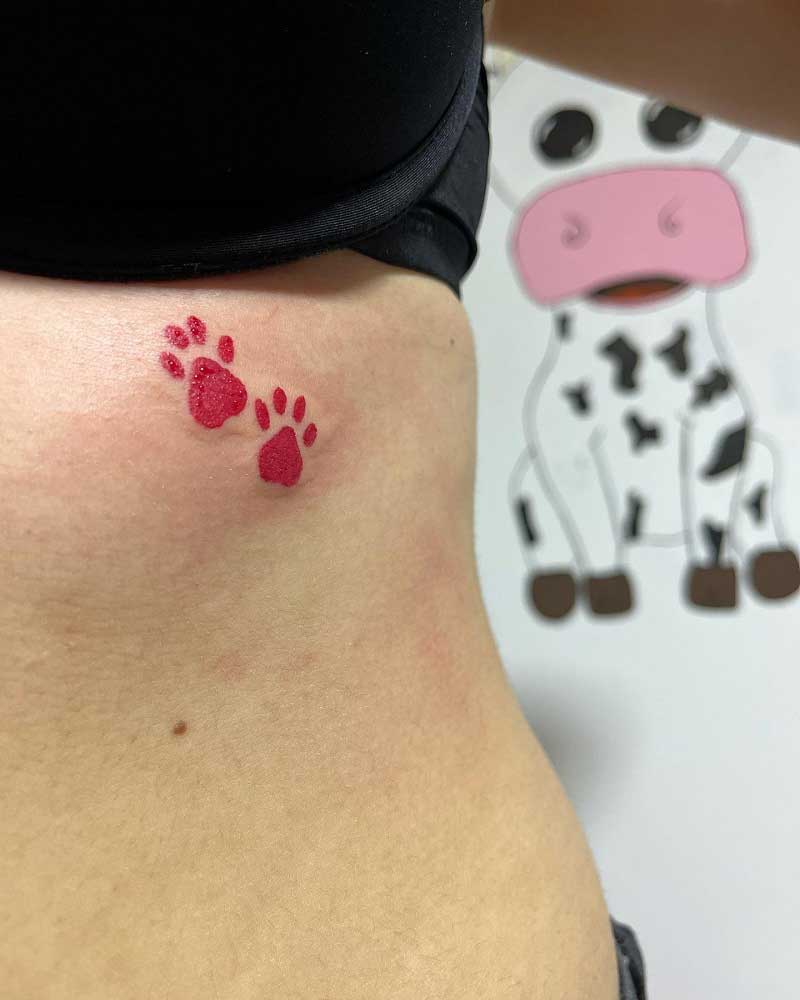 Paw Print With Crown Tattoo
67.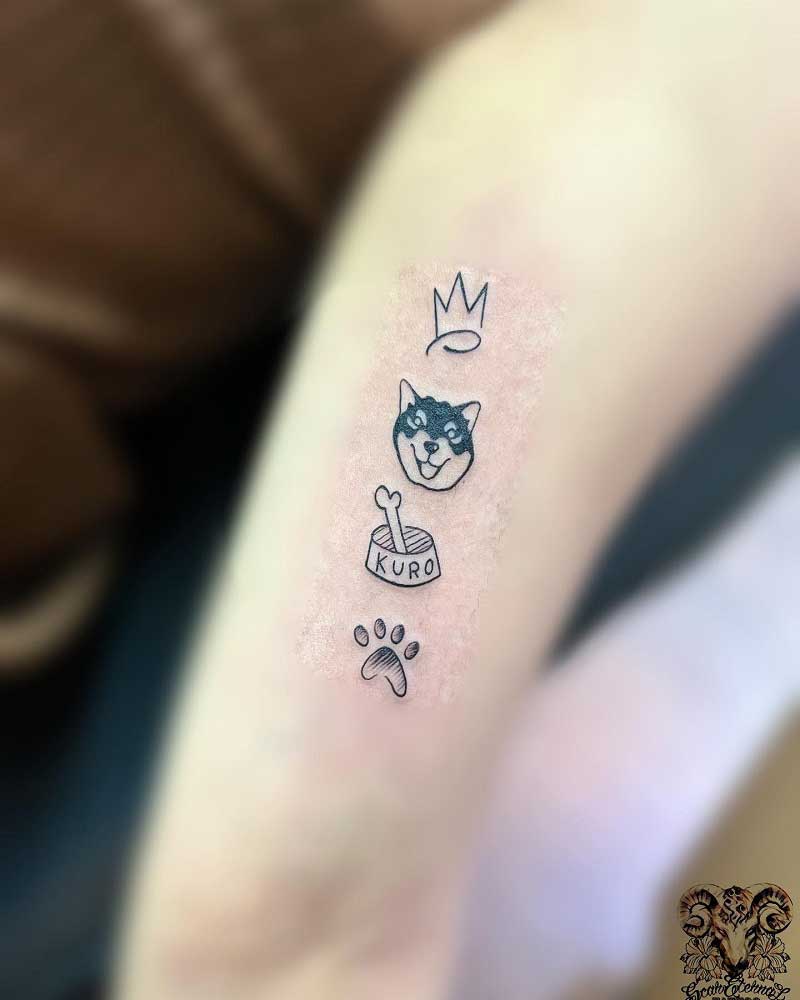 68.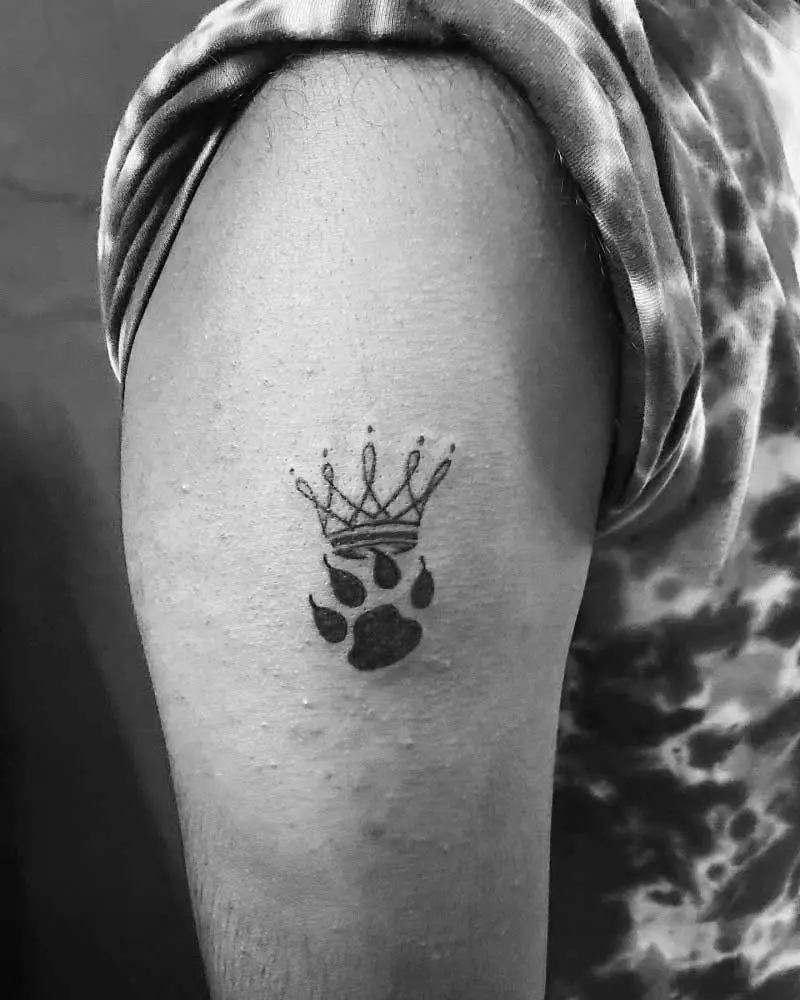 69.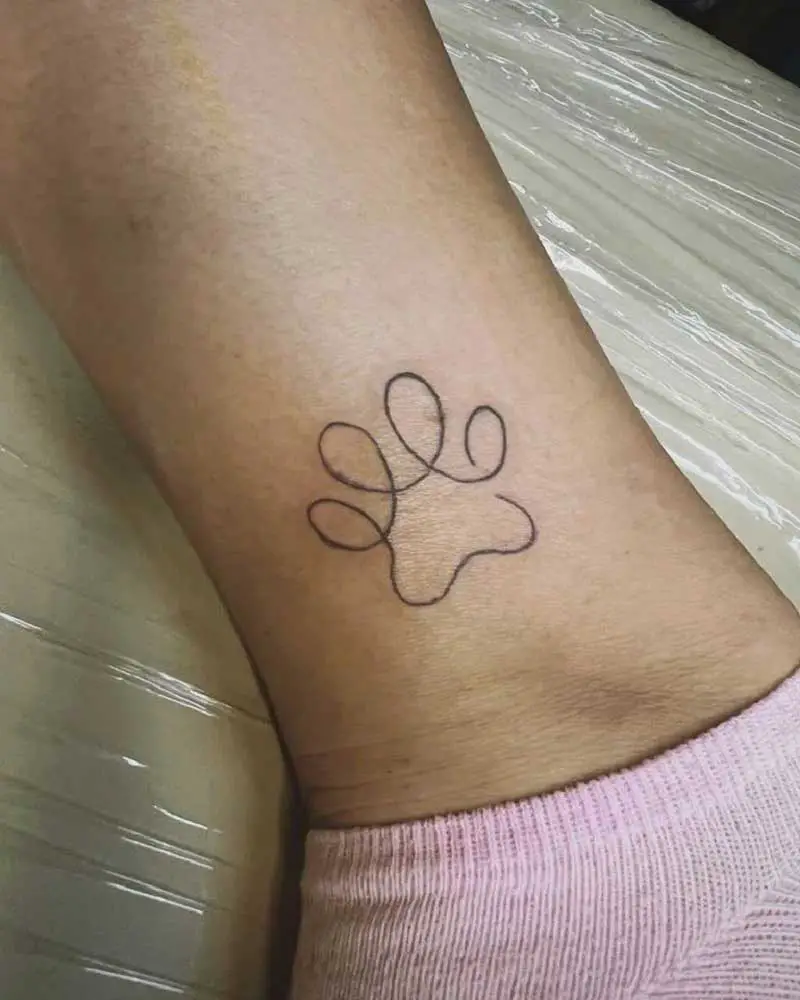 Tie Dye Paw Print Tattoo
70.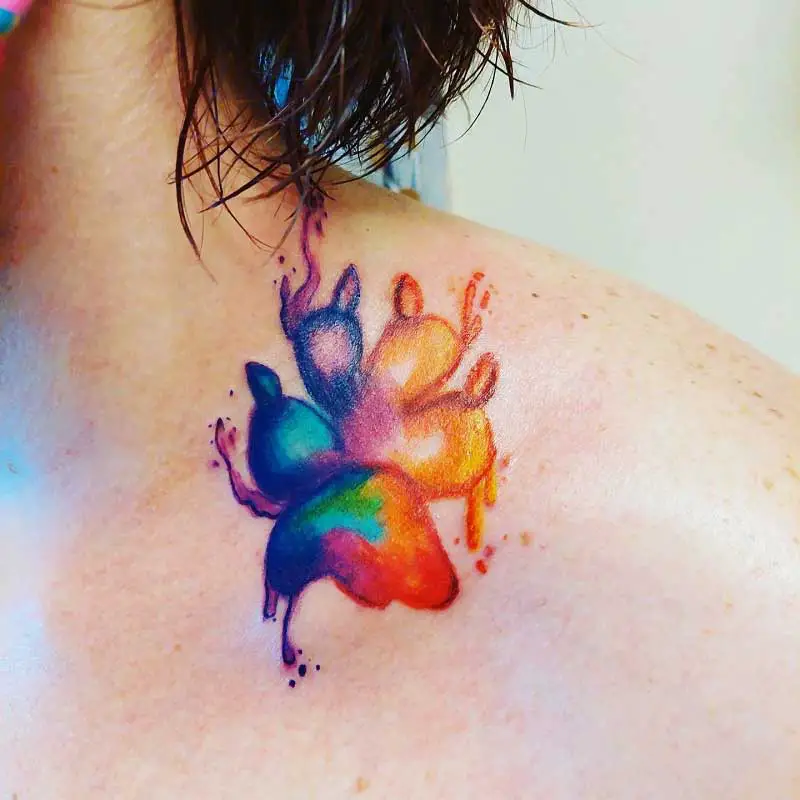 71.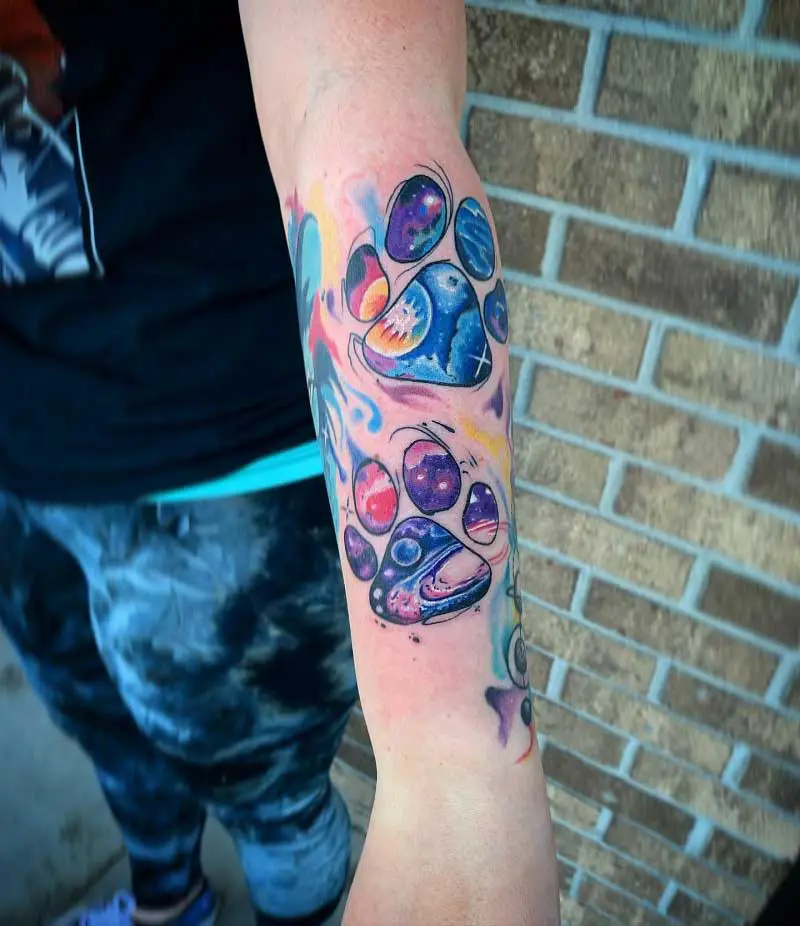 72.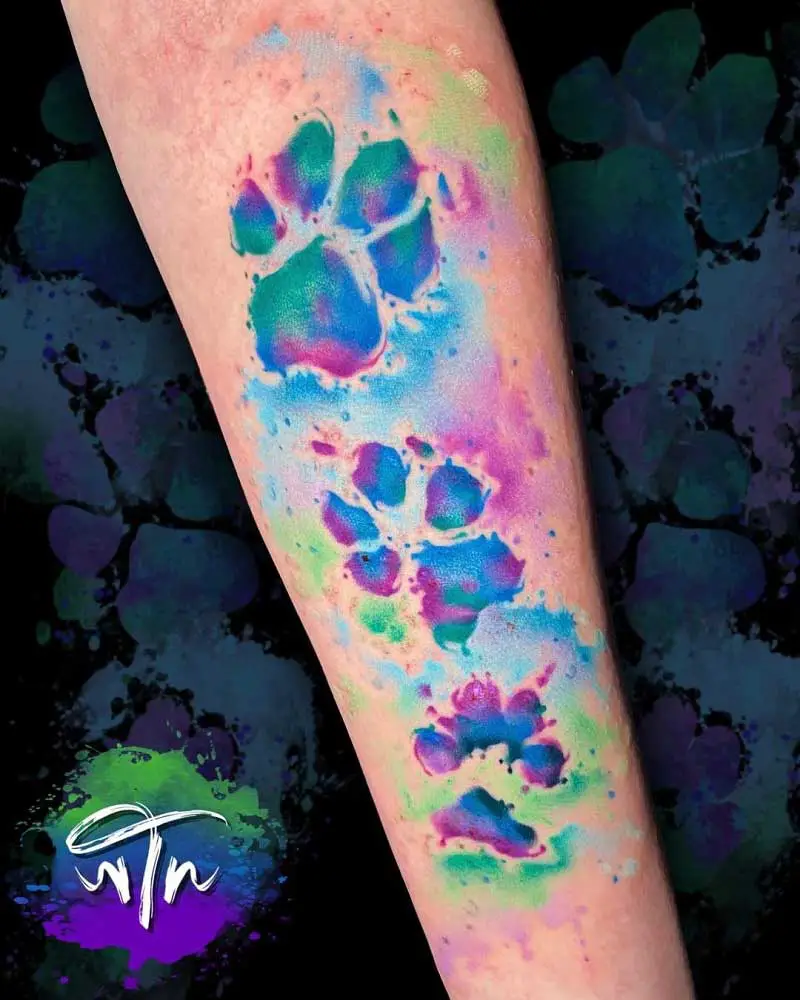 Conclusion
And that is all we have for now! As you have seen, you can get these paw tattoos just about anywhere on your body. The hardest part is finding the ideal tattoo and that is where you take some time to yourself. Some of these tattoos have more than one meaning and at times, it can be really confusing and strenuous. For this particular reason, you have to be extremely patient while picking a tattoo design.
After that, consult your local tattoo artist and make sure he/she is the right person for the job. Tattooing requires immense patience and one tiny error can ruin the whole tattoo. Therefore, make sure your artist is a professional and can get you the tattoo you desire.
All of this may seem a bit intimidating at first but if you're patient every step of the way, you'll get your tattoo in no time. Good luck and thank you for tagging along!
People Also Asked
What does a paw print tattoo mean?
A paw print tattoo represents love and respect for animals.
How to get my dog's paw print tattoo?
Make your dog press its paw on a piece of paper and then take it to the tattoo artist. They'll translate the paw print onto your skin.
Where to put a paw print tattoo?
Commonly on the front and back of your shoulder, your wrist, your arms or even on your legs. It actually depends a lot on what you prefer.
How much is a dog paw print tattoo?
$30-$50. Larger tattoos with more elements will cost over $100.
How much would a paw print tattoo cost?
$30-$50.