Pokemon has been an integral part of our lives growing up. With new versions and interactive games making their way in the world right now, Pokemon tattoos are getting a lot of hype recently.
The tattoo designs of Pokemon are a representation of our childhood memories and help us to express ourselves through these beautiful creatures. And it also helps us to connect with the characters we saw growing up and bring a sense of comfort.
Now, there are hundreds of Pokemons out there, each with its characteristics. And this means that the possibilities of Pokemon tattoos and designs are endless. So, let us dive deep and take a look at some of the best Pokemon tattoos.
99 Pokemon Tattoo Ideas And Meanings
Although many people think that Pokemon tattoos are childish, these tattoo designs come with a deep and nice meaning. On top of that, the cuteness of these designs is hard to beat. Here, we will see the Pokemon tattoo ideas and meanings.
Pokemon Ball Tattoo
You cannot catch Pokemon without a Pokeball and every Pokemon enthusiast loves the concept of these Pokemon balls. So, let us take a look at some of the top Pokemon ball tattoo designs.
1. Catching Pokemon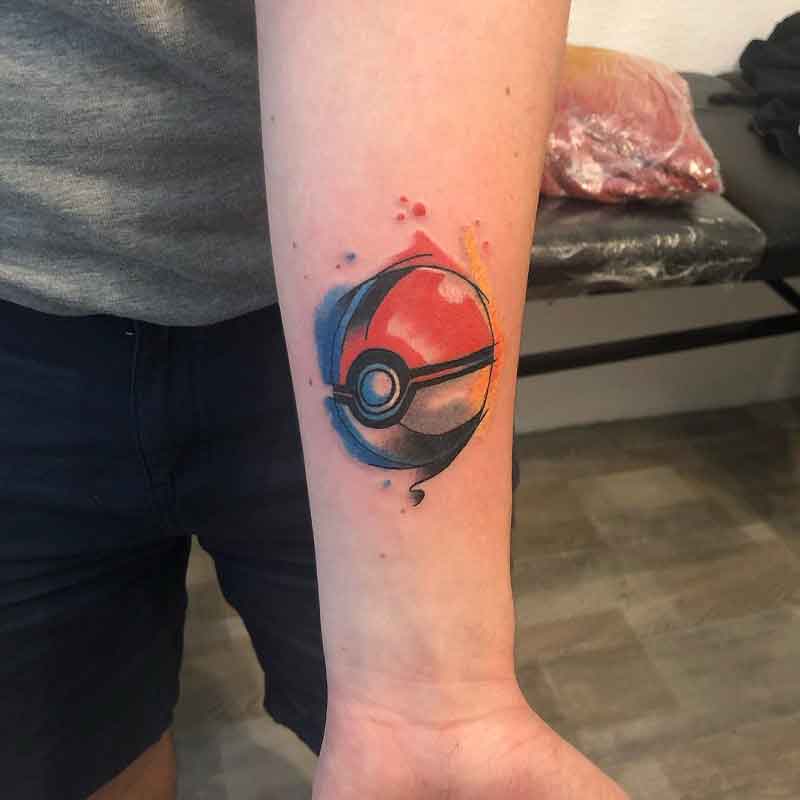 Pokeball reminds us of our childhood in the 90s and the excitement of watching Pokemon. This Pokemon tattoo is a representation of the love we had for this show.
2. The Ghostly Mimikyu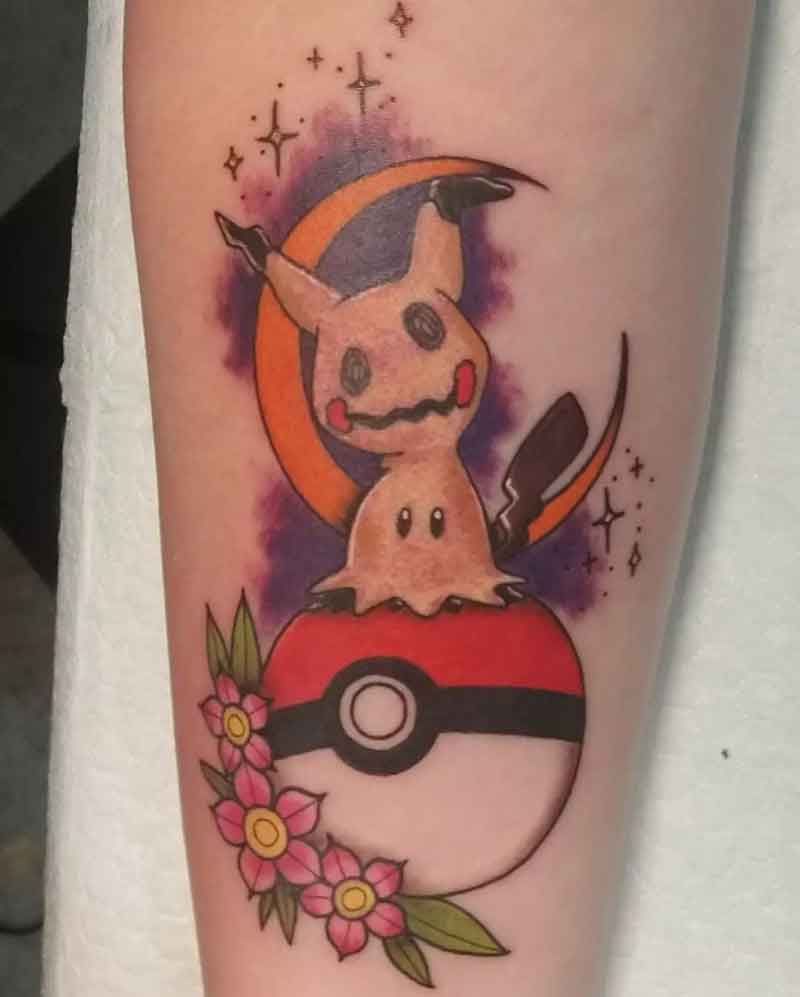 While Mimikyu is known to be the saddest Pokemon, the tattoo has a deep meaning behind it. The Pokemon tattoo symbolizes that we often disguise our true selves to be loved, just like Mimikyu does.
3. Swirly Pokeball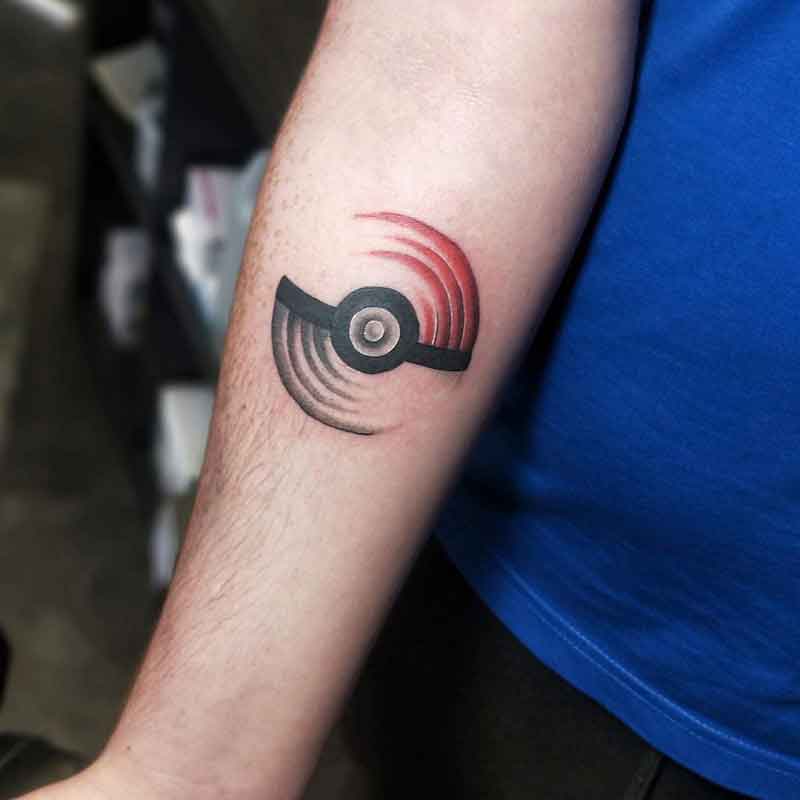 Get this unique-looking Pokeball inked on your skin as a reminder of the love and excitement we had for Pokemon as a kid!
Ariana Grande Pokemon Tattoo
Popular artist Ariana Grande got the beautiful and cute Eevee tattooed on herself and the world is in awe. So, let us talk about the adorable Ariana Grande Pokemon Tattoo.
4. Eevee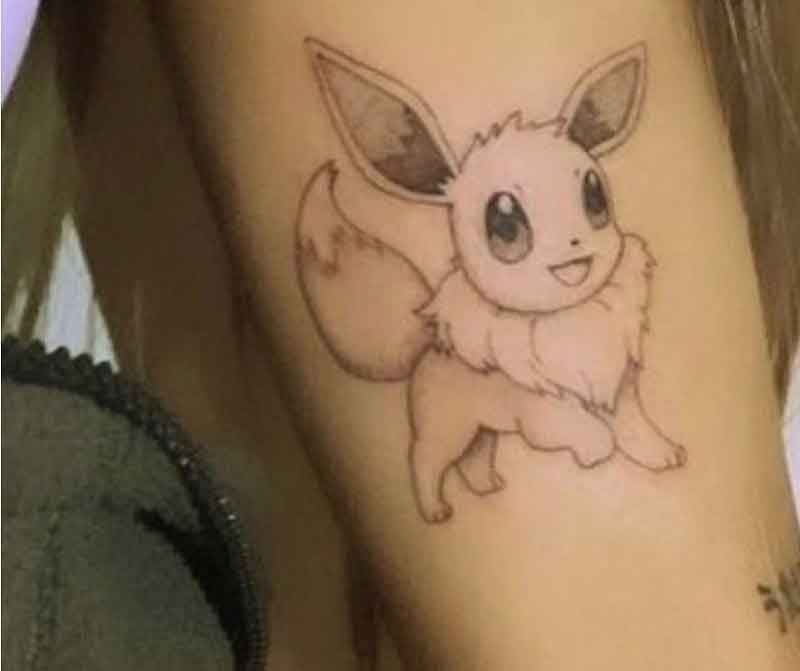 Turn heads towards you wherever you go with this super cute Pokemon tattoo. Nothing can beat the cuteness of the pretty and big eyes of Eevee.
5. Minimalistic Eevee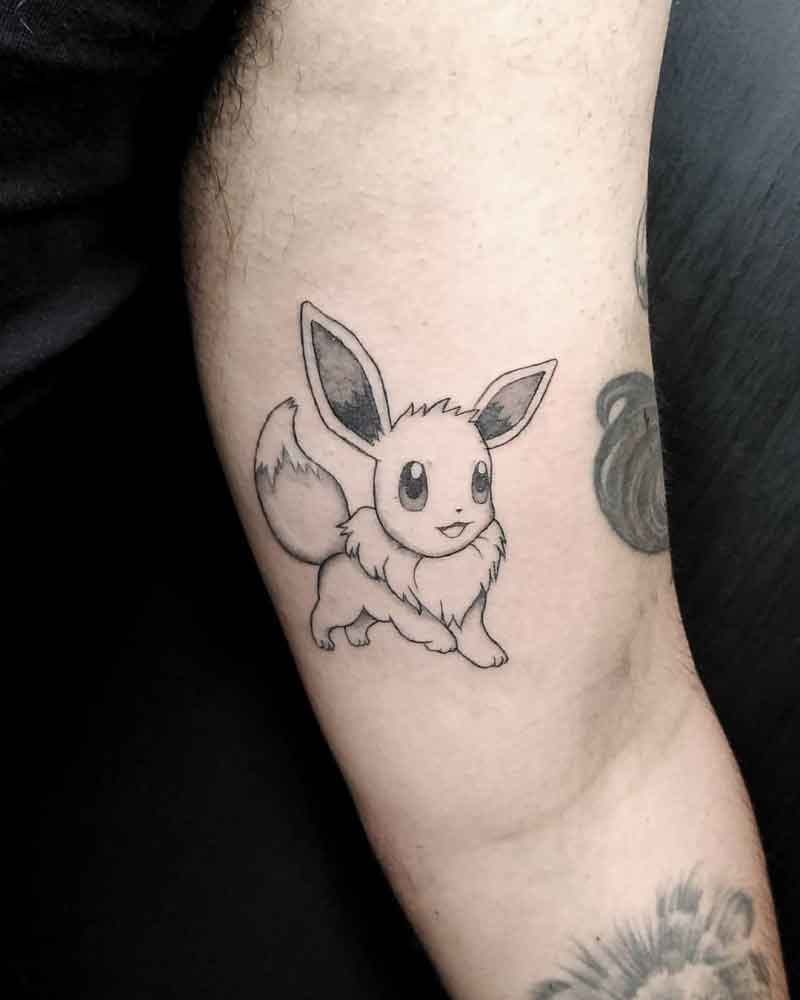 Who will not fall in love with this pretty Pokemon tattoo? Known for evolution, the tattoo represents growth, love, and success.
6. The Ariana Grande Ink
Express your love towards your favorite Ariana Grande and the beautiful Eevee. This Pokemon tattoo is a symbolization of adoration, respect, and tribute.
Pokemon Tribal Tattoo
Tribal tattoos with Pokemon are an interesting take on both art and creativity. Not only do these tattoos have a unique design but they represent the tribal culture as well. Here, we will see a few examples of Pokemon Tribal tattoos.
7. Mystical Umbreon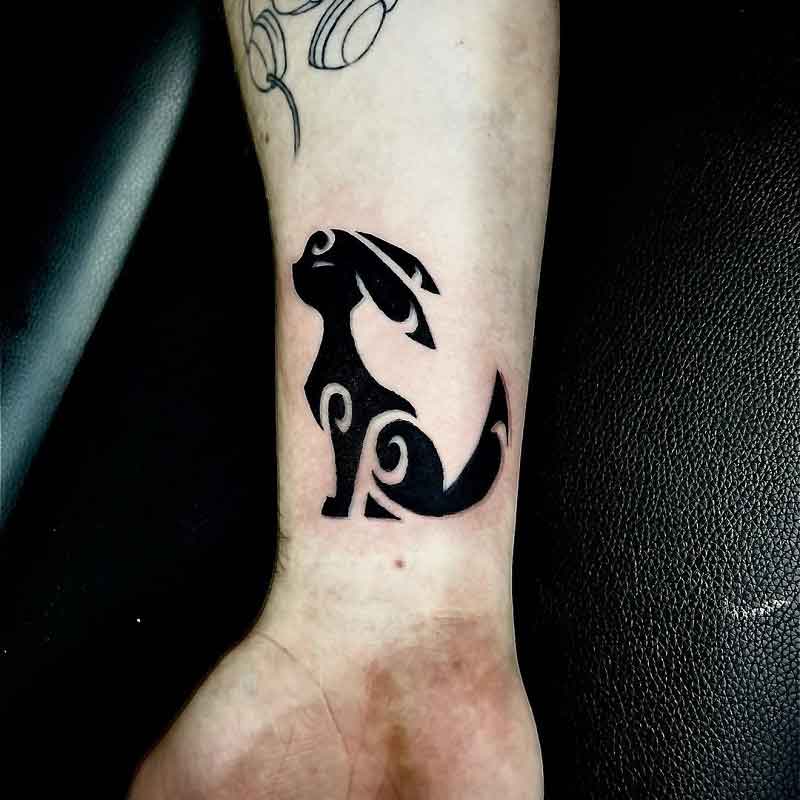 Get this tribal Umbreon Pokemon tattoo as a tribute to the Tribal culture and their struggles. The dark-type Pokemon is a symbolization of the beauty of moonlight and moon waves.
8. Tribal Charizard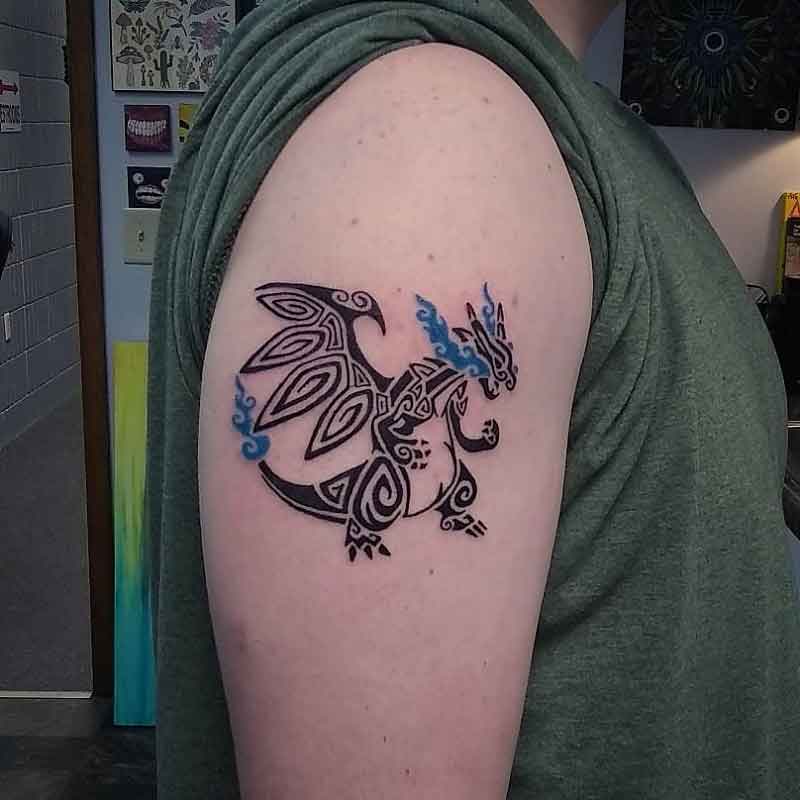 As kids, we all had a connection with Charizard due to its presence in the world of Pokemon. The Charizard tattoo design represents the love for Pokemon and respect towards tribal culture.
9. Tribal Ninetales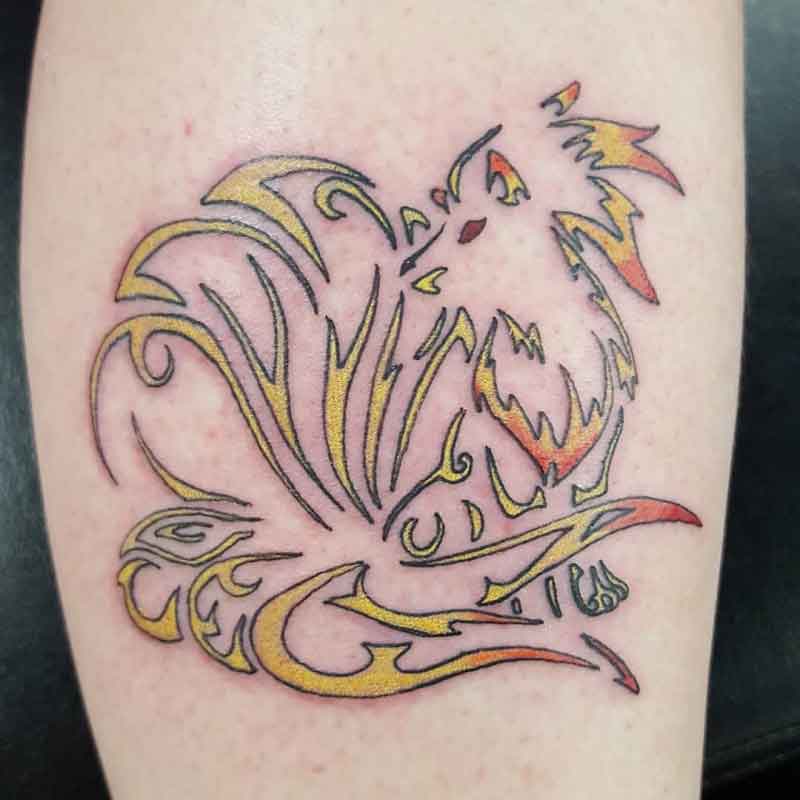 Ninetales is one of the legendary Pokemons with nine tails and a golden coat. This tattoo represents longevity as it is believed to live a thousand years.
Simple Pokemon Tattoos
Nothing beats the simplicity of tattoos, even when it comes to Pokemon. These simple Pokemon tattoo designs are extremely stunning, so let us take a look at these outstanding styles.
10. The Magical World Of Pokemon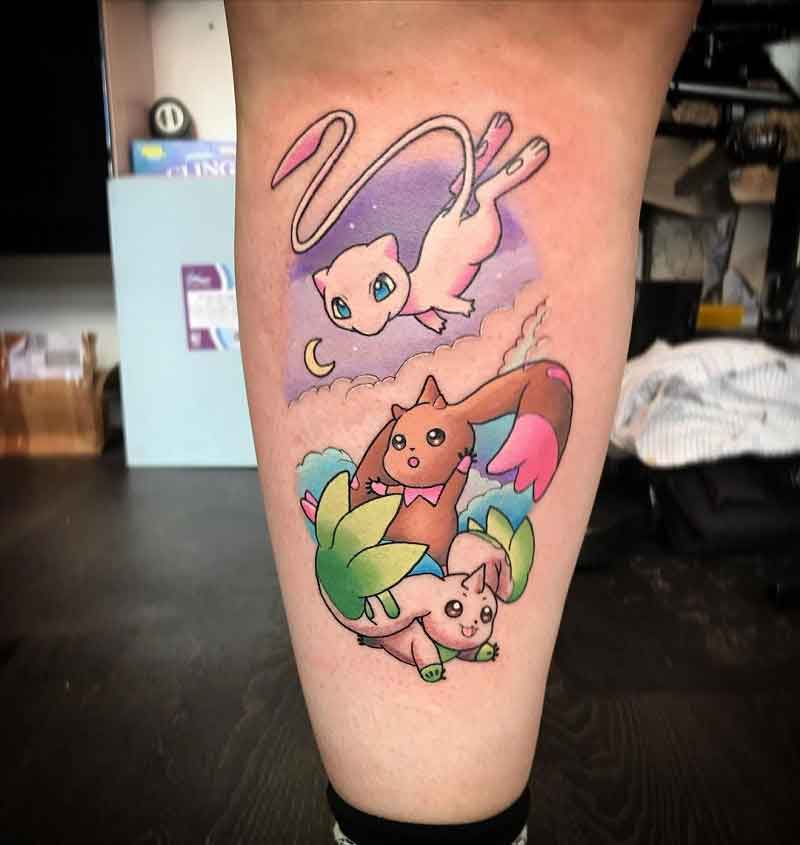 Show your love for the impact Pokemon had on your life during the golden days of childhood. This Pokemon tattoo is a symbolization of the beauty of these creatures and our love for them.
11. Pikachu and Raichu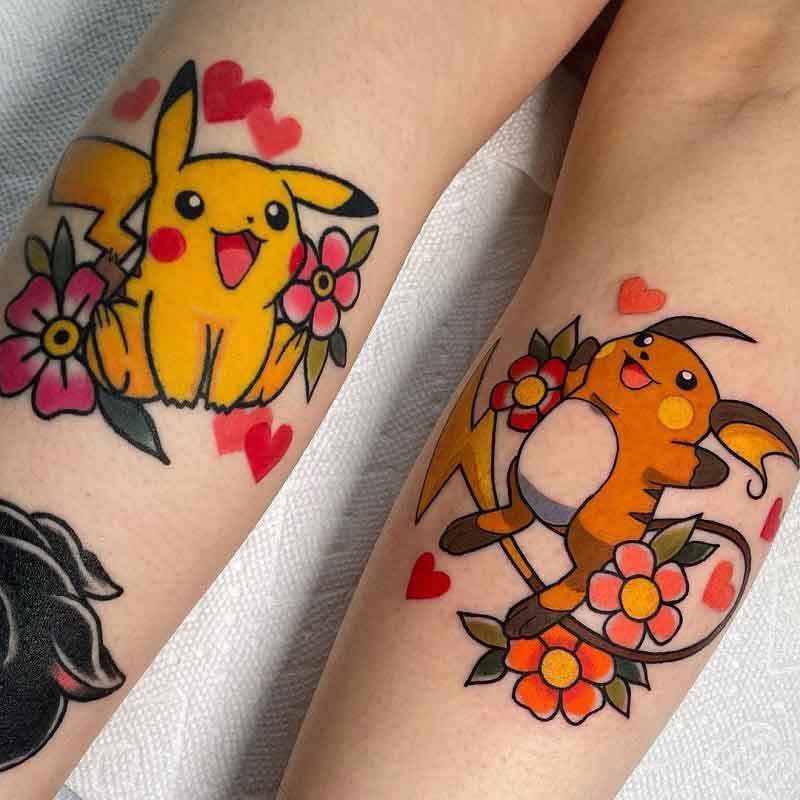 Pikachu is the most classiest and popular creation of the Pokemon world. The tattoo of Pikachu and Raichu is a tribute to their contribution to Pokemon.
12. Sandshrew and Pokeball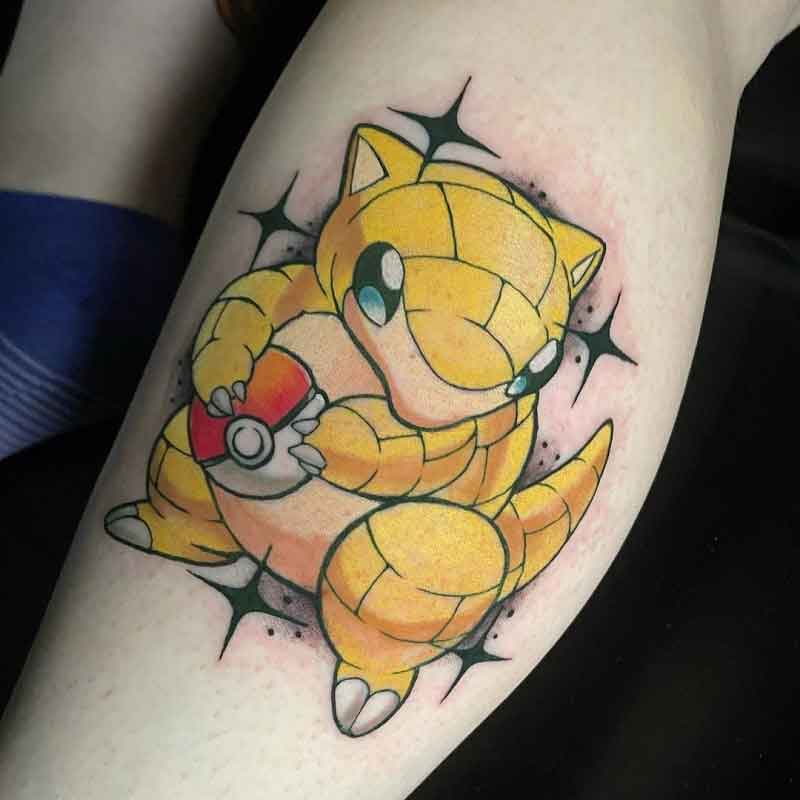 Grab all the attention towards you with this super pretty Sandshrew Pokemon tattoo. It is a cute representation of simplicity, cuteness, and love.
Minimalist Pokemon Tattoo
Representing the beauty of Pokemons in minimalist tattoos is a challenge for all artists. Let us see a few examples of minimalist Pokemon tattoos below.
13. Simple Cubone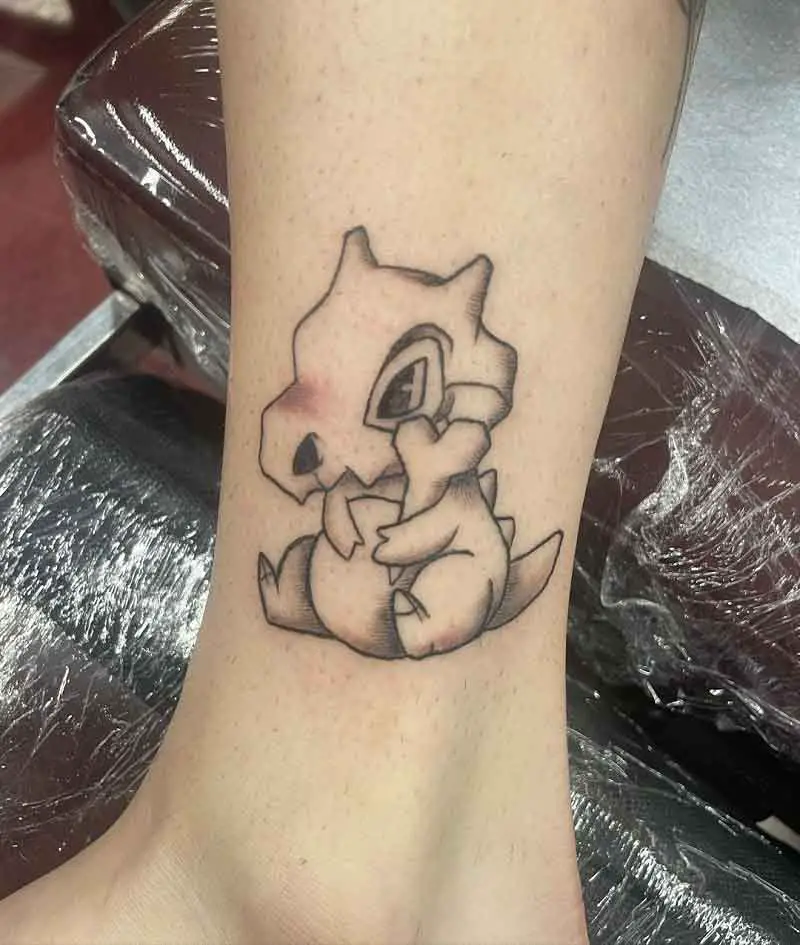 Cubone is a cute but lonely creature who puts the skull of his mother on his head as a reminder of her. This Pokemon tattoo shows love and respect to all mothers.
14. Scarily Cute Gengar
Spread cuteness with this very cute Gengar Pokemon tattoo. It is a symbolization that scary things and fears are also an integral part of life.
15. Cutie Clefairy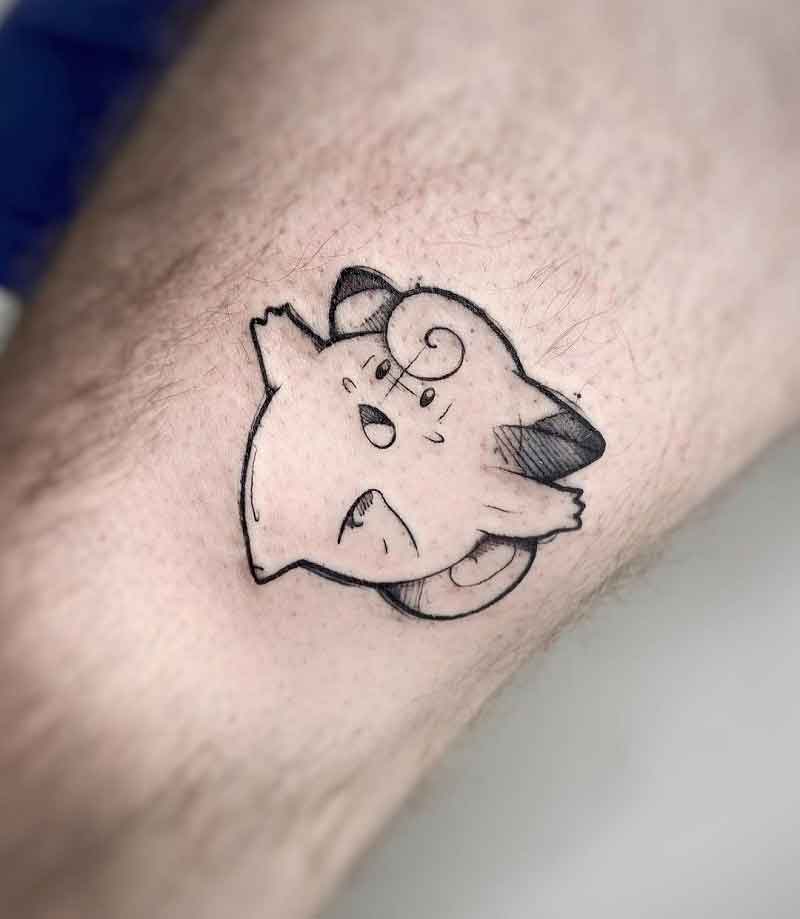 With this cute tattoo, express your love and admiration towards love and the world of Pokemon. It represents cuteness, love, and charm.
Cool Pokemon Tattoos
Pokemon is undoubtedly one of the coolest creations and so are Pokemon tattoos. Here, we will take a look at some of the best and cool Pokemon tattoos.
16. Roaring Charizard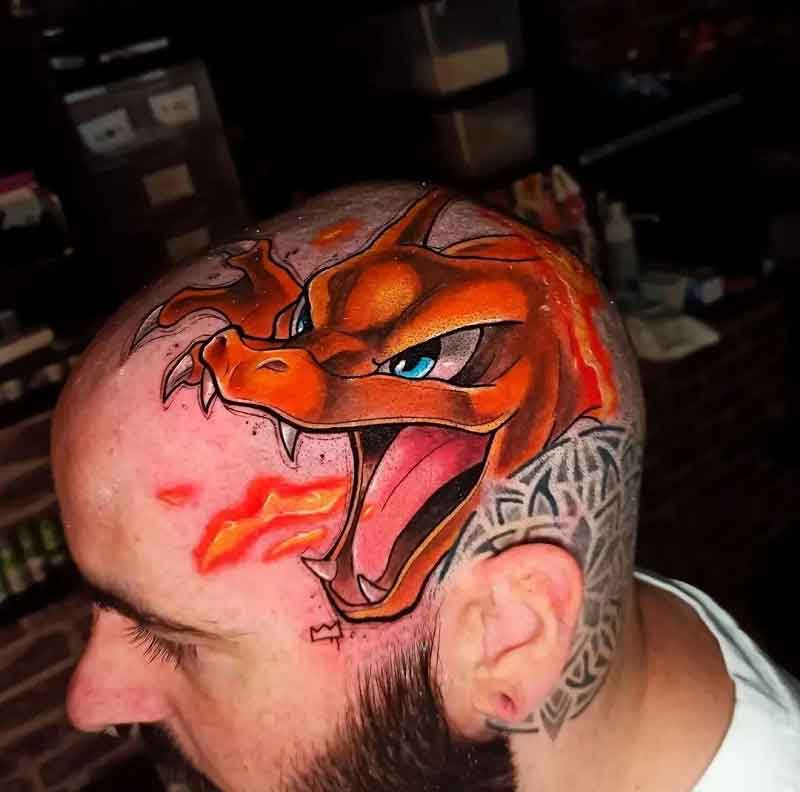 Attract eyes wherever you go with this blazing Charizard tattoo on your head. It is a representation of power, strength, and courage.
17. Leaping Arcanine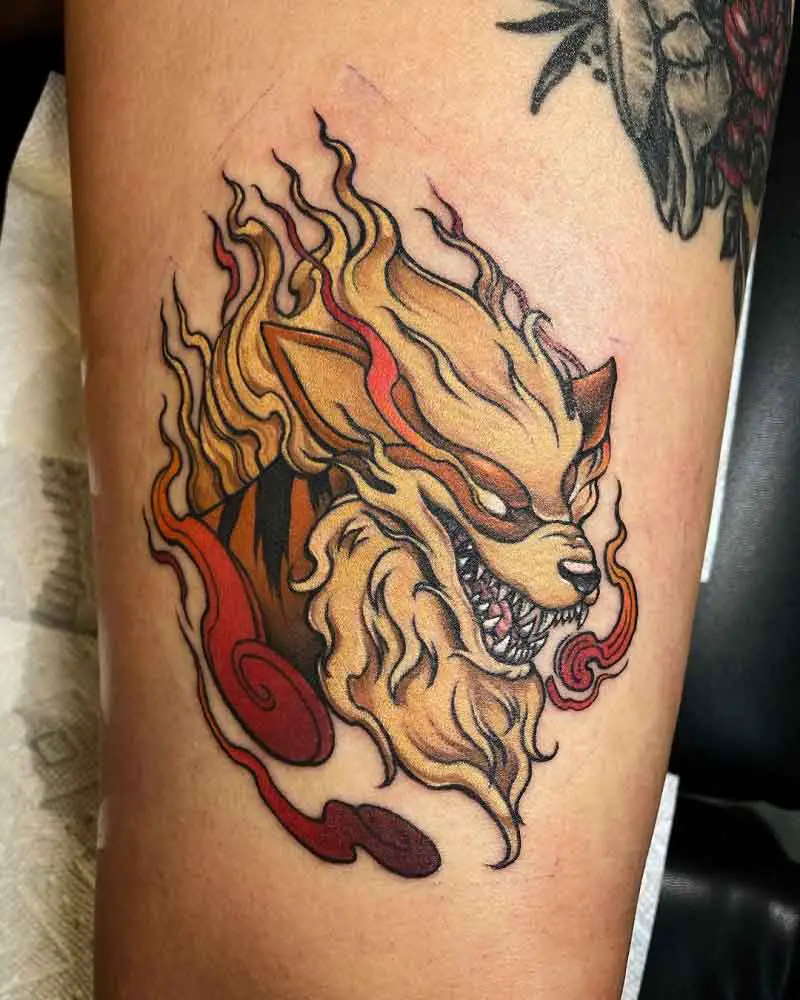 Bring the beauty of Arcanine to life with this unique and detailed Pokemon tattoo design. It symbolizes courage, beauty, and strength.
18. Hitmonchan and Hitmonlee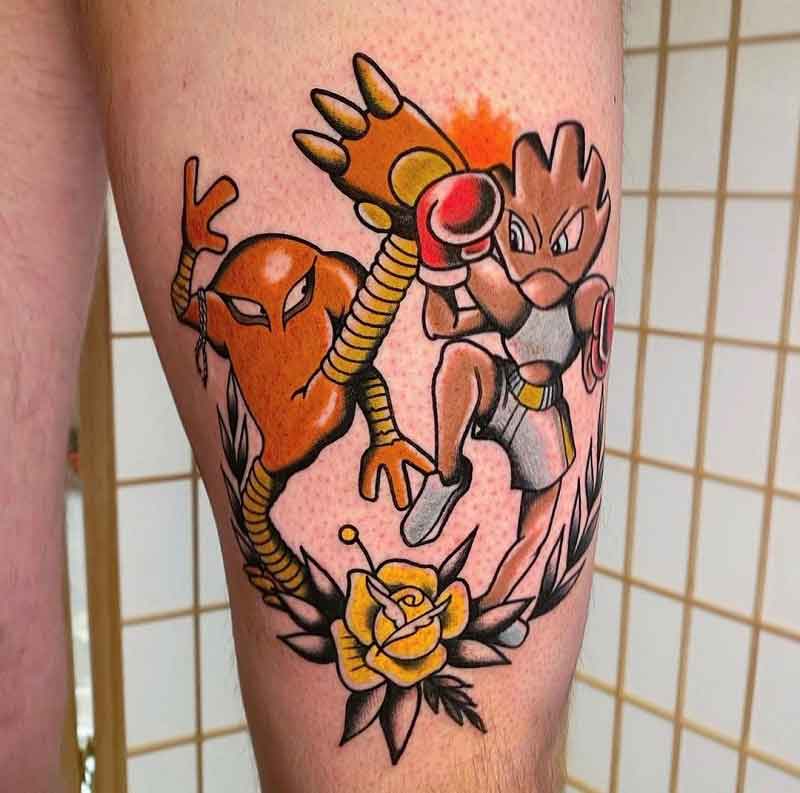 Get these two Pokemons inked on your skin as a reminder of struggles and problems in life. This fighting Pokemon tattoo represents the fighting spirit in people.
Cute Pokemon Tattoos
Pokemon are cute and we do not doubt that even for a second. So, let us dive into the world of cute Pokemon tattoos.
19. Chik-Chik-Chikorita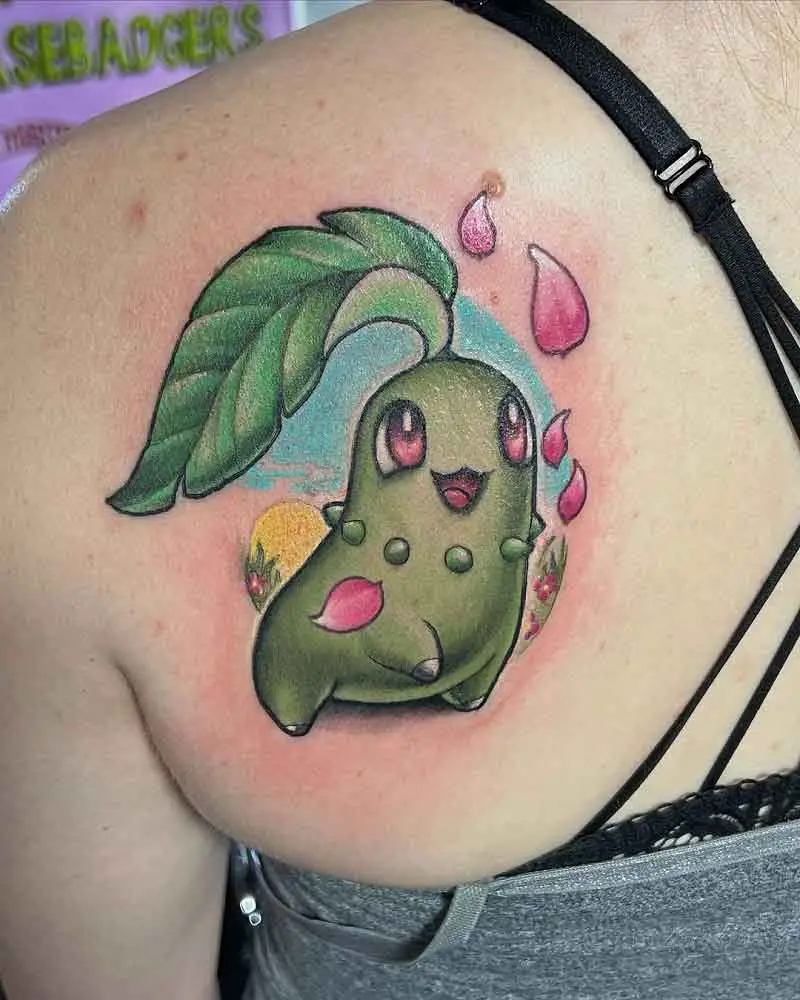 Get yourself a cute Chikorita tattoo as a reminder of all the good things in life. It symbolizes the cuteness, love, and beauty of life.
20. The Initial Trio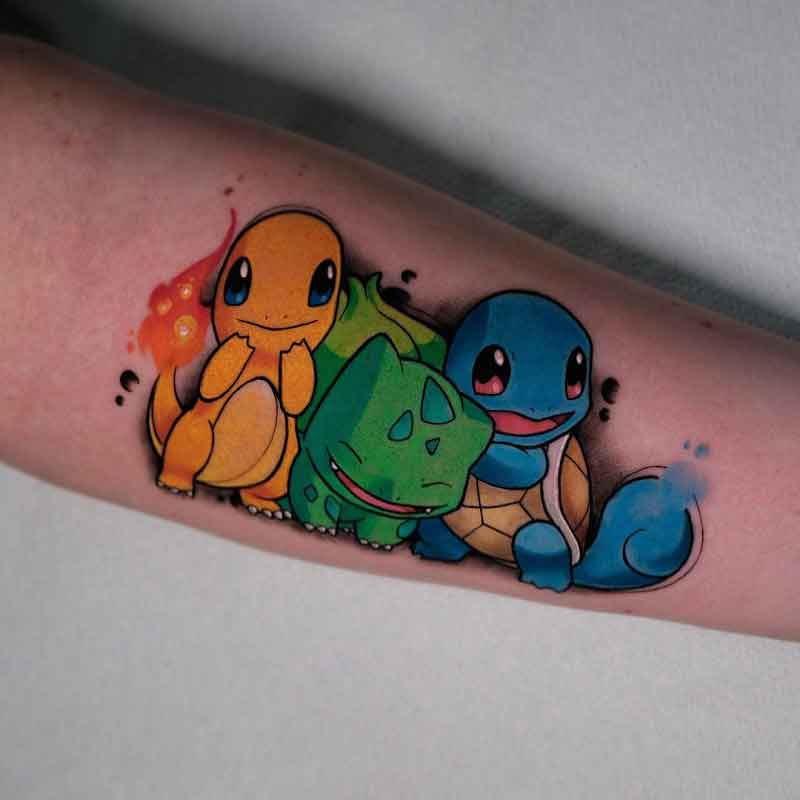 The Pokemon trio has been an integral part of the Pokemon games. This Pokemon tattoo is a nostalgic reminder of our childhood and the entertainment.
21. Baby Pikachu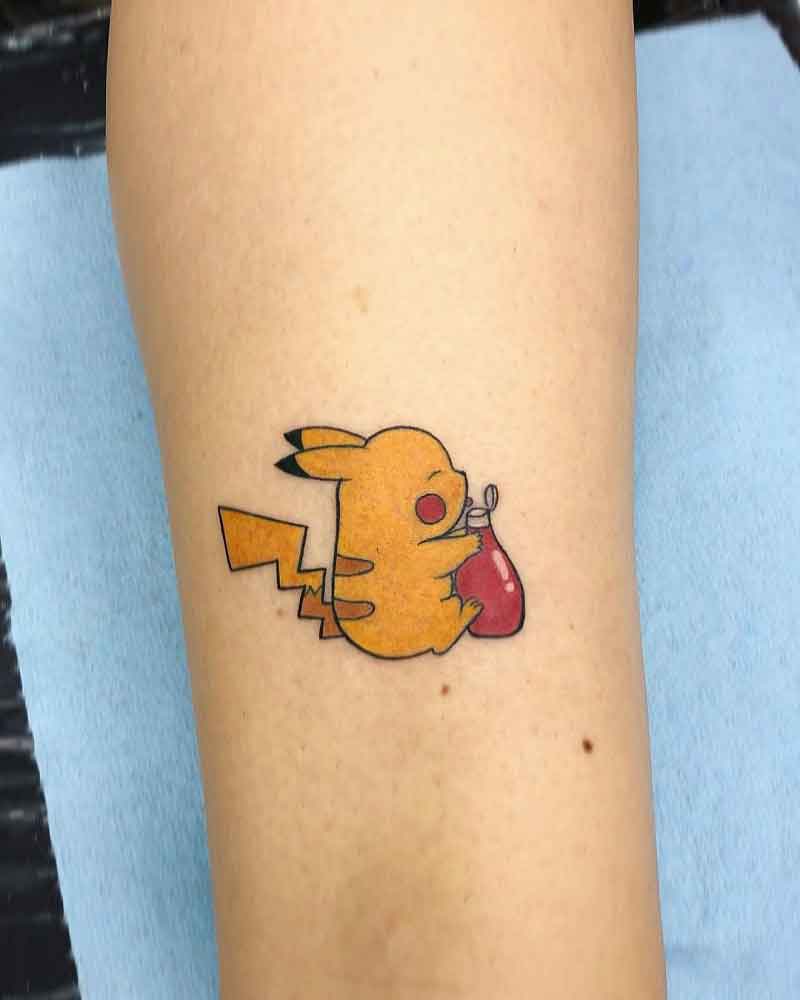 Showcase the love you have for Pokemon by getting the mighty Pikachu tattooed on your arm. It is a reminder that strength is not always visible, but it is integrated inside us.
Traditional Pokemon Tattoo
There are a few iconic and traditional Pokemons that hold a special space in our hearts. So, let us see a few top examples of traditional Pokemon tattoos.
22. Happy Bulbasaur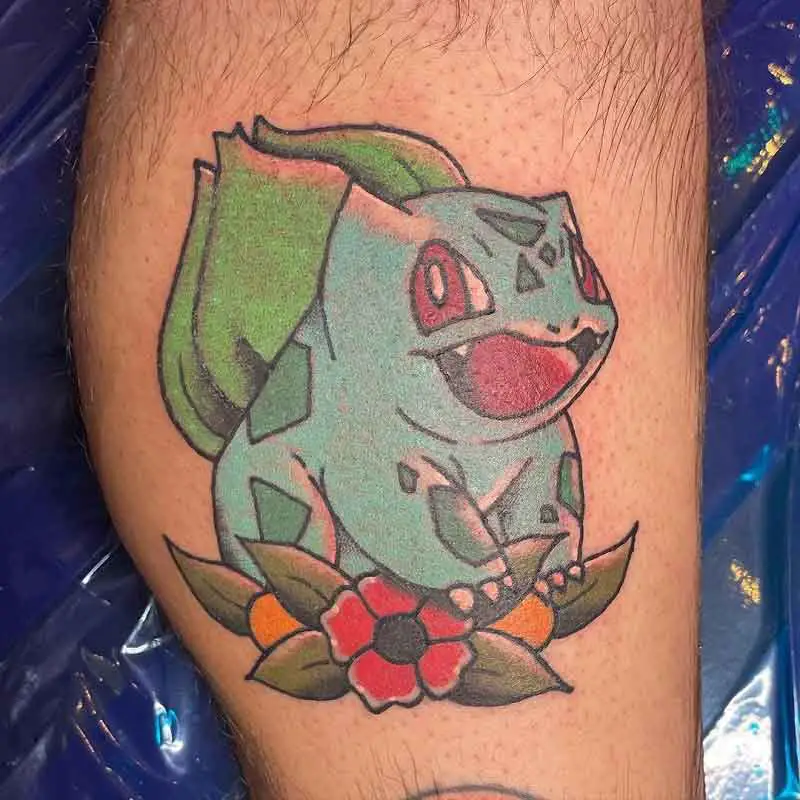 Who can resist the cuteness of this small and happy Bulbasaur? It represents the beauty of nature and our love for the Bulbasaur.
23. Floral Eevee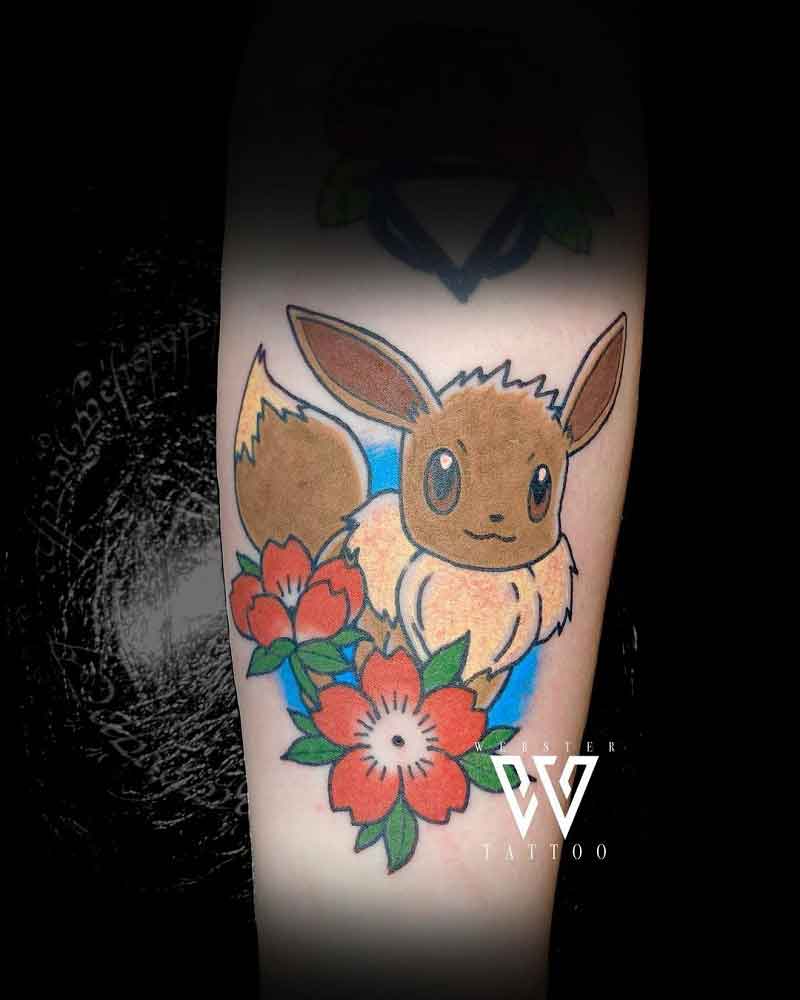 Show love to yourself and Pokemon with this stunning and cute Eevee tattoo. This Pokemon tattoo symbolizes personal growth along with the beauty of Eevee.
24. The Psyduck Circle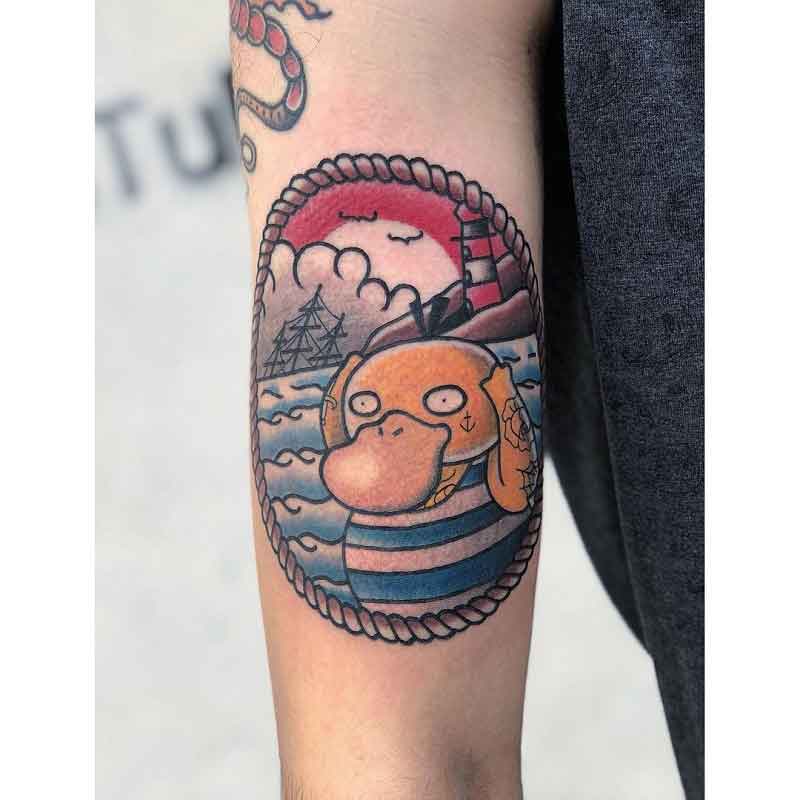 While Psyduck is not a preferred creature in the Pokemon world, the meaning behind the tattoo is deep. It is a symbolization of playfulness, charisma, and unique powers.
Ghost Pokemon Tattoo
The ghost Pokemons are an integral part of the Pokemon world. They are incredibly cute and the tattoos undoubtedly do justice to their style. Here, we will see some of the top ghost Pokemon tattoo designs.
25. Scary Gengar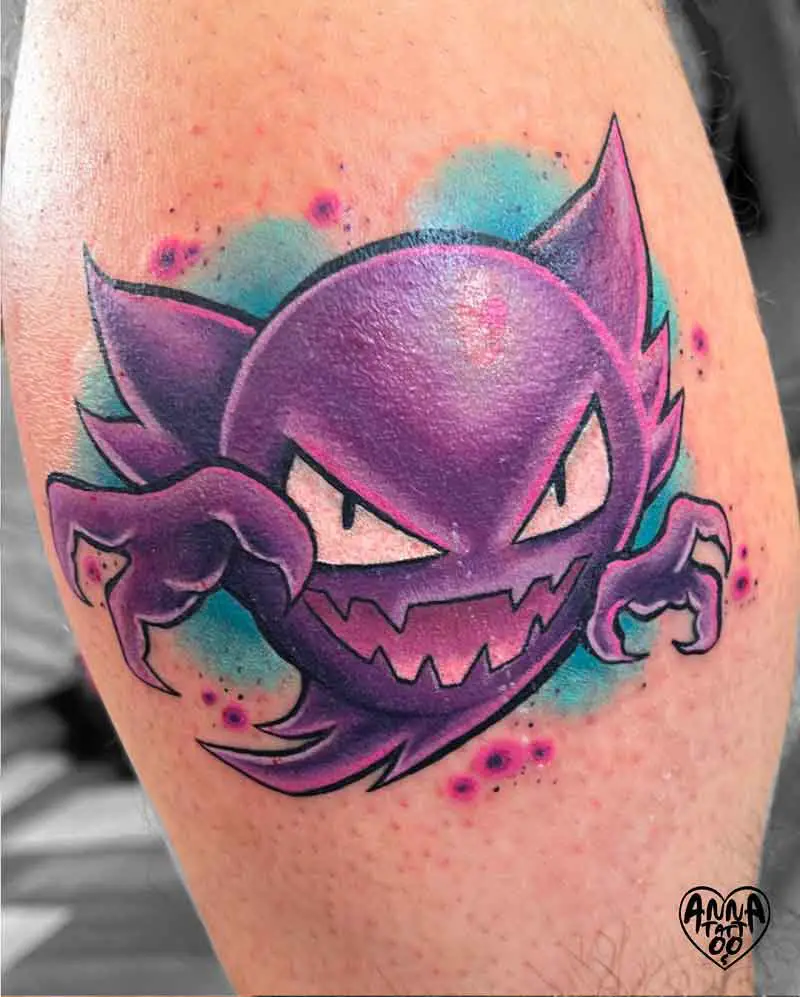 Express your fighting spirit with this beautiful and little scary Gengar Pokemon. The tattoo showcases the demons and darkness around us.
26. Shadow Bomb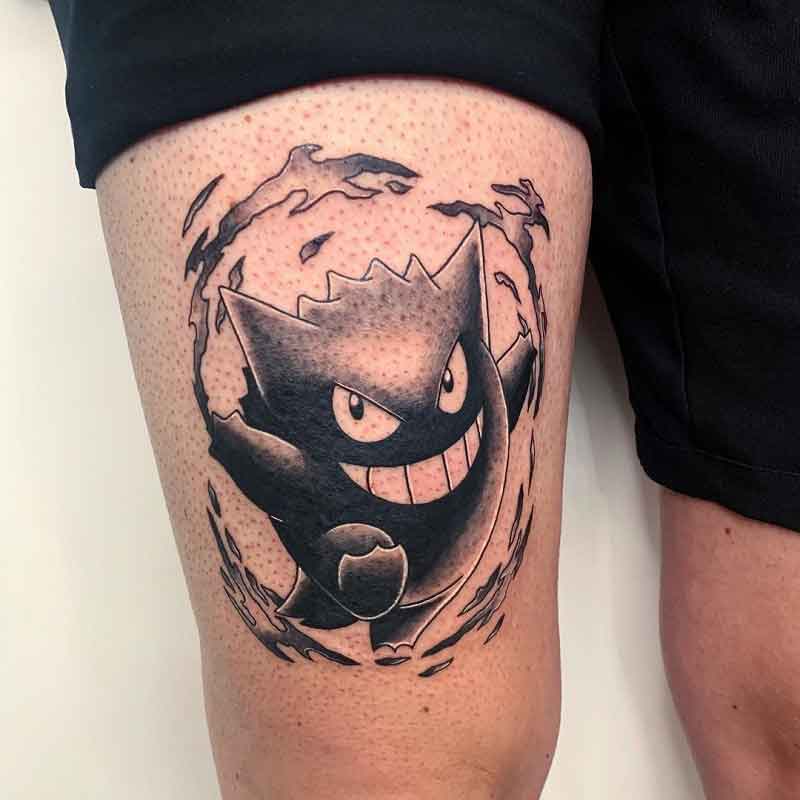 While Gengar looks cute, their attacks are strong and vicious. This Pokemon tattoo is an expression of power, fighting ability, strength, and bravery.
27. The Ghostly Trio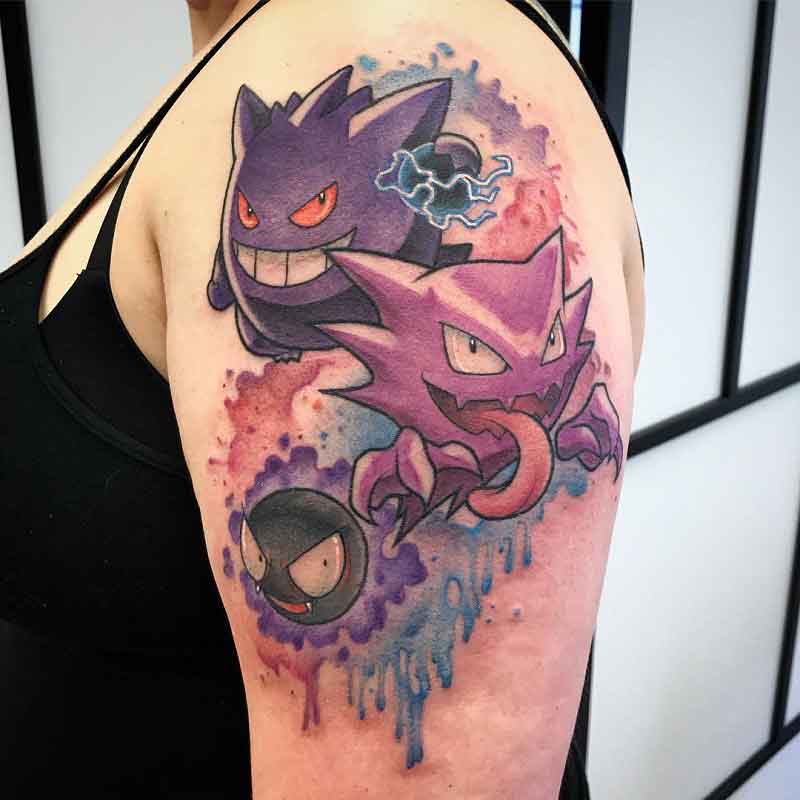 Unleash your inner beast and fighting spirit with the ghost Pokemon tattoo trio. It symbolizes power, growth, evolution, and the fight against darkness.
Haunter Pokemon Tattoo
Haunter is one of the top ghost Pokemons and is a favorite amongst a lot of people. Let us see a few examples of Haunter Pokemon tattoos.
28. Haunter Attack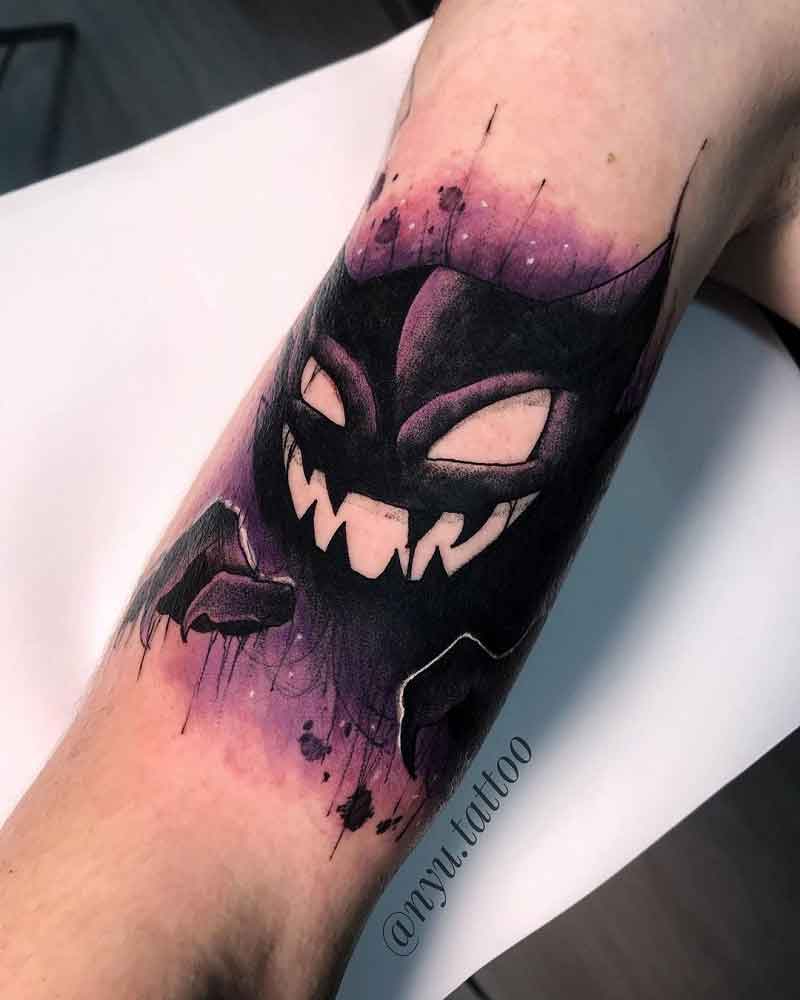 With this Haunter Pokemon tattoo, you will attract eyes everywhere you go. It is a realistic presentation of an attractive and interesting tattoo with a smart look.
29. Shadow Ball
Haunter is known for its menacing and strong attacks that knock down enemies. The Pokemon tattoo symbolizes strength, courage, and determination in us.
30. Shadow Claw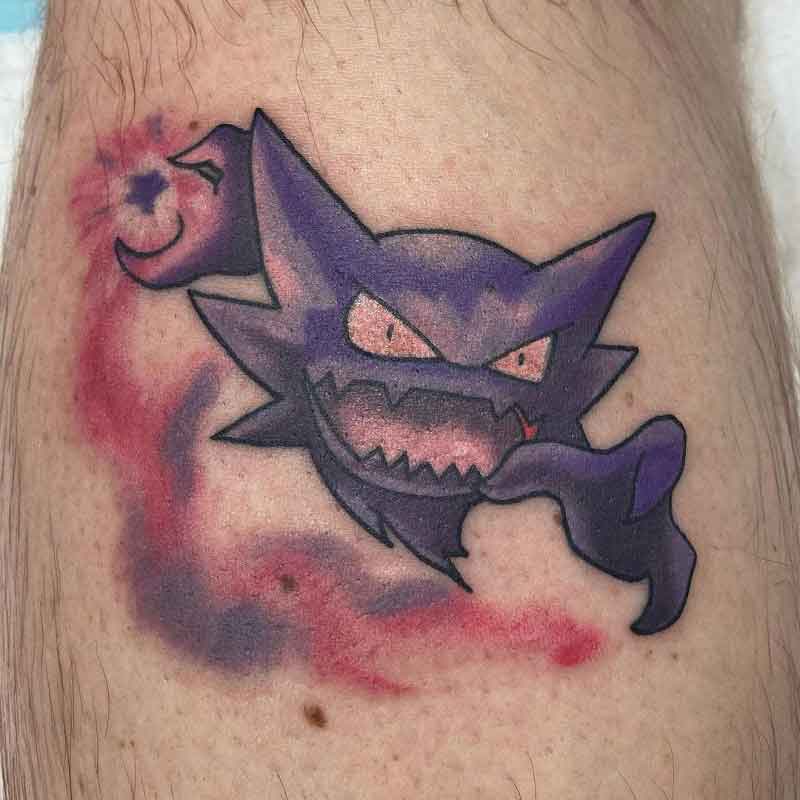 Get yourself the attacking Haunter Pokemon tattoo and show your love for Pokemon. It showcases the power, fighting spirit, freedom, and courage.
Japanese Style Pokemon Tattoo
31.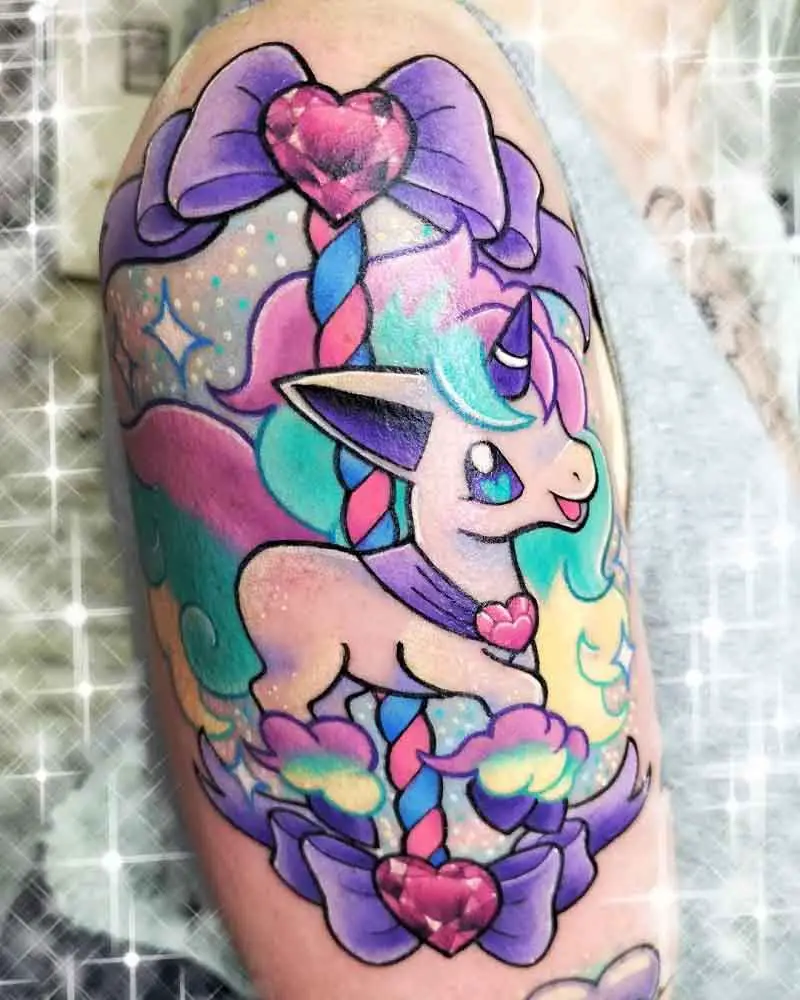 32.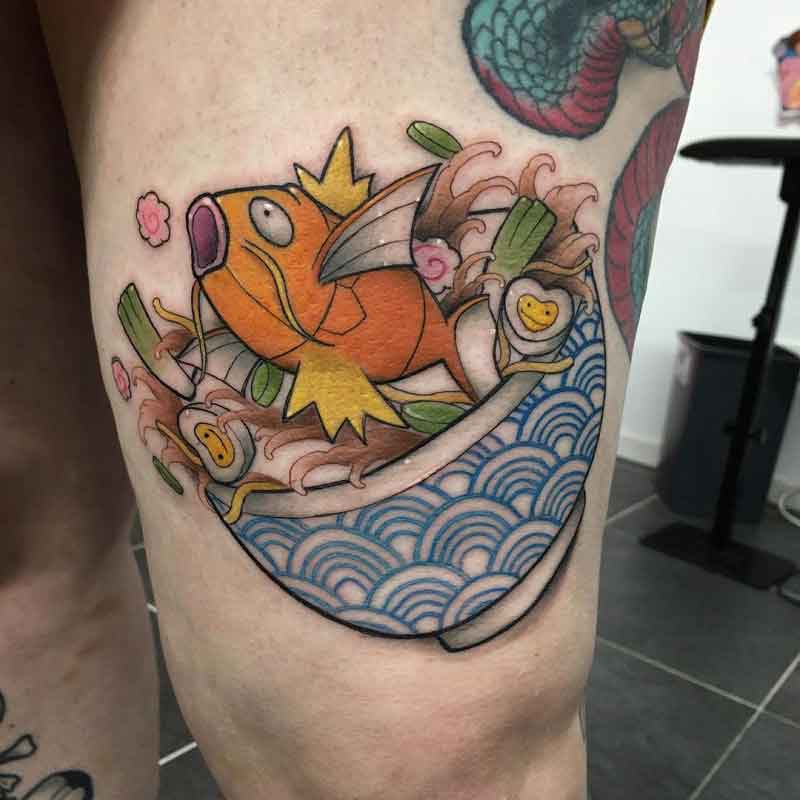 33.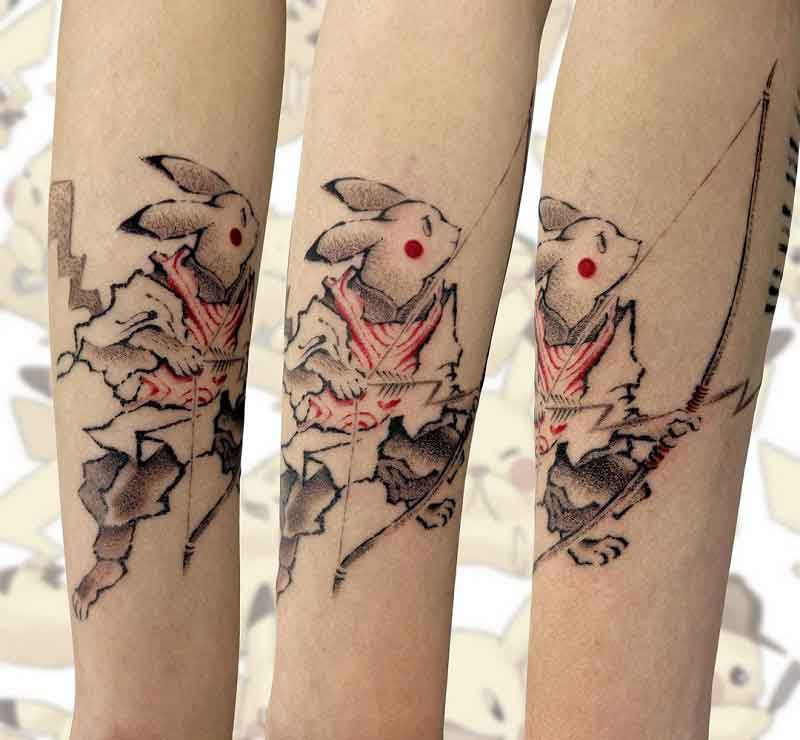 Mew Tattoo Pokemon
34.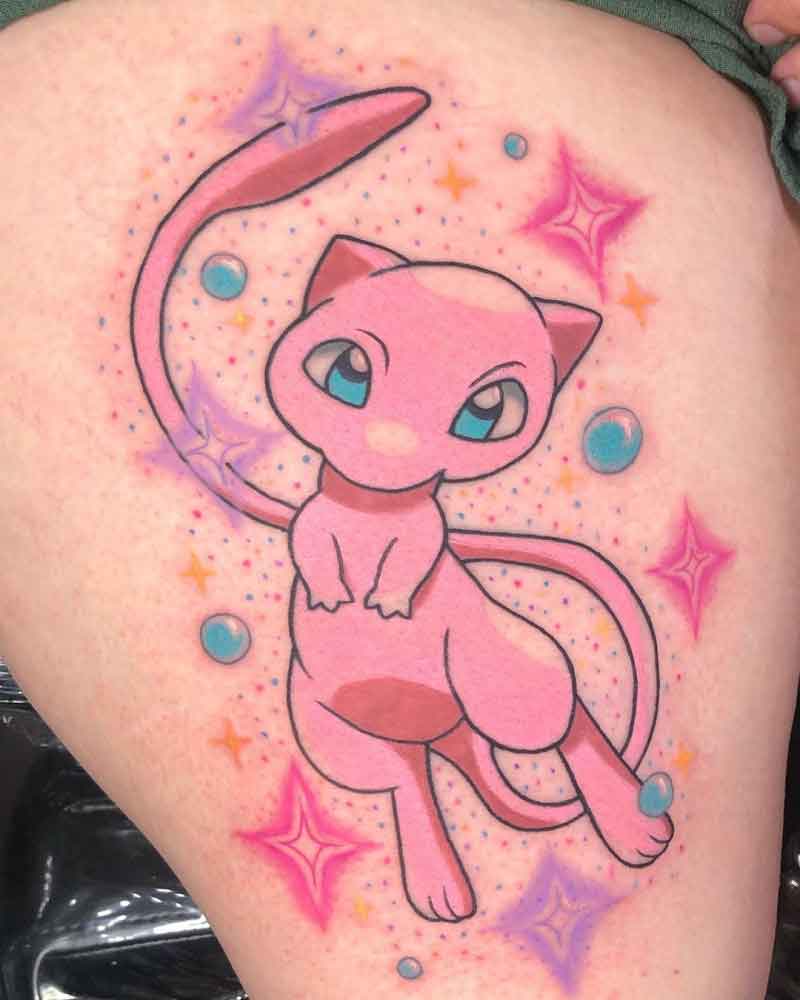 35.
36.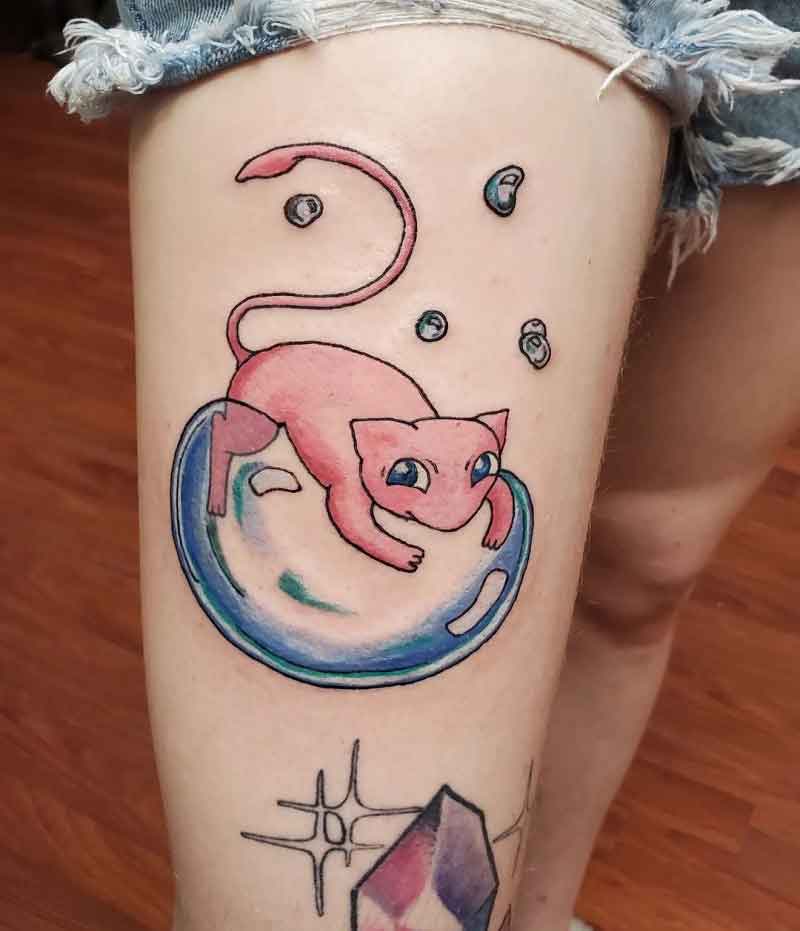 Eevee Pokemon Tattoo
37.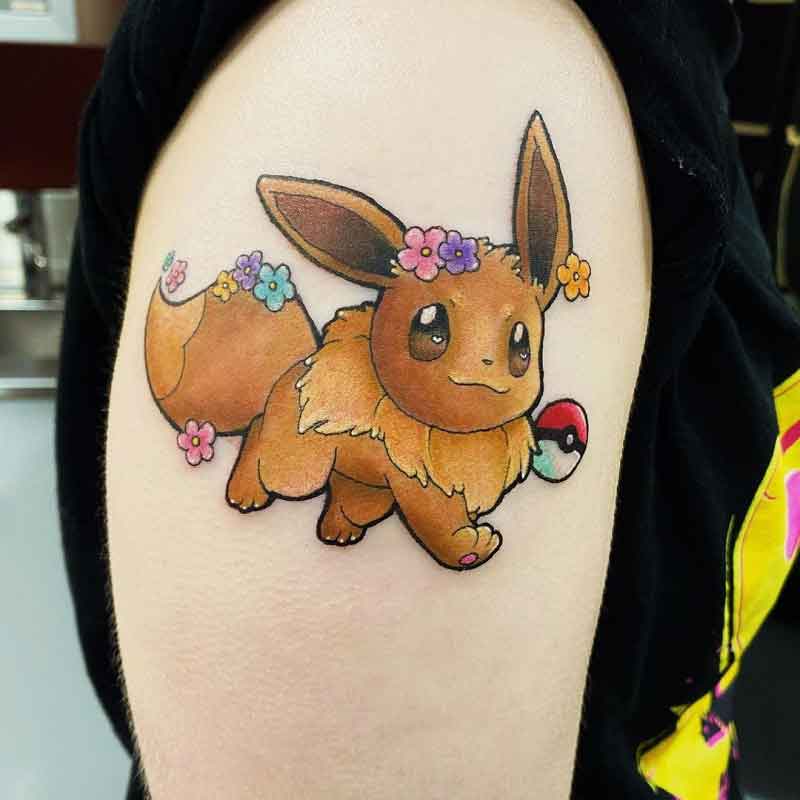 38.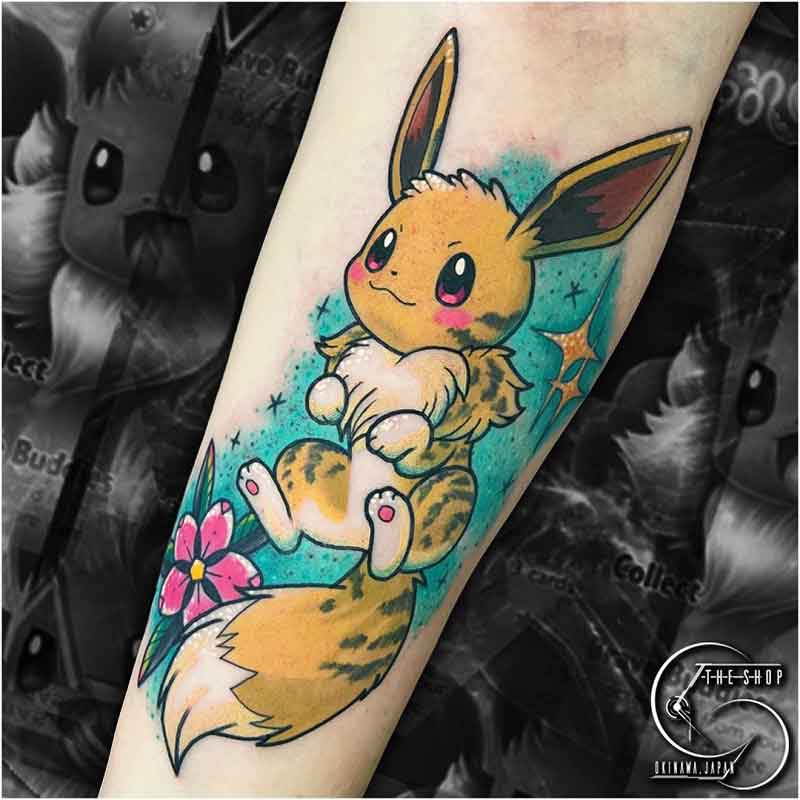 39.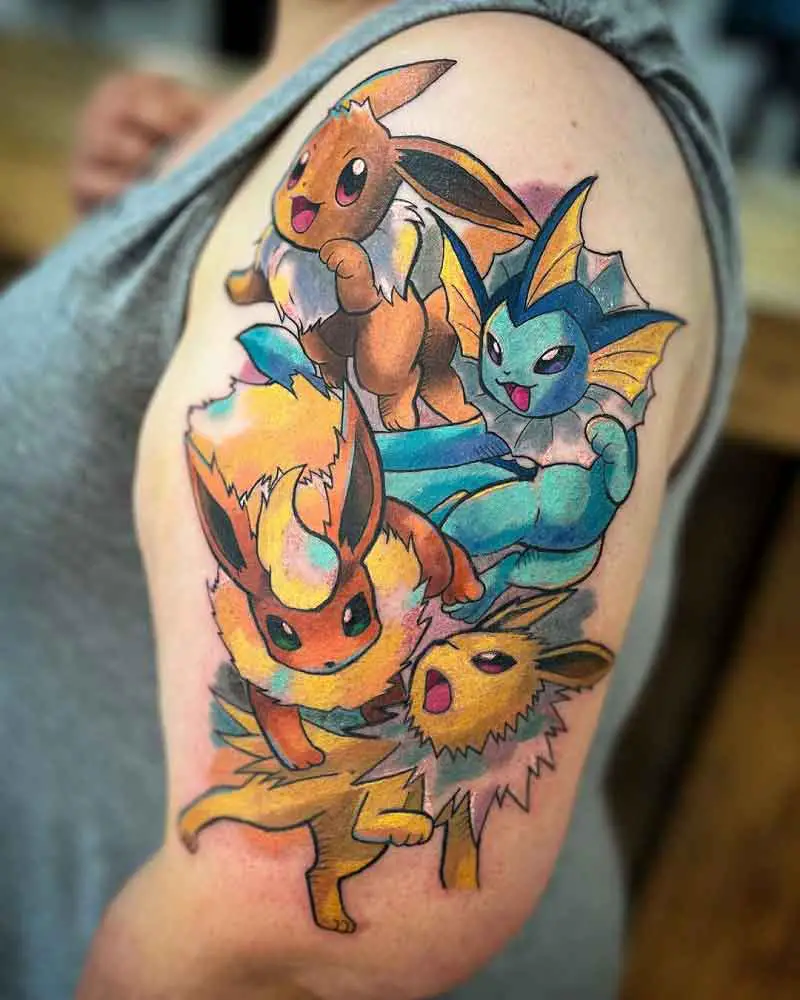 Gengar Pokemon Tattoo
40.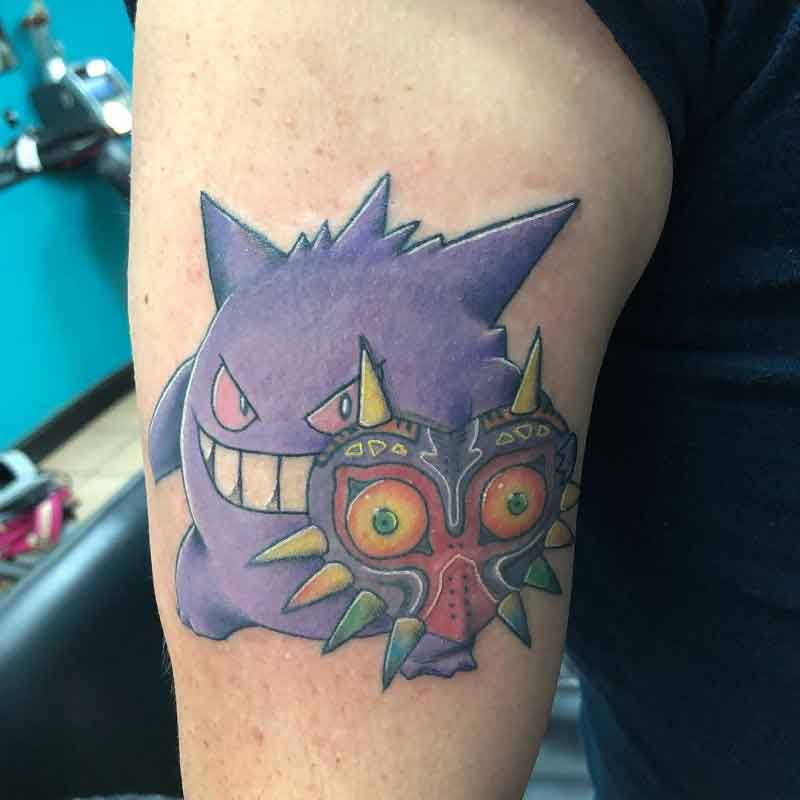 41.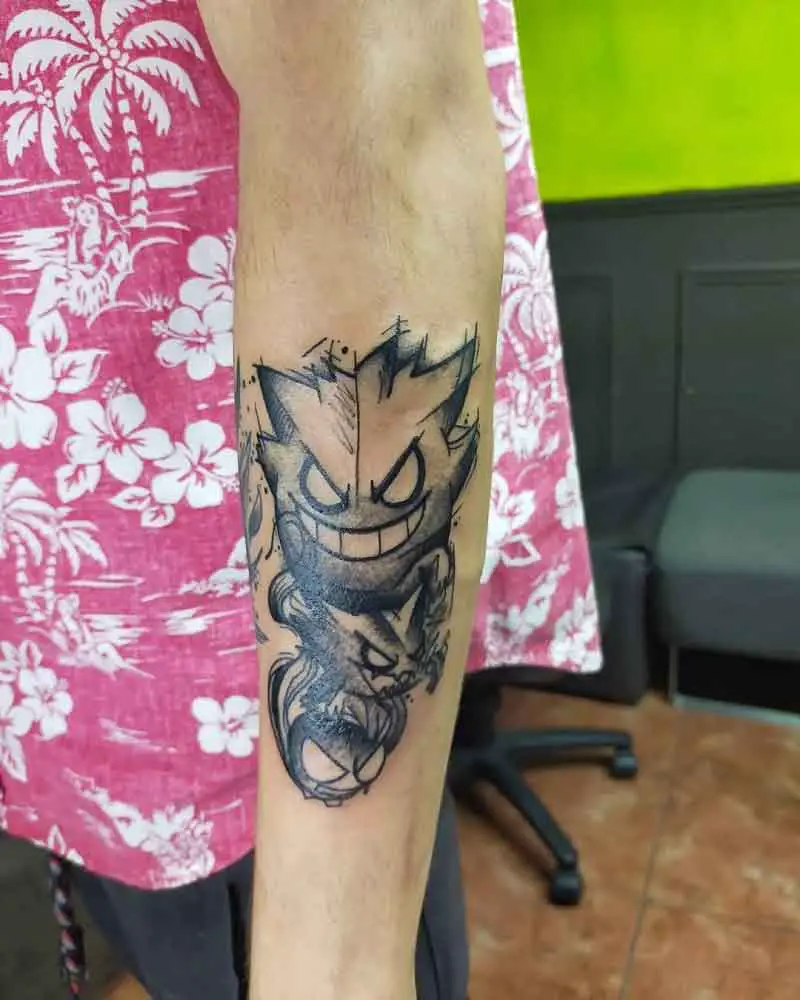 42.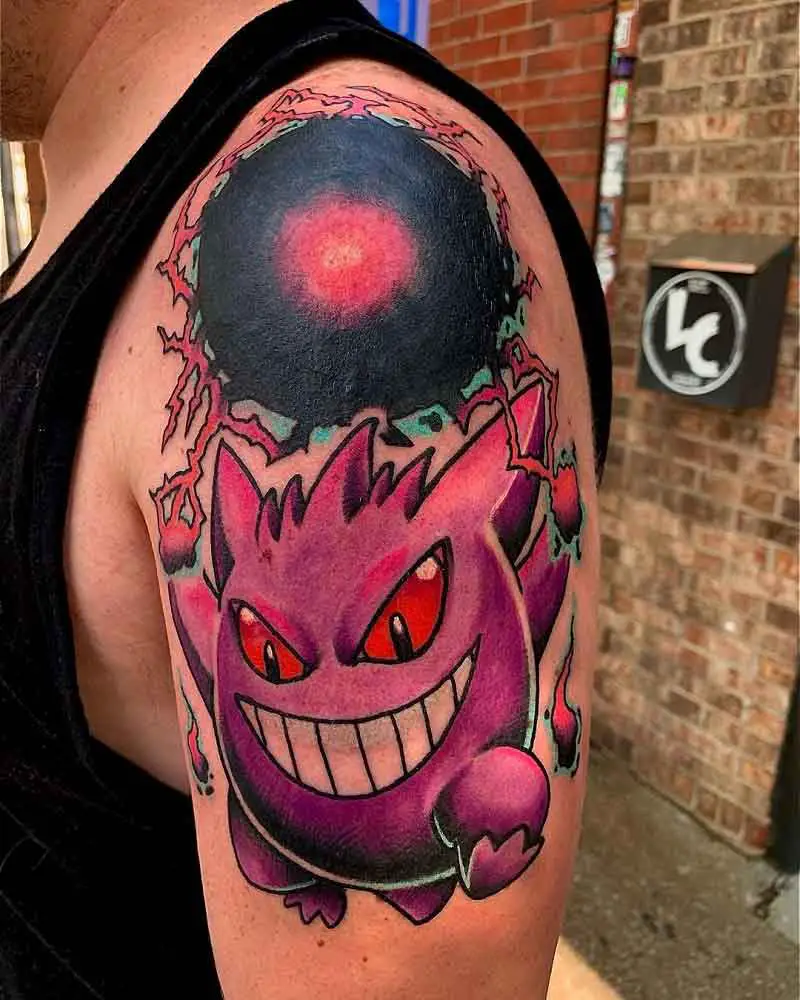 Pokemon Gameboy Tattoo
43.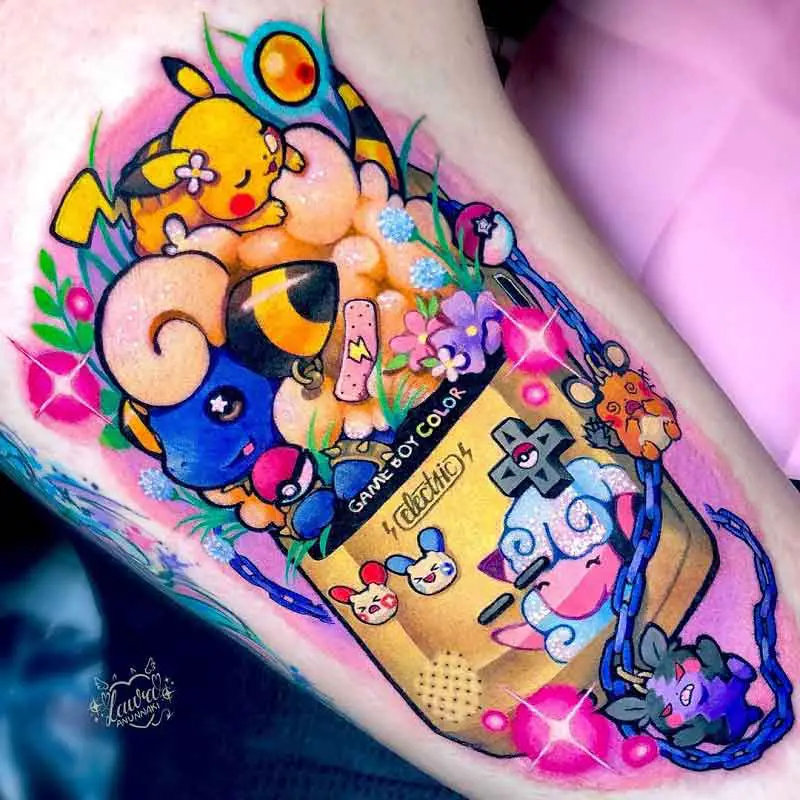 44.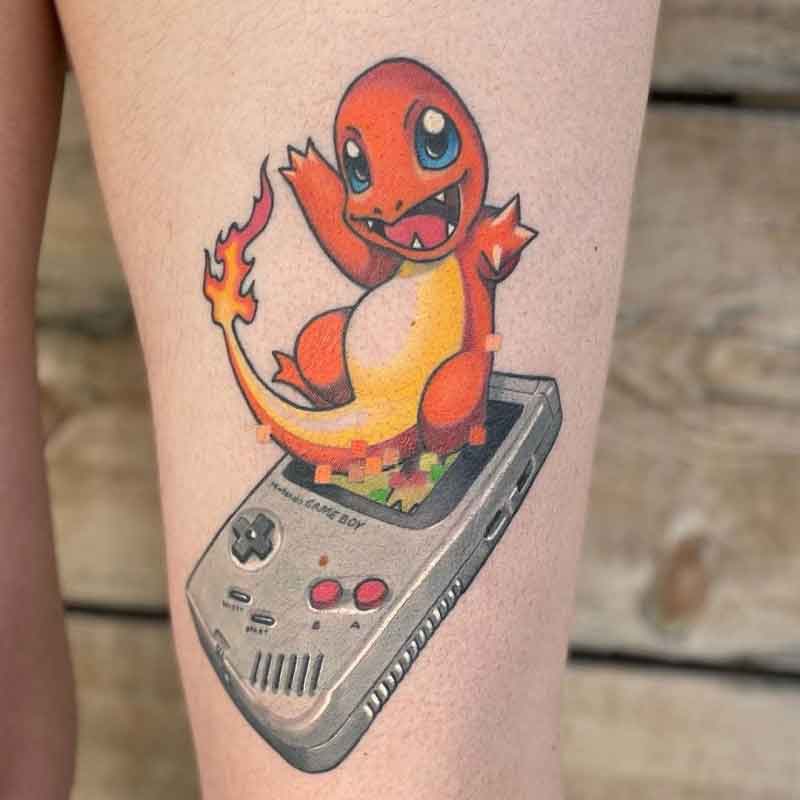 45.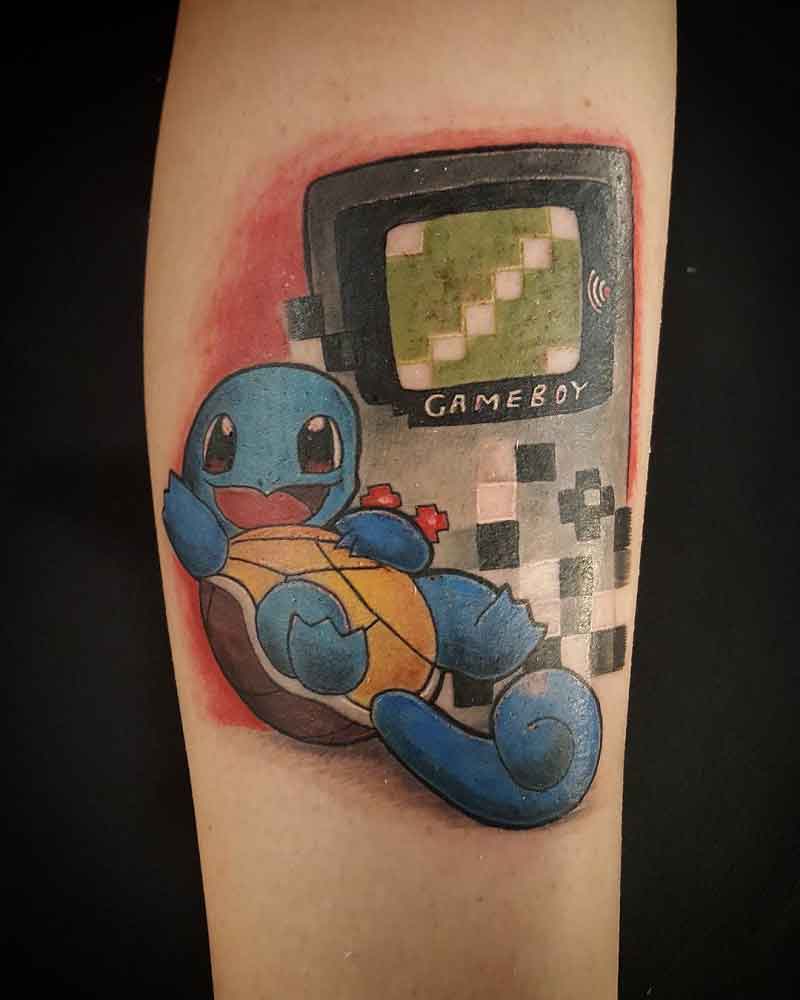 Pokemon Go Tattoo
46.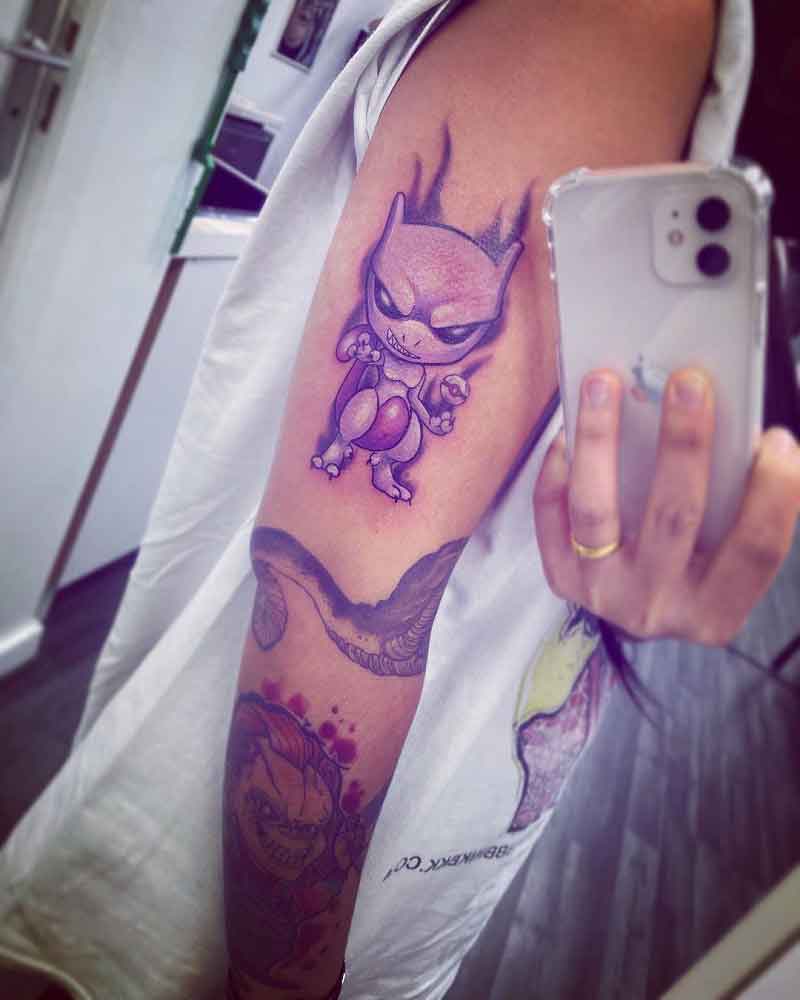 47.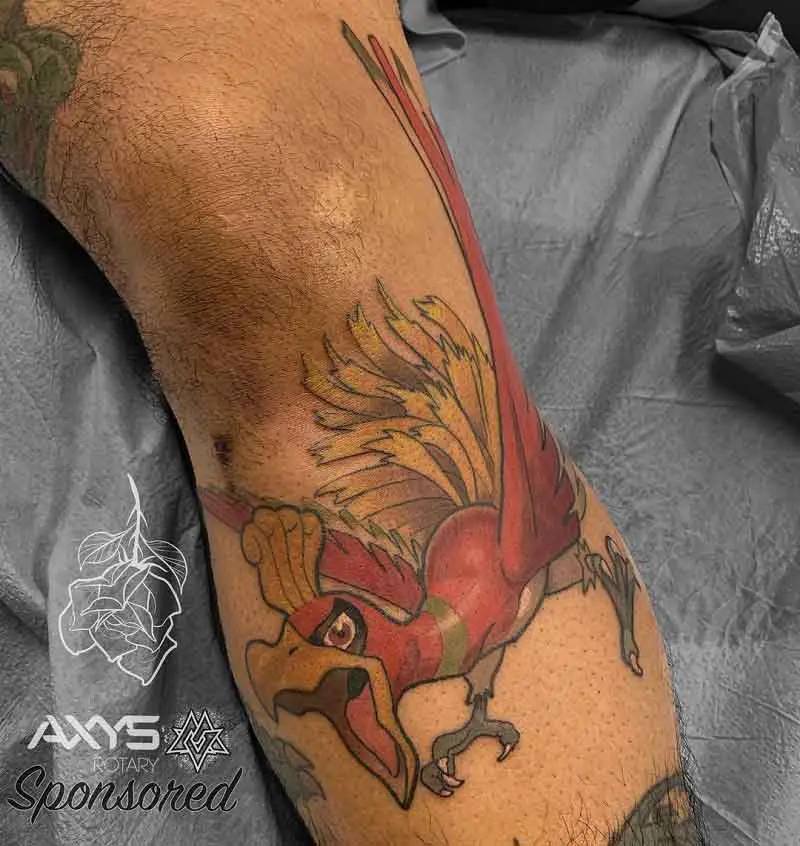 48.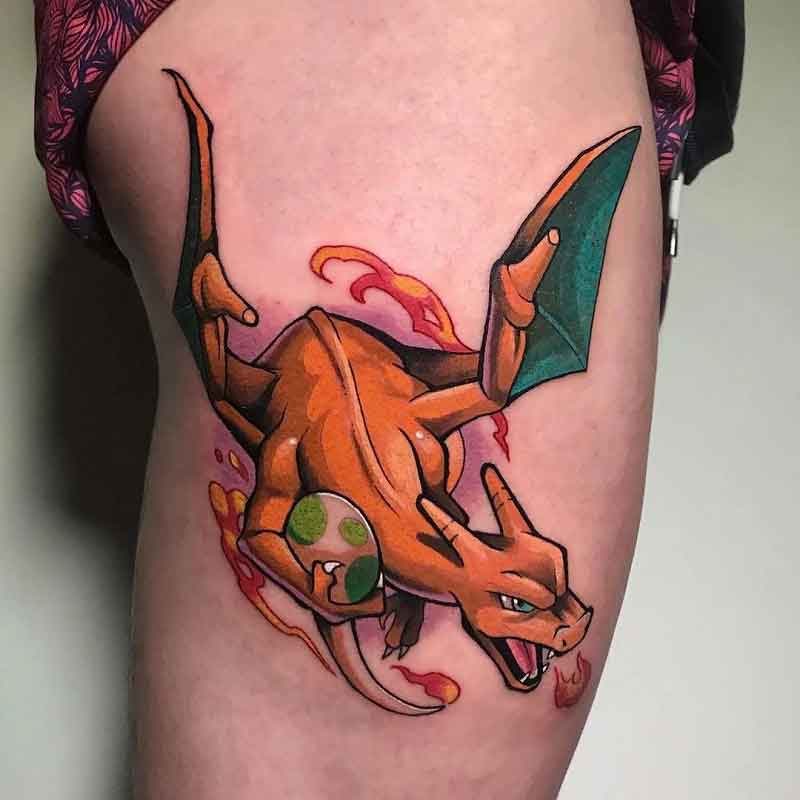 8 Bit Pokemon Tattoo
49.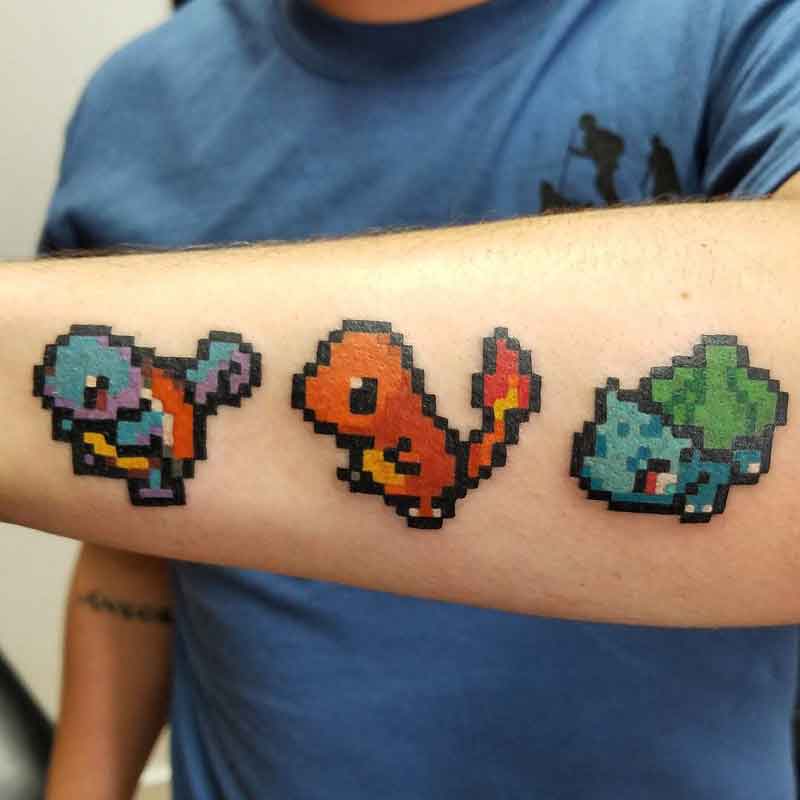 50.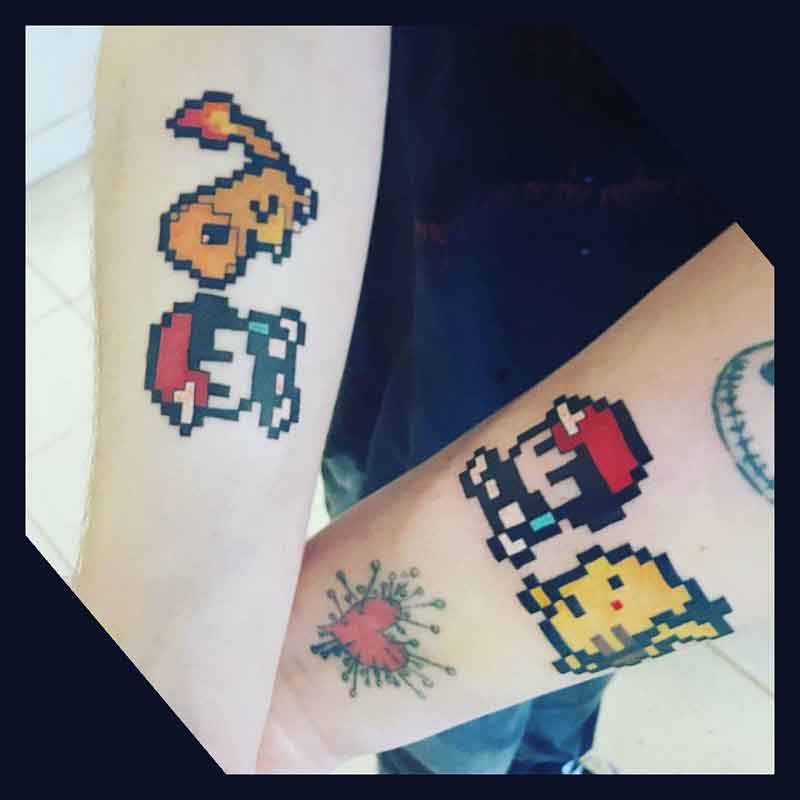 51.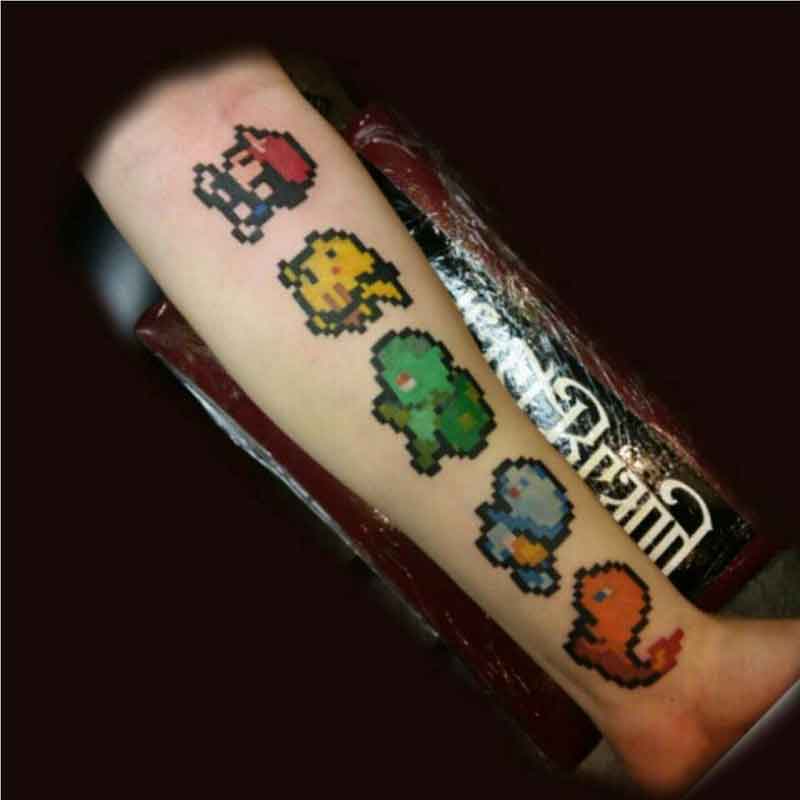 Pokemon Card Tattoo
52.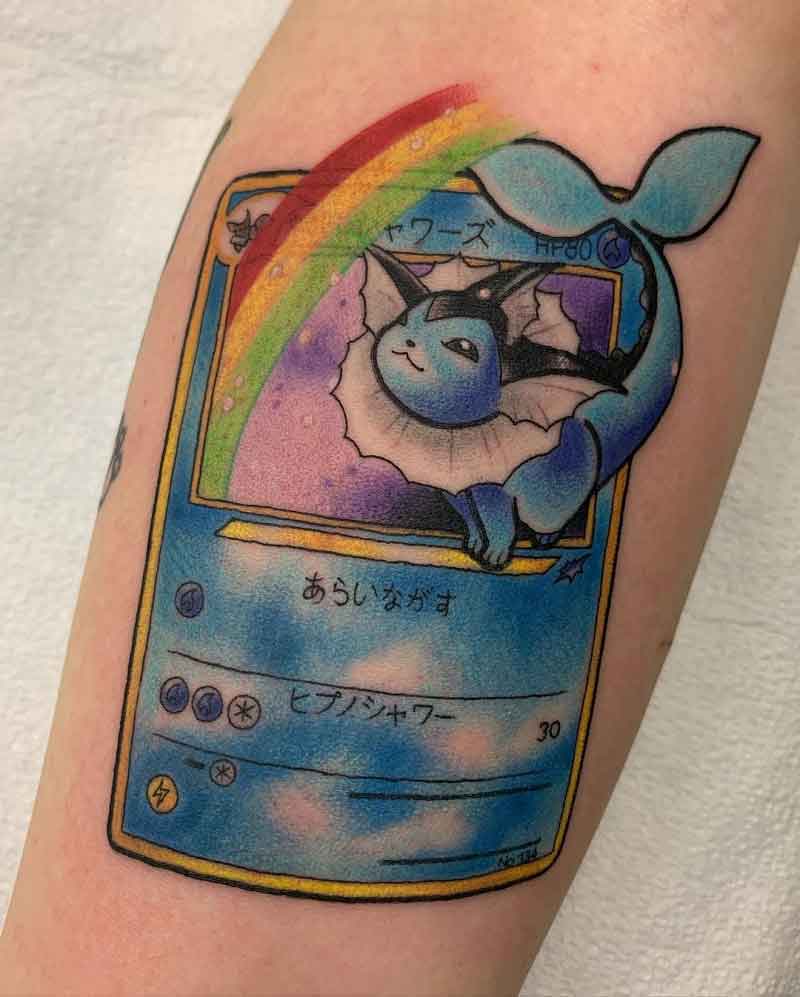 53.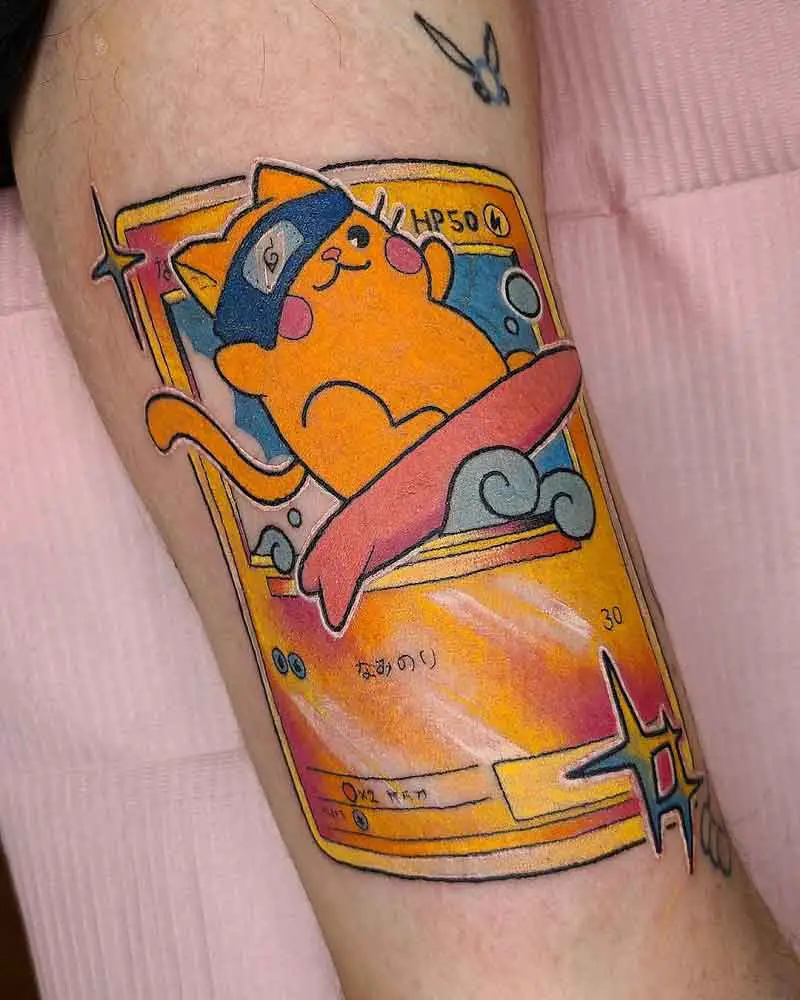 54.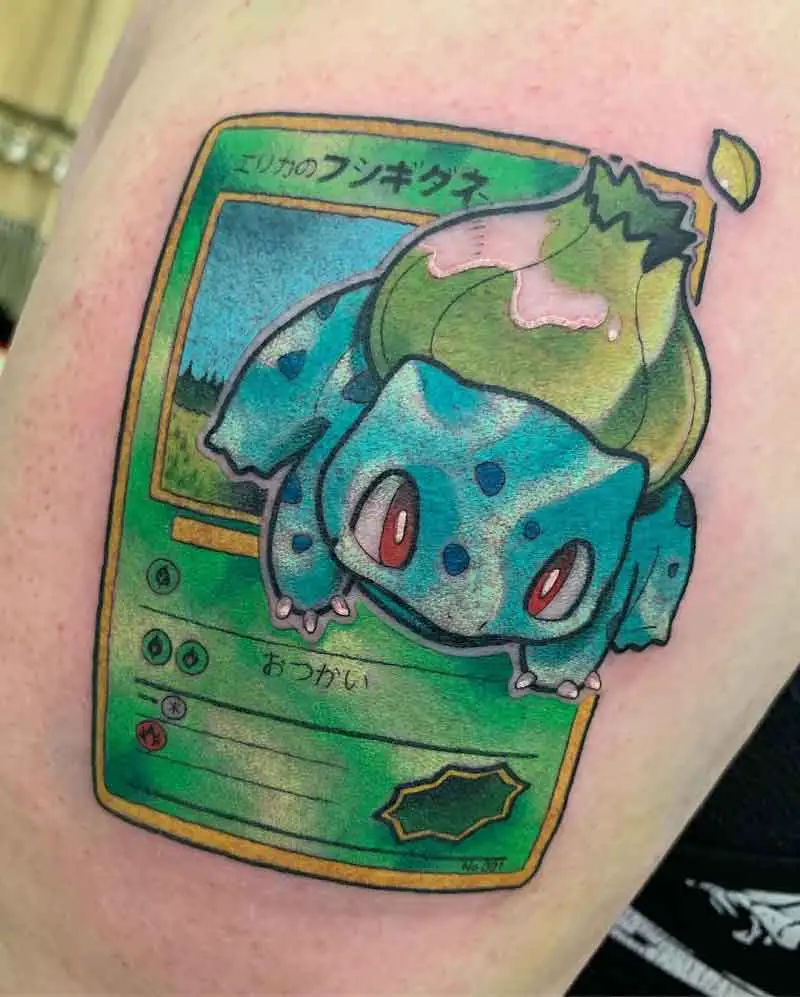 Pokemon Couple Tattoos
55.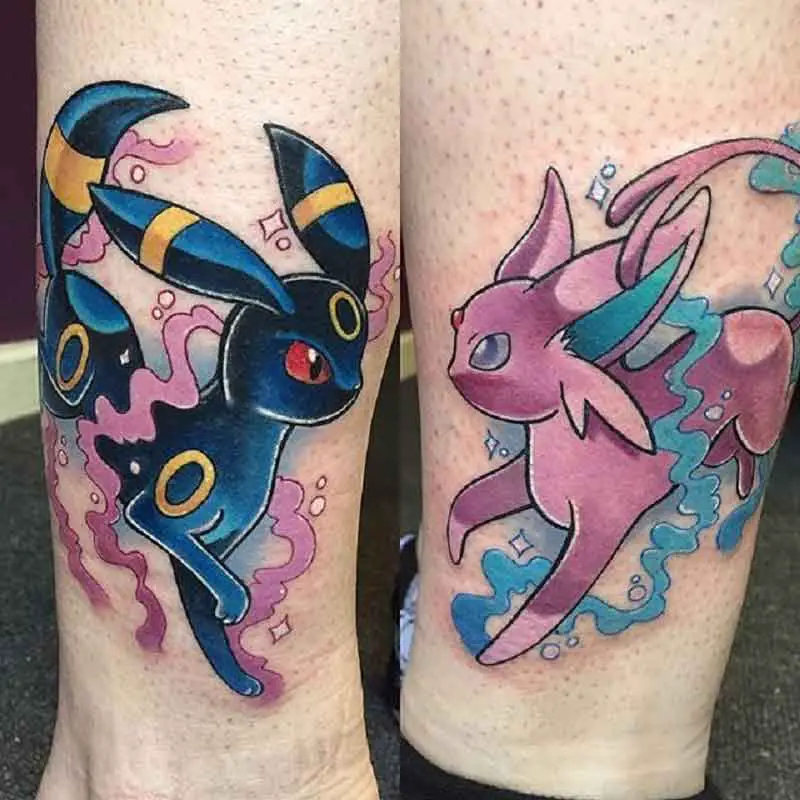 56.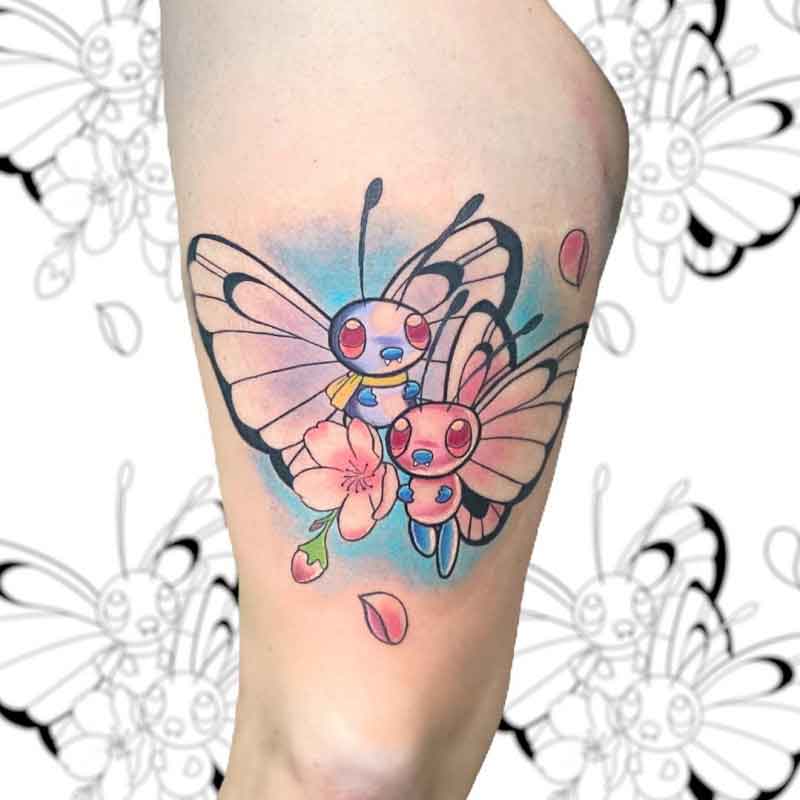 57.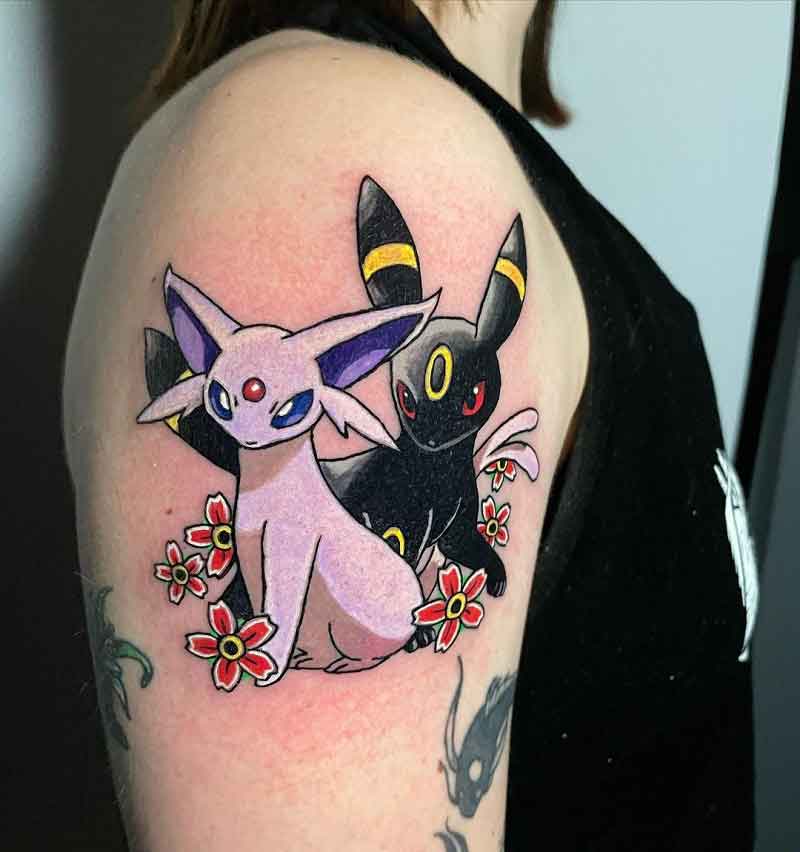 Pokemon Flash Tattoo
58.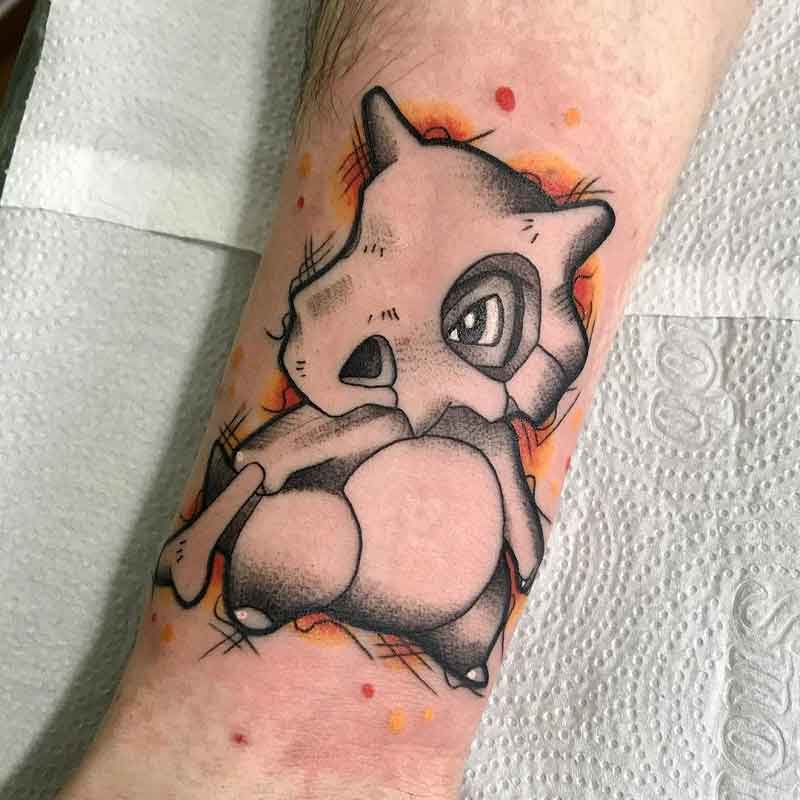 59.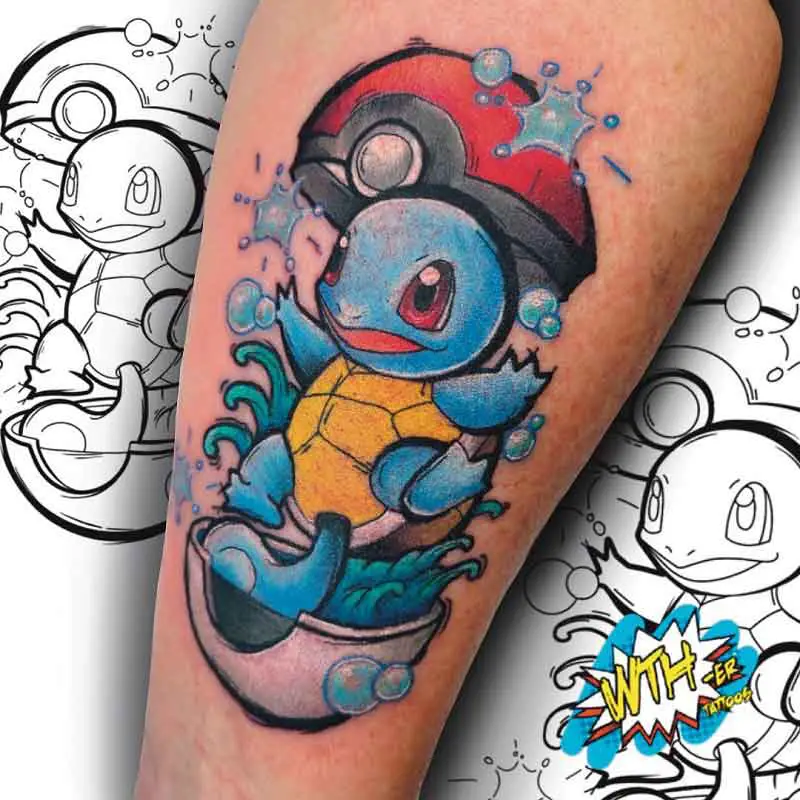 60.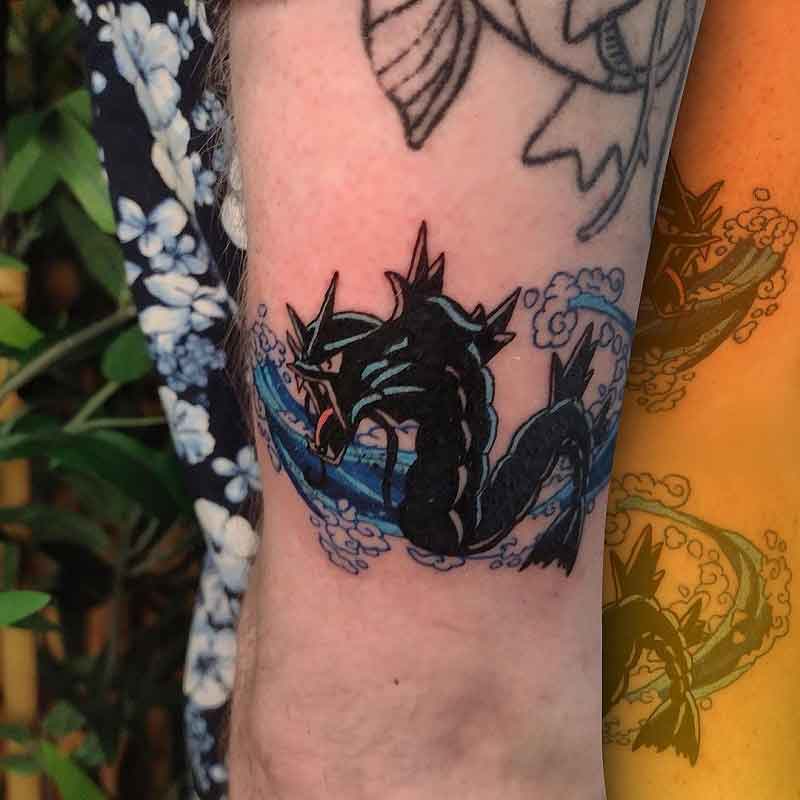 Halloween Pokemon Tattoo
61.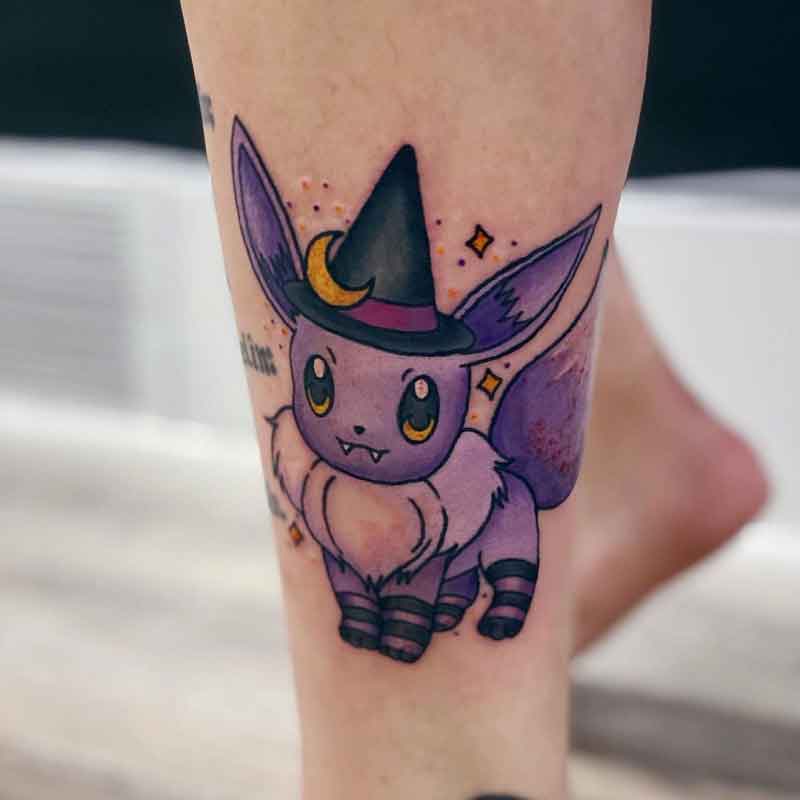 62.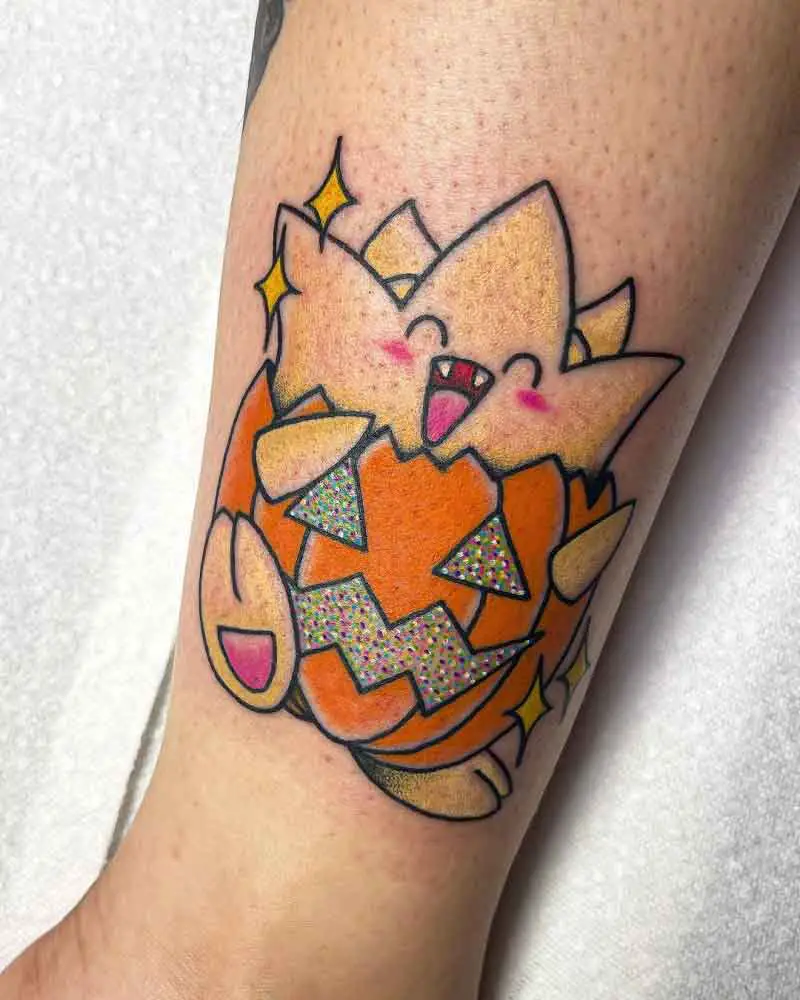 63.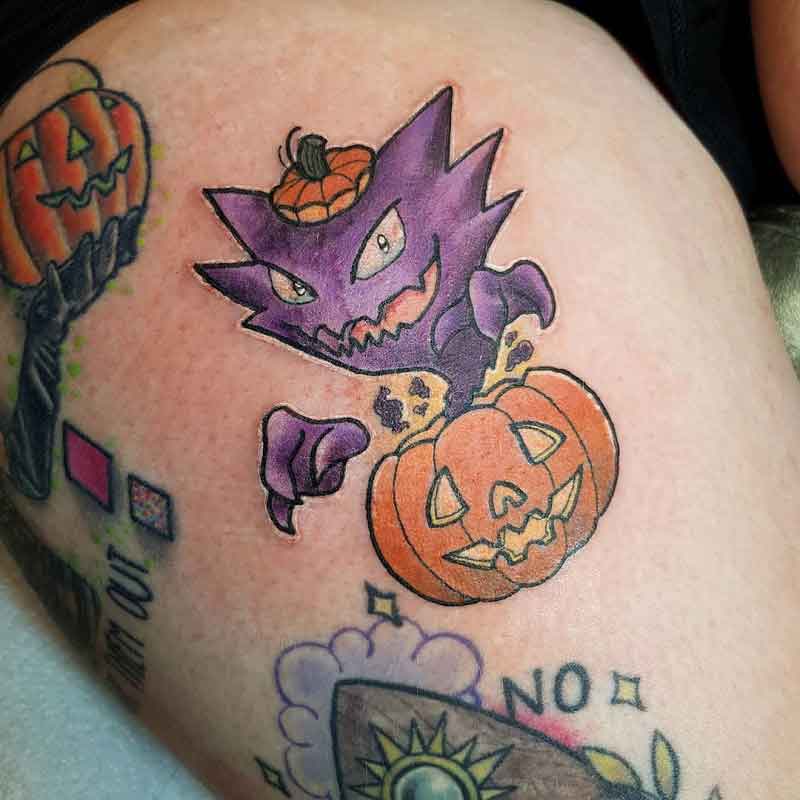 Legendary Pokemon Tattoos
64.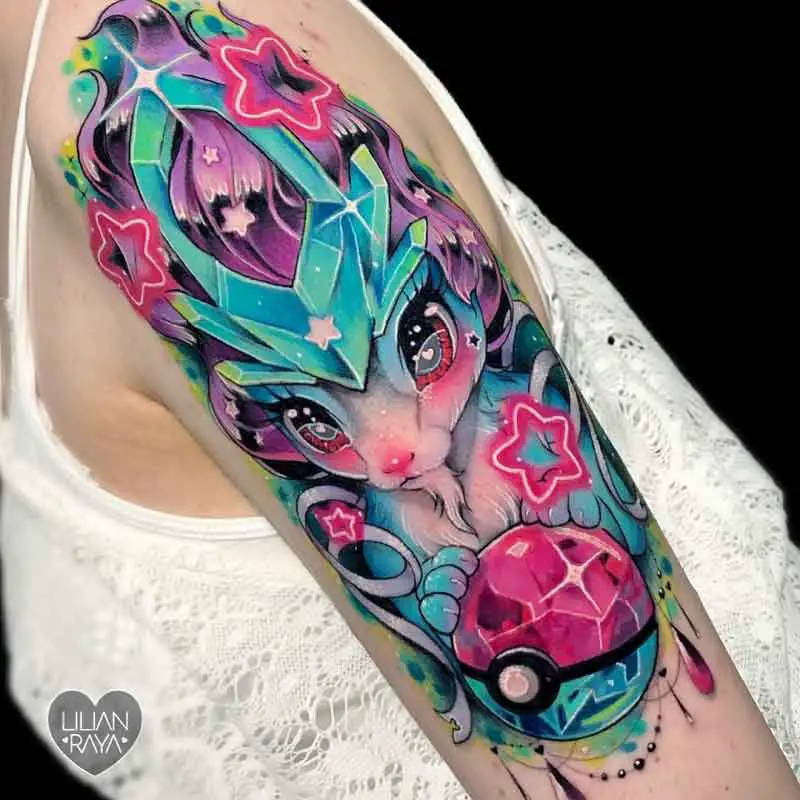 65.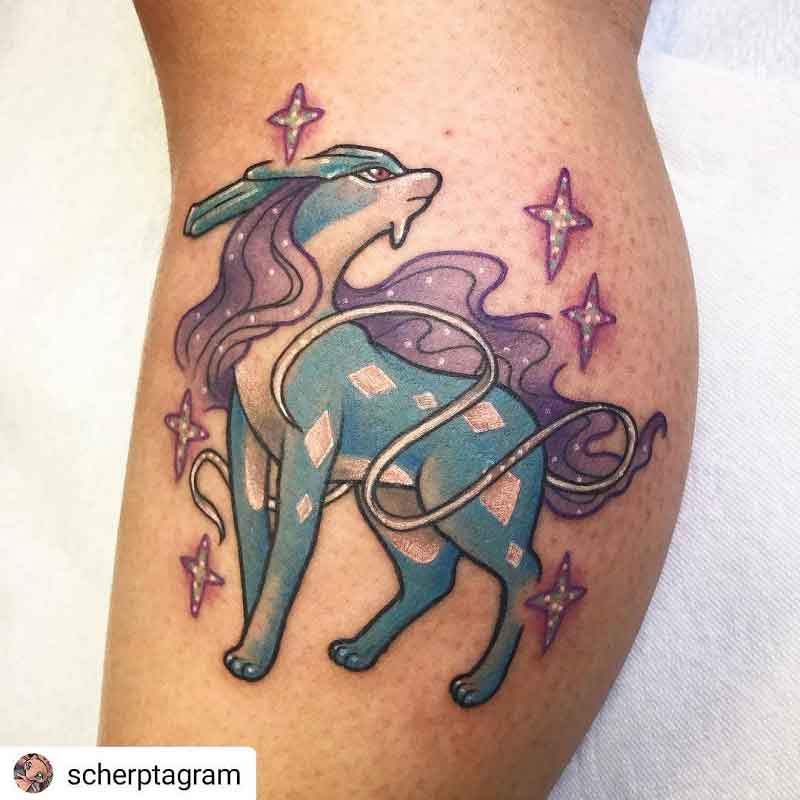 66.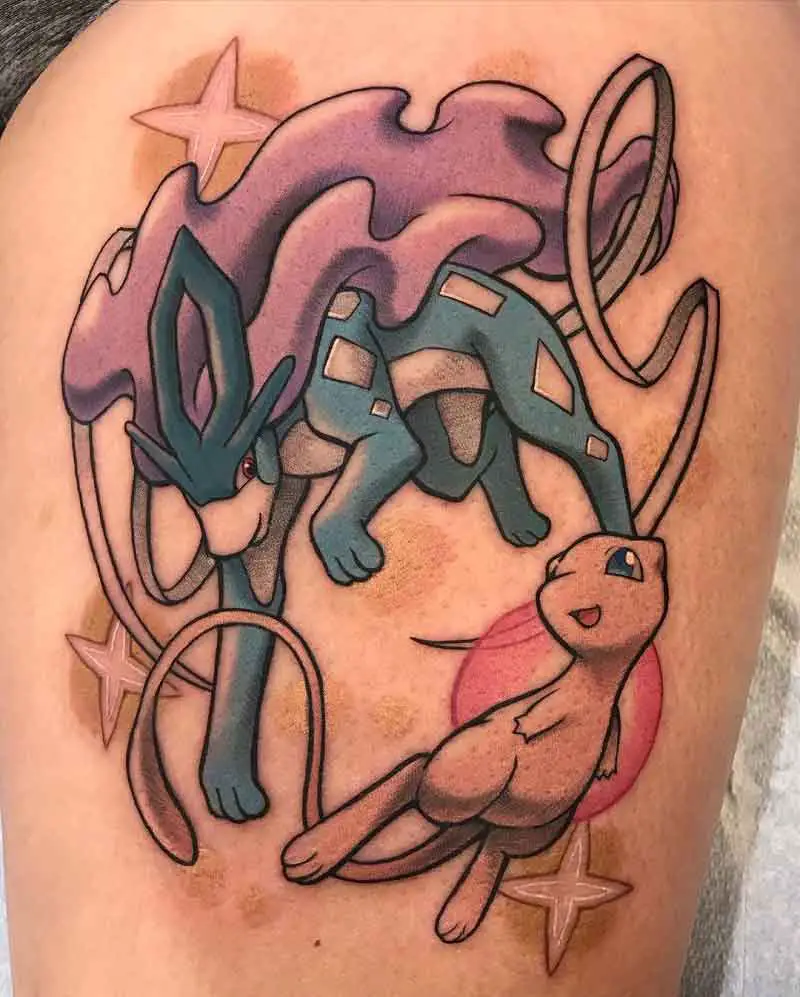 Pokemon Avengers Tattoo
67.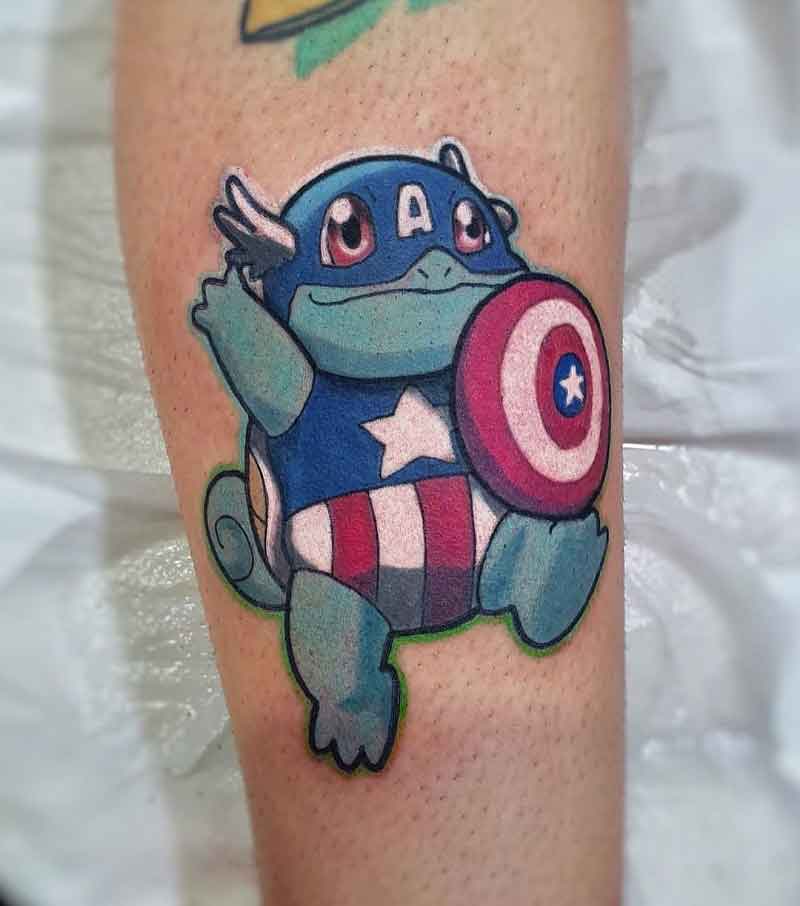 68.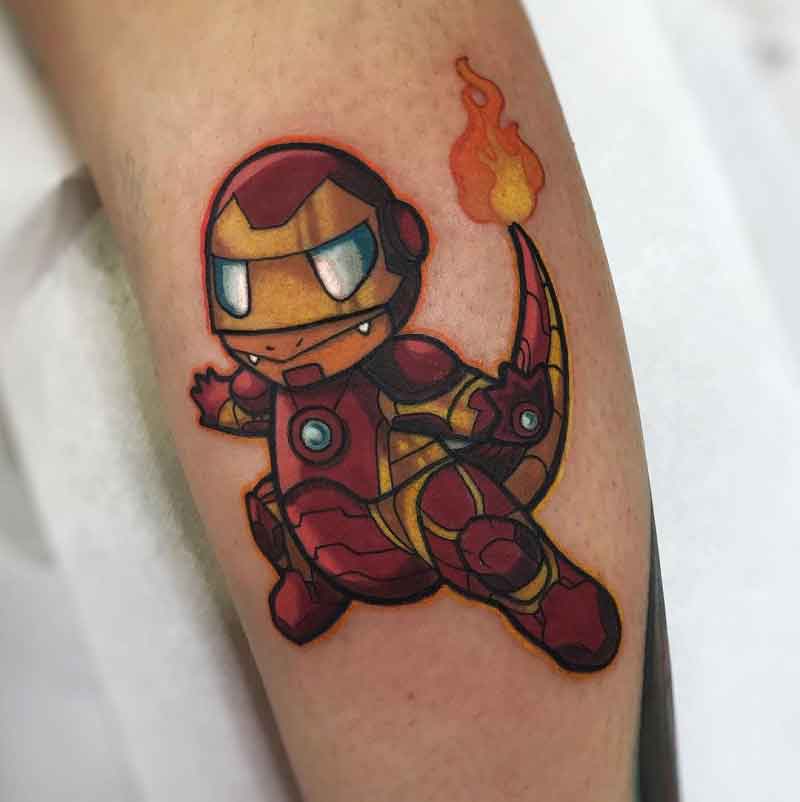 69.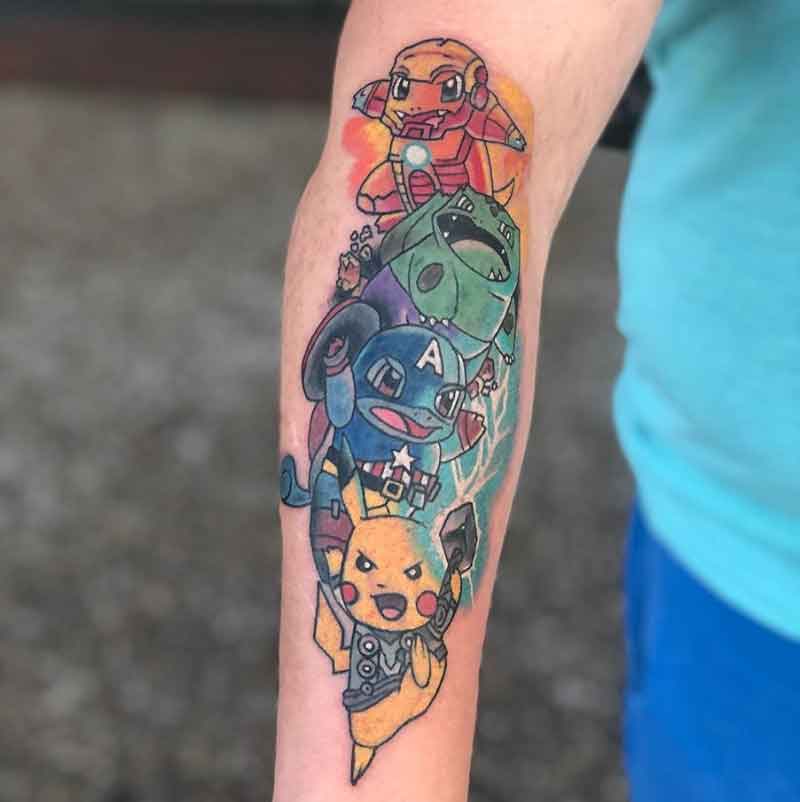 Shiny Pokemon Tattoo
70.
71.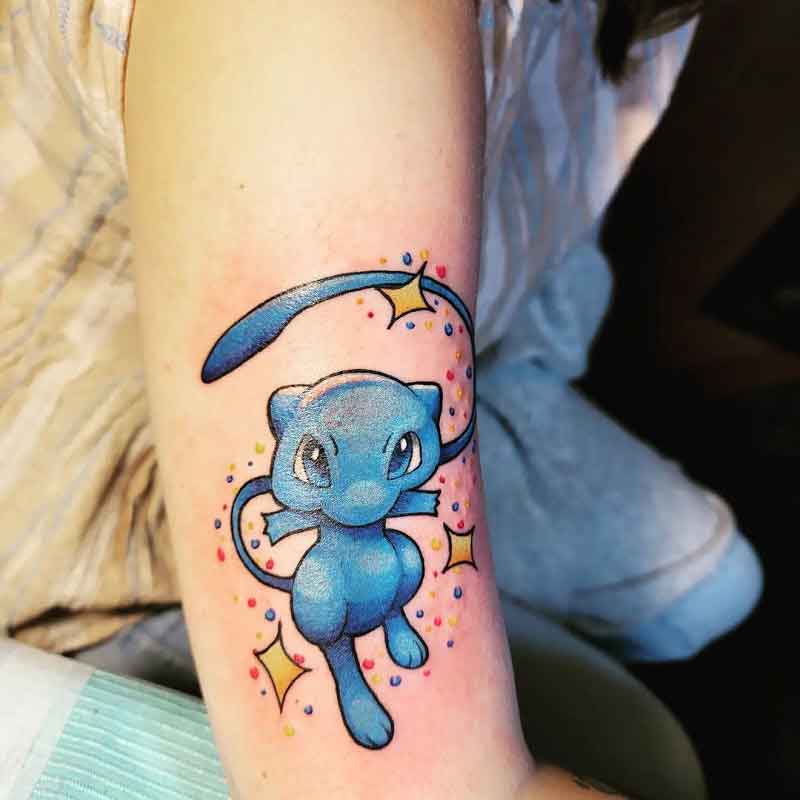 72.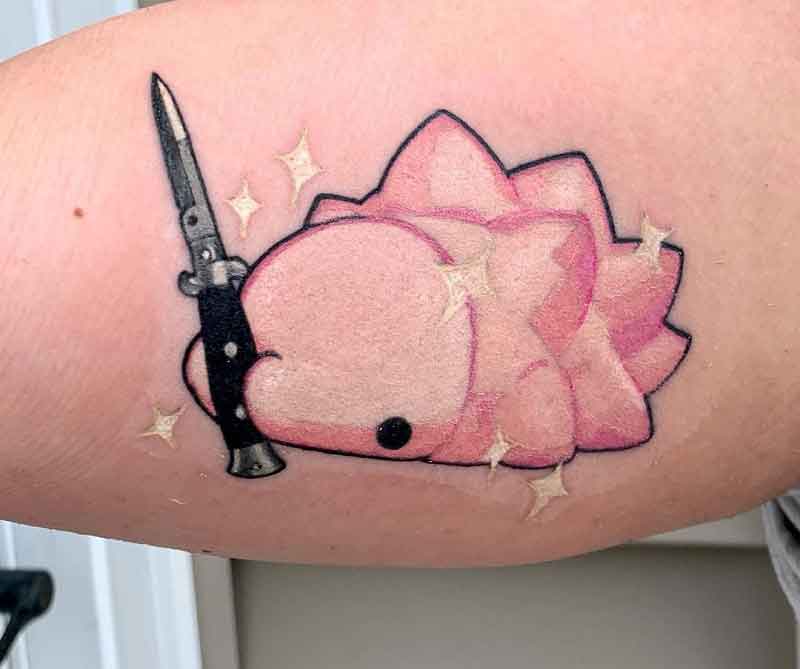 3d Pokemon Tattoo
73.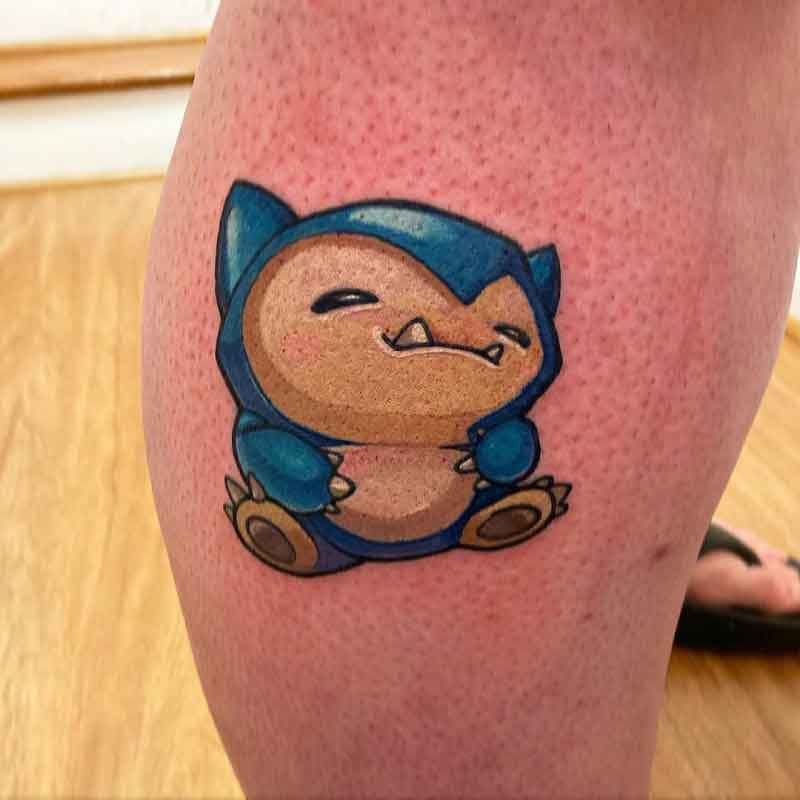 74.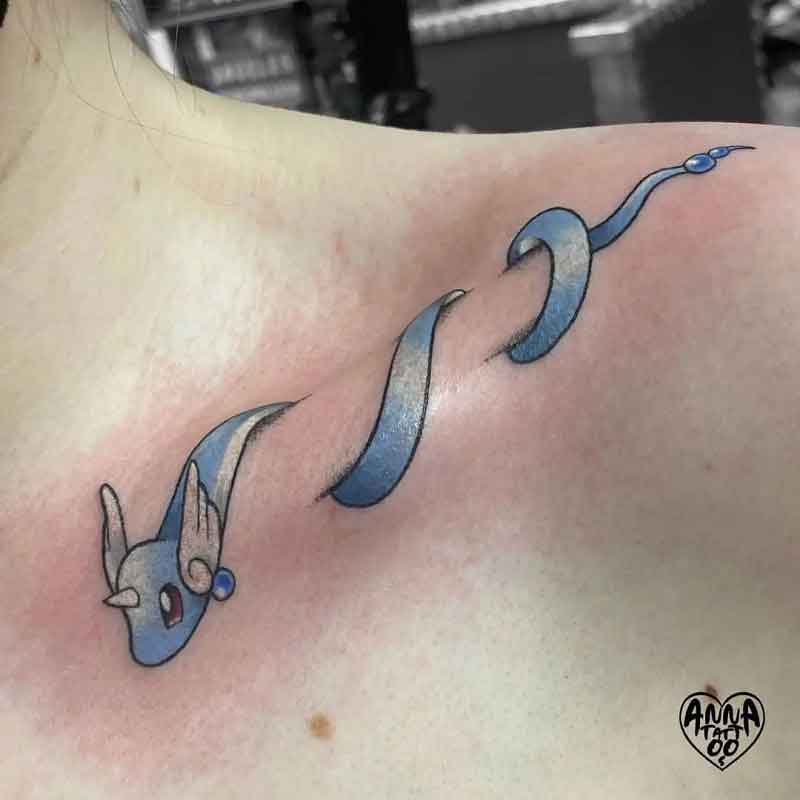 75.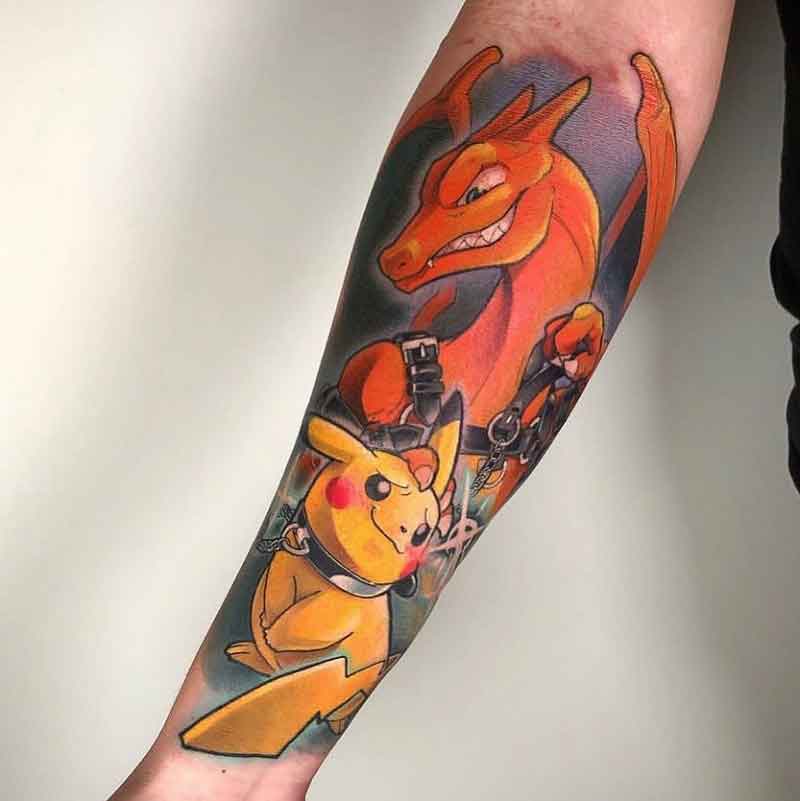 Charmander Pokemon Tattoo
76.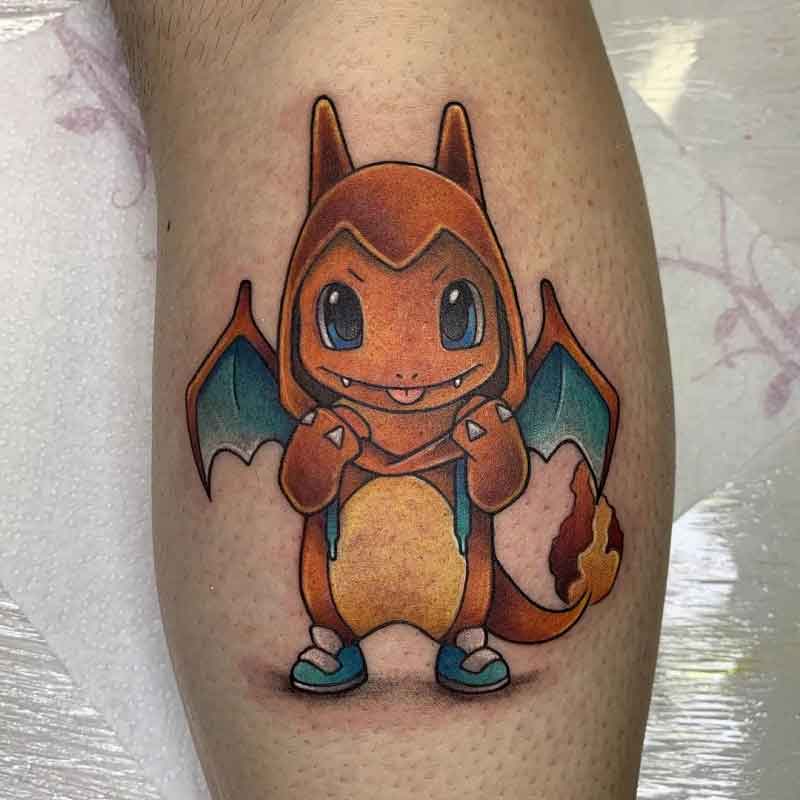 77.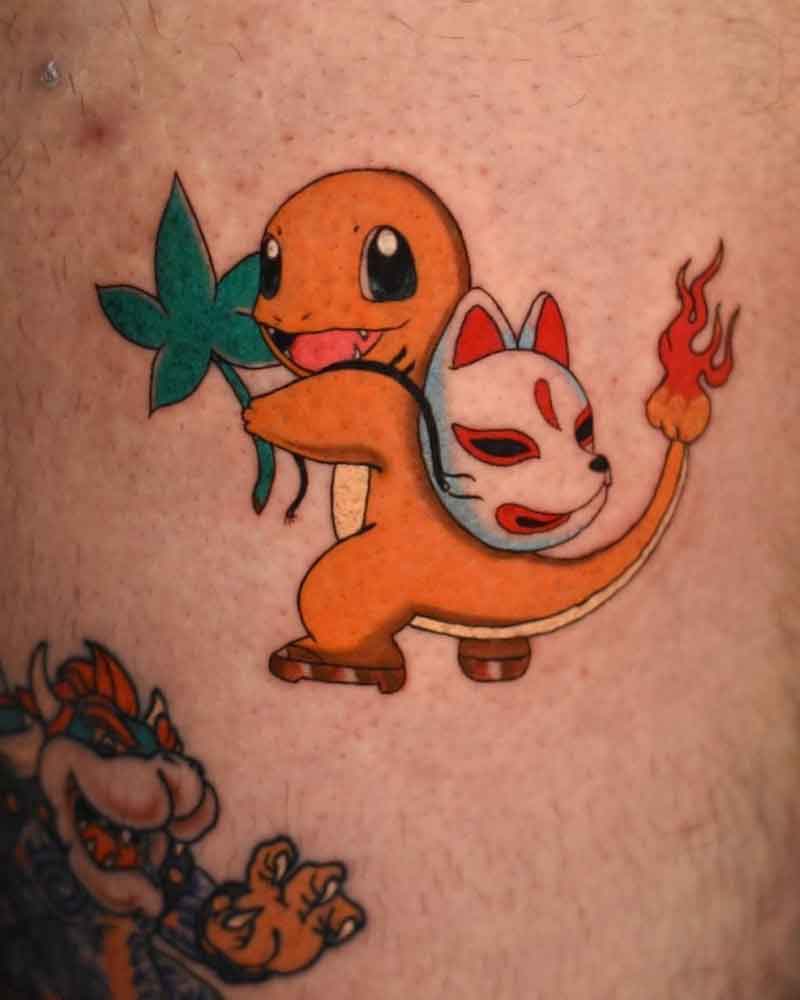 78.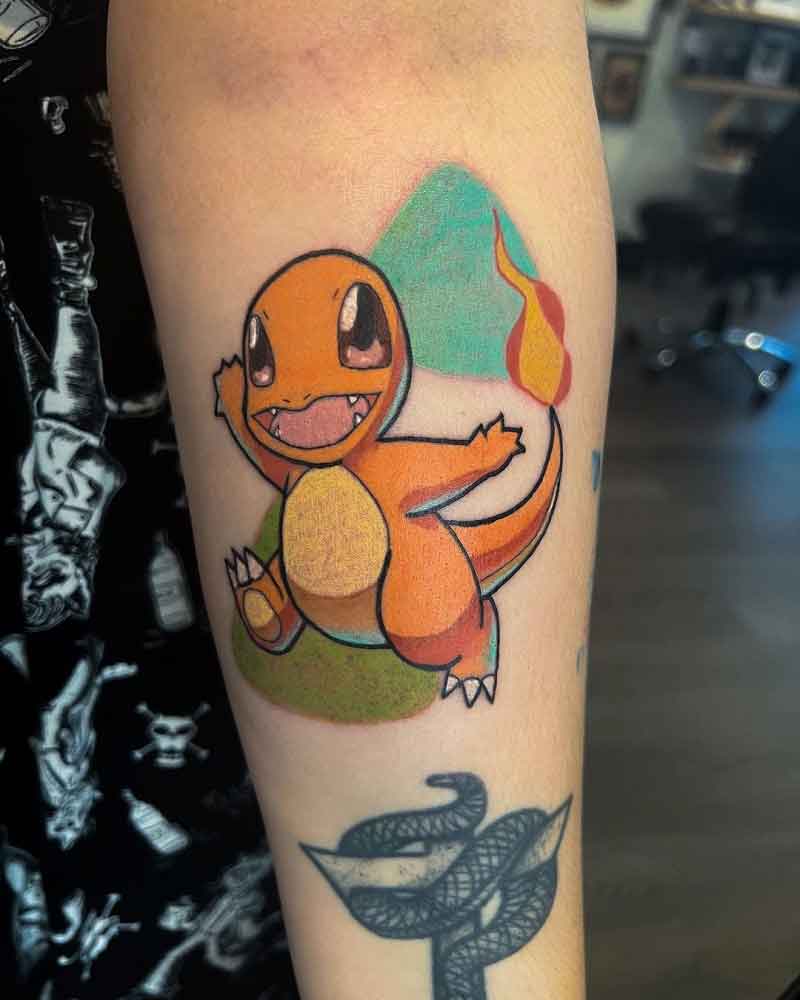 Cubone Pokemon Tattoo
79.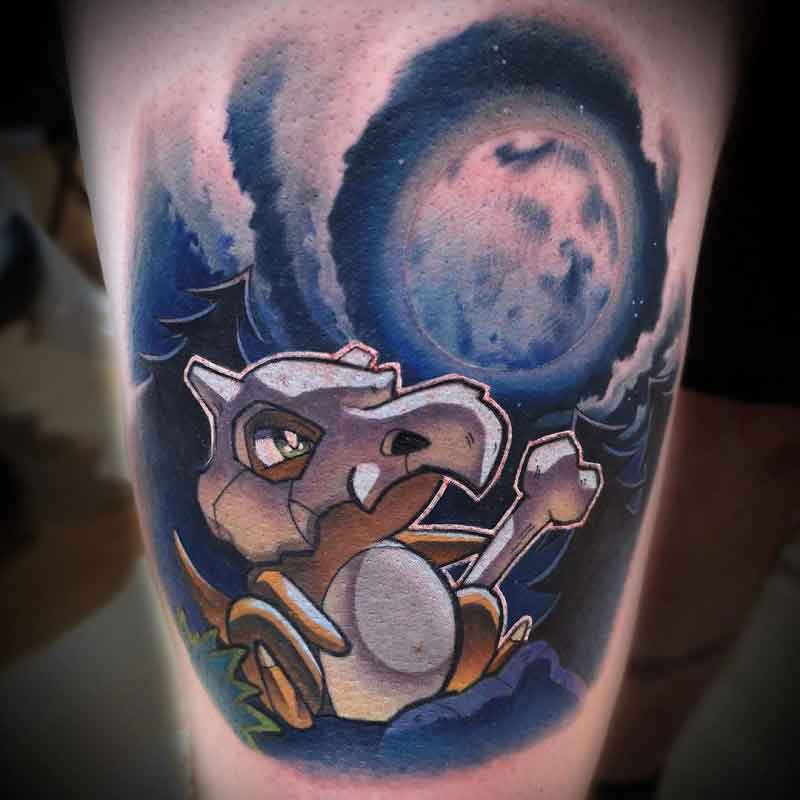 80.
81.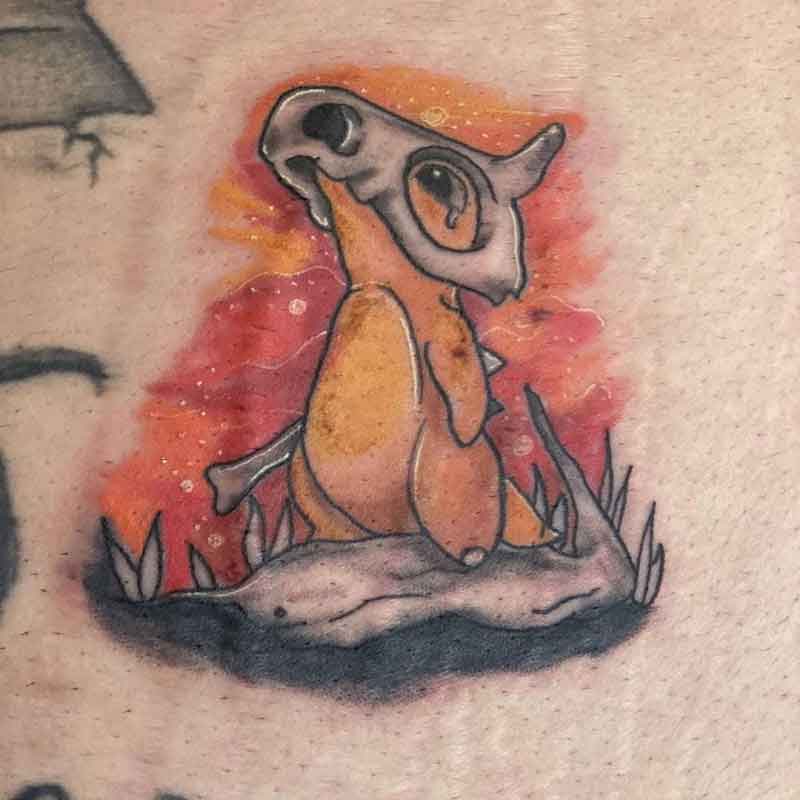 Ditto Pokemon Tattoo
82.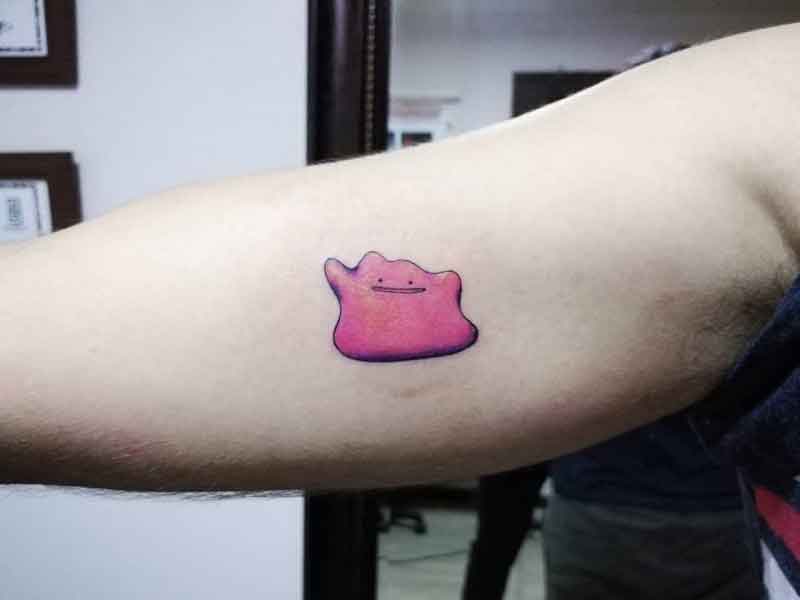 83.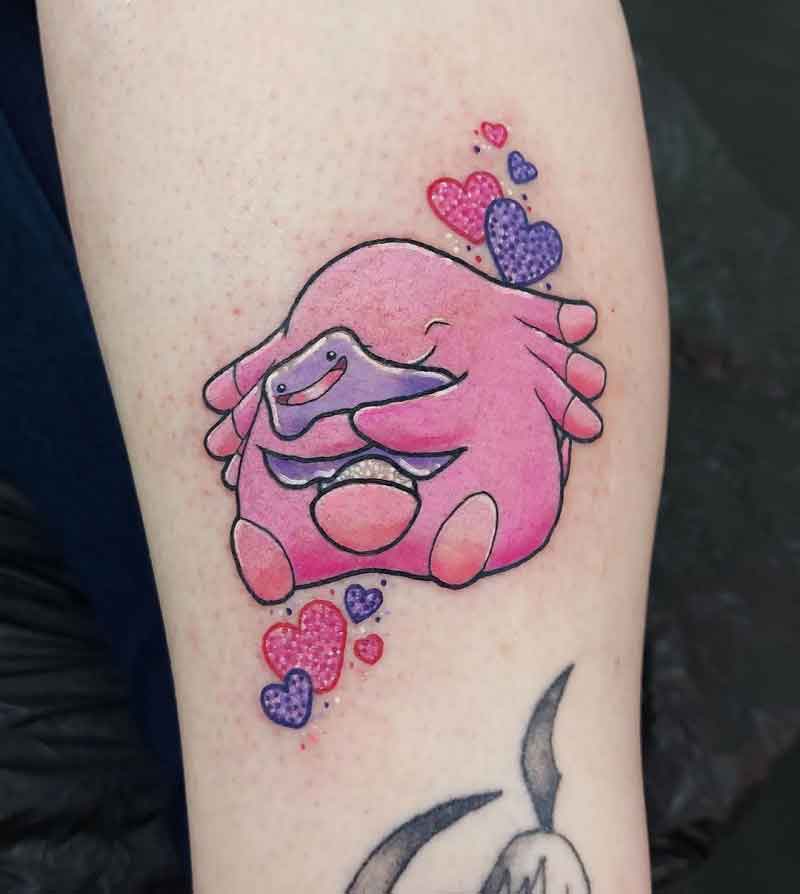 84.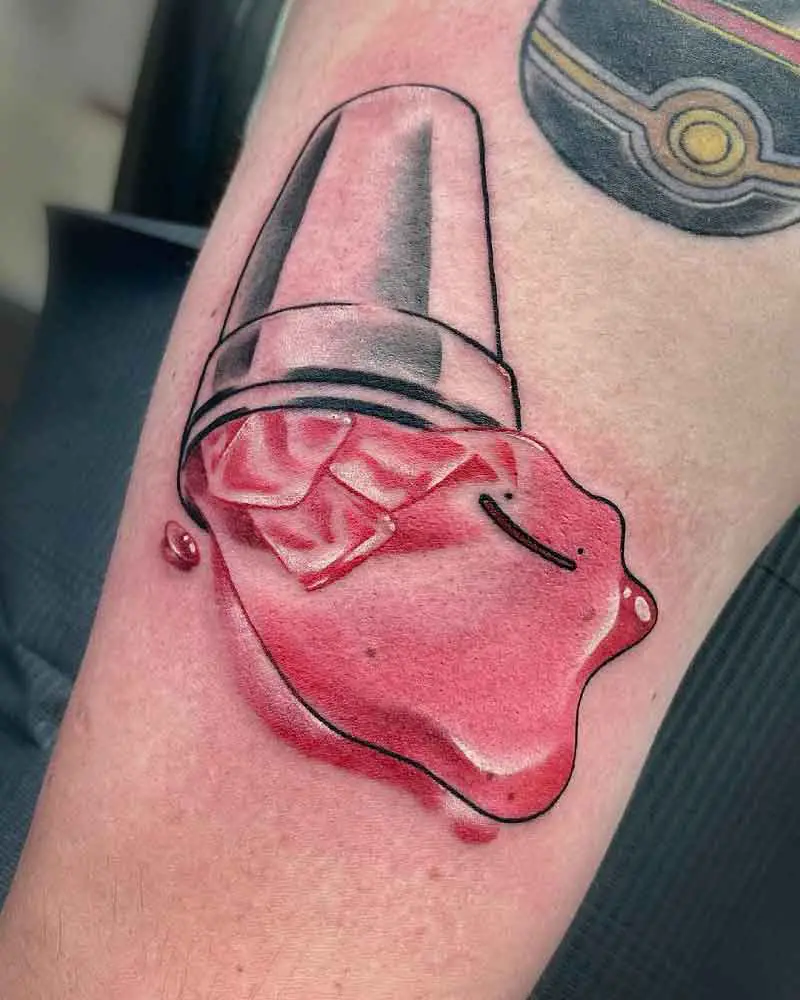 Drunk Pokemon Tattoo
85.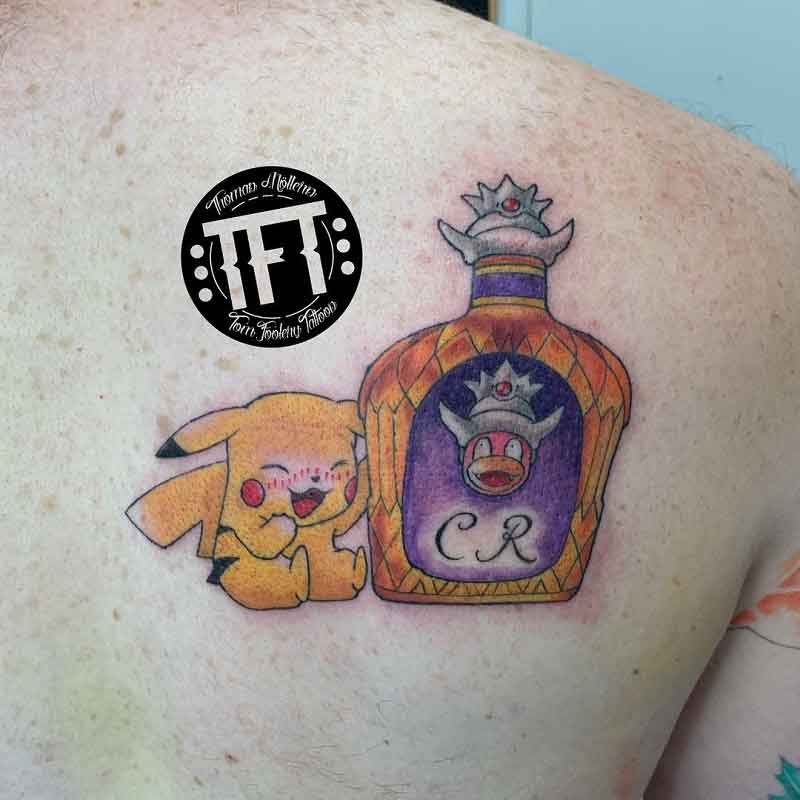 86.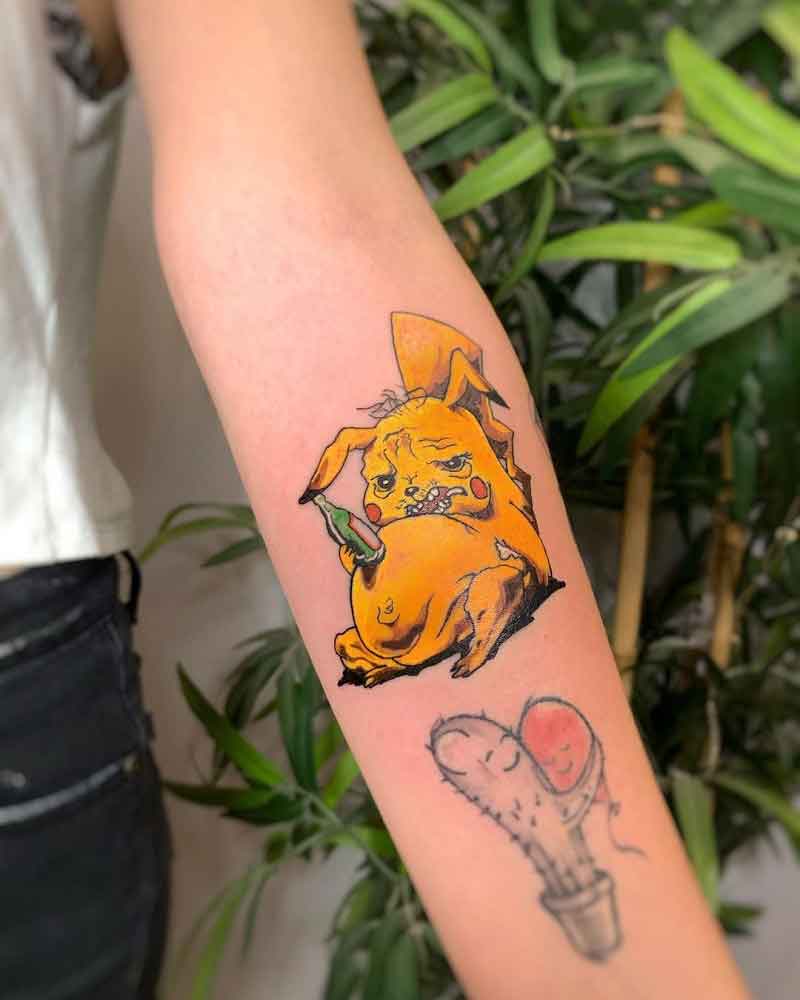 87.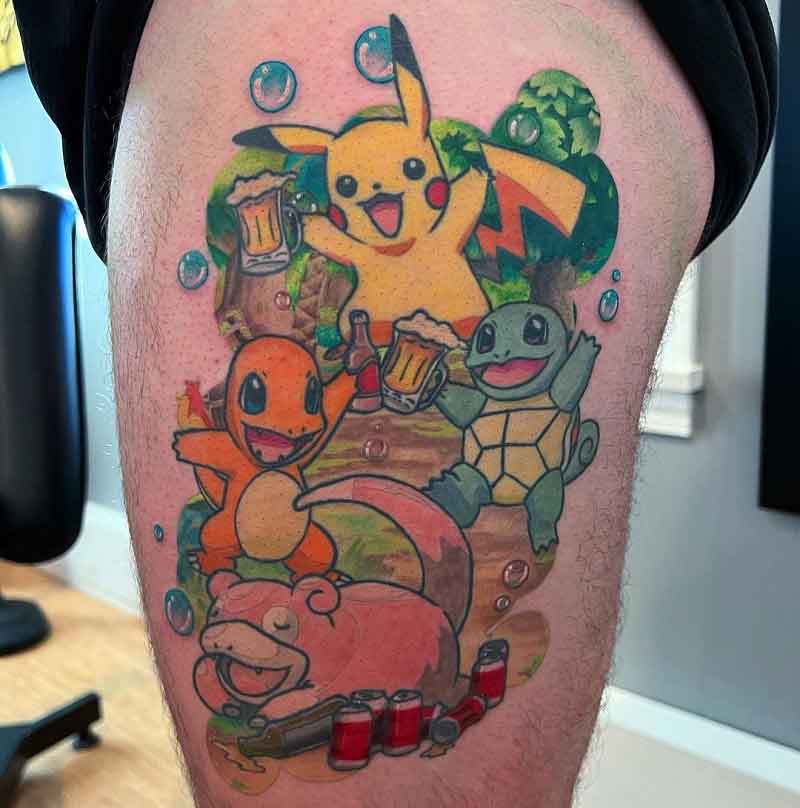 Entei Pokemon Tattoo
88.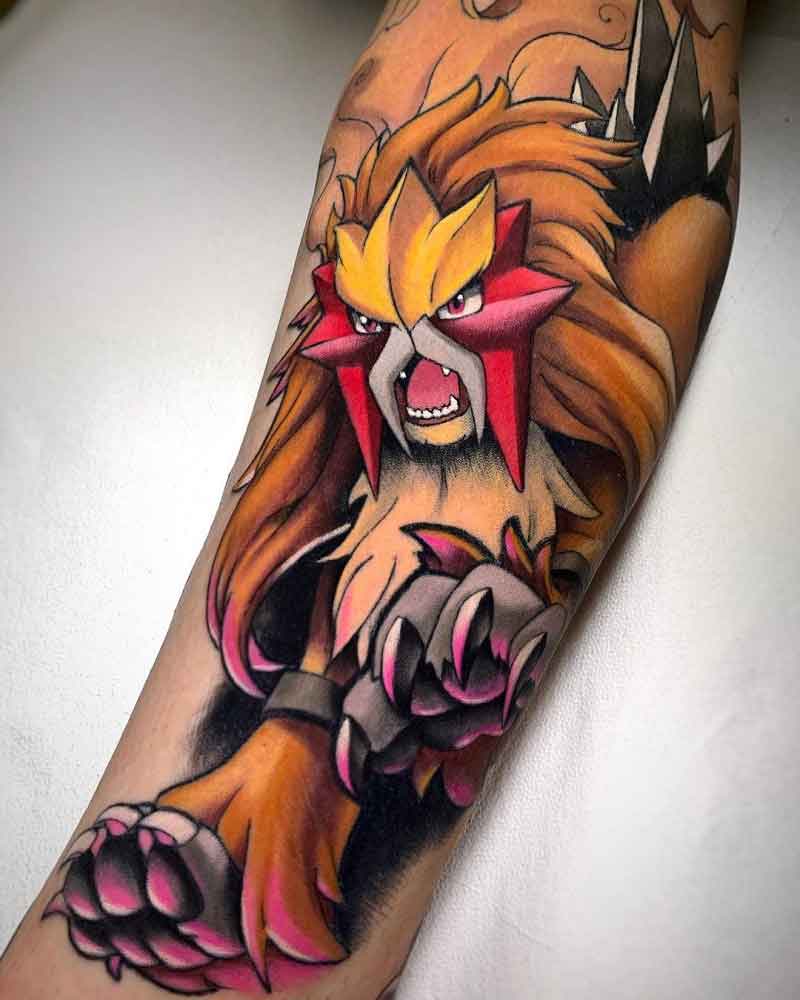 89.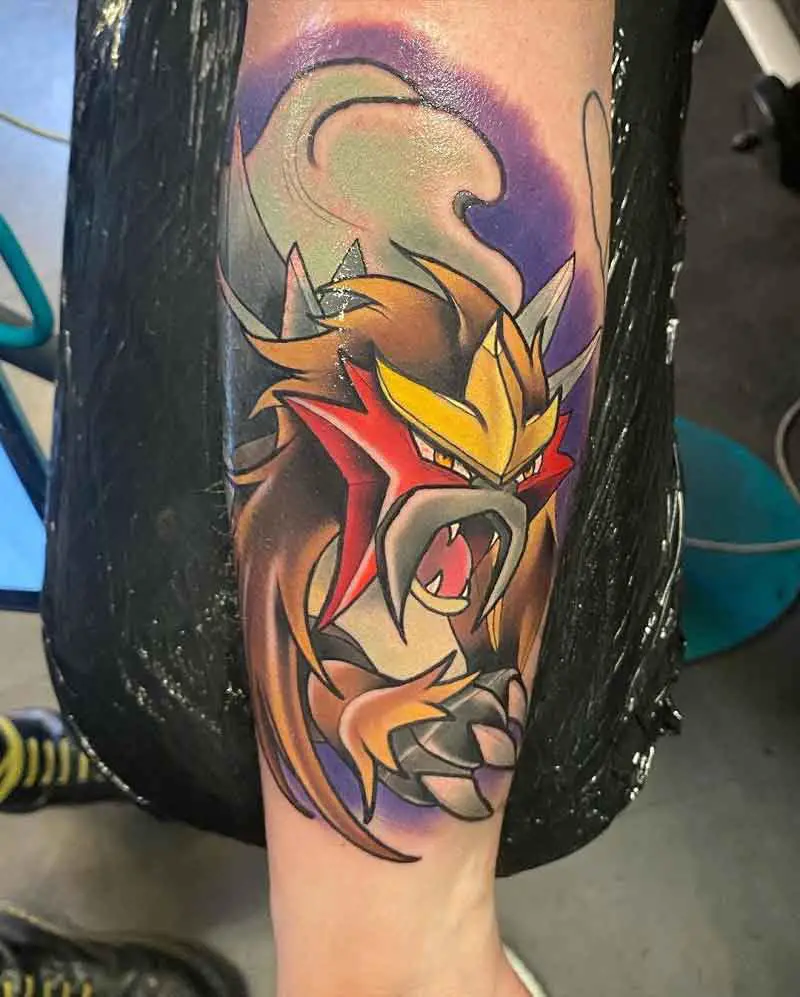 90.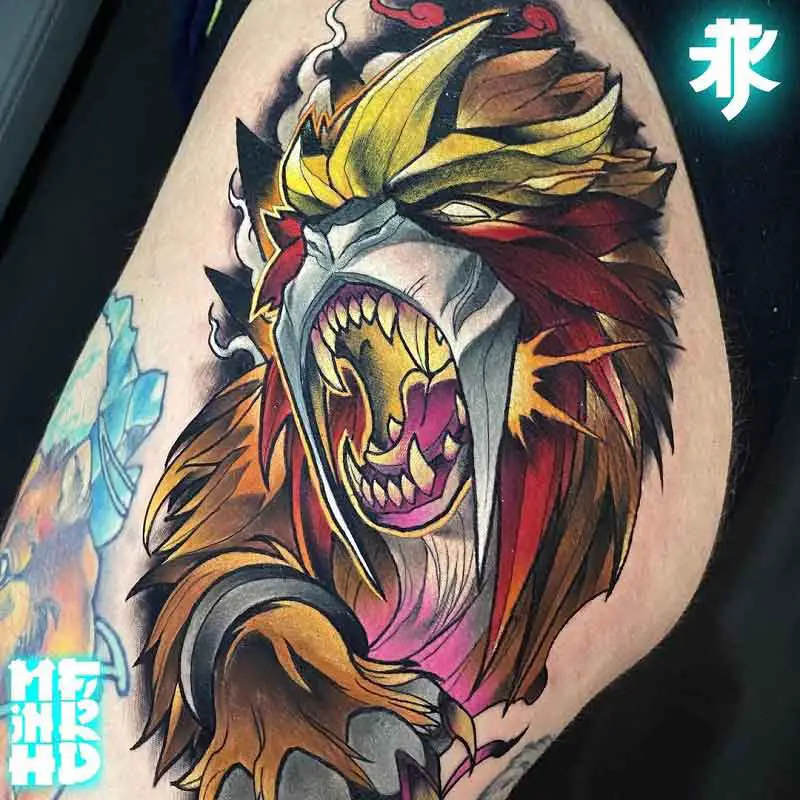 Gastly Pokemon Tattoo
91.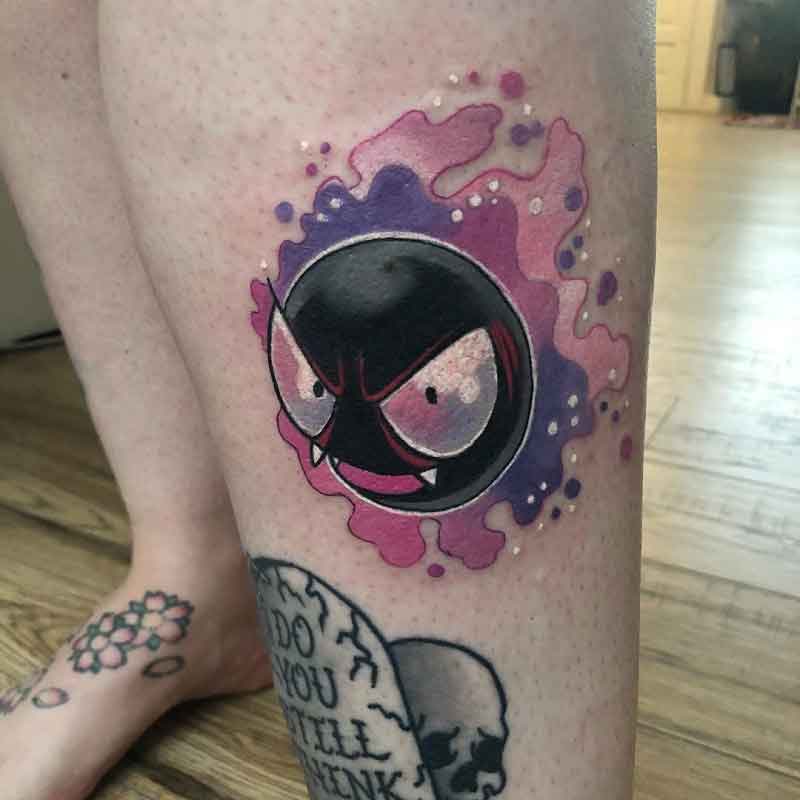 92.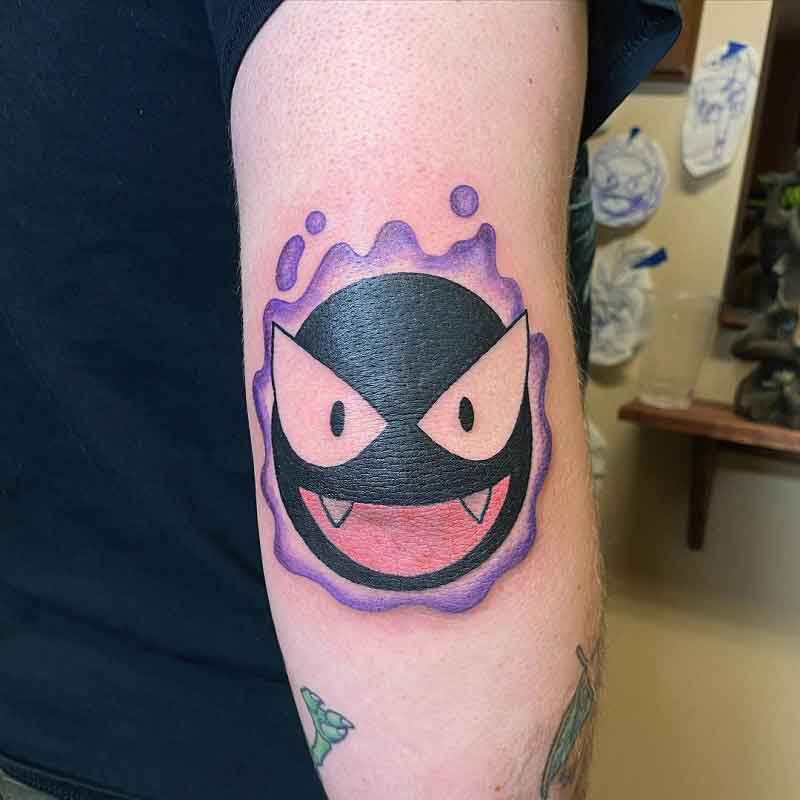 93.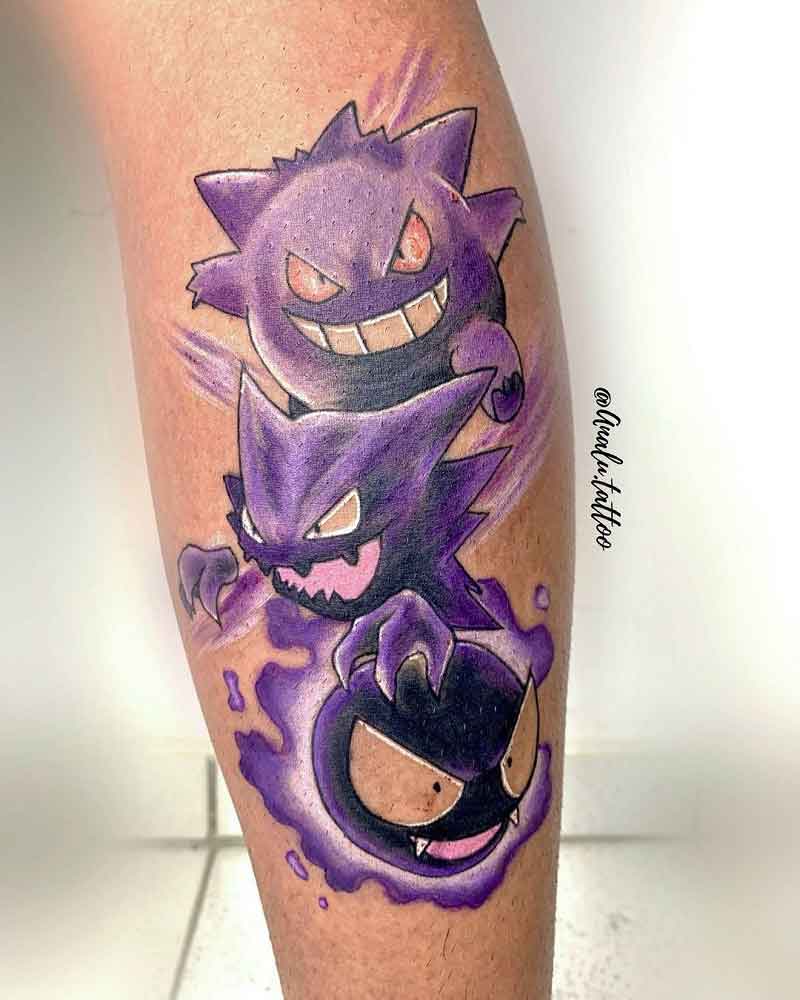 Ninetales Pokemon Tattoo
94.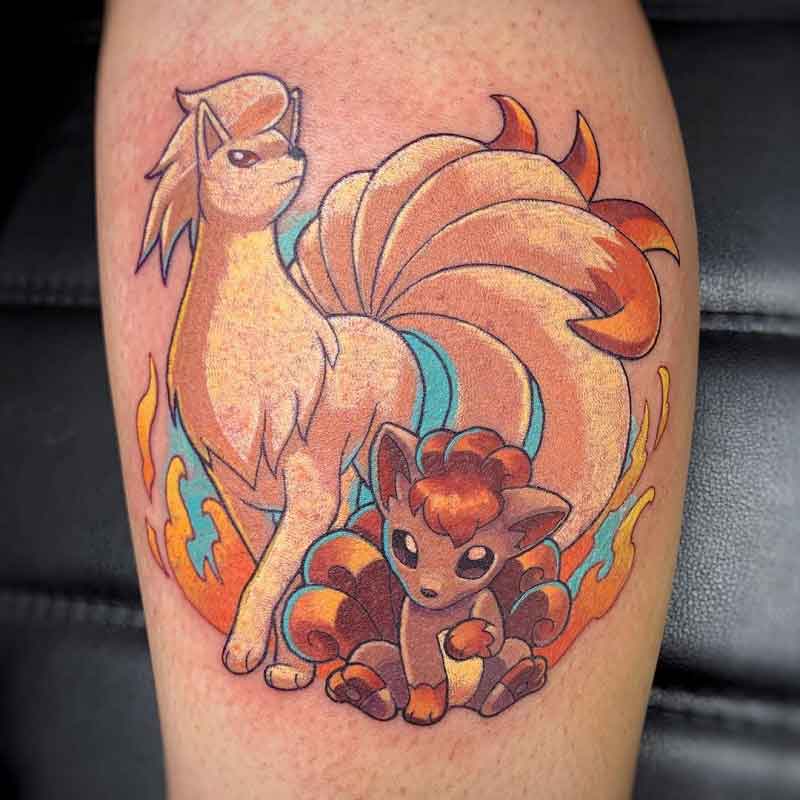 95.
96.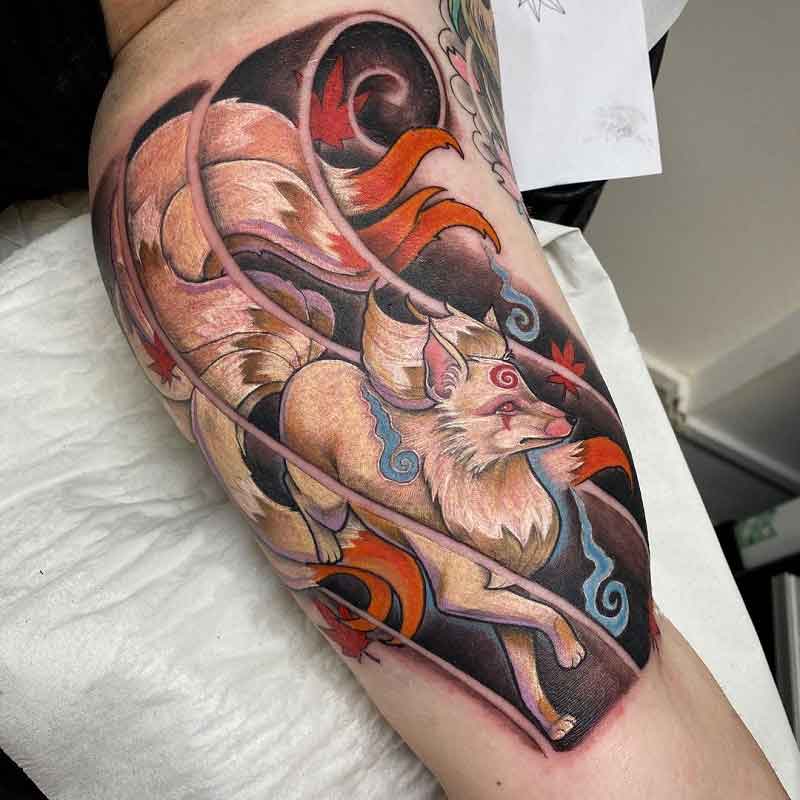 Pixel Pokemon Tattoo
97.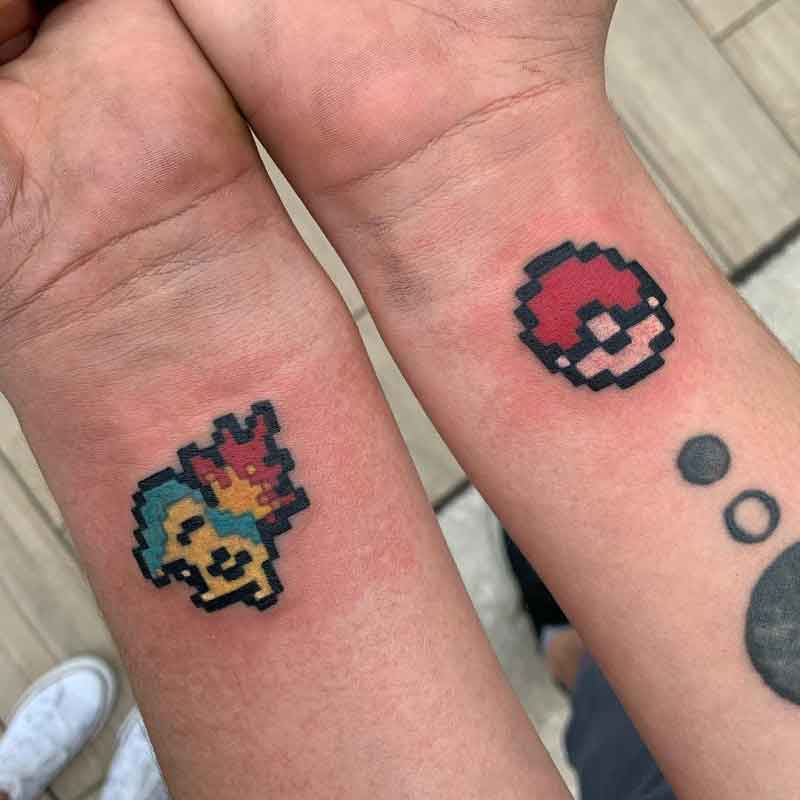 98.
99.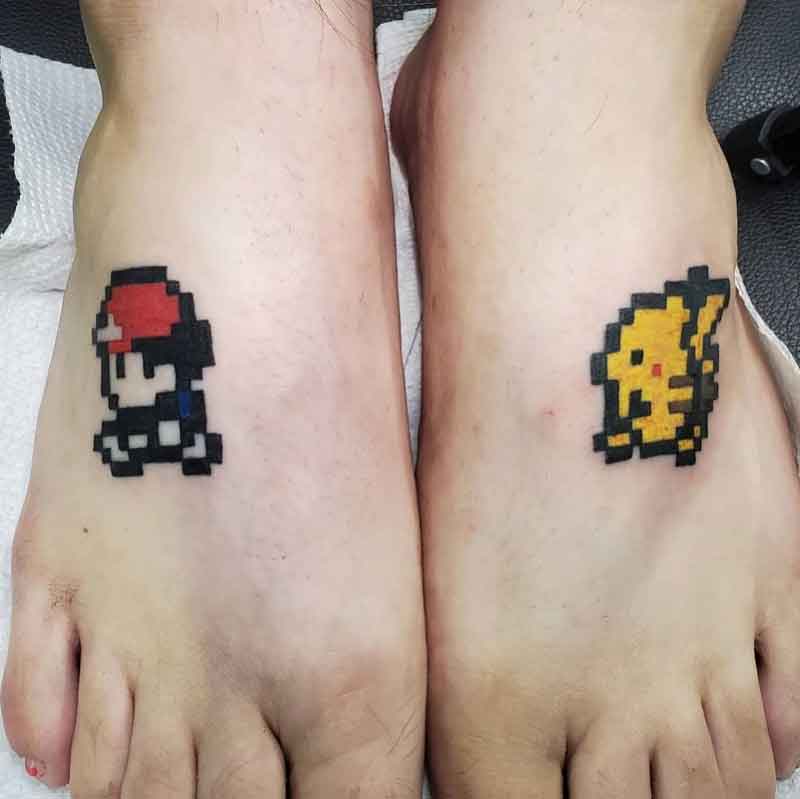 Conclusion
You can never go wrong with Pokemon tattoos. These tattoo designs are undoubtedly stunning and the meaning behind these styles is even more beautiful. We hope that you have now found the perfect Pokemon tattoo you want from the amazing selection above.
However, a small tip for you. Do not forget to pay attention to the credibility and experience of the artist before you get a tattoo done. Now, go ahead and get your beloved Pokemon inked on yourself and enjoy life!
FAQ 
Does Ariana Grande Have A Pokemon Tattoo?
Yes, Ariana Grande has a Pokemon tattoo of the beautiful and cute Eevee.