The Bear tattoo has been popular for quite a while now. And they seem to be growing in popularity. Some people have them permanently, and some people get them temporarily. 
People get tattoos of bears because they are cute, but also because they are fierce and intimidating. Bears are big and scary at first, but when the time comes for you to have a tattoo, you can make it personal and special. 
When choosing your bear tattoo, you should choose something that looks good and has meaning. So in this article, we have compiled a list of the top bear-themed tattoo designs and meanings.
Here Are The Top 84 Bear Tattoo Designs and  Meanings:
The tattoo of a bear has come long since its roots in the 1800s. Military personnel, law enforcement officers, people from the country, and various ethnicities have all used it. This article outlines some best bear tattoo designs and what they mean.
Bear Claw Tattoo
Bear claw tattoos have a variety of meanings, but commonly they symbolize strength, protection, and connection. They have also become a popular symbol for Native Americans.
Dark Claw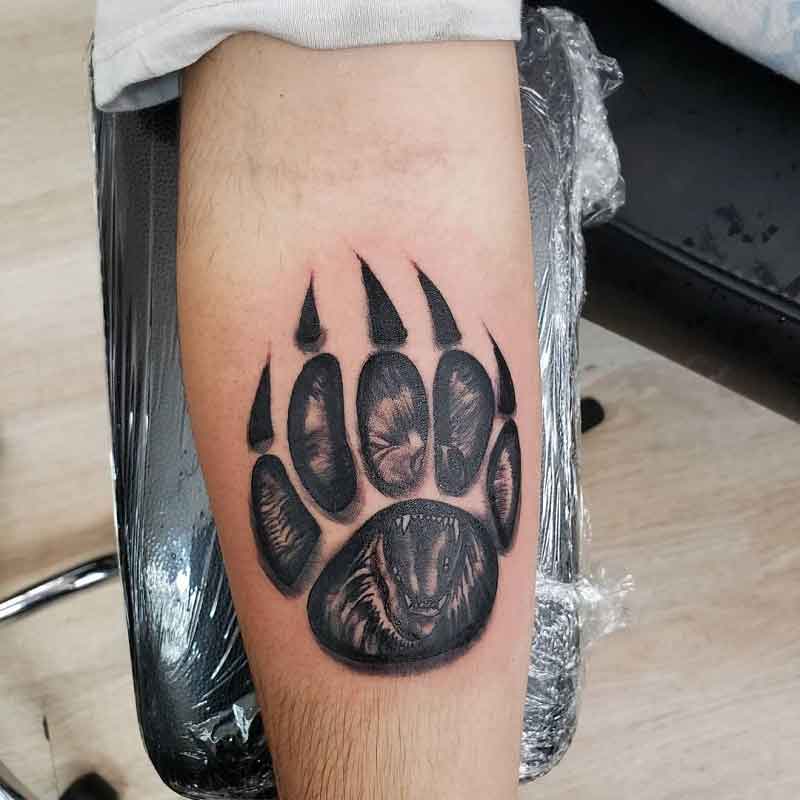 A detailed bear's claw that appears to be quite lifelike is seen here. And the color pattern and shadow of this tattoo are fantastic. This dark claw tattoo symbolizes resilience in the face of adversity.
2. Five Circle Bear Claw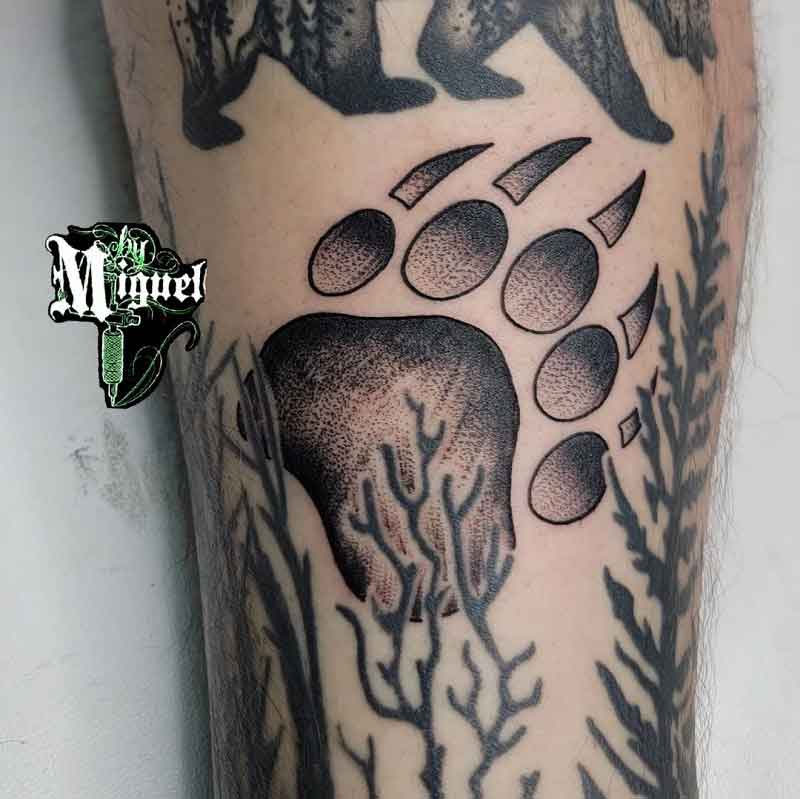 This bear claw is hidden behind a wooded area and contains five circles representing the bear's five fingers. This tattoo represents a man's fearlessness in life, demonstrating that he is not afraid of challenges.
3. Claw Family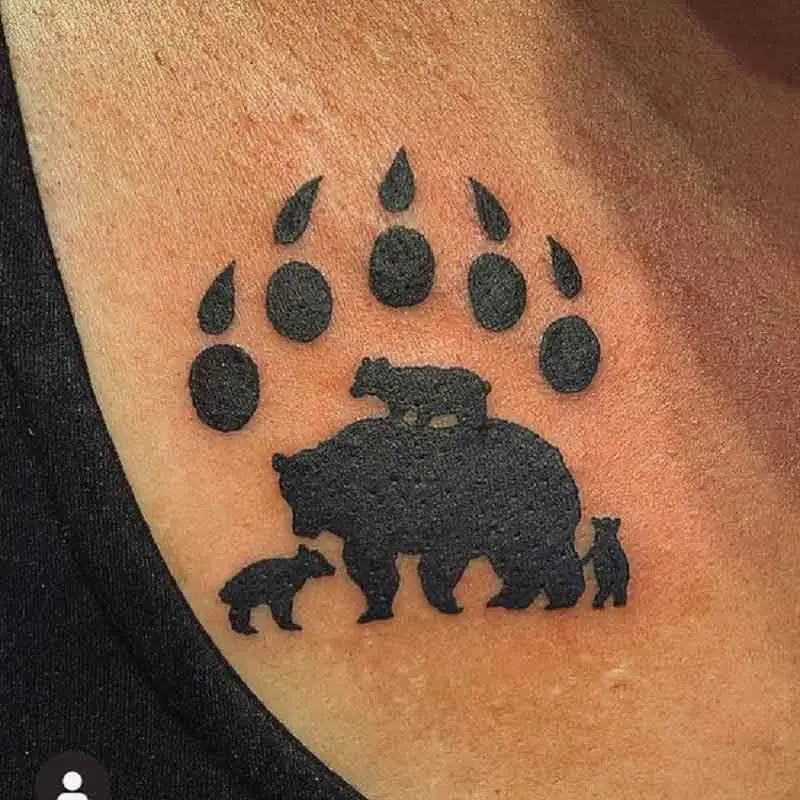 It appears like a mother bear, and her three bear cubs are having a good time together. This tattoo represents the importance of family and one's devotion to his mother. And the claw symbol on this tattoo is awesome.
Polar Bear Tattoo
The polar bear tattoo is a challenging but rewarding design to complete. It's a popular design, and the polar bear-themed tattoo symbolizes strength. These tattoo designs are often of realistic bears but are also found in abstract, tribal, and abstract designs with geometric shapes.
4. White Bear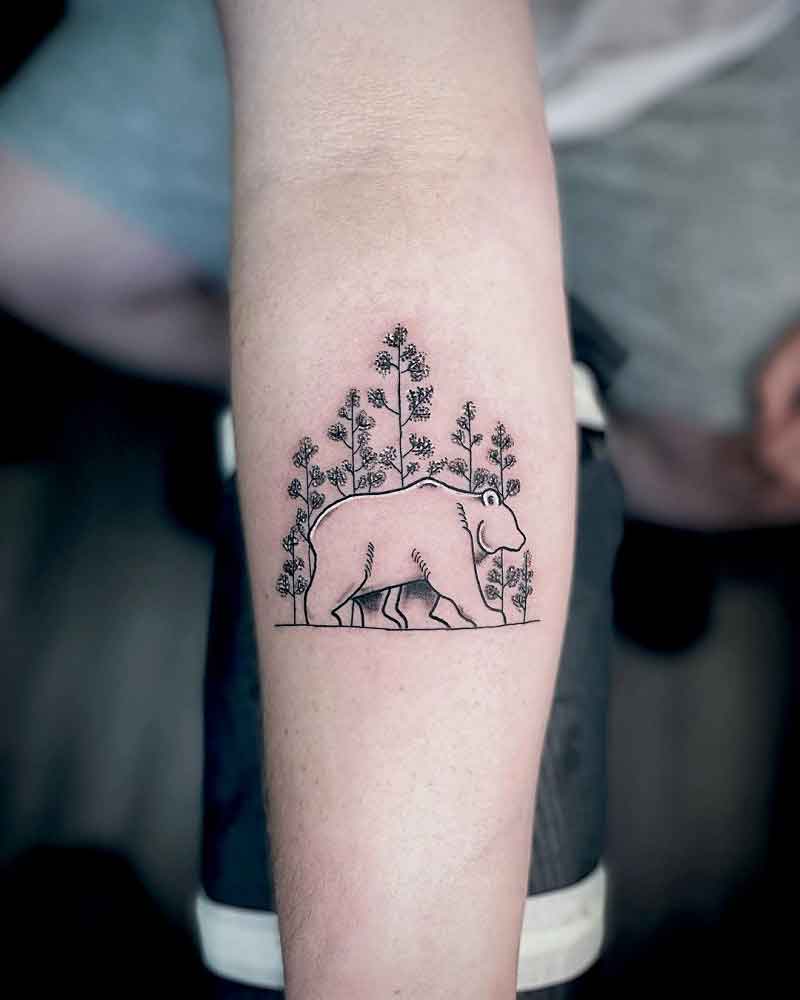 A large white bear walks across a frigid environment in search of food. This tattoo symbolizes how one works hard to earn a living in a difficult environment.
5. Mother Love
A bear mother adores her one and only child and lives happily. This tattoo reminds us of our mother's love for us as children and her effort to keep us safe from harm's way.
6. Three Bear Kids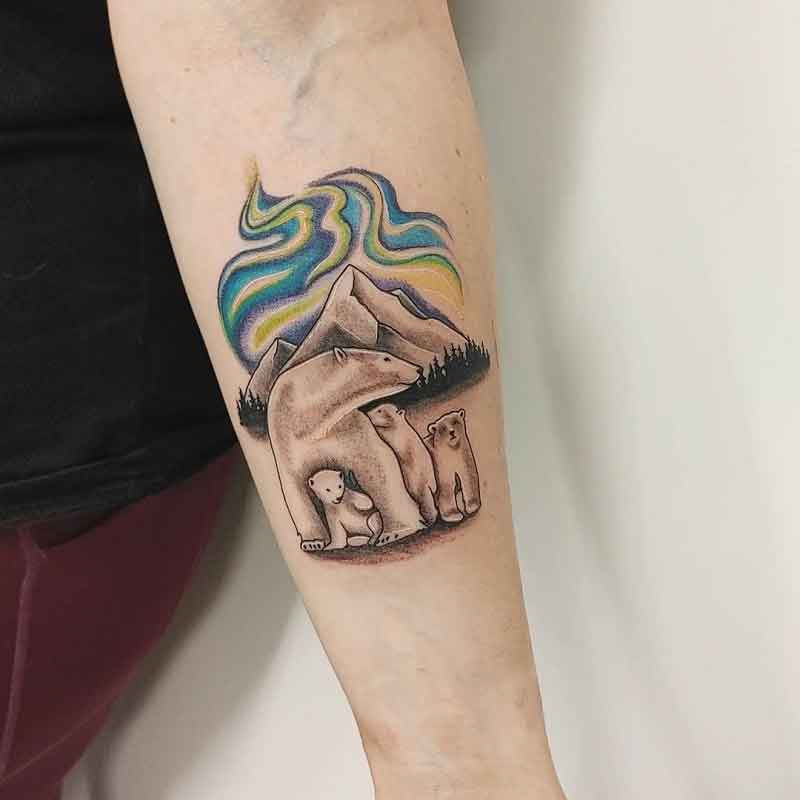 A bear mother and her three youngsters appear to have a wonderful time together. This tattoo depicts a bear family living in the arctic region and emphasizes the importance of family bonds in living a happy life.
Teddy Bear Tattoo
Teddy Bear Tattoos are the perfect way to show the world that you are one of a kind and to make a lasting impression. Choosing the perfect one for your personality can be hard with many designs. We would love to share some of our favorite Teddy Bear styled Tattoos.
7. Blue Bear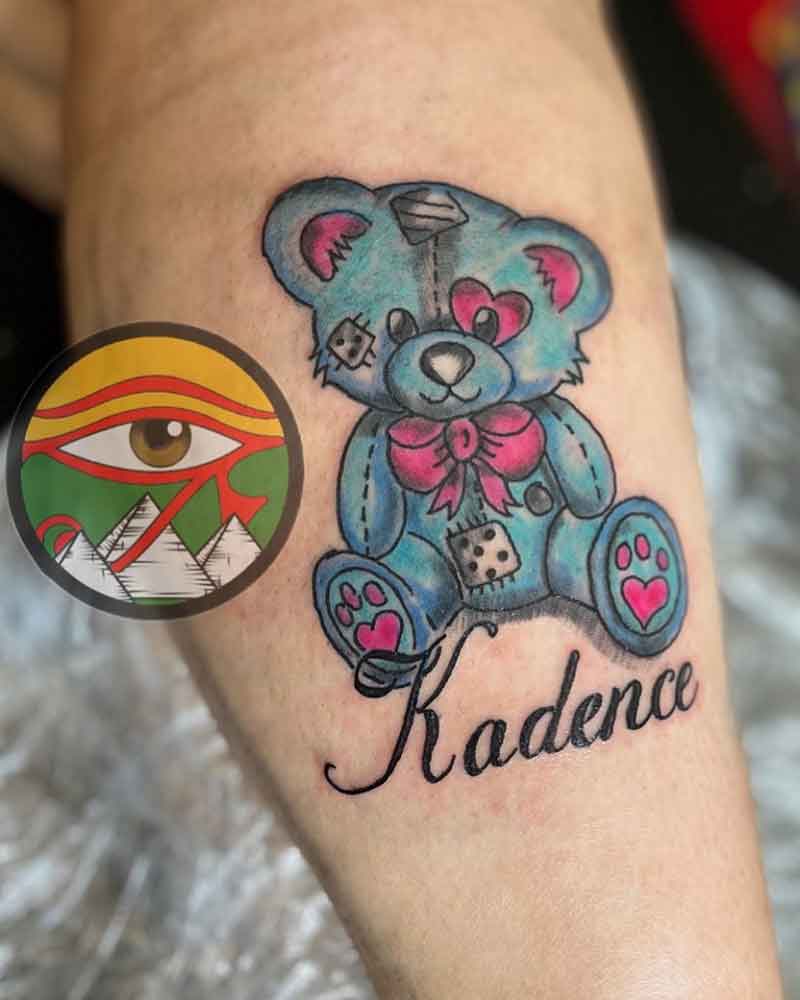 A little adorable blue bear doll is ideal for young children. This bear doll is adorned with love symbols. This tattoo represents affection for a newborn baby and is ideal for a new father and mother.
8. Sad Bear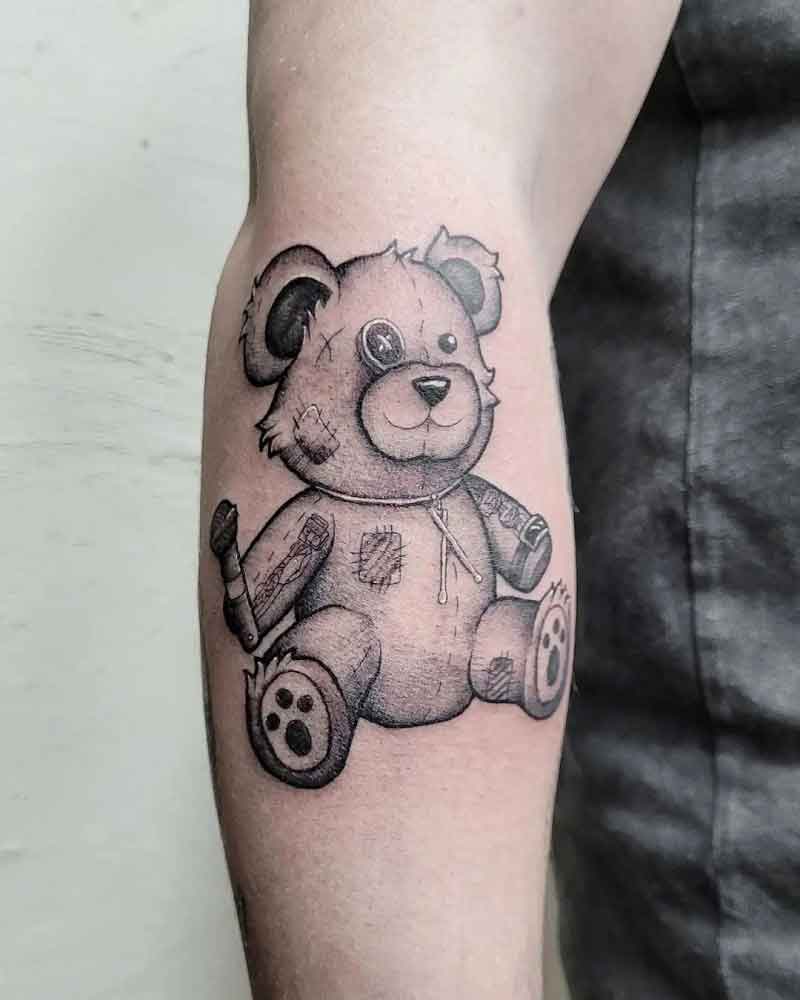 A baby bear doll who has been hurt and is distressed. The body of this bear is bandaged. This tattoo denotes that the individual is unhappy or has lost loved ones.
9. Cute Bear
A lovely bear is laying on the ground with incredibly sparkly eyes and appears quite innocent. This tattoo represents the charm and innocence of a newborn. This bear-inspired tattoo also has a nice design pattern.
Grizzly Bear Tattoo
The grizzly bear is a creature you may want to consider getting tattooed on your body if you're a fan of them. It is a timeless design that will be around for a long time. And, The grizzly bear is a powerful image that stands tall and strong.
10. Fighting Bear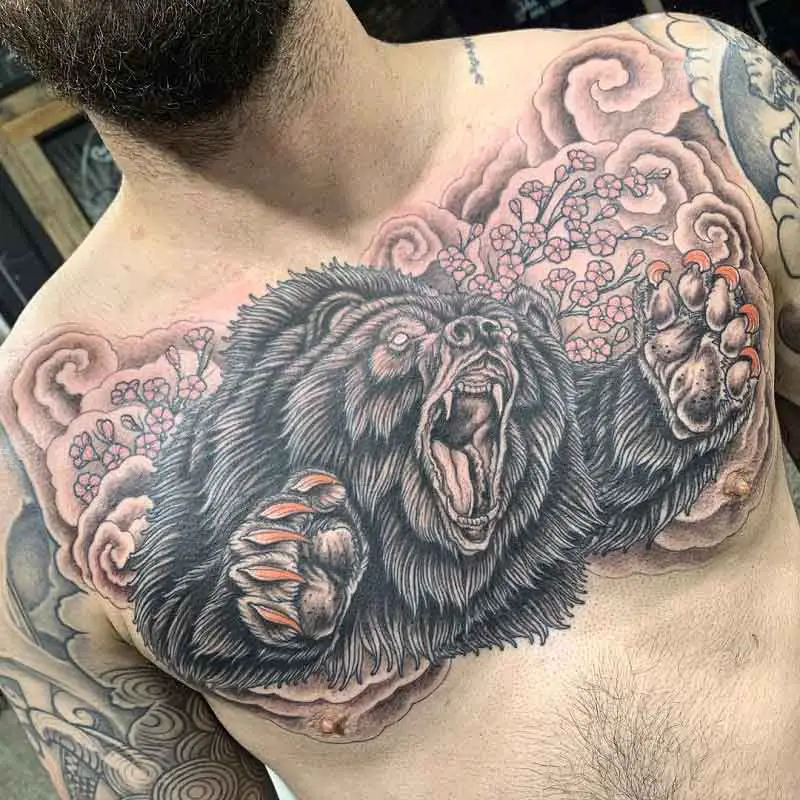 A fully grown black bear is ready to battle, and leaping to launch a vicious assault looks fantastic. This tattoo is suitable for a man's chest and indicates that he is serious about his life and is always prepared for life's obstacles.
11. Angry Bear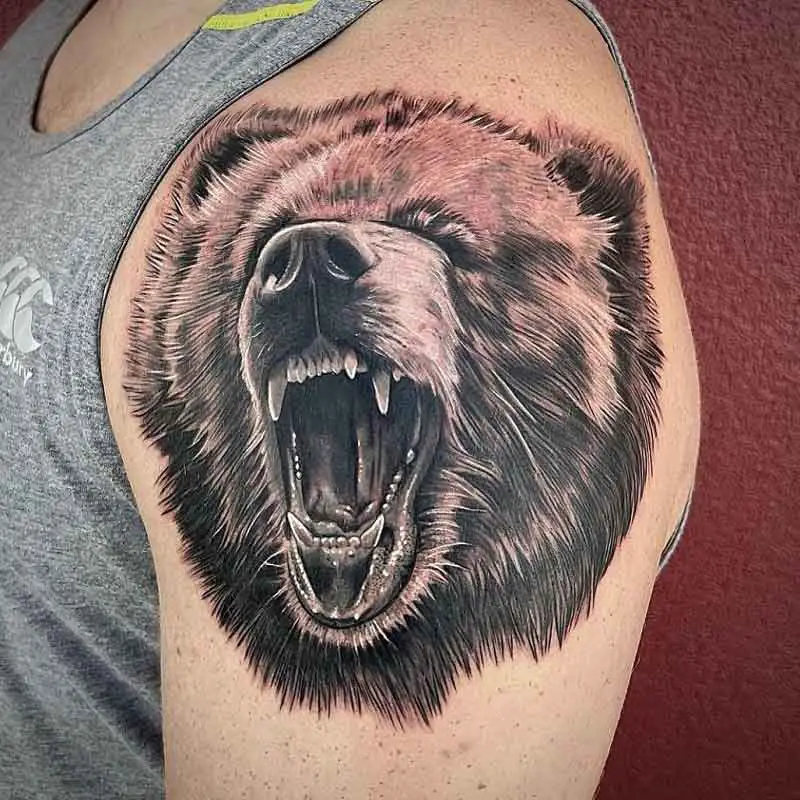 Here we see an angry bear face that is enraged and ready to fight or be wounded by someone. This bear-themed tattoo is ideal for a boy's upper hand sleeve, as it demonstrates a man's strength and ability to face problems.
12. Bear Force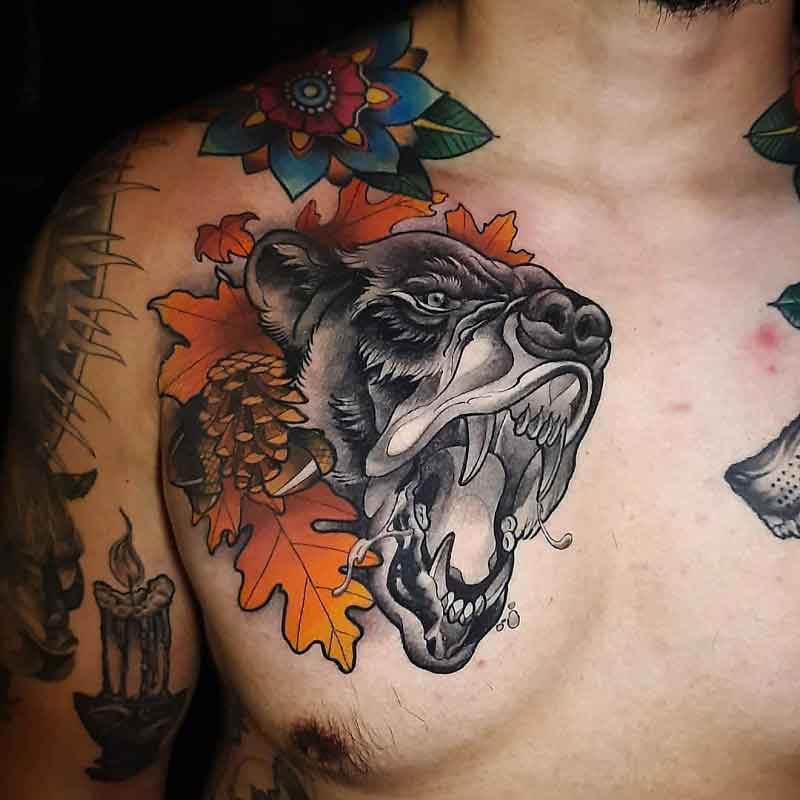 A bear has just emerged from the woods, hunting its prey and looking enraged. This tattoo has a lot of cool color decoration and very realistic detailing. 
Mama Bear Tattoo
Mama Bear Tattoos are body art tattoos that honor a mother's, selfless love. For mothers with a new baby, a Mama Bear-themed tattoo is a way to remind their new baby that they are loved and cherished.
13. Mom's Love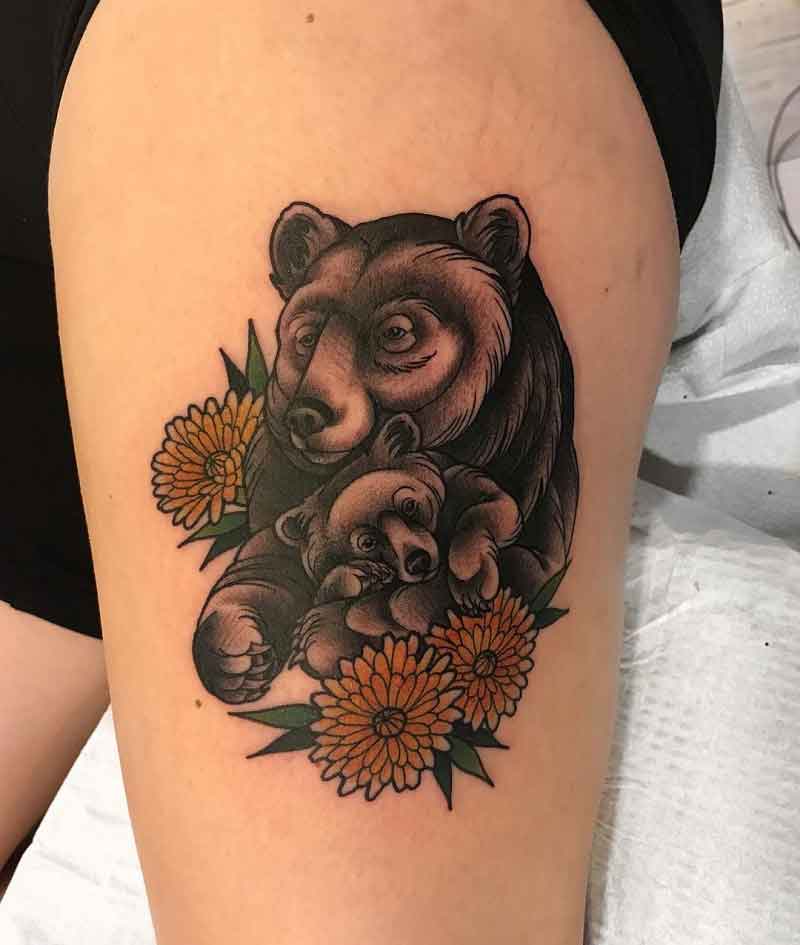 A bear is very kind to its youngsters and lives quietly in a flower garden. This tattoo symbolizes how much every mother on the planet loves her children and wishes them a happy and safe life.
14. Happy Family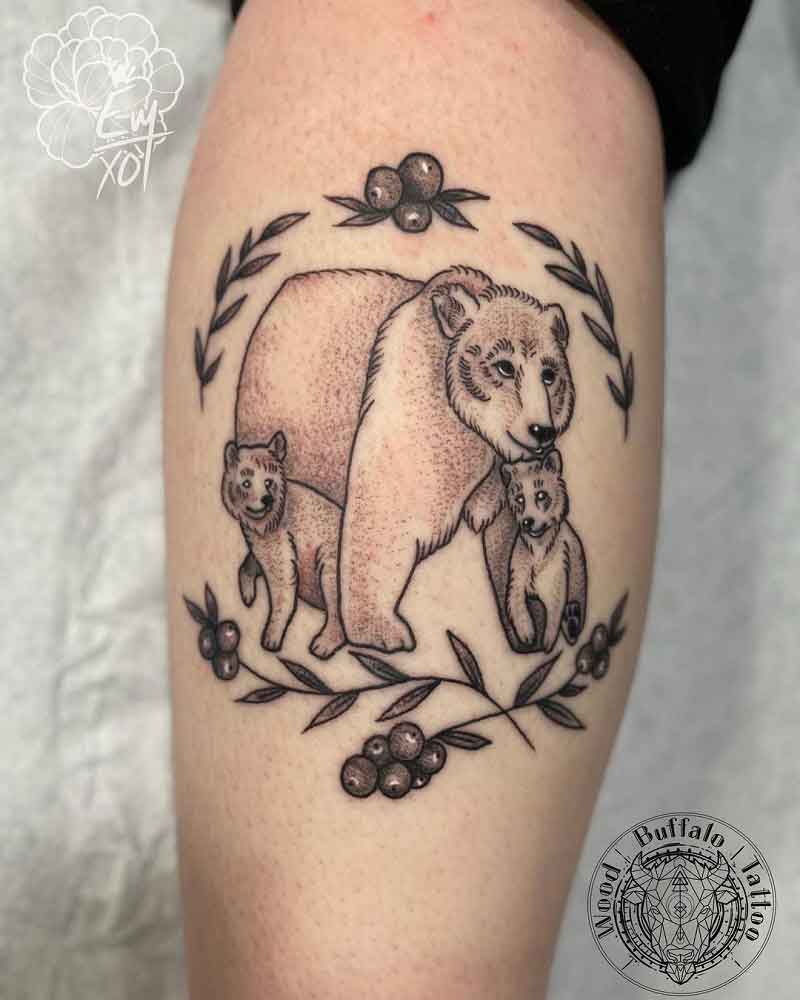 A bear family with two baby bears and one mama bear looks fantastic. Mama bear is looking after her children. This tattoo is ideal for expressing gratitude to one's mother or all mothers worldwide.
15. Family Love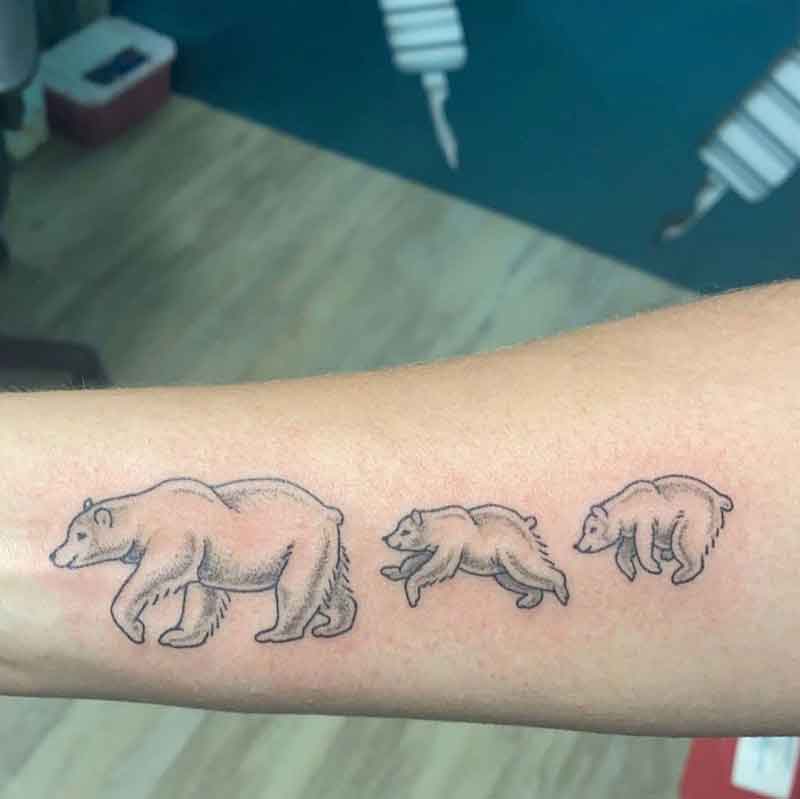 Here we see a mama bear going with her two bear children behind her, which appears to be a beautiful affection for the mother. This tattoo shows that we must obey our mother since she would never harm us.
Bear Chest Tattoo
The bear chest tattoo symbolizes strength, showing that the bearer has been through many hardships but has come out on top. These tattoos are most common in Native American culture but can also be seen in many other cultures.
16. Blue Eyes bear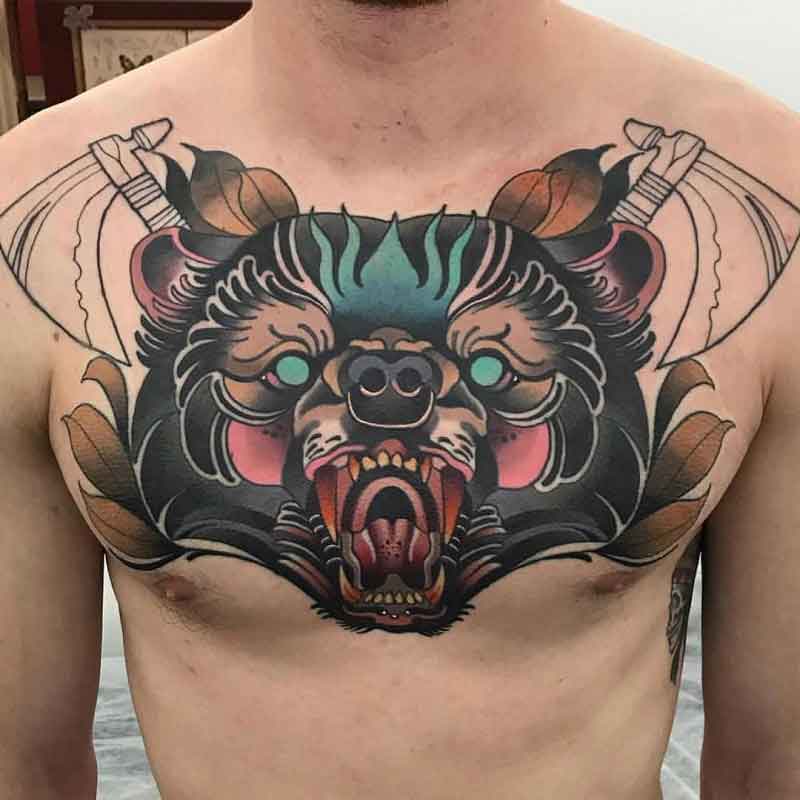 A bear with blue eyes and two axes on top indicates a battling spirit. It is a bright tattoo that is ideal for the chest and provides your chest with a modern look.
17. Moon Bear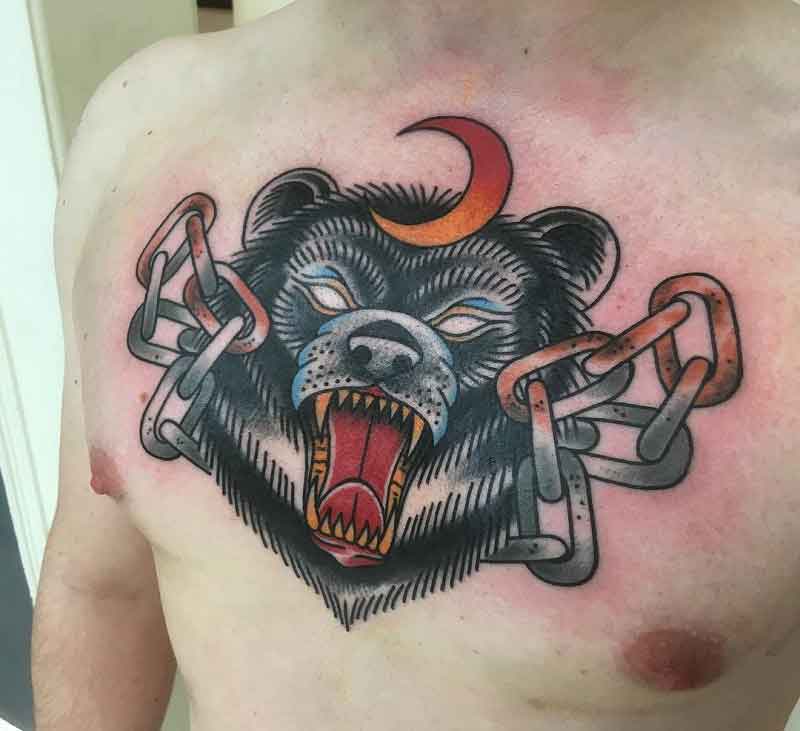 On a moonlit night, a bear escapes from jail by breaking its chain and appears insanely enraged. This tattoo's design pattern is incredibly unusual and gives it an eye-catching vibe. This sort of bear-themed tattoo demonstrates the strength of masculinity.
18. King Bear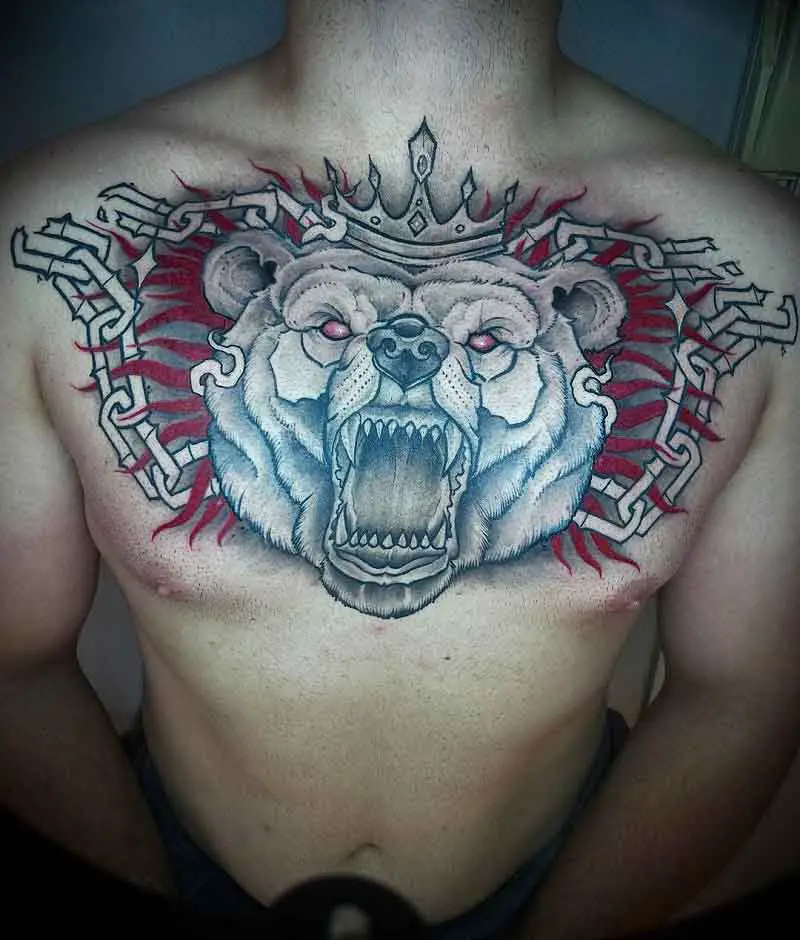 A king bear rules its kingdom, but it has been challenged by another animal, which has made it upset. This tattoo includes a unique color combination of white and light blue and a gorgeous crown design.
Bear Constellation Tattoo
Bear constellation tattoos are a popular choice for both men and women, who see them as a symbol of protection, power, and wisdom. Actually, they are used in a variety of cultures with different meanings.
19. 7 star Bear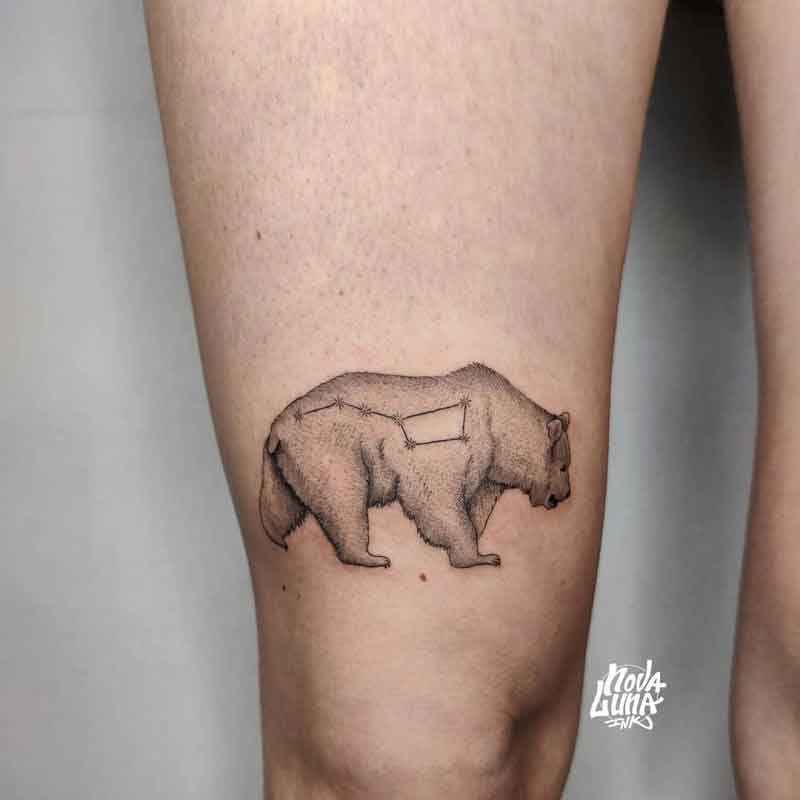 A bear is wandering alone and has a constellation sign with seven stars on its body, which looks extremely nice. This tattoo depicts how a believer in a constellation sign seeks protection from the stars.
20. Ocean Blue Bear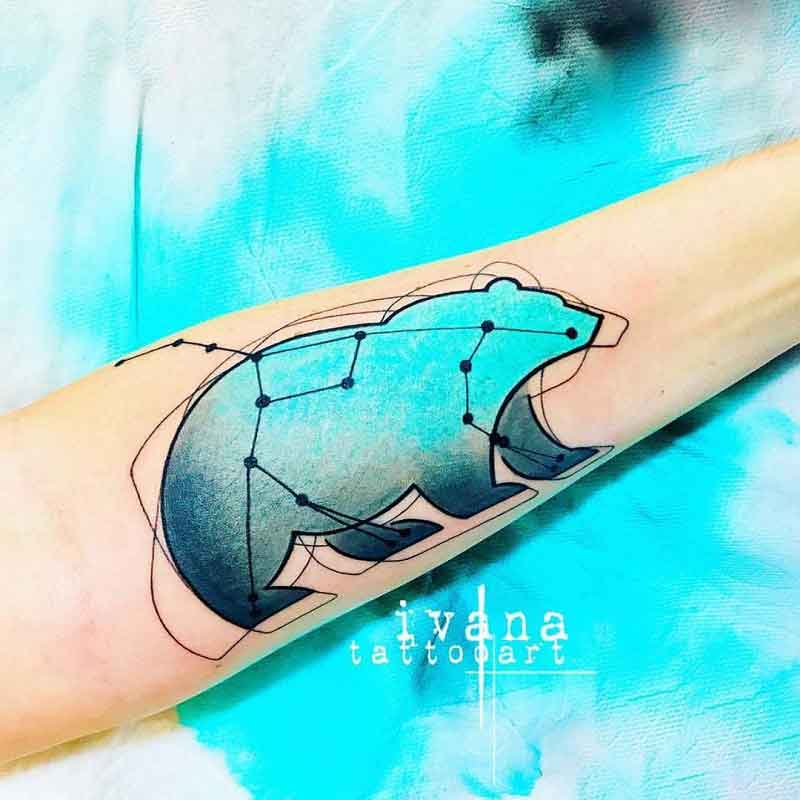 A bear is ocean blue in hue, with numerous dots of constellation signs on its body. This tattoo style is ideal for constellation believers and looks great on men's hands.
21. Bear Faith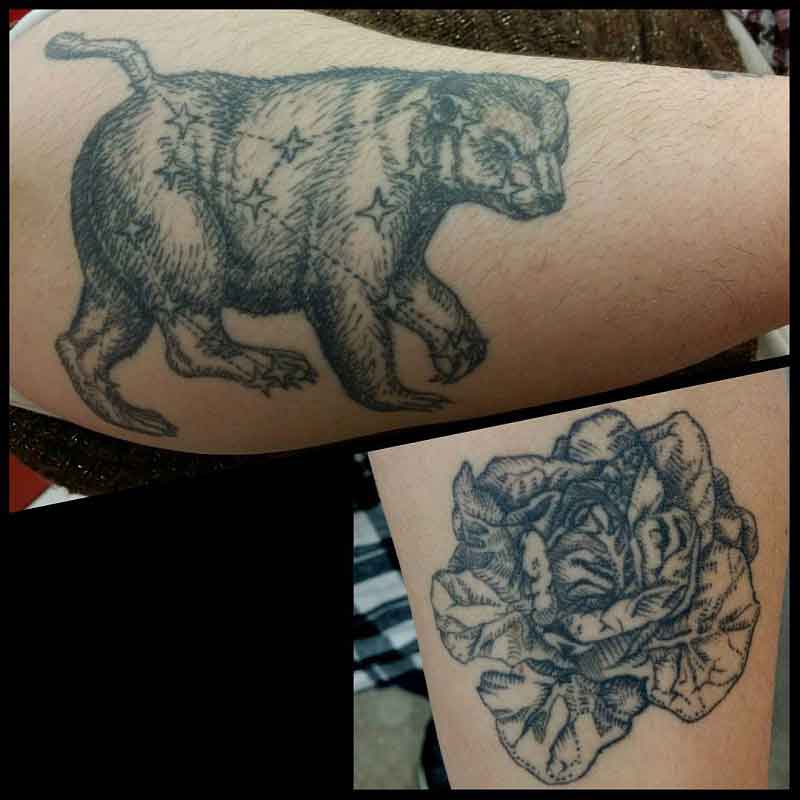 A large bear is covered in many star signs, making it appear to be something constellation-related. People who believe in constellations might have this tattoo on their hands to demonstrate their admiration for the constellation signs.
Bear Face Tattoo
Bear Face tattoos have a long history. They have been used for centuries by Native Americans to represent mother bears and their cubs. And these tattoos are typically used as a symbol of protection or to ward off evil spirits.
22. Love Bear Face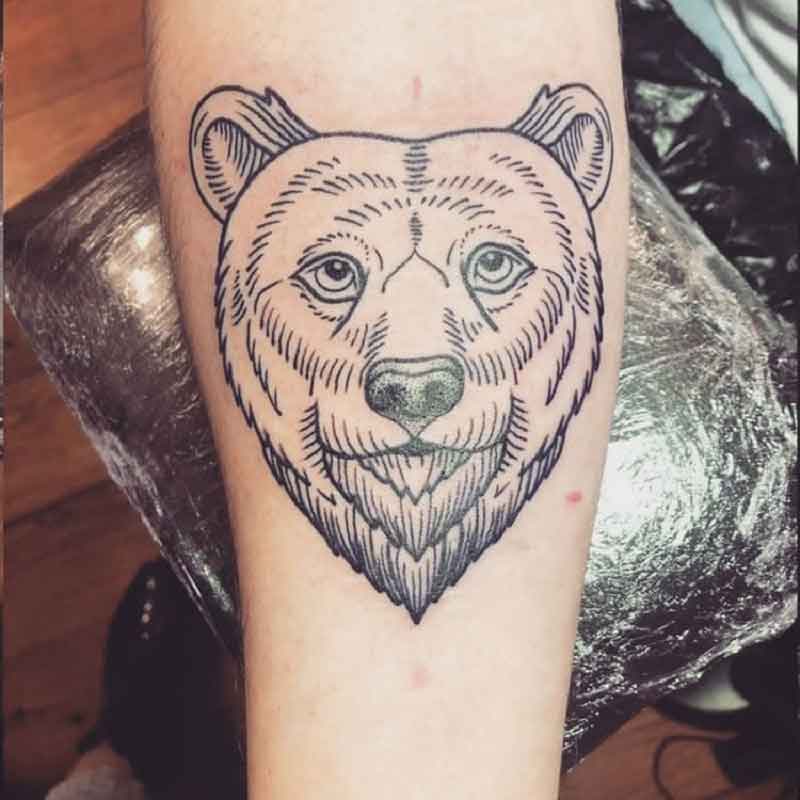 A bear face in the shape of a love sign appears quite unique. And the bear's eyes are very appealing. This tattoo tells us to believe in love's power and defend our loved ones.
23. Pyramid Bear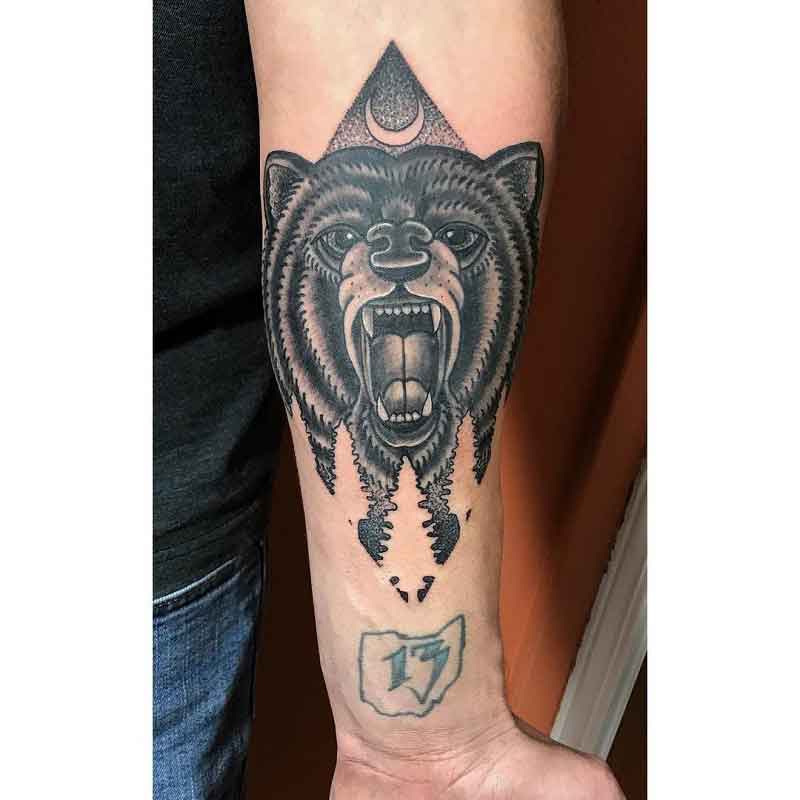 A screaming bear with a pyramid and moon sign appears to symbolize Egyptian civilization. This bear tattoo is excellent for the hand and symbolizes reverence for the Egyptian Gods.
24. Orange Eyed Bear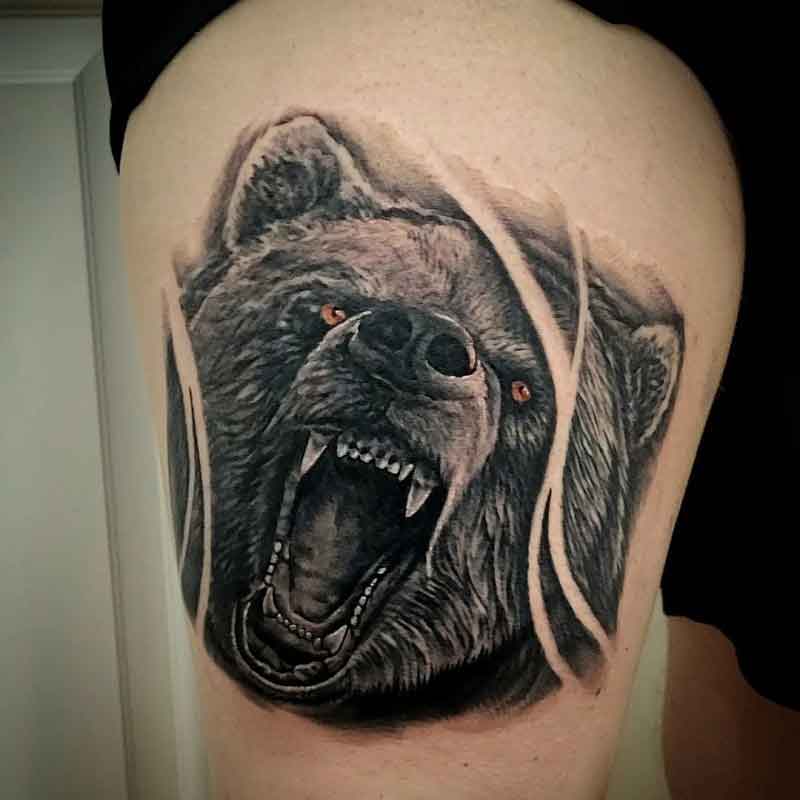 A black bear with orange eyes indicates that it has been wronged and wishes to exact its vengeance. The intricacy of this tattoo is superb, and the bear's fangs appear quite realistic.
Bear Forearm Tattoo
Bear Forearm Tattoos are a great way to commemorate the bear tattoo uniquely. Several of these tattoo designs may be for a loved one, while others may be for a passion.
25. Knight Bear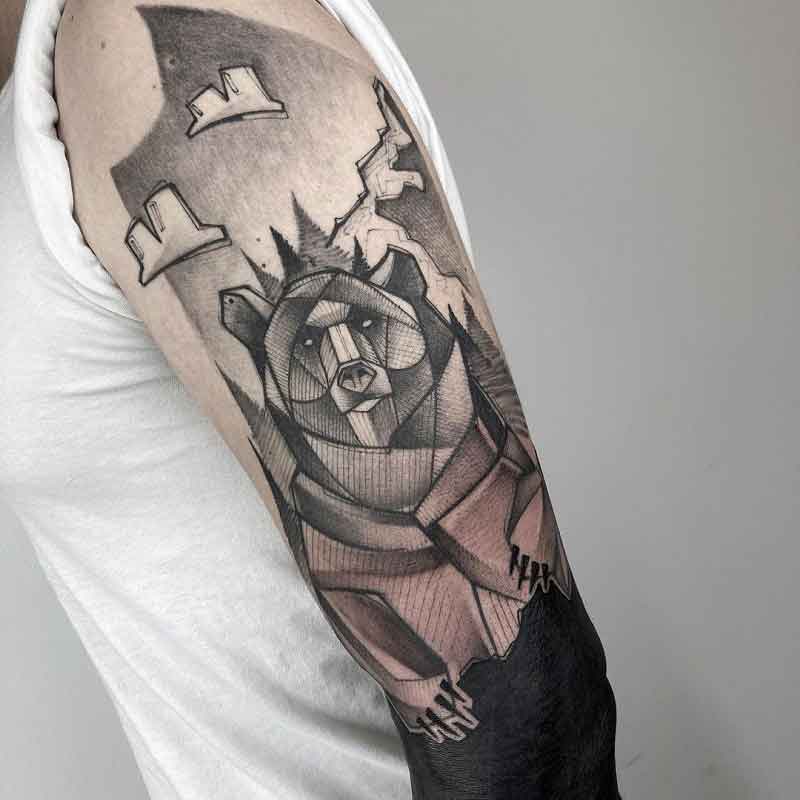 We notice a bear that comes out at night and tries to protect it in the woods. And this tattoo features a crystal pattern design pattern. If you draw this tattoo on our upper hand sleeve, it will undoubtedly attract others' attention.
26.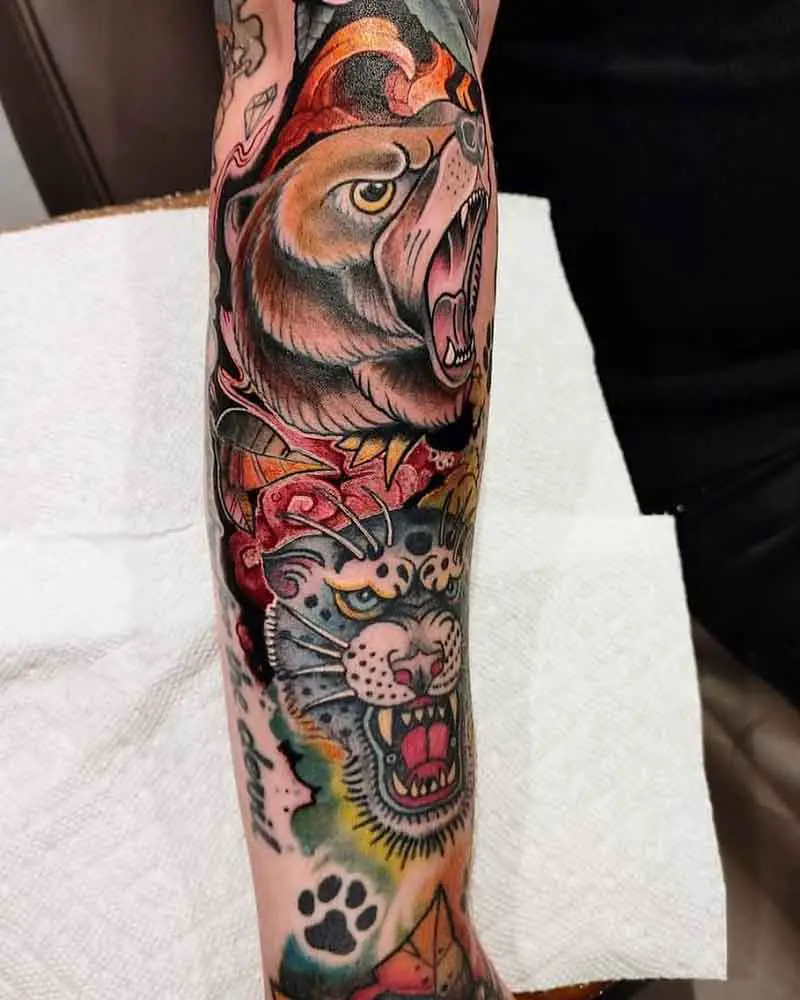 27.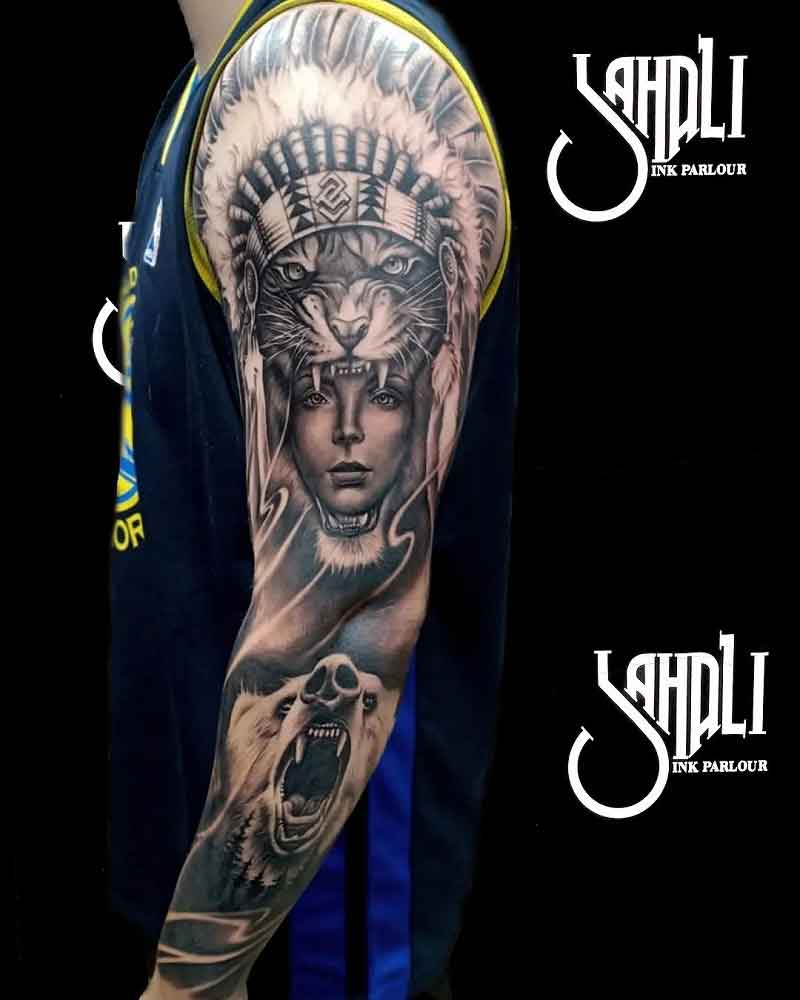 Bear Forest Tattoo
28.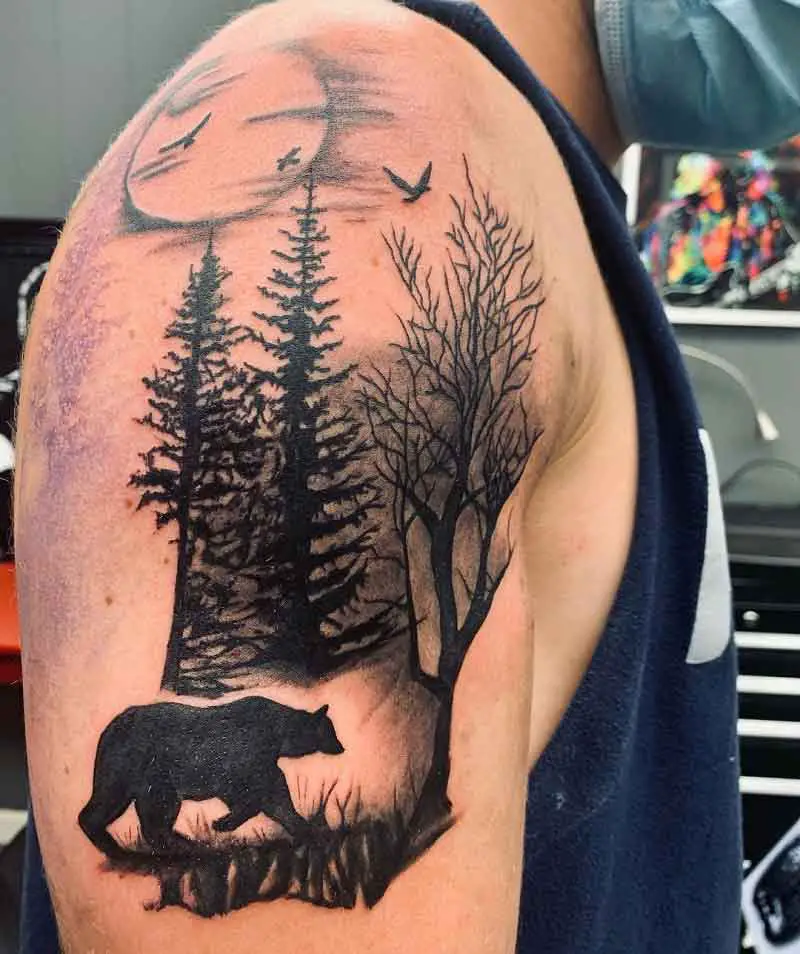 29.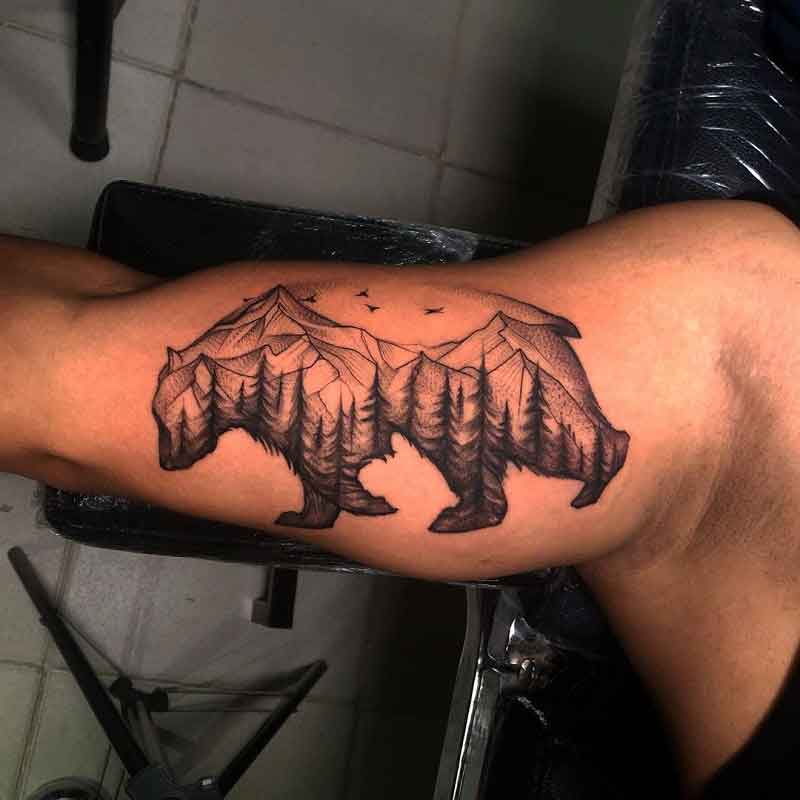 30.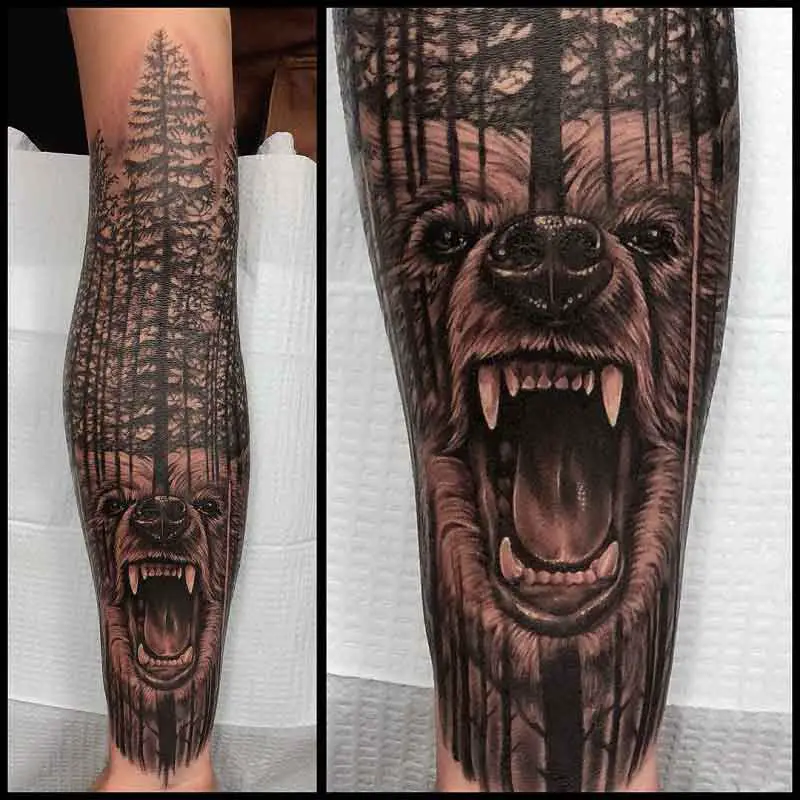 Bear Head Traditional Tattoo
31.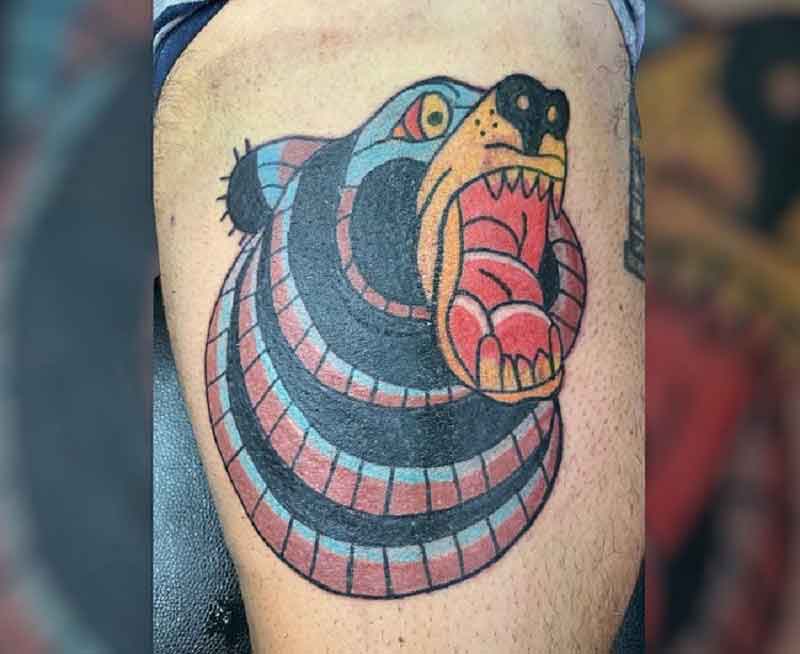 32.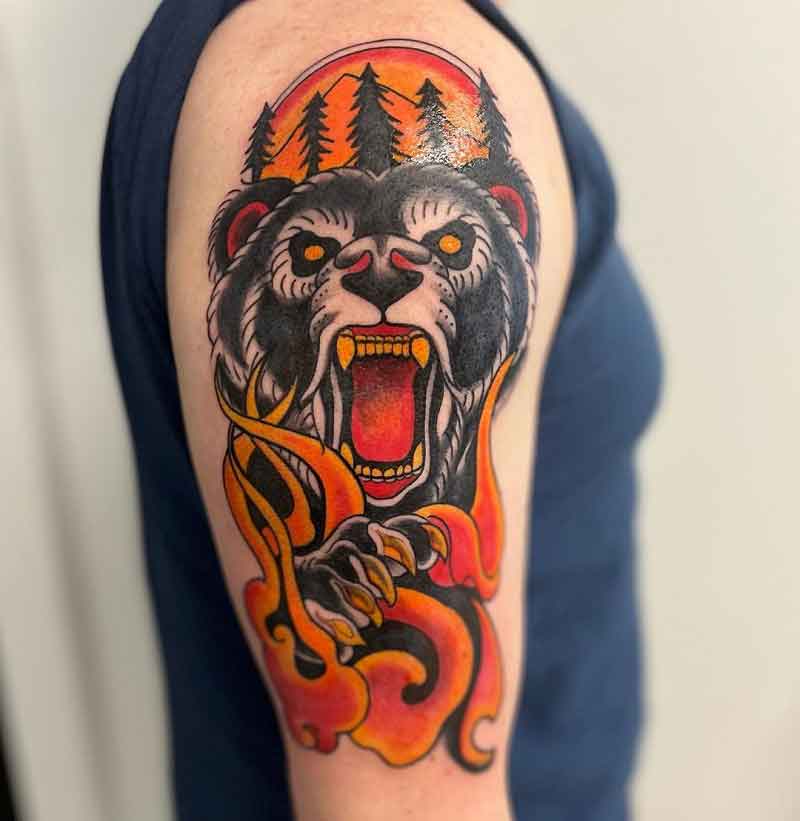 33.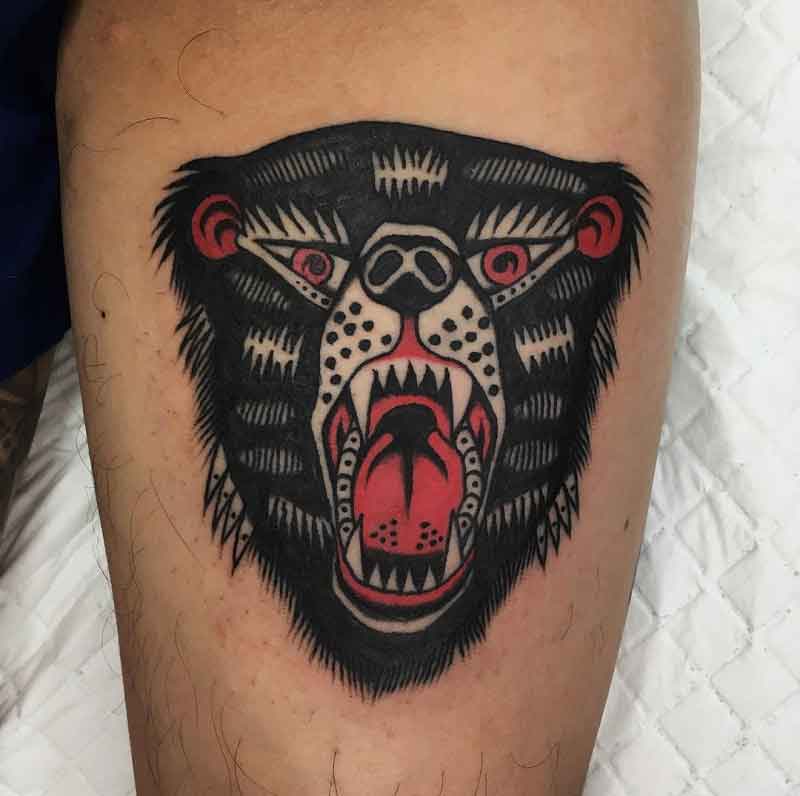 Bear Minimalist Tattoo
34.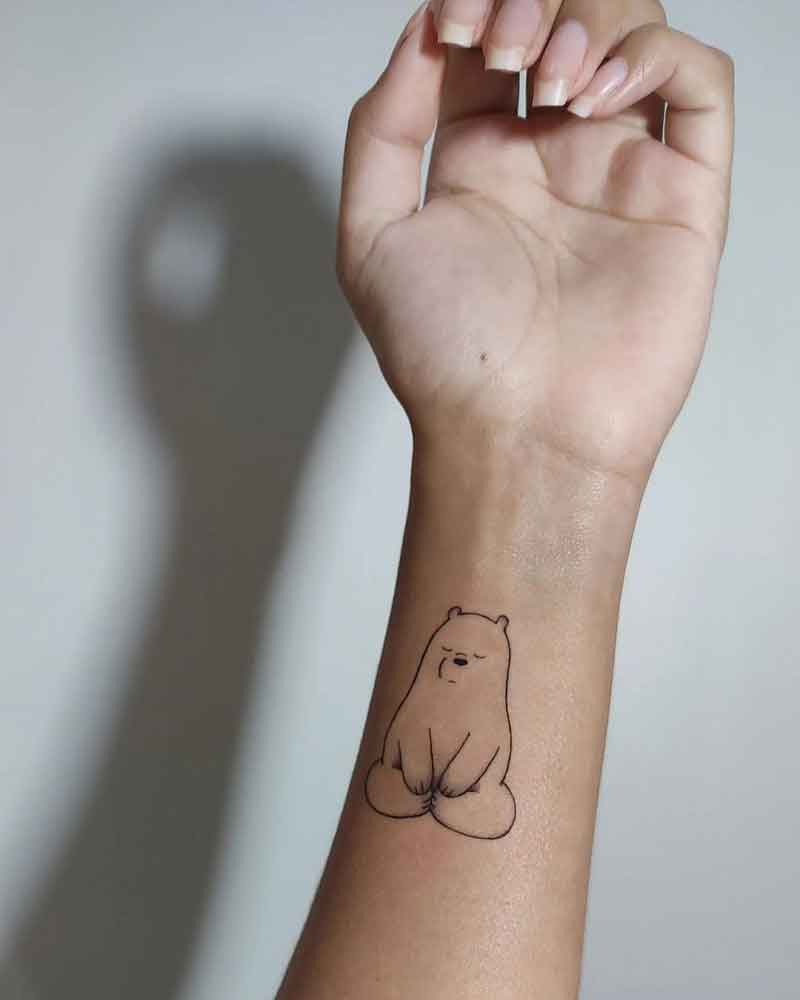 35.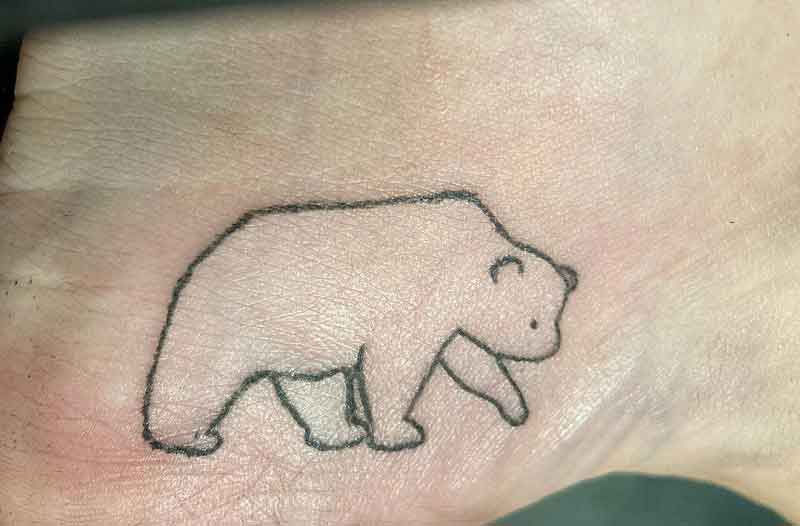 36.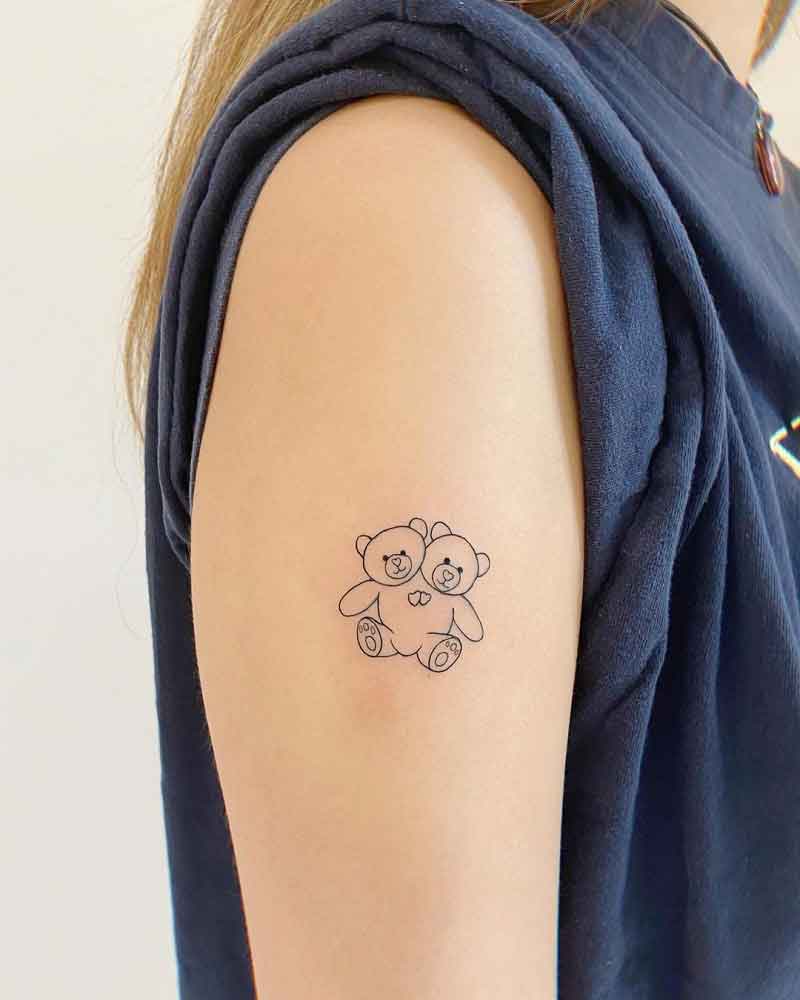 Bear Mountain Tattoo
37.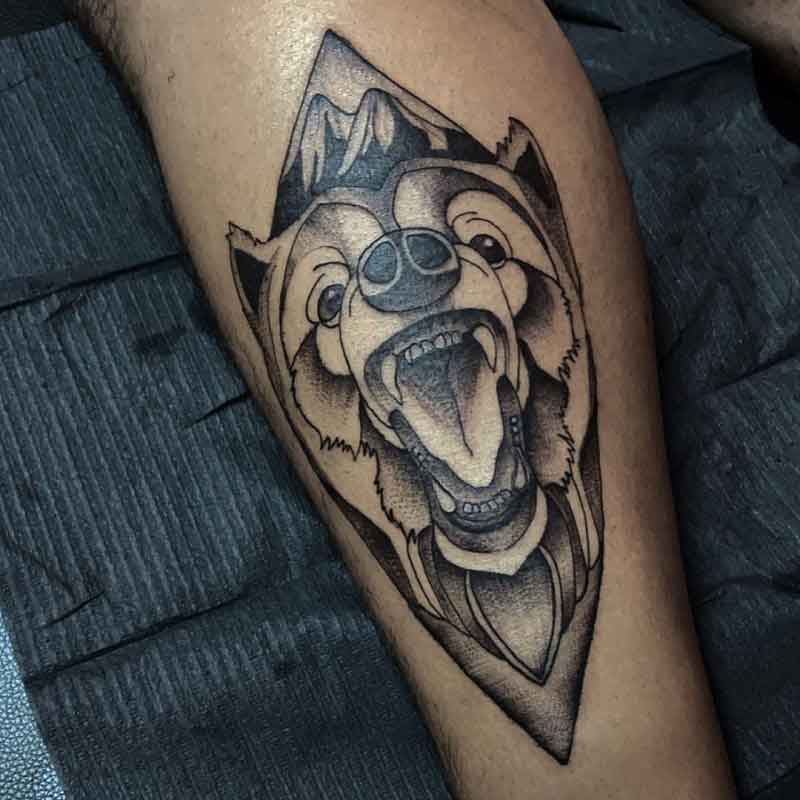 38.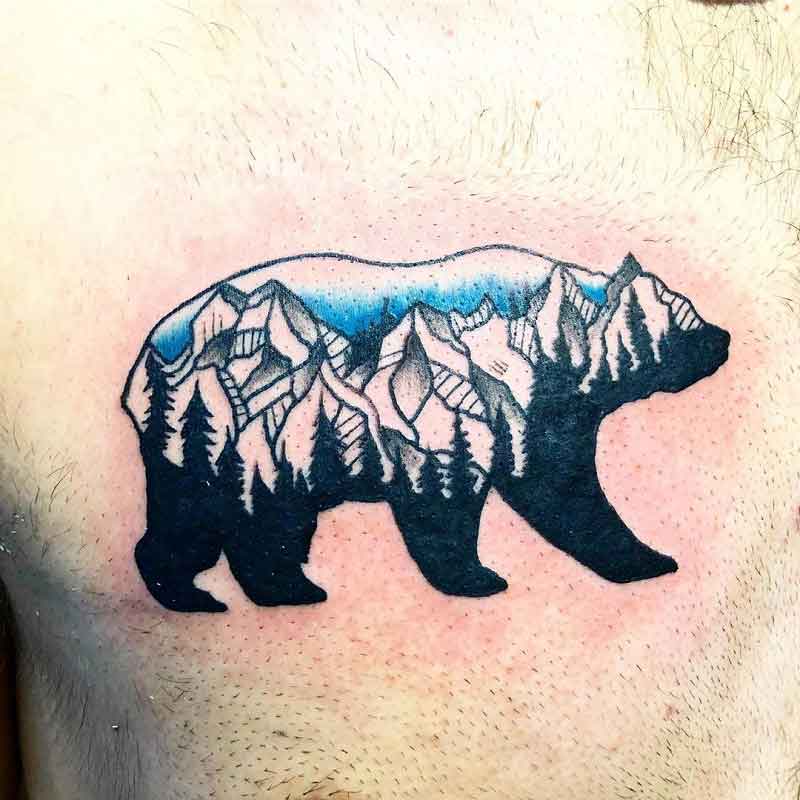 39.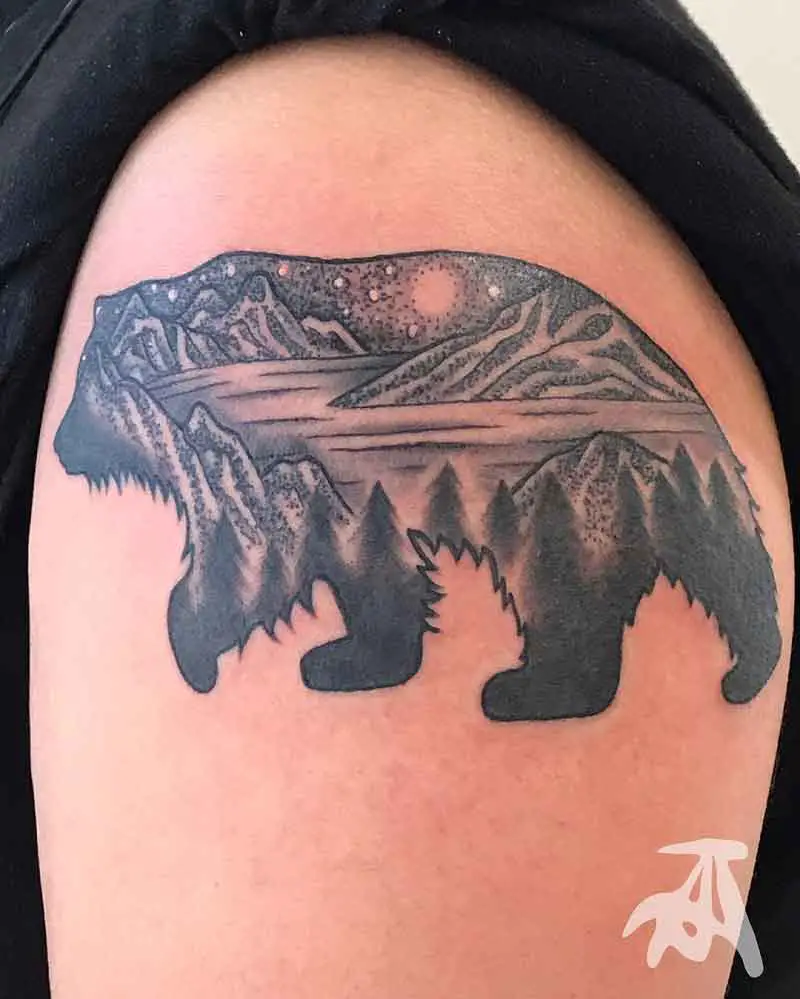 Bear Silotte Tattoo
40.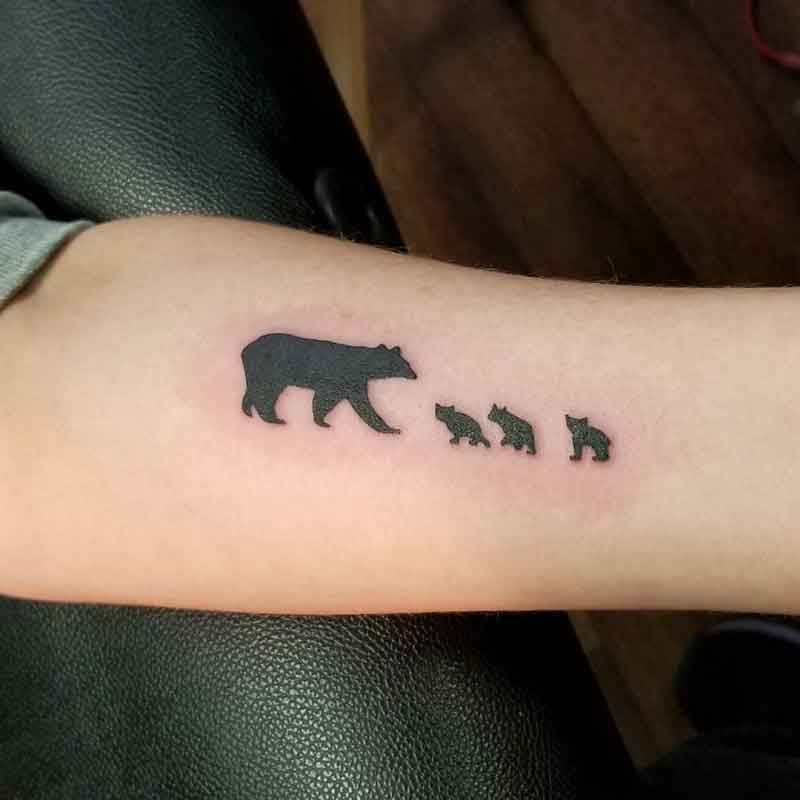 41.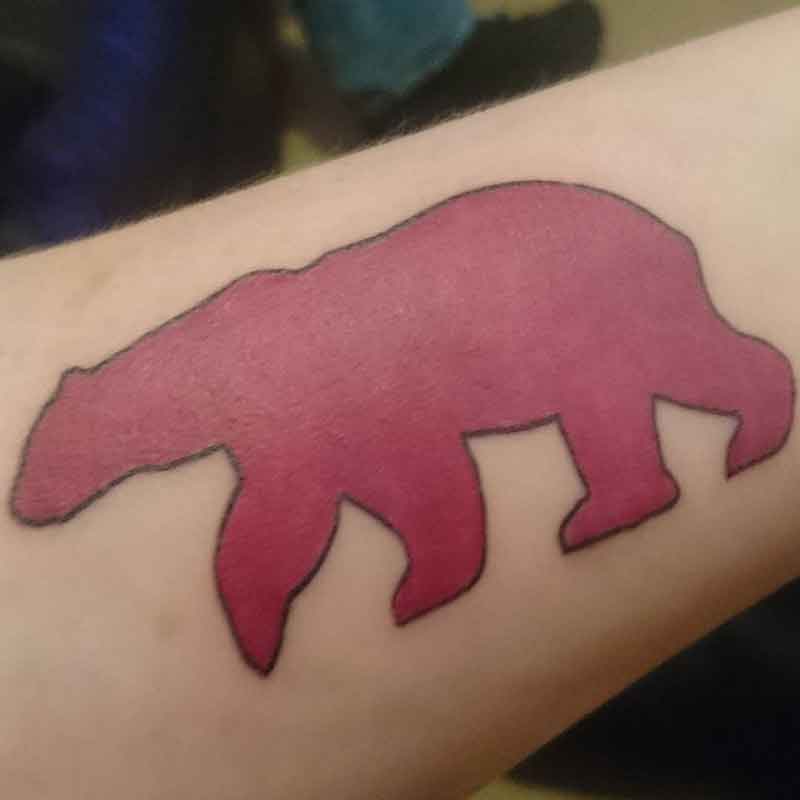 42.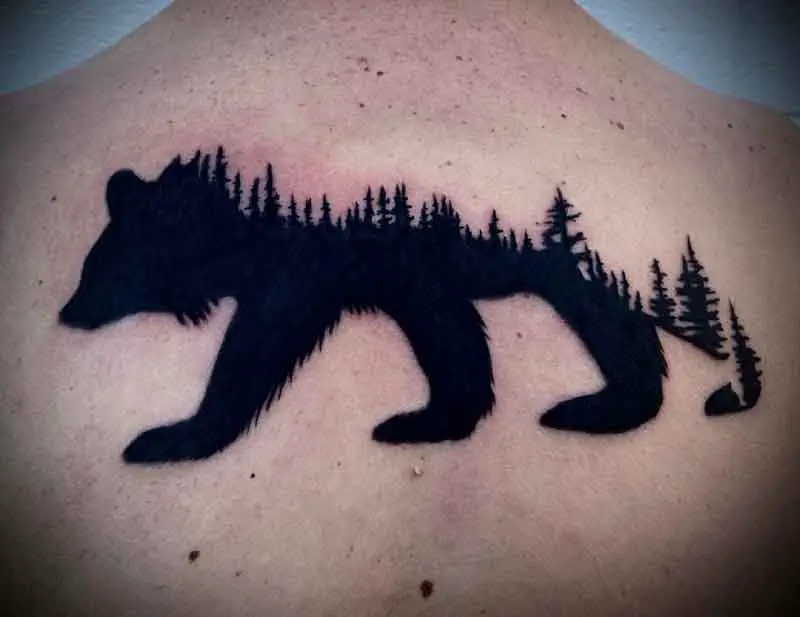 Belly Tattoo Bear
43.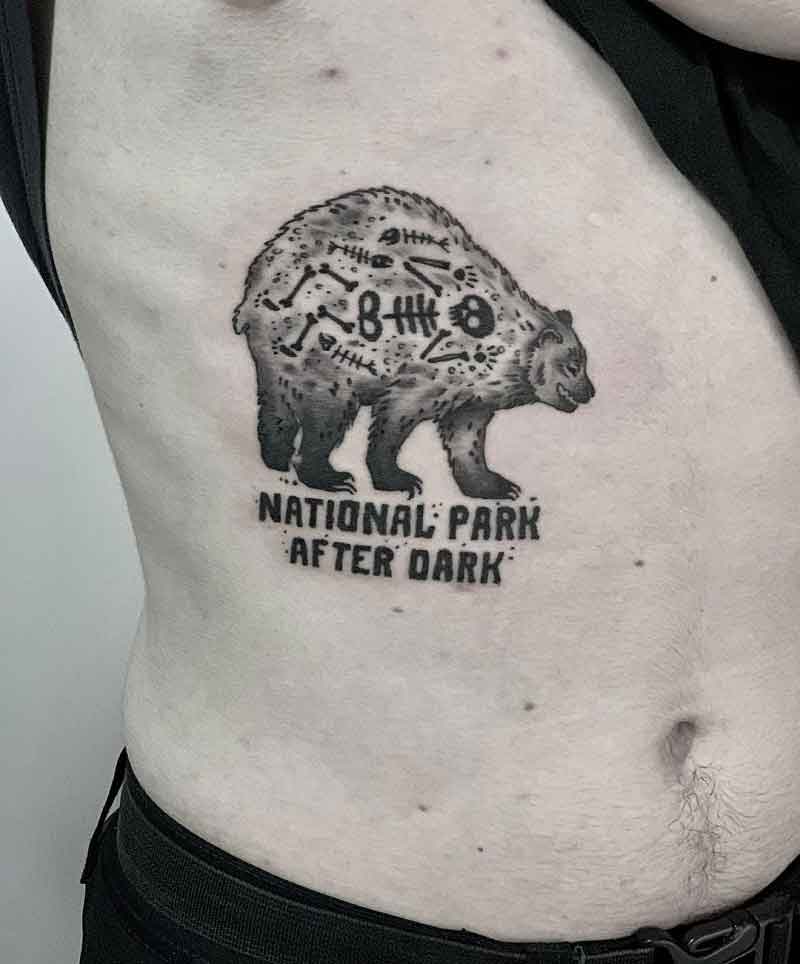 44.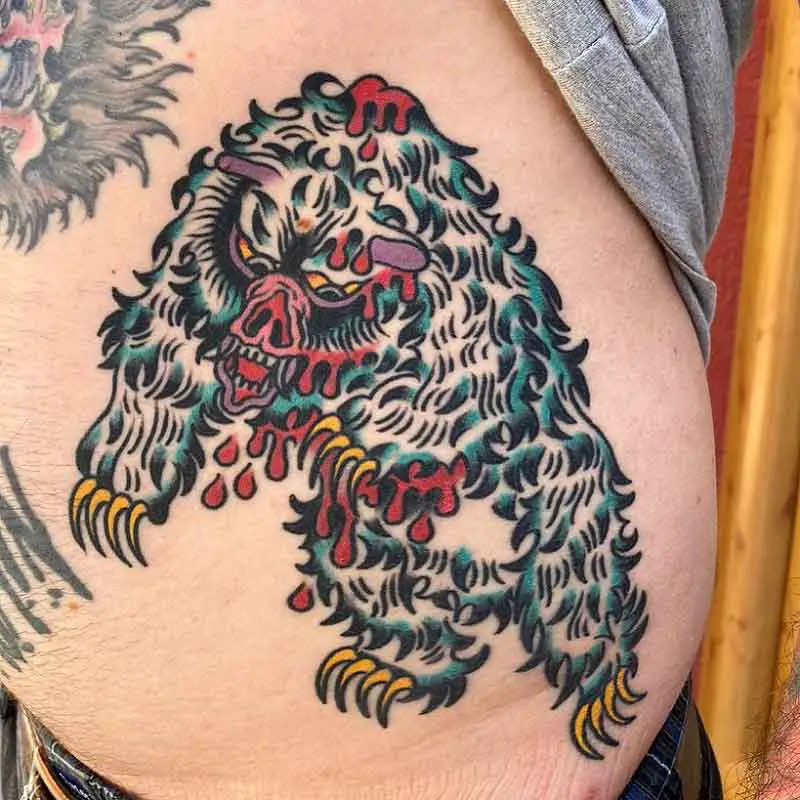 45.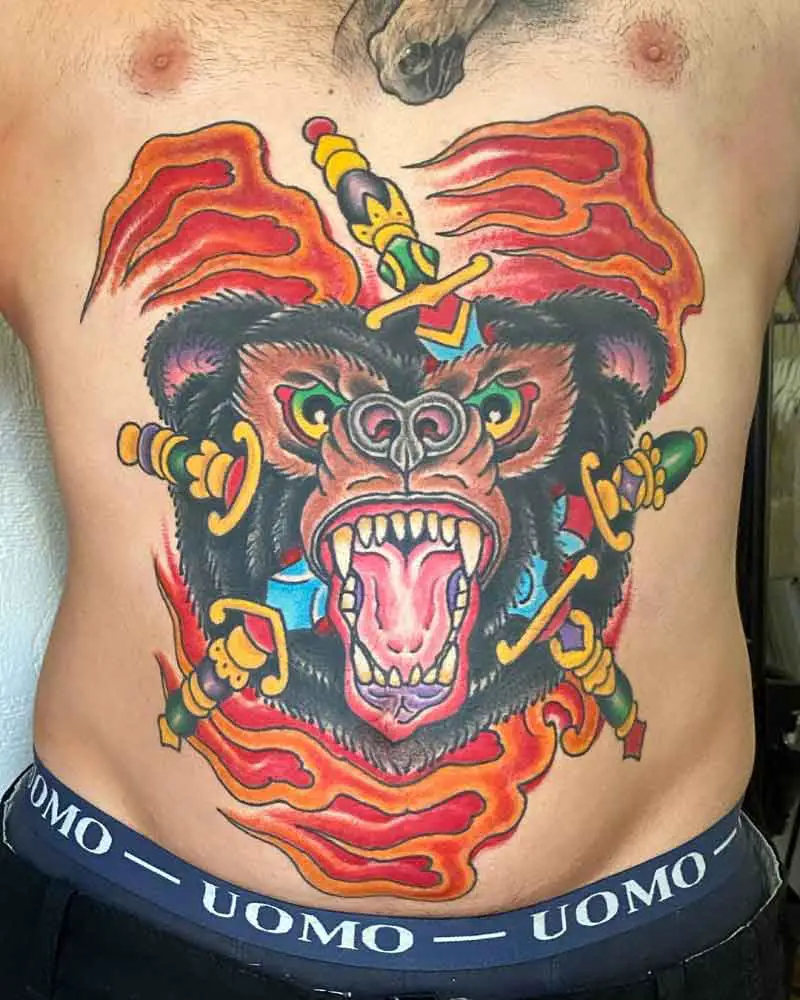 Big Bear Tattoo
46.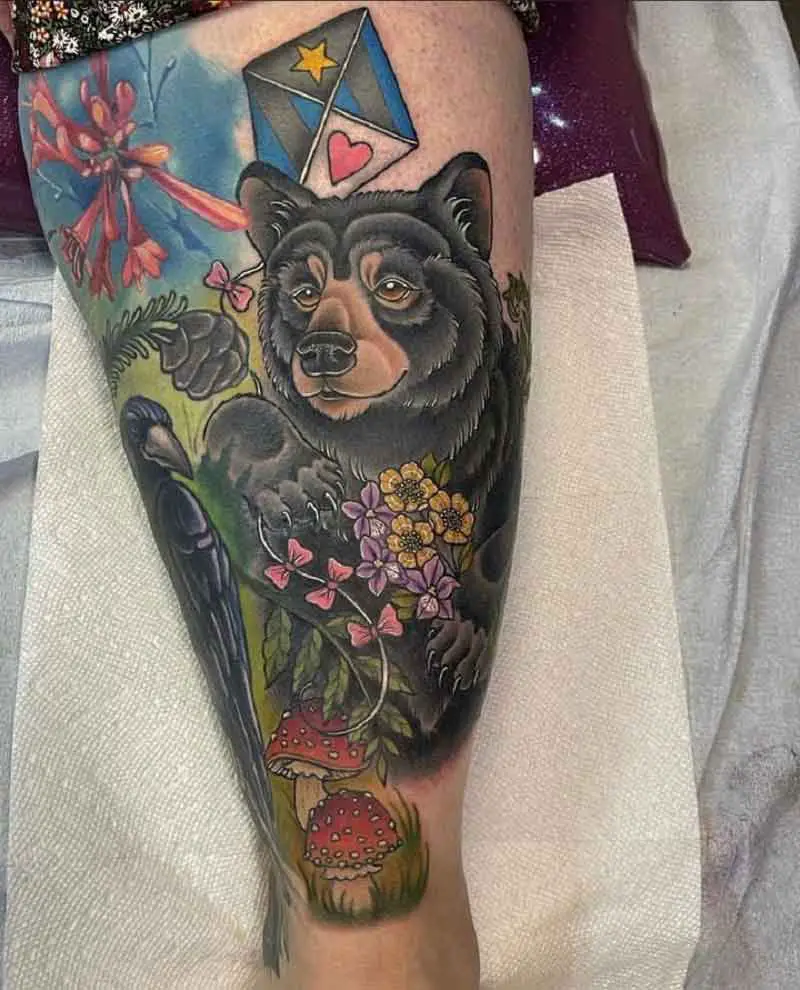 47.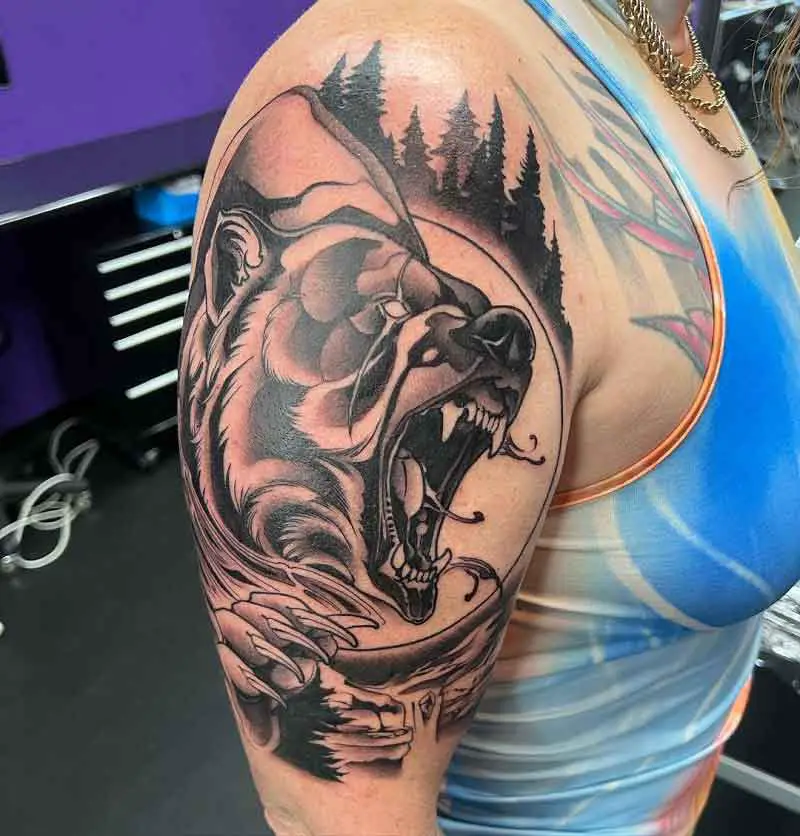 48.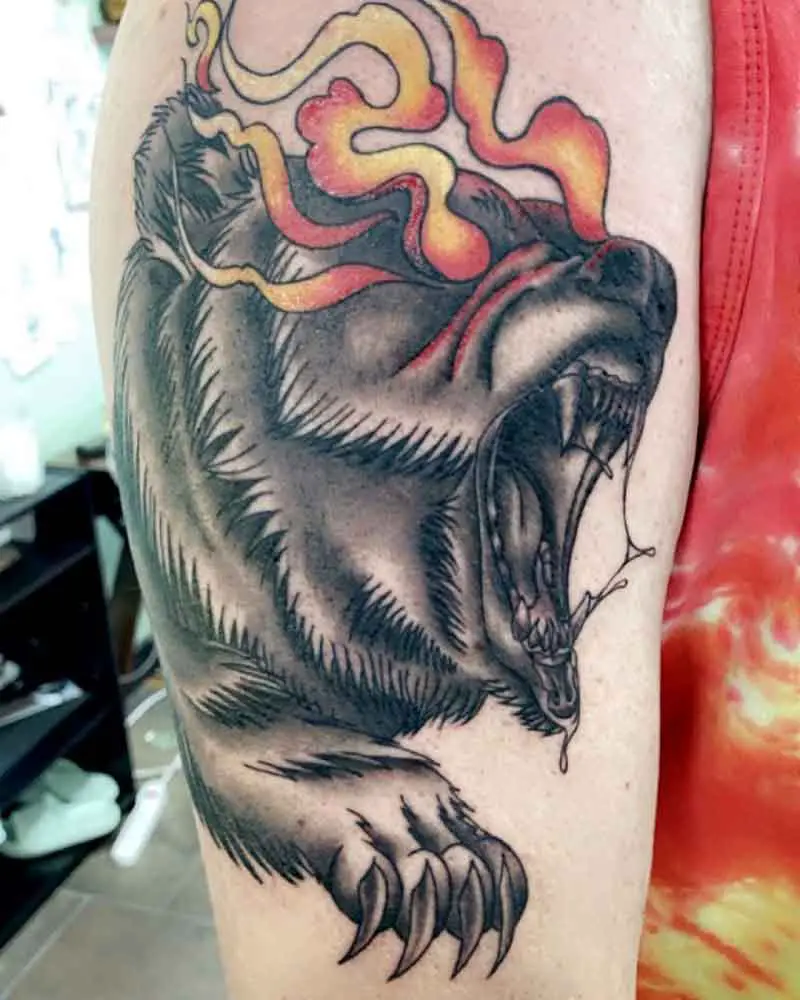 Boo Boo From Yogi Bear Tattoo
49.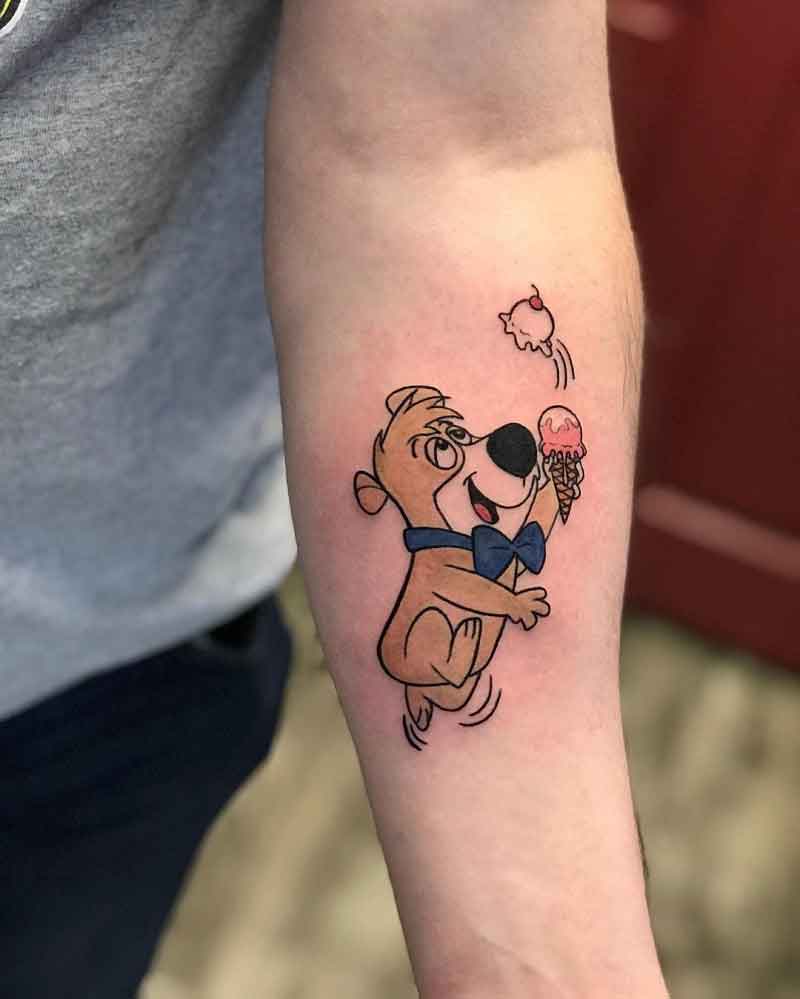 50.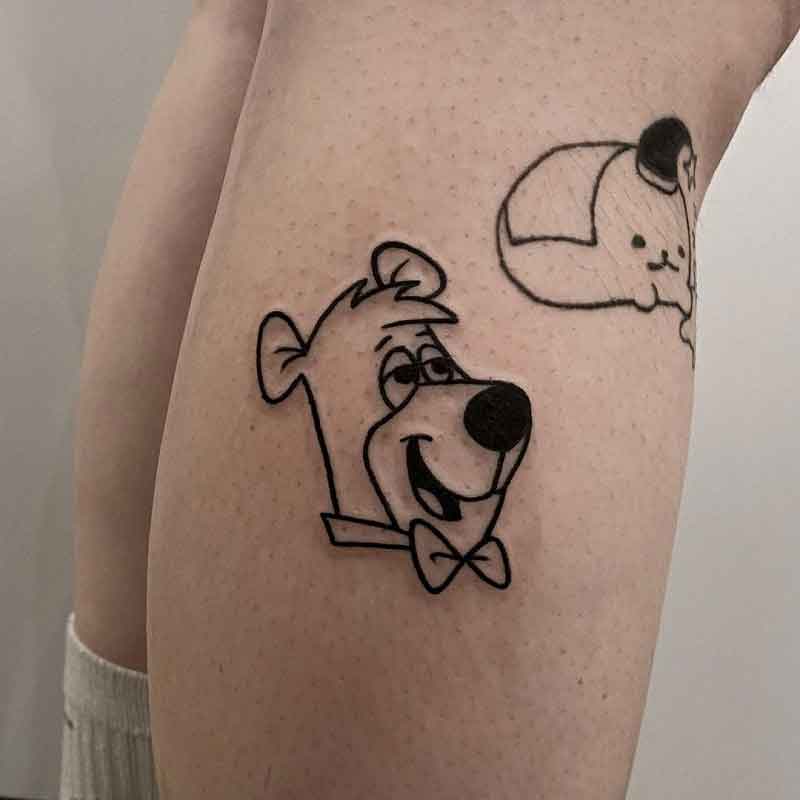 51.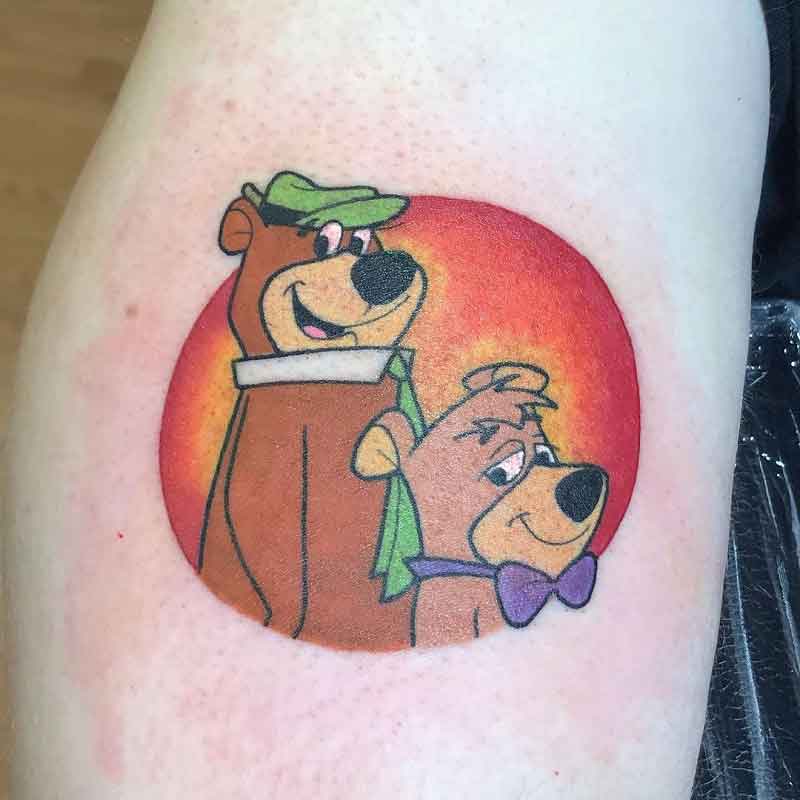 Brother Bear Tattoo
52.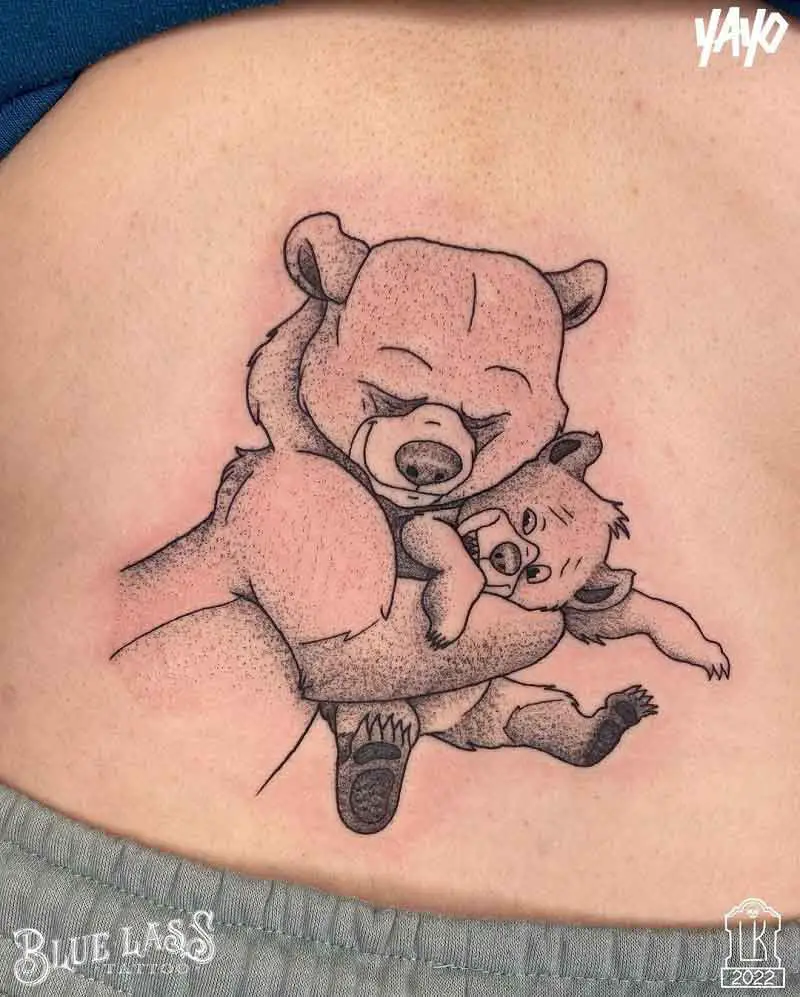 53.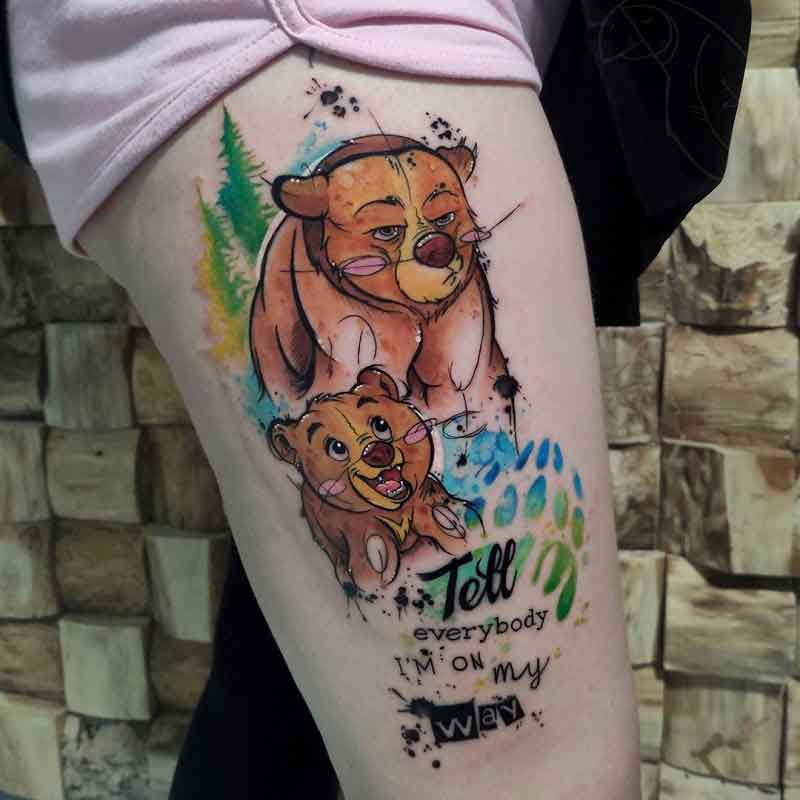 54.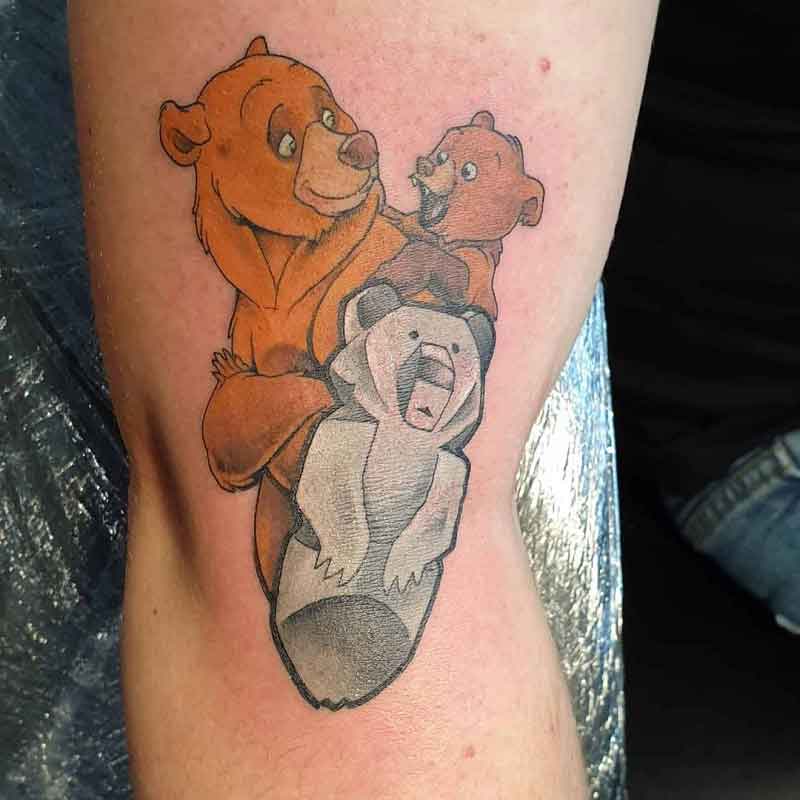 Bruins Bear Tattoo
55.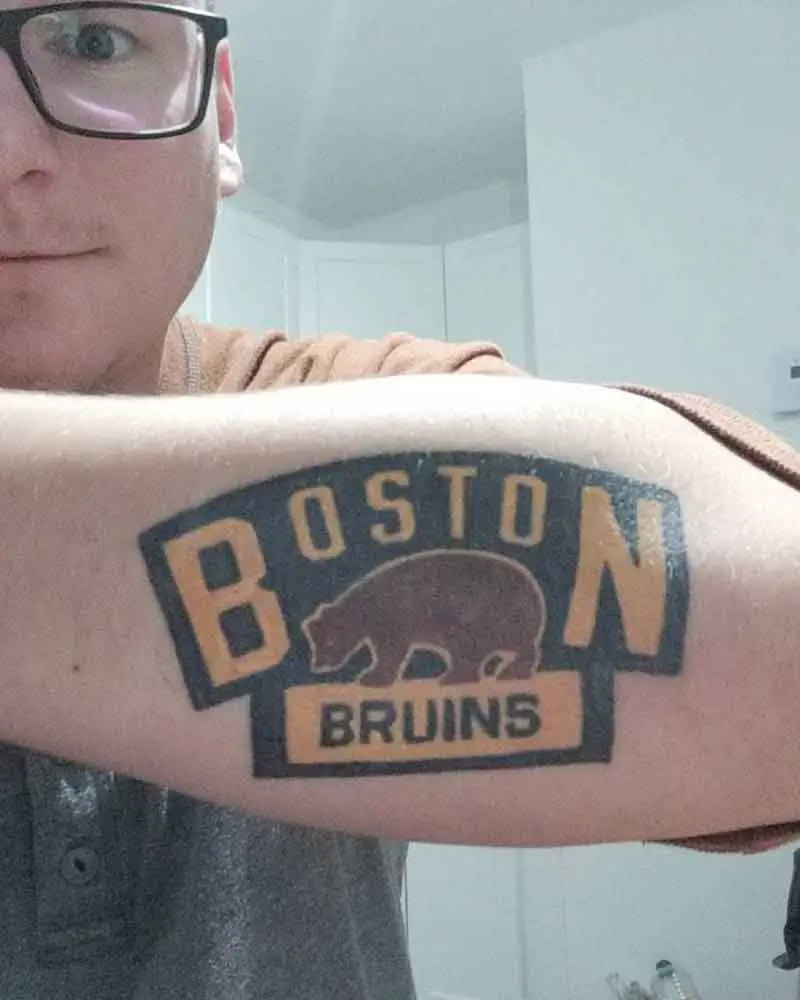 56.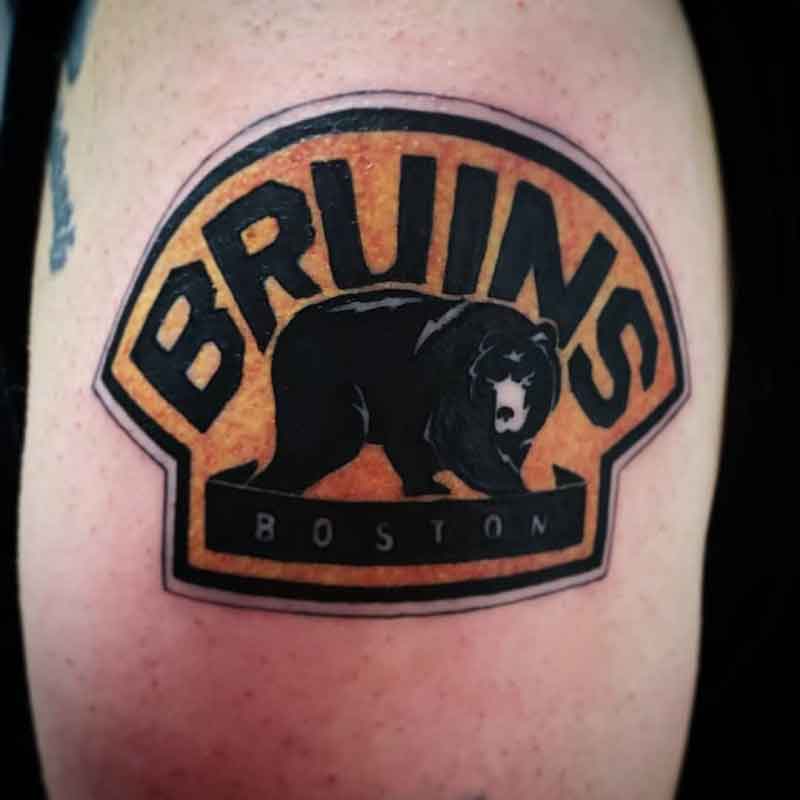 57.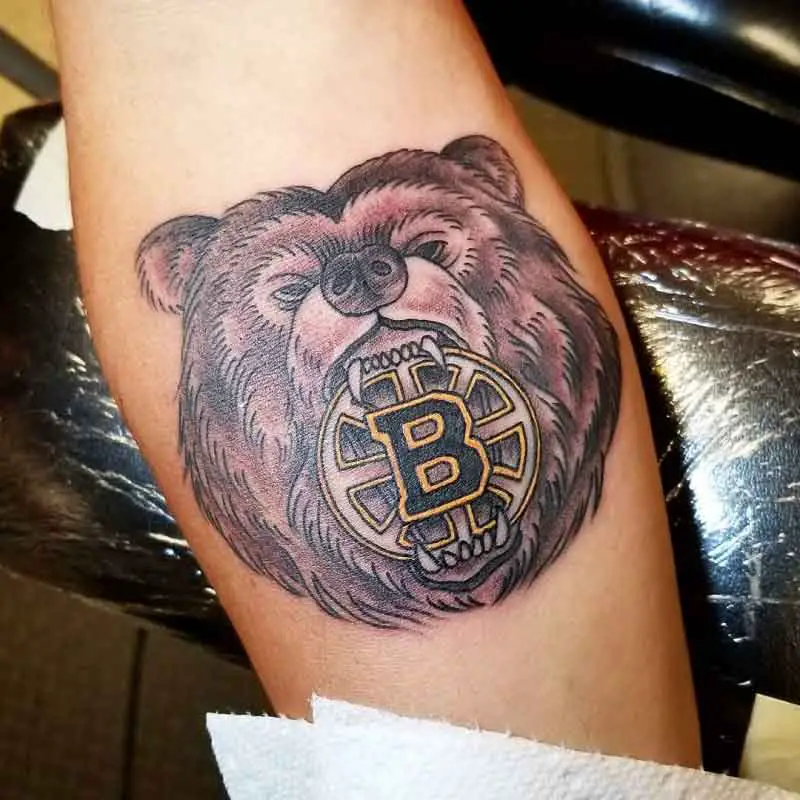 Care Bear Heart Tattoo
58.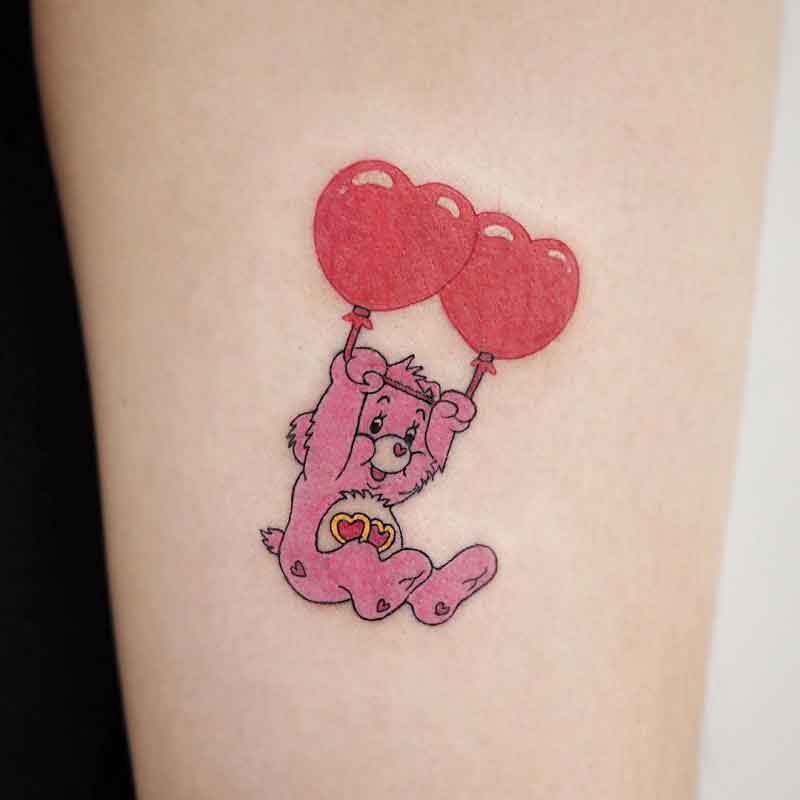 59.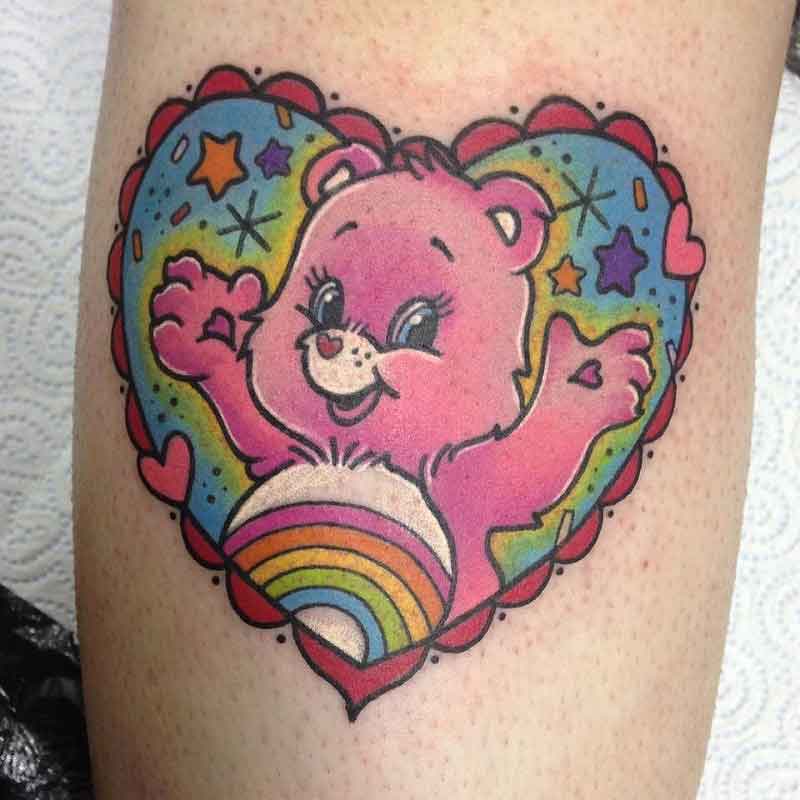 60.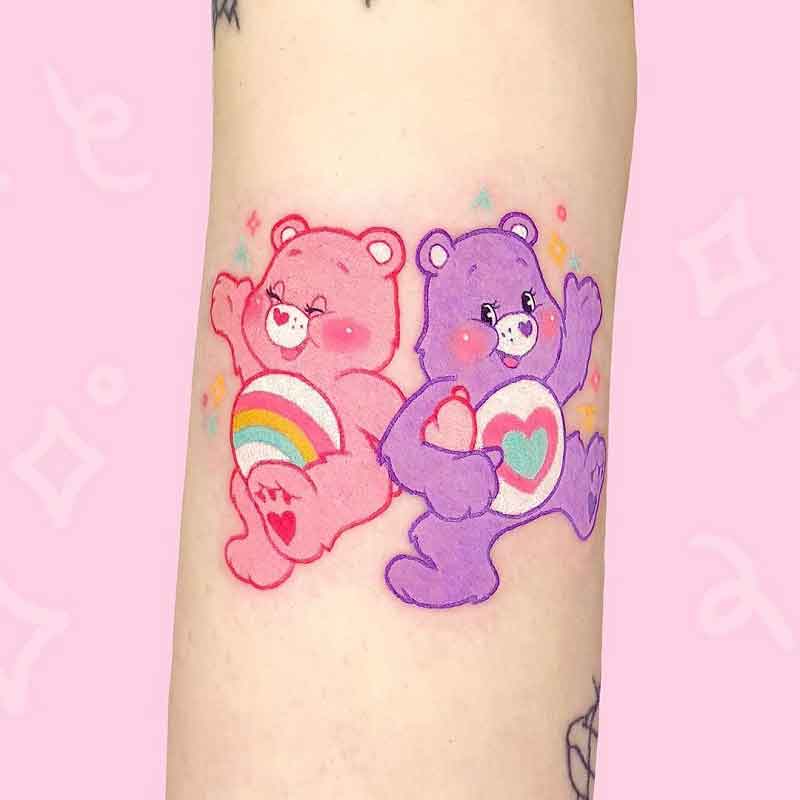 Coke A Cola Bear Tattoo
61.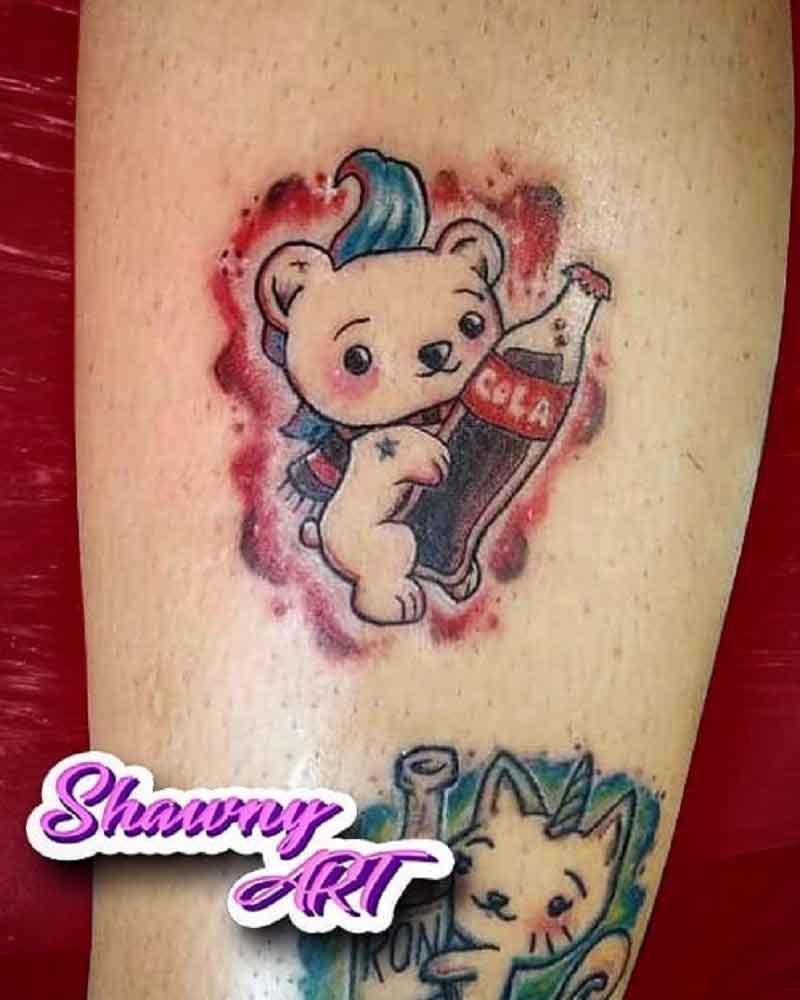 62.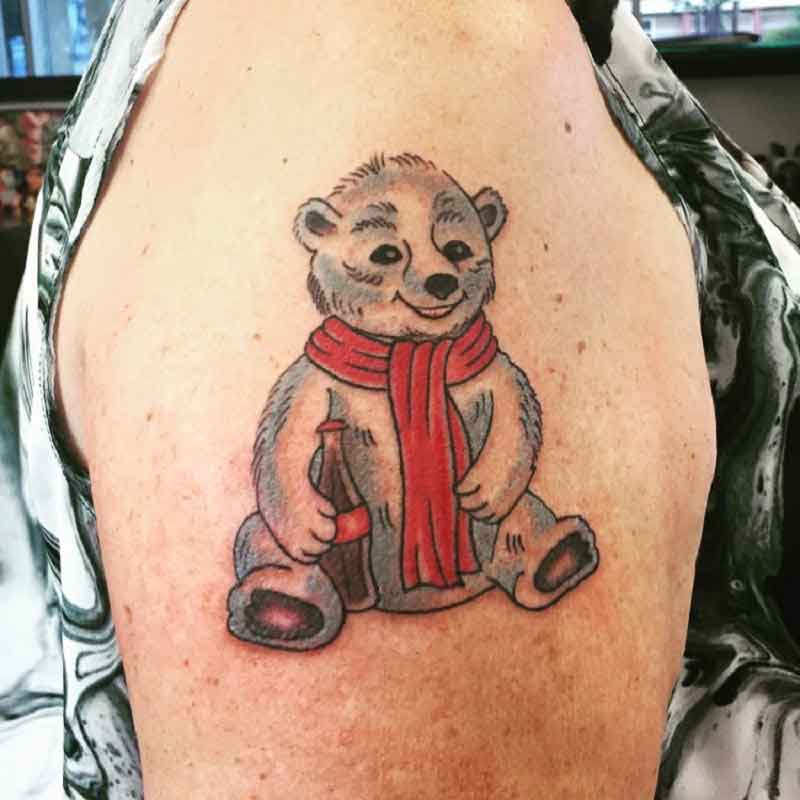 63.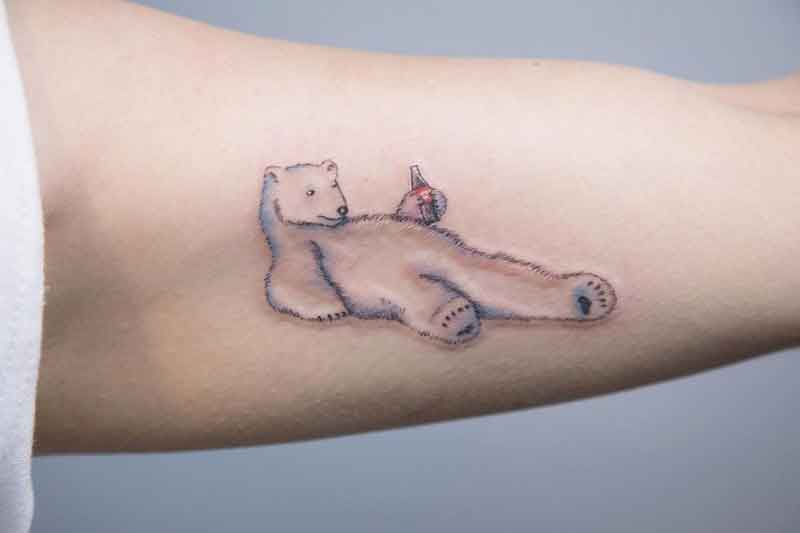 Dancing Bear Tattoo
64.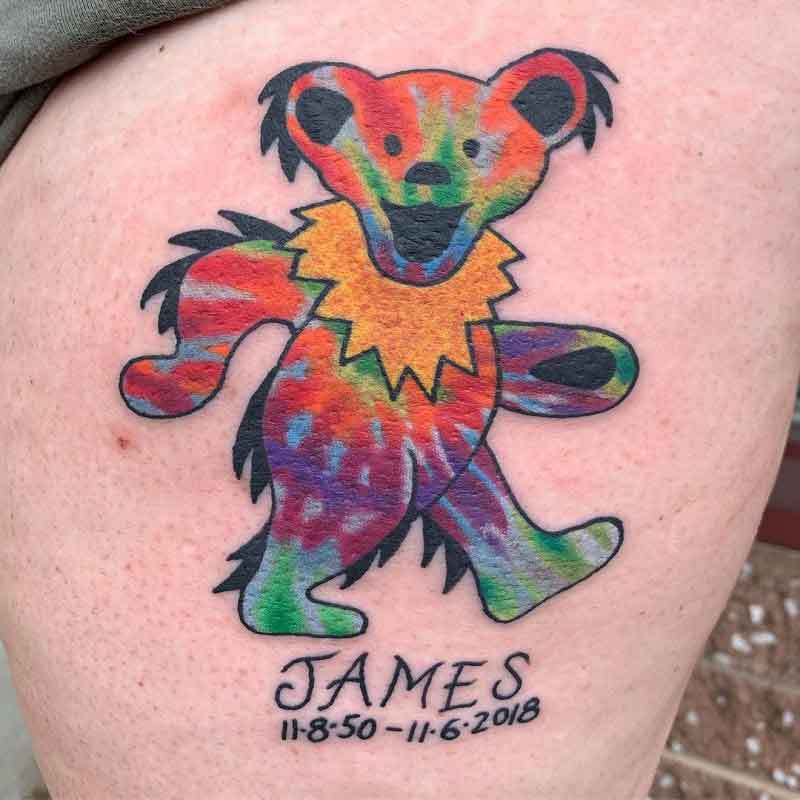 65.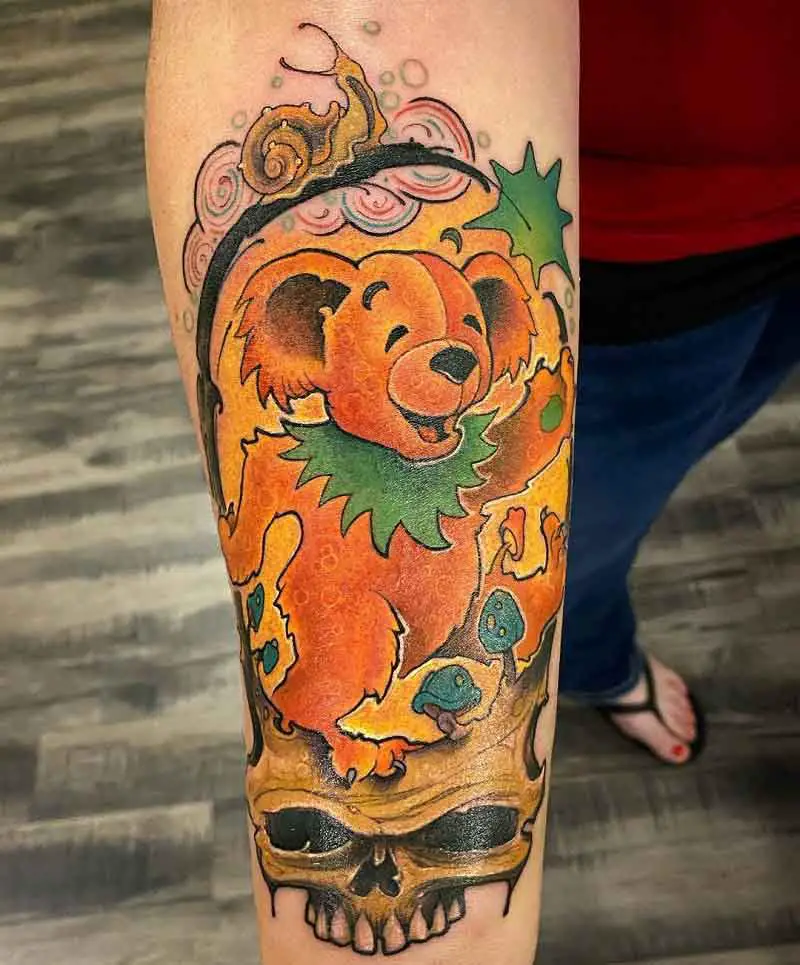 66.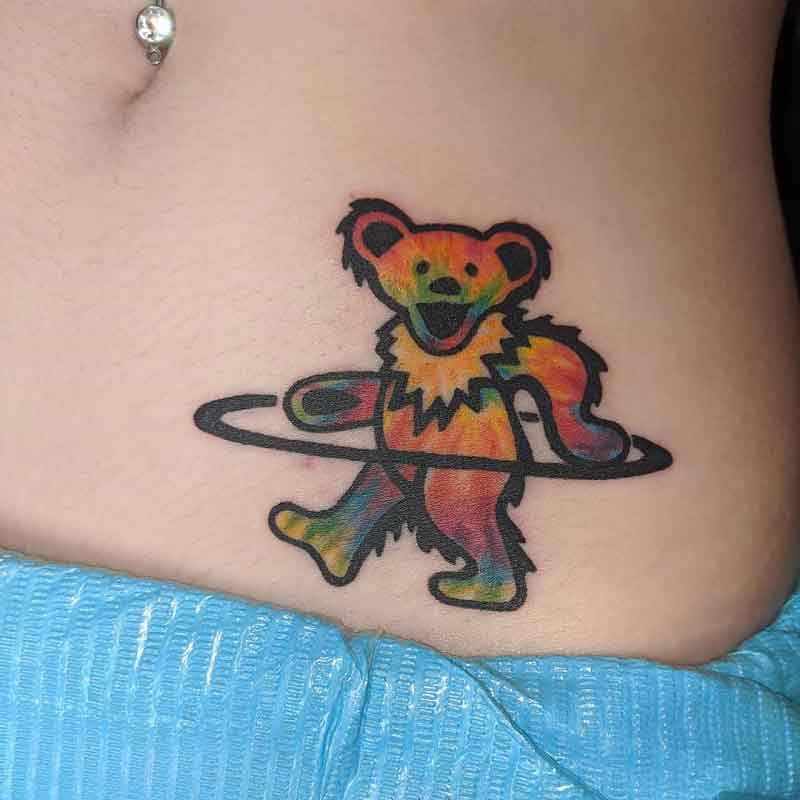 Dropout Bear Tattoo
67.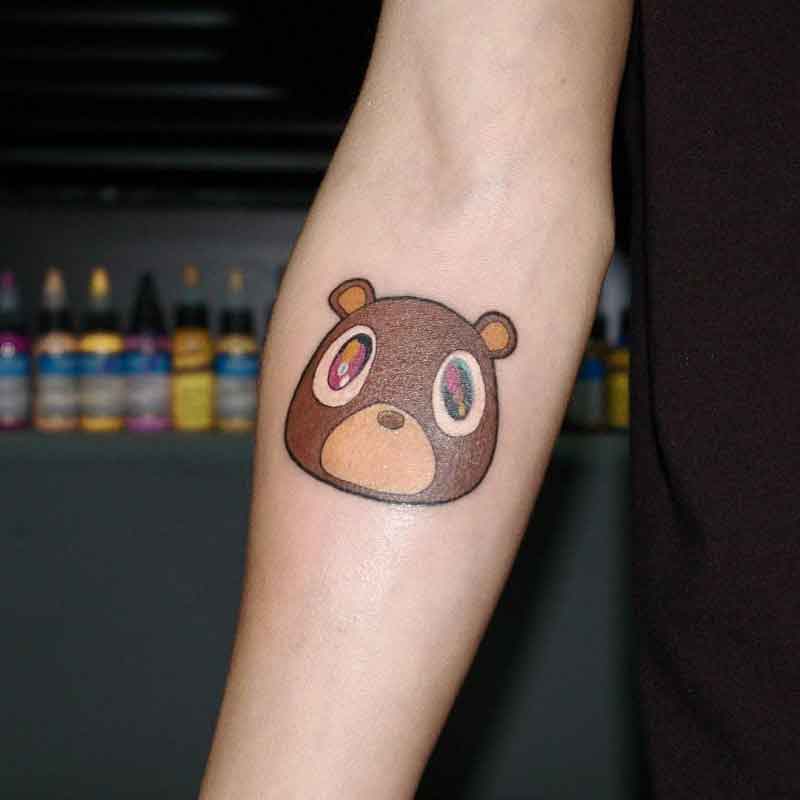 68.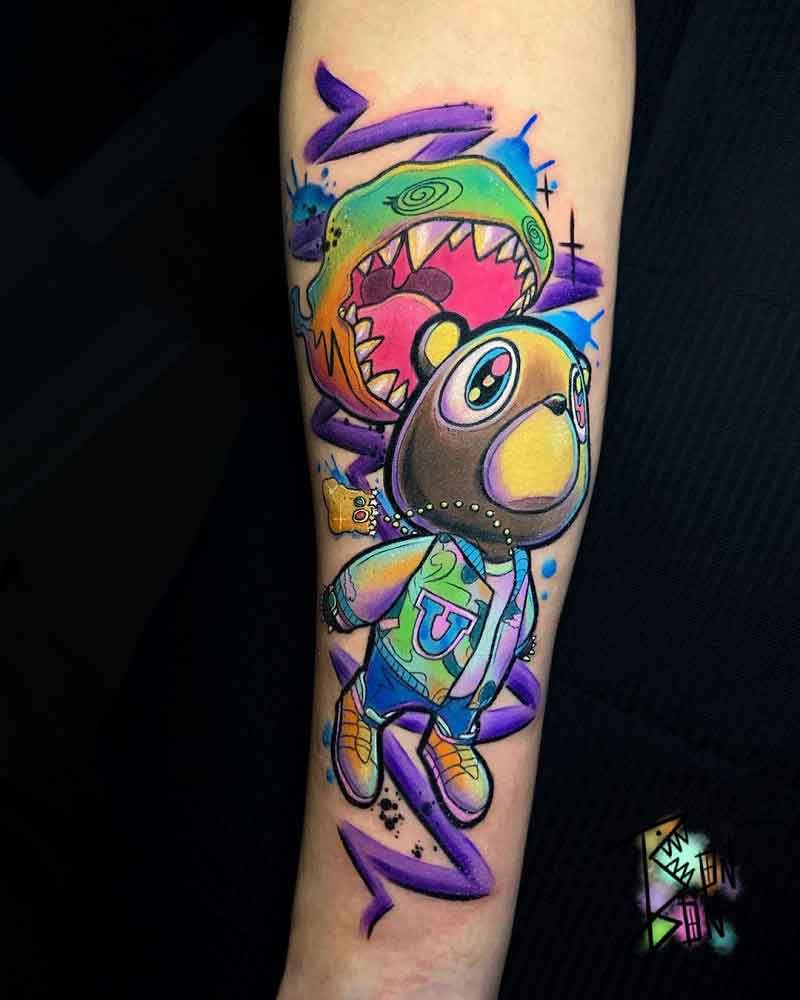 69.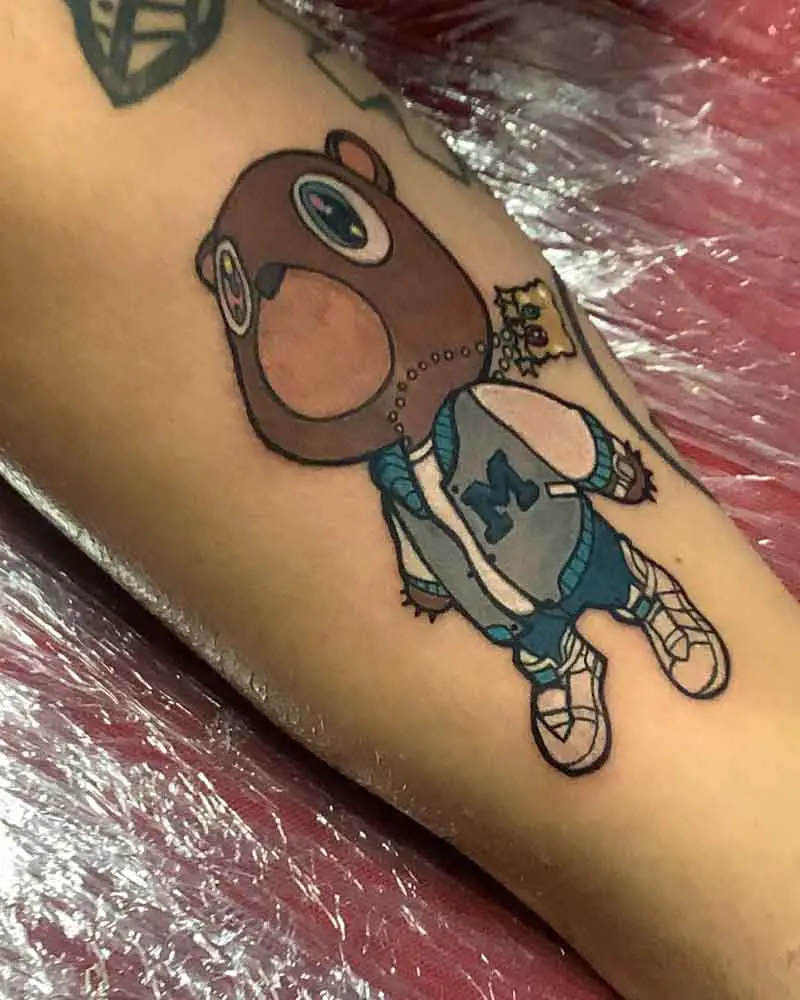 Geometric Bear Tattoo
70.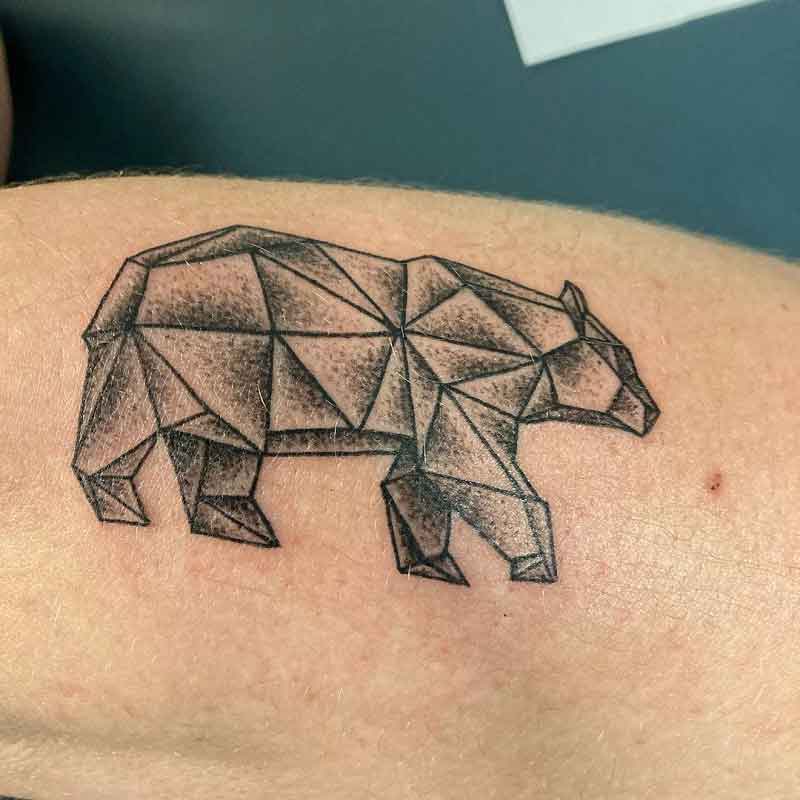 71.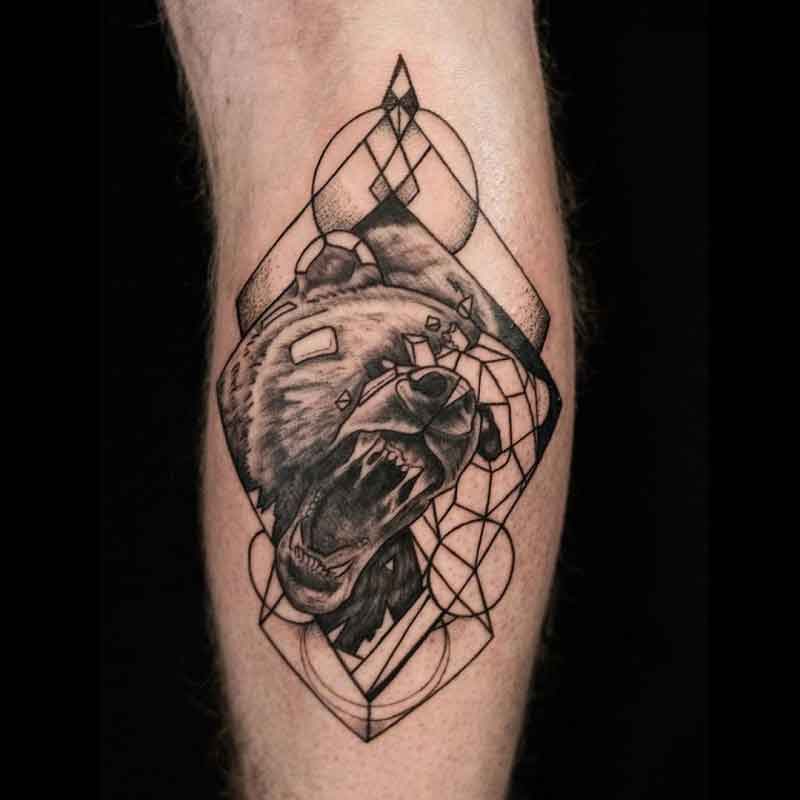 72.
Happy Bear Tattoo
73.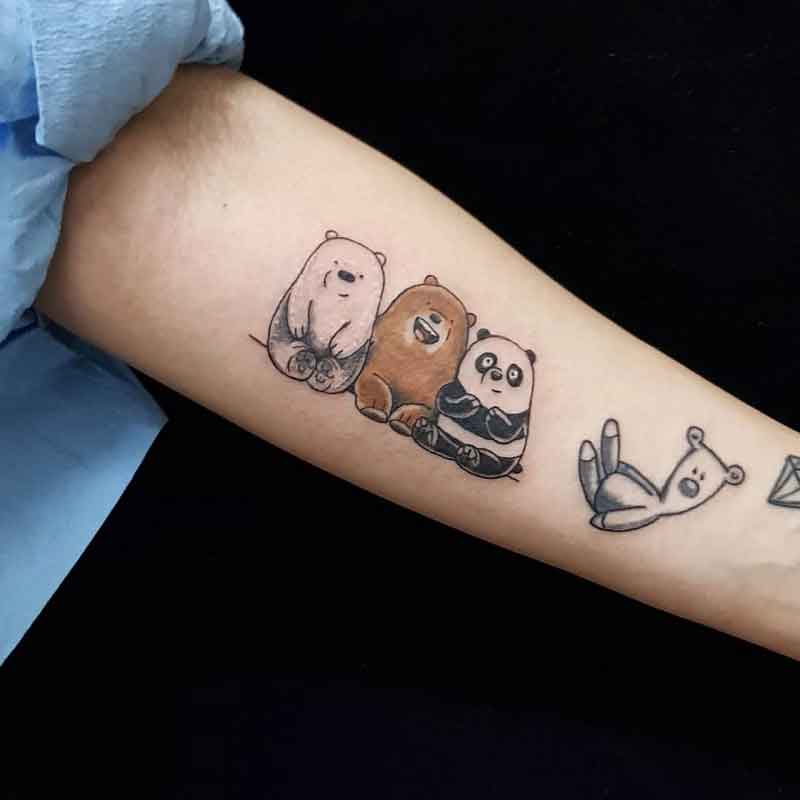 74.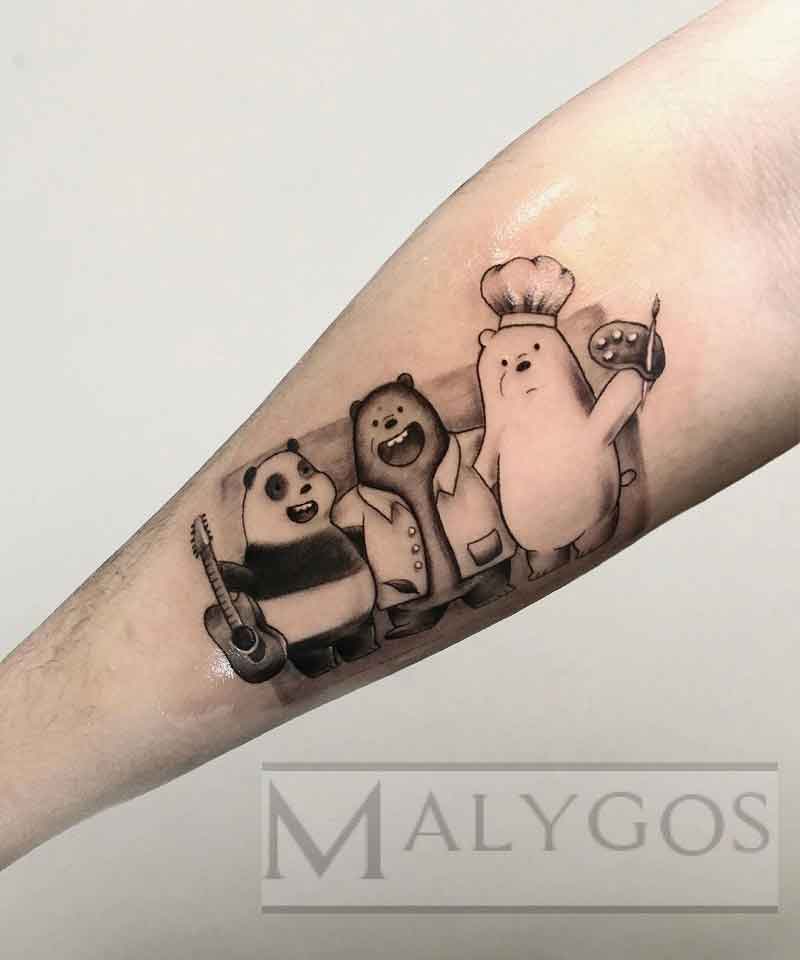 75.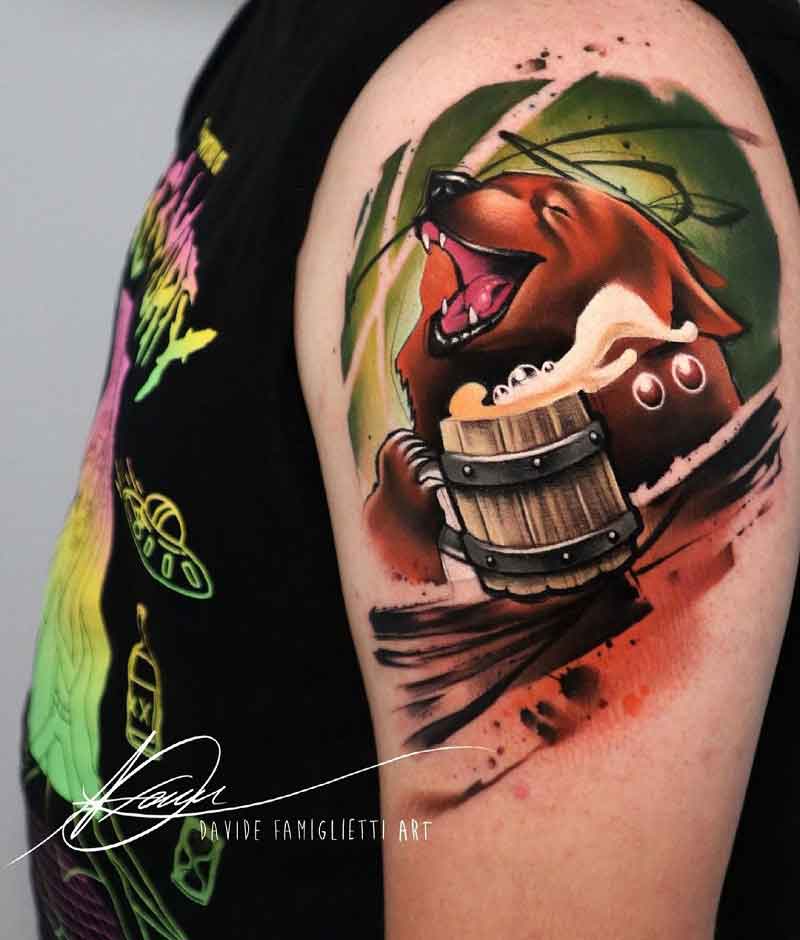 Japanese Style Bear Tattoo
76.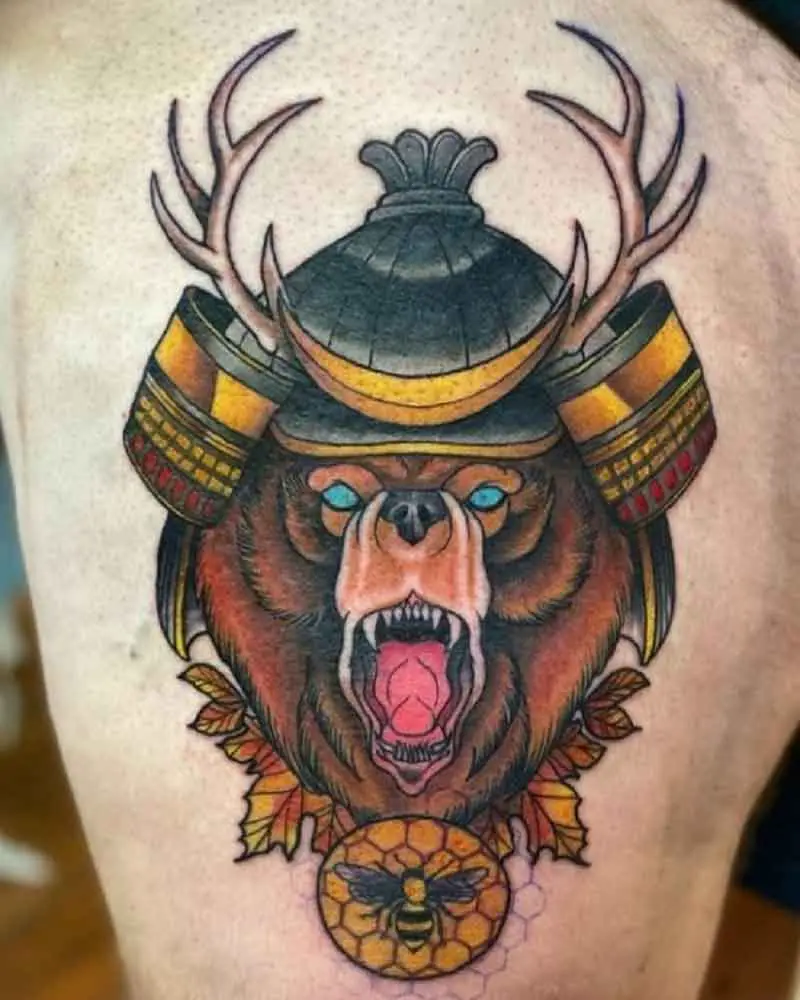 77.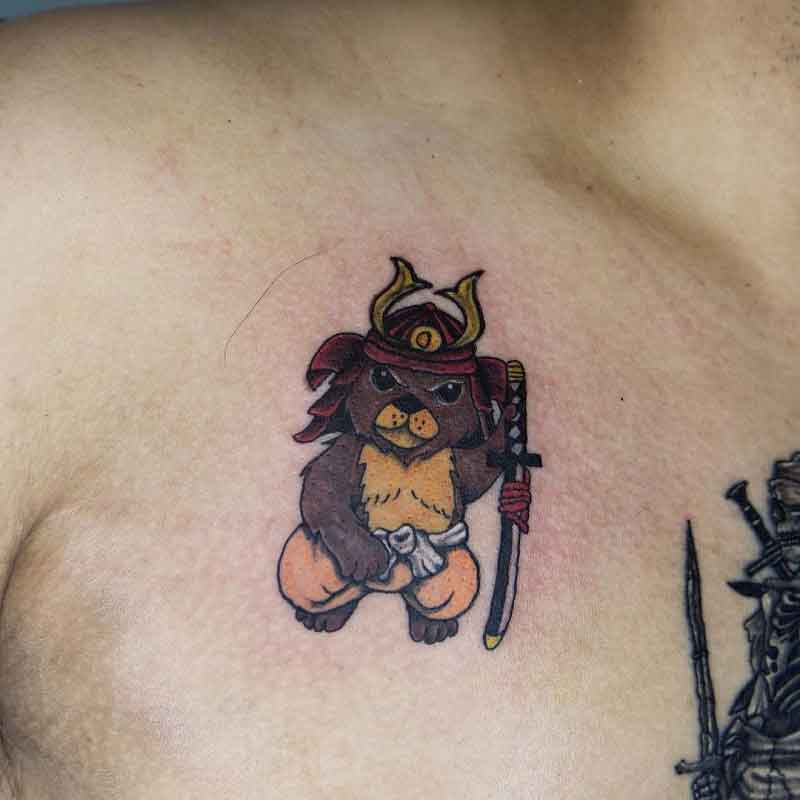 78.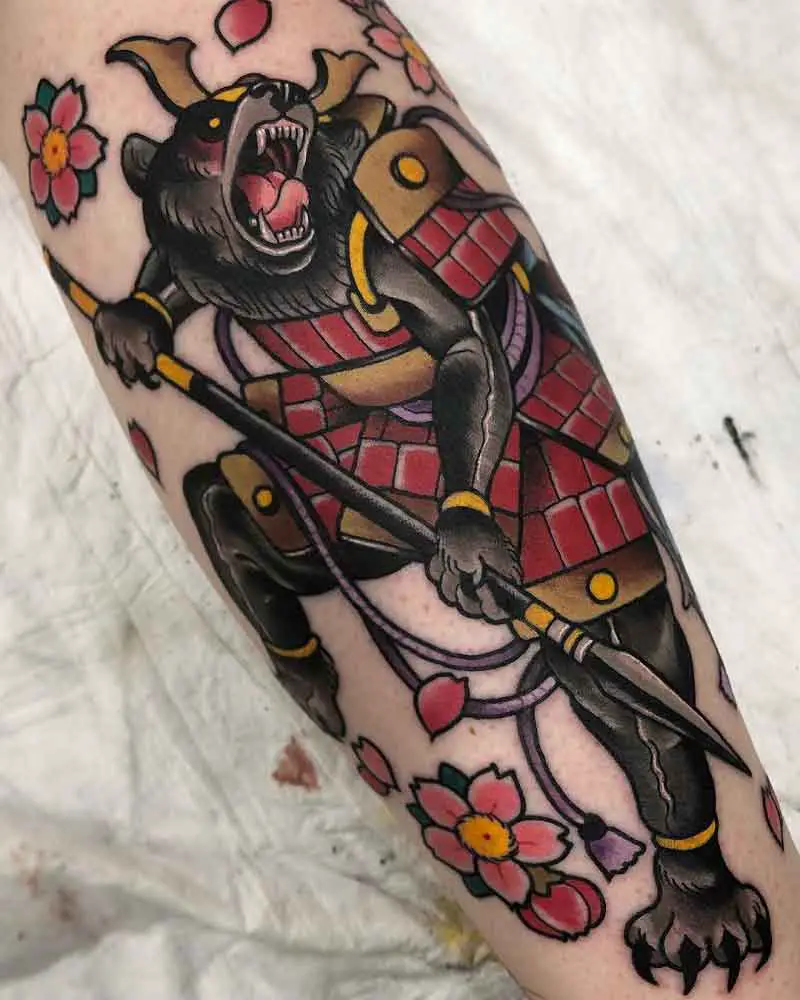 Koda Bear Tattoo
79.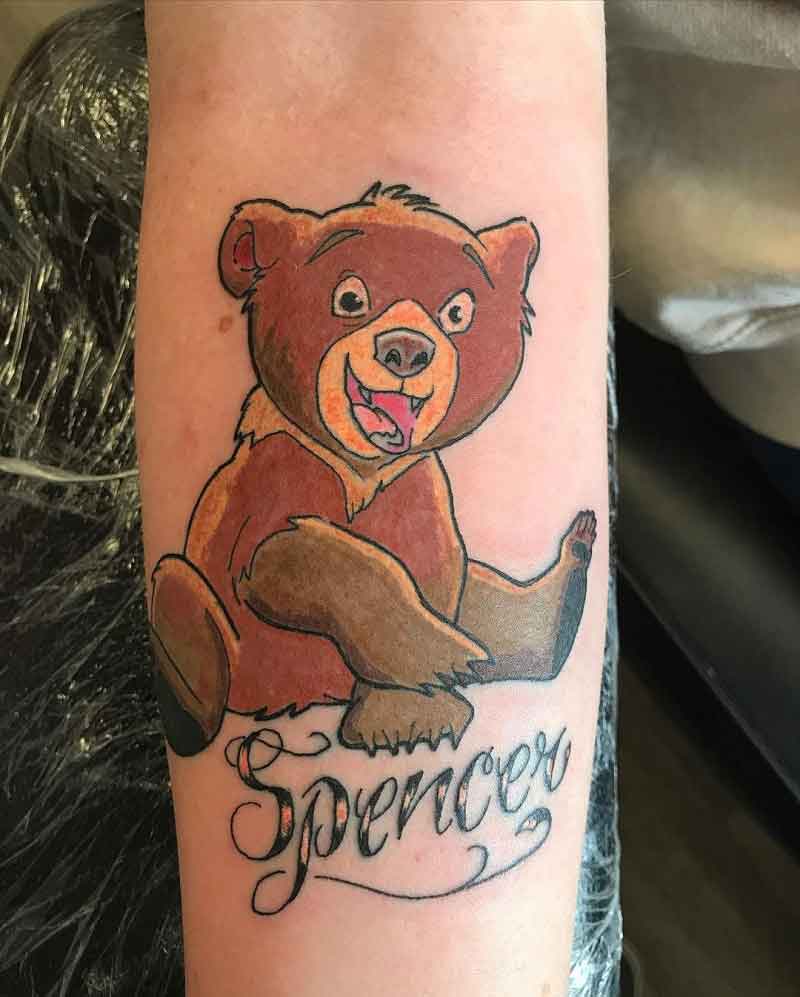 80.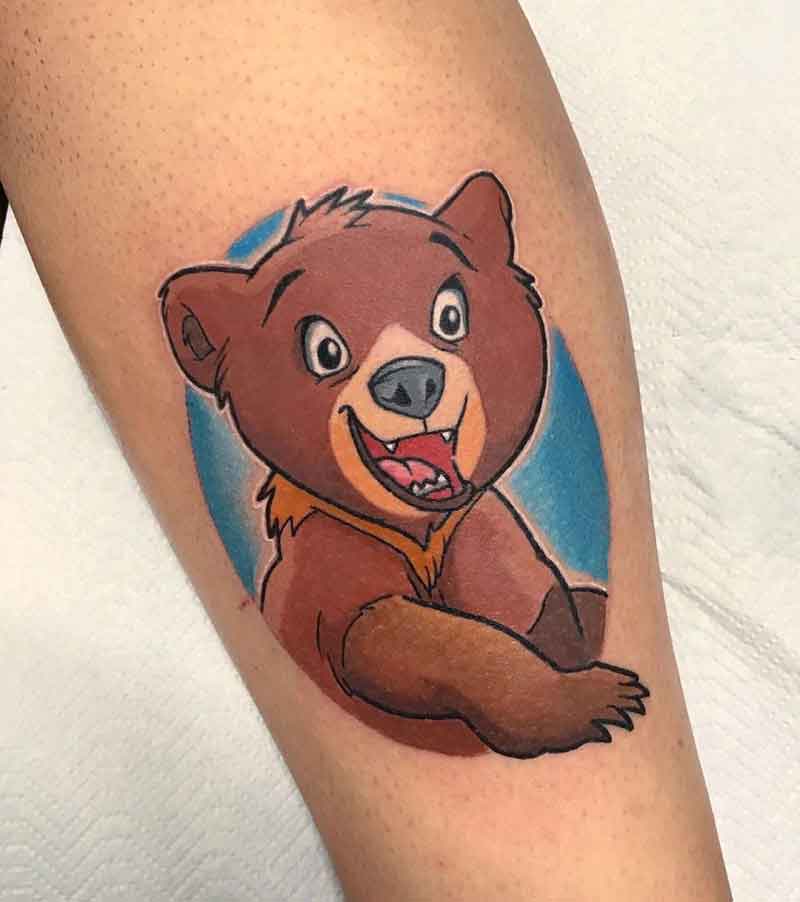 81.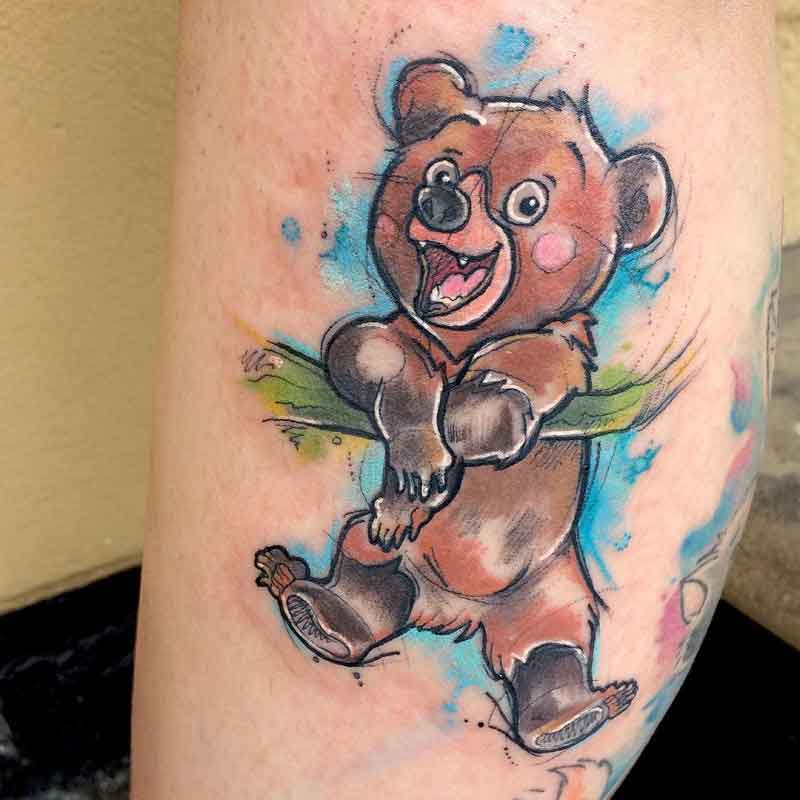 Mother Son Bear Tattoos
82.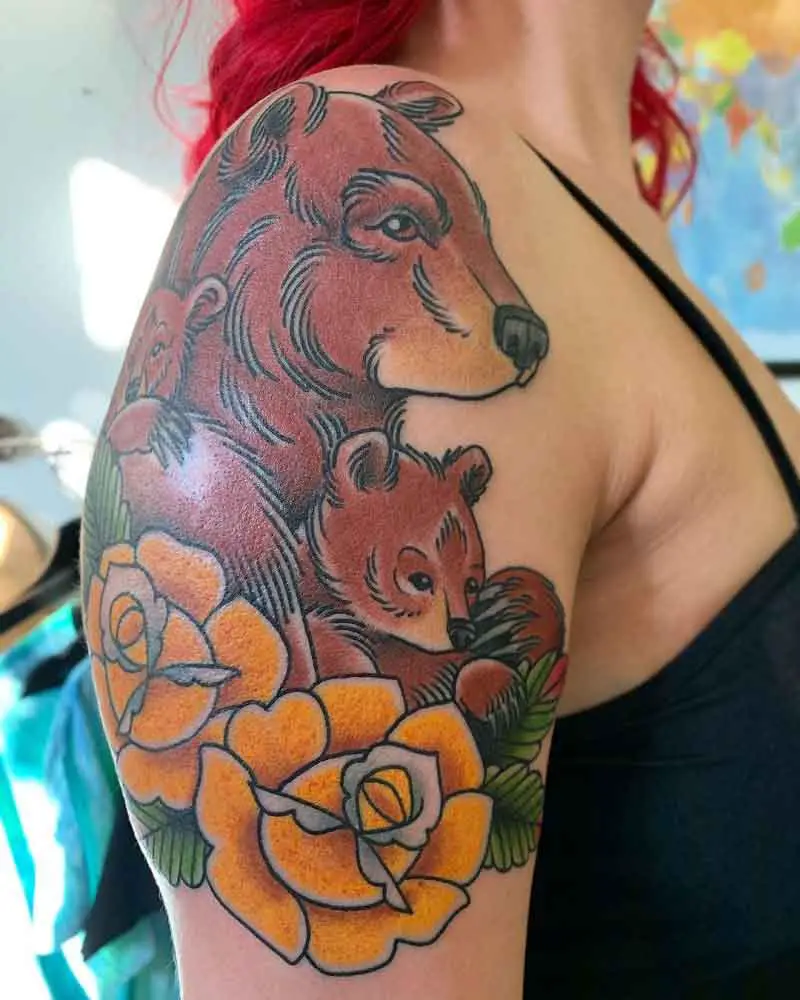 83.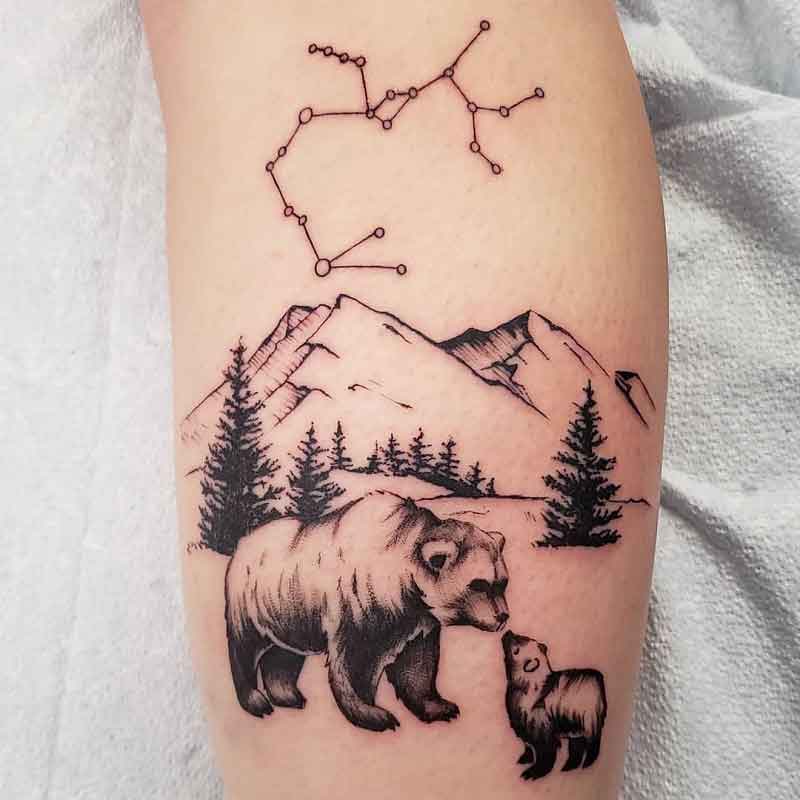 84.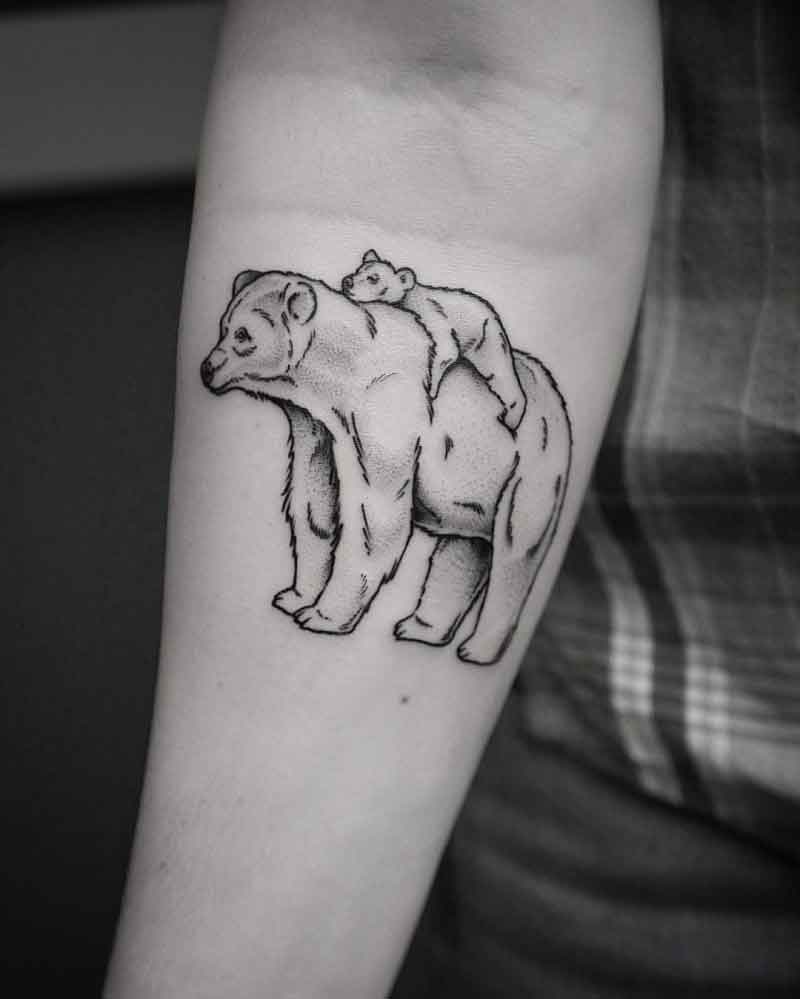 Final Words:
We hope you enjoyed our blog post on bear tattoos. These tattoos are quite popular, but we wanted to shed some light on their meanings. 
This is a great blog for anyone considering getting a bear-themed tattoo. We think the meanings provided are really interesting and would love to hear your feedback!
If you have any questions or comments, please don't hesitate to contact us on social media or in the comment section. We would love to hear from you!
Frequently Asked Questions
Why You Should Get a Bear Tattoo?
I should get a bear tattoo because it represents power, confidence, and ferocious defense.
What is the meaning of a bear tattoo?
The bear tattoo symbolizes strength, courage, and endurance.