Candle tattoo designs are quite popular among young females. In fact, if you look at tattoo shape and color trends, you will quickly realize how popular they are. However, if you want to get into this trend but don't know where to start, you're in luck. 
These tattoos of candles are more than just a way to show off your body; they are a way to show off your personality. They are a way to express yourself. 
Candles are a common symbol of faith, joy, and hope, so what better way to show off your spiritual side than with a beautiful tattoo of a candle?  However, if you want to get into this trend but don't know where to start, you're in luck. 
We have gathered several unique and fashionable candle style tattoos for you, such as burning at both ends, traditional, candle finger, skull, minimalist, realistic, and so on. This blog will look at ideas for creating your own candle theme tattoo designs and ideas.
Here Are The Top xx Candle Tattoo Designs And Ideas:
Candle tattoos are a great way to show your significant other how much you care about them. This blog will show you some of the most popular candle designs. Will you choose a realistic tattoo of candle design or a more abstract version?
Candle Burning At Both Ends Tattoo
Candle burning at both ends tattoo designs and ideas are simple, but they are sure to make a statement. If you have a tattoo that you want to create with a simple design and style, then this is the option for you.
Candle In Hand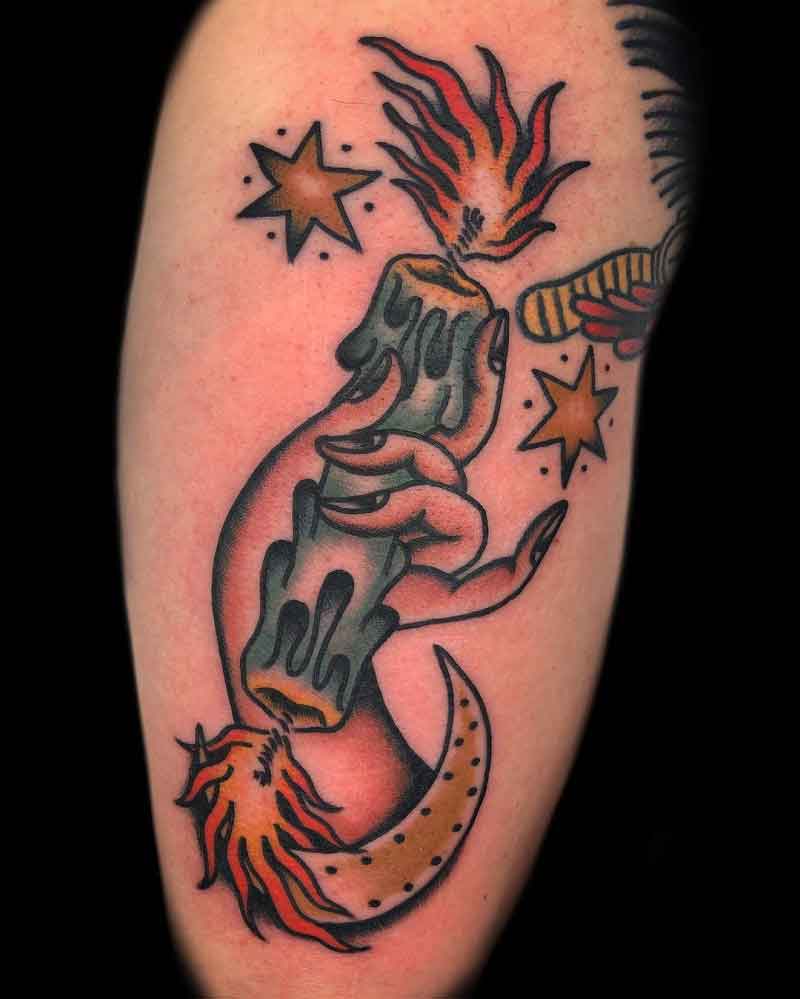 A candle in hand with two heads that are burning is remarkable. Around this tattoo, we can see several stars and moon symbols representing optimism for a brighter future.
2. Ring Candle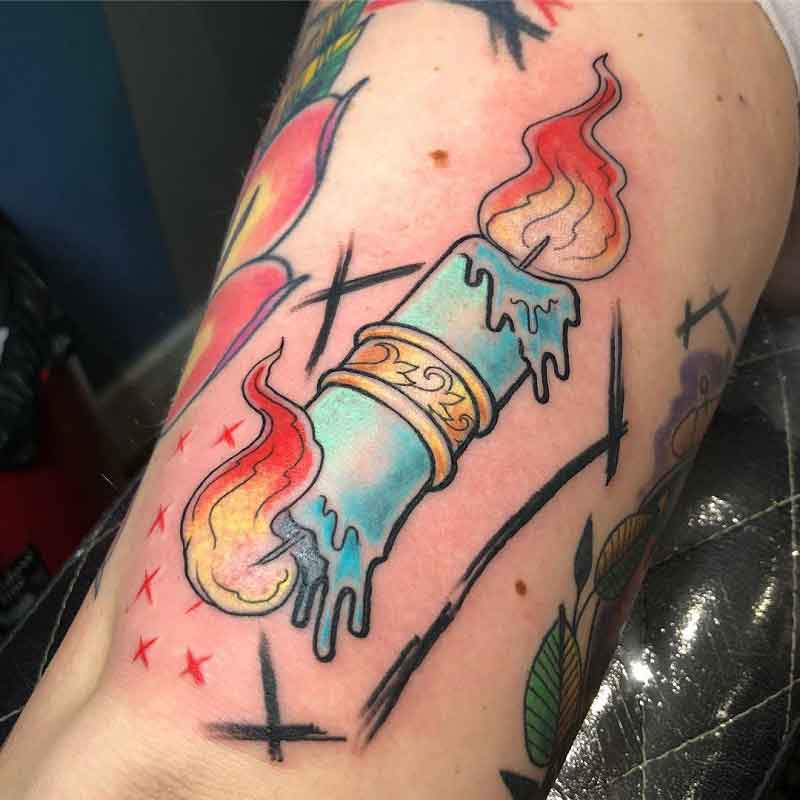 There is a golden ring that sparkles brightly in the center of this burning candle. This tattoo represents a man's dedication to obtaining something great in life.
3. Candle Sun
A candle with two heads burning, and the candle fire has a spherical crimson shadow that resembles the sun. This tattoo symbolizes the need to make a sacrifice to give something to others.
Traditional Candle Tattoo
Traditional candle tattoo designs are a popular and beautiful way to commemorate a loved one. These tattoos are also a great way to honor the deceased.
4. Two Flower Candle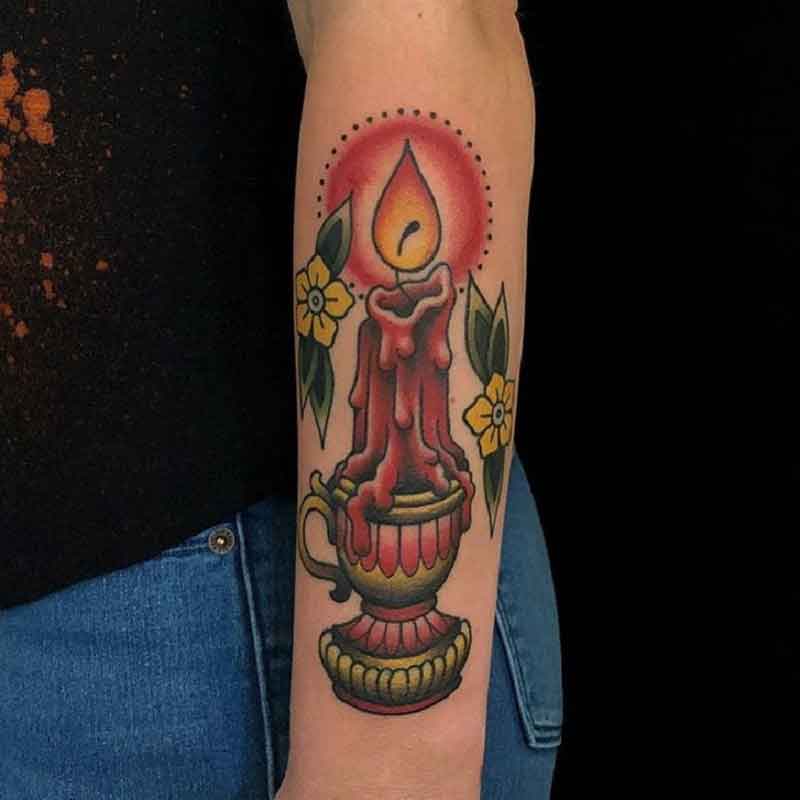 A candle is burning on a stand, and its flame is surrounded by a red circle. Again, this tattoo of a candle's two flowers represents the death of a loved one.
5. Fire S Candle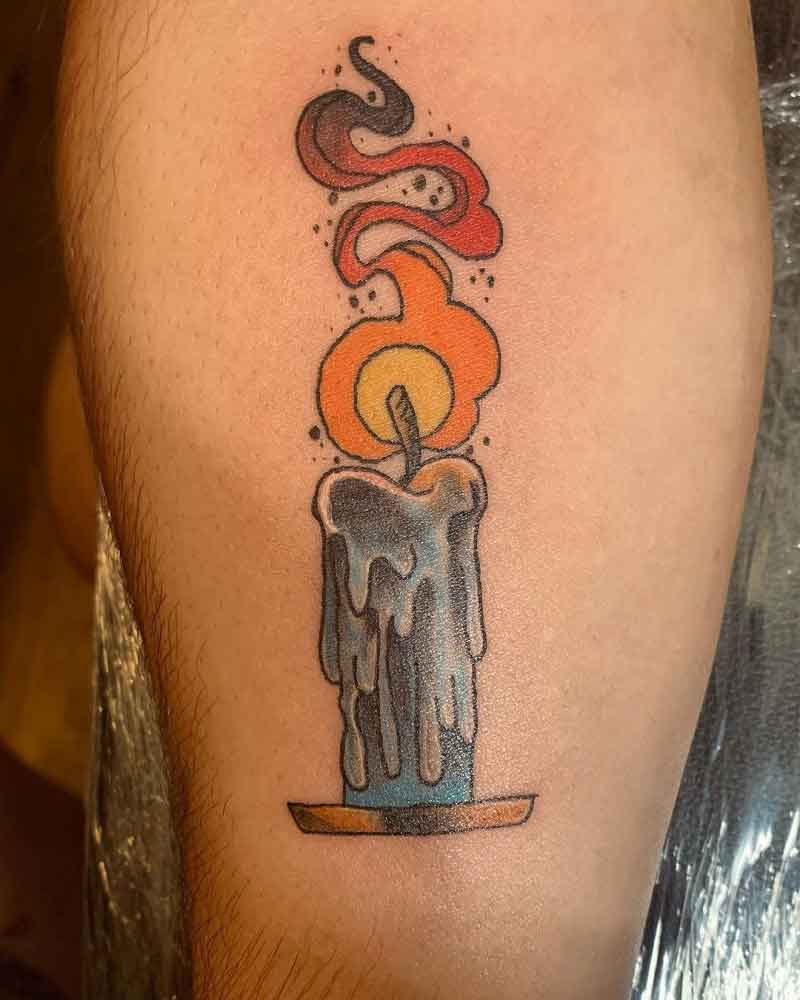 If you look closely at the flame of this candle, you will notice an S pattern. This tattoo of a candle expresses affection for someone whose first letter is S.
6. Candle on Hand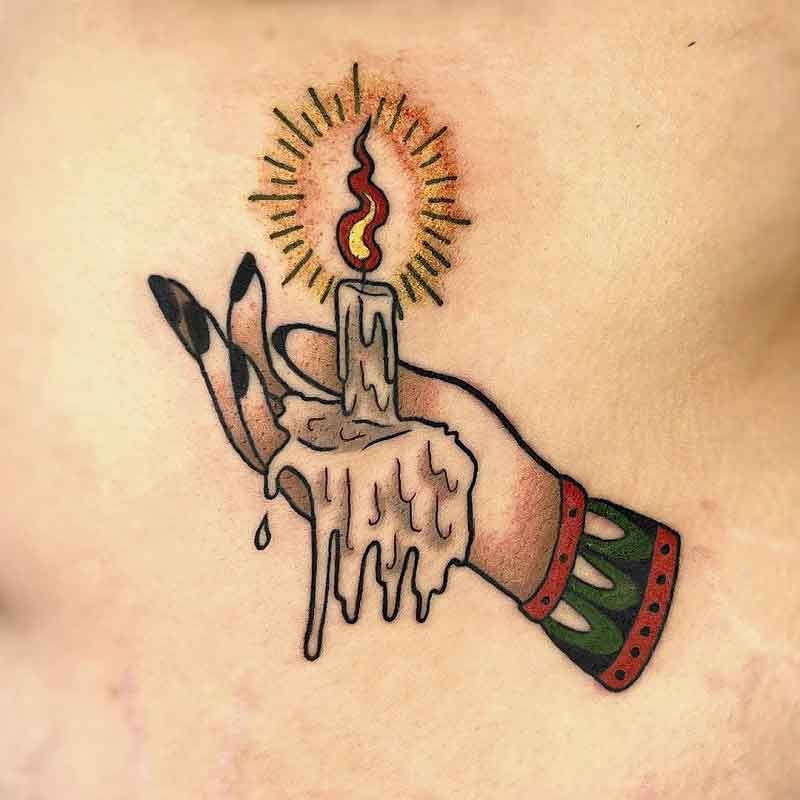 A blazing candle is perched on a girl's hand, and candle wax is melting. This tattoo is devoted to mothers who make sacrifices to raise their children.
Candle Finger Tattoo
A candle finger tattoo is a thing of beauty. It's an intricate design that takes time to complete. This kind of tattoo also shows your personality. 
7. Burning Fingers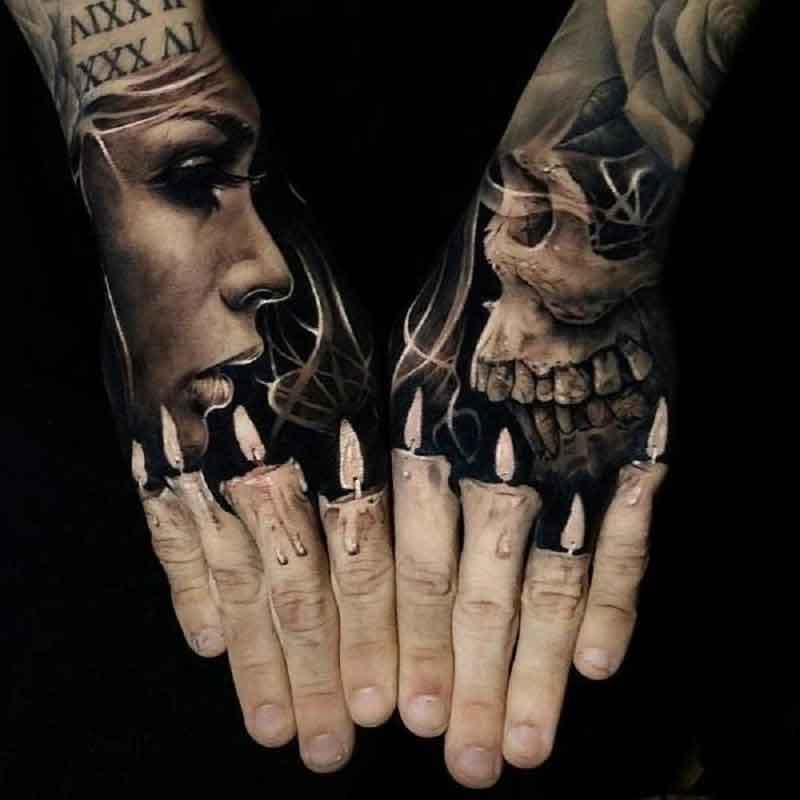 Eight fingers blazing like candles represent a man's eight years of misery. This tattoo depicts a man's struggle to achieve greatness in a very realistic manner.
8. Fighter Hand Candle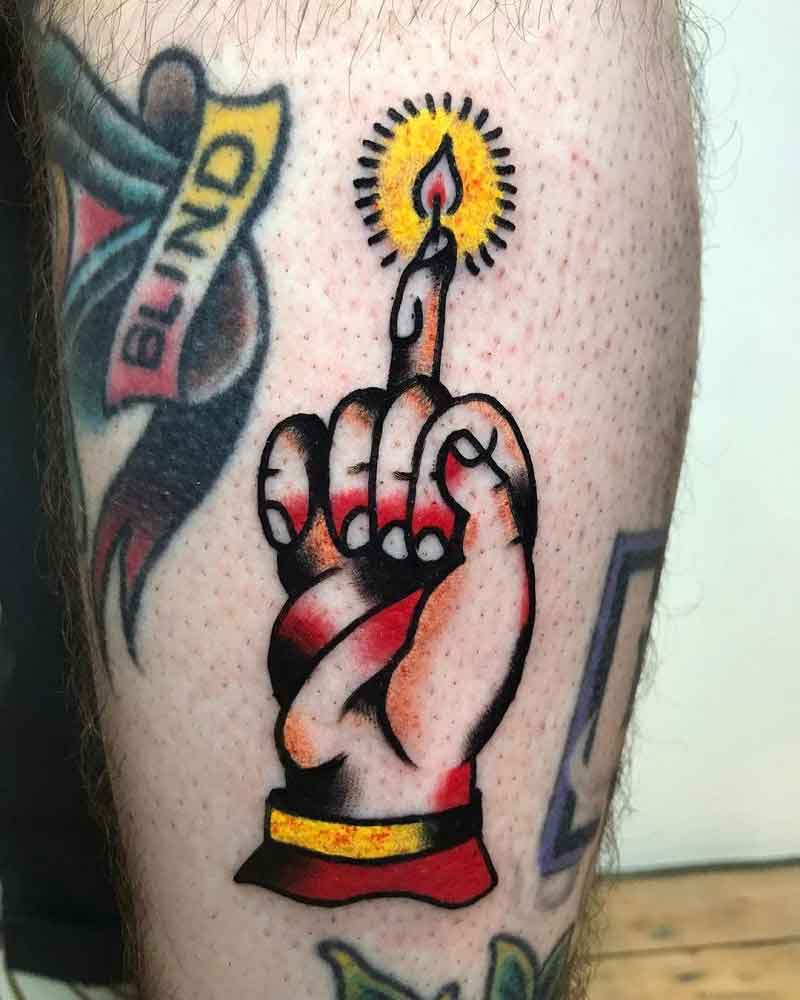 A fighting hand with a blazing candle on it appears to be quite aggressive. The yellow flame in this tattoo represents the concept of friendship.
9. Four Finger Burning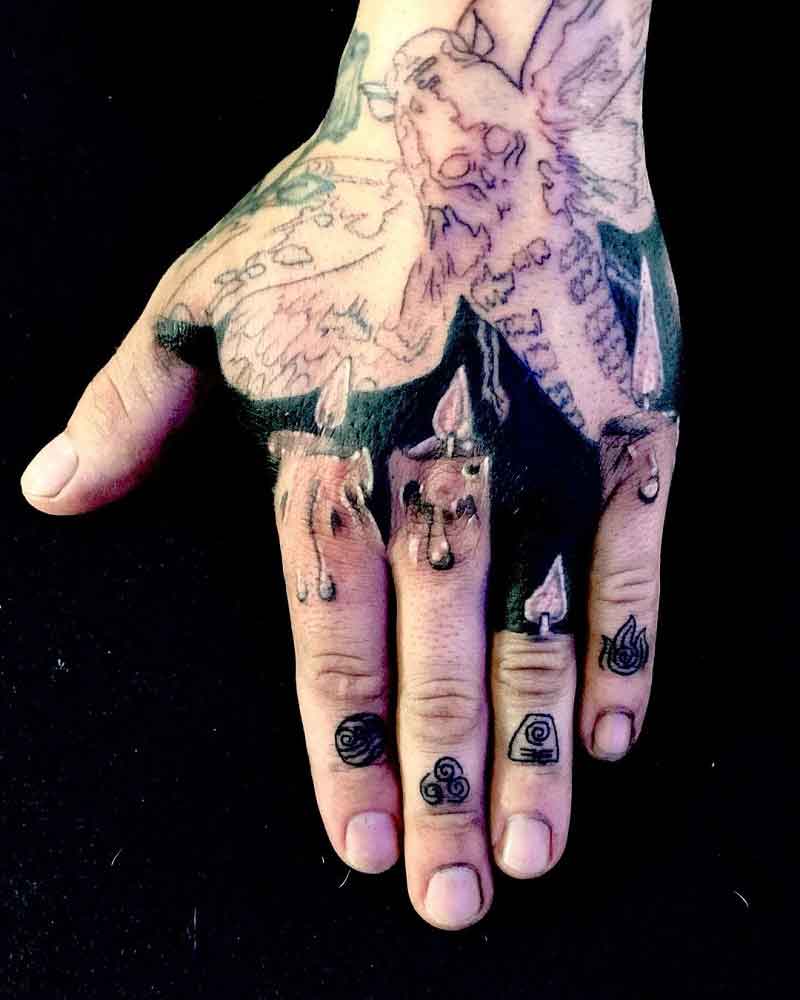 A man's four fingers are lit up like candles, and there are some zodiac signs on his finger. This tattoo of candles expresses someone's love for the zodiac and its signs.
Minimalist Candle Tattoo
Minimalist candle tattoo designs are the newest trend in tattoo art. They offer a new way to express yourself and your love for your significant other. It's a timeless and modern trend.
10. Just A candle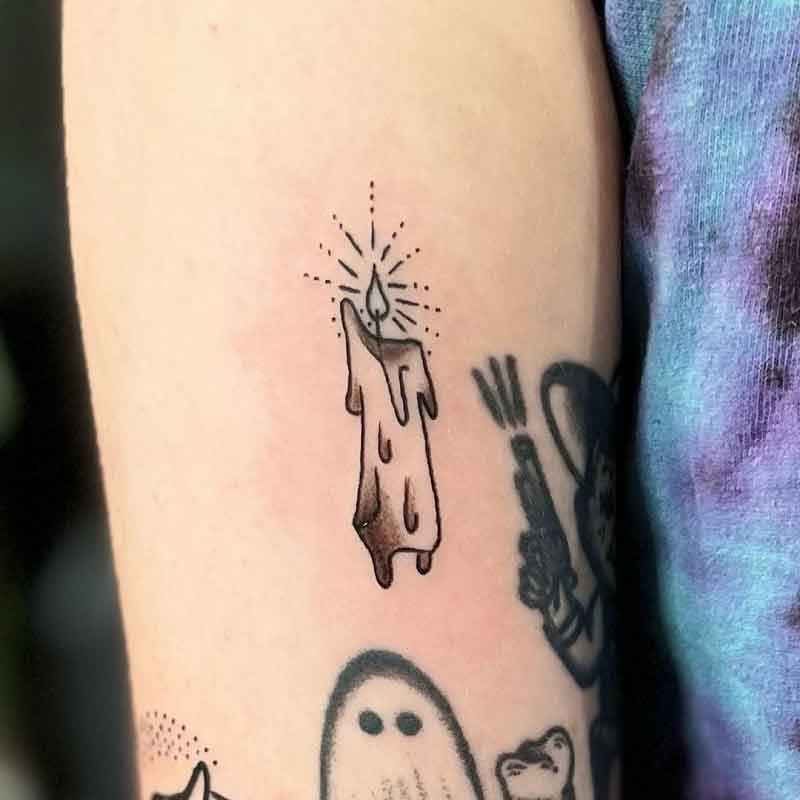 A candle painting that is created in a basic manner looks fantastic. This tattoo can be applied on one's legs. This candle's shadow & details are incredibly precise and authentic.
11. One Candle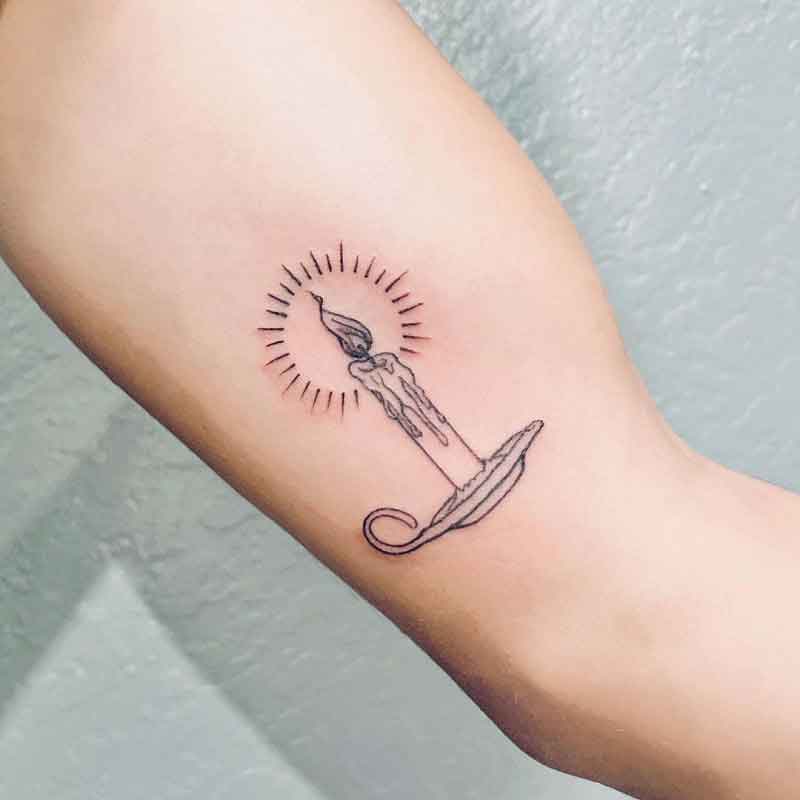 This candle reminds me of Aladdin's magical lamp, which has the ability to fulfill a desire. This tattoo is straightforward and may be readily tattooed on a man's thigh.
12. Love Candle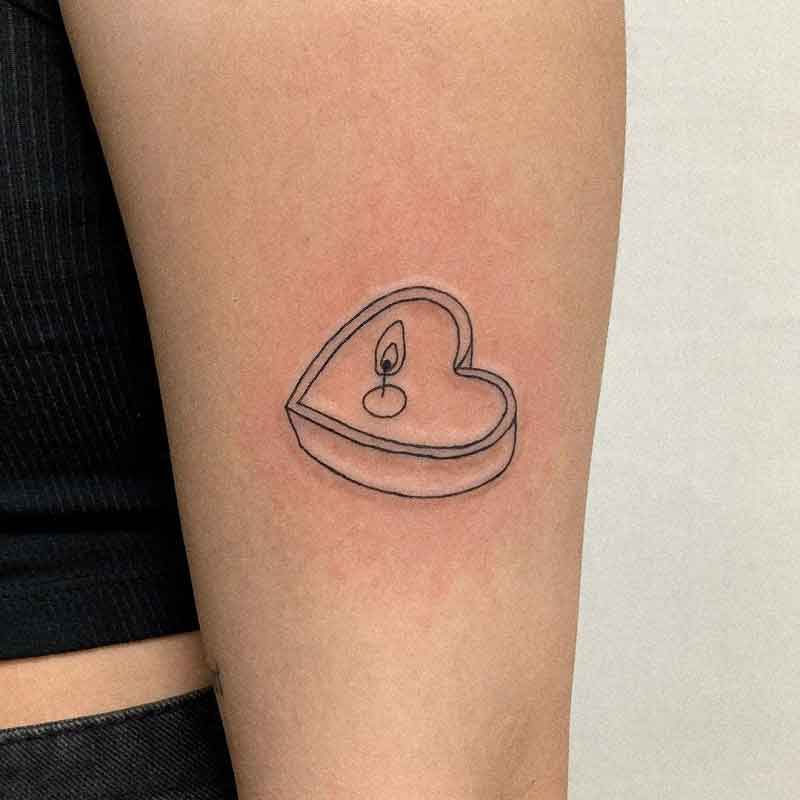 A candle on a love sign represents the romantic scenario of a candlelit dinner with your girlfriend or wife. This tattoo would make an excellent Valentine's Day gift for your wife.
Skull Candle Tattoo
A skull candle tattoo is a great way to keep the spirit of a loved one. The design symbolizes the passage of time. You can use this skull design for a family member who has passed or someone who has a birthday.
13. Burning skull Candle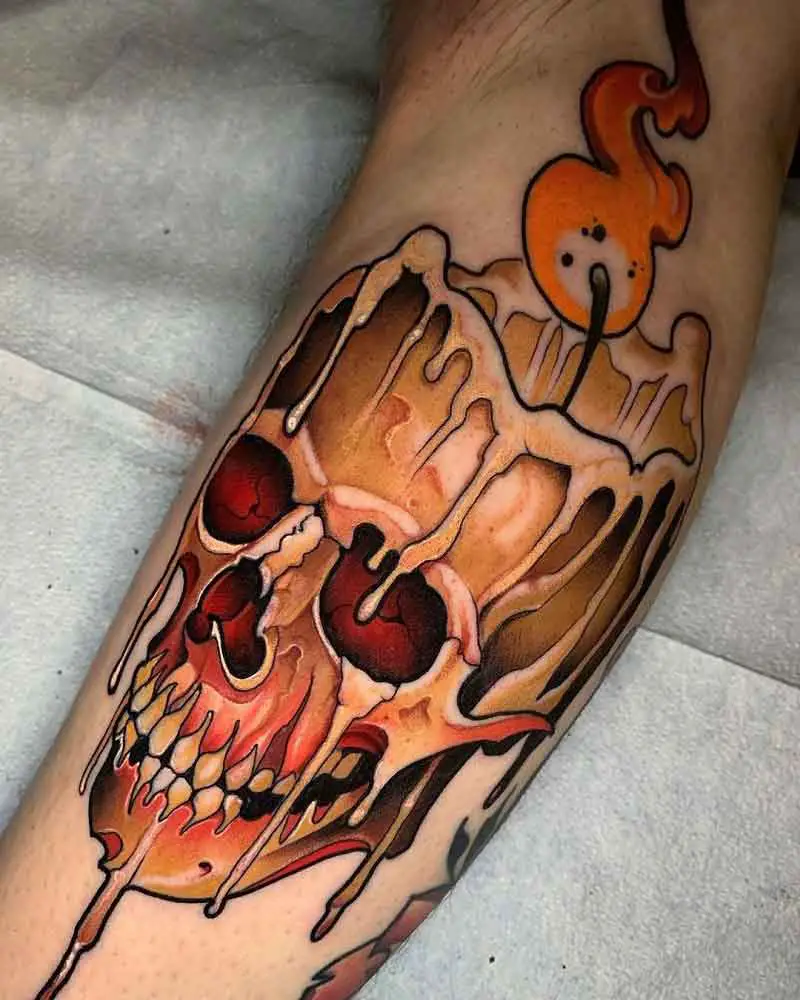 A scarlet skull which is actually a candle & it is glowing brightly. This tattoo indicates that you miss someone who is no longer with you yet cannot forget him/her.
14. Burning Dark skull
A black skull with spooky eyes and a blazing candle looks one-of-a-kind. This tattoo depicts someone who has a lot of responsibilities and works struggling to ensure them.
15. Cold Skull Candle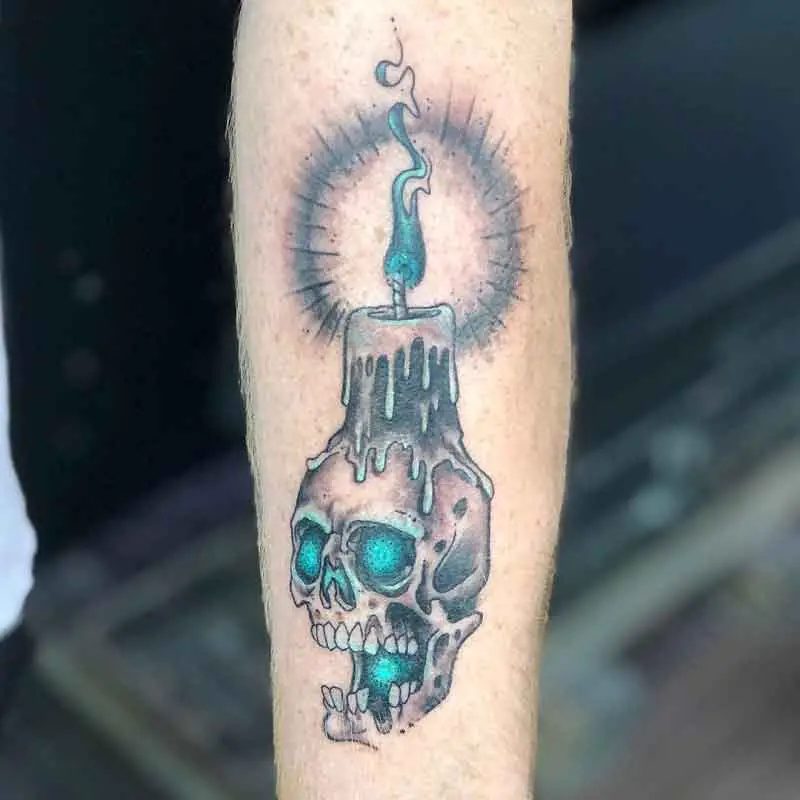 A skull candle with a cold blue color looks very eye catchy. People who love tattoos of candles will love it on their calf.
Candle Hand Tattoo
The candle hand tattoo design is simple enough for anyone to do. This design is perfect for those who want to get a tattoo but cannot decide on what design to get. It can be done with a needle in a matter of minutes.
16. Candle Girl
A girl is holding a candle that is burning and illuminating the scene. This tattoo represents the sacrifice of girls in our society as they give birth to a new baby.
17. Dead Hand Candle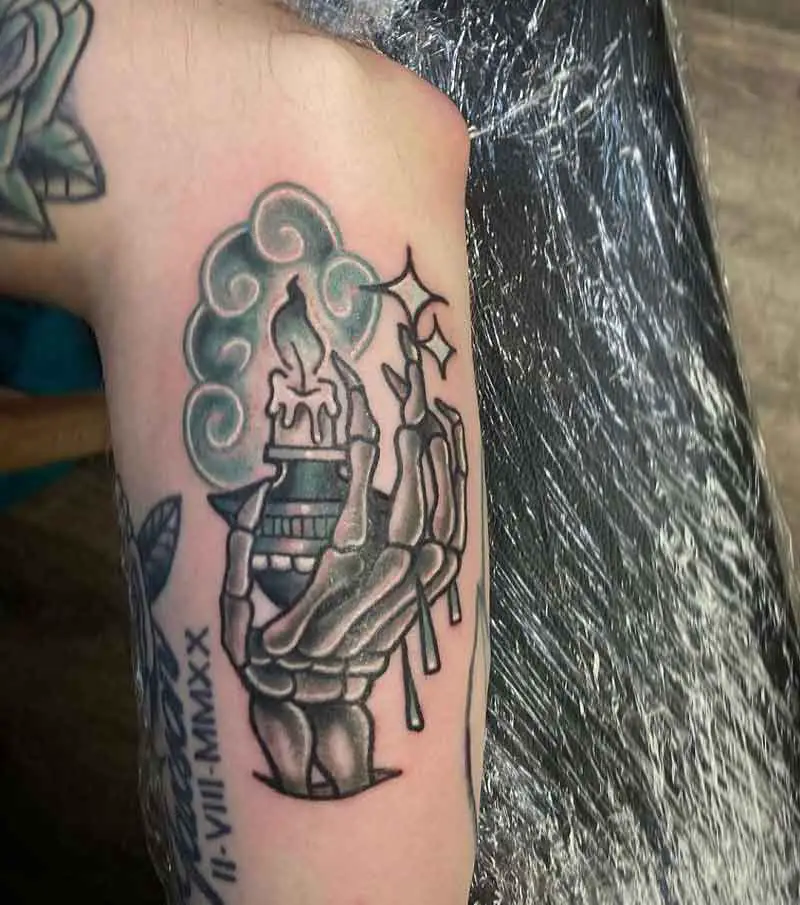 This tattoo shows the theme of sacrifice that a man gives his life to save people. Here we can see a skull hand holding a candle, giving us light.
18. Eye In Hand Candle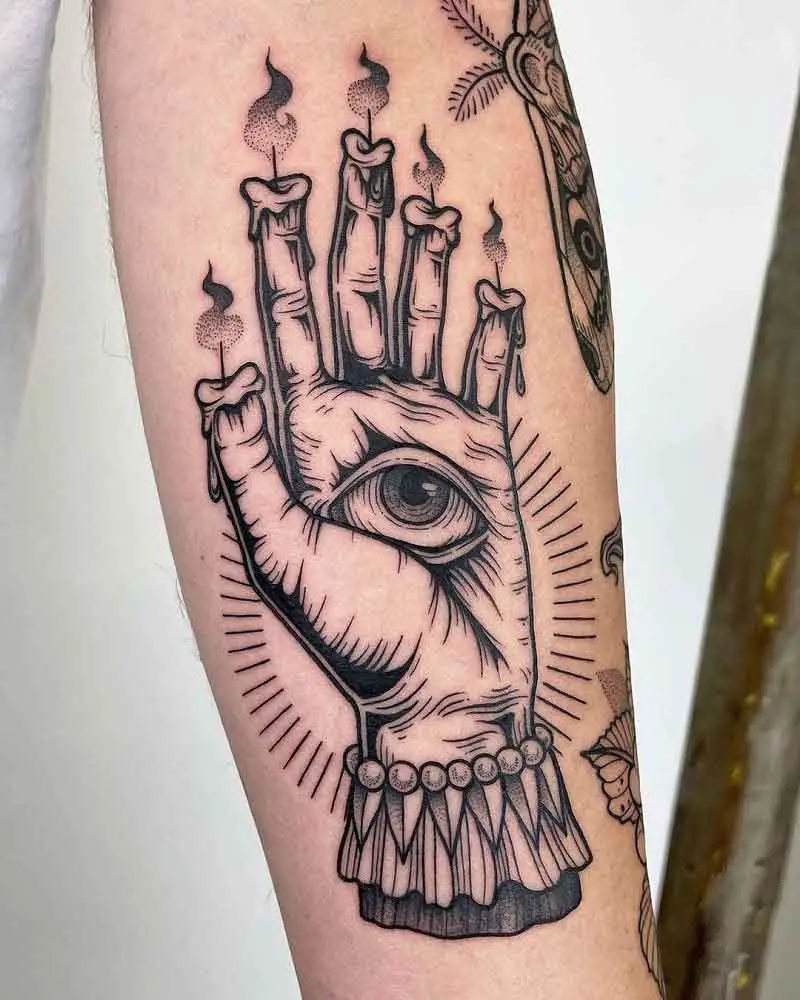 An eye in hand and the fingers are candles that are burning and look very cool and mysterious. This tattoo is one of the most popular candle tattoos among young people.
Melting Candle Tattoo
If you are looking for a unique tattoo design, you should consider a melting candle design. Choosing the wax color, the design, and the amount of wax that you want on the design is up to you.
19. Dark blue candle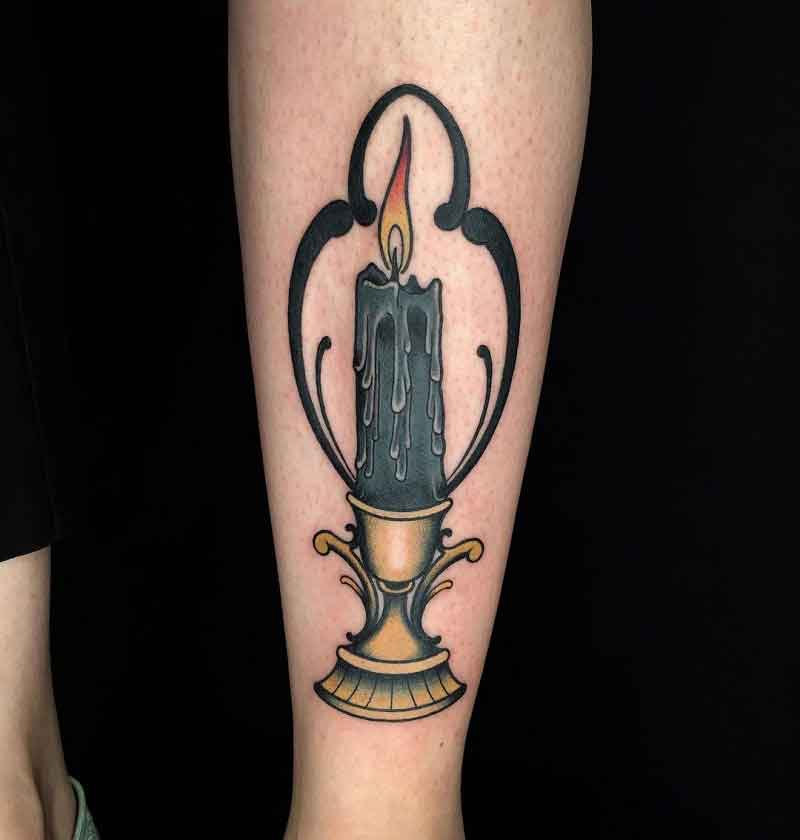 A dark blue candle is burning, and the light it emits symbolizes sacrifices. This tattoo's wax melting looks really genuine and awesome.
20. Volcano Candle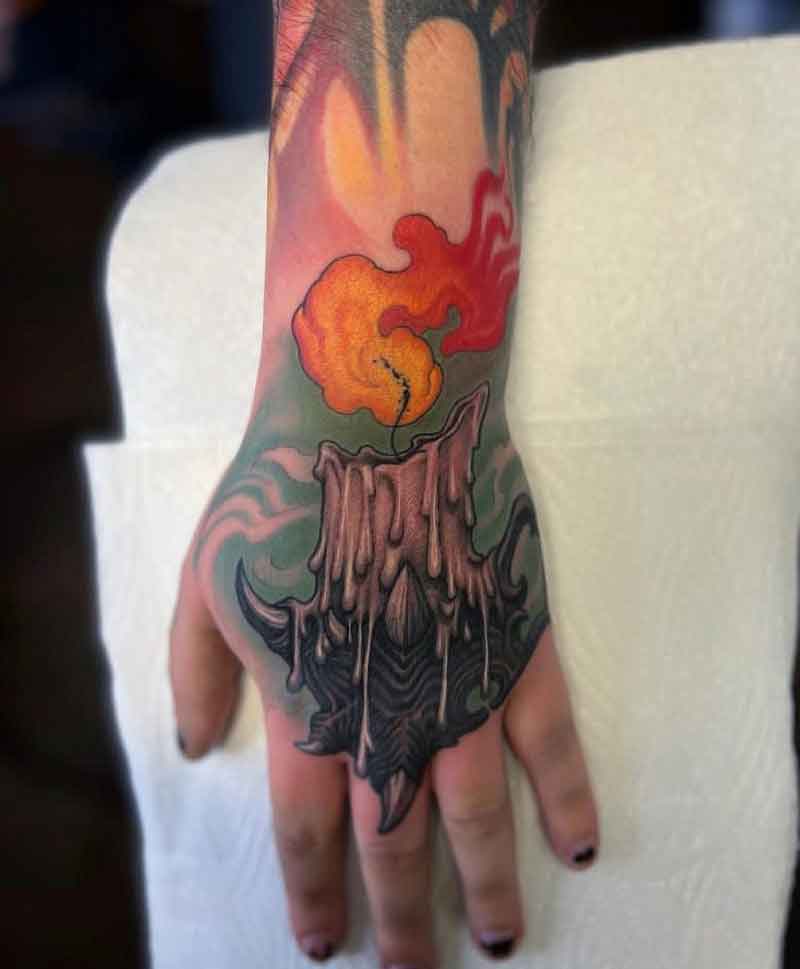 A candle that burns like a volcano and has a very short life period. This tattoo may be used to cover up previous tattoos and is perfect for a girl's hand.
21. Moon Fire Candle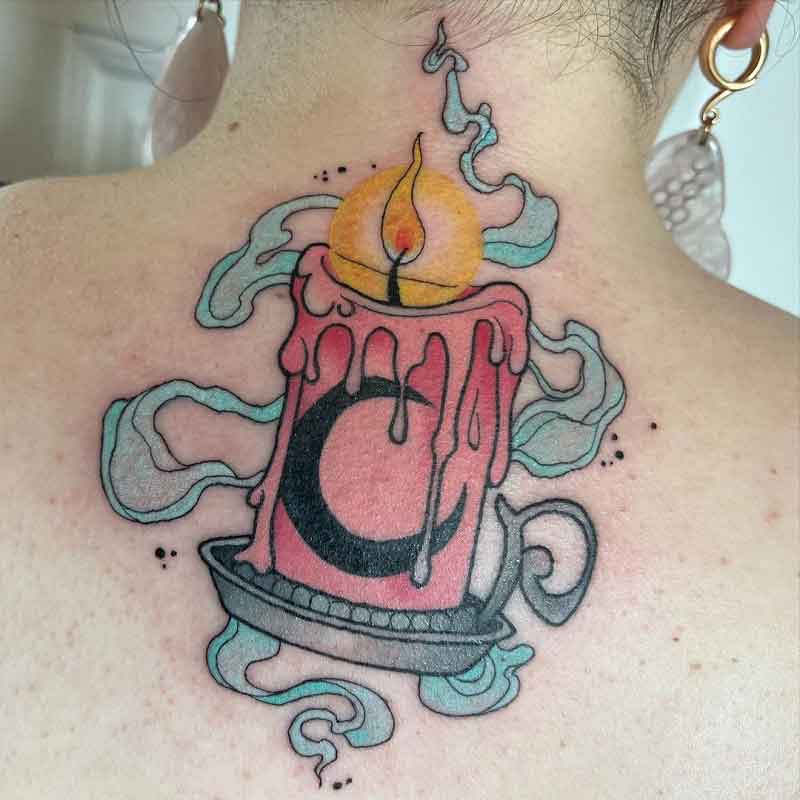 A red candle with a moon sign on it and blue smoke around it looks extremely wonderful. This can be tattooed on a women's back.
Realistic Candle Tattoo
Realistic candle tattoo can be a great way to light up your life. People often use these designs to improve their moods and to have a calming effect on themselves.
22. Butterfly Candle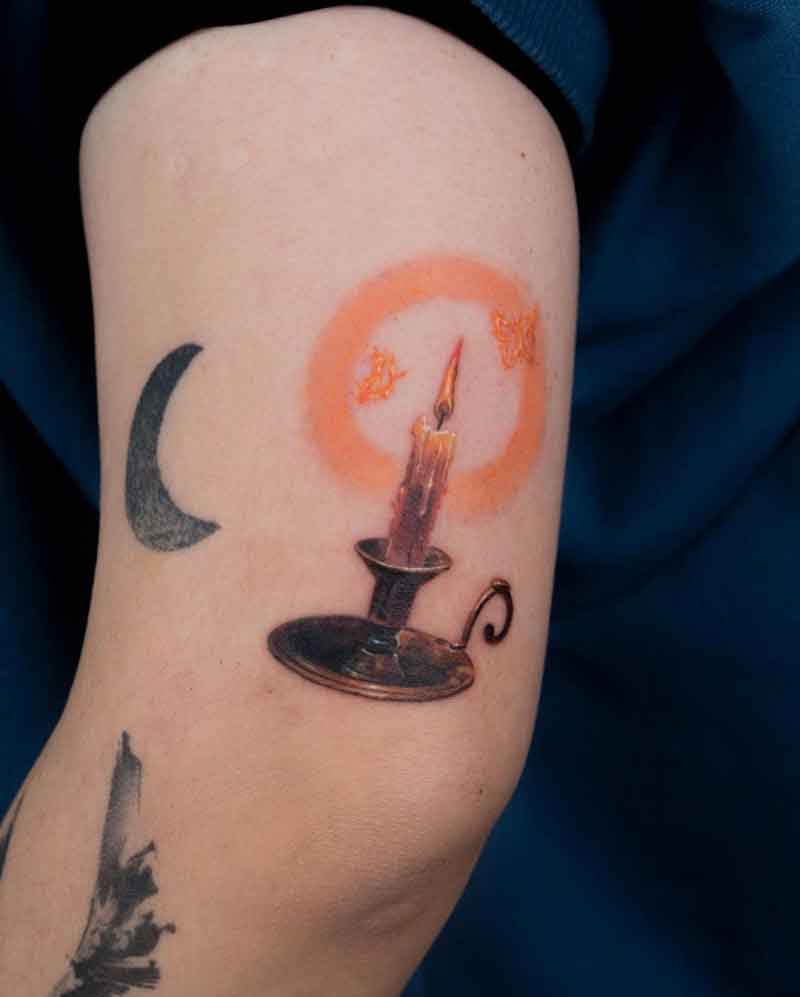 A genuine house candle with an orange circle is burning. And if you look closely at this tattoo, you will notice a little orange butterfly representing faith.
23. White Smoke Candle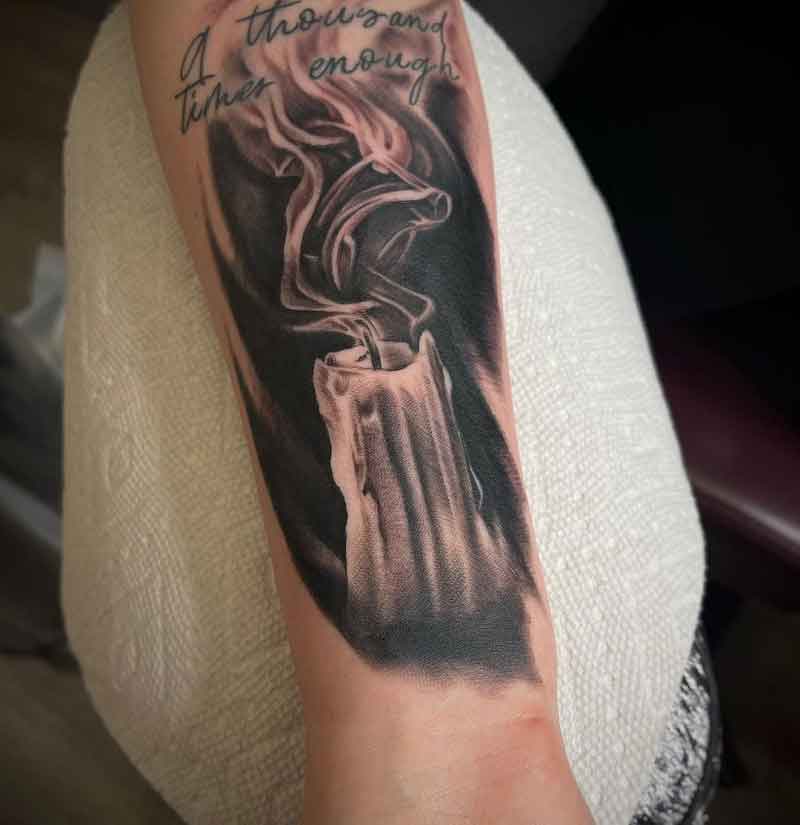 A candle fights the darkness, and its white smoke represents peace. This tattoo reminds us that we must bring harmony no matter what obstacles come our way.
24. Five Candle Stand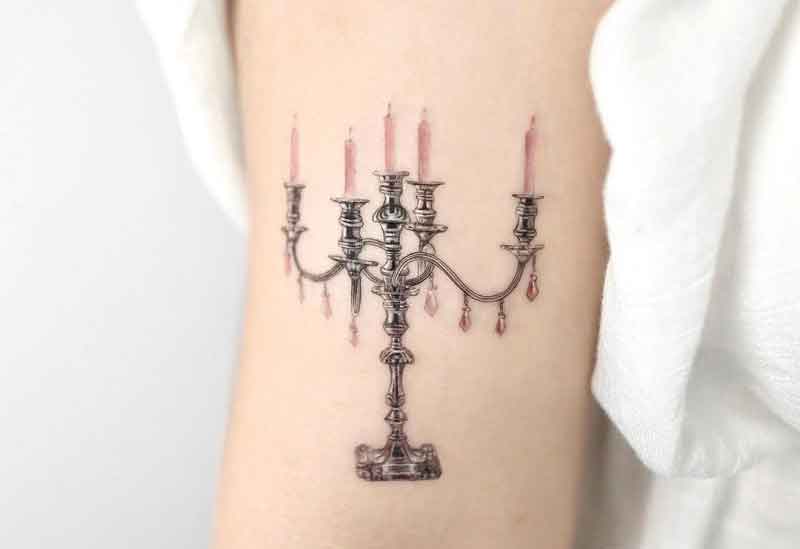 A royal candle stands with five candles that are illuminated. This tattoo represents hope, love, peace, confidence, and respect.
Double Sided Candle Tattoo
When it comes to making a double-sided candle tattoo, a lot of people are trying to come up with their own designs. Some ideas are below to make it easier to come up with your own designs.
25. Smoke Snake Candle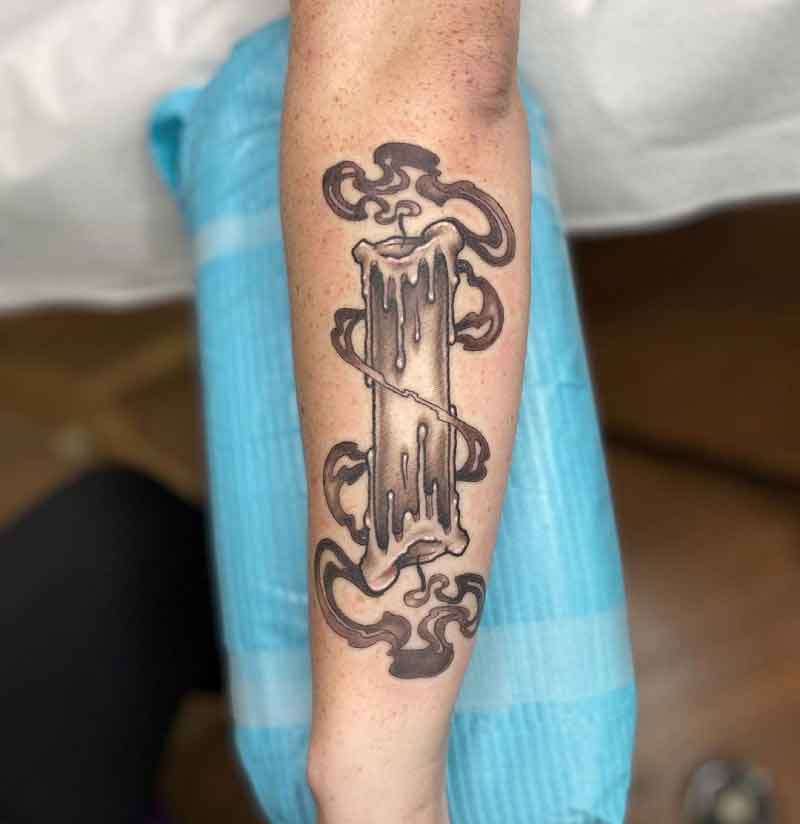 A double-sided candle with dark smoke moving the candle's body like a snake looks fantastic and stylish. 
What does a double sided candle tattoo mean
A double-sided candle tattoo reminds you to slow down. An old saying says that if you burn the candle at both ends, you will burn out.
26.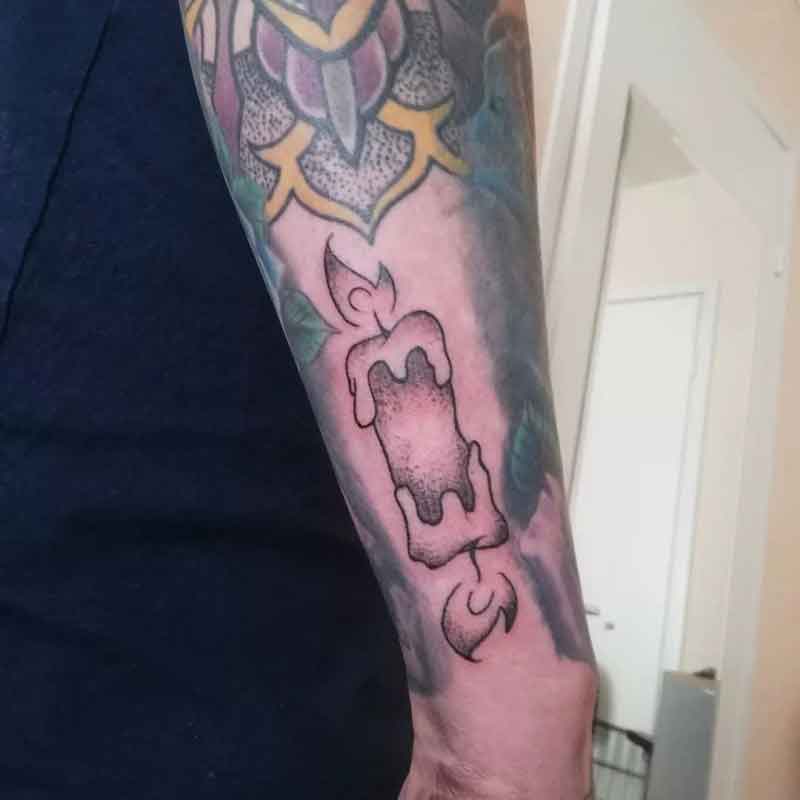 27.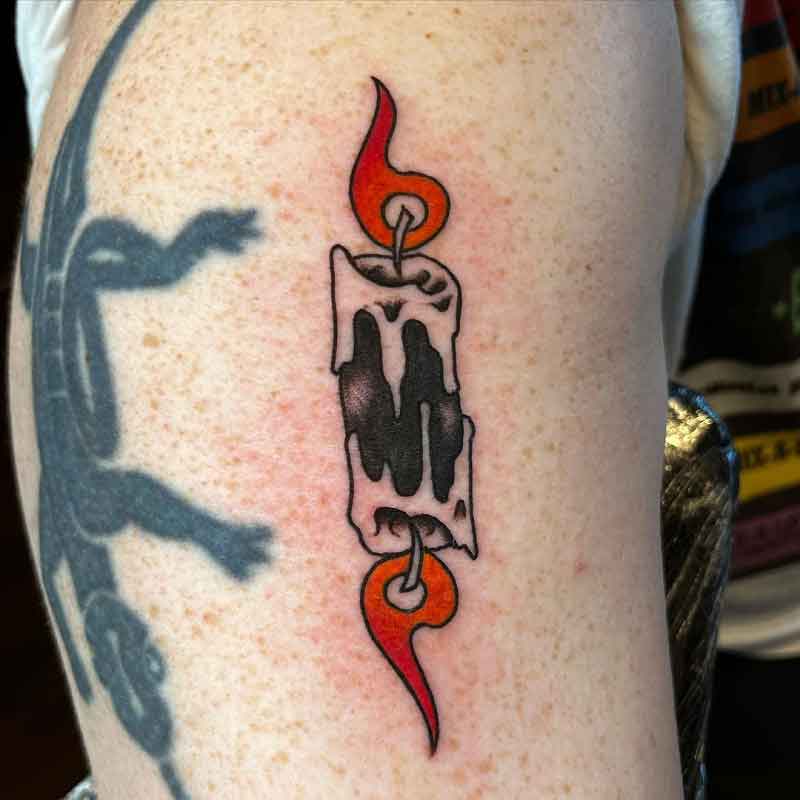 Candle Light Tattoo
28.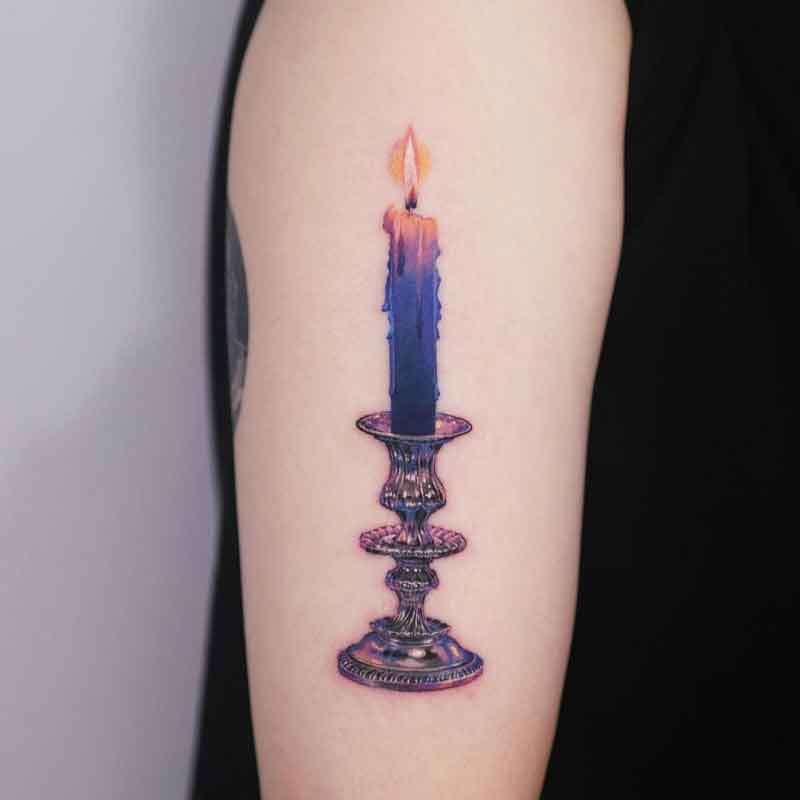 29.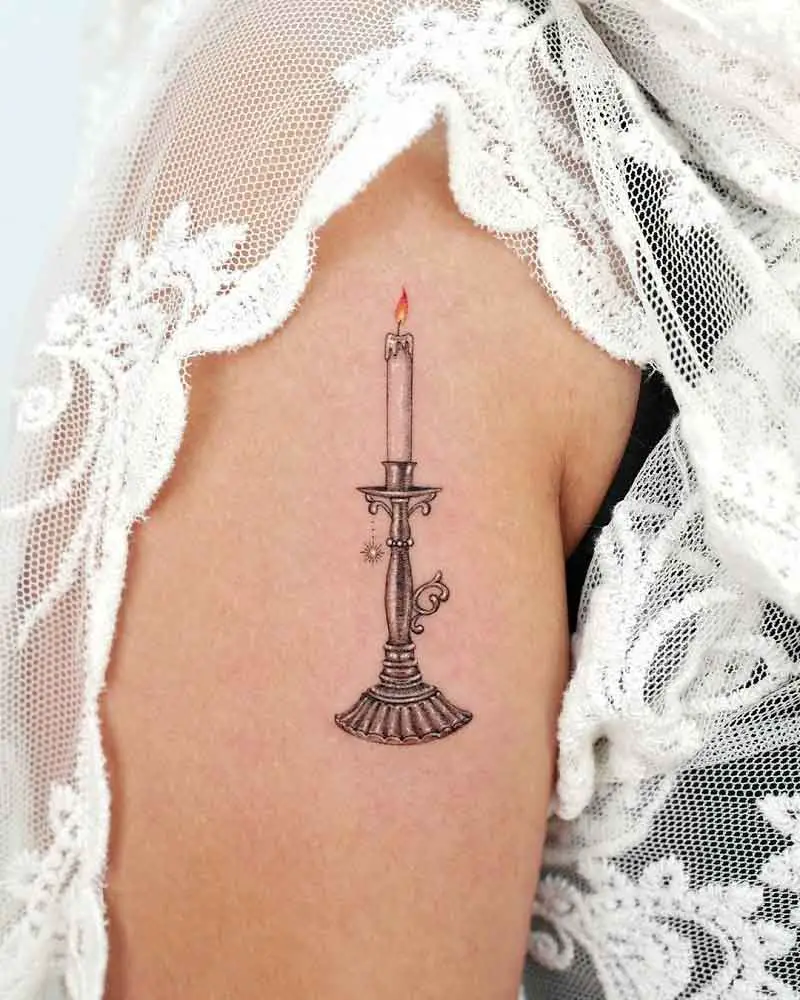 30.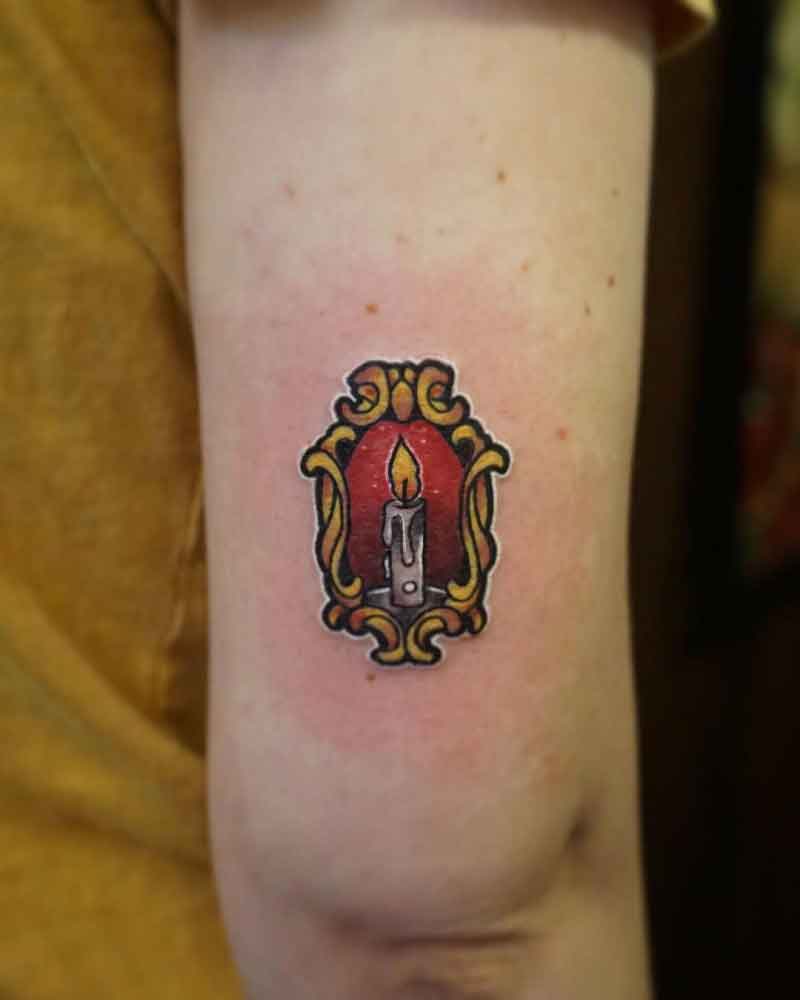 Negative Space Candle Tattoo
31.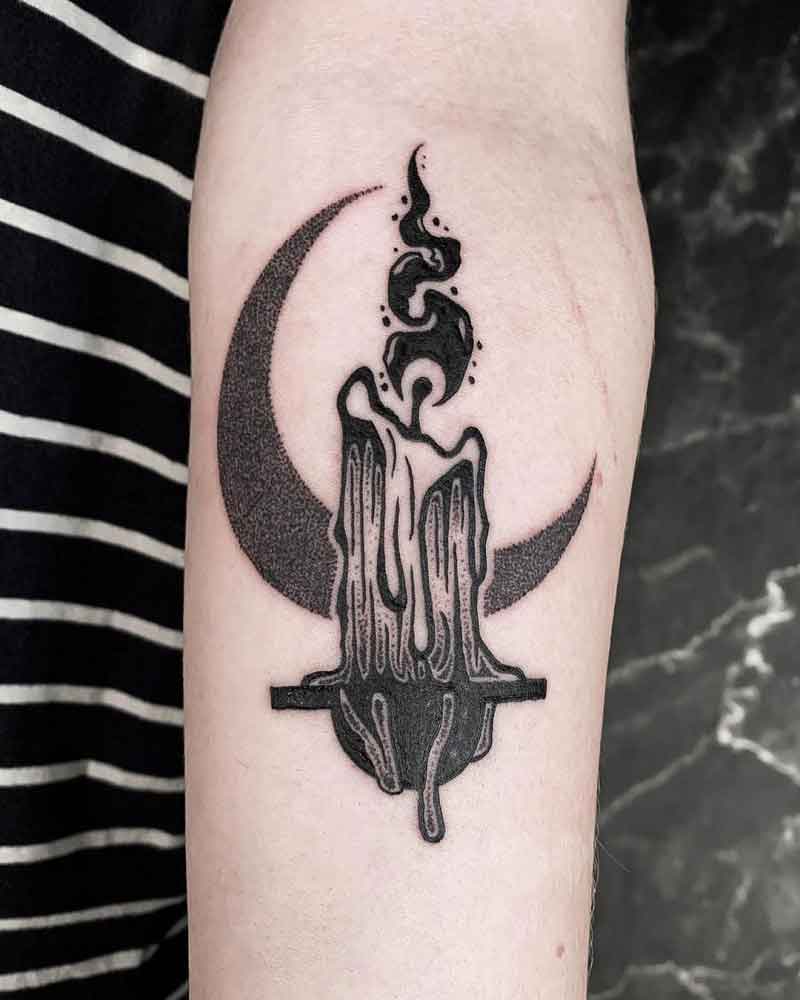 32.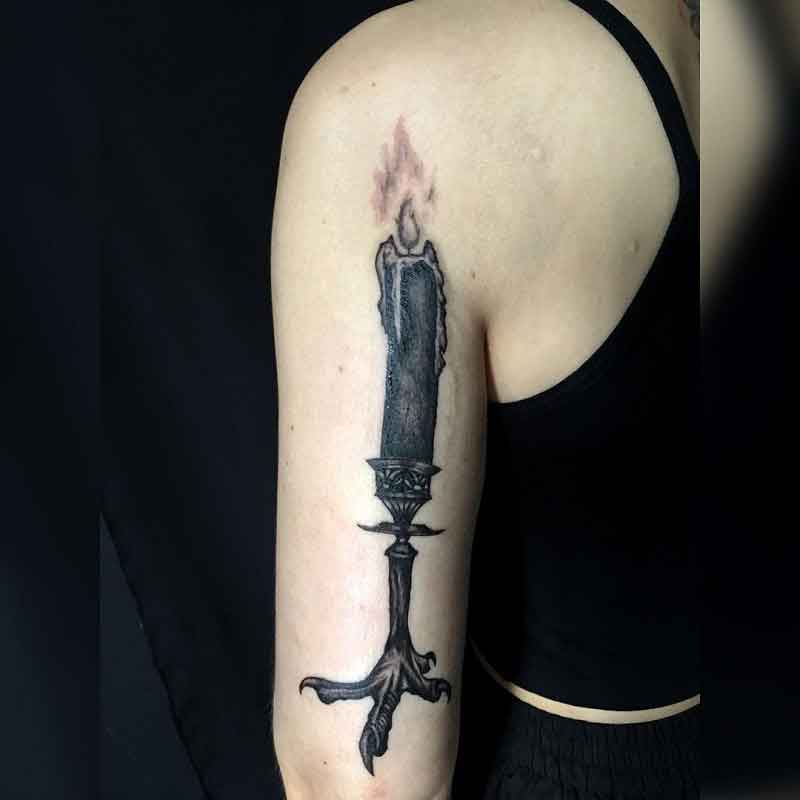 33.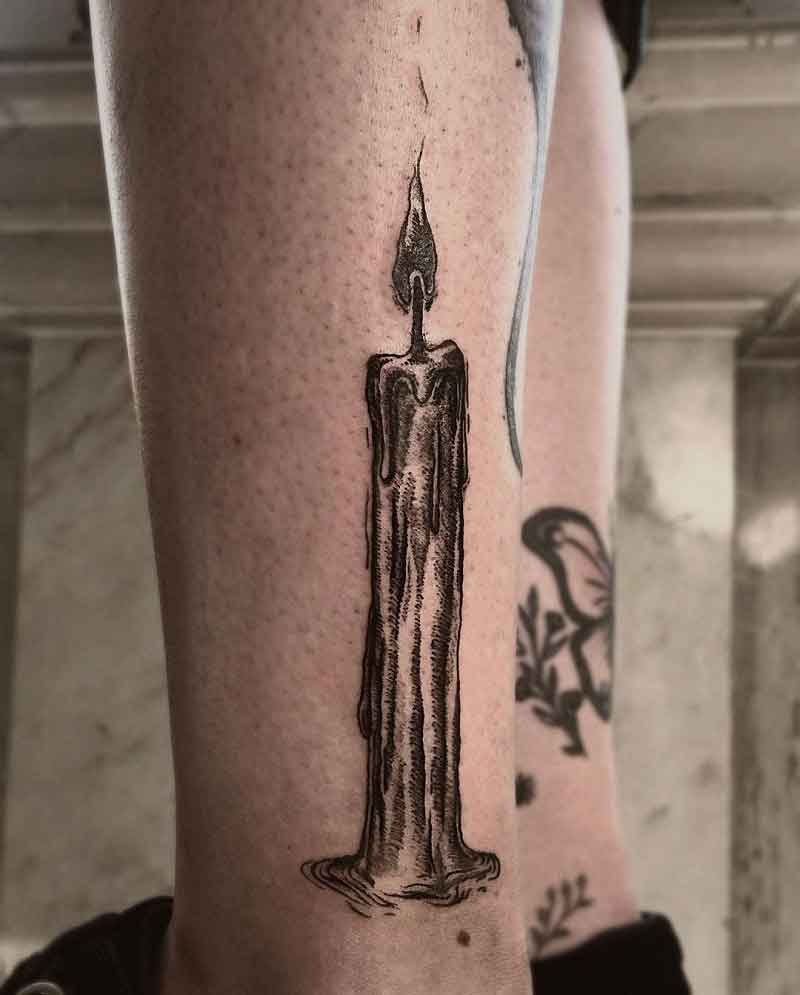 34.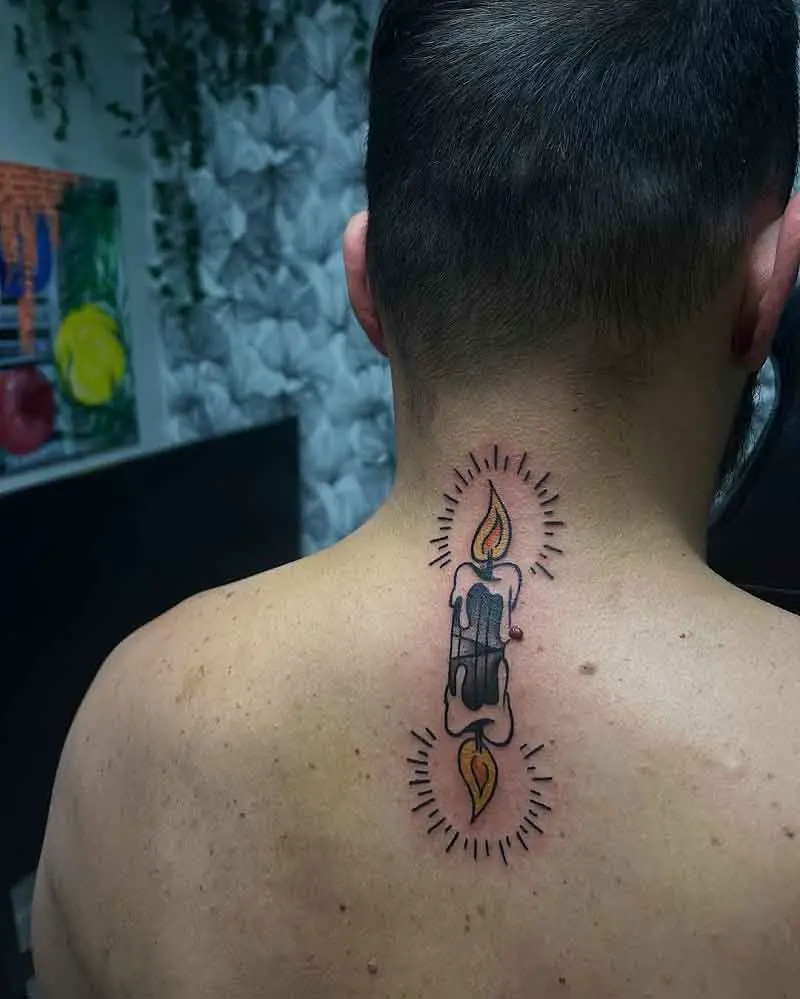 35.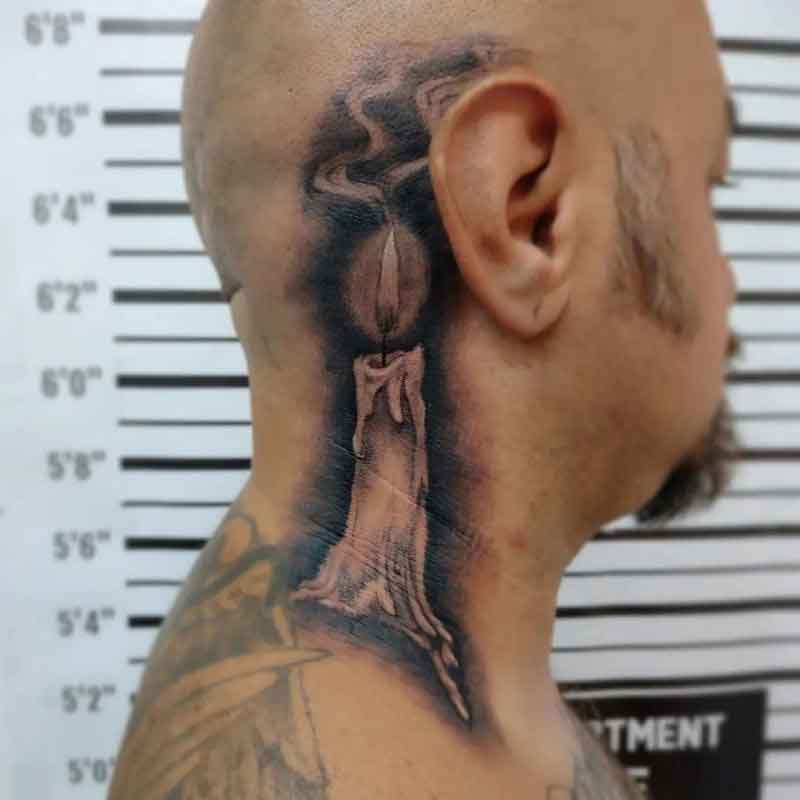 36.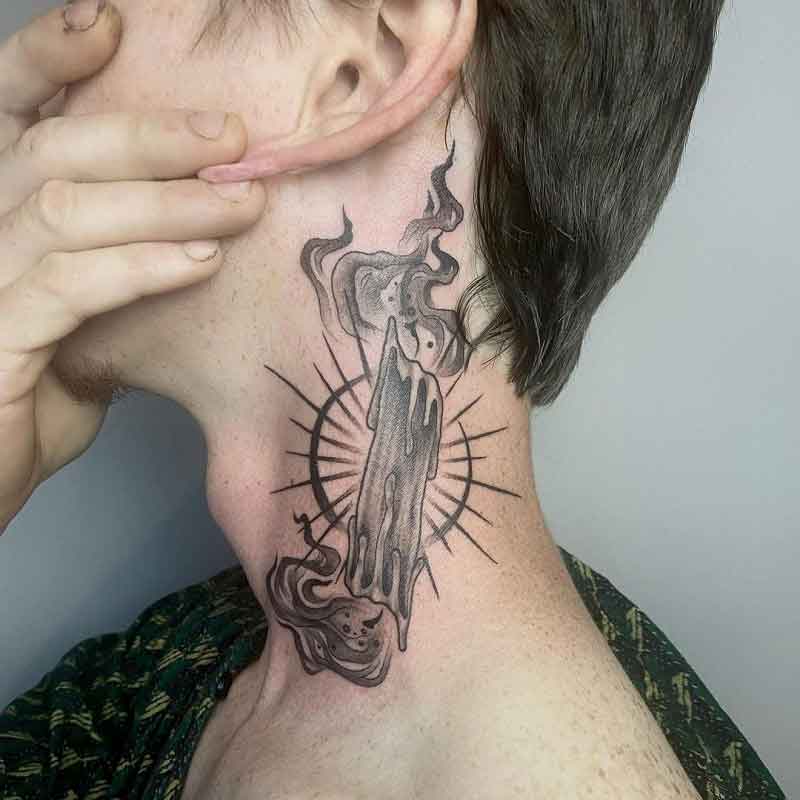 Birthday Candle Tattoo
37.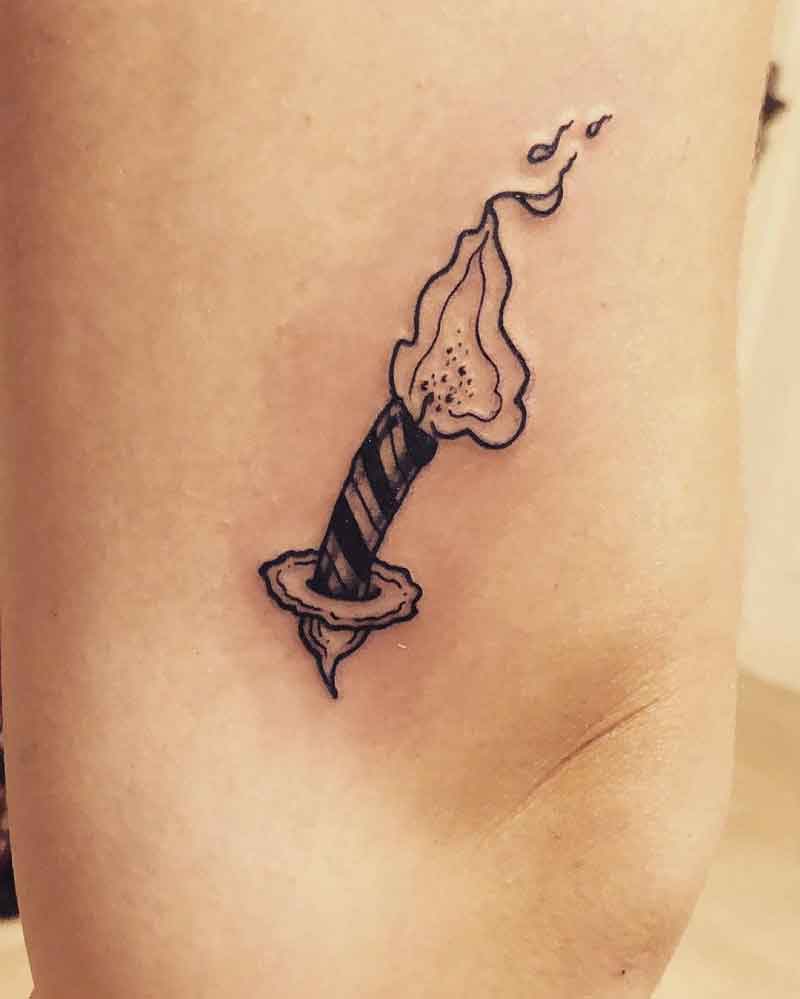 38.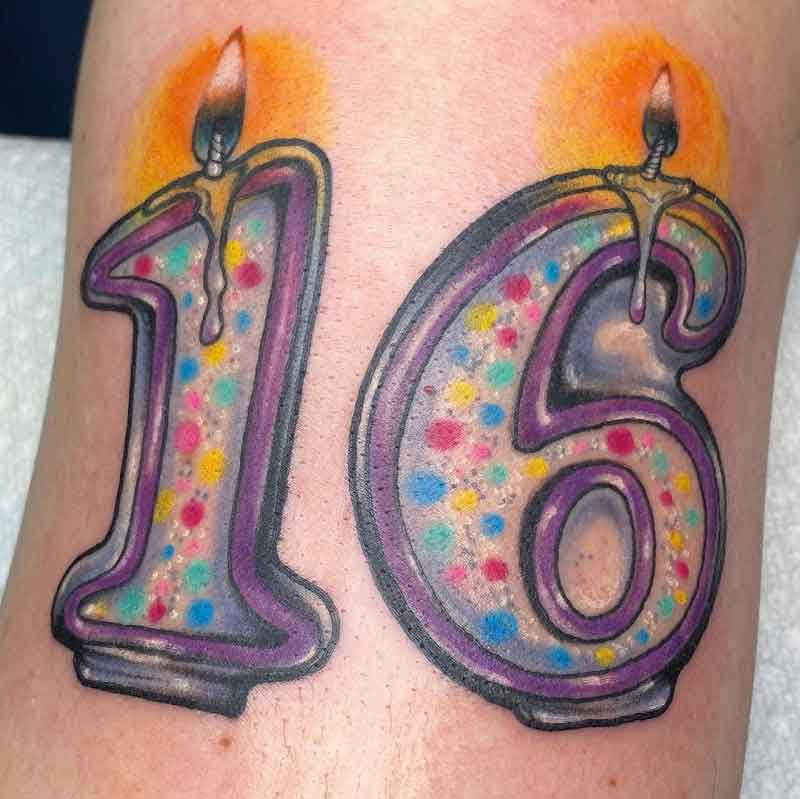 39.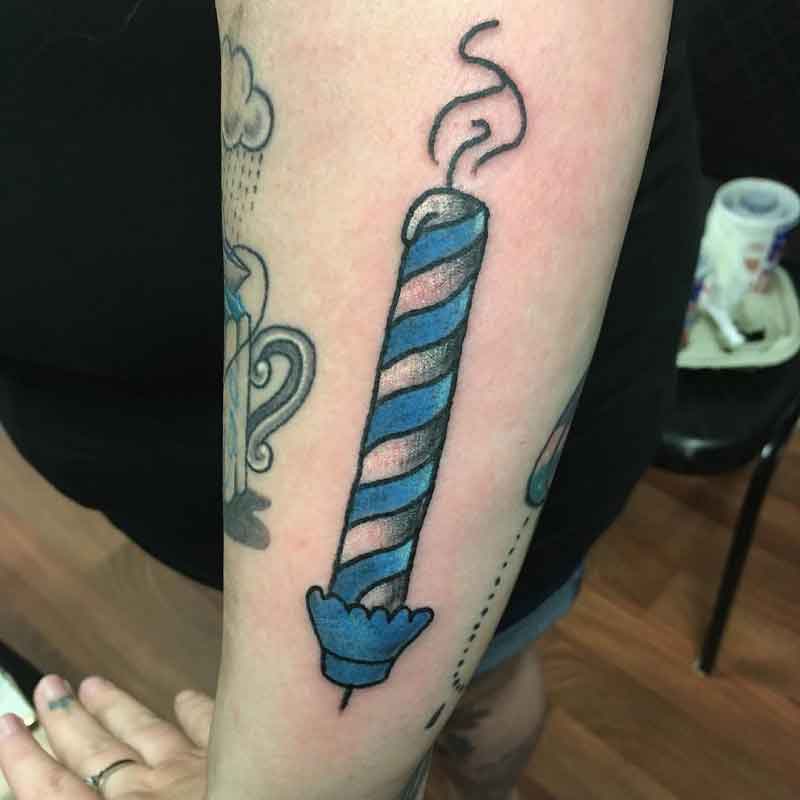 Blown Out Candle Tattoo
40.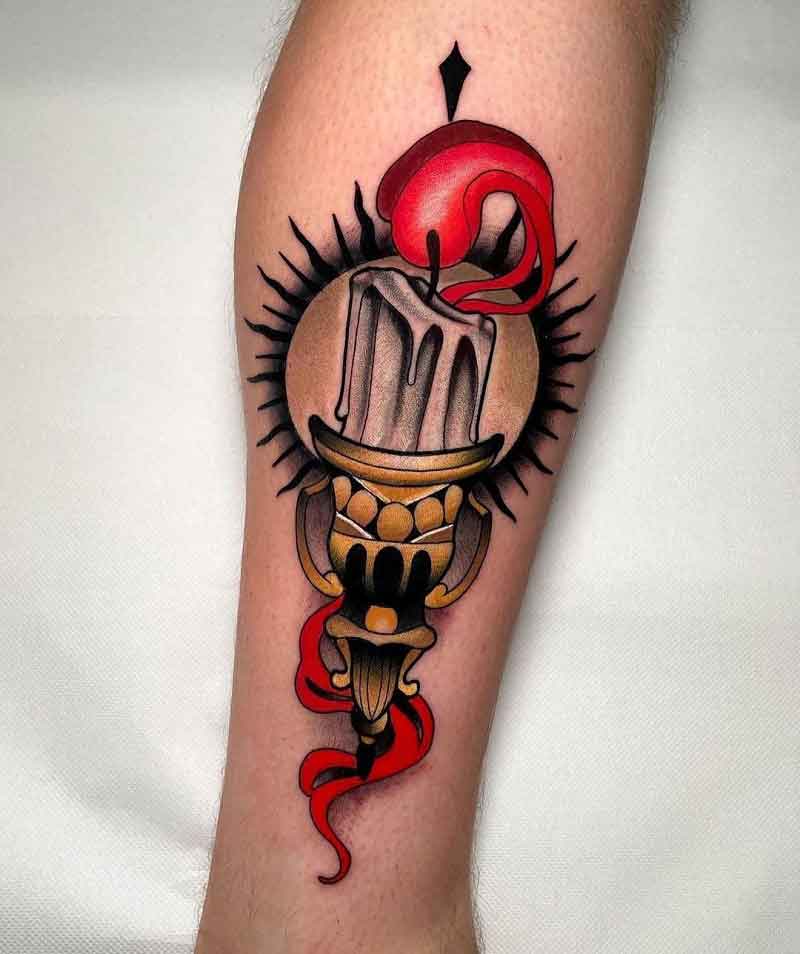 41.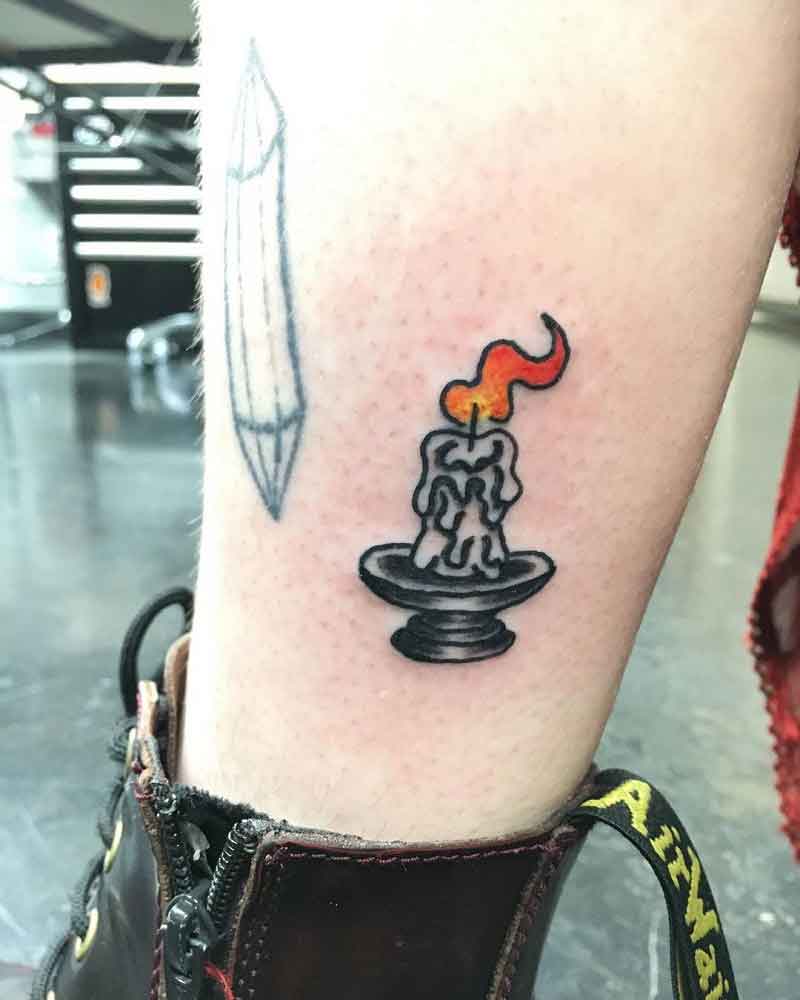 42.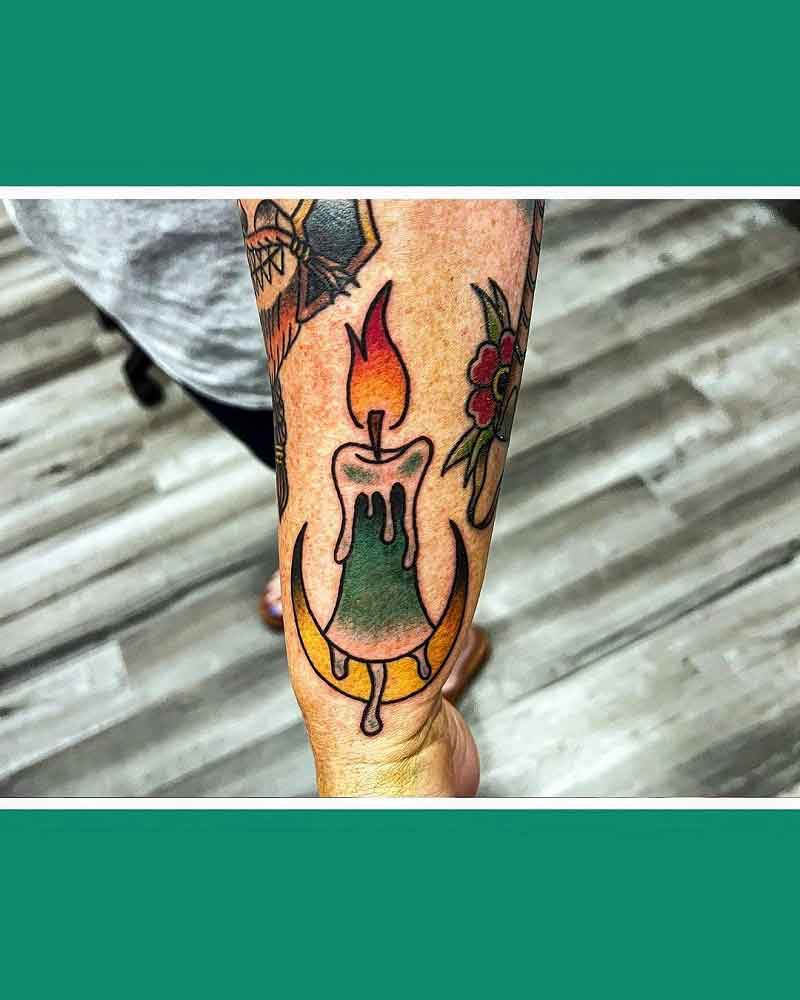 Candle Flash Tattoo
43.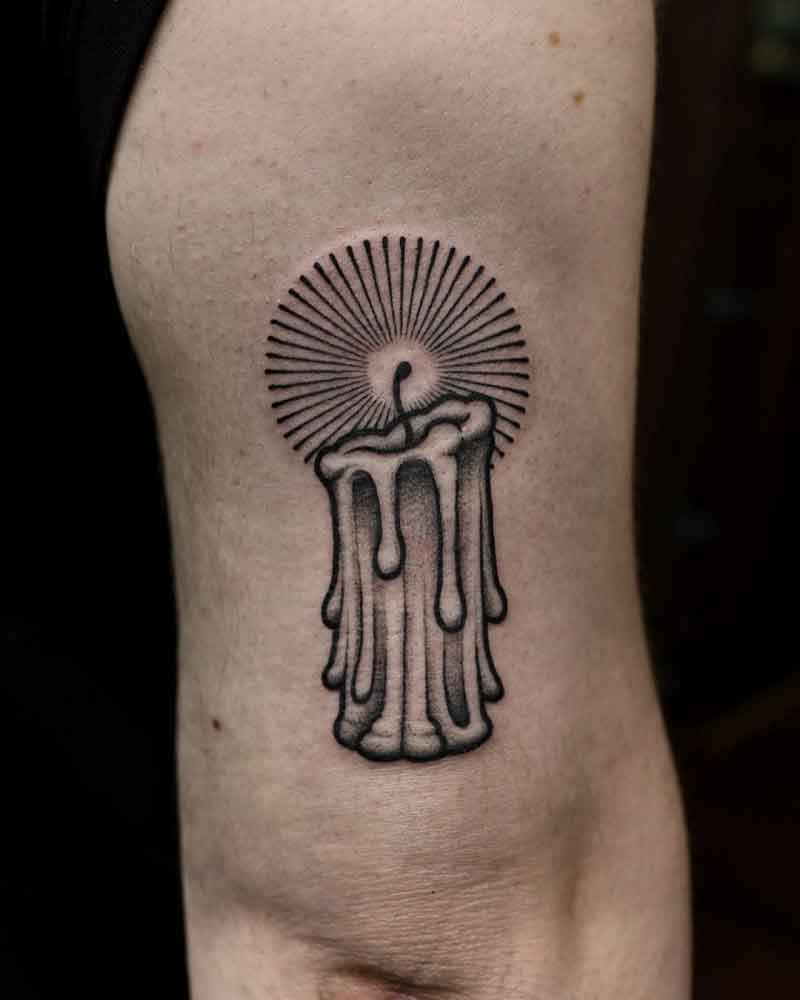 44.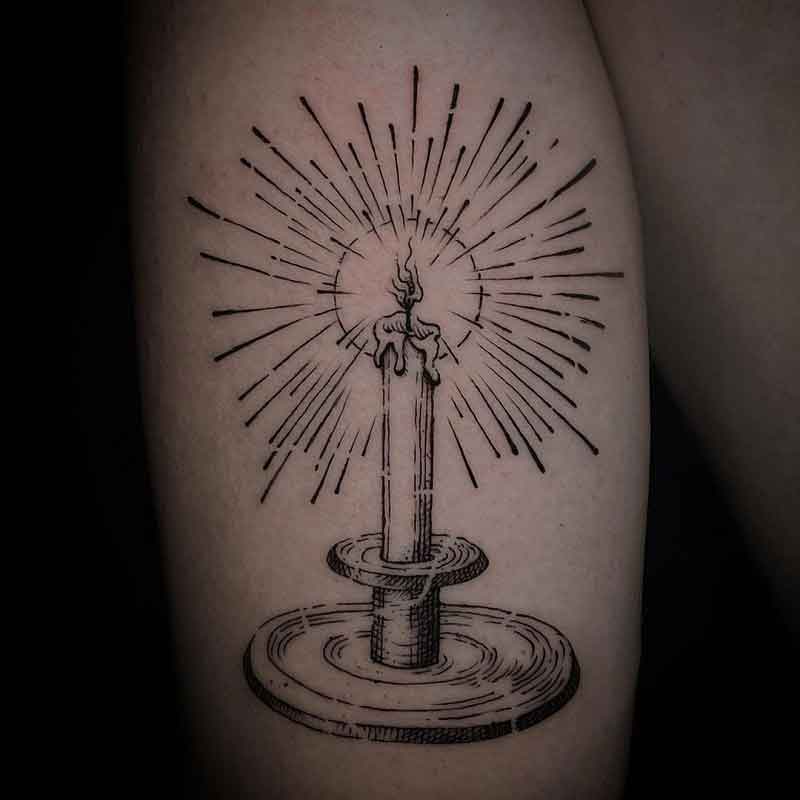 45.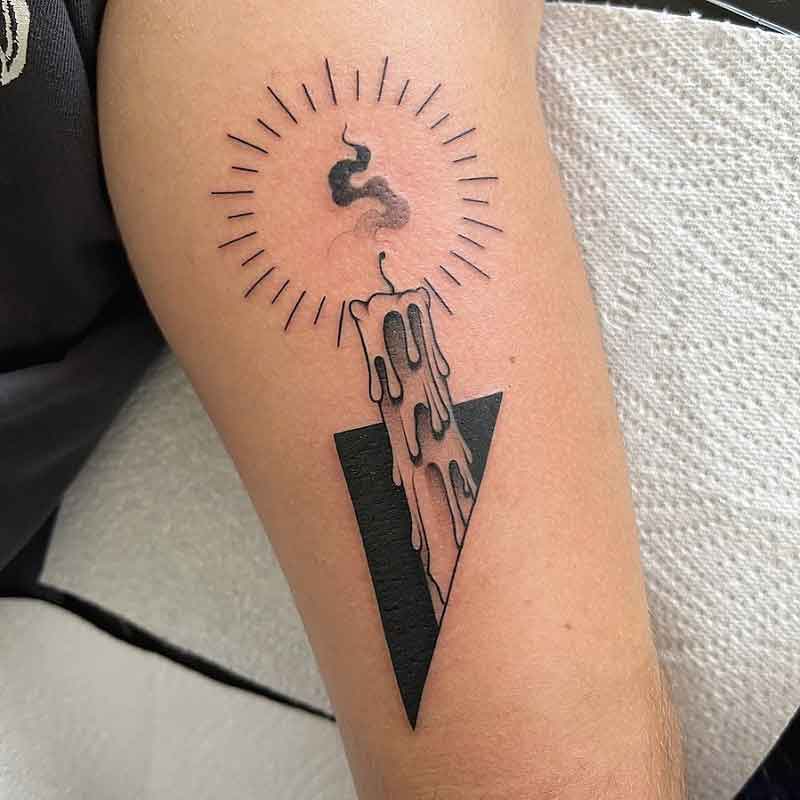 Candle Holder Tattoo
46.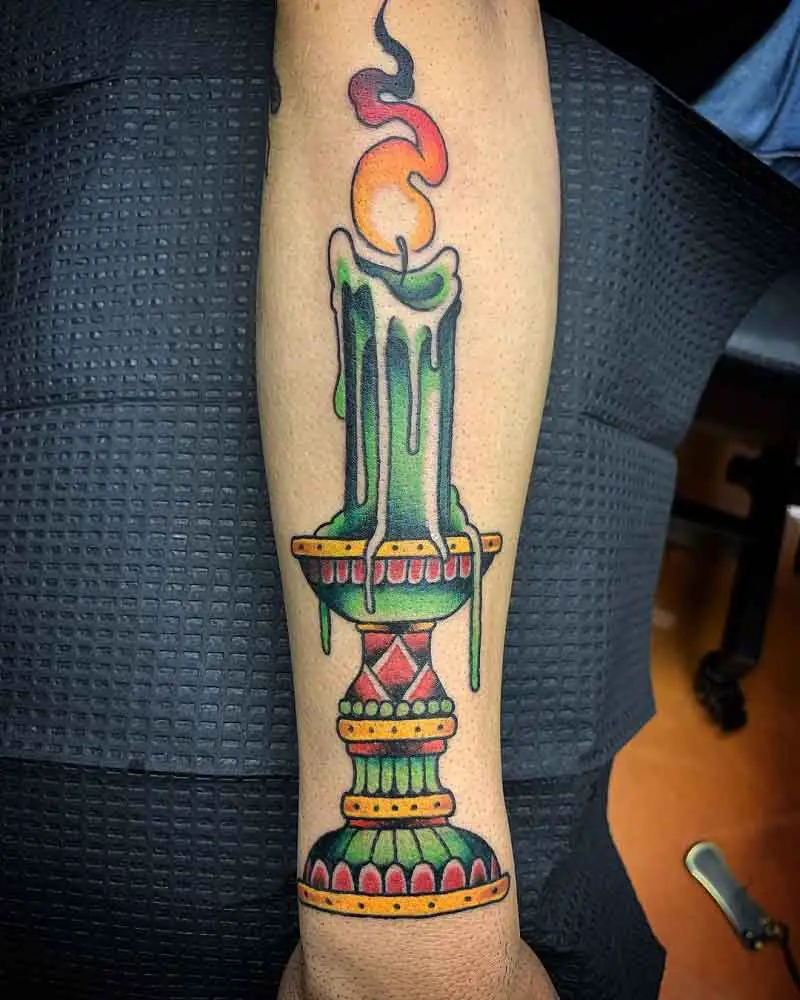 47.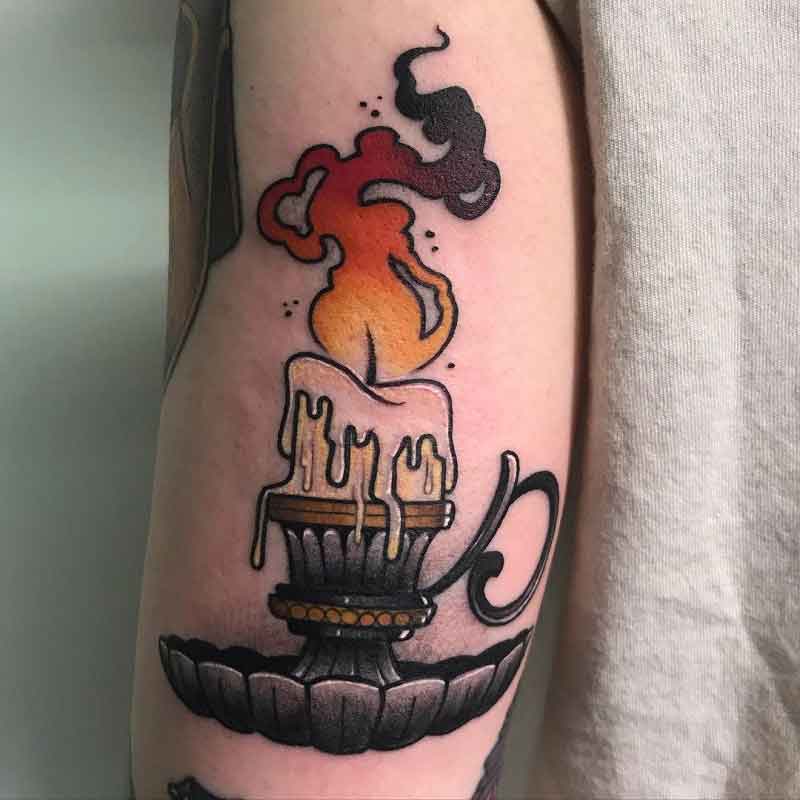 48.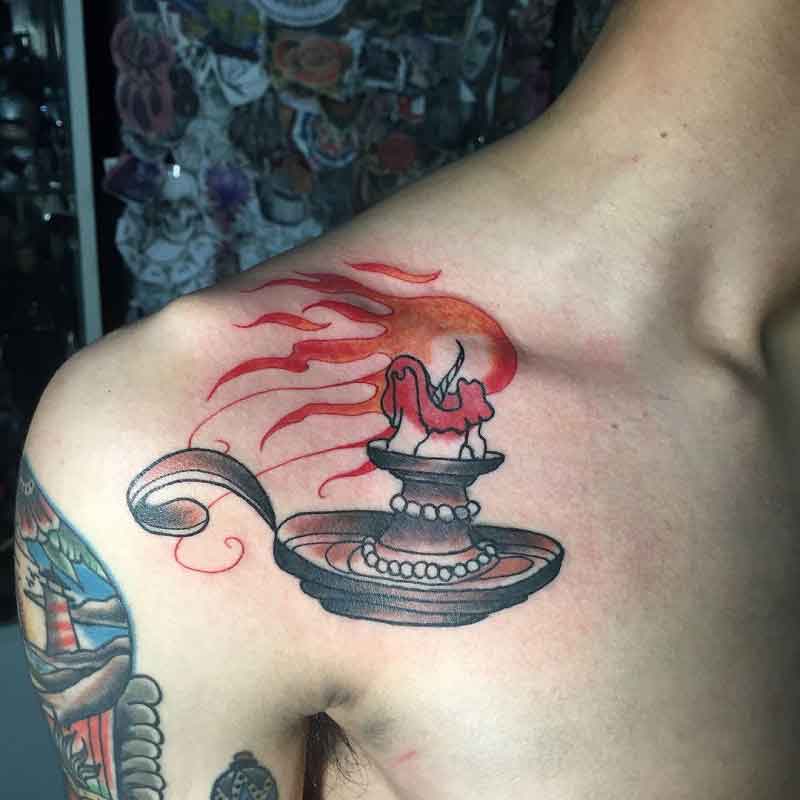 Candle Lantern Tattoo
49.
50.
51.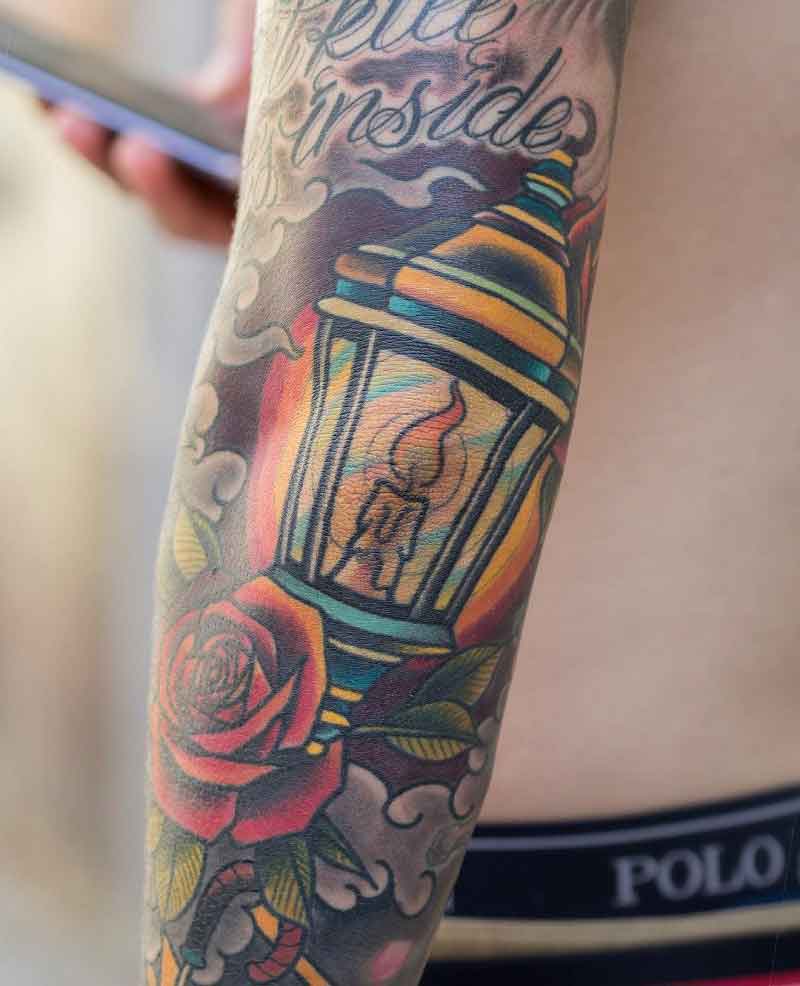 52.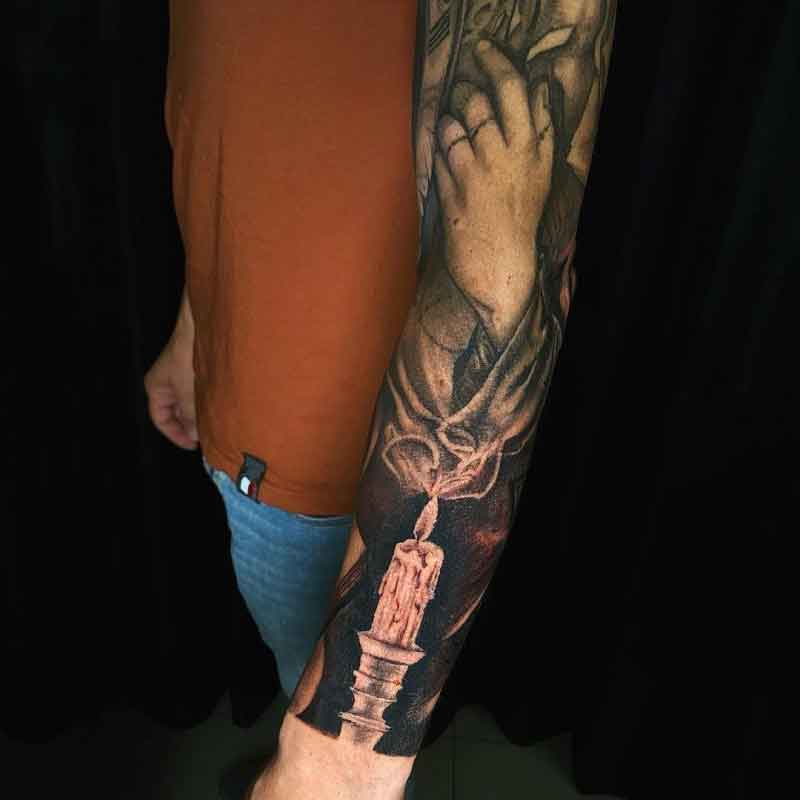 53.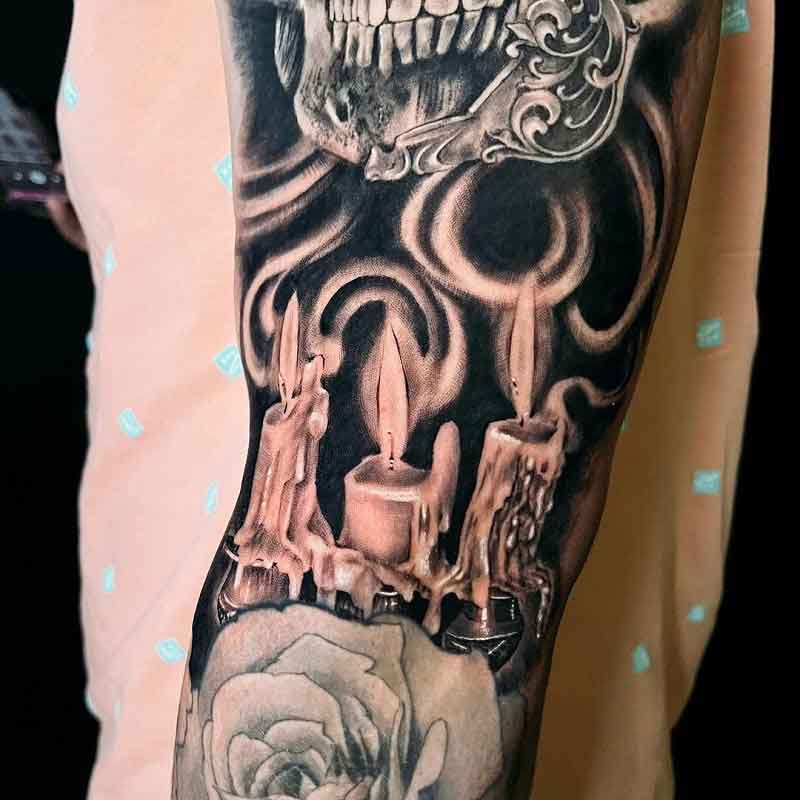 54.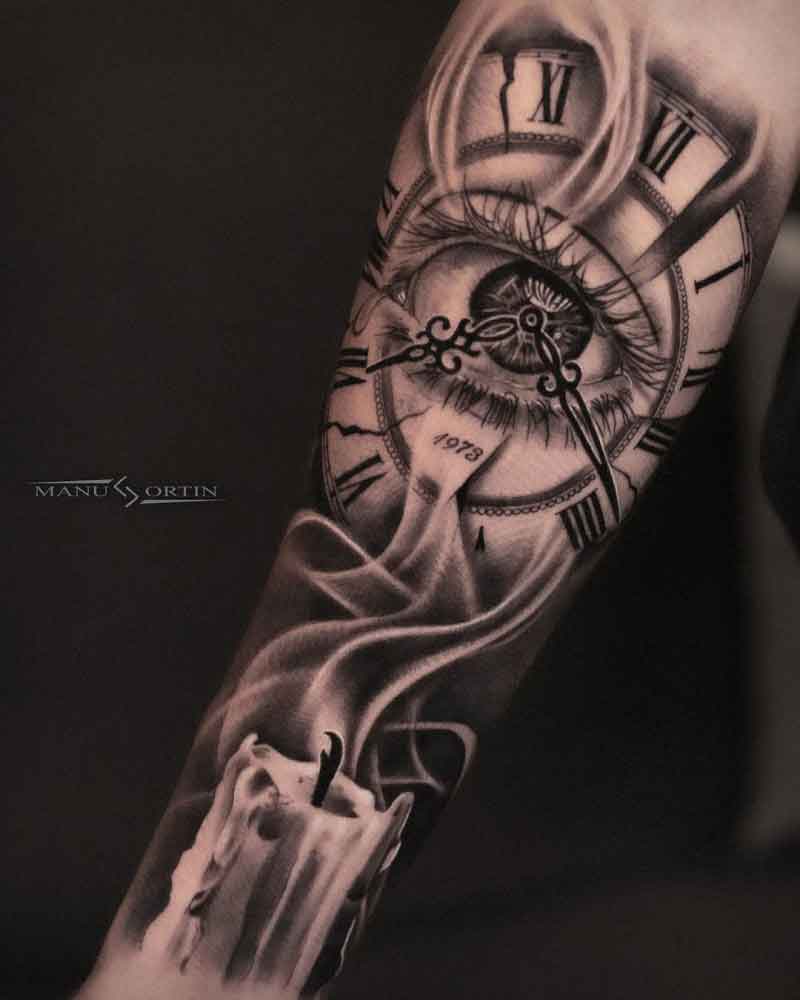 Candle Smoke Tattoo
55.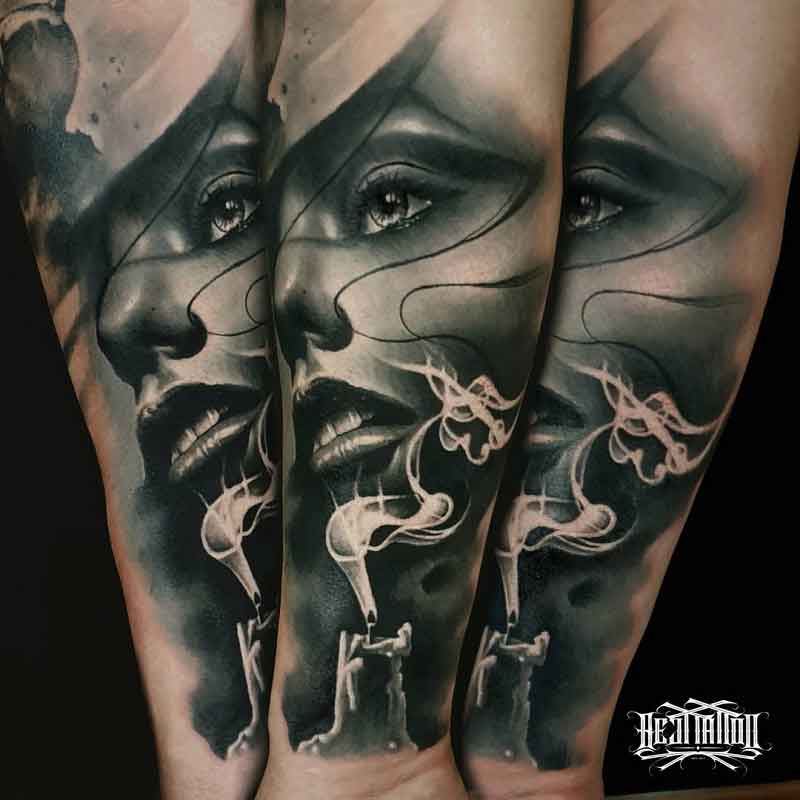 56.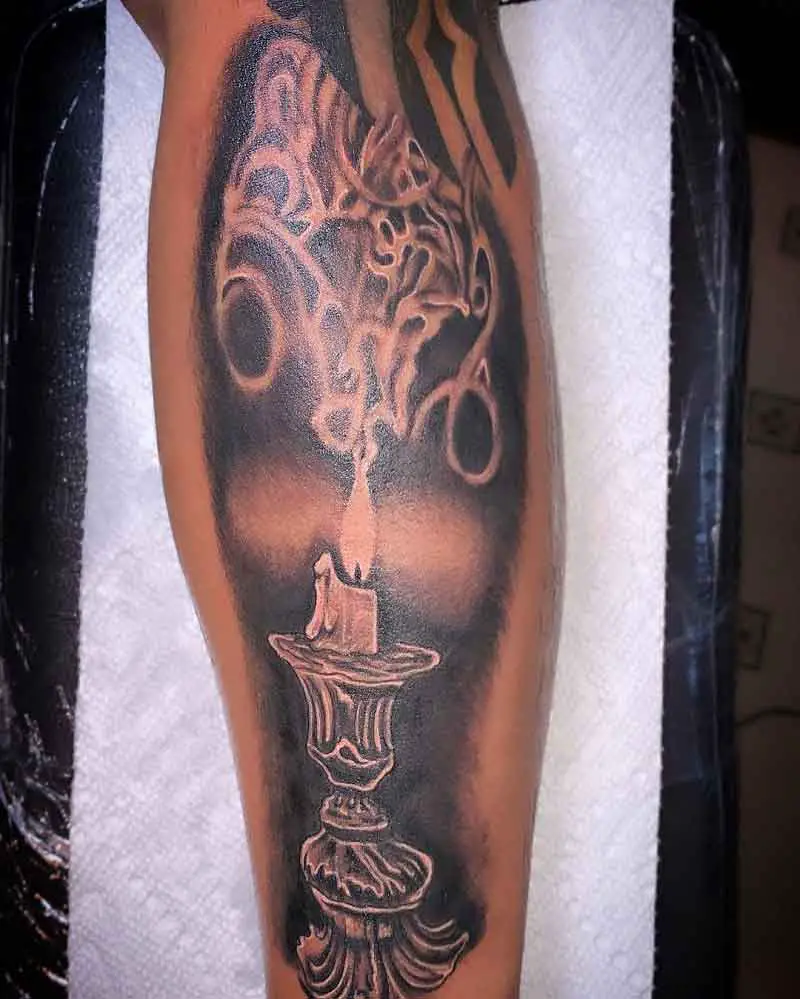 57.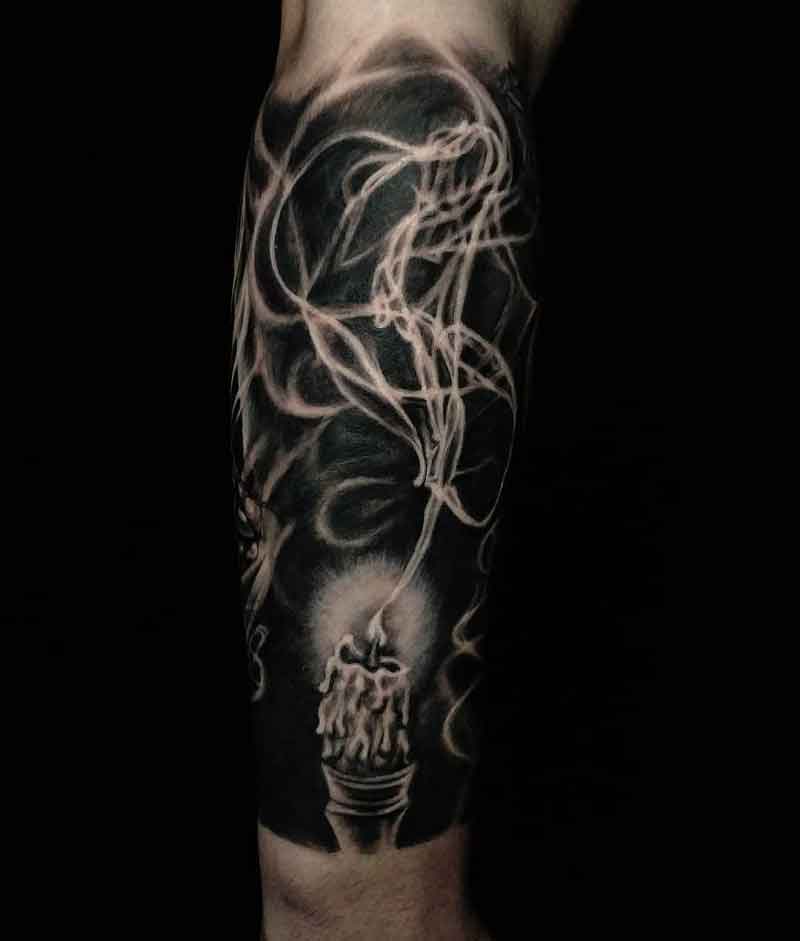 Candle Stick Tattoo
58.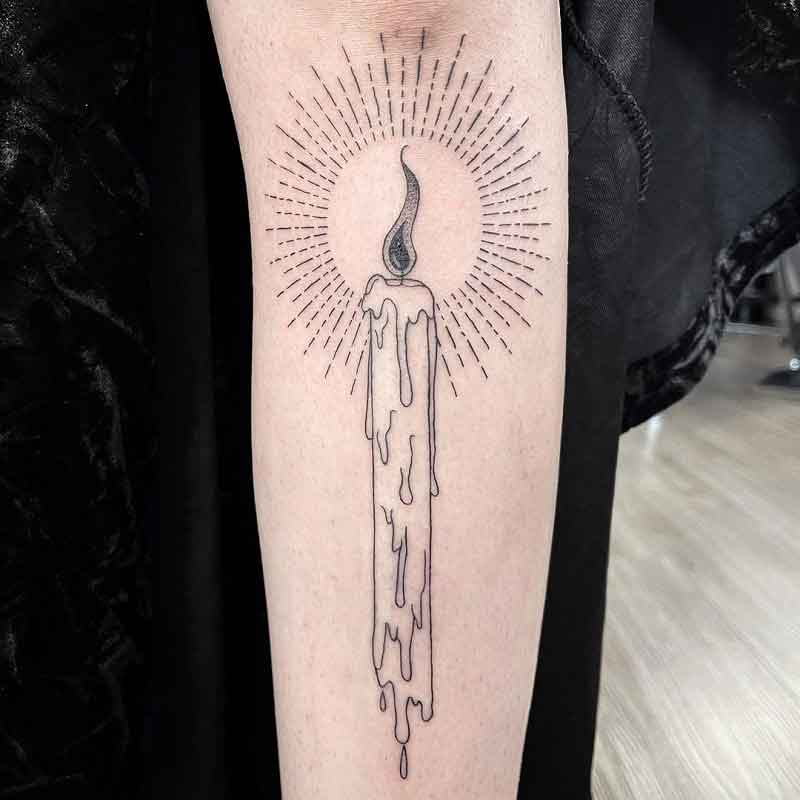 59.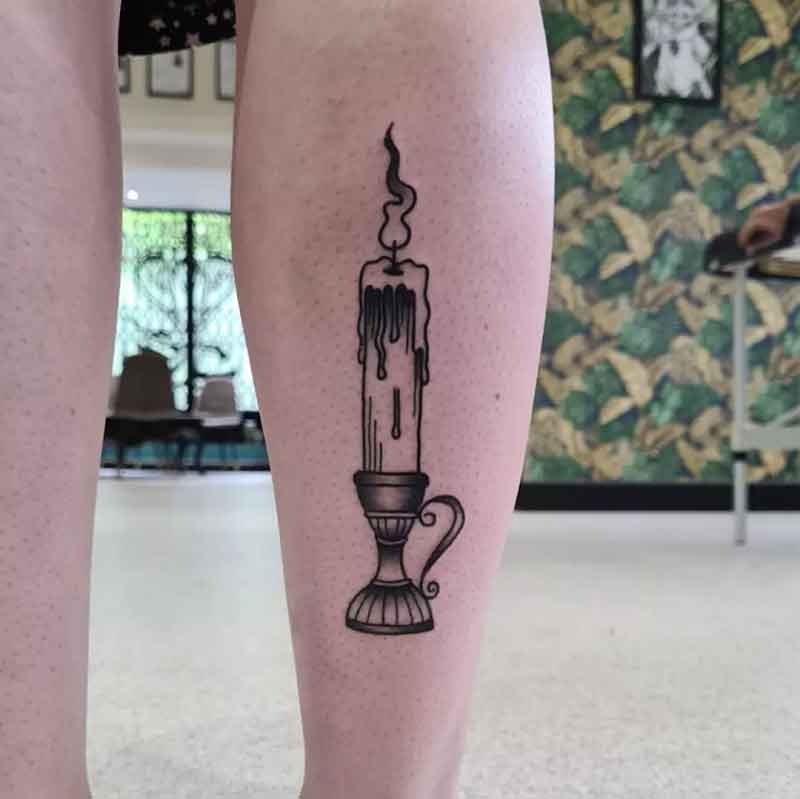 60.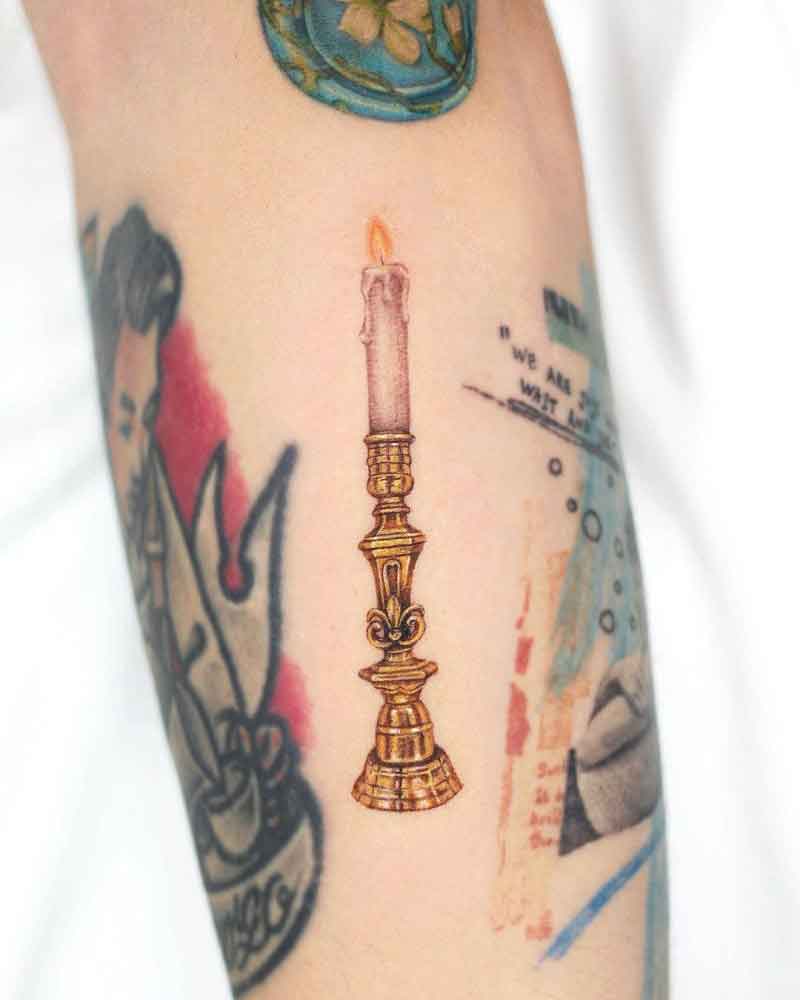 Candle Throat Tattoo
61.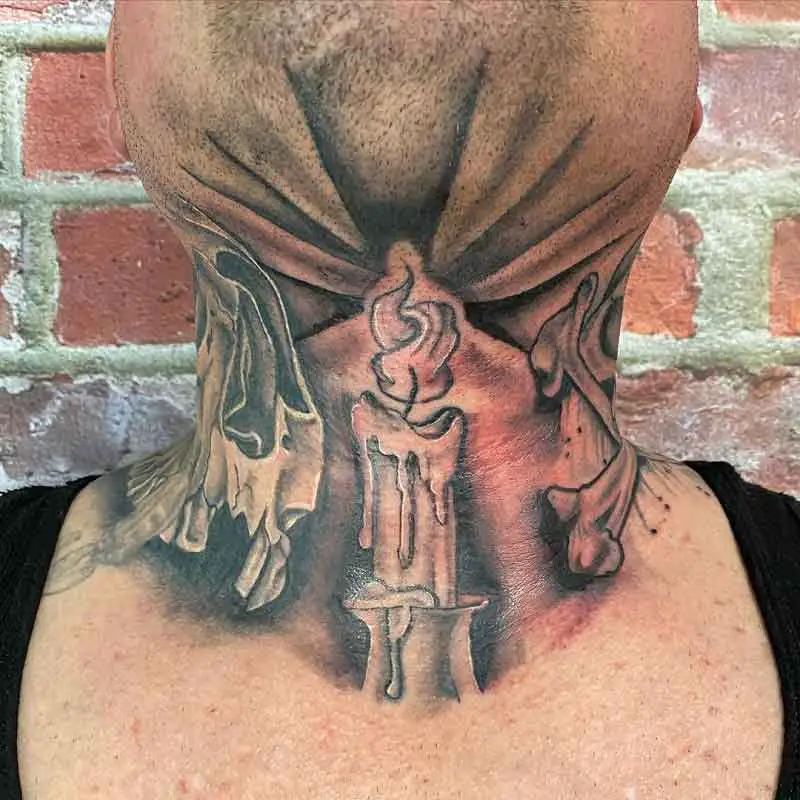 62.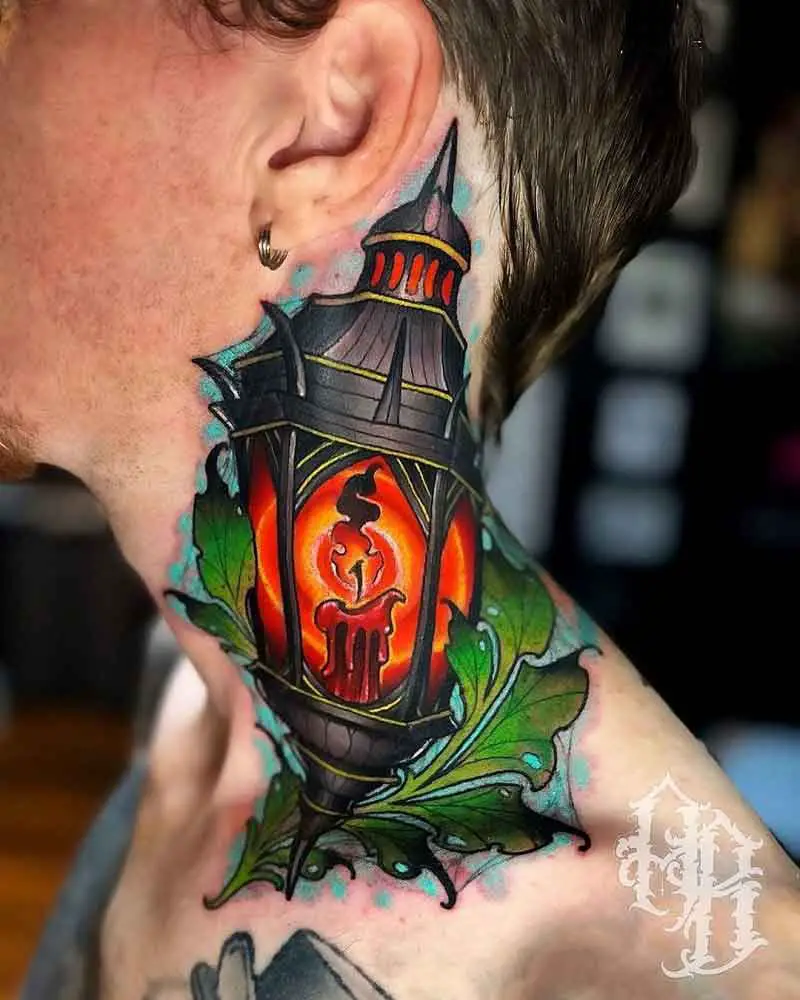 63.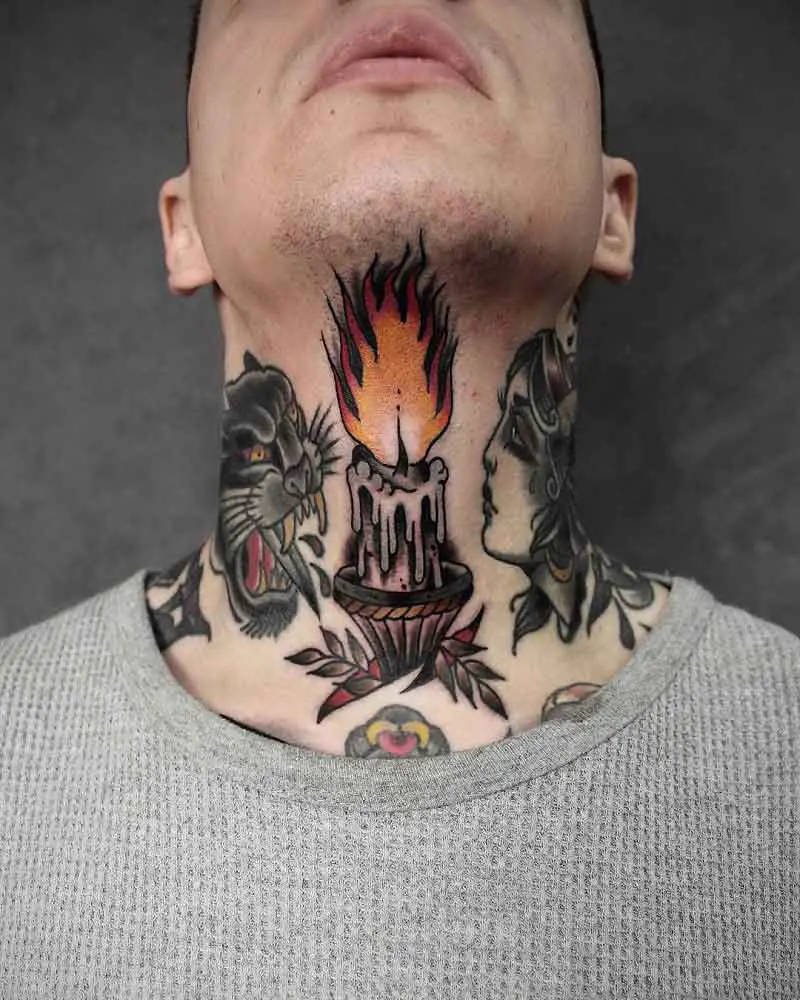 Gothic Candle Tattoo
64.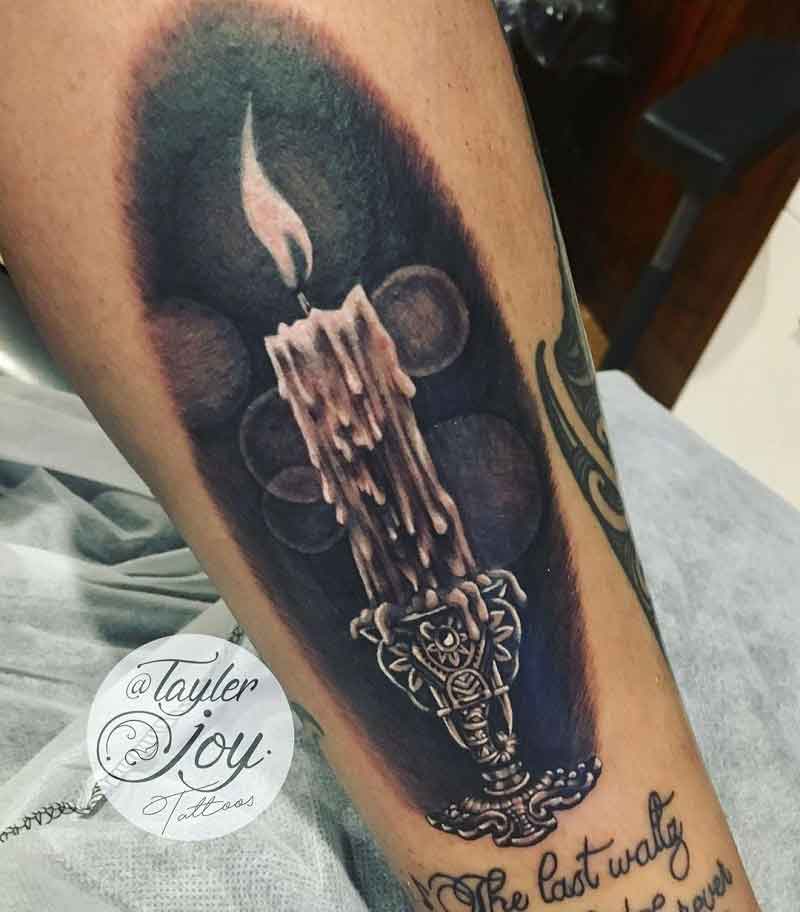 65.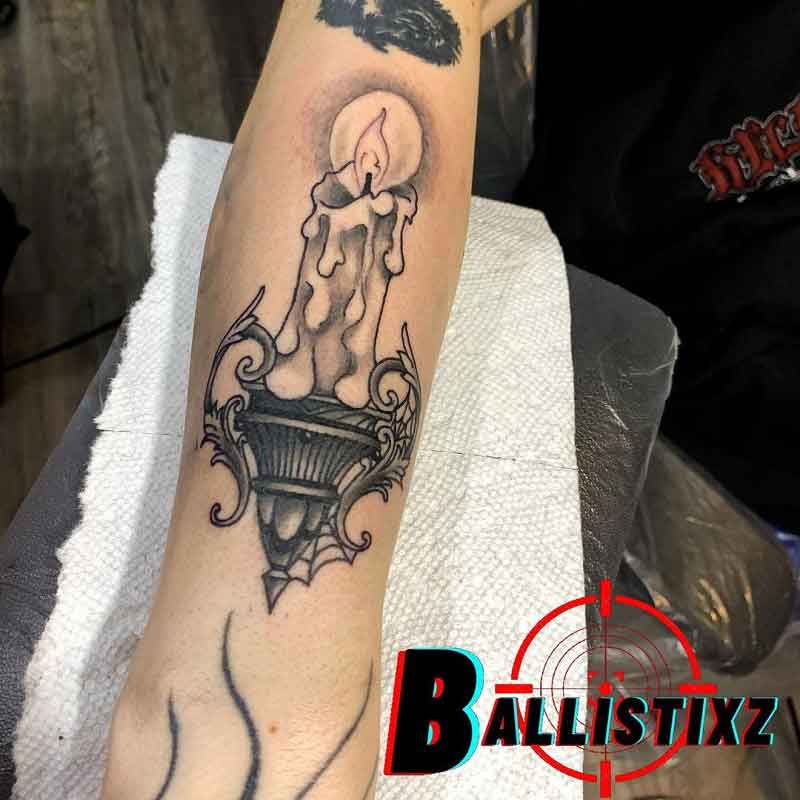 66.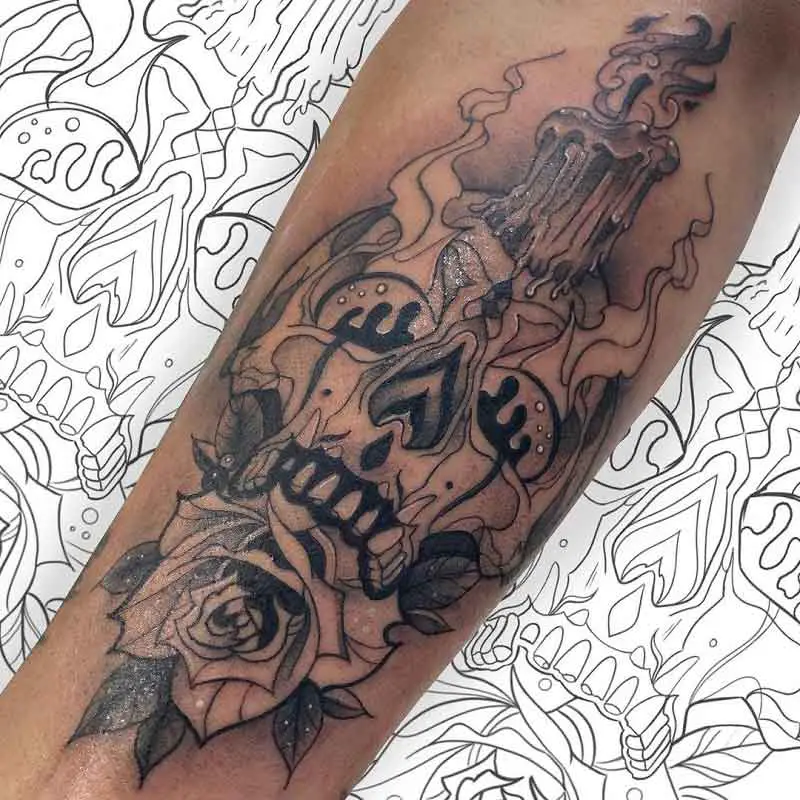 Religious Candle Tattoo
67.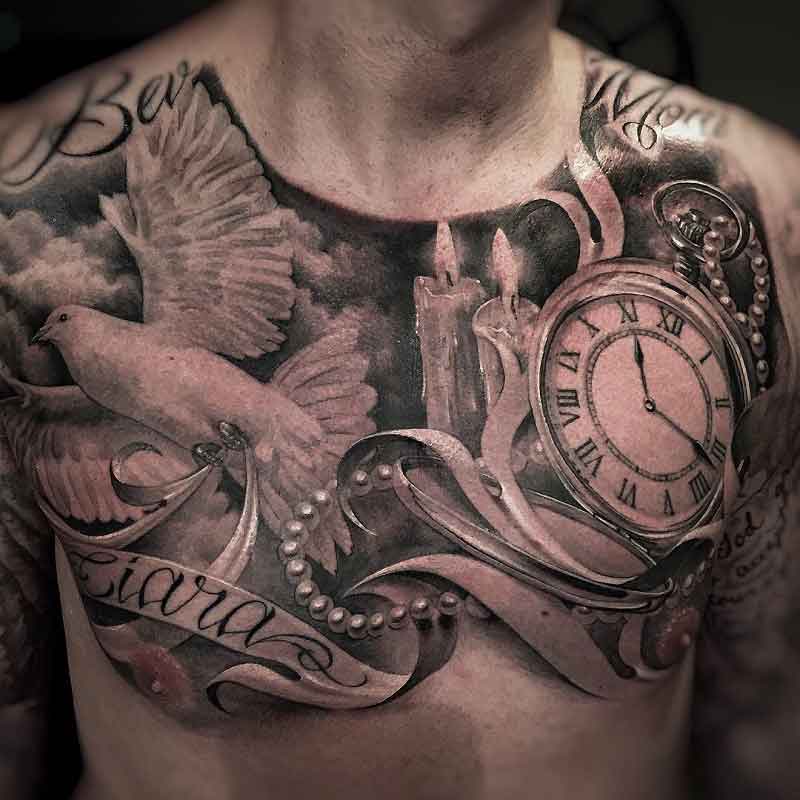 68.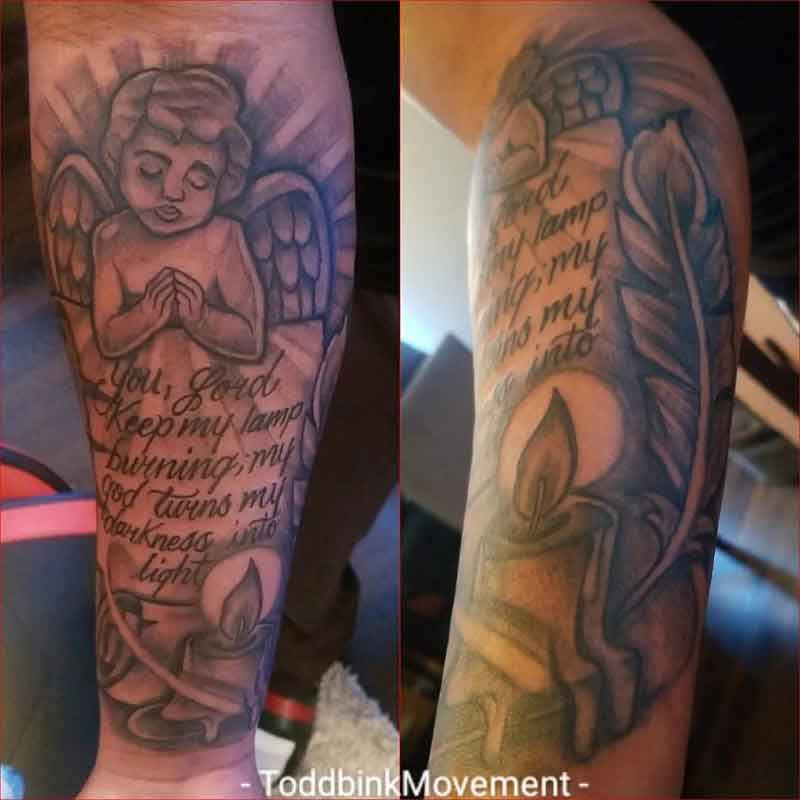 69.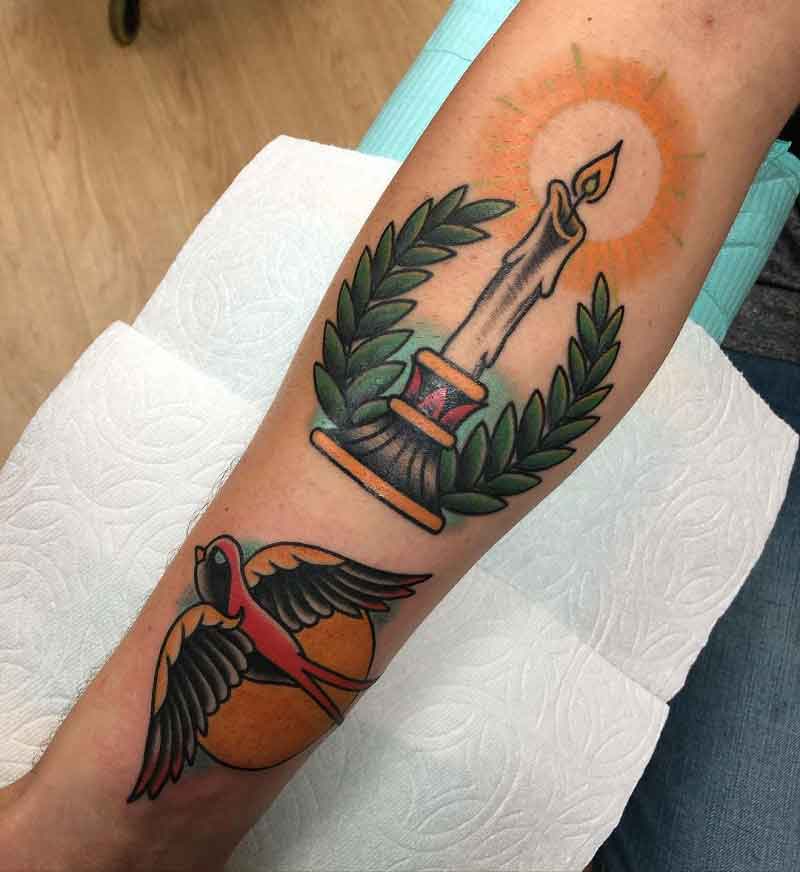 Lit Candle Tattoo
70.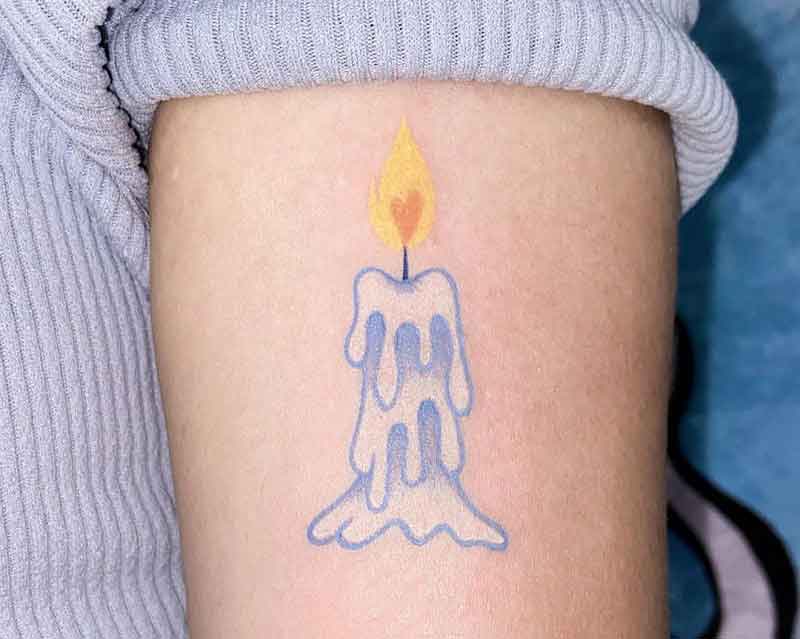 71.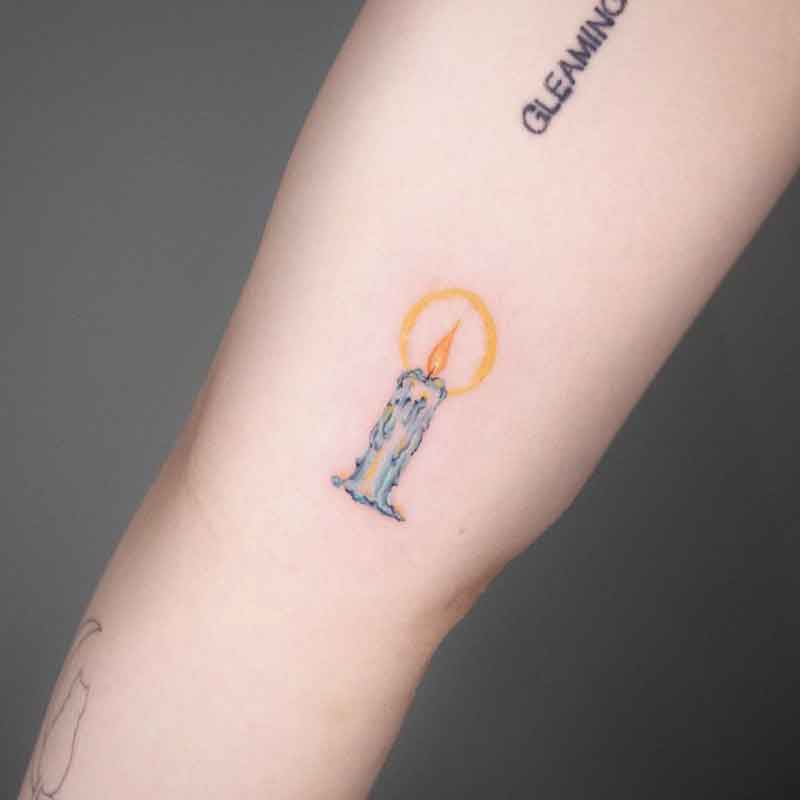 72.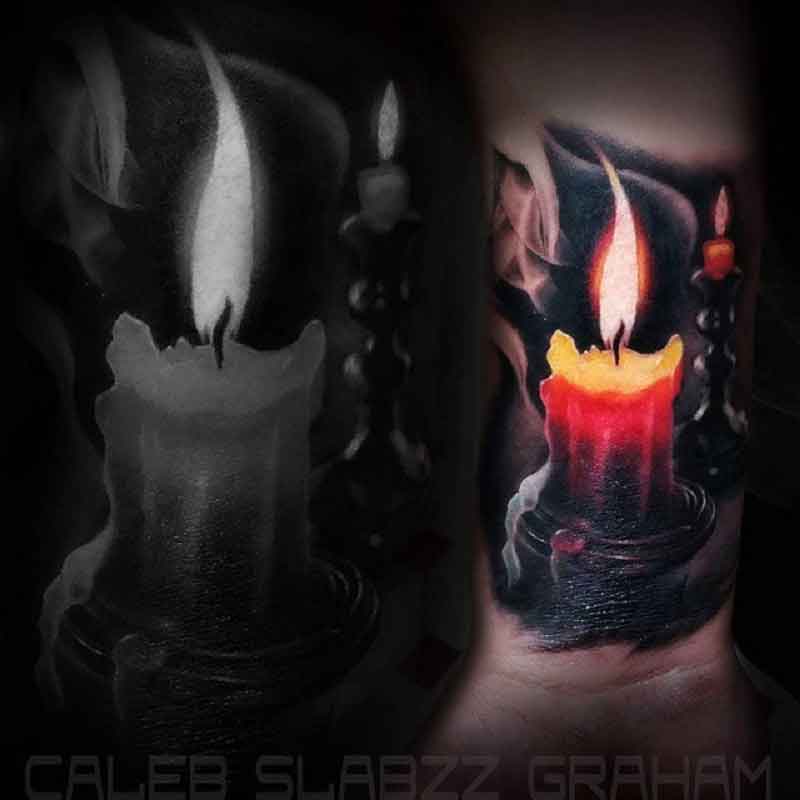 Old School Candle Tattoo
73.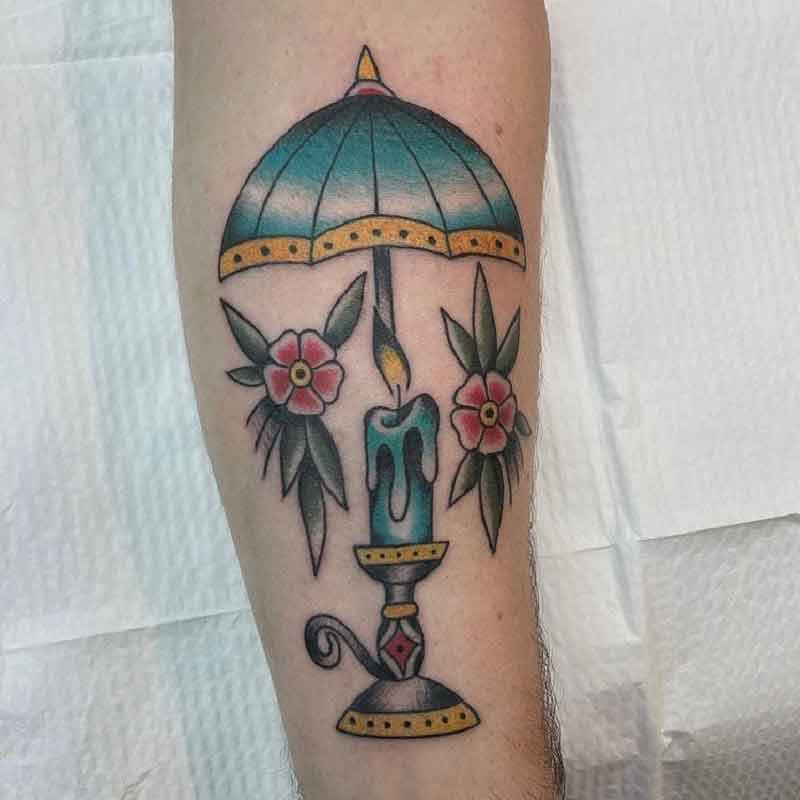 74.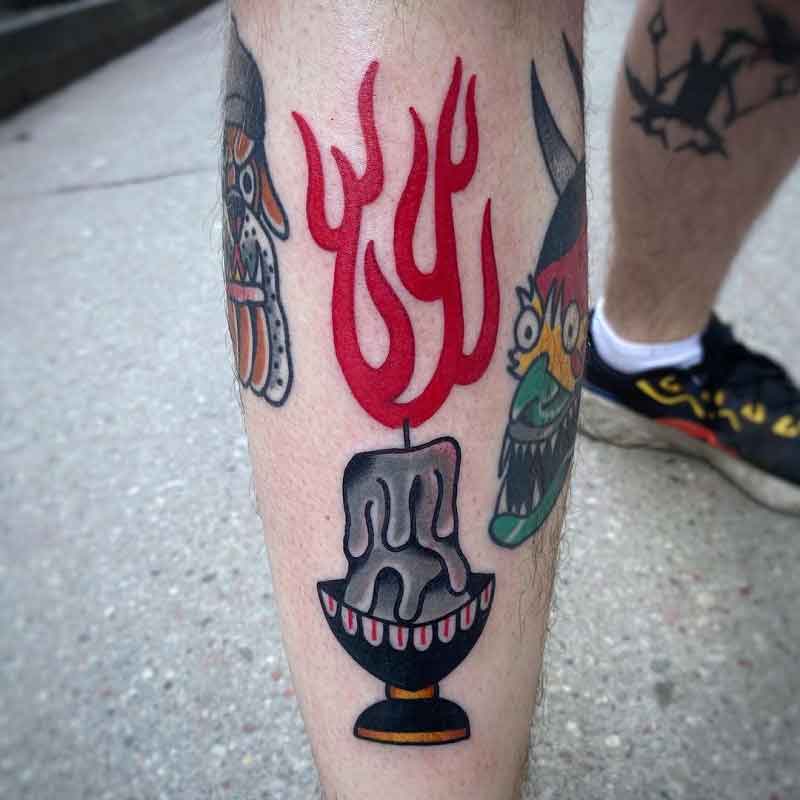 75.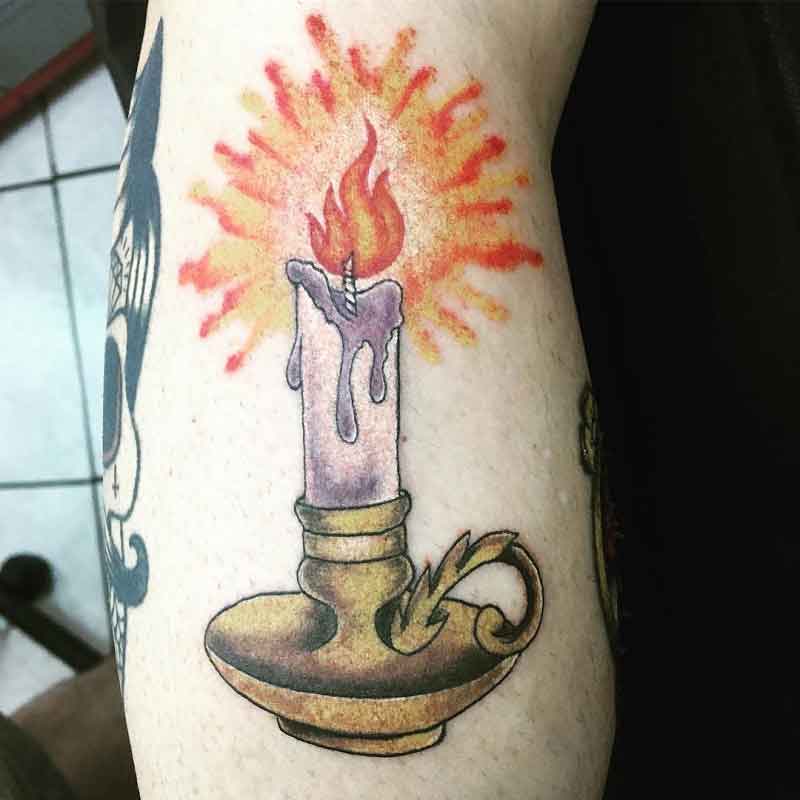 Babylon Candle Tattoo
76.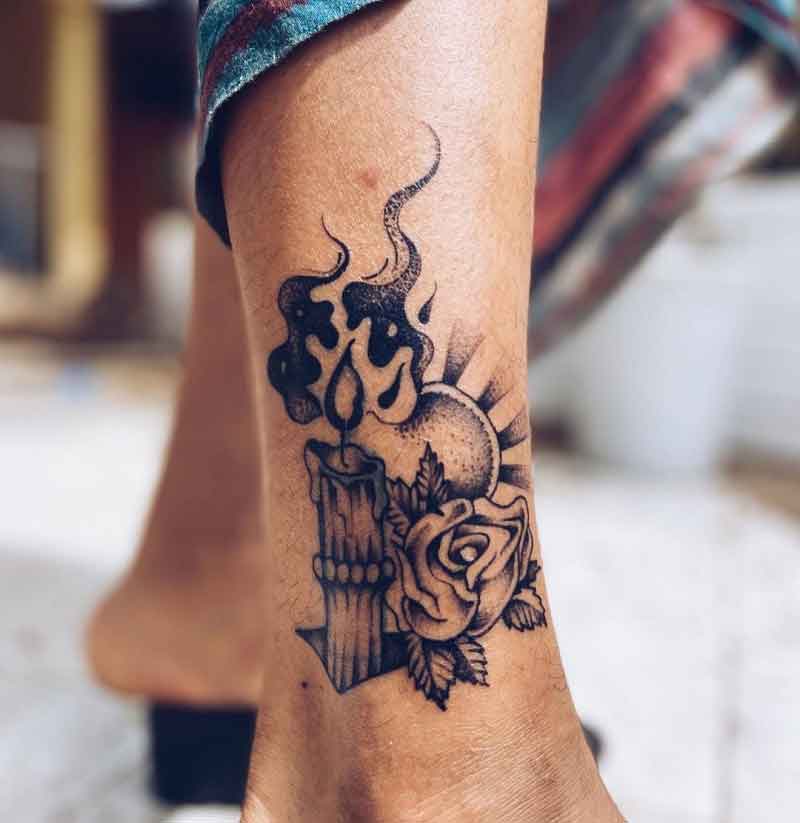 77.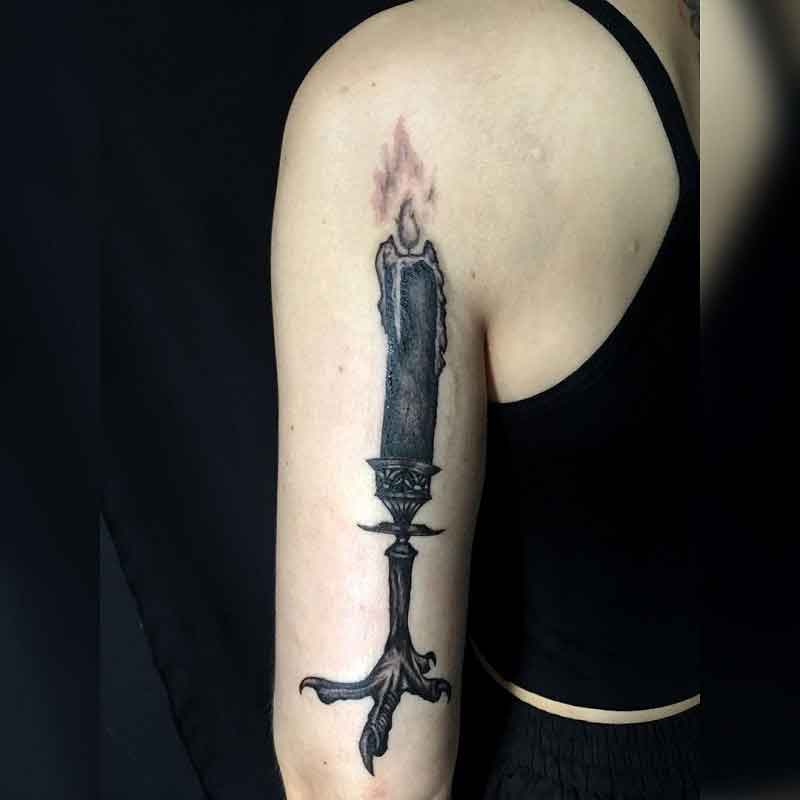 78.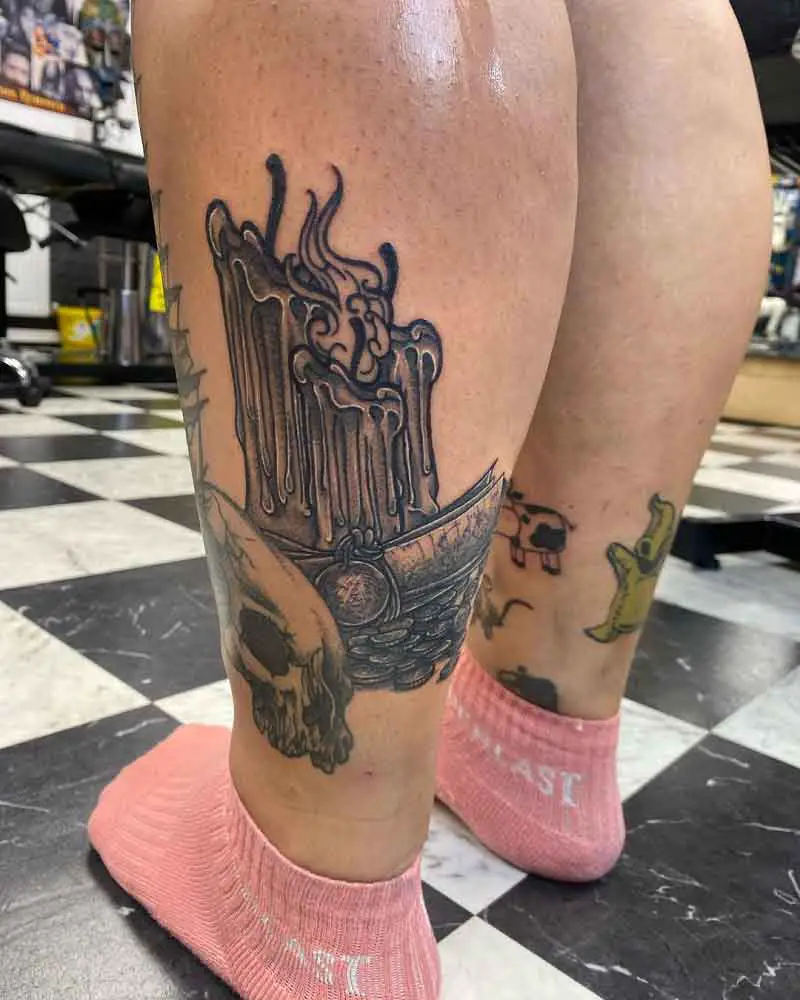 79.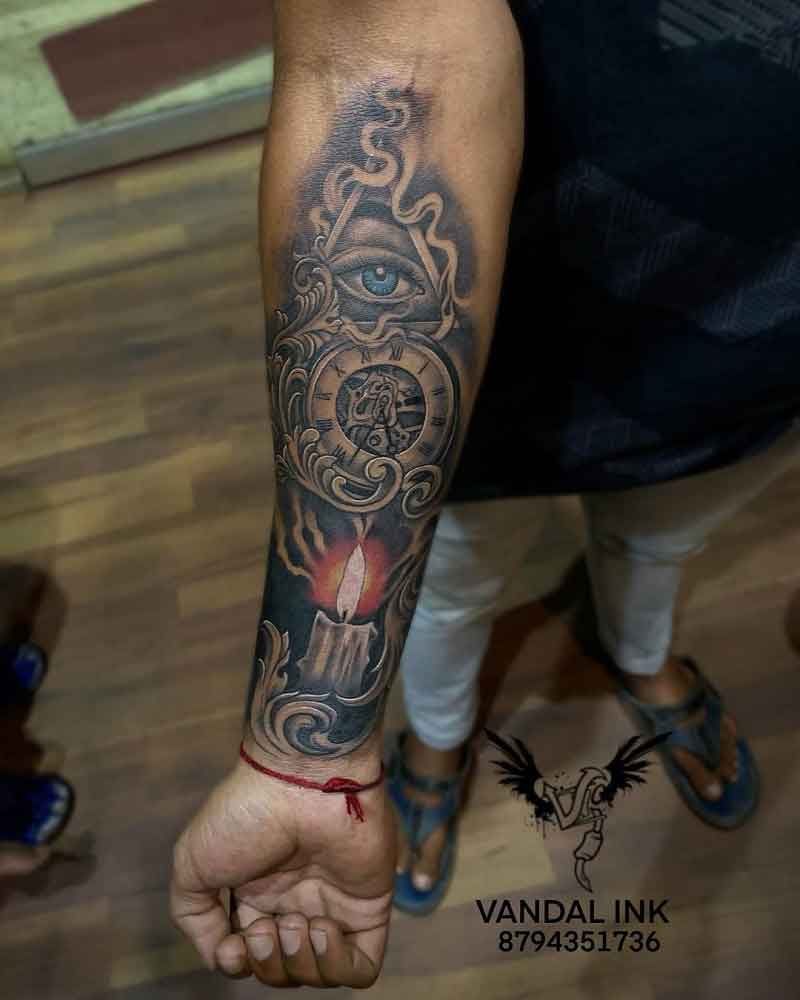 80.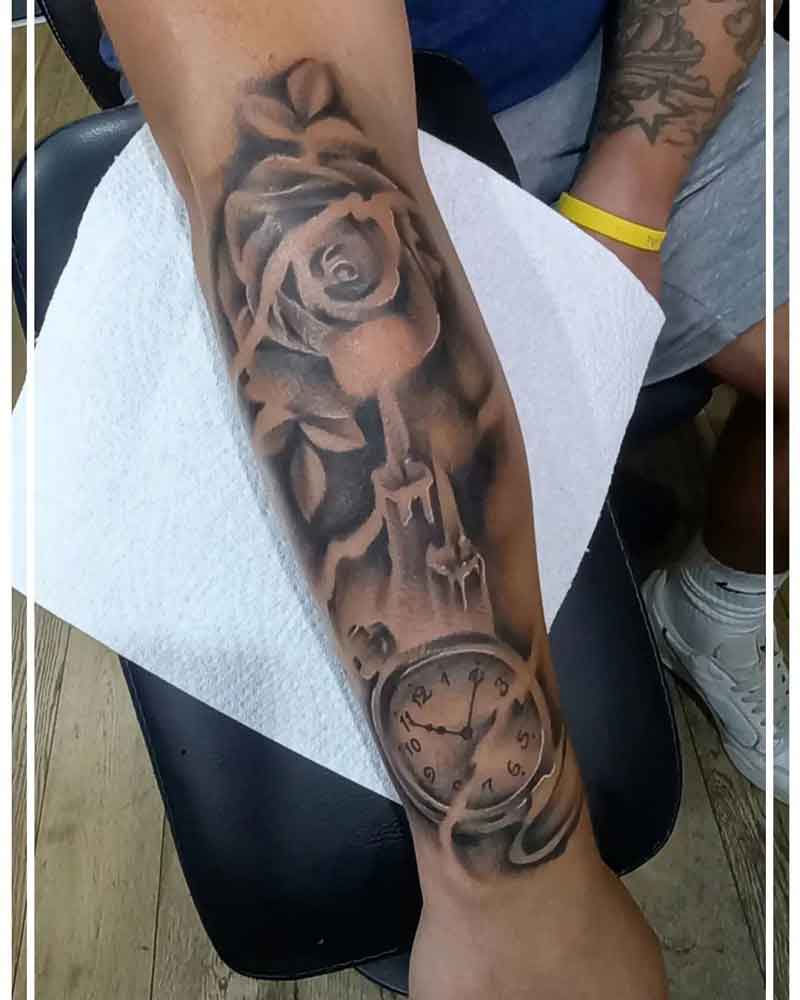 81.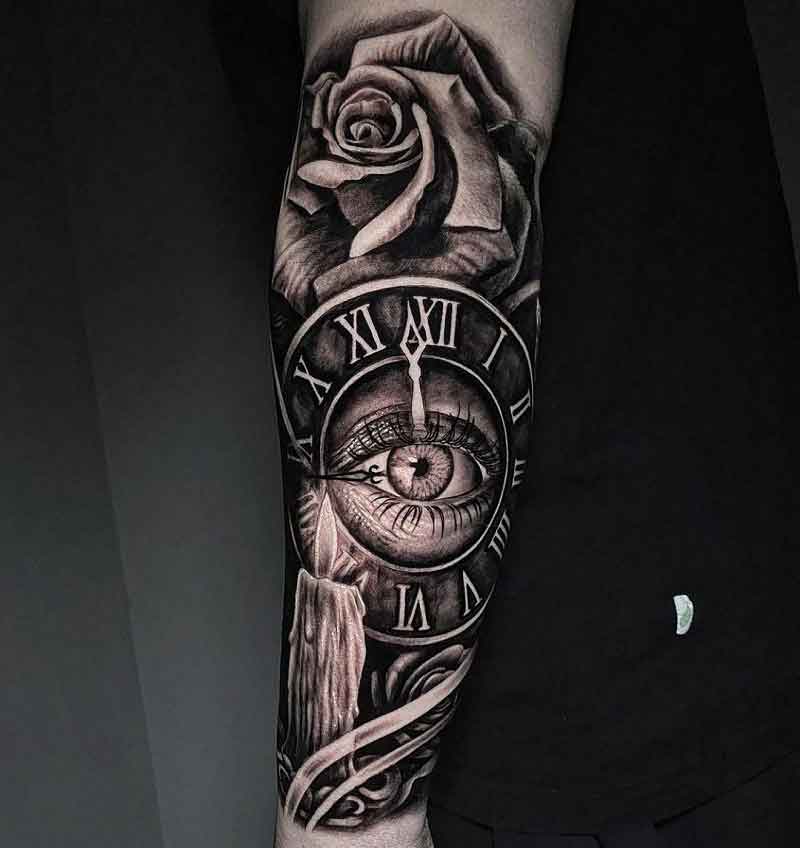 Candle Crystal Tattoo
82.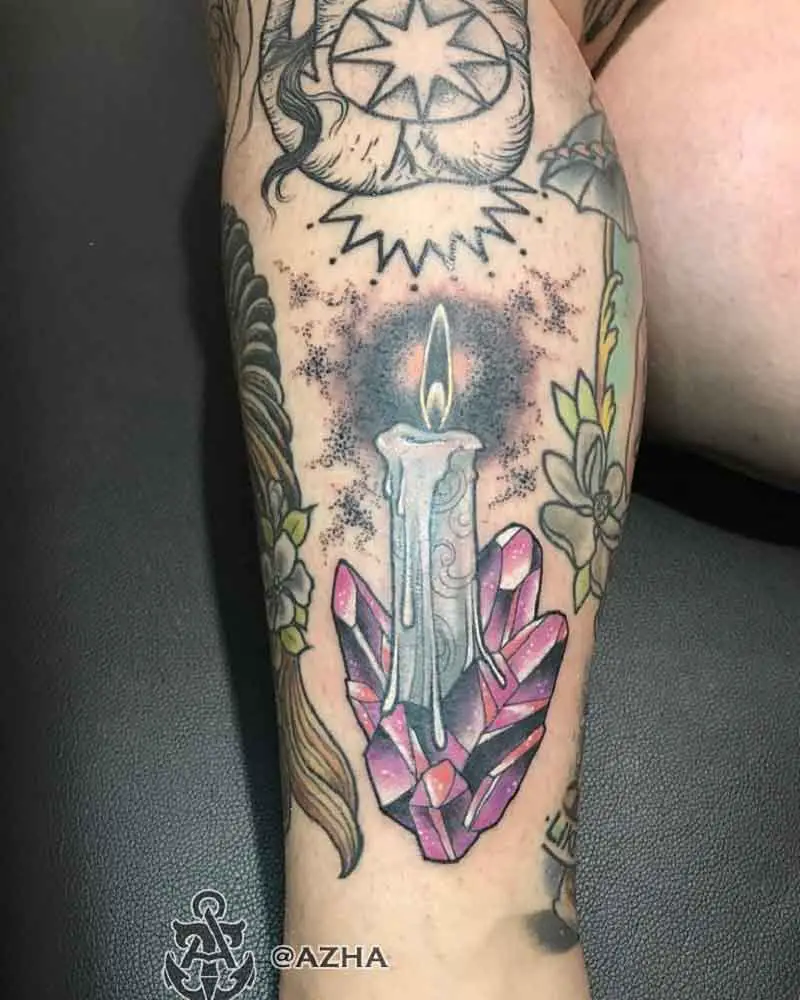 83.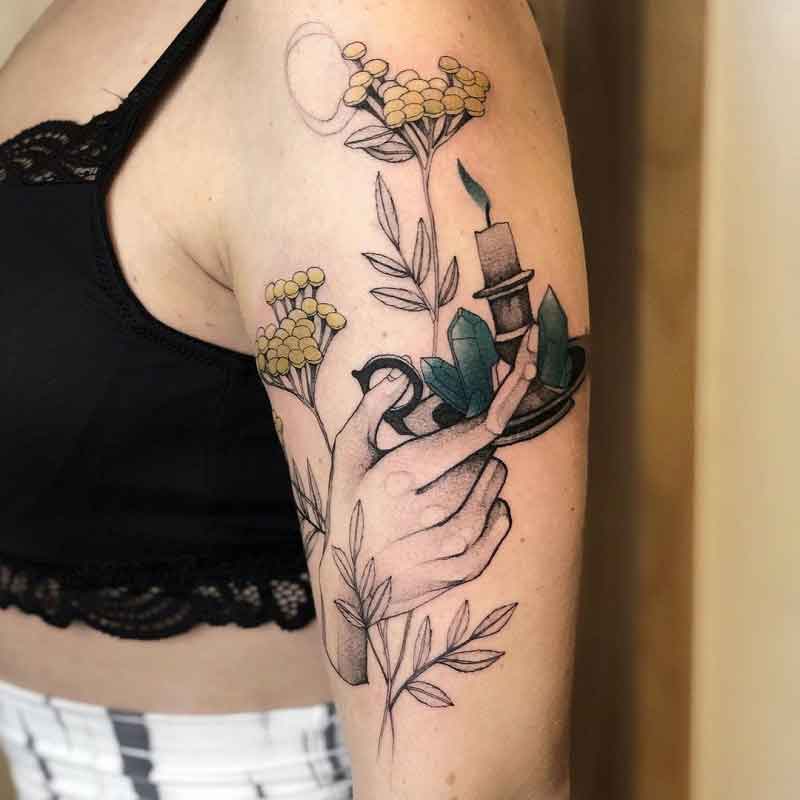 84.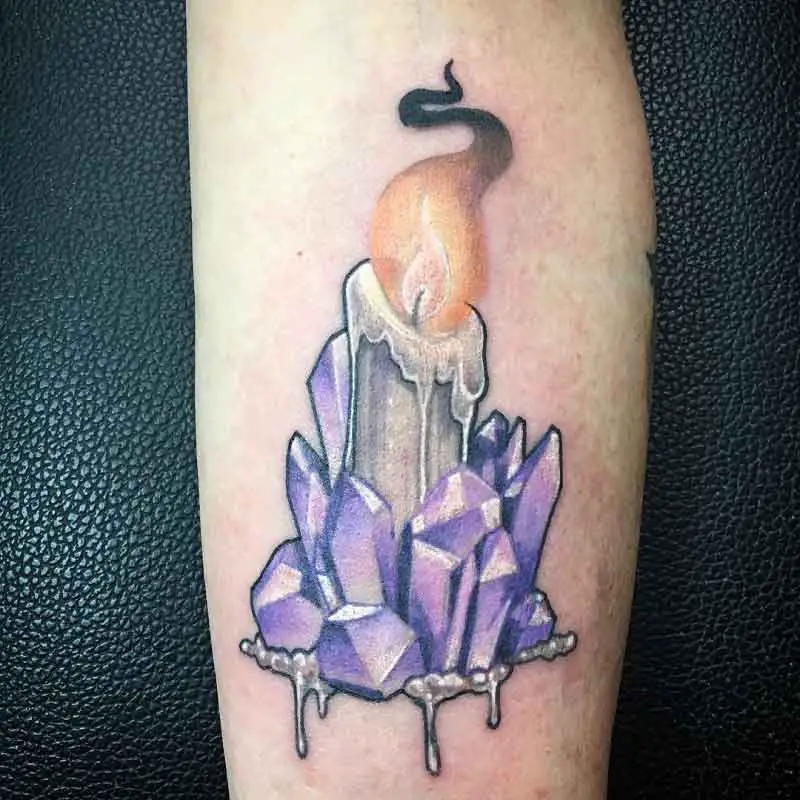 Candle Dove Tattoo
85.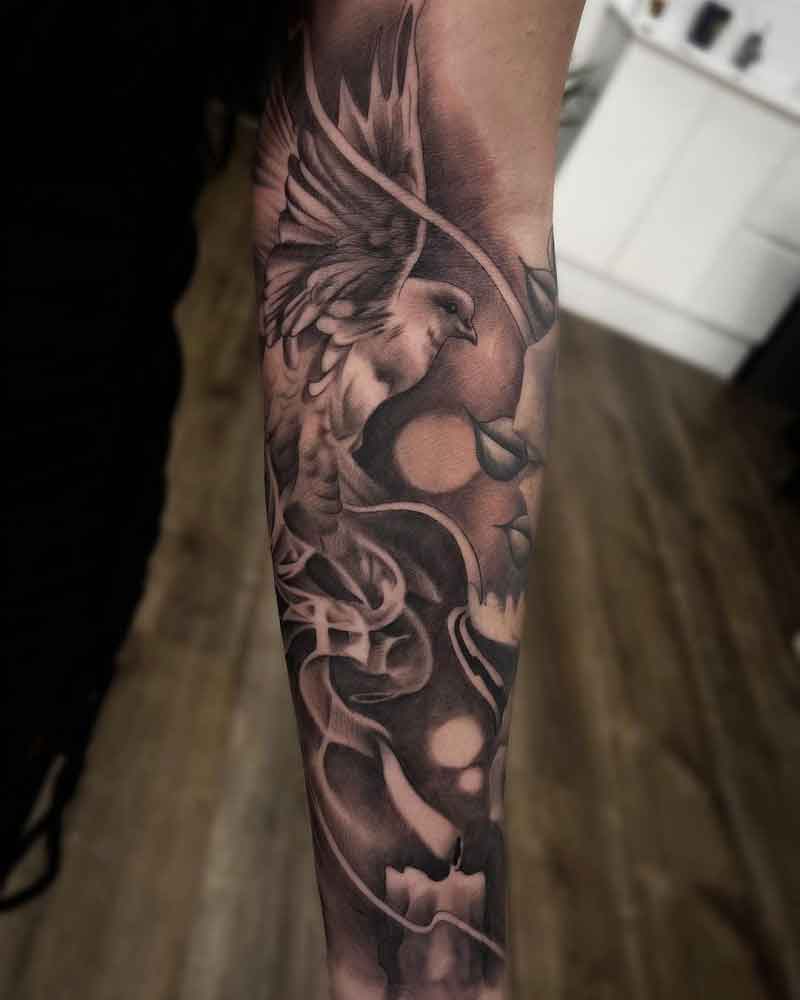 86.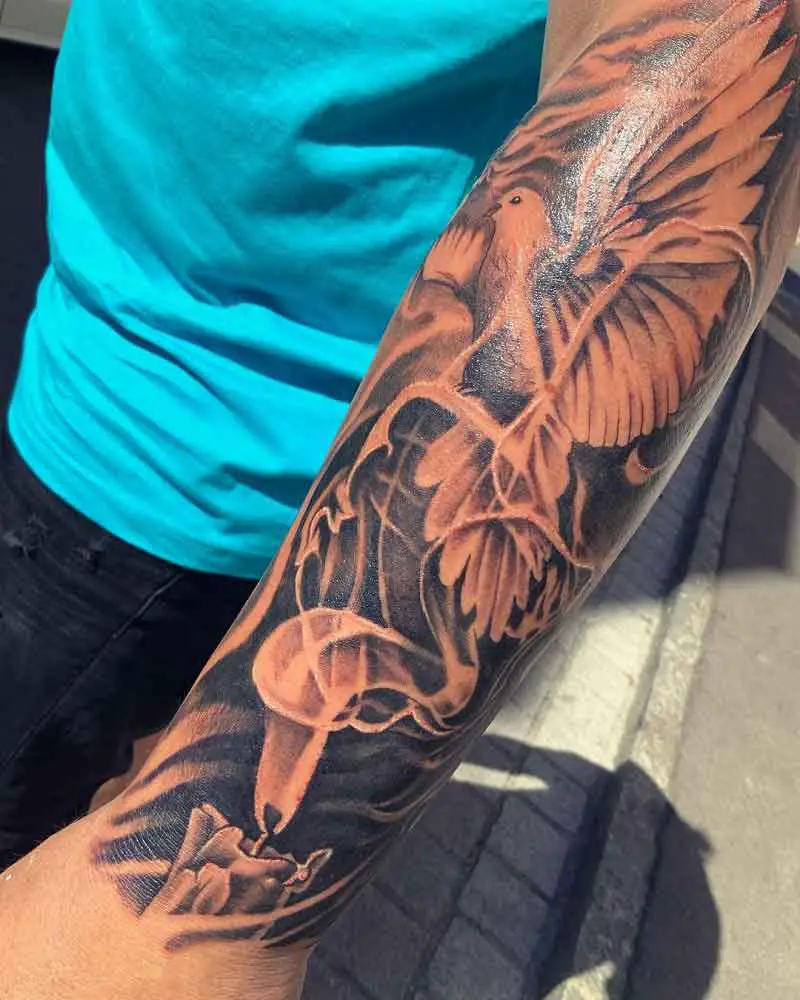 87.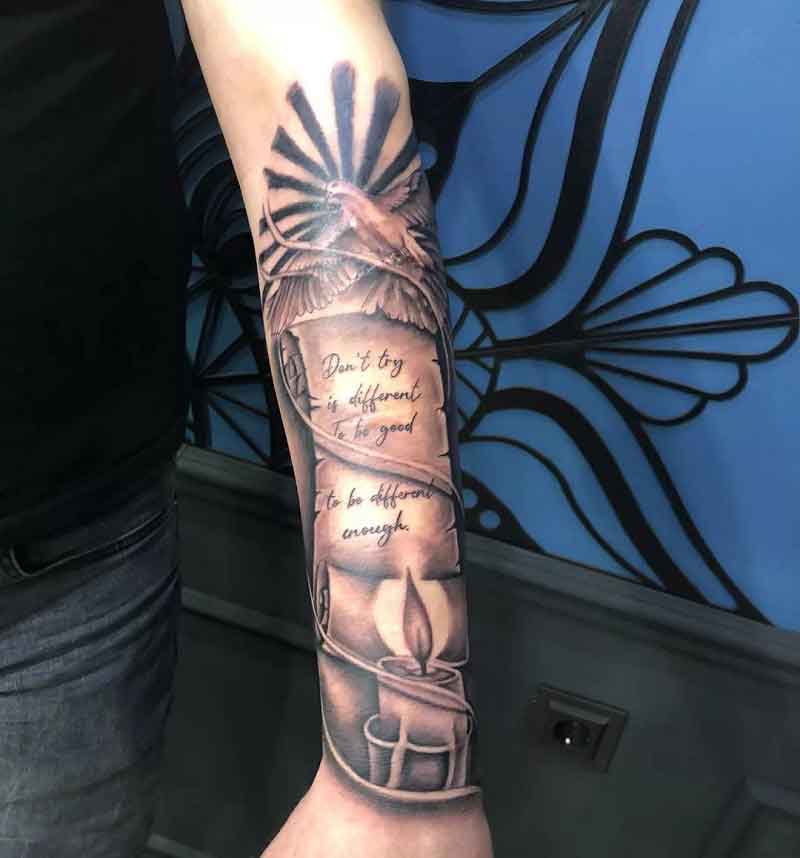 Candle Dripping Wax Tattoo
88.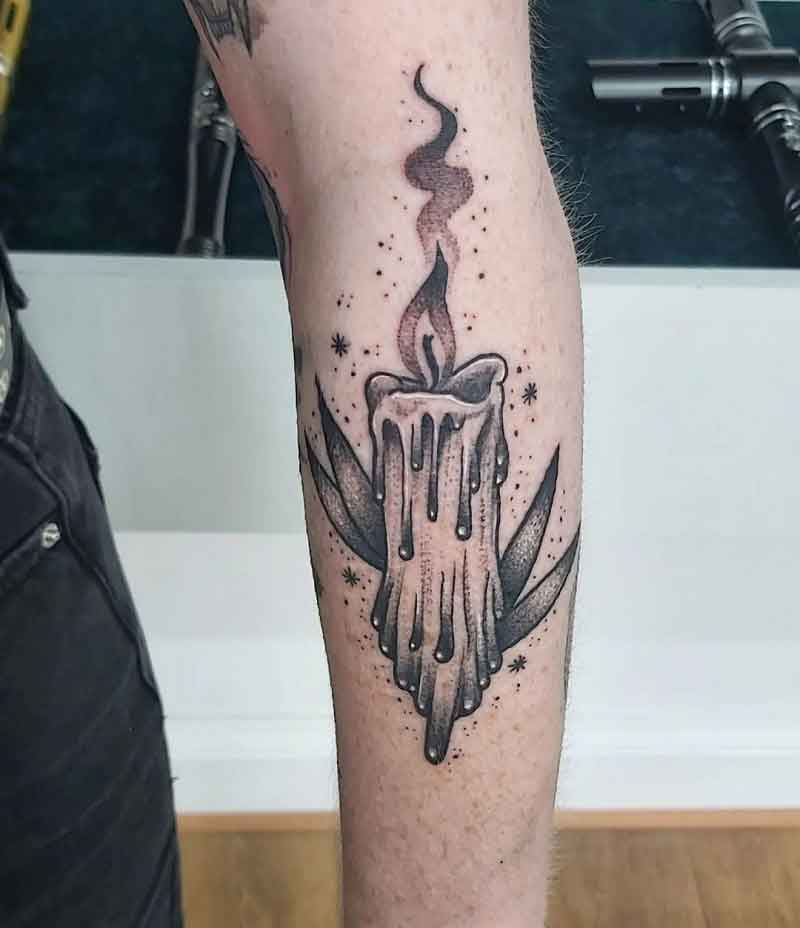 89.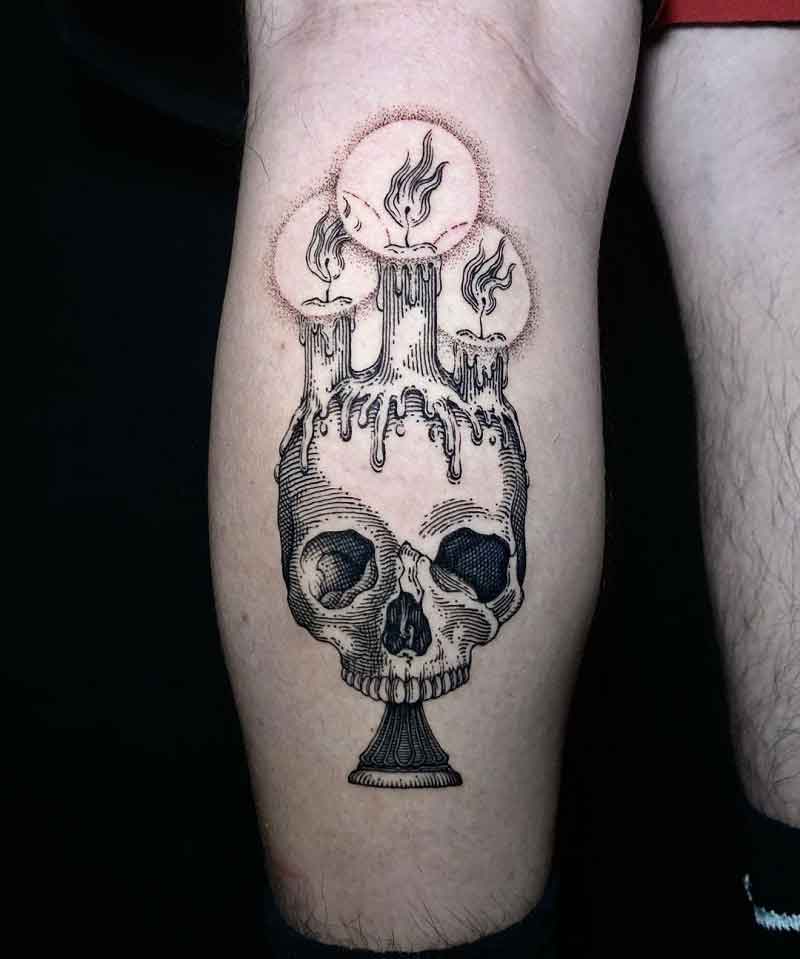 90.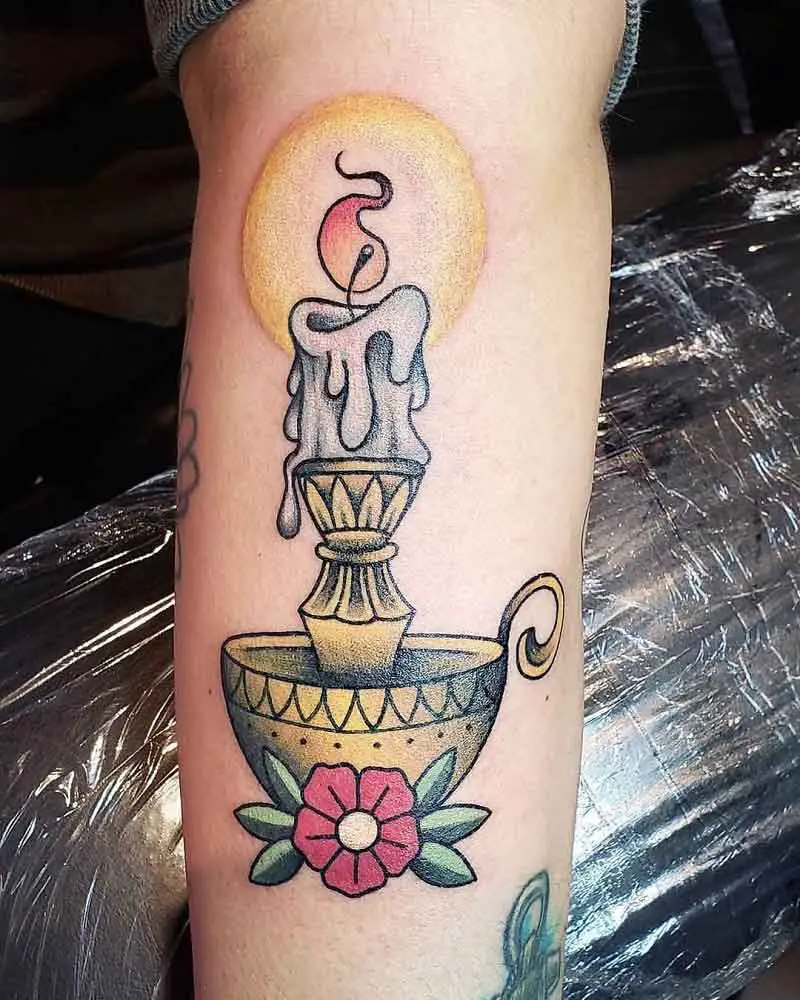 Conclusion:
We hope you enjoyed our blog post about candle tattoo designs and ideas! There are a lot of different candle theme tattoo designs and ideas out there, so it's hard to figure out which one is the best. 
If you are on a budget and don't want to spend a lot, you can check out our article for tattoo ideas that will keep your cost low. We hope you find this article helpful; feel free to contact us if you have any questions or comments!
Frequently Asked Questions
What does a candle tattoo symbolize?
A candle tattoo signifies that light triumphs over darkness, and good triumphs over evil. Also, it can symbolize honor and wisdom during darkness.
What does a big candle flame mean?
A big candle flame represents a person's willpower and patience.
What is meant by burning candle?
A burning candle means working from early morning until late at night and getting very little rest.