Almost every 7 houses out of 10 in America has dogs of their own. And, to show their love for their pet, people illustrate dog paw tattoos on their bodies.
Any tattoos relevant to dog paws seem cute on the human body. If you have a feeling for your dog and you want to expose it, wearing these tattoos would be your best gesture. And who knows, your puppy may like it seeing their reflection on your body.
Here we've come up with the most beautiful tattoos of a dog's paws. Explore the page calmly and you'll see some interesting tattoo designs with dog paws.
82 Dog Paw Tattoo Designs
The following are 82 dog paw tattoos available for you. Scrolling down, you'll have some idea about these tattoos and almost every one of them will be to your preference. So, what are you waiting for? Let's start with the first section of our list.
Memorial Dog Paw Tattoo
Memorial dog paw tattoos are designed for dogs who have passed away. It's a tribute to all the dead puppies who left us in a pit full of sorrow. Check and see how you can memorize your dog in a lovely way.
1. Huella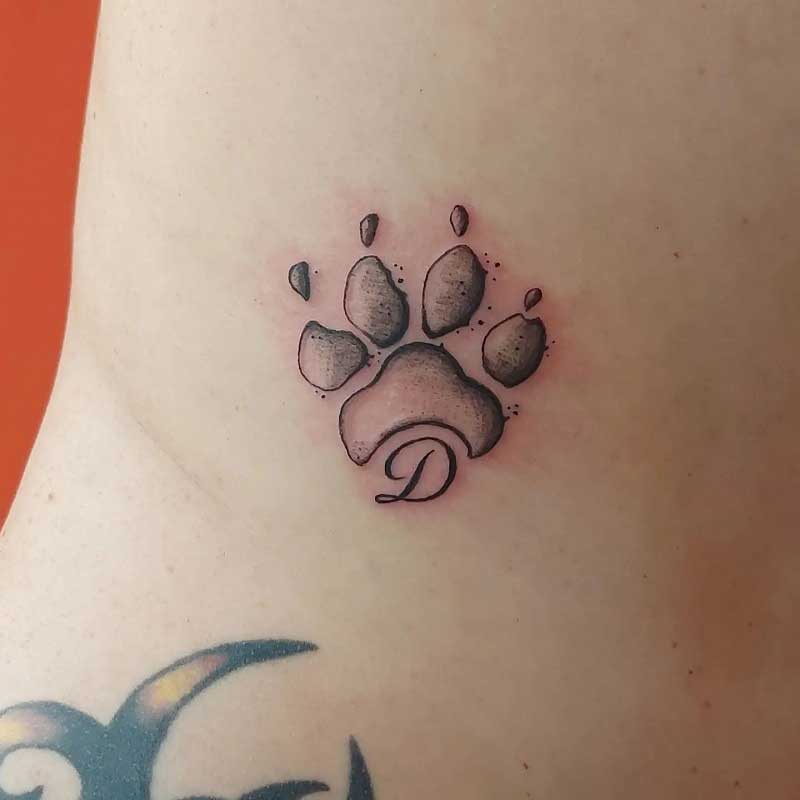 Huella is a Spanish word that means footprint. On the first item on our list, we see a paw of a puppy with a D sign underneath. The paw is a little black and keeps a good appearance. This little paw on your arm will simply look like a beautiful moon in the colossal sky.
2. Fairy paw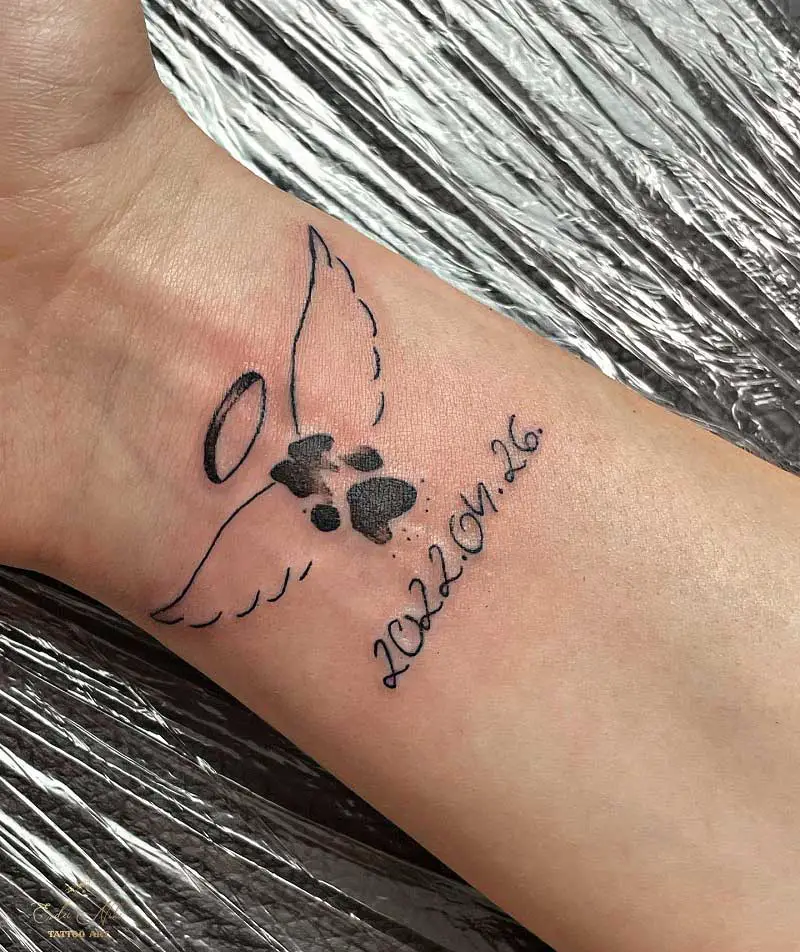 A paw is flying towards heaven with a date of its passing. This is all you see in this tattoo. A wide pair of wings take the paw to infinity illustrated in an iconic way. Wearing this tattoo on your arm or wrist will bring a holy vibe to your body. If you are a person interested in spirituality, the tattoo will suit your personality.
3. Faint paw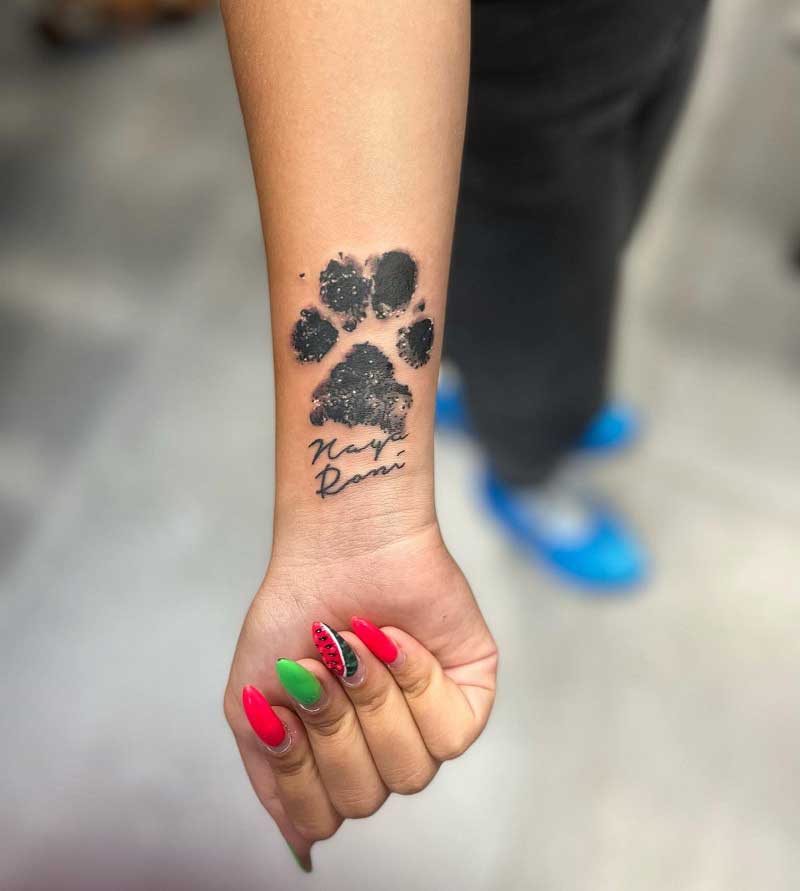 The paw we see here is painted in a blurry way. It was as if the dog is fainted and weak. However, the tattoo comes in a dark colour and put a heavy mark on your skin. Anyone would notice it from a fear distance if you wear this tattoo on your showy space.
Heart Dog Paw Tattoo
Hearts represent love. The affection you have for your pet will be illustrated through the following tattoos. This section has the three most cutest tattoos on our list.
4. Heart paw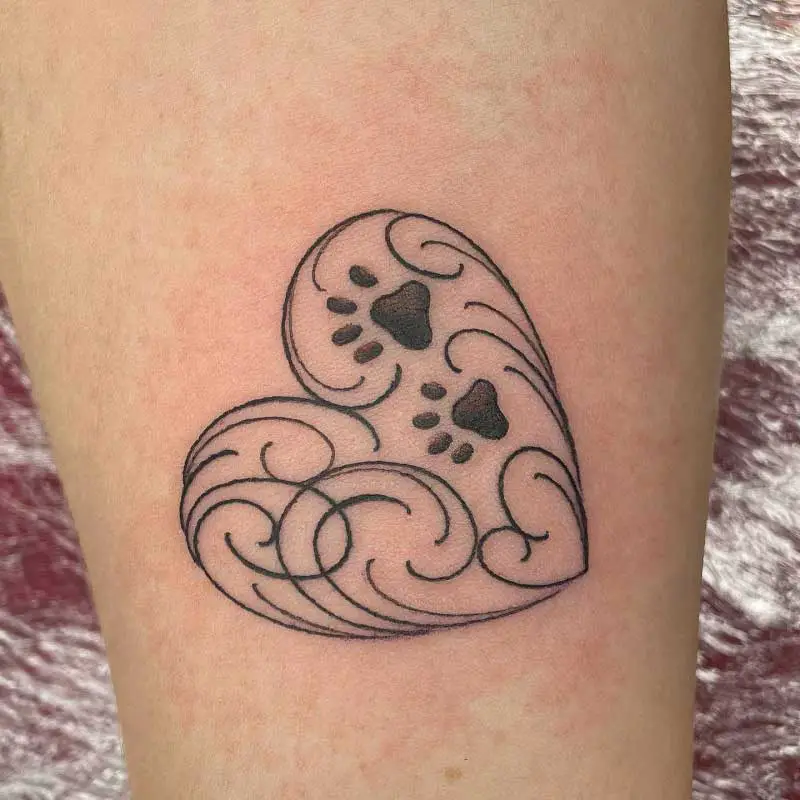 In this beautiful little tattoo, you'll see two cute dog paws painted side by side in a heart. The heart is designed nicely that'll expose your skin through it. If you and your partner both wear this same tattoo, it'll be a great way to show your love publicly.
5. Misery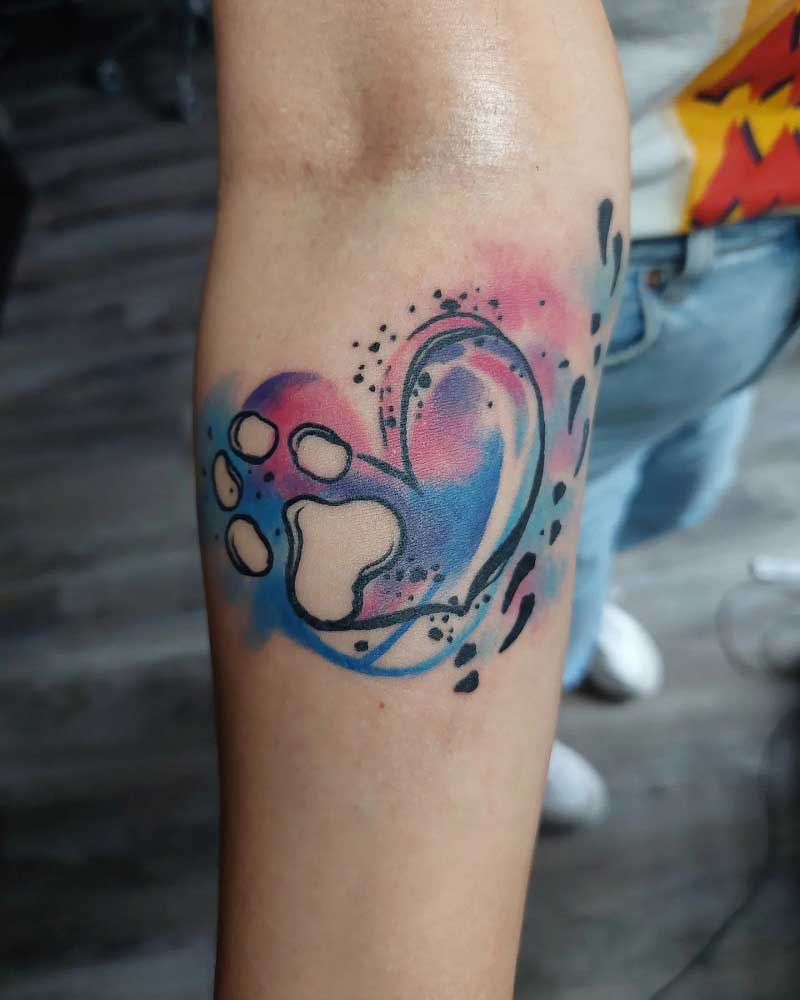 Here, we see a heart melting with its anguished misery with a dog paw in a corner on it. The tattoo looks like it's getting burned by the fire of melancholy. The dog paw that you see also looks like it's crying. Yes, it's a bit insane tattoo you can have.
6. Love paw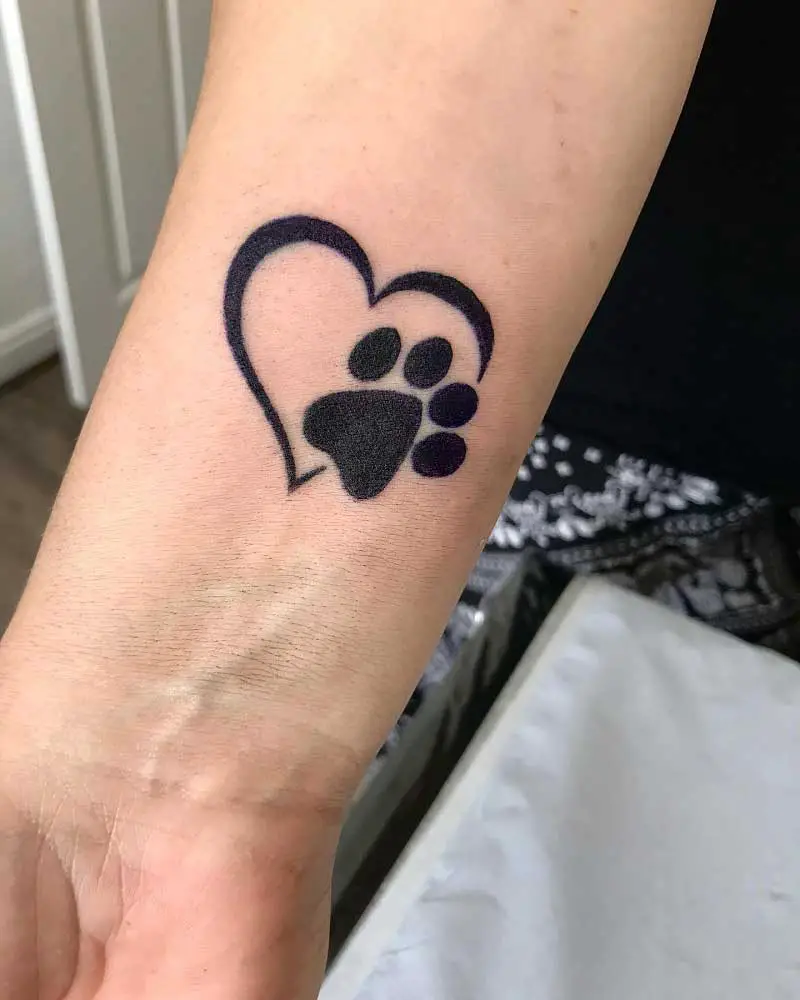 A love sign with a black border and a paw with a dark complexion is all you can have in this tattoo. The tattoo looks cute and suits perfectly any color of skin. A man's wrist with this tattoo would be a great thing to see perhaps.
Sentimental Dog Paw Tattoo
Do you want more attachment to your dog using a tattoo? You can show it by choosing the tattoos from this section. The sentimental dog paw tattoos demonstrate many things through their painting.
7. Burned paw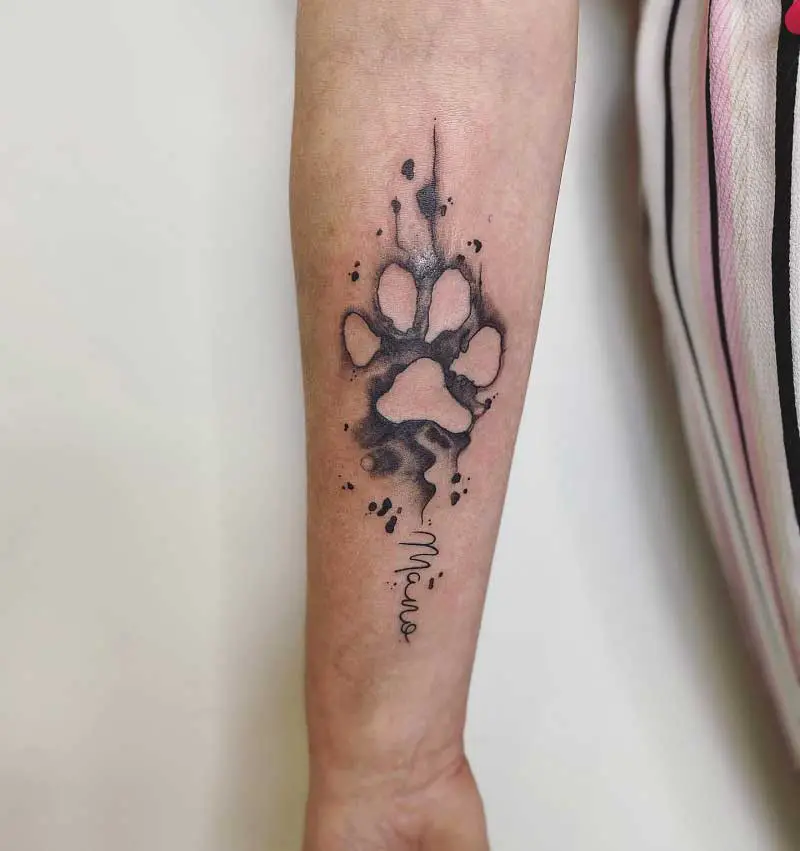 From a distance, it'll look like the ashes of a dog paw, and when someone gets closer it'll be like a scar on a woman's wrist. This tattoo is illustrated so delicately that impresses anyone no matters their perception. You can write your name underneath this tattoo and it'll look like fallen drop ashes.
8. Al-Bida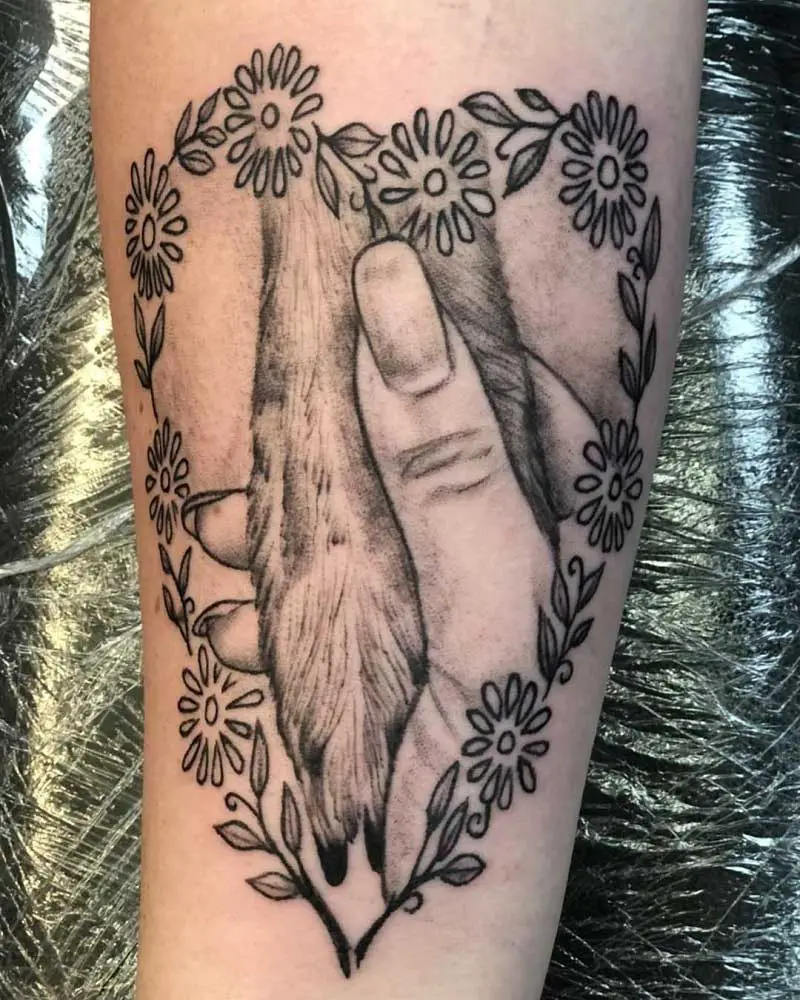 You can make so many stories by looking at this tattoo. To us, it's like a human saying goodbye to his/her beloved dog. Here we see a human hand holding the dog's paw sentimentally. There's a design of flowers around the tattoo that enhances its look a bit more.
9. Trust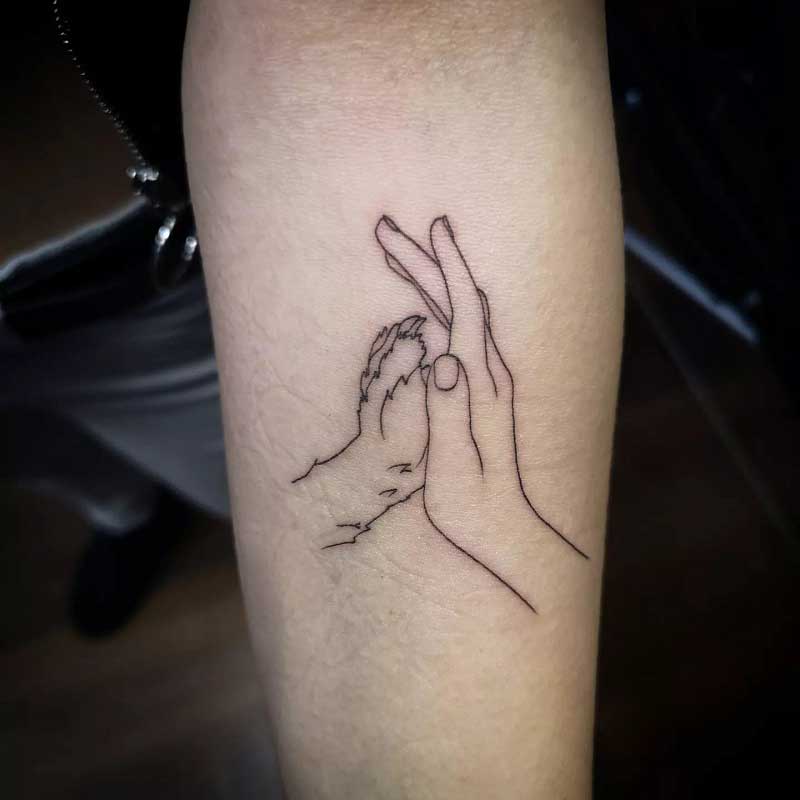 It's an illustration of trust as we see a human doing giving a high five to a dog which is undoubtedly so cute. The image shows a sign of trust that the dog has for its owner. If you too have a dog who trusts you blindly, you can own this tattoo on its dedication.
Realistic Dog Paw Tattoo
These tattoos are designed in a realistic way. That means, if you wear them, they won't look like a graphic. The real painting will evolve your body look to a better version.
10. Dark paw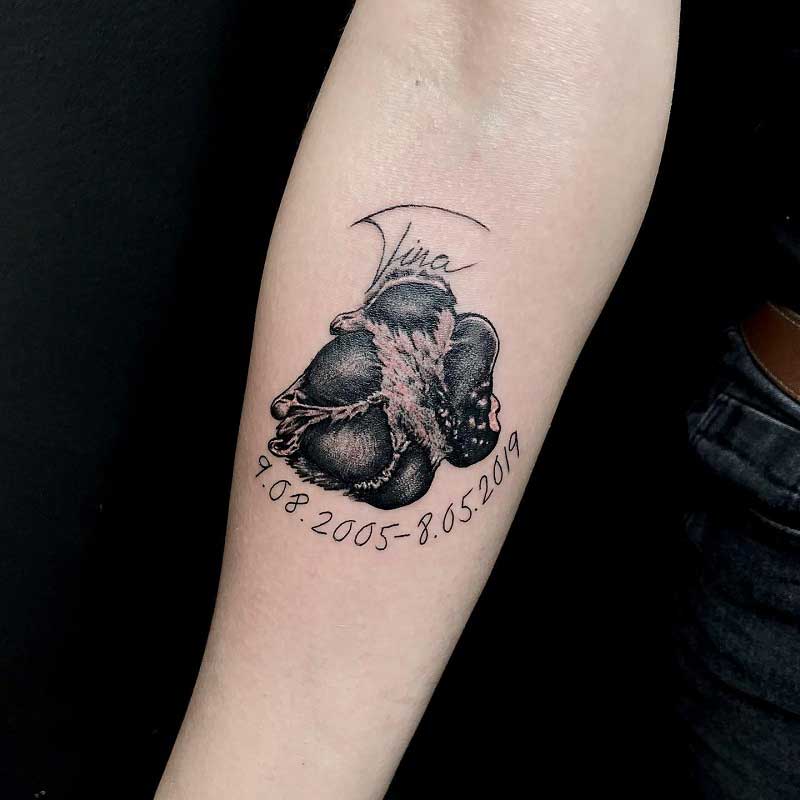 The tattoo gets the name dark as it's so dark. You can write your name over it and any date you prefer can be drawn underneath. Since the tattoo has a grave look it'll be noticeable to anyone from a long distance. The best place to have this tattoo is your arm.
11. Blooming paw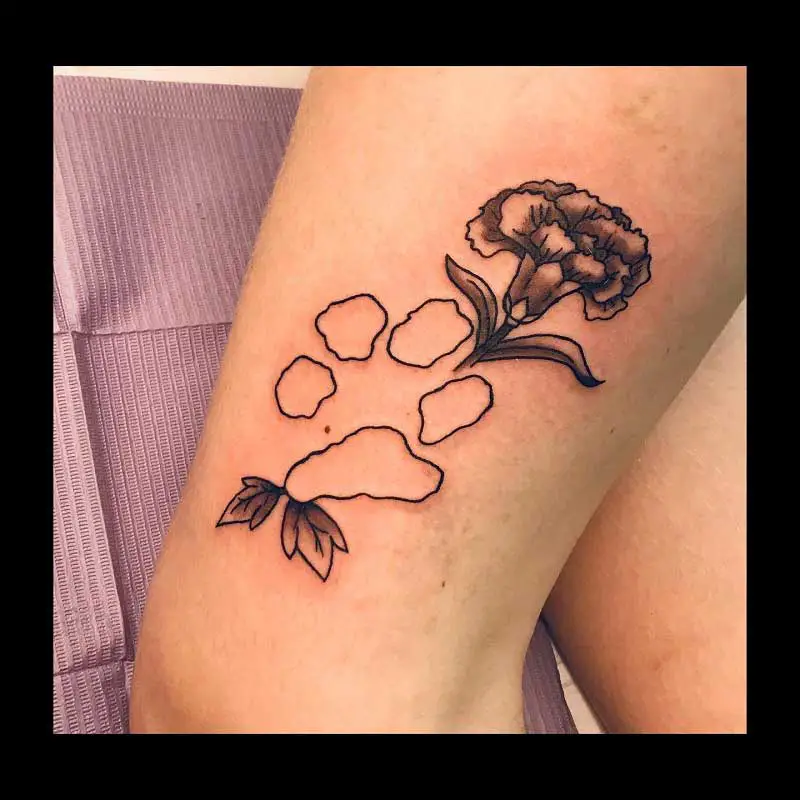 Here we see a blooming flower with a sign of a dog paw underneath it as its root. Or you can assume the paw produced the flower with its unimaginable power. Whatever the story is, the tattoo will look so beautiful on your arm and make you feel the coolest person of all.
12. Step on Step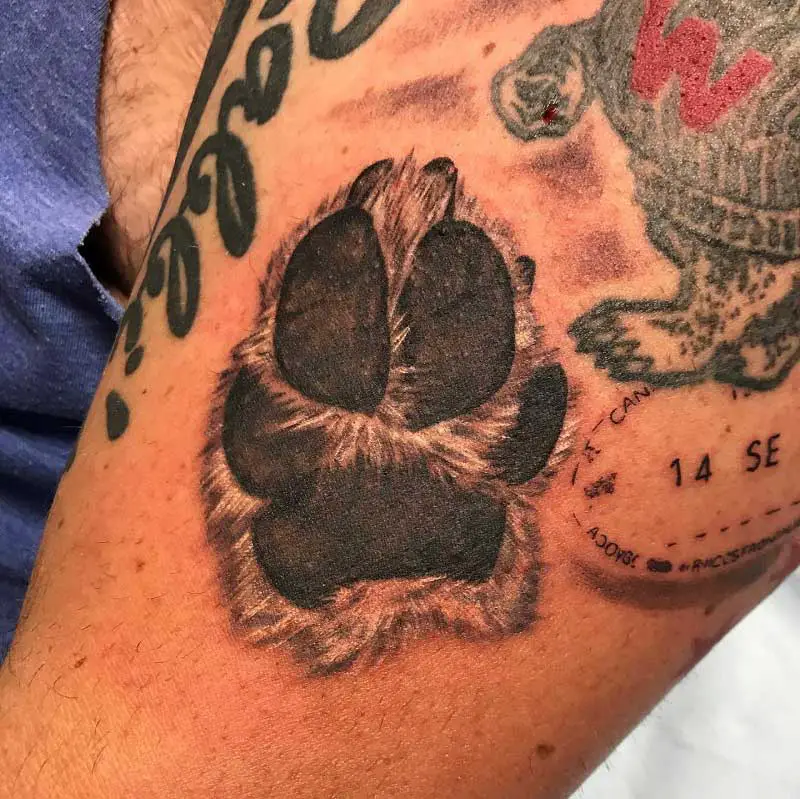 A step of big paw at first then the little one. It was as if the cub is following its father. You might see a tortoise going with them. There's also a scope to write your name on the top of the tattoo. Overall, it's the most creative tattoo you can have as your best preference.
Infinity Dog Paw Tattoo
Infinity dog paw tattoos come with infinitive designs. The following tattoos typically represent love and endless affection. These are especially suitable for women with a white complexion.
13. Paw and paws.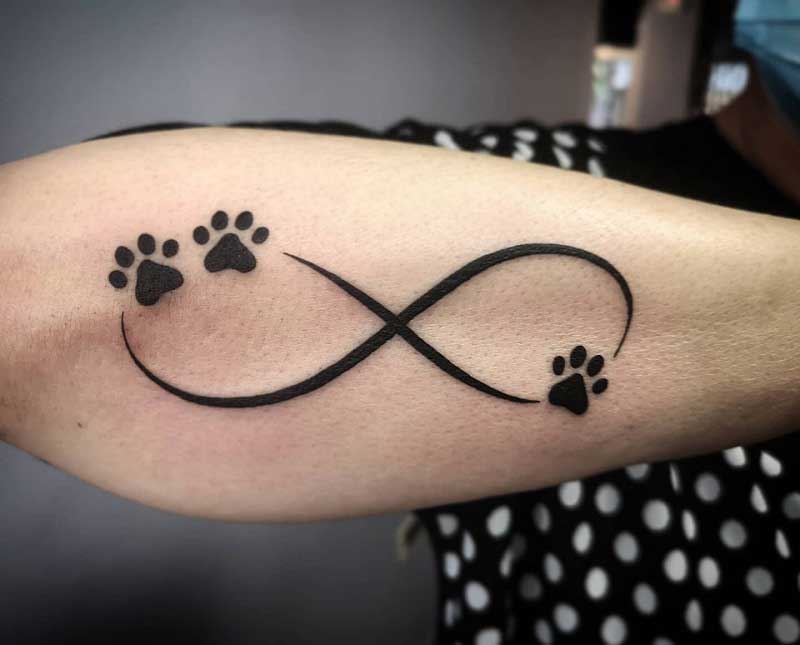 A tattoo with a pair of paws on one side and a single one on the other. A total of three paws of a dog puppy with a black appearance can enhance your beauty a lot more. Anyone with a white complexion will suit the best with this tattoo.
14. Paws from love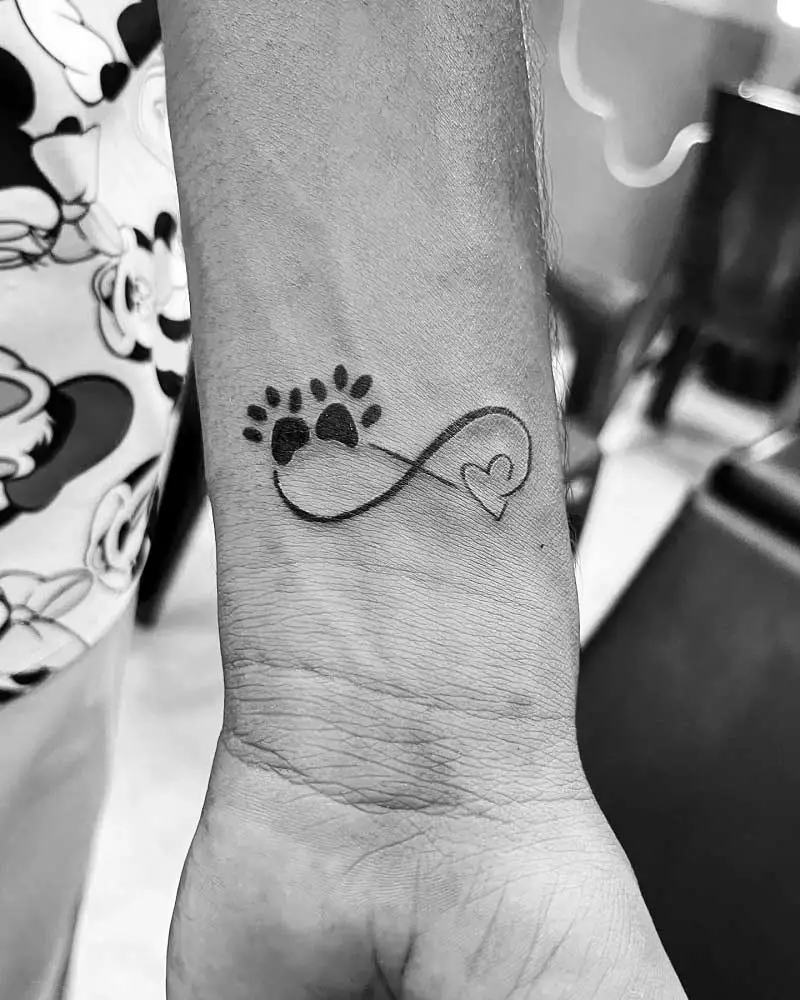 Here we see a pair of black paws on one side and a heart sign on the other. Make no mistake, the paws are of two couple of black little puppies. A sign of love can be revealed through this tattoo if you wear it. The wrist and upper part of your palm are suitable places for this as the tattoos are small.
15. Pawing to love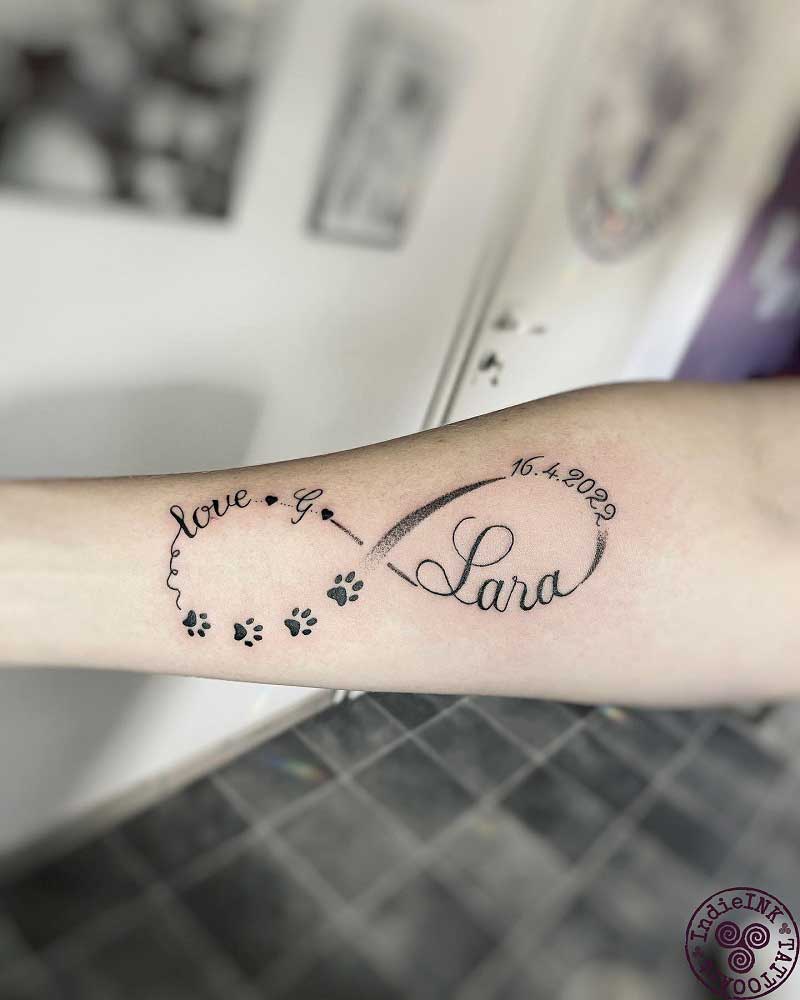 One step at first, then another then it goes four footprints straight of little puppies to where your name is written. You can add your birthdate on the top of your name and love signs right upon the footprints, as the tattoo comes with a lowercase delta shape (&).
Floral Dog Paw Tattoo
This section offers you dog paws with flowers. The flowers appear in a lovely way with the dog's paws. Since the tattoos contain flowers, women are mostly stable with these tattoos.
16. Paw flower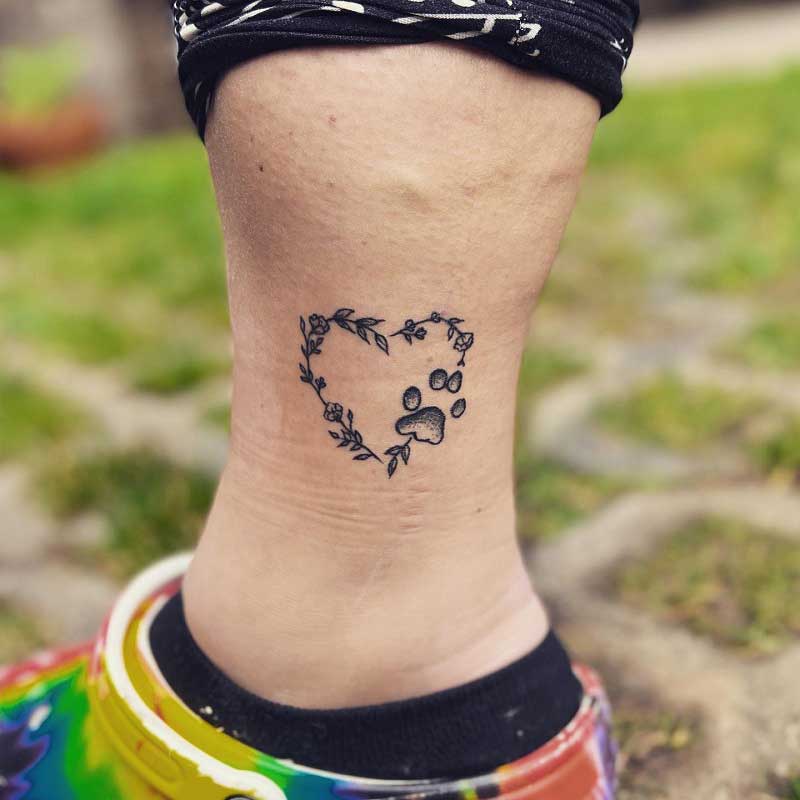 A sign of love with a dog paw on a corner. The illustration is made with lots of leaves in a dark color. The tattoo on the ankle can just be a dedication to your dog or to your beloved ones.
17. Paw bucket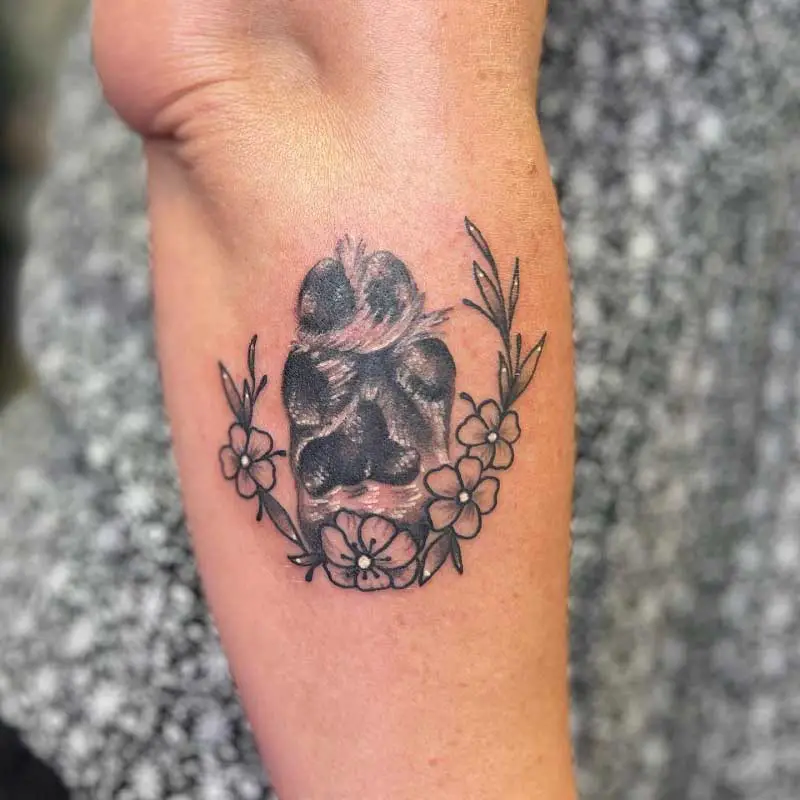 This time the flowers come in a bucket shape with a dog paw between them. The paw is in a dark complexion and is of a big dog. The wrist or the arm is the best body part to have this tattoo. Also if you have white skin, it'll be a good fit for you.
18. Fallen paw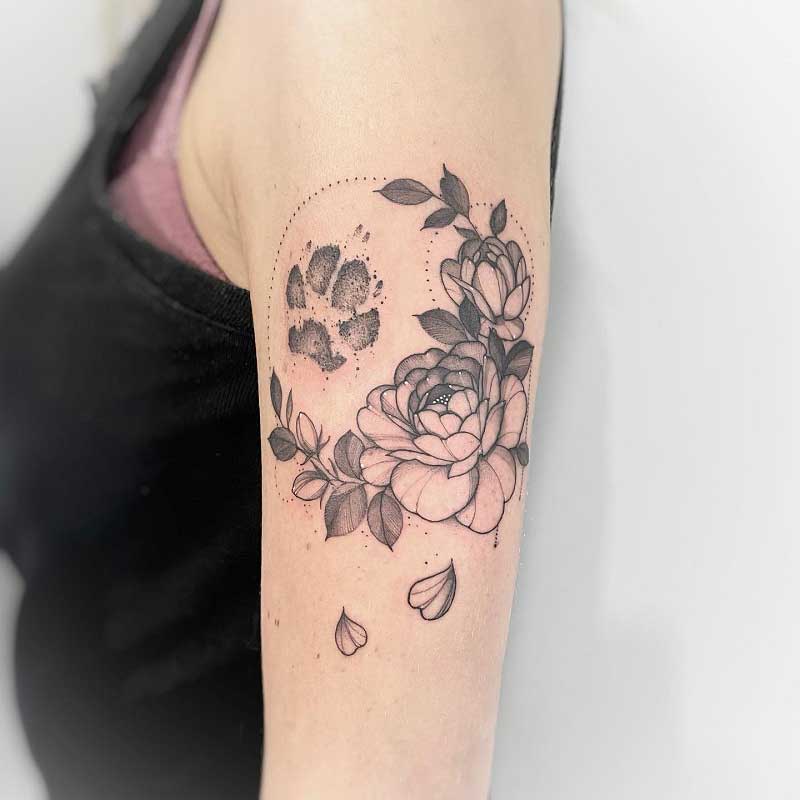 A dark skin dog paw is falling from the sky with a bunch of flowers. How do you imagine this scene? To us, it's eye-pleasing and soothed enough to represent your love for a dog. You can say it is the most beautiful dog paw tattoo till now.
Hand Holding Dog Paw Tattoo
All the hand-holding dog paw tattoos paint a human holding holding a dog paw. It's simply a sign of love and trust between human and dogs. The tattoos will please your eyes once you see them.
19. Paw on hand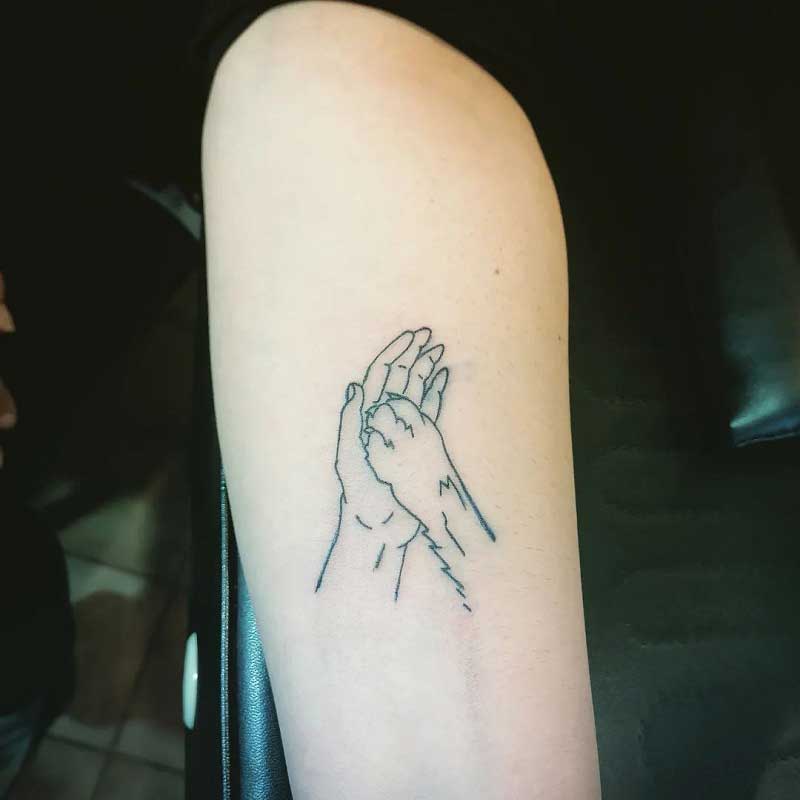 A human hand doing a high five with a dog paw. Nothing is better than this to show the friendship between the dogs and us. Both hands come in a watery colour so no matter the complexion you are having the tattoo will suit you nicely.
20. Paw of trust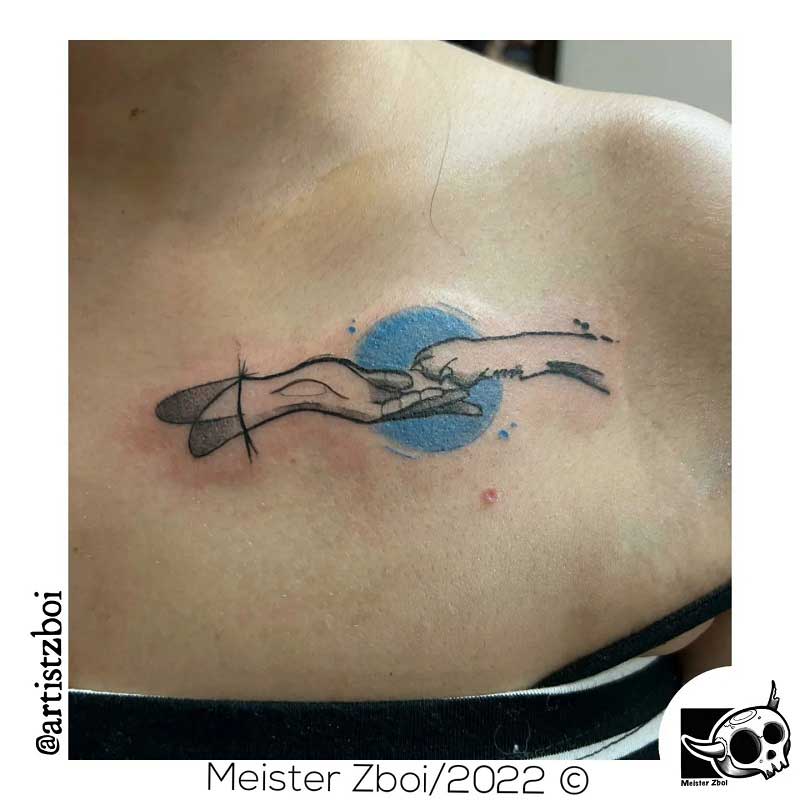 Humans taking responsibility for a pup or the puppy is the one where the human finds his/her happiness. You can explain the image either way. But two us, it's a paw of trust.
21. Pawing on hand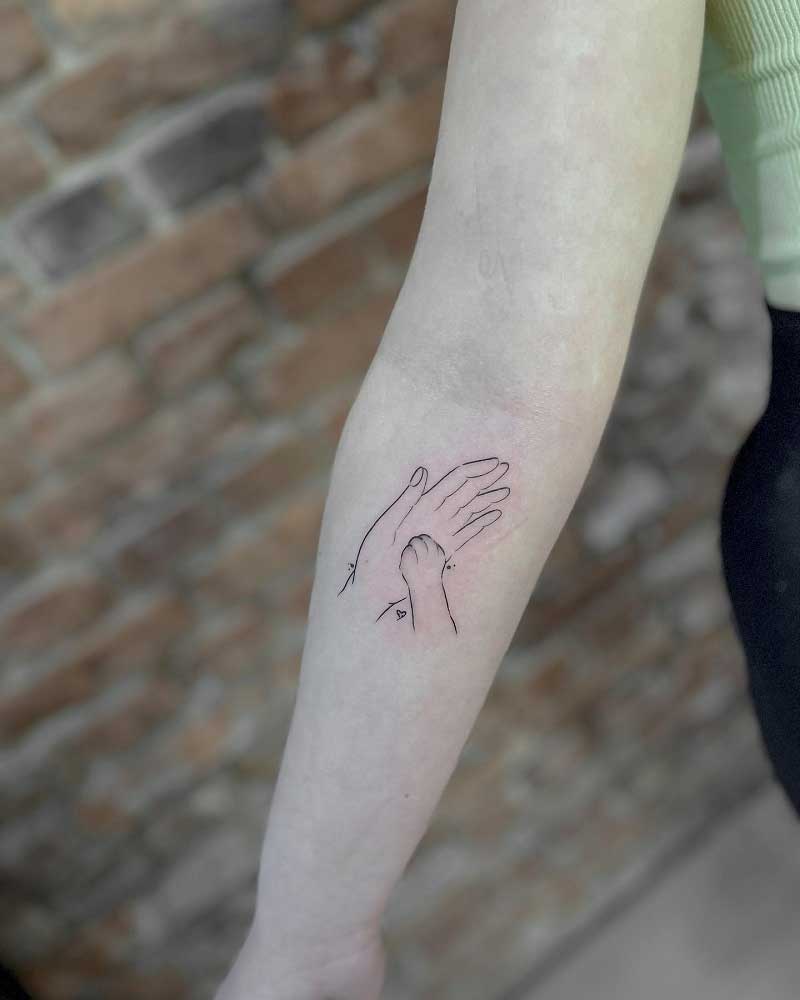 Pawing as in high-five. Here we see the same image as number 19 but in small size and in a more soft colour. The soothing vibe that the tattoo spread can melt anyone's heart for dogs. The tattoo is appropriate for both, men and women of any skin colour.
Heartbeat Dog Paw Tattoo
Do you think dog paws can have a heartbeat? Technically, they don't but you can have a painting on it within this particular section.
22. Paw-beat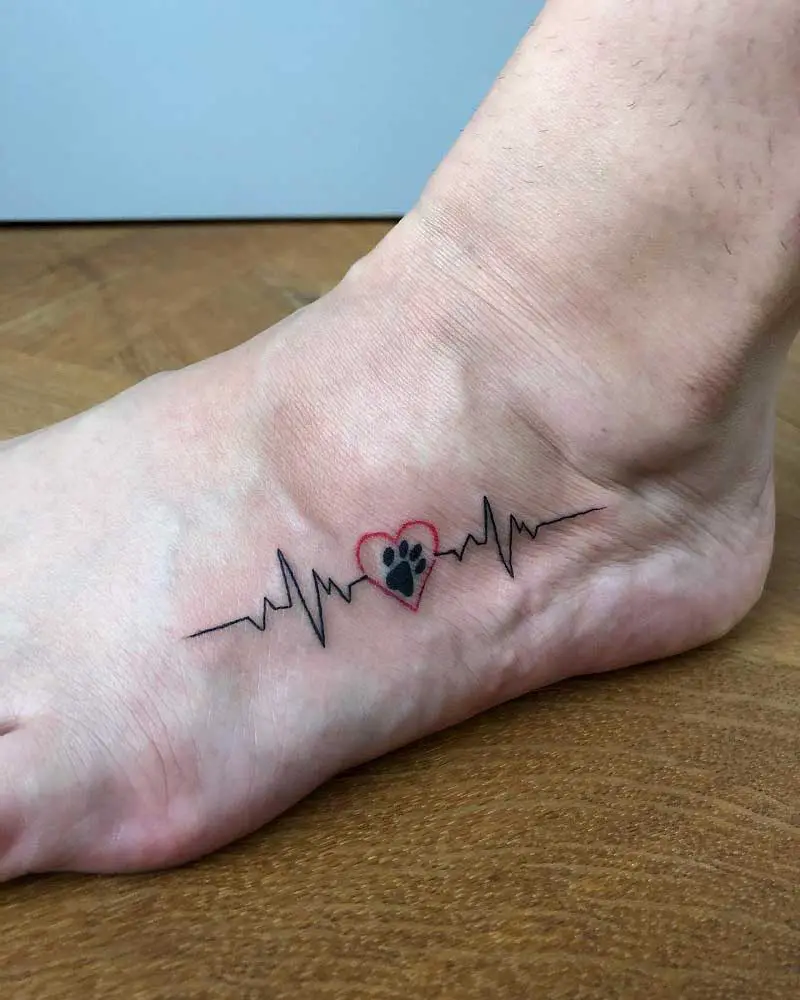 An illustration of a heartbeat with a dog paw. Nothing can be cutest than this one. This heartbeat rate certainly demonstrates that you are mad for your puppy. If you wear this tattoo on the side of your neck, it'll be appropriately suited to your body.
23. Heartbeat of paw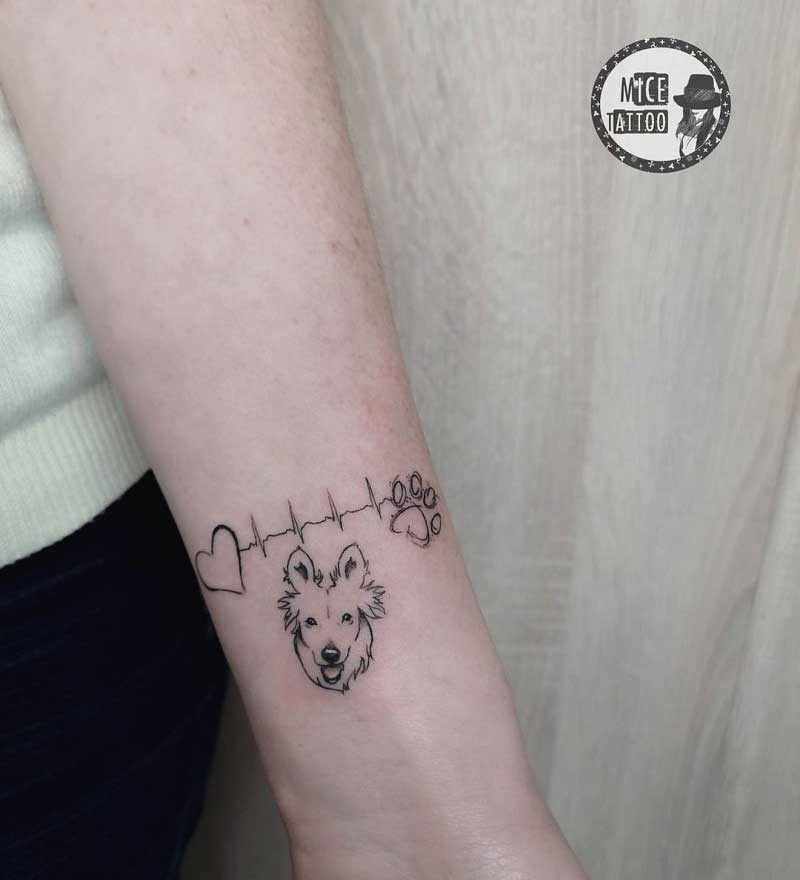 This time, the illustration of the heartbeat is of a cute dog who is filled with happiness. Here we have the heart rate with a love sign in one corner and a dog paw in the other. Underneath the ratio rate, there's a happy face of a dog.
24. Paw in a lifeline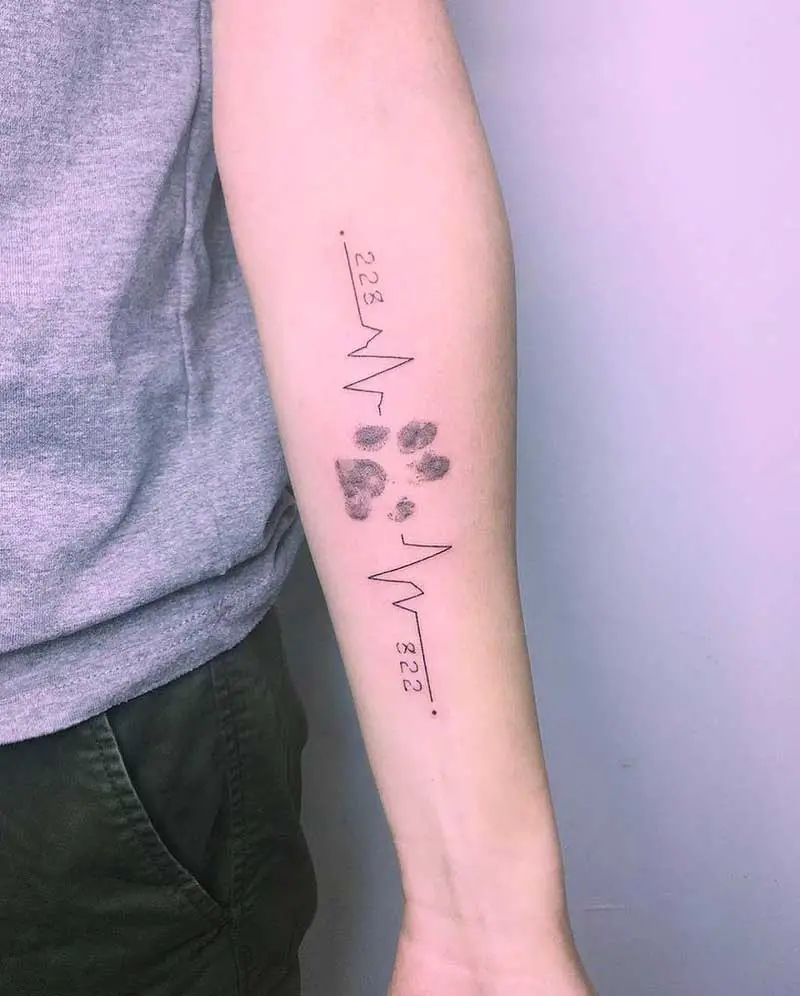 The blur illustration of a dog paw and the mentioned ratio rate indicate the paw is in a lifeline. As the tattoo is relatively long. The tattoo is a bit pathetic though it will come to anyone's liking at the first glance.
Minimalist Dog Paw Tattoo
Minimaist dog paw tattoos appears as simple illustration yet the most coolest ones. Wearing these will bring a coolest vibe on your body.
25. Paws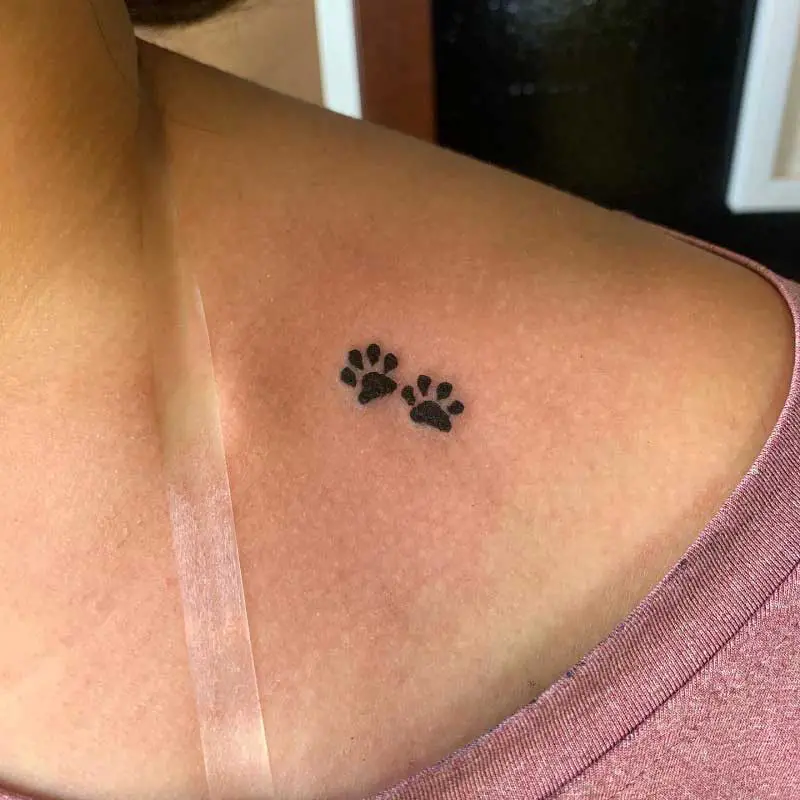 Two little paws of two cute black puppies are all to soothe your eyes. Just a bit footprint, that's all you'll get here. No matter how simple the tattoo is, it's the most cutest dog paw tattoo you are looking at.
26.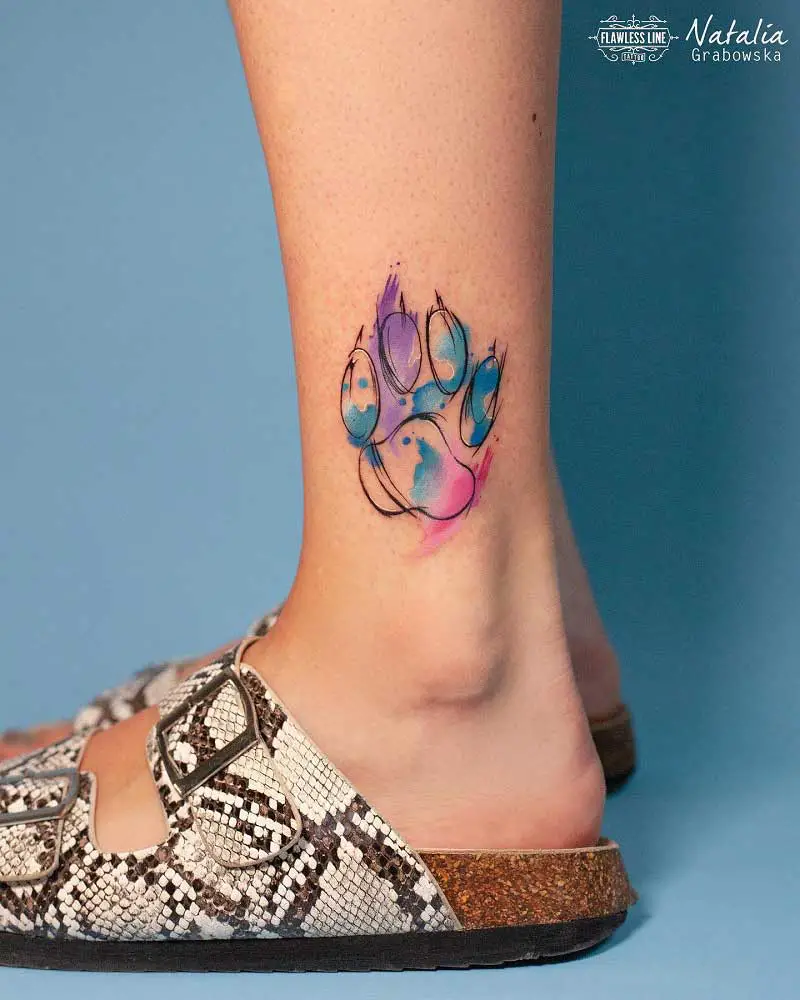 27.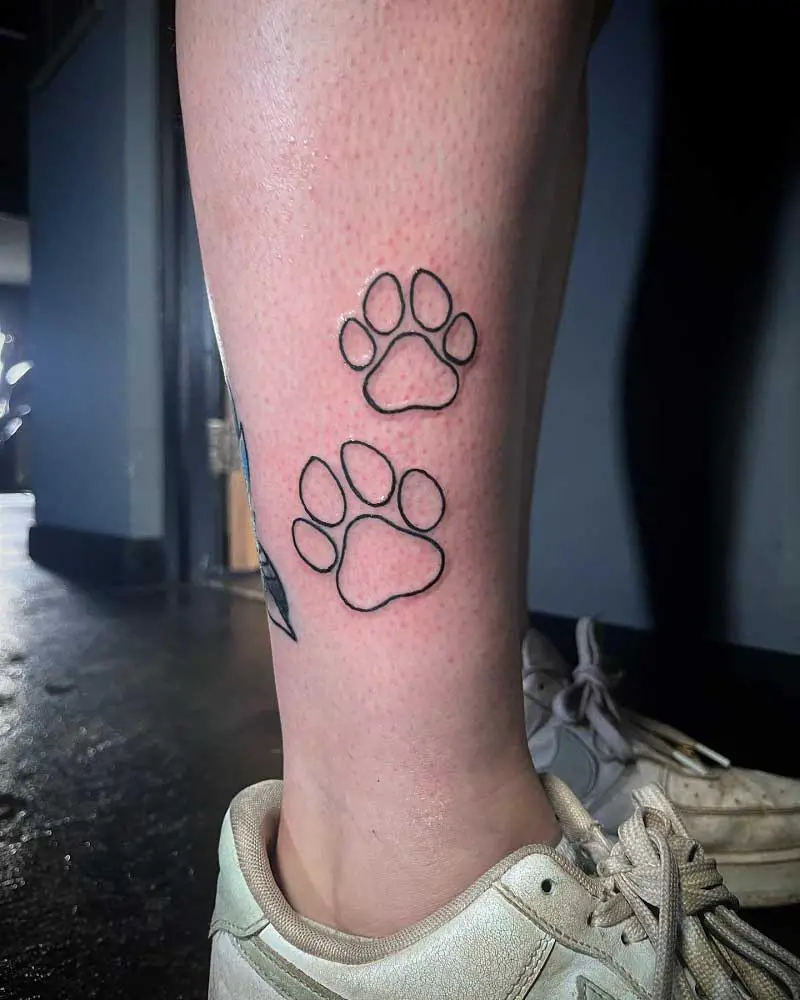 Rainbow Dog Paw Tattoo
28.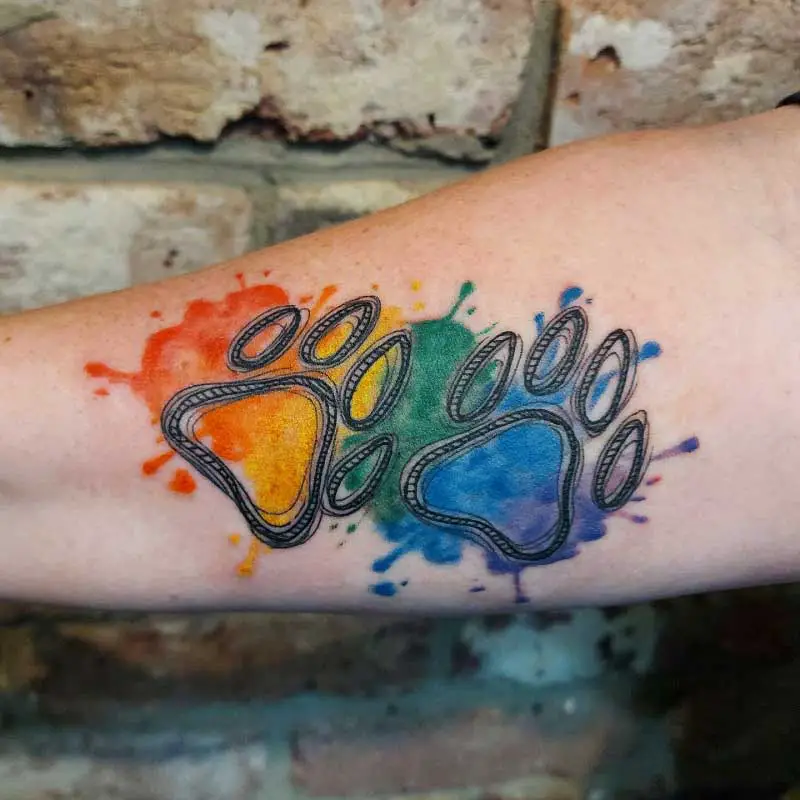 29.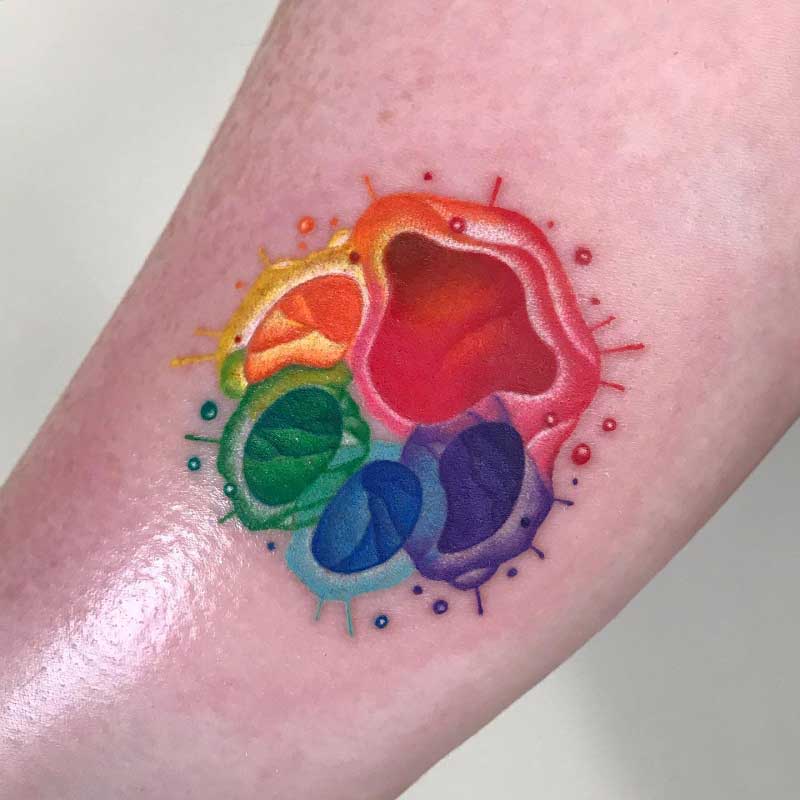 30.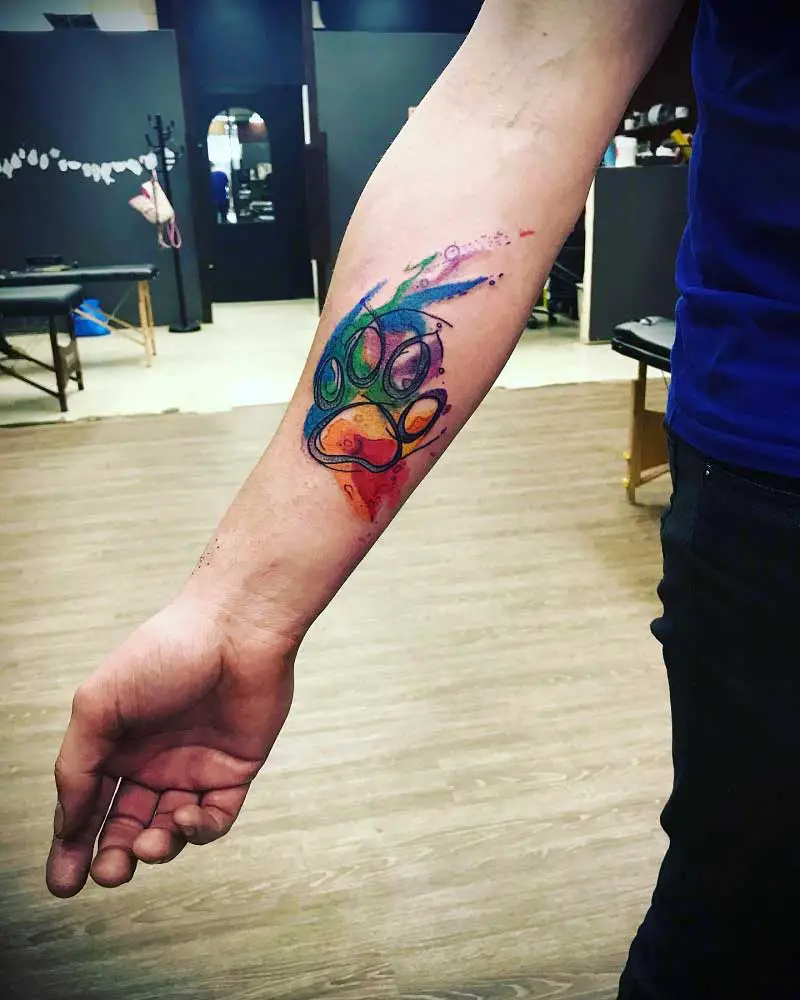 Shaded Dog Paw Tattoo
31.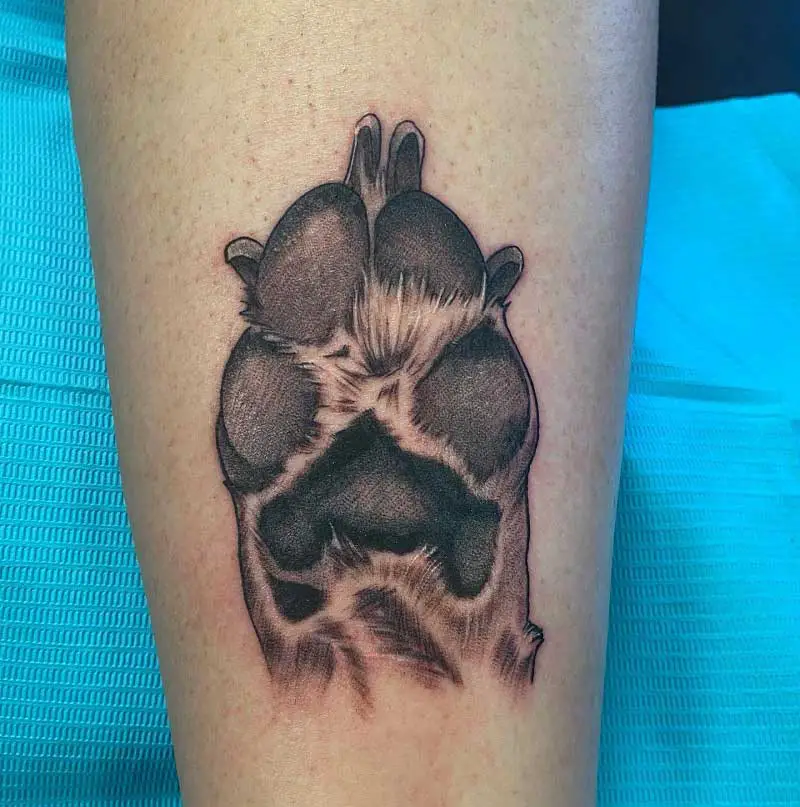 32.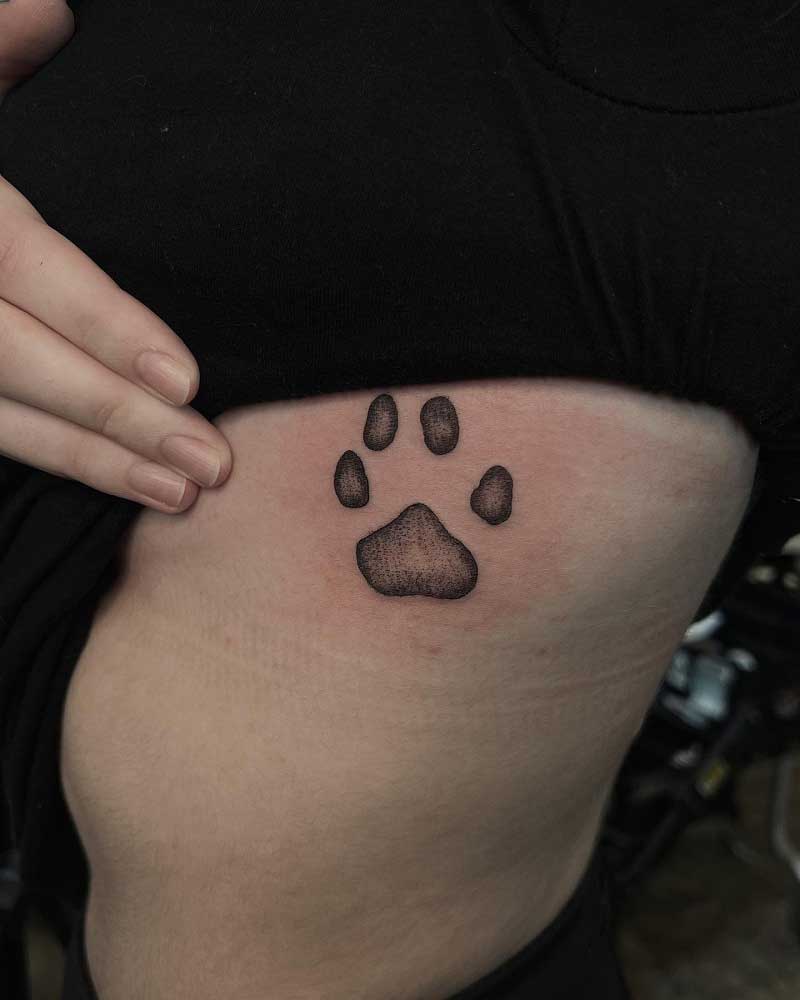 33.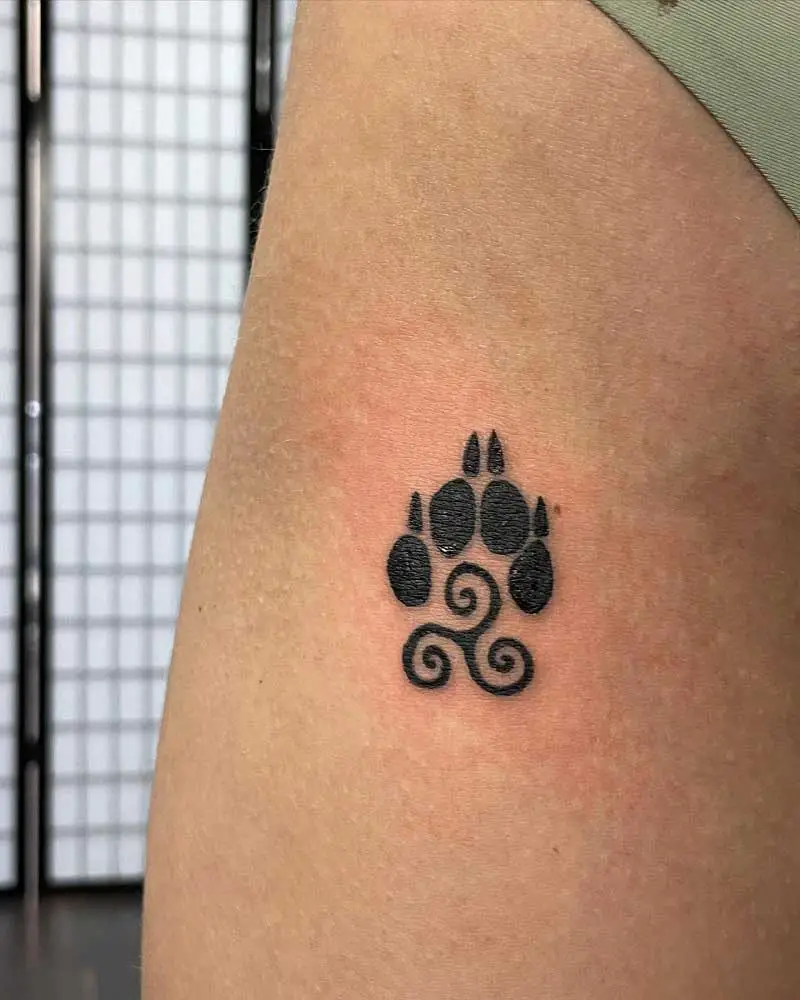 Tribal Dog Paw Tattoo
34.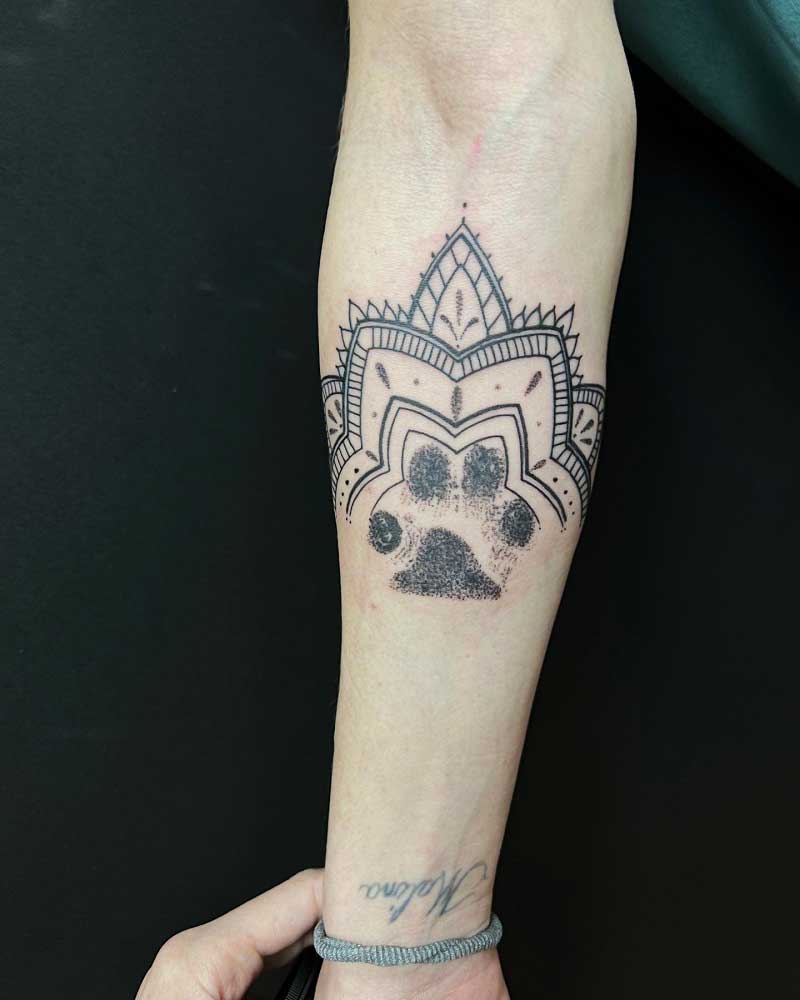 35.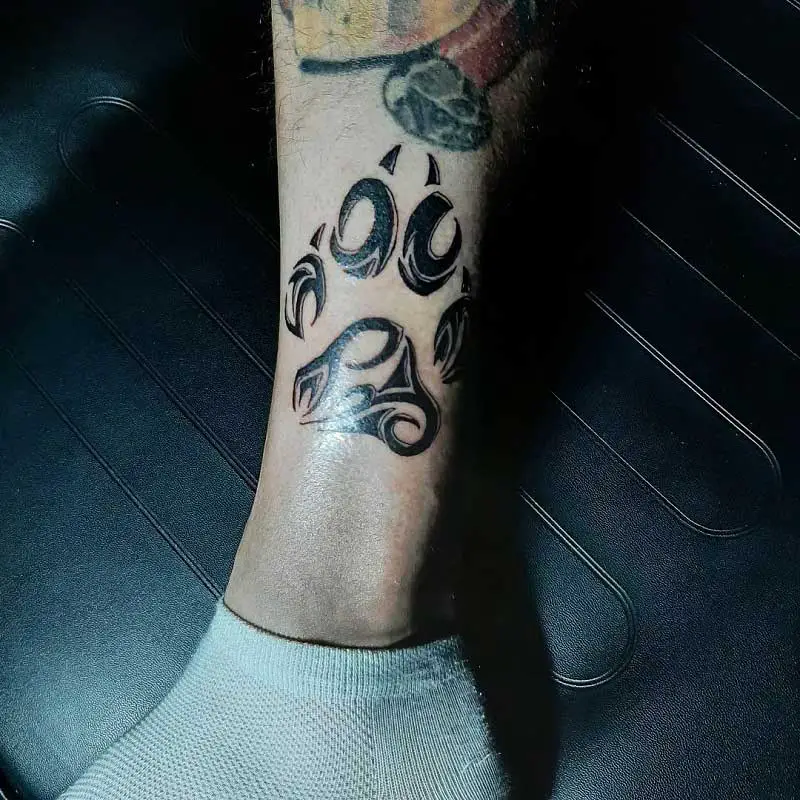 36.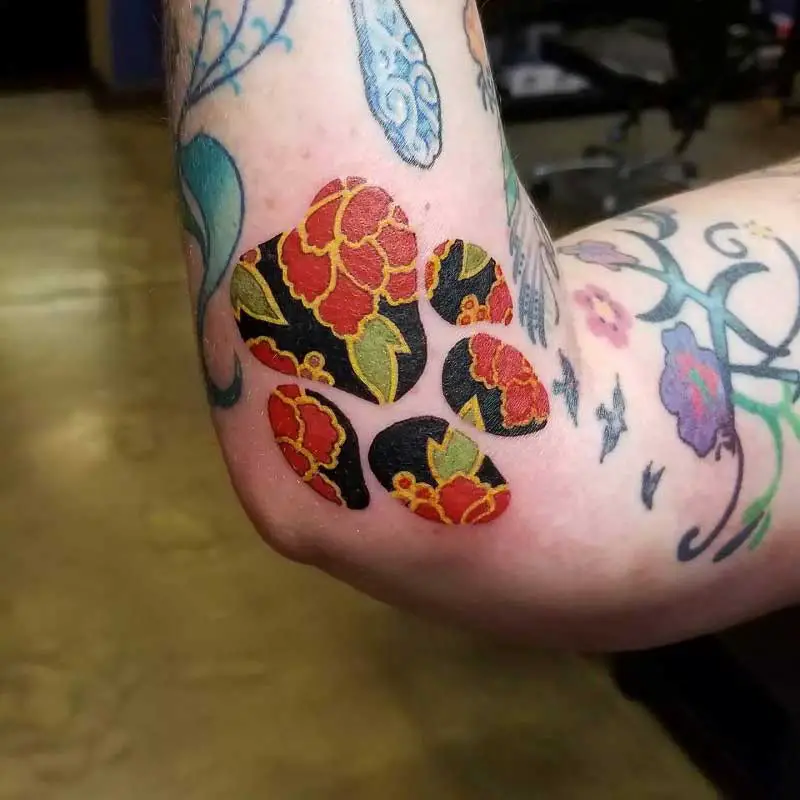 Yin Yang Dog Paw Tattoo
37.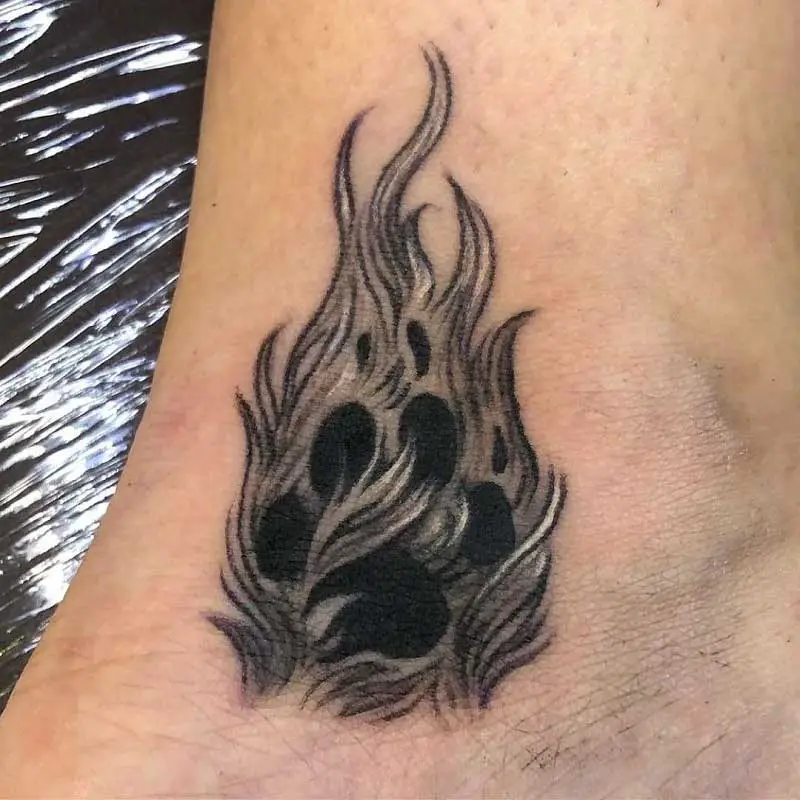 38.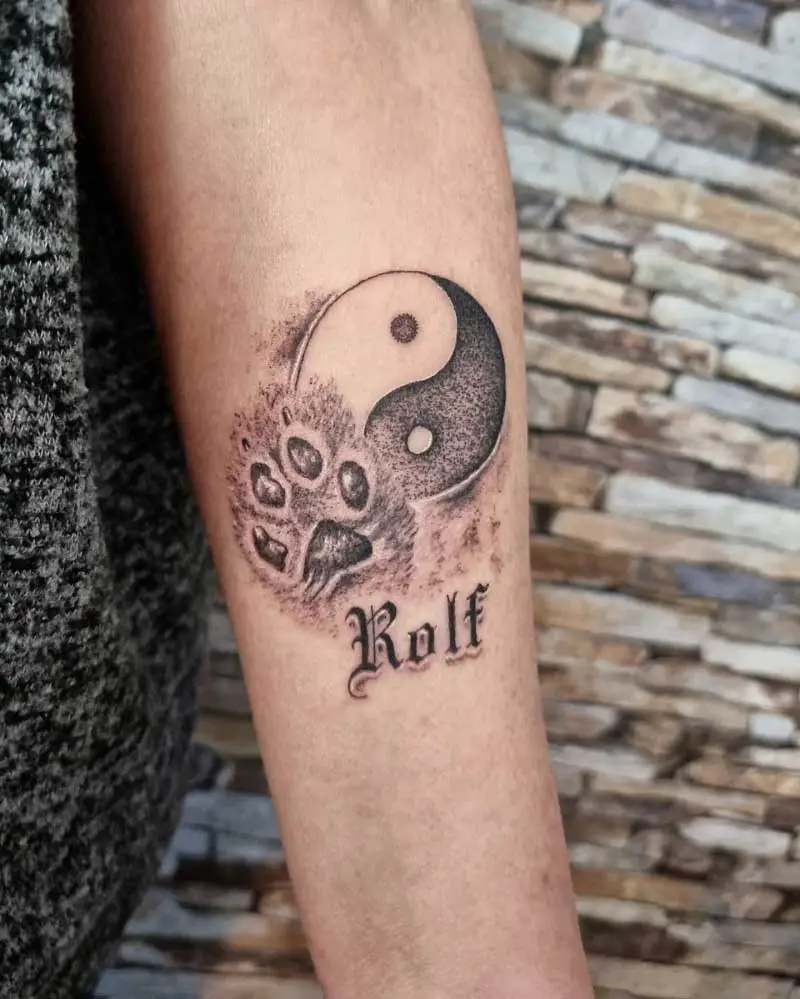 Flower Dog Paw Tattoo
39.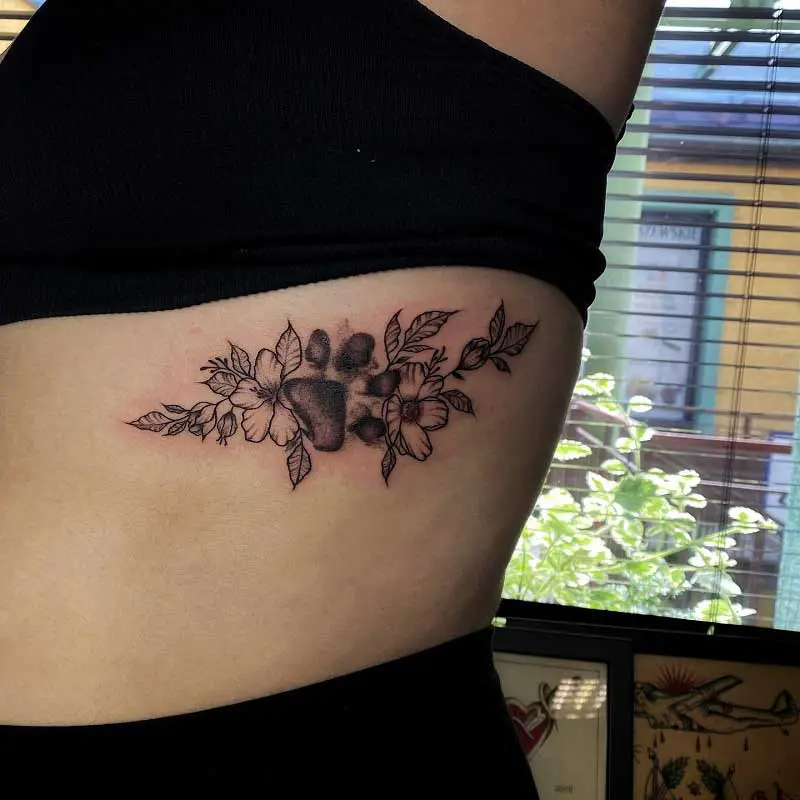 40.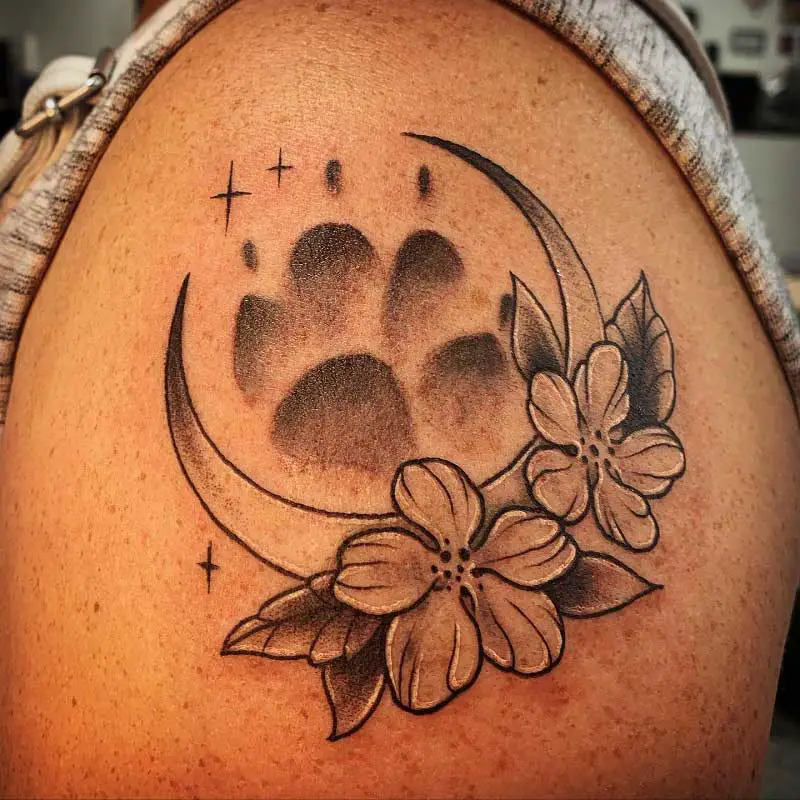 41.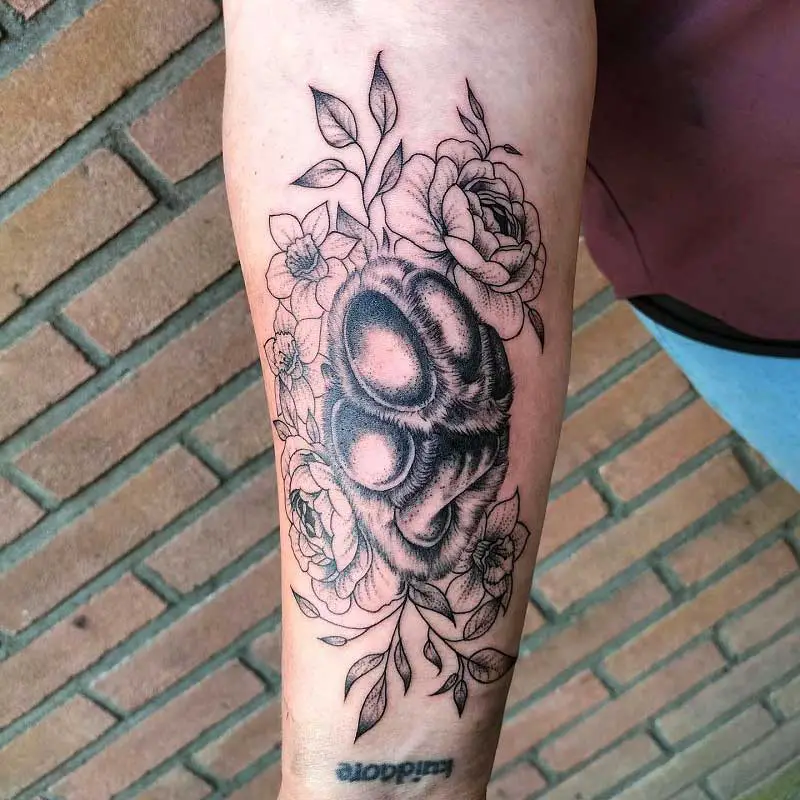 Geometric Dog Paw Tattoo
42.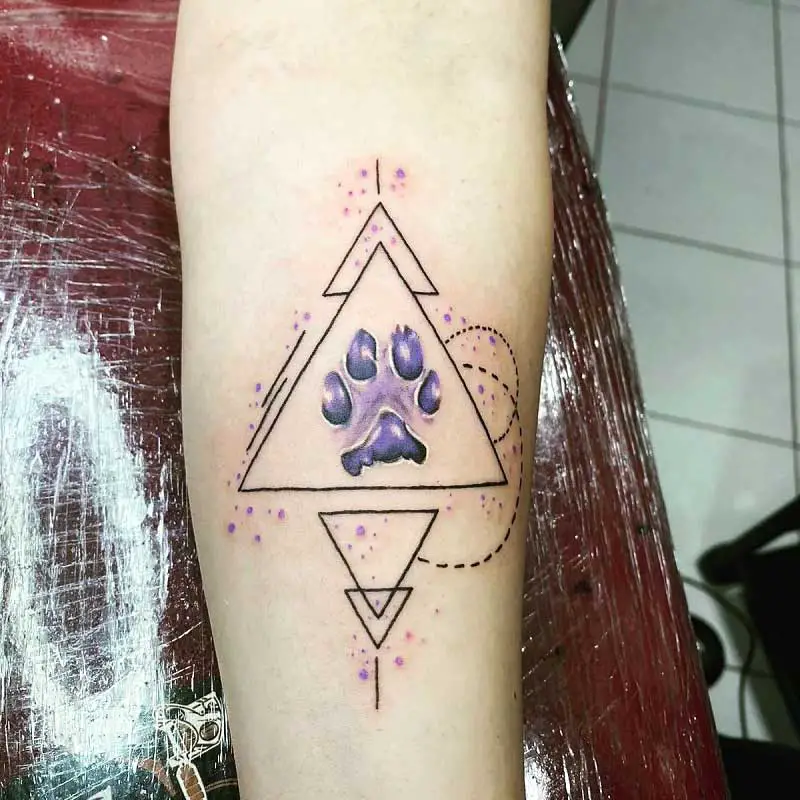 43.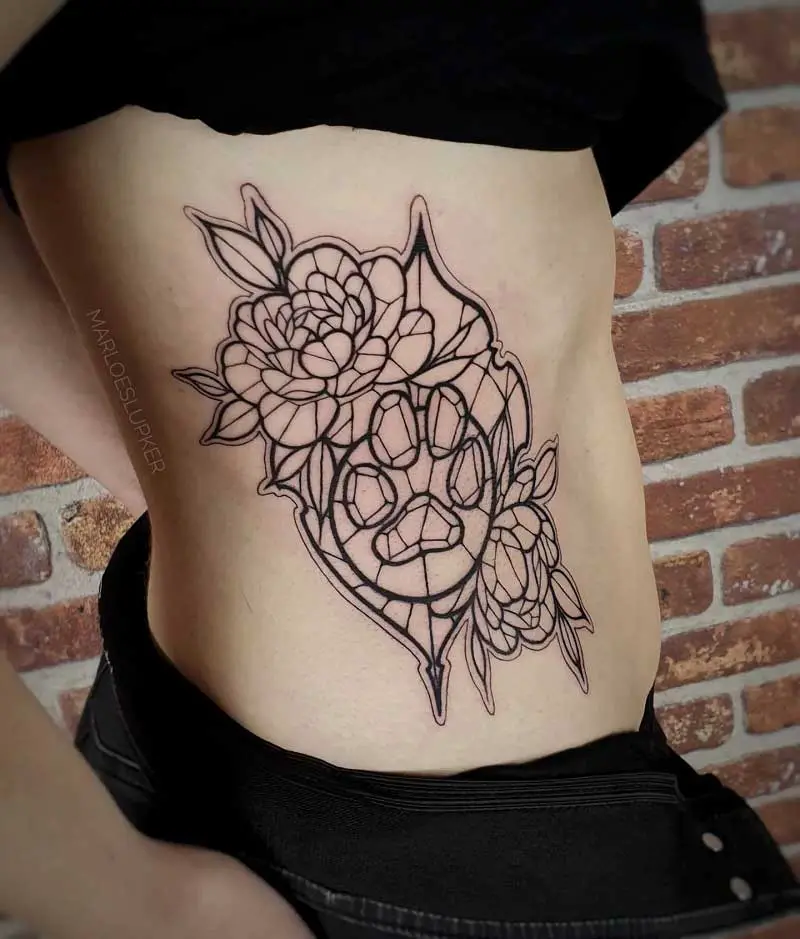 Mandala Dog Paw Tattoo
44.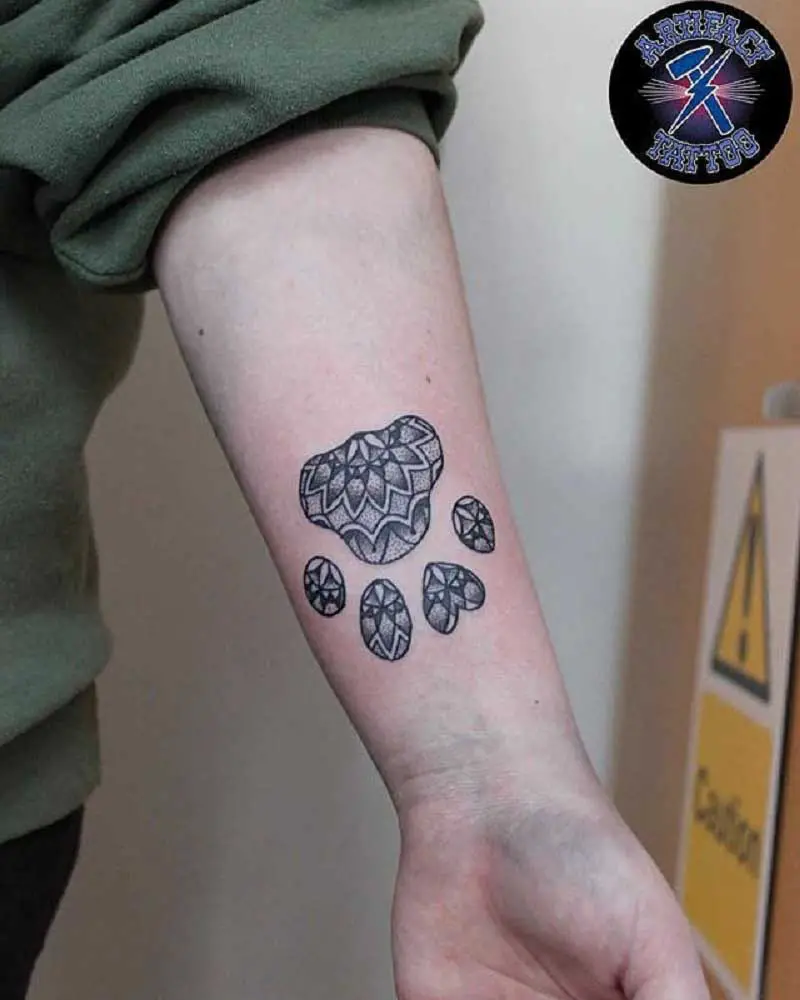 45.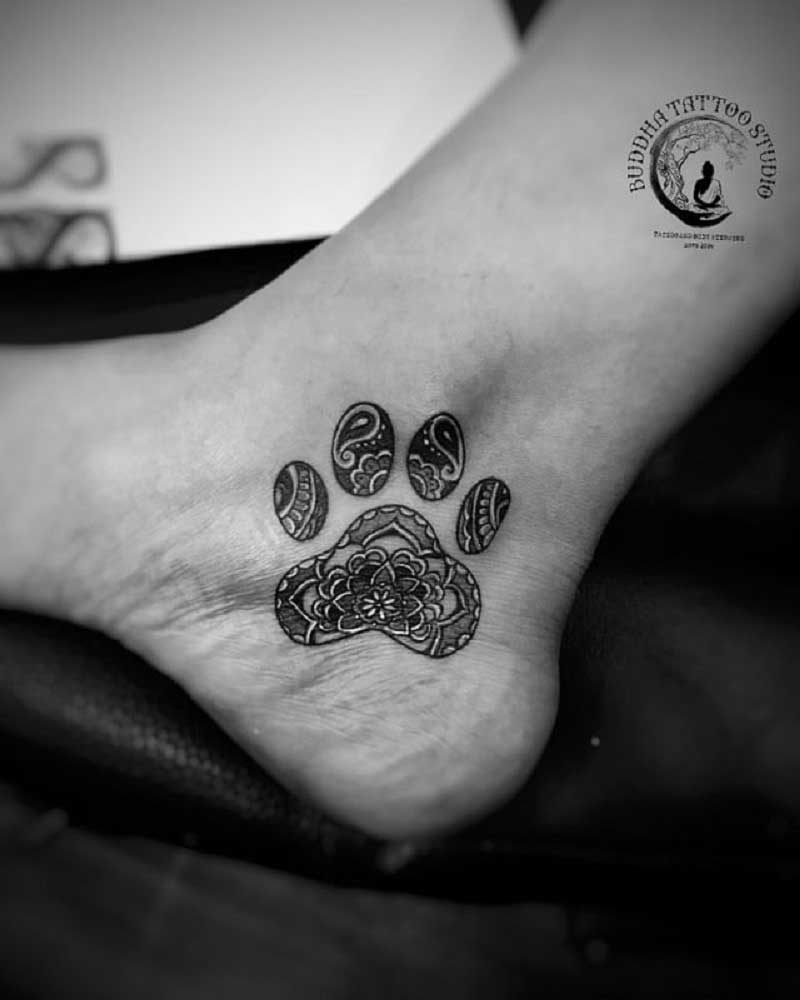 46.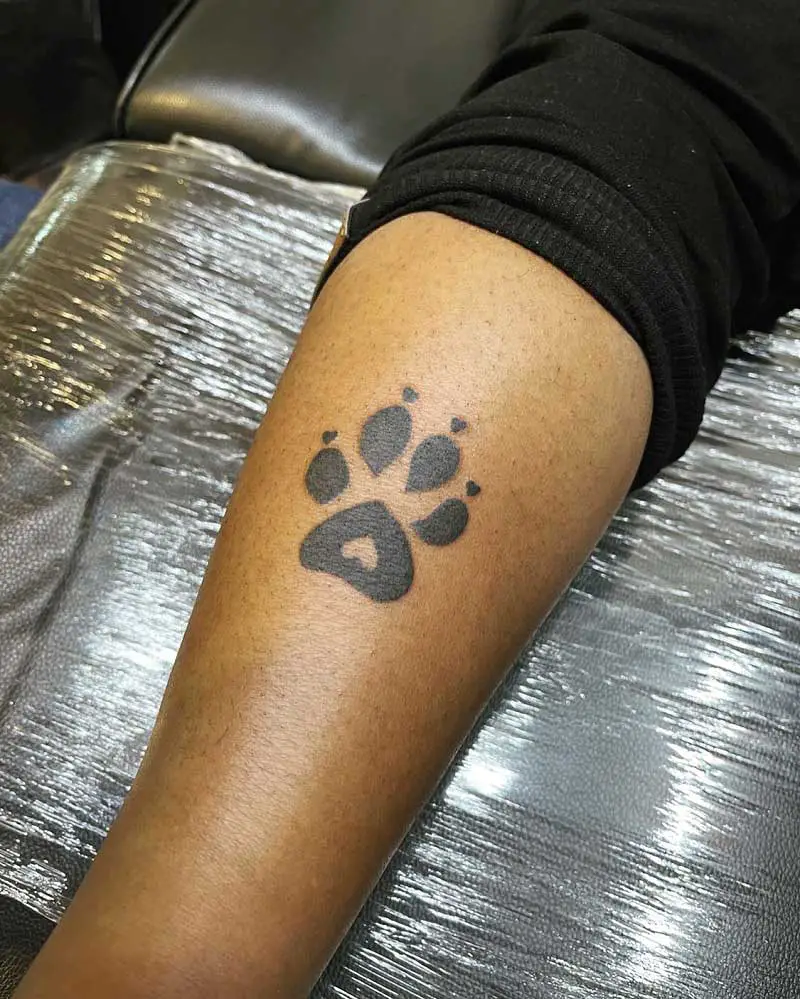 Sunflower Dog Paw Tattoo
47.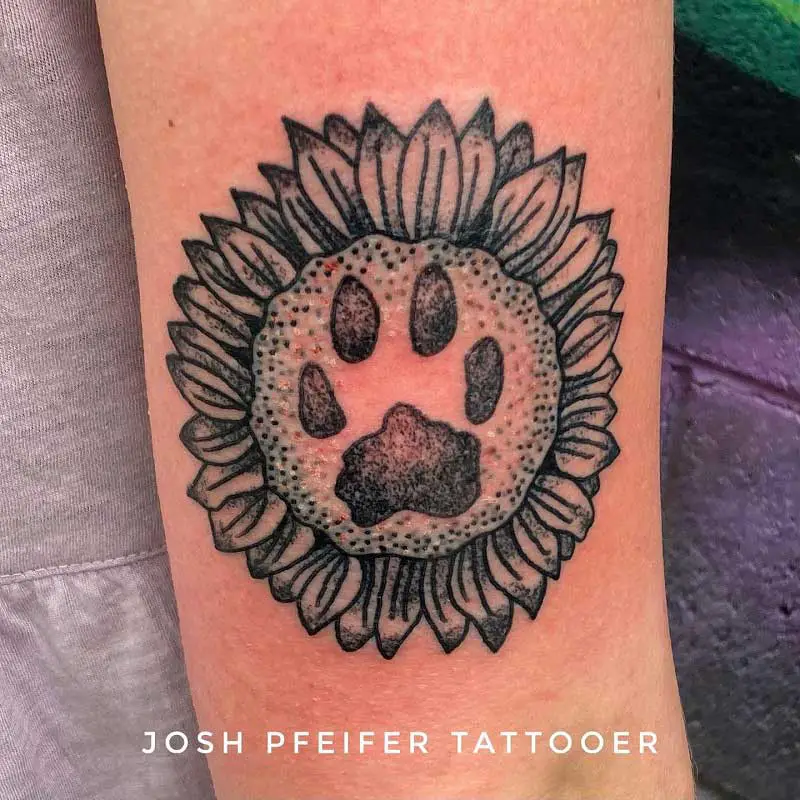 48.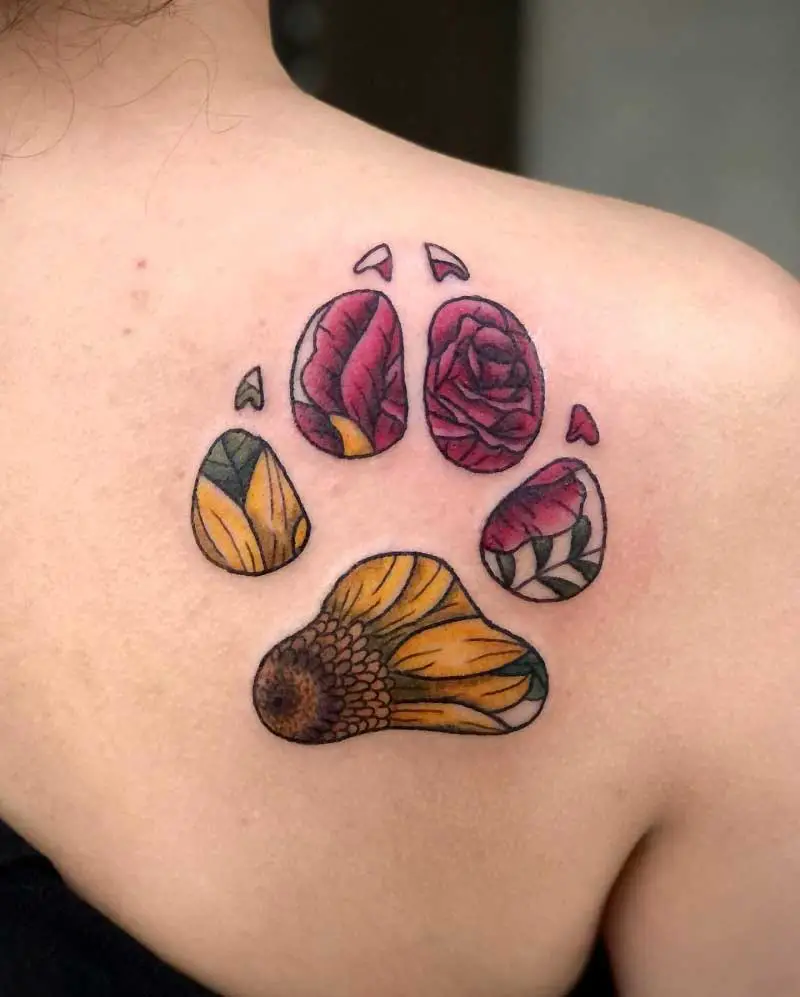 49.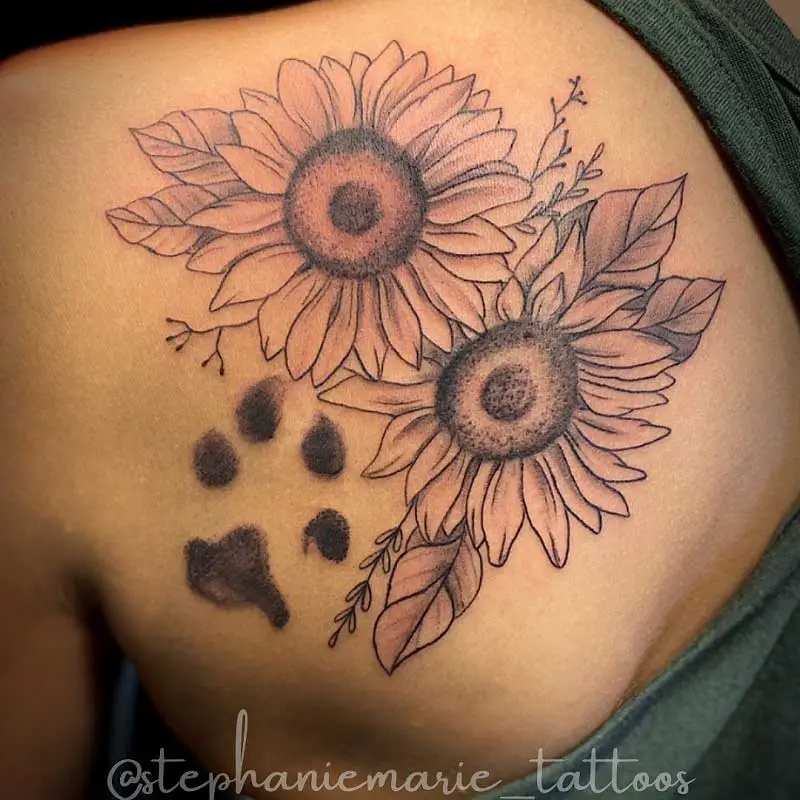 Traditional Dog Paw Tattoo
50.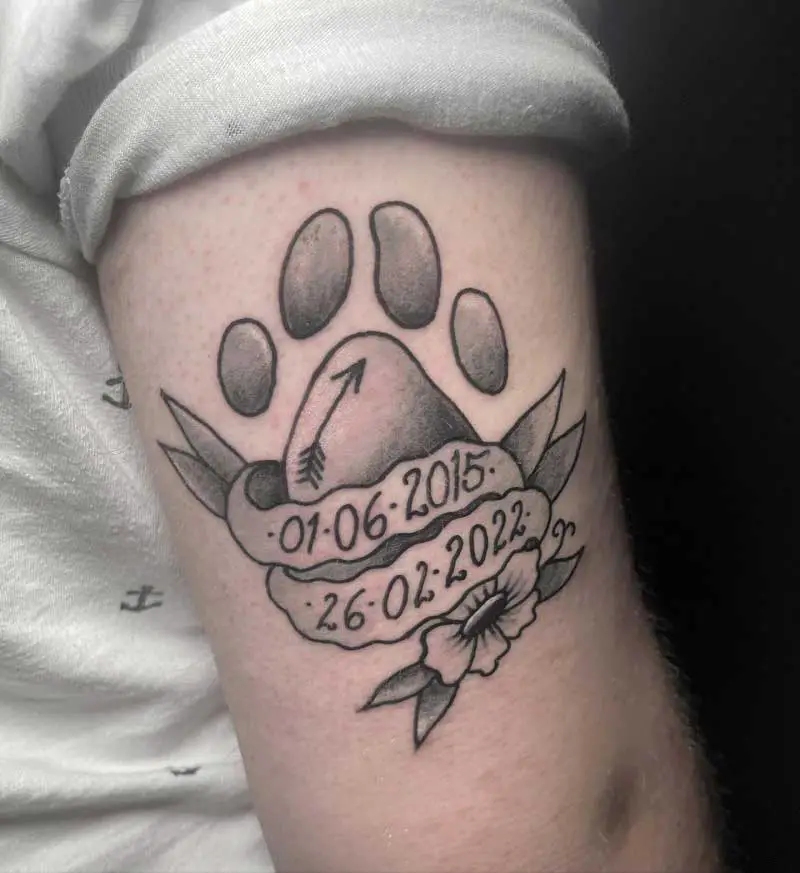 51.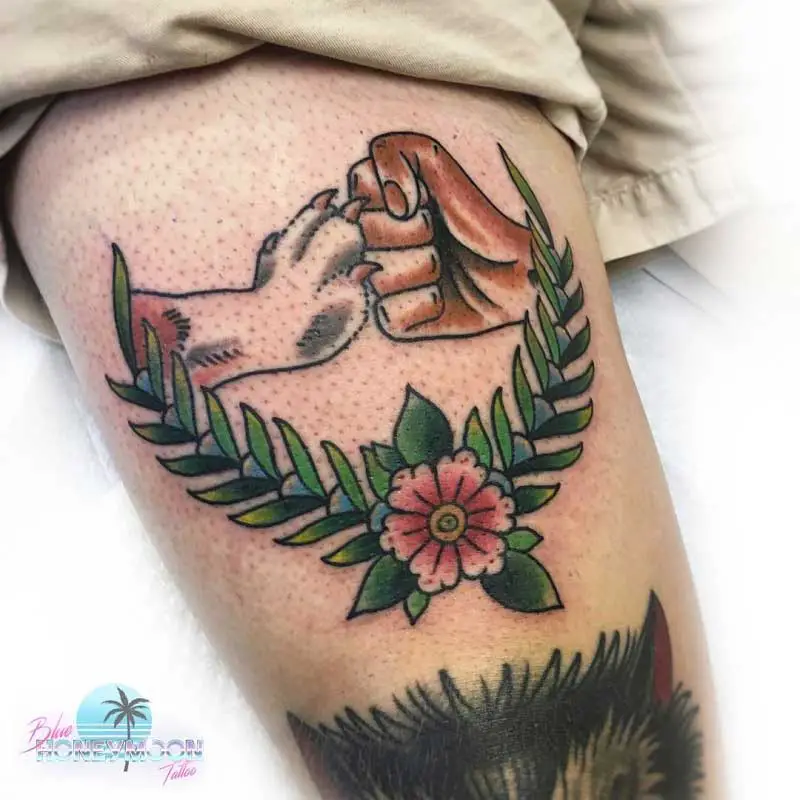 52.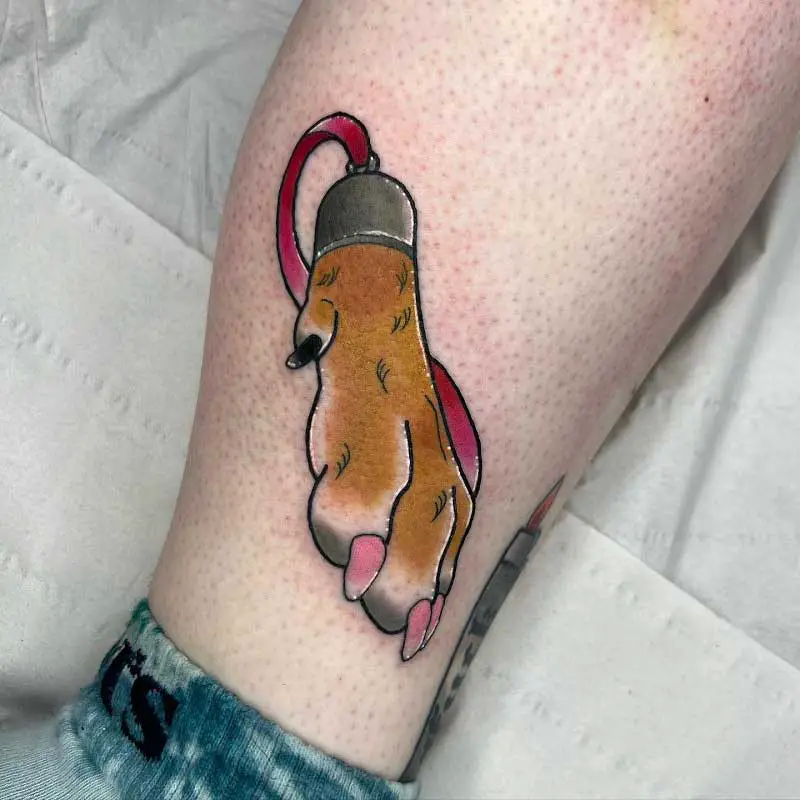 Cat Paw Inside Dog Paw Tattoo
53.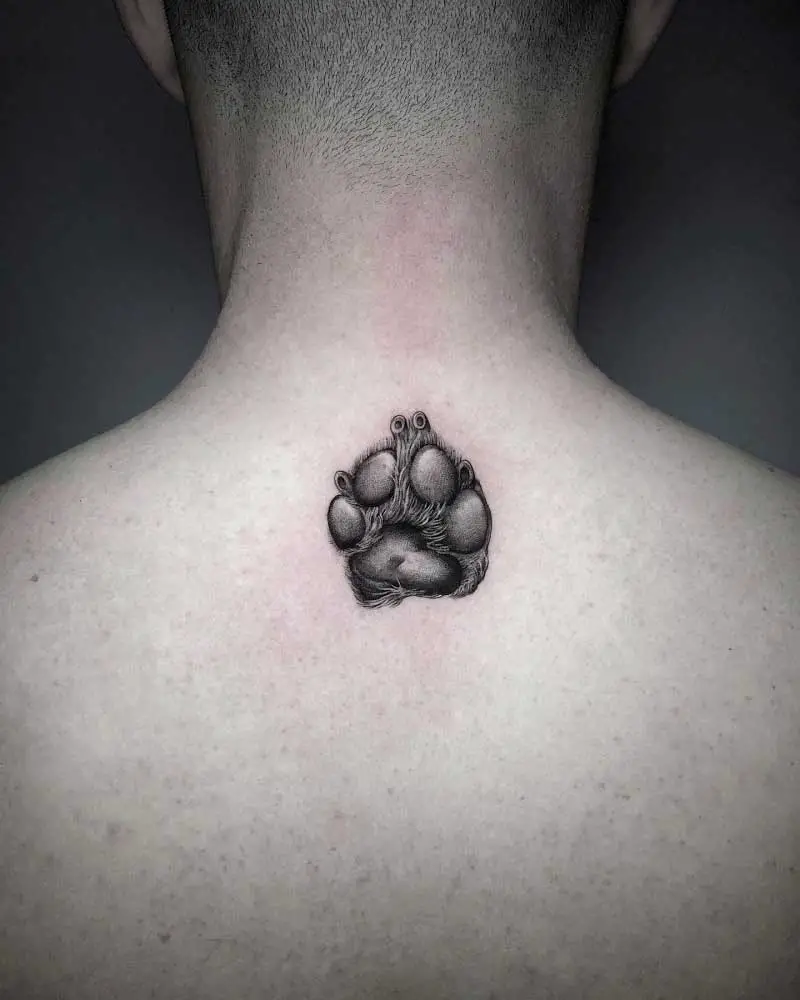 54.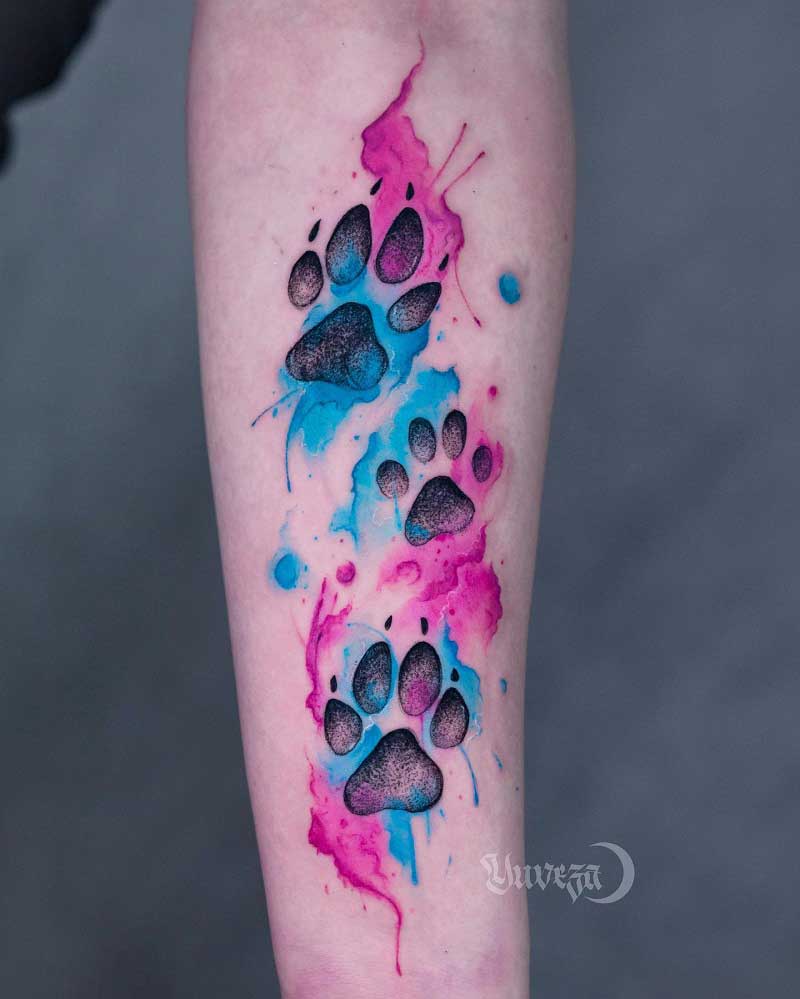 55.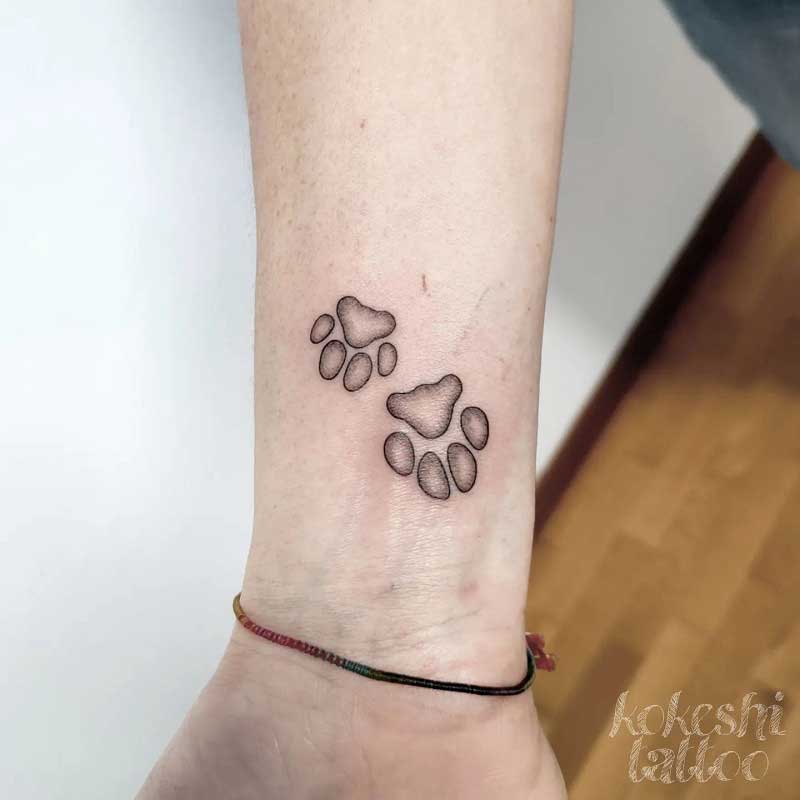 Dog Paw Tattoo Thigh
56.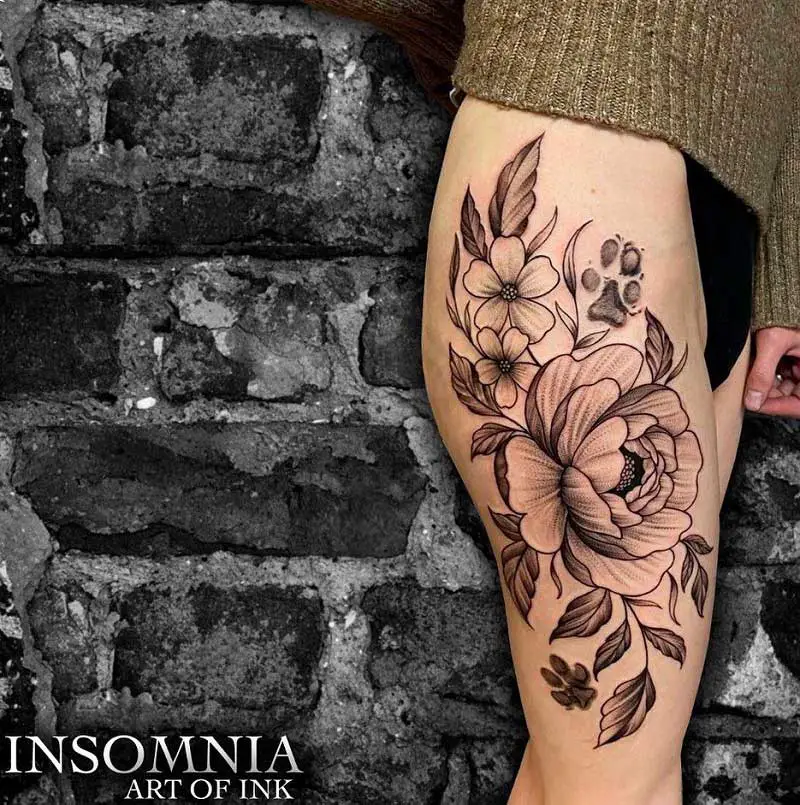 57.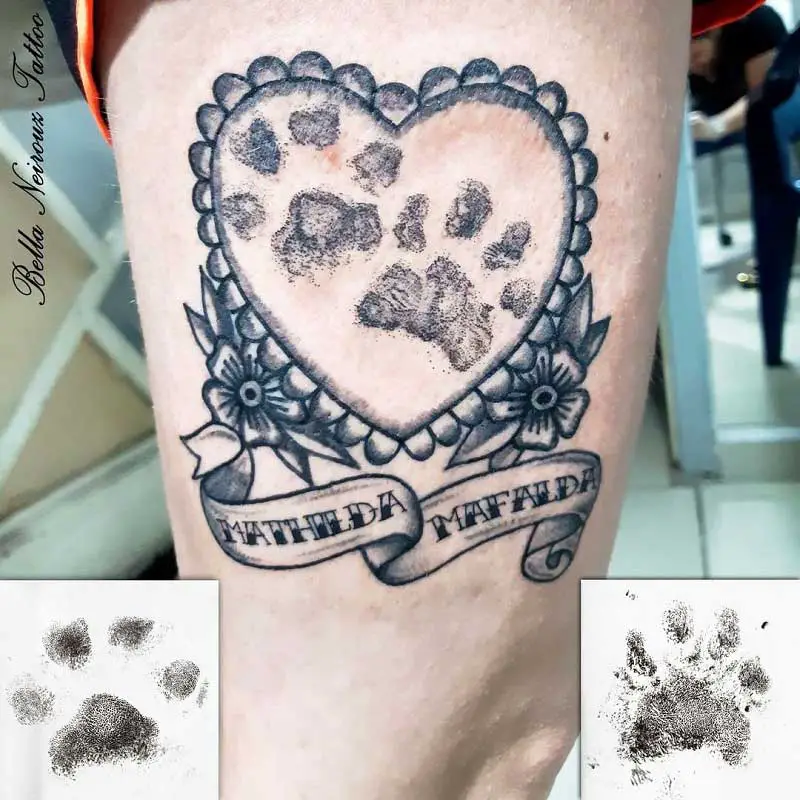 58.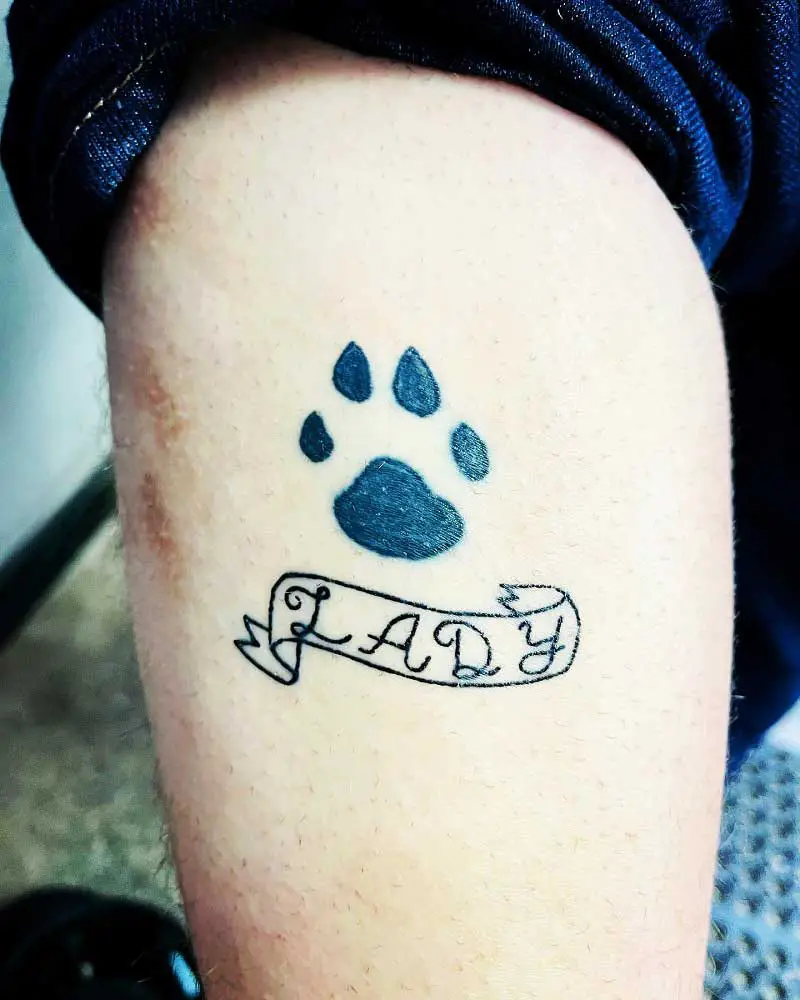 Dog Paw Tattoo Wrist
59.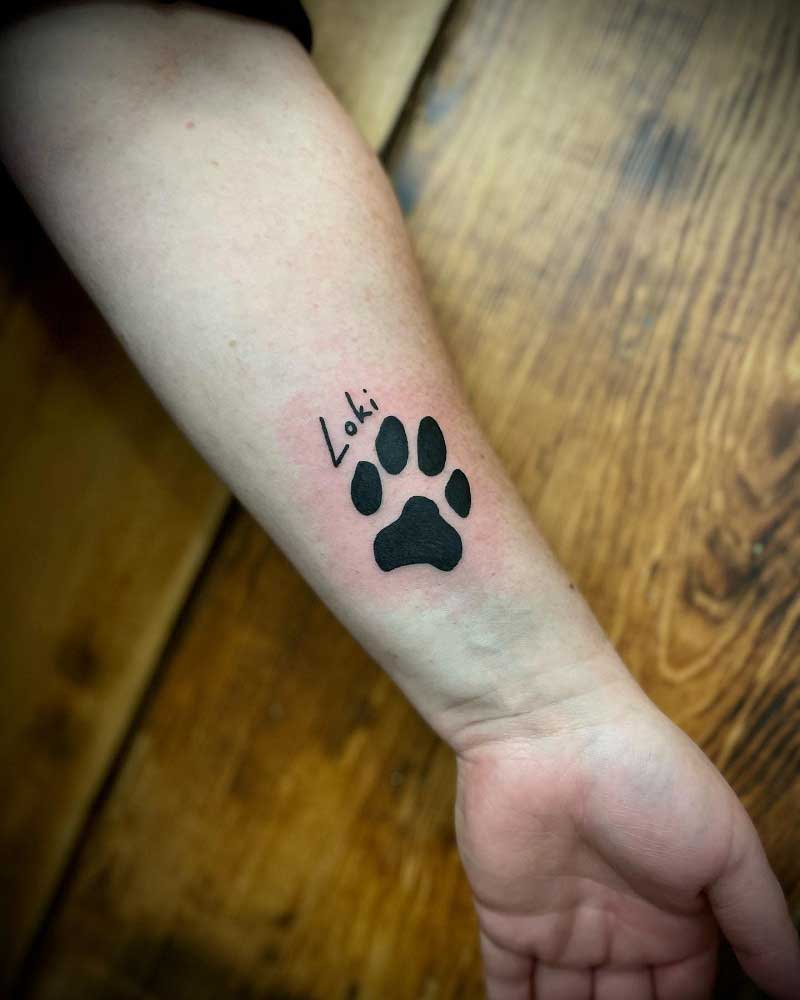 60.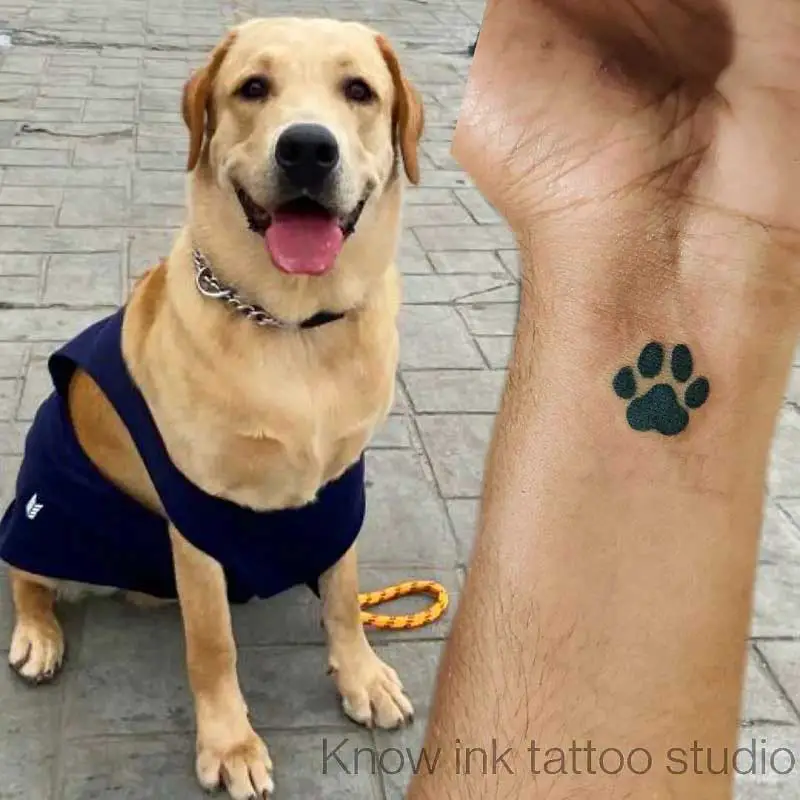 61.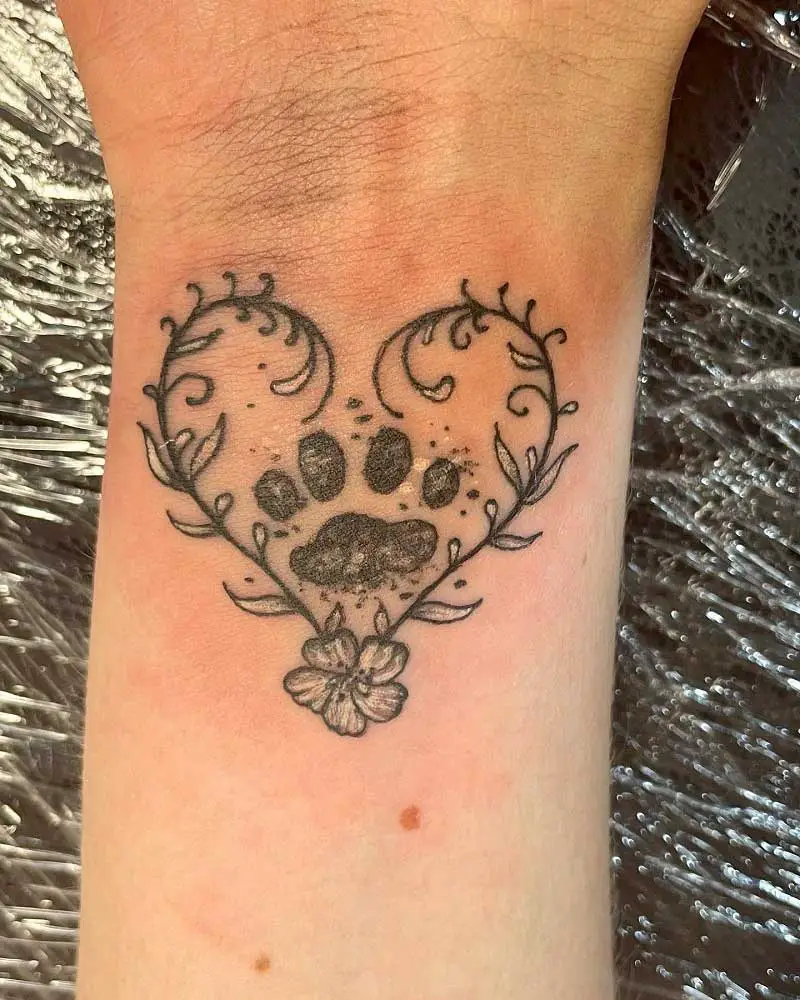 Gang Dog Paw Tattoo
62.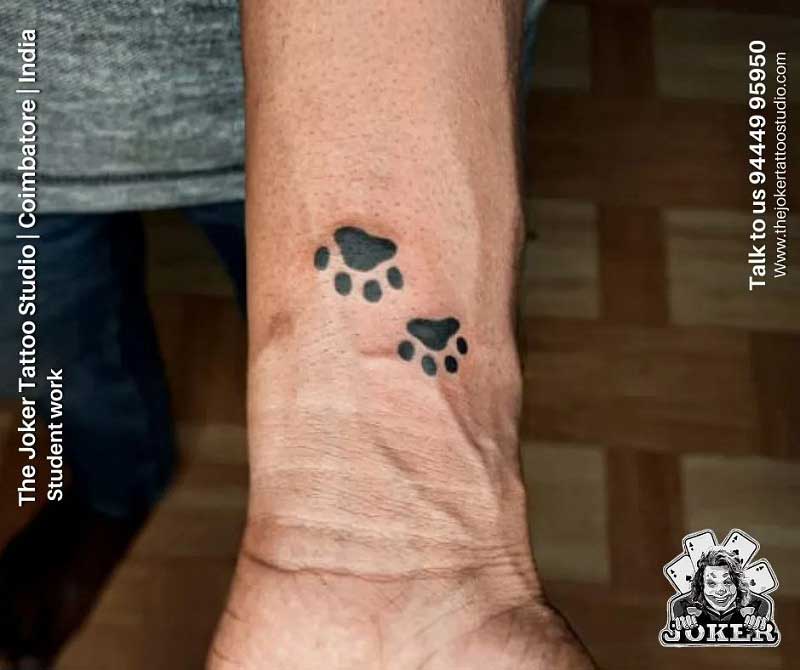 63.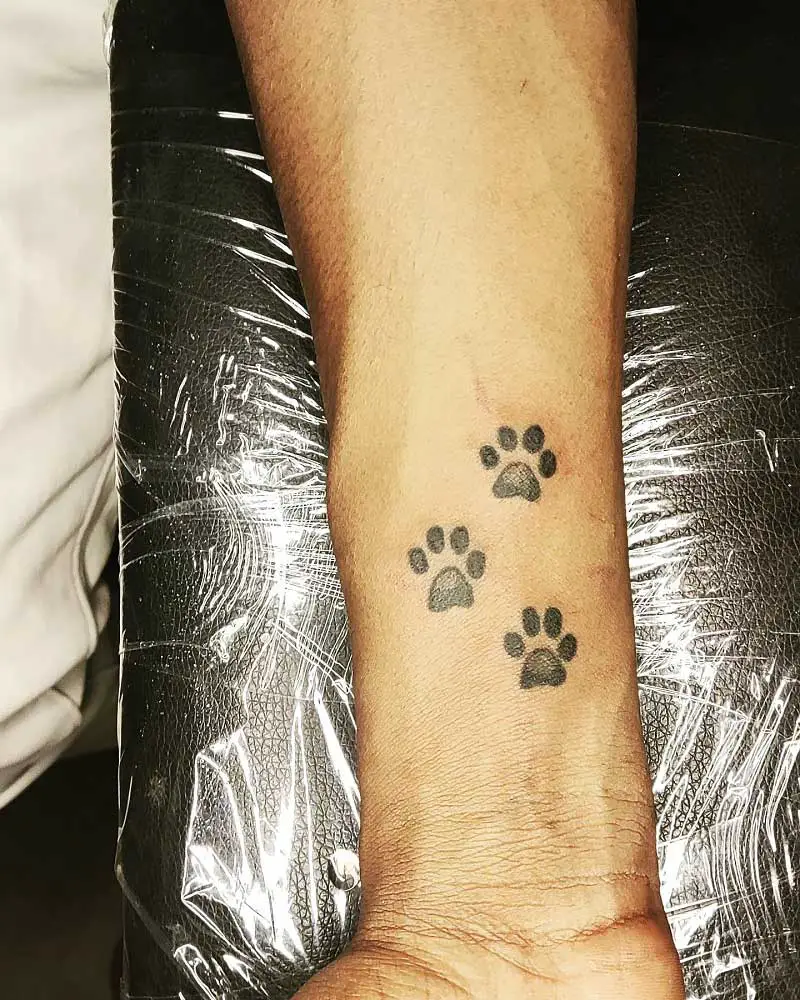 64.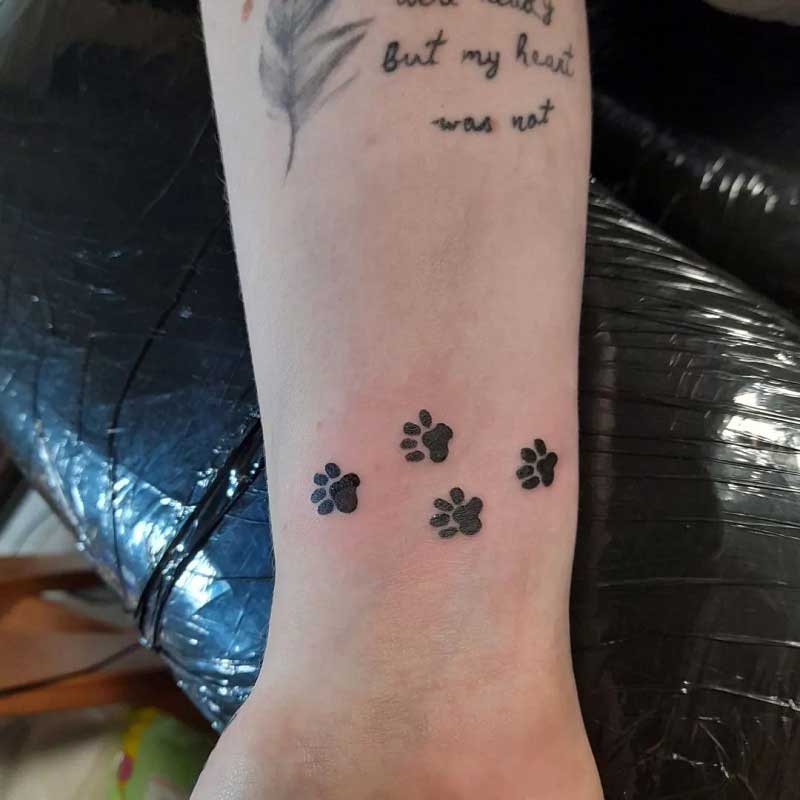 Horseshoe Dog Paw Tattoo
65.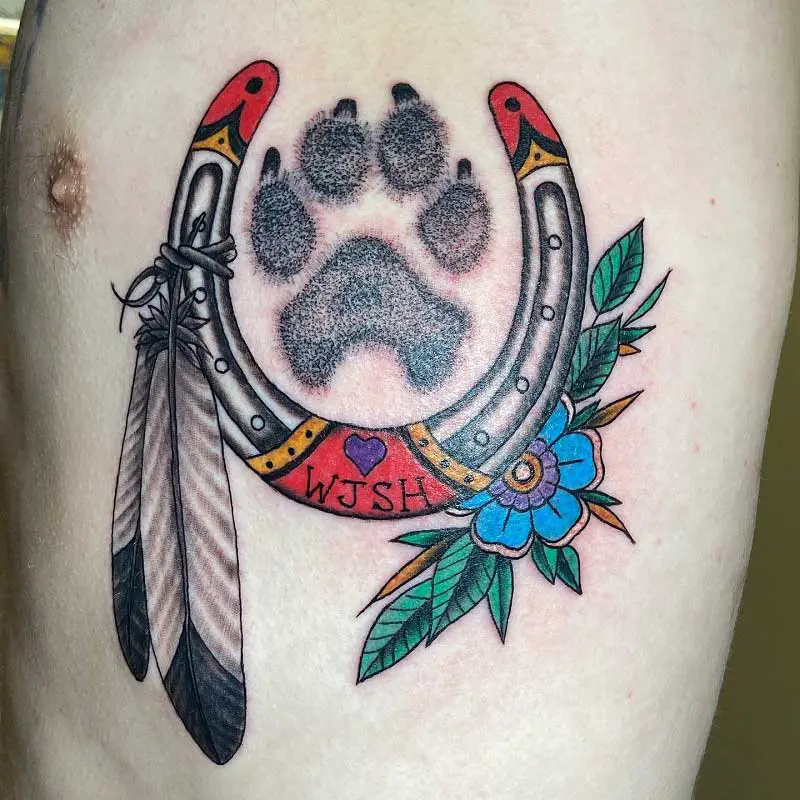 66.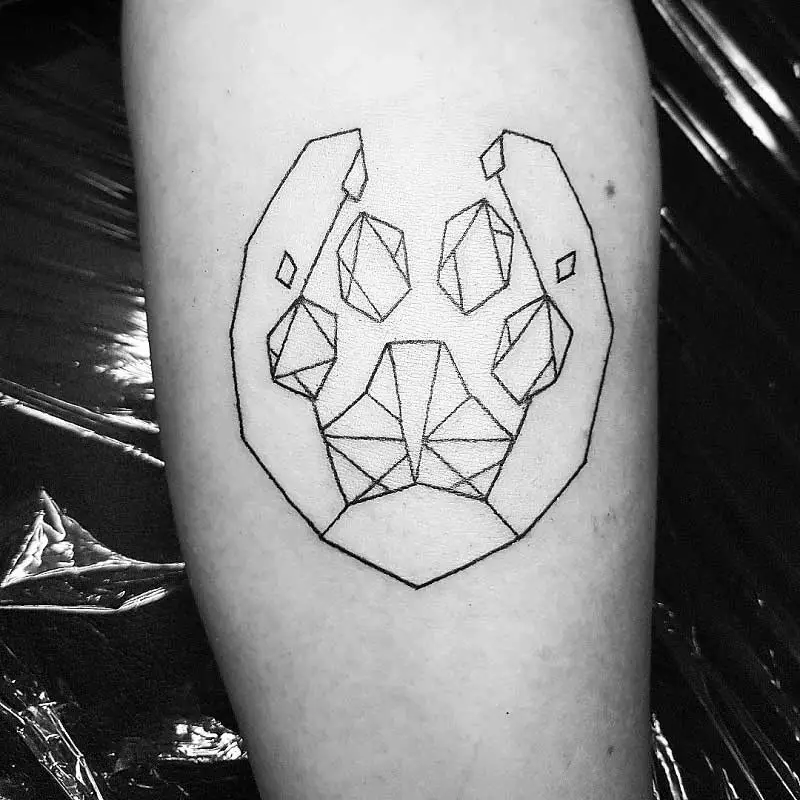 67.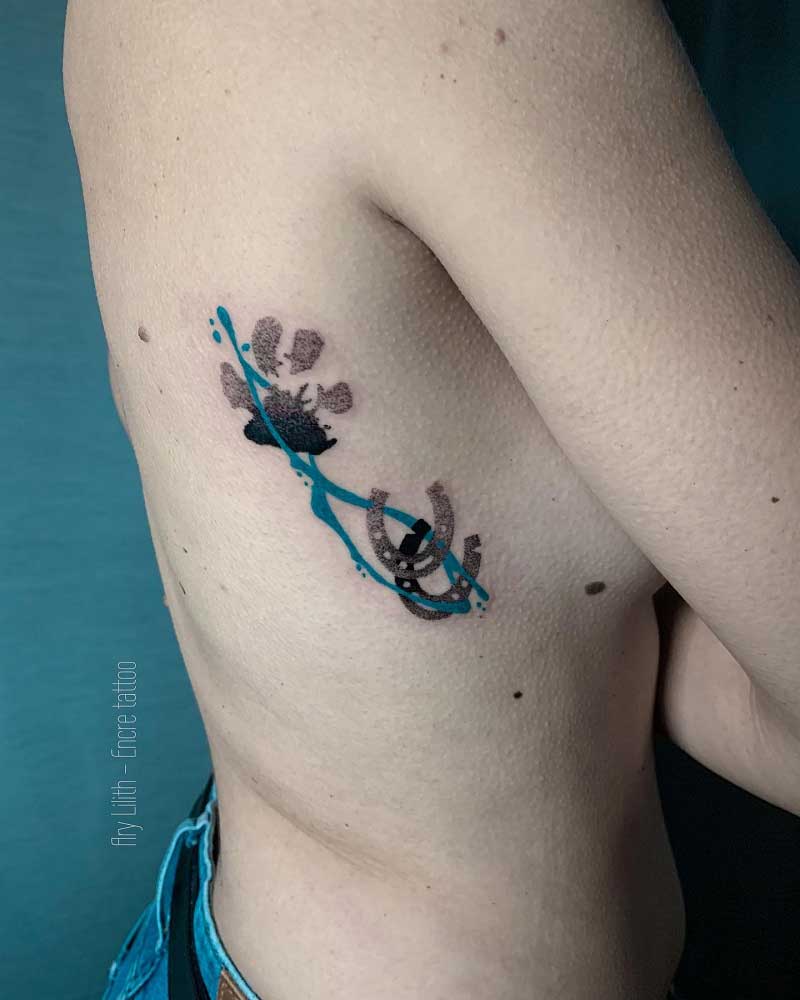 Human Holding Dog Paw Tattoo
68.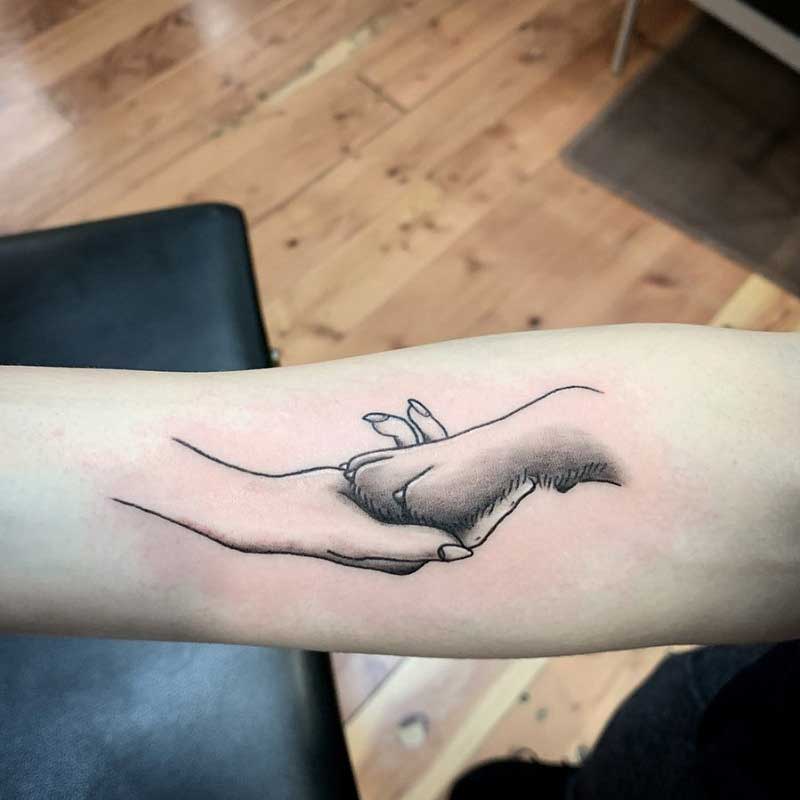 69.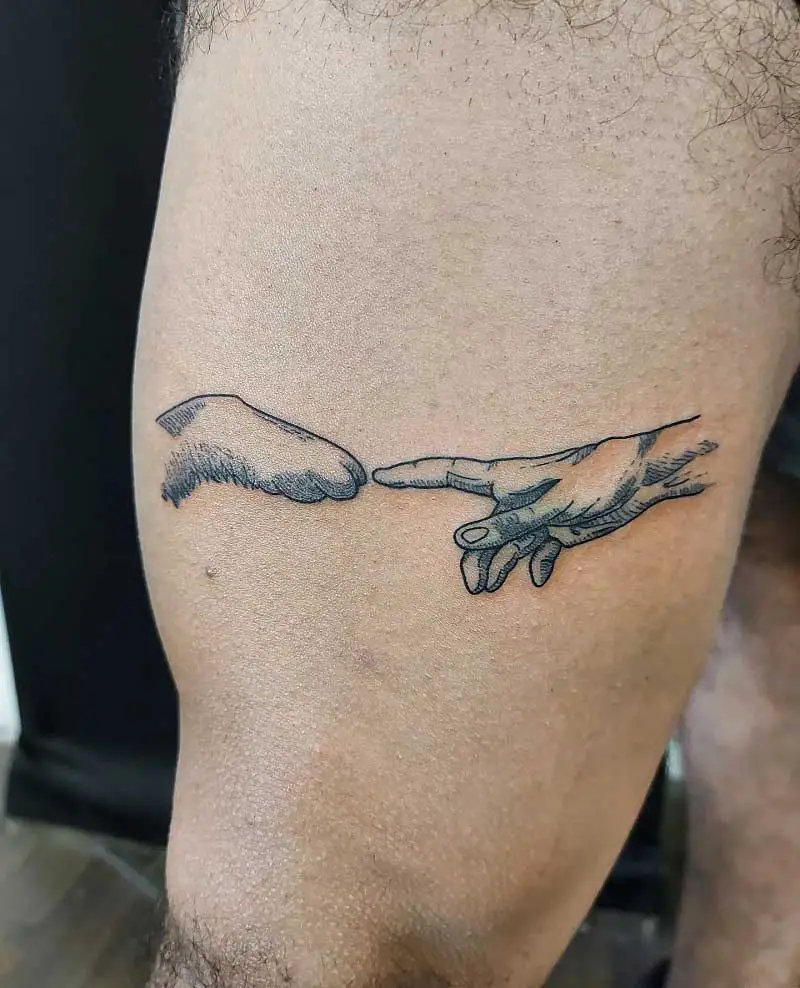 70.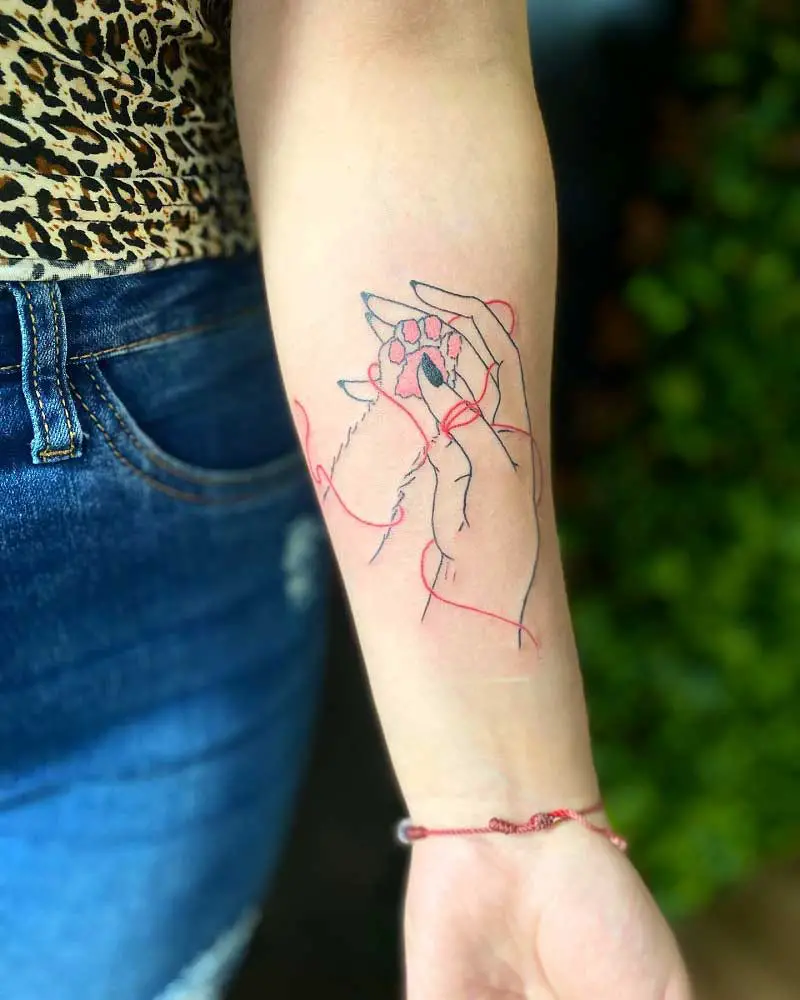 My Dog Paw Tattoo
71.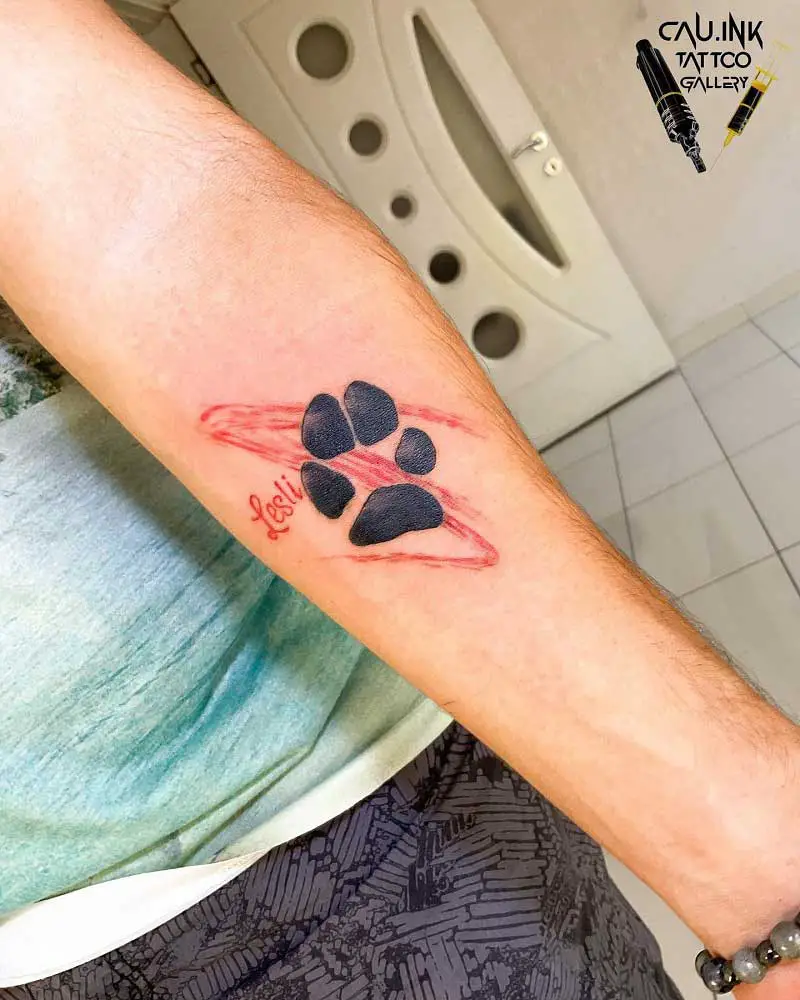 72.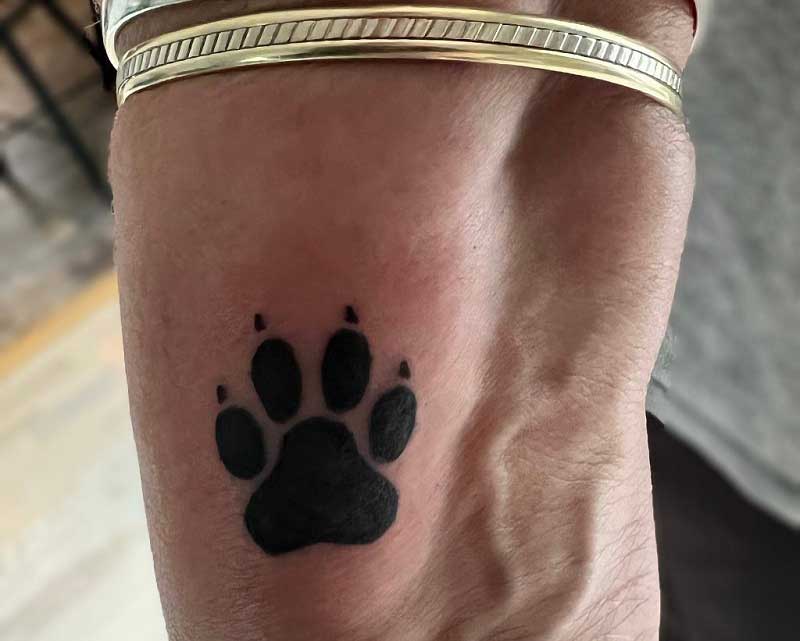 73.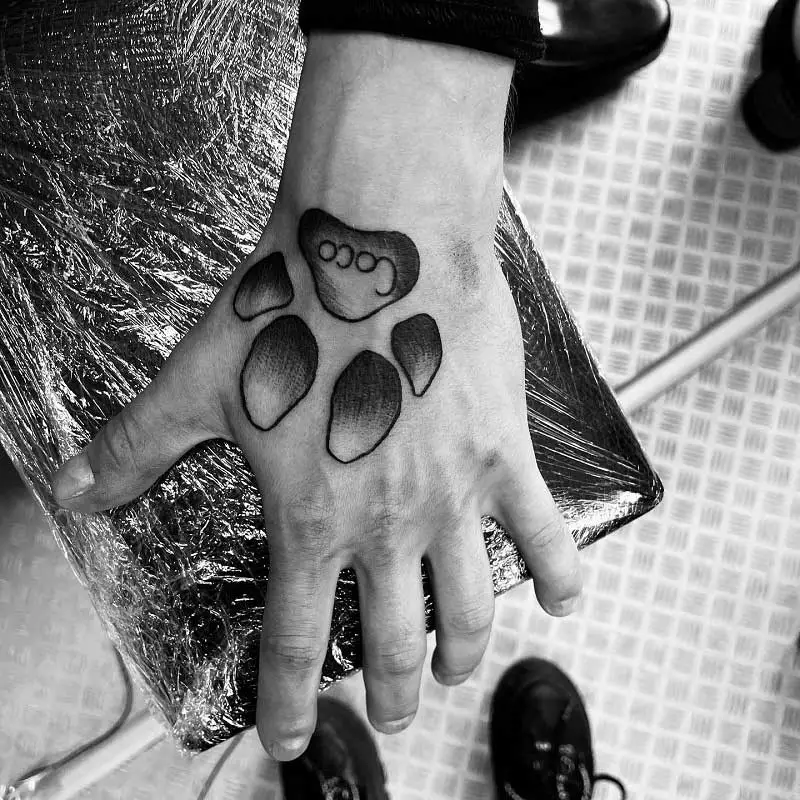 Pitbull Dog Paw Tattoo
74.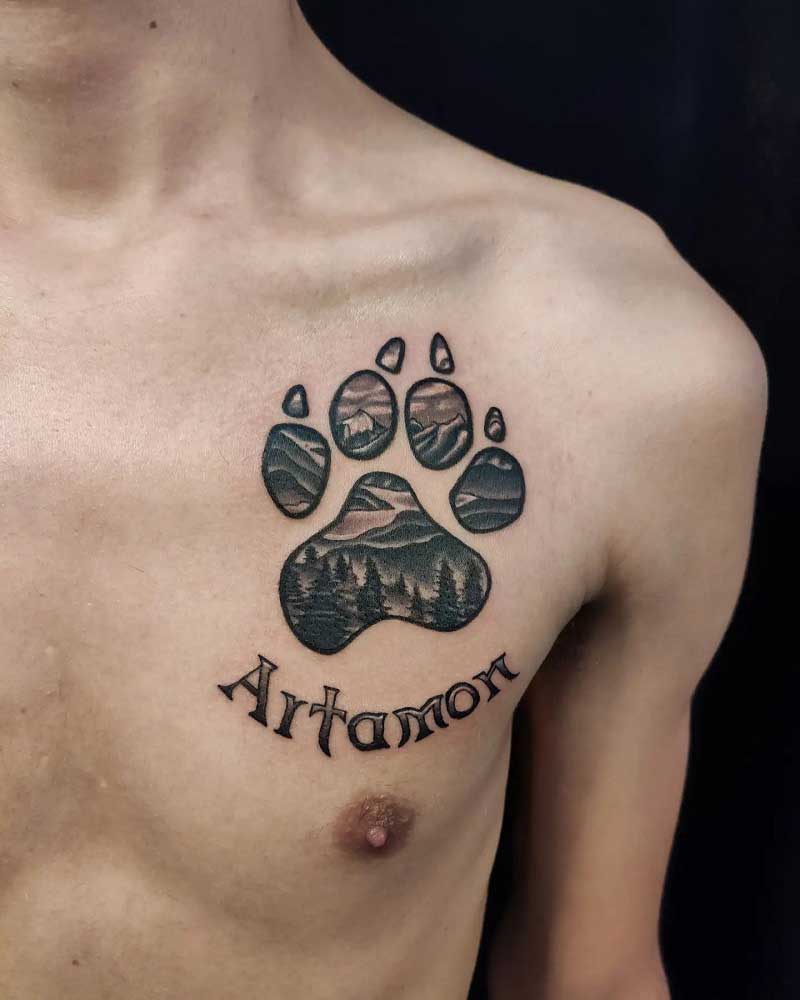 75.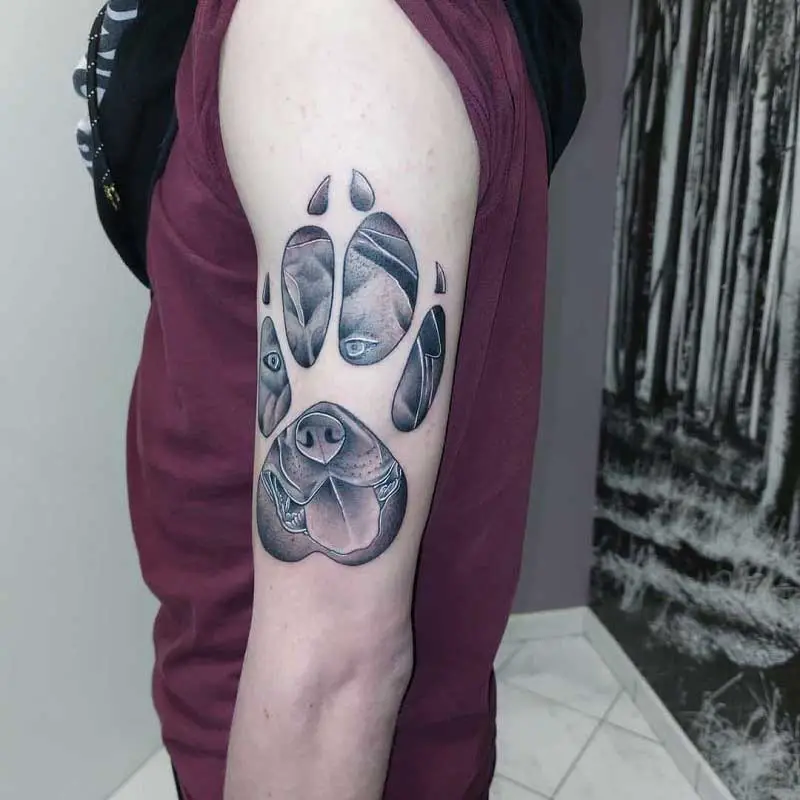 76.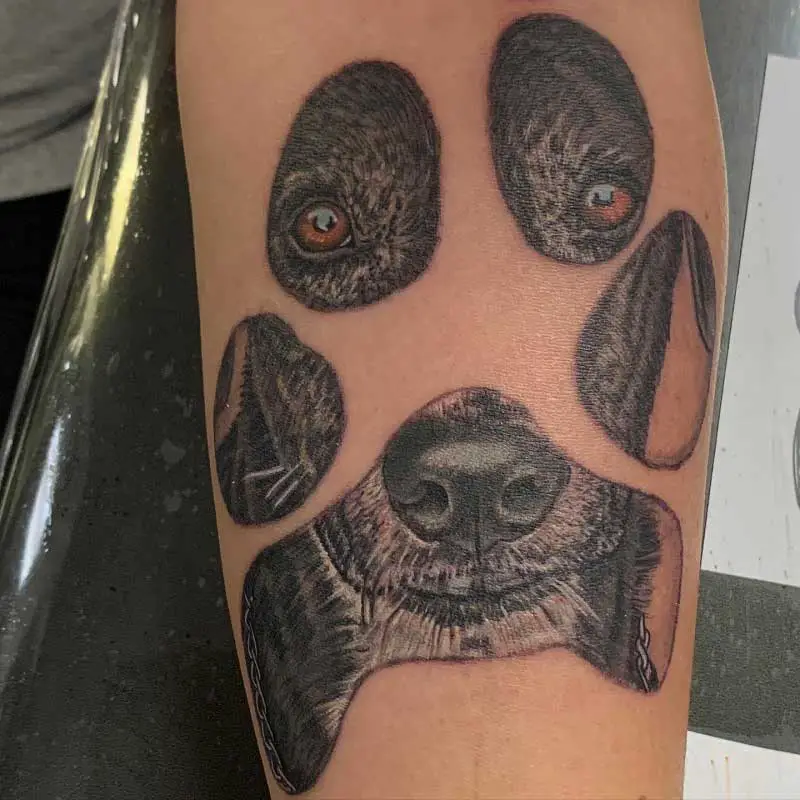 Daisy Dog Paw Tattoo
77.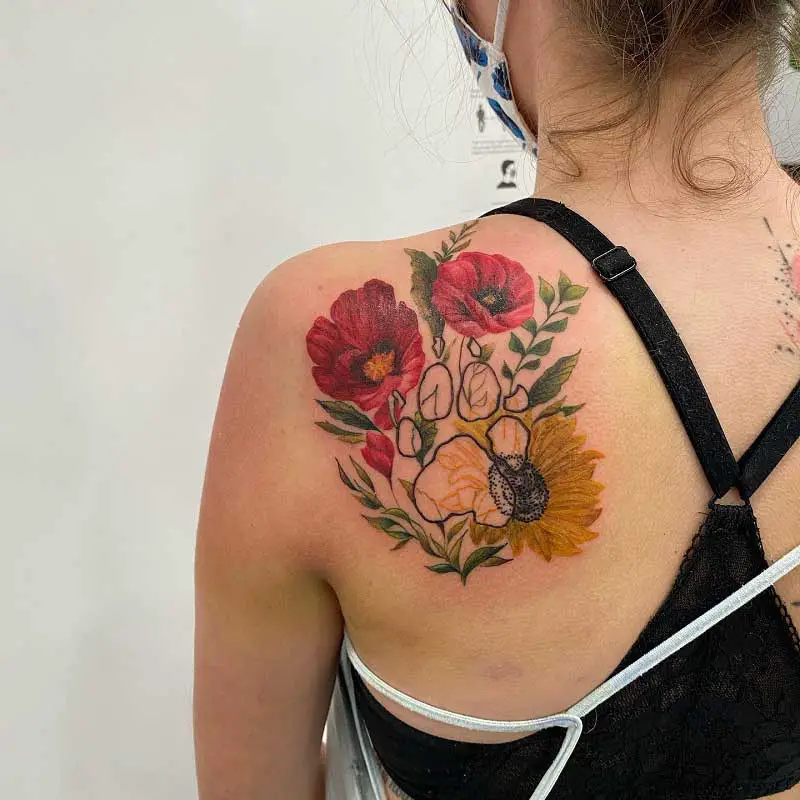 78.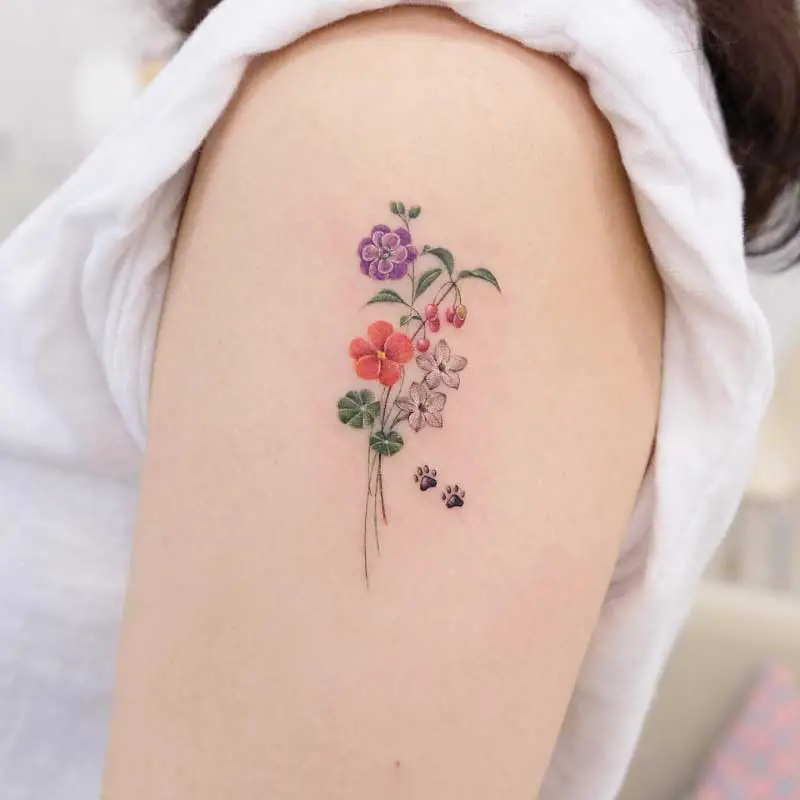 79.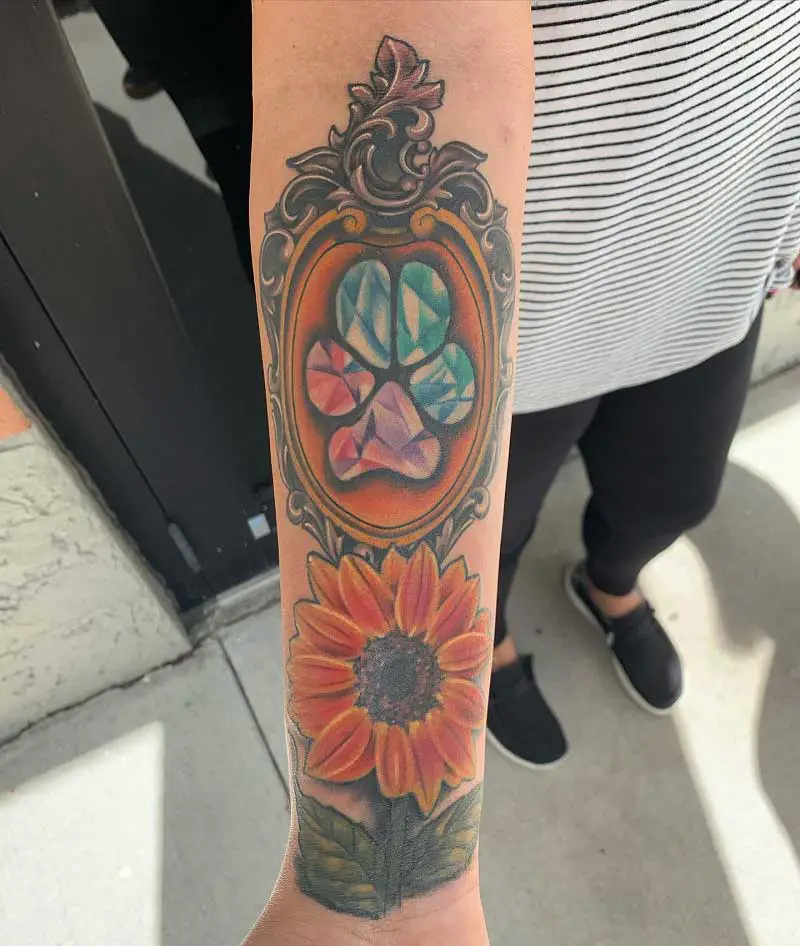 Blood Dog Paw Tattoo
80.
81.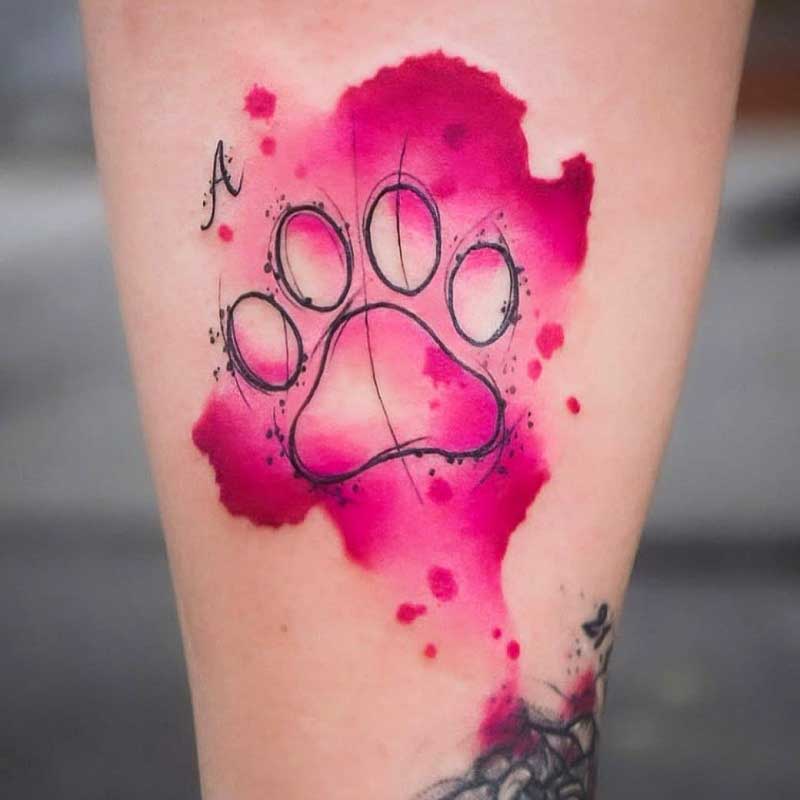 82.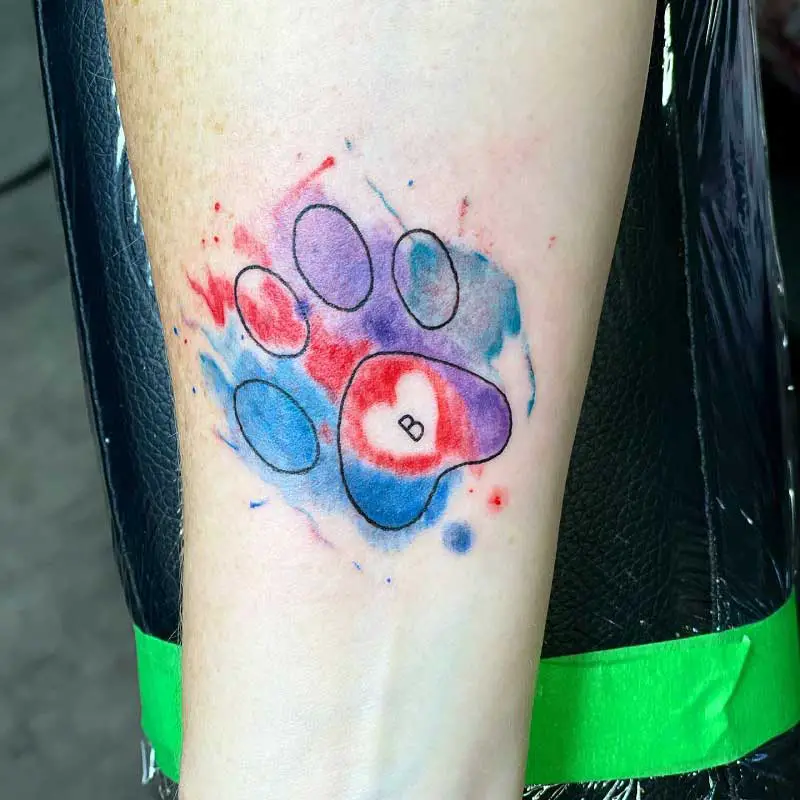 Conclusion
Now that you are familiar with most dog paw tattoos, you surely got an idea of what to choose and where to use them. No need to say that these tattoos are highly preferable for dog lovers. Within an hour or so, you can have them on your body and show a glimpse of your love for your puppy. If there's something you want to add, feel free to share it in our comment box.
Frequently Asked Questions
Q: What do dog paw tattoos mean?
A: Dog paw tattoos represent the love of humans towards their pets. Since a paw is basically feet, It also symbolizes the gesture of humankind of moving forward. According to some tattoo freaks, a dog paw tattoo also shows a person's dedication to living in the present moment and unconditional love for every living thing in the world.
Q: How to get your dog's paw print as a tattoo? 
A: It's not that much of a complicated thing. Simply just let your dog press its dizzy paw on a piece of paper. Then collect the mark and take it to your nearest tattoo artist. They will translate the mark onto your skin that'll look exactly like your dog's paw.
Q: How long does a dog paw tattoo take? 
A: The dog paw tattoo is not that complicated like other tattoos. So it takes less time to get settled on your skin. Small size of dog paw tattoo usually takes 1 to 1.5 hours to get illustrated. No matter the size and complicated design you come with, these tattoos take a maximum of 2 hours.
Q: Can you turn a paw print into a tattoo? 
A:  Yes, it's possible to turn a dog paw print into a tattoo. For this, Put your dog's paw into the paint. Then press it gently on a sturdy paper for a few seconds. Once the print is transferred into the paper, take it to a professional tattoo artist. Even if your dog is passed away, there are some cremation and memorial services that can help you with this.
Q: Is it weird to get a tattoo of your dog? 
A: Although everyone's perspective is different. it's not that weird to get your own dog tattoo. No matter whether they are alive or passed away, you can always make tattoos of them. The tattoo of your own dog shows how much love you have for your beloved pet.
Q: What is the best placement for a dog paw tattoo? 
A: Chest, upper back, or shoulder is the best place to illustrate a dog paw tattoo. Some people prefer arms and wrists as the tattoos are small. However, there's no rule for the placement of these tattoos. If you have your own choice of tattoo placement, you can listen to your mind without hesitation.